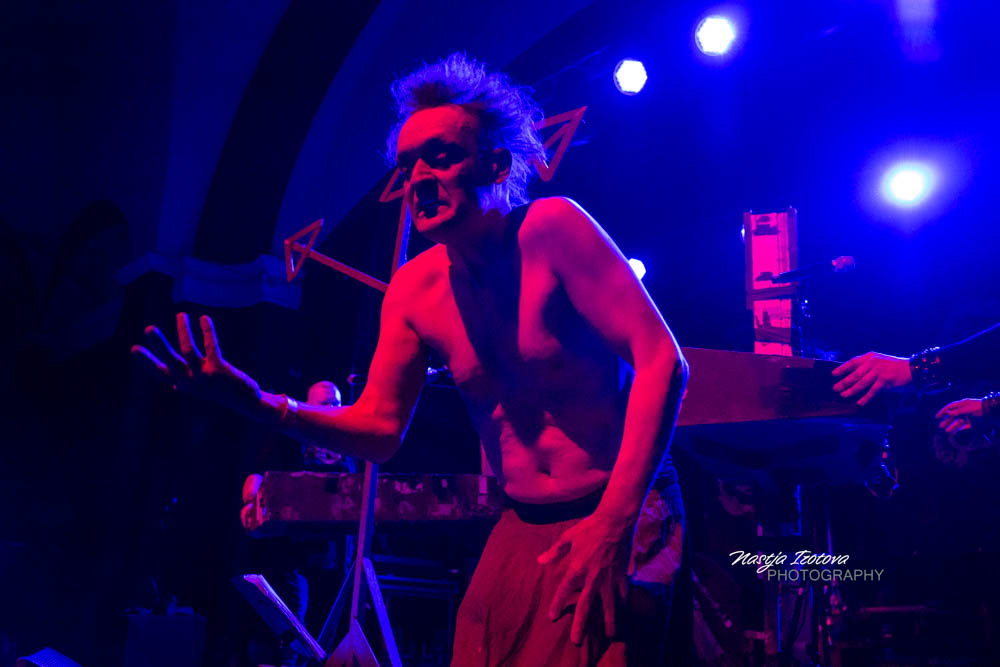 Leipzig, Germany
26th to 29th May 2023
Wave Gotik Treffen 2023 Day 2 with 1919, Lucas Lanthier, Bloody Dead and Sexy, Das Ich, Hocico, Covenant and galleries of Adam Tristar, Bragolin, Ash Code, Super Besse, Absolute Body Control

And here we go - day two of WGT is there and promising to treat us with more beautiful, dark & mysterious shows, melodies and impressions. I (Nastja) decided to spend the day mostly at Täubchenthal and a bit of it in Felsenkeller which is luckily really close by. I love Täubchenthal as a venue and whenever I can make it there during WGT, I will try my best to be there… be it just for a couple of hours.
Unfortunately, it's a bit of a trip from Agra or city centre which doesn't make it easy to combine with concert plans in other parts of Leipzig. However, Saturday seemed to be the right day to pay visit to Täubchenthal. The outdoor area is just as nice to relax and catch up with friends as the indoor with two levels, and sofas spread all around - so for those who struggle with suffering festival feet a great place to be, and be it just to use the opportunities to sit down between the shows.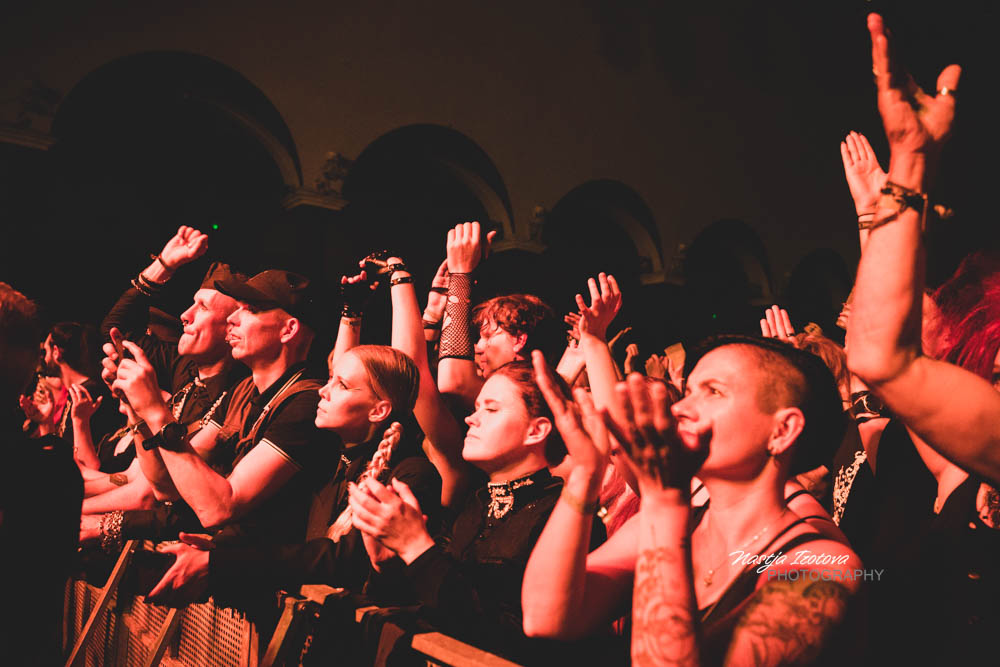 1919

The 2nd day of the festival started for me music-wise wise 1919, a Post Punk band from UK. For me it was a live premiere, though I had seen their name on the (earlier planned?) tour with THEN COMES SILENCE from Sweden. The guys rocked the stage immediately and showed that they are ready to climb up the line-up schedule in the years to come. A lot of energy came from the stage and the audience picked up quickly! I definitely had a lot of fun and am curious to see them again.
Lucas Lanthier
My heart felt a bit more teenage-like excited when the next artist entered the stage. LUCAS LANTHIER is known to me (and probably many of you) as the voice of the 1994-founded Goth Punk / Death Rock band CINEMA STRANGE from California. And I am not exaggerating when I say that they've been an important influence in my own search for music and identification. I've been lucky to see CINEMA STRANGE some years ago during another WGT in the same venue. This time LUCAS LANTHIER presented solo work - just LUCAS' voice and guitar. A super minimalistic set which was quite different from what I knew from CINEMA STRANGE, but not less beautiful. Beautiful as in pure, emotional, authentic. I loved every second and felt so happy to be able to see the show so close. No matter whether in a loud arrangement or acoustic - this voice is so unique and magical to listen to.
Bloody Dead and Sexy
The last band at Täubchenthal for today was BLOODY DEAD AND SEXY whom you can also call legends of the scene by now. And this was an incredible performance and so nostalgic I must say. The crowd was ready to dance and party and BLOODY DEAD AND SEXY gave it to them. While I didn't listen that much to them back in time, my friend whom I met there was the one who was absolutely into them and I recall her talking a lot about this band back when we were teenagers. Oh, the time is flying. BLOODY DEAD AND SEXY made this Täubchenthal evening super intense and memorable to me and definitely many people in the audience super happy.
Das Ich

Now, it was time to leave Täubchenthal and head towards Felsenkeller. We decided to take the 20-minute walk and grab some food on the way up. As we heard many stories from people already struggling on Friday to get into venues, we decided better safe than sorry and to be there in good time for DAS ICH. So, actually we also saw quite a bit of GRAUSAME TÖCHTER from far behind (and too late for the photo pit) who as usual delivered a provocative and intense show. Felsenkeller was already packed and hot as usual. Luckily, there was a bit of change in audience between the shows and a bit of fresh air came in as well. I usually struggle a lot with Felsenkeller in terms of temperature and also sound, but to be fair, this time it was almost okay.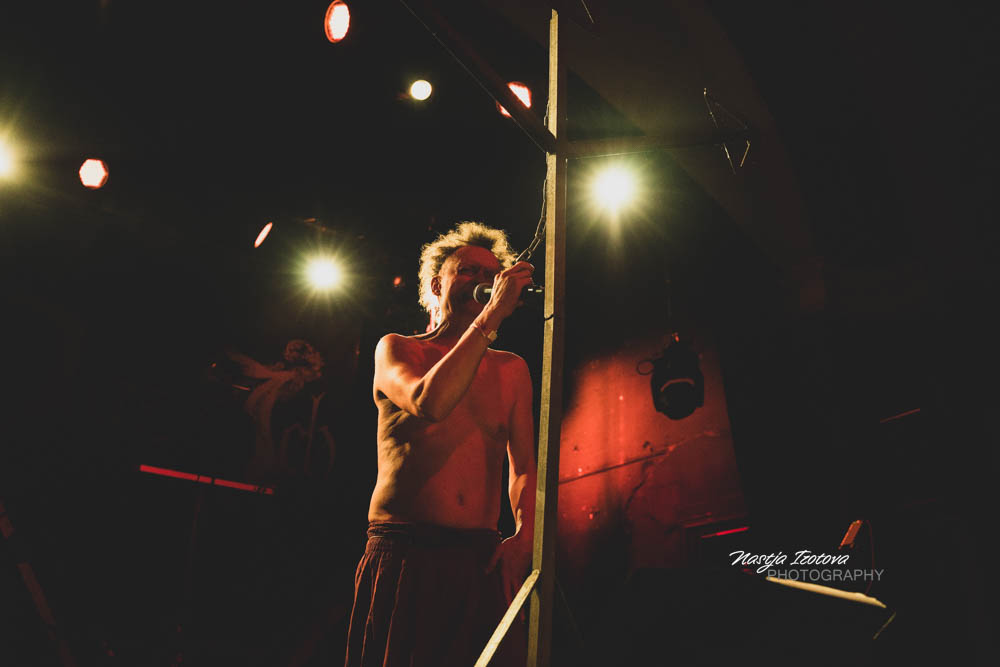 DAS ICH were announced as one of those few bands who were at the very first and small edition of WGT - almost impossible to imagine nowadays how small everything started. The show was great and super special. DAS ICH always care about each other and the audience and there is an incredible connection. Songs like 'Das Destillat' and 'Gott ist tot' are legendary and integral parts of the scene. I remember 'Das Destillat' from the very first Goth party which I attended almost 20 years ago. The stage built-up is also quite impressive and original. Everyone on stage is authentic in their roles and what we see reminds almost a bit of a crazy apocalyptic play - in a good way. A truly mighty show for the 30th WGT edition and luckily still with some of the very first bands!
Hocico

Meanwhile Aileen discovered other parts of the program: After a visit to the heathen village, I was drawn to Agra in the evening. After extensive tasting at the punch stand, I went to the HOCICO concert in the hall, which was really packed. So, I was standing quite far back and a little to the side. Unfortunately, I could only see a little of the stage from my position. In any case, the Mexicans were celebrated and delivered a very energetic set.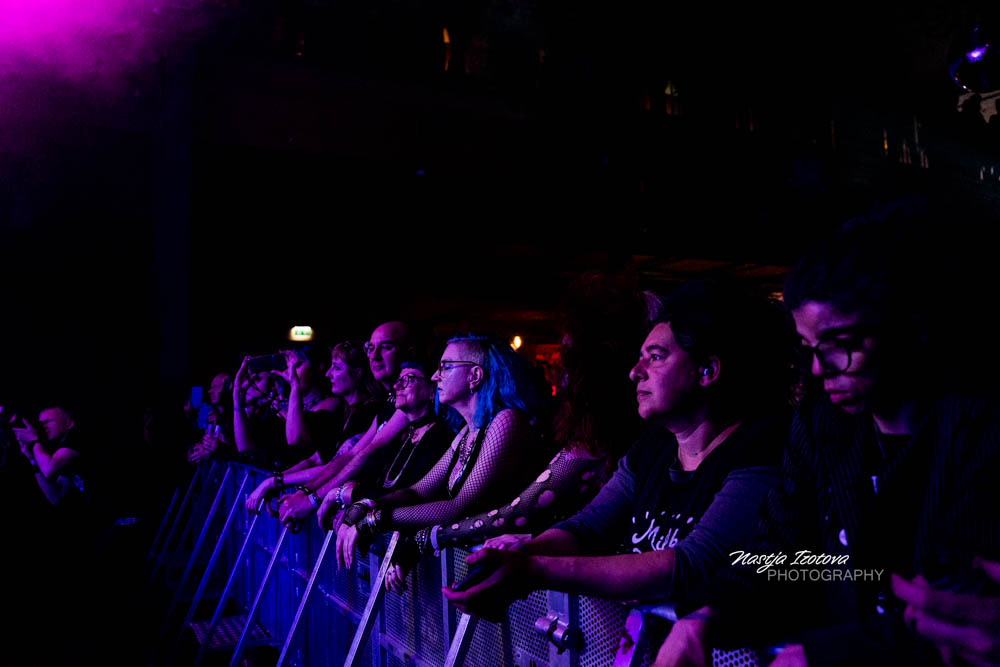 Covenant

Some used the changeover break to catch some air or to pause at the supply or disposal facilities. For me, the opportunity to advance to the second row. So, I finally got good view of the stage and COVENANT. The trio around Eskil Simonsson came up with a wonderful mixture of newer songs and true classics. When COVENANT started the set with 'Der Leiermann' the hall was already packed again. "So many people from so many places. I'd like tonight music will bring us together." And it did. My highlights today 'Ritual Noise' and 'Stalker'.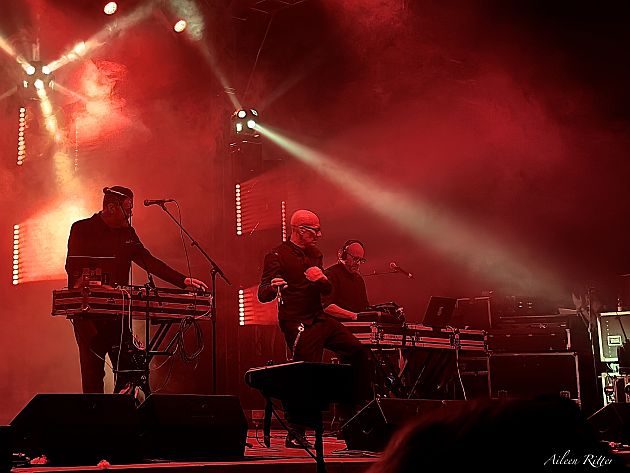 Before the concerts started on that day, there were lots of other things to discover – there was an incredible amount of the cultural program before the concerts, like the hearse meet-up, the Egyptian museum as well as the Steampunk meet-up. The whole line-up at Haus Leipzig also still fit into the schedule with ADAM TRISTAR, BRAGOLIN, ASH CODE, SUPER BESSE and ABSOLUTE BODY CONTROL. Just check out our pictures of those bands.
Adam Tristar

Bragolin

Ash Code

Super Besse

Absolute Body Control

Pictures by Aileen Ritter, Nastja Iz and Daniela Vorndran
Written by Aileen Ritter (HOCICO & COVENANT) & Nastja Iz (everything else)
See also (all categories):