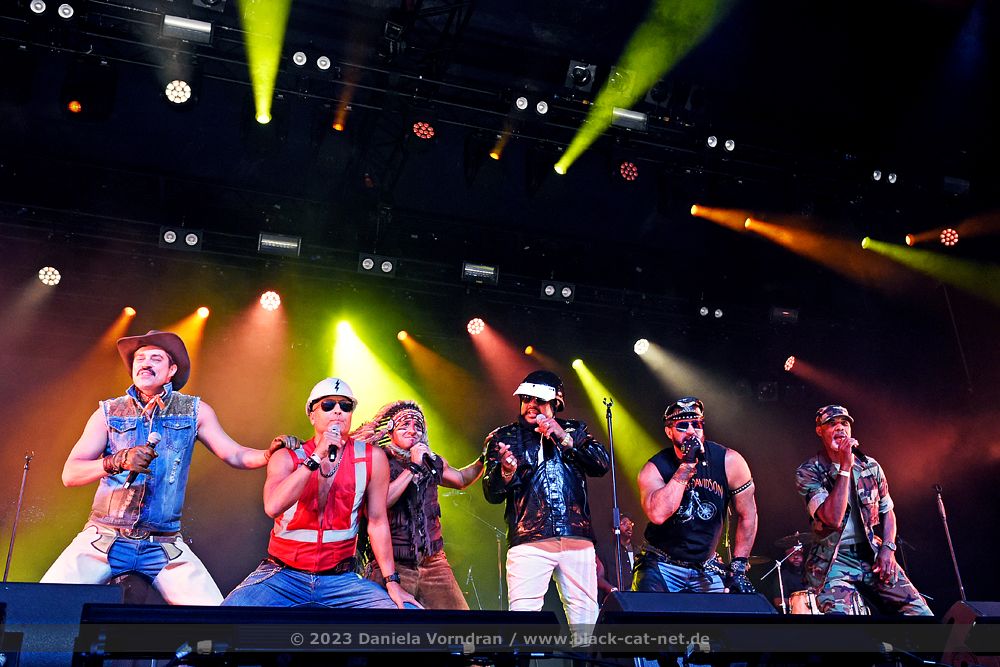 Klein Strand, Oostende, Belgium
25th to 27th August 2023
W-Festival 2023 Day 1 with Björn Again, Velvet Mist, China Crisis, Pretty Addicted, A Flock of Seagulls, Hocico, Midge Ure, Mike Peters of The Alarm, Village People

Here we are, back at the Klein Strand (small beach) in Oostende. It was the third edition at the beach, this year, lasting only three days which I find much more convenient. There were two stages, one was the main stage with a nice band mix from 80s and 90s, and the second one was the Batcave Live, which presented the darker kind of music from now and the past.
The whole festival setting was different to last year. While we had only one stage open air in 2022 and the Batcave tent for party and DJ sets, there were two stages as mentioned, both in tents. The Main Stage was a big tent for the majority of the audience. Some said- that the flair of an open air at the sea was lots a bit, but well, the weather forecasts were not too good any maybe we would be happy the day after to find shelter from the rain. The Batcave tent was extended this year by a second stage, presenting more or less bands fitting to last year's summer edition of Sinner's Day.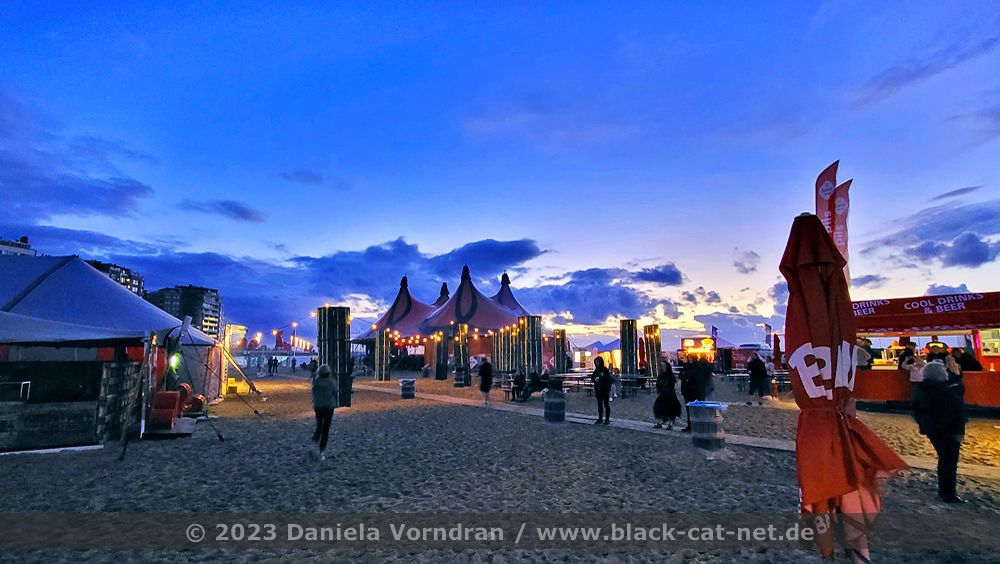 In the middle of the festival area was a huge merchandise tent with lots of benches and tables in the inside as well for some relaxed minutes (or hours) in the shadow… or when hiding from rain. Outside, there was a big variety of drinks and food and also several vegan and vegetarian options were available. Even more possibilities to sit down and relax were found there. Furthermore, there were big screens on the festival area so you could watch the concerts on the Main Stage from a distance since anything was filmed. As I saw there were also no big queues at entrance, food and drink stalls. People obviously had a good time there. But now finally to the bands of the first day…
The day was opened on the Main Stage by BJÖRN AGAIN, "The Australian ABBA show 1988-2023". The Internationally acclaimed BJÖRN AGAIN name and show were created and founded in 1988 in Melbourne, by Australian musician / manager Rod Stephen. Designed as a tongue-in-cheek rocked-up light-hearted ABBA satire, the show rapidly achieved a world-wide cult status with critical acclaim. ABBA's enduring appeal with the success of 'Voyage' is reflected in the ongoing success of BJÖRN AGAIN now in its 35th year. Of course lots of the big ABBA hits were performed of perfect ABBA doubles and people knew the lyrics by heart. Always kind of interesting how even Gothics sing along to those songs.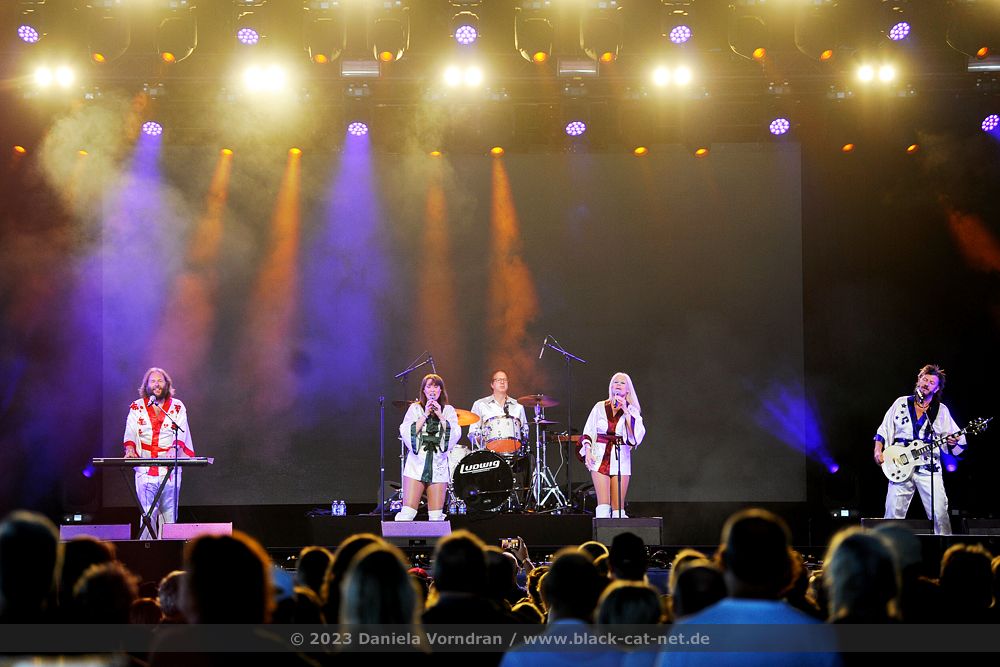 From the Main Stage to the Batcave where VELVET MIST were going to start their first ever live show. VELVET MIST is a Belgian New Wave / Goth Rock band that emerged in late 2020 from a shared passion between Jonathan Verstrepen (known from the metal band CARNATION) and Anton Mergaerts for a melancholic sound. Drawing inspiration from the dark sounds of the 80s, especially iconic bands like SISTERS OF MERCY, THE CURE, and THE CULT, they craft a shadowy yet danceable ambiance with a modern and fresh approach. Vocally, I also thought of THE 69 EYES. With their collage of 80's Goth Rock, New Wave and electronic music with a solid drum machine, their impressed from the very start. Their first EP 'Visitation' takes you along on a Goth Rock / New Wave vibe with their cold synth melodies rhythmic drums and deep vocals. Check them out!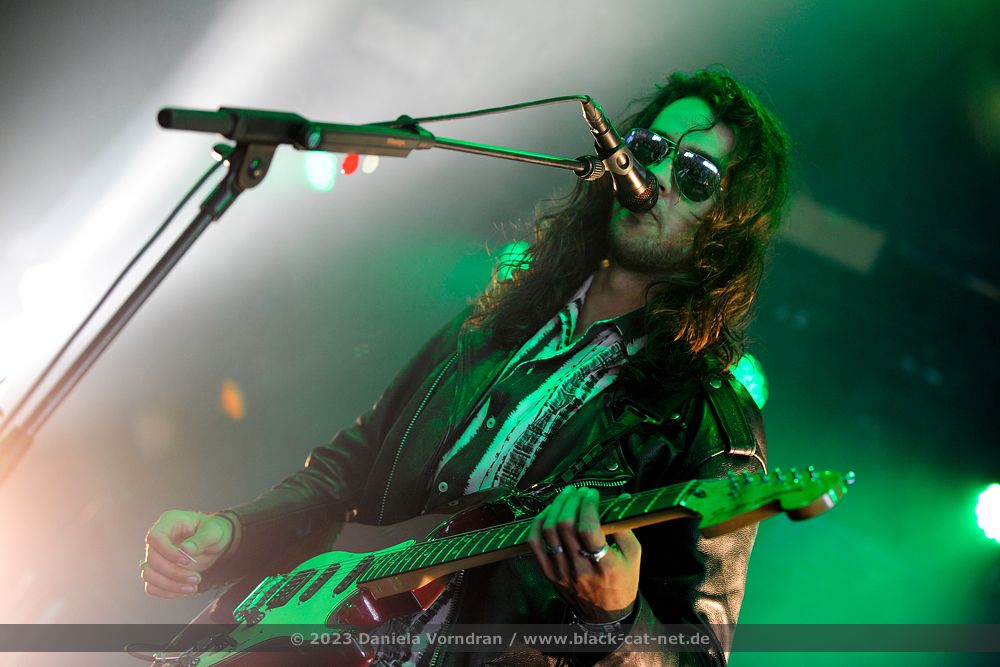 Back to the Main Stage with CHINA CRISIS. The early 1980's heralded a second Liverpool-based musical renaissance responsible for producing not just new wave legends OMD, but also the diverse likes of Echo and the Bunnymen, Teardrop Explodes, A Flock of Seagulls and FRANKIE GOES TO HOLLYWOOD - some of them were also seen at W-Festival. Amongst these lauded acts was CHINA CRISIS, emerging in 1981 from their native Kirkby as the song-writing duo of vocalist / keyboardist Gary Daly and guitarist / vocalist Eddie Lundon, who over the years have been accompanied by a gifted and creative but ever-mutable group of musicians both on stage and in their recordings. With a combination of truly engaging music, a good bit of Scouse humour, and the clear kinship the band have with their fans, any CHINA CRISIS show is one you leave happier for having been part of. Their live performances are truly must-see, and 'Wishful Thinking' was surely the show's highlight at W-Fest. After the first festival day I heard several people stating their show as their personal highlight of the day. My highlight would follow later though. Setlist: Last Night in Soho (Intro) / Intro (Tape) / Your Ghost / Scars / Midnight Fire / Down / Youth of the New Age / Sway / Valley of Dreams / Farewell / Hollow Eyes.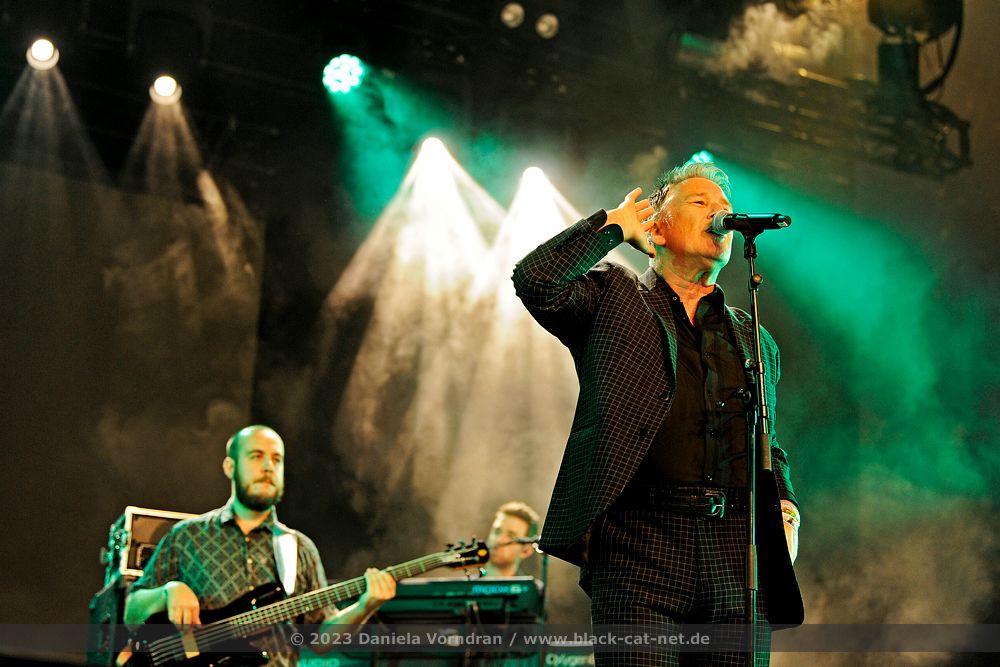 Batcave live stage now announced PRETTY ADDICTED as a mix of MARILYN MANSON and THE PRODIGY. PRETTY ADDICTED - "Dance-Punk" clown chaos, a whirlwind of unmatched energy and raw aggression. Distinctive vocals, dark sounds & phat breakbeats, they really stand out of any crowd & yet somehow fit into any place and make it their own… so says their biography. At W-Fest, they had some technical issues. Just at the end of first song, the laptop fell down and the music stopped while singer Vicious Precious finished the song a-capella. While the problem was fixed, she performed one of her "favourite songs of the nineties" with the audience and then, the show could go on. All in all, not my cup of tea, but the show found its fans.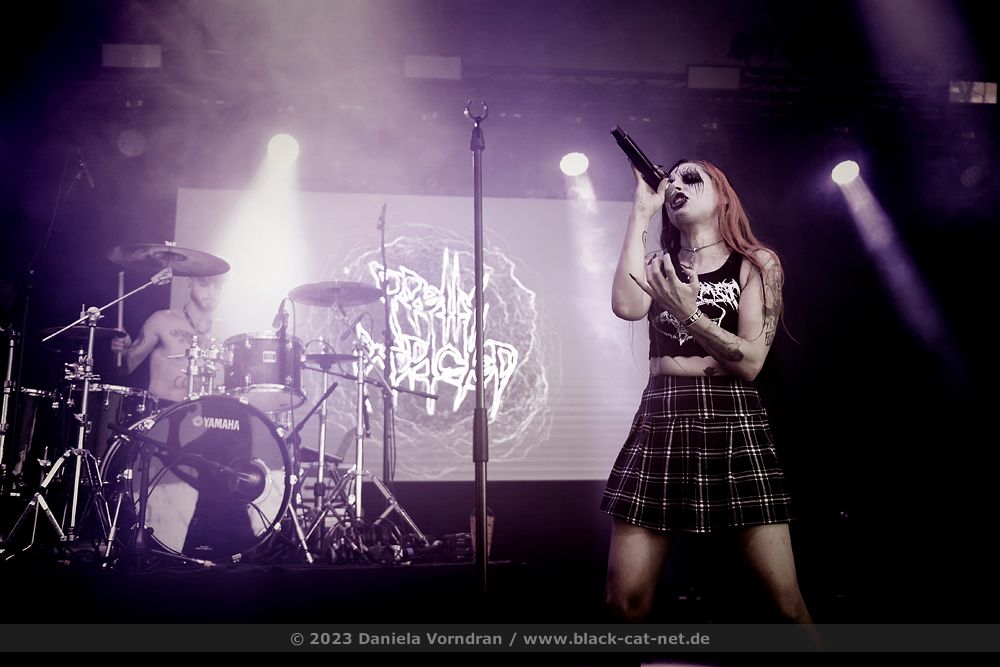 A FLOCK OF SEAGULLS were now entering the Main Stage and I was pretty curious about their show. Never seen them before. And now I had the chance to… this is one of the things I love W-Fest for… you see many bands you had never seen before on one weekend. A FLOCK OF SEAGULLS was started by Mike Score and his brother Ali in 1979 in Liverpool. The band took their name from a line in the song "Toiler on the Sea" by THE STRANGLERS. In late 1982 the band found major success in their home country with 'Wishing (If I Had a Photograph of You)' (first single from their next album) which reached the top 10. As it turned out, 1982 would prove to be the peak year of their commercial and critical success. After long years of hiatus, they reformed in September 2004 again and played a small number of live shows in the United States, but broke up immediately afterward. Mike Score continues to tour with other musicians as A FLOCK OF SEAGULLS.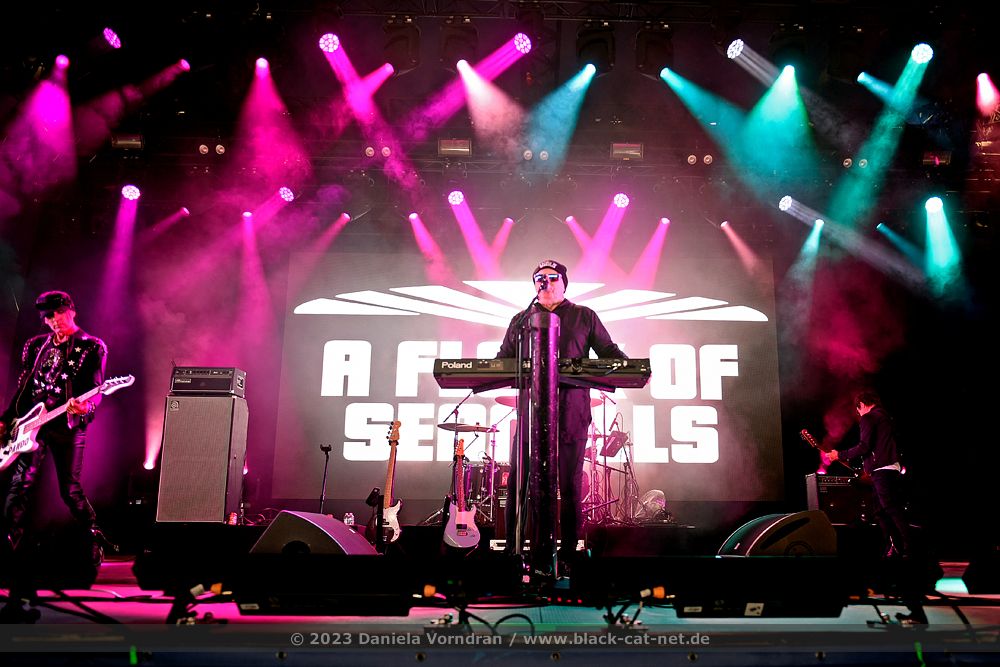 Although parodied in later years, the band is now recognized as a pioneering act, capturing the zeitgeist of their time, particularly with multi-layered hits such as 'Space Age Love Song', 'Telecommunication' and 'Modern Love is Automatic', and of course their biggest hit found their way to the W-Fest programme. Solid show. Setlist: Modern Love Is Automatic / Hearts on Fire / See How the Rain Falls / Nightmares / The More You Live, the More You Love / Transfer Affection / Say You Love Me / Some Dreams / Man Made / Space Age Love Song / Wishing (If I Had a Photograph of You) / I Ran (So Far Away).
Mexican electronic wizards of HOCICO were now entering the Batcave stage. While I saw them two weeks ago already at M'era Luna with a bigger show and performing kind of ancient rituals, Erk Aicrag and acso Agroyam, two angry survivors of the physical and mental violence rising daily on the streets of Mexico City, were now entering the stage alone, which not means that the performance was less intense or had less energy than two weeks ago. HOCICO creates dark and aggressive sounds: nightmarish atmospheres, classical landscapes, and driving beats charged with adrenaline and fury. HOCICO has stablished as one of the most active bands in the underground music scene, both live and in the studio. Their performance in the cave was celebrated by an excited audience who heavily danced to the driving dark electronic beats.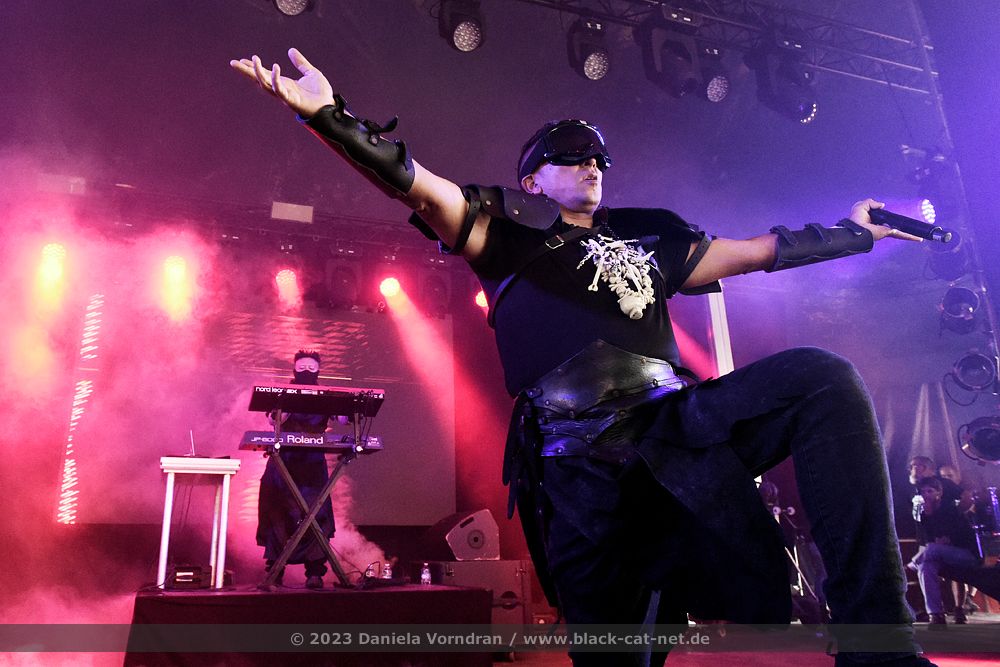 My highlight of the day now followed on the Main Stage with MIDGE URE. It is always incredible how much energy, charisma an fun this man transports towards the audience. Just after the intro 'Yellow Pearl' he and his band started with the mega hit 'If I Was' which was loudly sang along, not only by the audience but also by several photographers in the pit, me included. Heart-warming! MIDGE URE broke through as guitarist / singer of the successful New Wave band ULTRAVOX. The band broke through with the song 'Vienna', followed by 'Dancing With Tears In My Eyes' - Both of them of course being presented tonight as well, latter one forming the great finale of the show. After a short break with ULTRAVOX, Ure recorded the solo album 'The Gift', which included the single 'If I Was'. In 1988, he finally continued as a solo artist as ULTRAVOX broke up. With good friend Bob Geldof, Ure also wrote the song 'Do They Know It's Christmas?' and organised Live Aid, but due to publicity canon Geldof, his contribution to it was almost completely snowed under. Ure was also writer of songs for many other bands, like the VISAGE hit 'Fade to Grey', finding its way also into the W-Fest set. What a fantastic show. I could see MIDGE URE over and over again, he never disappoints. Setlist: Yellow Pearl / If I Was / Dear God / Fade to Grey (Visage song) / No Regrets (Tom Rush cover) / Death in Afternoon / Vienna (Ultravox song) / Serenade / Love's Great Adventure (Ultravox song) / Hymn (Ultravox song) / All Stood Still (Ultravox song) / Dancing With Tears in My Eyes (Ultravox song).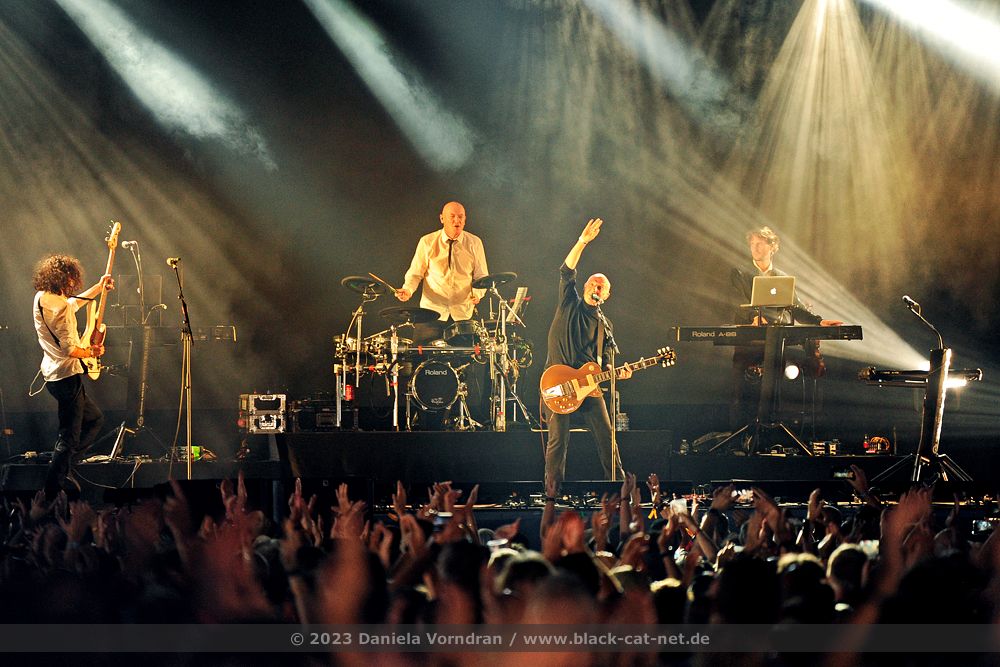 It was much calmer now at the Batcave stage when Mike Peters of THE ALARM presented an acoustic set, only equipped with guitar and a bass drum… and three microphone stands which he all used alone. Felt kind of schizophrenic a friend said. Returning to life with a brand new (as yet untitled) ALARM album set for release in the summer, Mike Peters presents THE ALARM (Acoustic) as a dynamic "evening with" concert featuring a unique one man band electro-acoustic performance style that has earned plaudits from fans and critics all across the globe and a set list of songs from all eras of THE ALARM discography. Described by Bono of U2 as "the second greatest rock and roll band in the world", Mike Peters has been the driving force behind THE ALARM for over forty creative years of new music making, and dedication to presenting the band's classic songs in ways both powerful and inventive. Relaxed final at the Batcave live stage while now at the Main Stage it became quite colourful with VILLAGE PEOPLE. Setlist: Shout to the Devil / Beautiful / The Stand / Cenotaph / Superchannel / Peace Now / Transition / Next / Strength / 68 Guns / Spirit of 76.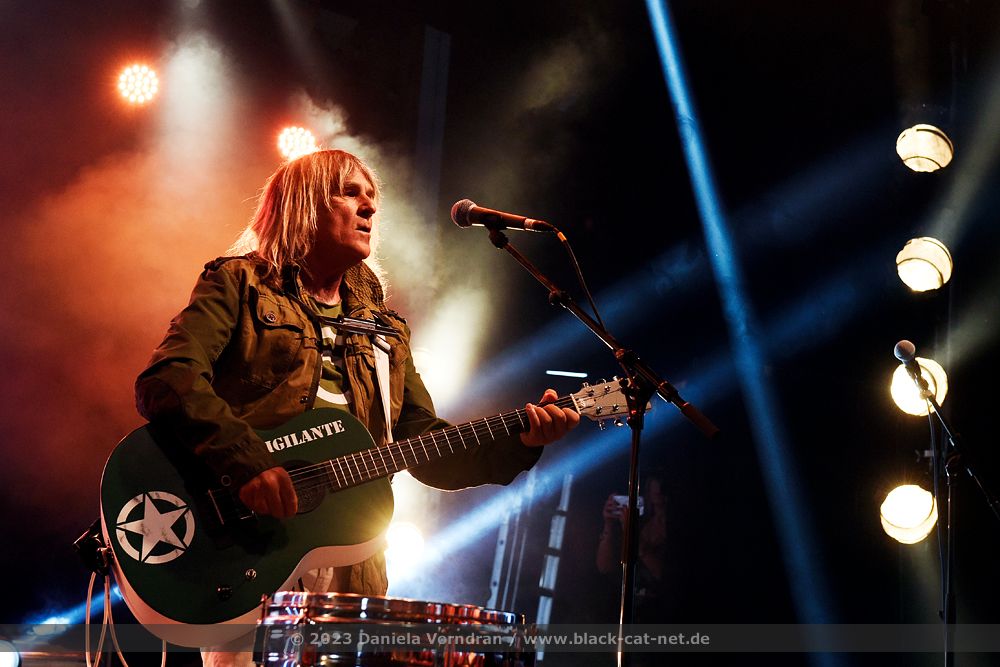 VILLAGE PEOPLE is one of the most iconic music groups in the world. Their music is part of the international songbook and has been featured in numerous motion pictures, on Broadway, and in commercials. Of course, 'Y.M.C.A' (along with its namesake dance) is played at almost every party, wedding, bar mitzvah and sporting event in the world. They've sold over 100 million records worldwide. The debut album, released in 1977 featured the hit singles 'San Francisco (You've Got Me)', and 'In Hollywood (Everybody is a Star)'. At that time however the group was just Victor Willis with use of session background singers. So, the original VILLAGE PEOPLE was simply Victor Willis. Soon VILLAGE PEOPLE became a real group but was revamped to form a second iteration in time for release of the 'Macho Man' album. This second version of VILLAGE PEOPLE soon became an international phenomenon and the second album, 'Macho Man', soon went platinum featuring the album's namesake platinum single, 'Macho Man' which was performed at W-Fest of course.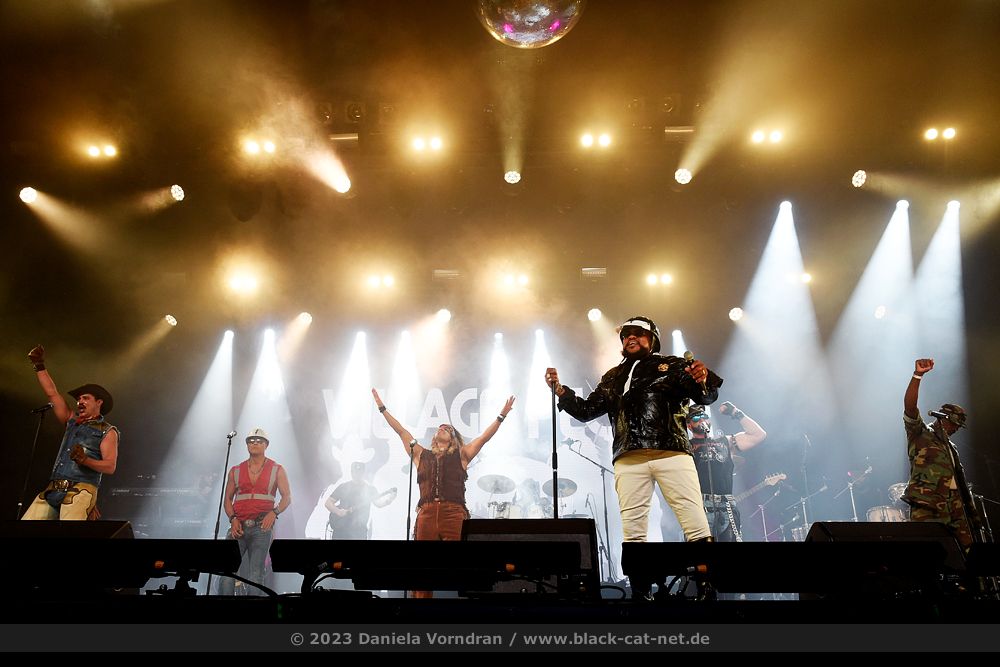 The whole show of VILLAGE PEOPLE was a colourful mix of songs, speeches and dance / erotic performance much to the excitement of the fans. Uber-hit 'Y.M.C.A' was the celebrated end of the show and the day's live concerts. Currently, the group continues to perform worldwide and is more popular now than ever. Setlist: Fire Island / All Night Thing / Macho Man / Hot Cop / San Francisco (You've Got Me) & In Hollywood (Everybody Is a Star) / I Am What I Am / *VP Intros* / Go West (with band intros) / In the Navy / YMCA
The live concerts on this day ended quite early at 22:00. But the day was not over yet. There was now time for a big after-show party at the Batcave tent. The Batcave stage was a dark place where you found the best New Wave to let your dance moves emerge from the shadows and enjoy! DJs were playing a perfect musical mix until 1:00 at night… still enough time now to sleep and find new energy for the day to follow.
All pictures by Dani Vorndran (
http://www.vorndranphotography.com
/
http://www.facebook.com/blackcatnet
)
See also (all categories):