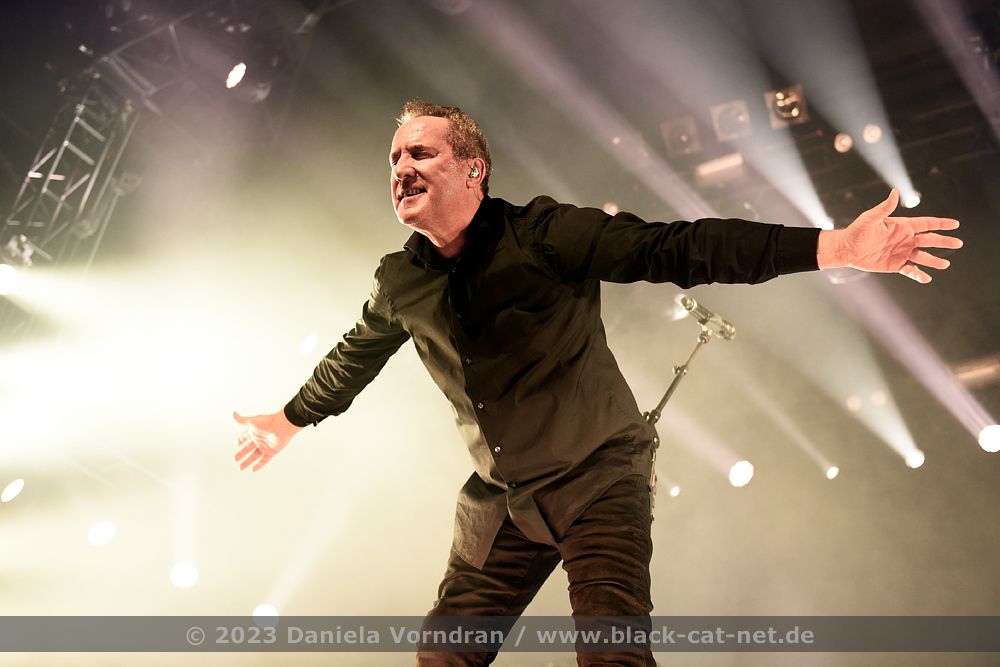 Klein Strand, Oostende, Belgium
25th to 27th August 2023
W-Festival 2023 Day 3 with Lavvi Ebbel, Praga Khan (DJ Set), Genesis (Classic), Mildreda, The Cardigans, Corpus Delicti, Natalie Imbruglia, Blancmange, OMD, Project Pitchfork

Final Day of W-Festival 2023. It was kind of cold and windy today. At least, the rain stopped during the morning and the day later on presented a beautiful blue sky with lots of nice clouds. The programme today promised to be quite diverse. I was especially looking forward to THE CARDIGANS, NATALIE IMBRUGLIA and OMD, latter one I nearly missed completely at Amphi Festival a few weeks ago. So, let's get started with the beautiful life, LAVVIE EBBEL.
LAVVI EBBEL was undoubtedly one of the most talked-about bands of Belgian New Wave around frontman Luckas Vander Taelen. In the early 1980s, the group enjoyed great success with singles like 'Give Me a Gun' and 'Victoria'. Since BOW WOW WOW had to cancel their W-Festival appearance because of Corona infection, LAVVII EBBEL opened the Main stage now instead of the Batcave. The eight-piece group had a solid live reputation thanks to their original sound and singer Luckas Vander Taelen, together with backing vocalist Kristien D'Haeger, provided a solid stage presence during W-Fest. The group ceased to exist in 1983 but now, thirty years later, LAVVI EBBEL is performing again, in the original line-up, stronger than ever. Good opener of the day. Setlist: Love me tender / (Social Life) / Volvo / You don't know / Running / No Place to go / Morning Light / Desire / Much ado / Victoria / (Le cafard) / Stand up / Glad I'm alone / Identity crisis / What do I get / Telephone / Give me a gun / Encore: Psycho Killer / Out of the blue / Planet Claire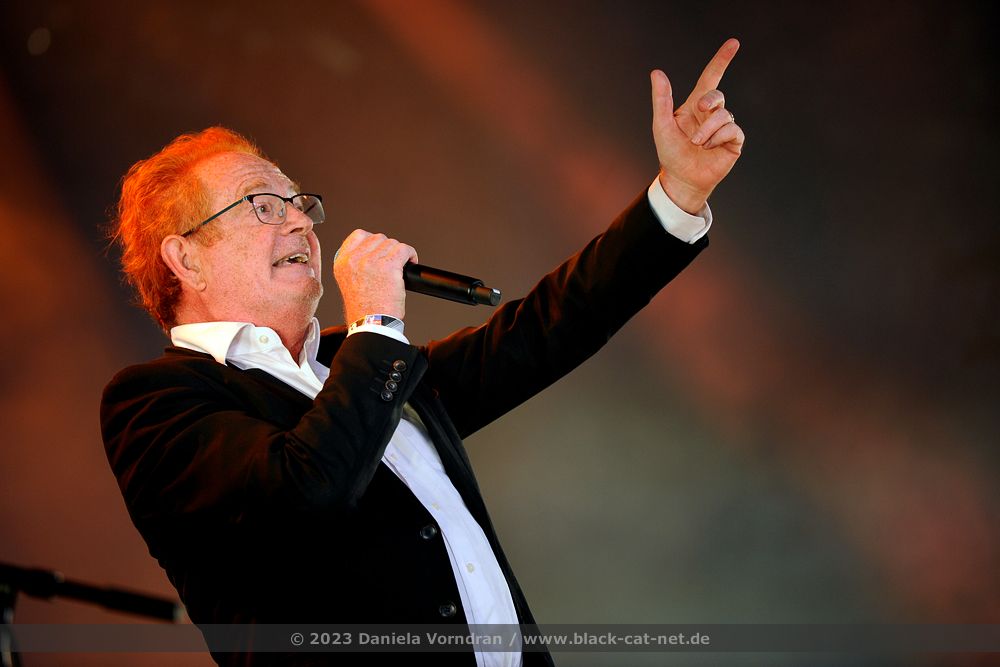 Since BOW WOW WOW had to cancel and LAVVI EBBEL played at a main stage, a replacement for the open slot at the Batcave stage had to be found. PRAGA KHAN jumped in with a rousing DJ set. PRAGA KHAN is a Belgian music producer, composer, singer and DJ. He gained international fame in the New Beat scene. He also performed under the name SOMORA at several gigs. Over time his music went stylistically from House and Rave towards Trance. The time he was given for hist set was used by people to dance along. You just could not stand still. Good solution to open the tent with this DJ Set.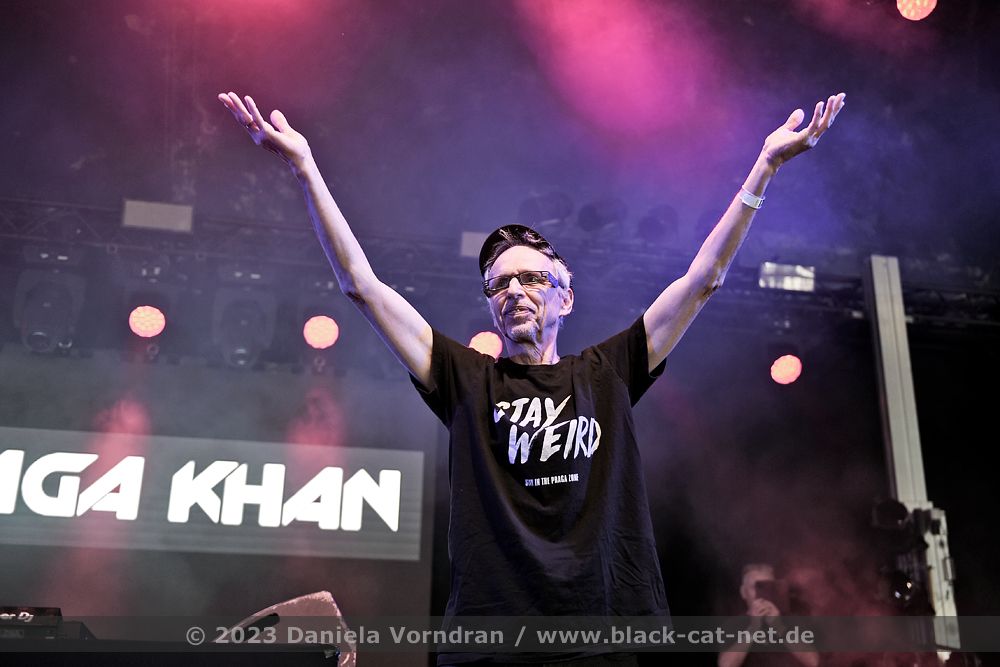 From electronic music to handmade stuff at the Main Stage with Ray Wilson's GENESIS (Classic). With this show, Wilson, ex singer of GENESIS, presented their greatest hits and best from his solo career. Not only does 2018 herald 50 years since the birth of one of the world's greatest Rock bands, GENESIS, but it also is 50 years since the birth of one of the UK's finest vocalists, Ray Wilson. RAY WILSON is known as a likeable extraordinary singer and made a name for himself as an excellent entertainer with a charismatic stage presence. With his typical Scottish calmness, he combines the energy of Rock-music with complex lyrics. Great show with lots of classics you could sing along. Setlist: No Son of Mine (Genesis song) / That's All (Genesis song) / Sledgehammer (Peter Gabriel cover) / Follow You Follow Me (Genesis song) / The Carpet Crawlers (Genesis song) / Another Day in Paradise (Phil Collins cover) / Home by the Sea (Genesis song) / In the Air Tonight (Phil Collins cover) / Solsbury Hill (Peter Gabriel cover) / Land of Confusion (Genesis song) / Jesus He Knows Me (Genesis song) / Inside (Stiltskin song)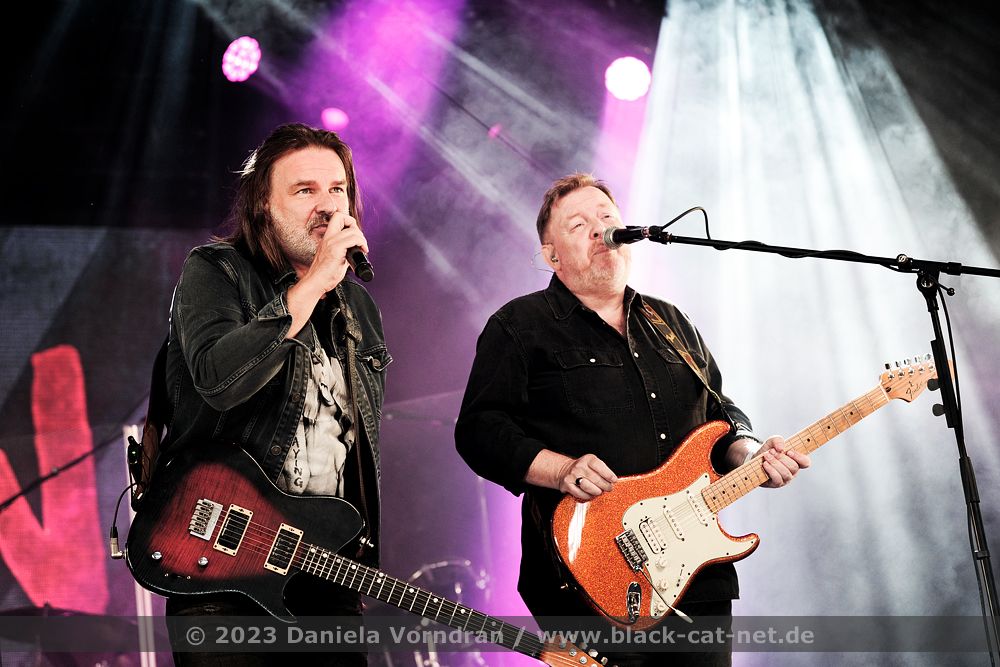 After Rock music with a classic tour we move over to Batcave for some heavy Electronic music by MILDREDA. In the mysterious and dark days of the early 90s Jan Dewulf started making peculiar and inimitable electronic music. Named after a saint, MILDREDA was a dark, powerful and extremely heavy Electro project following the Belgian tradition of bands like THE KLINIK. The outlook seemed exotic at that point, but the project was put on hold after the first success so Jan could focus on other projects. But after a long period of hibernation, the project was brought back to life leading immediately to label interest and support slots, e.g. for SKINNY PUPPY. The show was intense. I have seen MILDREDA several times before, but never with a dancer like today. The dance performance added the extra pinch of salt to the show that called for heavy dancing.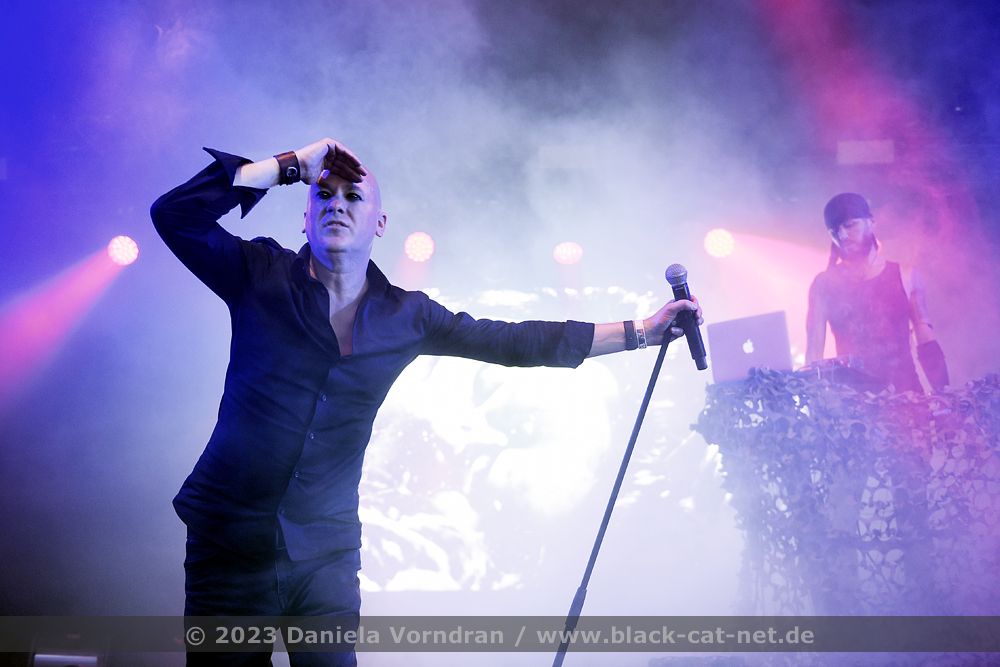 THE CARDIGANS coming up at Main Stage now were a band I was looking forward a lot. I saw them many years ago and thought they were great. Now at W-Festival, the Swedish band enlightened me once again. The five-piece met as teenagers in Jonkoping, In October 1992, bonded by their mutual love of hard rock music, guitarist Peter Svensson and bassist Magnus Sveningsson conceived THE CARDIGANS. In 1994, the band made their debut with 'Emmerdale' and later won the accolade of "Best Album of 1994" from Slitz, at the time Sweden's leading music magazine. It was in 1997 that THE CARDIGANS were first catapulted towards international superstardom. 'Lovefool's inclusion on the blockbuster Romeo & Juliet film soundtrack pushed them past the boiling point. Their show today was very unagitated with a very cool singer Nina Persson wearing a yellow elegant jacket. Time ran fast and towards the end the band recognised that they could not play the whole planned setlist and so, they left 'Carnival' out. Very sad. At least, 'Lovefool' and 'My Favourite Game' were in and ended a very nice concert. Setlist: Paralyzed / Erase/Rewind / Live and Learn / You're the Storm / For What It's Worth / Junk of the Hearts / Marvel Hill / Hanging Around / Communication / I Need Some Fine Wine and You, You Need to Be Nicer / Carnival (not played due to time issues) / Lovefool / My Favourite Game.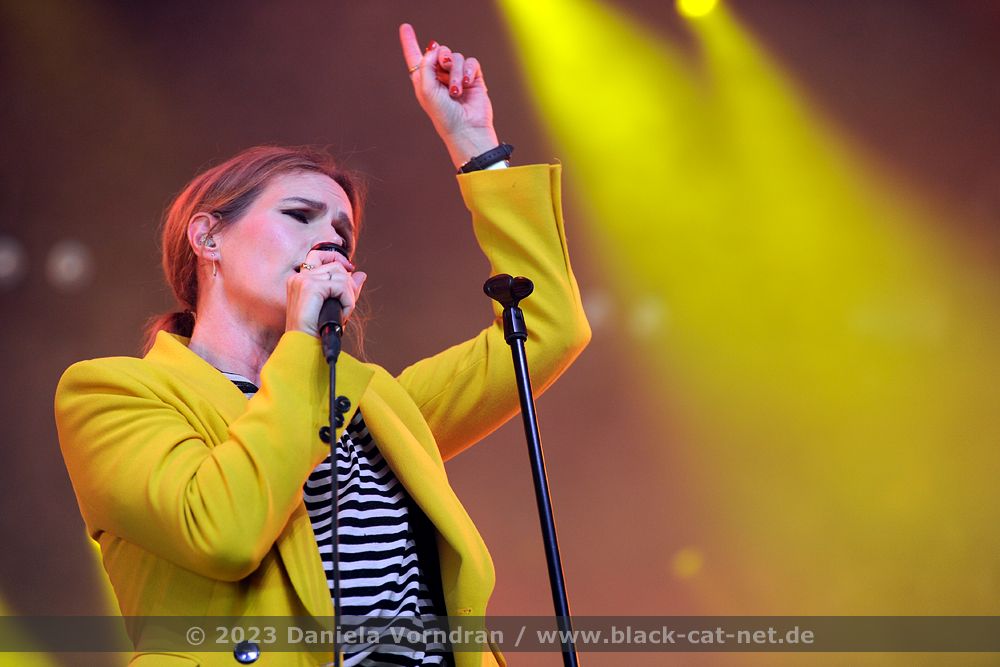 CORPUS DELICTI brought some great Goth music now into the Batcave tent. The band came to life in Nice, south of France, in early 90s. The quartet made a strong impression with their first album 'Twilight' in 1993. Melodic and hard-hitting Gothic Rock fuses the best of the great alumni of the genre with an energy, creativity and sense of melody that will quickly allow them to stand out from second-rate bands which then start to appear in Europe… I had never seen them on stage before, but they immediately convinced me. CORPUS DELICTI has not only sound and songs, but also style and personality and they acted very cool on stage, perfectly fitting to the music. Visuals and look worked out. In 2022, the titles of CORPUS DELICTI have more than a million views on YouTube, and average 70,000 plays per month on Spotify - and that increases every month! And I completely missed them so far. Shame on me… something to change in future. Loved the show! Setlist: Patient / Noxious / Dusk of Hallows / Absent Friend / Staring / Dust and Fire / Twilight / Lorelei / Broken / Saraband.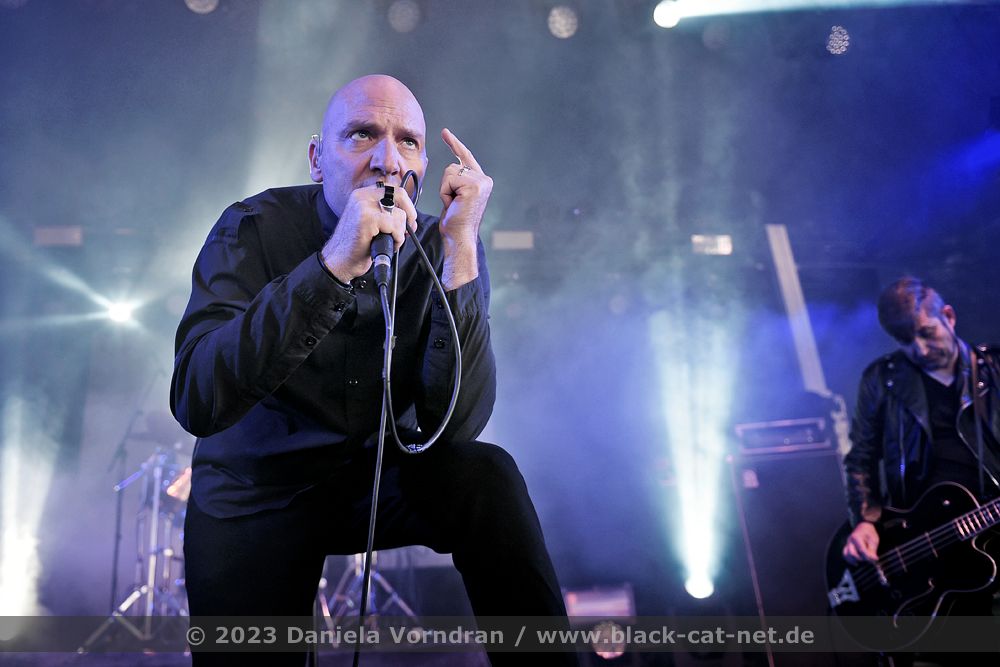 On of my festival highlights would follow now with the show of NATALIE IMBRUGLIA, most famous for her song 'Torn'. She had also style like Nina Persson and exposed herself as a big fan of THE CARDIGANS during the show and told us she had watched the concert before. The 48-year-old (and she never looked better!) woman is one of Australia's most loved Pop artists and first stole our hearts over a quarter of a century ago with her chart-topping smash hit cover of the iconic track, 'Torn', the most played song on Australian radio since 1990! Since then, she has released six studio albums, and in 2021 she made a triumphant return with her critically acclaimed, Top 10 album, 'Firebird'. She won several awards and Grammy nominations. When she entered the stage, you immediately felt good. She had such a lovely, likeable expression, always smiling and playing with the audience. I loved the show from beginning to the end and of course loudly sang along to 'Torn'. Hope to see her soon again. Wish for a longer show! Setlist: What It Feels Like / Wishing I Was There / Wrong Impression / Shiver / On My Way / Maybe It's Great / Build It Better / Leave Me Alone / Smoke / Just Like Old Times / Habit (Unreleased Song - new) / Torn (Ednaswap cover) / Big Mistake.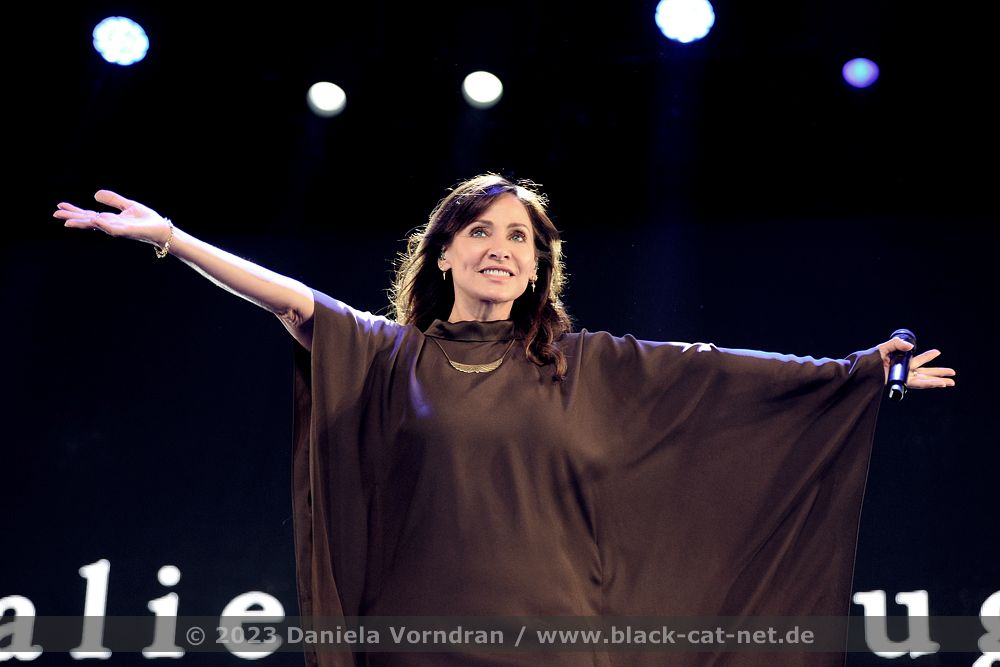 BLANCMANGE at the Batcave brought us back to the eighties. In their post punk early days, when Arthur formed the band with Stephen Luscombe in 1978, they made tape loops and experimental sounds with kitchen utensils, before developing into one of the definitive chart-topping electronic pop acts throughout the 1980s. This sense of sonic limitlessness is evident across BLANCMANGE's expansive and prolific catalogue, which is now expanded with his most recent album 2022's 'Private View'. The album is distinctly BLANCMANGE while also expanding into new sonic terrain. There's a deft marriage of futuristic electronic sounds, Arthur's unmistakable vocal hooks, and songs that veer from buoyant and joyful to dark and brooding. I must say that the show at W-Festival this time not really hit me. I don't know if it was my personal mood or that the band was quite reserved. Anyway, there were many people liking the electronic odyssey.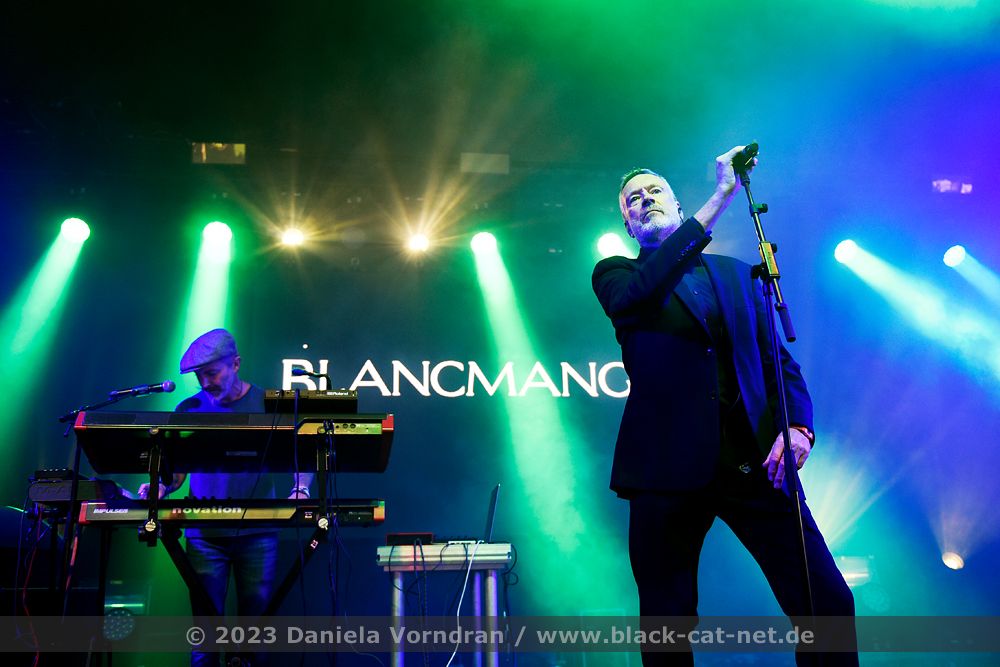 Headliner on Main Stage were OMD, who already played W-Festival before. And this time, they had so much fun with the excited audience, that they suggested playing again the next day, since Monday was a Bank Holiday in UK and they thought anyone should have a free day… time for more OMD. ORCHESTRAL MANOEUVRES IN THE DARK (OMD), the synth-pop duo from Wirral, England, pioneered their genre combining massive chart success with experimentation on albums such as 'Organisation' (1980), 'Architecture and Morality' (1981) and 'Dazzle Ships' (1983). Hits such as 'Enola Gay', 'Maid of Orleans' and 'Souvenir' propelled them into the stratosphere and helped shape the musical landscape of the eighties. Their most recent studio albums show the band to be one of the few of their generation still able to create music that inspires. A new album entitled 'Bauhaus Staircase' will be released in 2023. OMD's set was full of energy and loaded with their hits. It was good to have your dancing shoes on. Setlist: Intro - Atomic Ranch / Isotype / Electricity / Messages / History of Modern (Part I) / (Forever) Live and Die / If You Leave / Souvenir / Joan of Arc / Joan of Arc (Maid of Orleans) / Talking Loud and Clear / The Punishment of Luxury / So in Love / Pandora's Box / Locomotion / Sailing on the Seven Seas / Enola Gay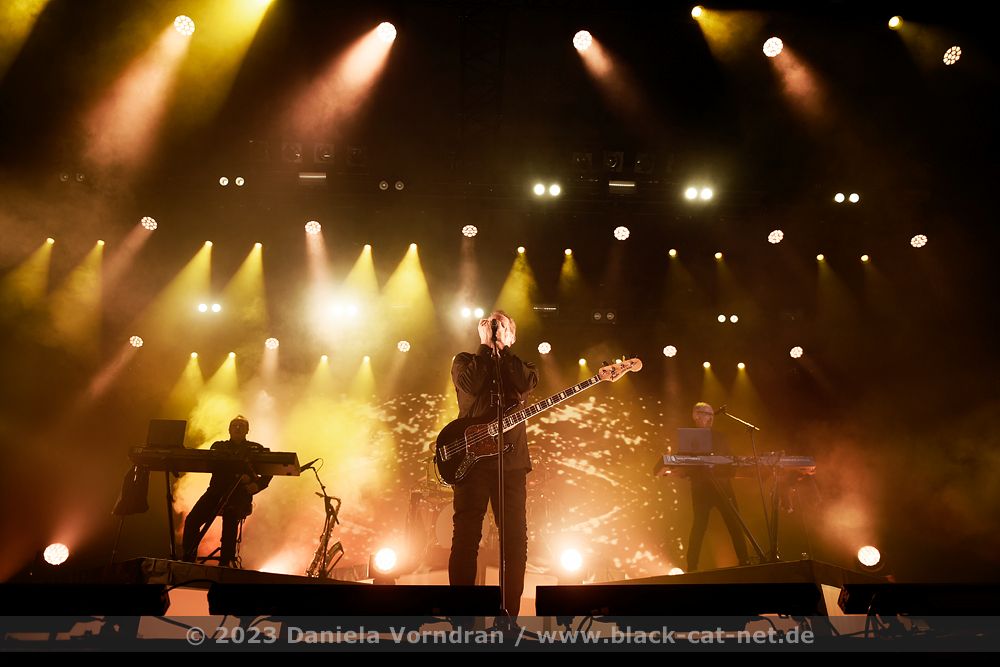 German PROJECT PITCHFORK were closing the Batcave stage and the whole festival. With two drum sets and keyboards in the back, the stage was packed now. Smoke and red lights announced the appearance of the band. The German Electro band was founded in Hamburg in 1990. They belong one of the most successful and influential representatives of the Dark Electro genre, which they have since the early nineties and led to unimagined success. The two driving forces behind the band were Peter Spilles and Dirk Scheuber. Today, the band consists of Peter Spilles (vocals, synths, sampling, arrangements) and Jürgen Jansen (synths) plus live drummers Achim Färber and Christian "Leo" Leonhardt. There were a lot of fans gathering in front of the stage eager to jump and dance with the band. It definitely was one of the better PITCHFORK concerts I have seen in a while with a good interaction between band and fans. Perfect final of the festival.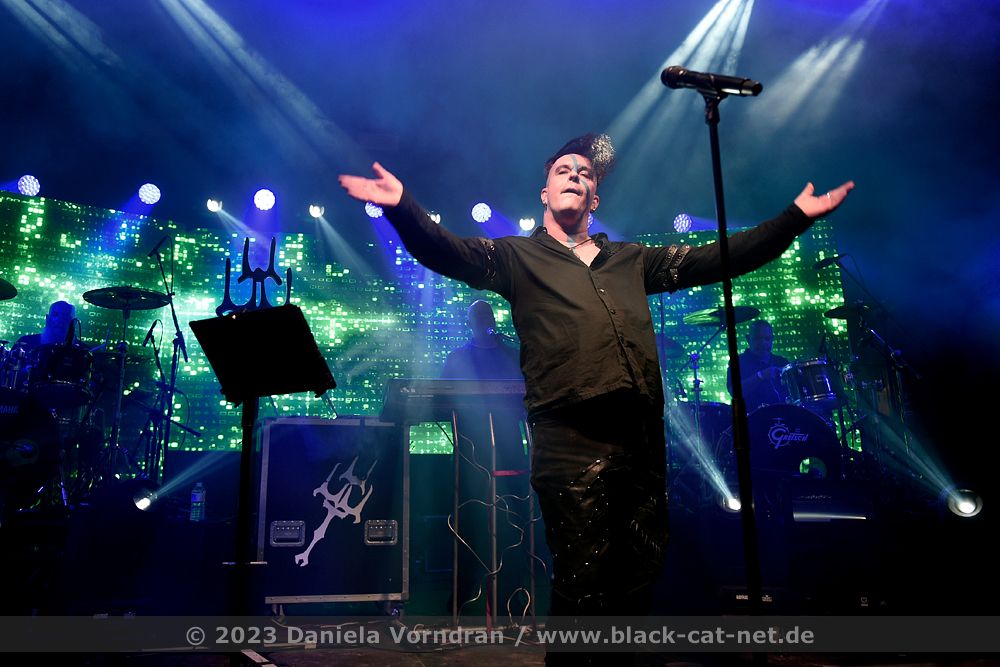 What is left to say now? The festival was very well attended, the tent sometimes so packed that not more people were let in. I think it was a good decision to shorten the festival to three days. Much more convenient for people and in fact we are all getting too old for a five-day festival. Early-Bird tickets for next year were already available at the festival and many people already purchased their tickets for the best price you could get. See you next year at Oostende beach.
All pictures by Dani Vorndran (
http://www.vorndranphotography.com
/
http://www.facebook.com/blackcatnet
)
See also (all categories):