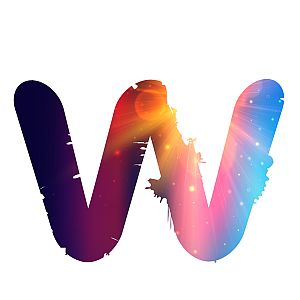 Klein Strand, Oostende, Belgium
25th to 27th August 2023
W-Festival 2023 with Village People, Midge Ure, A Flock of Seagulls, The Alarm, The Human League, Nena, Wet Wet Wet, Cold Cave, OMD, Natalie Imbruglia, The Cardigans, Project Pitchfork and many more

Once again, the festival is taking place at the "Small Beach" in Oostende. While it was lasting five days last year, this year it only takes place from Friday to Sunday, bit with two stages. Besides the main stage, there will be the Batcave Live stage. The festival once more offers a fabulous line-up. Fancy three days of sun, sea and the best music of the 80s and 90s as well as dark Goth music at the Batcave stage. You should get your tickets for the W-festival, 25th-27th August, 2023 Ostend Beach, Belgium. Start packing!
There will be some special performances during the festival. I.e., I think of VILLAGE PEOPLE. VILLAGE PEOPLE is one of the most iconic music groups in the world. Their music is part of the international songbook and has been featured in numerous motion pictures, on Broadway, and in commercials. Of course, 'Y.M.C.A' (along with its namesake dance) is played at almost every party, wedding, bar mitzvah and sporting event in the world. They've sold over 100 million records worldwide. MIDGE URE broke through as guitarist/ singer of the successful new-wave band ULTRAVOX. The band broke through with the song 'Vienna', followed by 'Dancing With Tears In My Eyes'. After a short break with ULTRAVOX, URE recorded solo album 'The Gift', which included the single 'If I Was'. In 1988, he definitely continued as a solo artist: ULTRAVOX broke up. With good friend BOB GELDOF, URE also wrote the song 'Do They Know It's Christmas?' and organised Live Aid, but due to publicity canon Geldof, his contribution to it was almost completely snowed under.
The British New Wave / Synth band THE HUMAN LEAGUE dominated the charts and radio waves in the 1980s. Their dark, punk electronic music of the time still sounds as fresh and contemporary today. The album 'Dare' has lost none of its influence since its release on 16 October 1981. 'Dare' featured no less than four hit singles, including 'Don't You Want Me'. The album became a milestone in British music history and also introduced the rest of the world to this new British sound. The Human League helped define the sound and look of the 80s, it was the beginning of electronic music and club culture as we know it today. To this day, the band is still one of the most influential on a new generation of artists. 2023 NENA's '99 Luftballons' has been flying around the world for 40 years. And since its release in 1983, the song has not lost a moment of its truthfulness and topicality. A unique rock n' roll experience with a lot of feeling and heart once again at W-Festival.
OMD), the synth-pop duo from Wirral, England, pioneered their genre combining massive chart success with experimentation on albums such as 'Organisation'(1980), 'Architecture and Morality' (1981) and 'Dazzle Ships' (1983). Hits such as 'Enola Gay', 'Maid of Orleans' and 'Souvenir' propelled them into the stratosphere and helped shape the musical landscape of the eighties. OMD re-united in 2007 and have been playing sold out concerts to critical and fan acclaim ever since. Their most recent studio albums show the band to be one of the few of their generation still able to create music that inspires, and a new album entitled 'Bauhaus Staircase' will be released in 2023. OMD's set is full of energy and loaded with their hits, so bring your dancing shoes! One of Australia's most loved pop artists, NATALIE IMBRUGLIA, first stole our hearts over a quarter of a century ago with her chart-topping smash hit cover of the iconic track, 'Torn', the most played song on Australian radio since 1990! Since then, she has released six studio albums, and in 2021 she made a triumphant return with her critically acclaimed, Top 10 album, 'Firebird'. Natalie has won 8 Aria's, 2 Brit Awards, one Billboard Music Award and received three Grammy Nominations!
W-Fest of course has more to offer than only bands on the main stage. There will be the Batcave live stage for 3 days Goth music and of course there will be party and dancing with various DJs. The next edition of W-festival is fast approaching! The timings are known, the artists are clearing their throats and of course we also think of your hungry stomachs. The search for the best food trucks in the country is almost complete and the festival is already happy to put some of the foodie stars in the spotlight! The foodie-village meets all the needs of the seasoned foodie. Do you feel like a tasty vegetarian/ vegan meal or do you have a rumbling stomach that can only be cured with a good burger? No problem! W-Fest have brought together just about the best & diverse food line-up that perfectly complements our musical program and the sunny beach. Check out more at the festival website.
Line-up

All info and the program can be found on the festival website (https://w-festival.com). Below you will find all acts per day:
Friday - August 25, 2023 - Main Stage

Village People 20:40-21:55
Midge Ure 19:00-20:00
A Flock Of Seagulls 17:10-18:10
China Crisis 15:30-16:30
Björn Again 14:00-14:50
Friday - August 25, 2023 – Batcave Live Stage

The Alarm 20:00-21:00
Hocico 18:10-19:00
Pretty Addicted 16:30-17:20
Velvet Mist 14:50-15:40
Saturday - August 26, 2023 – Main Stage

The Human League 21:00-22:15
Nena 19:00-20:00
Wet Wet Wet 17:10-18:10
Earth, Wind & Fire experience by Al McKay 15:30-16:30
Nik Kershaw 14:10-15:00
Time Bandits 13:00-13:40
Saturday - August 26, 2023 – Batcave Live Stage

Cold Cave 20:00-21:00
NNHMN 18:10-19:00
Soror Dolorosa 16:30-17:20
Traitrs 4:50-15:40
Sunday - August 27, 2023 – Main Stage

OMD 20:00-21:15
Natalie Imbruglia 18:00-19:00
The Cardigans 16:10-17:10
Genesis (classic) performed by former frontman Ray Wilson 14:30-15:30
Bow Wow Wow 13:00-13:50
Sunday - August 27, 2023 – Batcave Live Stage

Project Pitchfork 21:15-22:15
Blancmange 19:00-20:00
Corpus Delicti 17:10-18:00
Mildreda 15:30-16:20
Lavvi Ebbel 13:40-14:40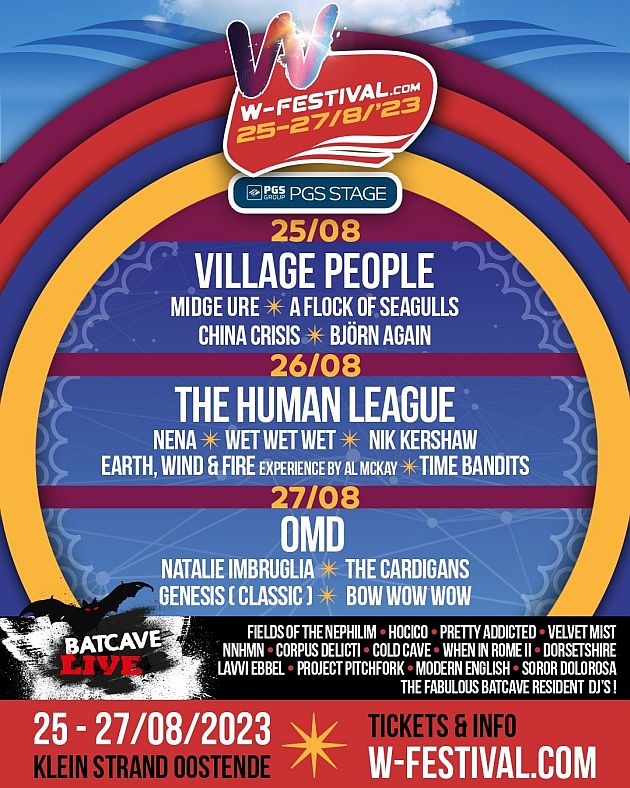 Additional Information

Location

W-Fest is taking place at the Klein Strand in Ooastende, Belgium, directly at the beach!
Tickets
€69 W-festival Day Ticket
€199 W-festival 3-Day Combi Ticket
several special ticket packages like VIP tickets and food & beverage vouchers are available as well
https://w-festival.com/en/practical/ticketinfo/
Camping, accommodation & transportation

W-Festival does not have its own campsite. We gladly refer you to the website of Ostend Tourism for more information on staying overnight in the region (https://www.visitoostende.be/en). Get the most out of your W-festival experience and let us worry about the handling of your hotel & ticketing! More: https://w-festival.com/en/practical/external-accomodations. All about transportation in Oostende and travel to the festival at https://w-festival.com/en/practical/where-is-w-festival/
Website & Social Media

Website: https://w-festival.com/
Facebook: https://www.facebook.com/WFESTIVAL.OFFICIAL
Twitter: https://twitter.com/Wfest_official_
Instagram: https://www.instagram.com/wfestival.official/
Facebook Event: https://www.facebook.com/events/1236579030527578/
After Parties
Every day after the live acts, you can party on until the end thanks to the Mainstage themed-afterparties!
Funky Friday (25/08 | 22:00-01:00)
Last night 2 DJ's saved my live! Ambiance guaranteed during this funky disco fever set bringing the best of disco and faulty pop
DJ set by Sven & Cornelis
Living on video (26/08 | 22:20-01:00)
The best music videos of the 80s mixed together on the big screen! A feast for the eyes and ears !
VJ set by DJ boo-lee
Micro New Wave (27/08 | 21:20-23:30)
Thé New Wave Party for the general Public, a worthy closer of W-fest 2023
DJ set by The Batcave Boys
More into the dark scene? No worries – the epic afterparties in the Batcave will also take place!
See also (all categories):