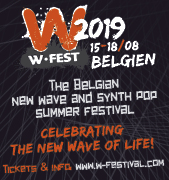 Interview with
Erik de Ridder (Festival Organiser)

It doesn't happen often that an organization already announces the almost complete line-up of next year during this year's edition. W-Fest is delightful exemption on that rule and is also quite unique from several other perspectives. In August, this Belgian 80s/ New Wave/ EBM / Synth Pop Festival (with full camping) attracted over 30,000 fans during a successful 3rd edition with acts like MIDGE URE, KIM WILDE, ABC, PAUL YOUNG, MARC ALMOND, A FLOCK OF SEAGULLS, HEAVEN 17, D:UEL (ex-Propaganda), LIMAHL, CAPTAIN SENSIBLE, WANG CHUNG, LORDS OF ACID, DAF and special shows of ANNE CLARK and PETER MURPHY 40 YEARS OF BAUHAUS CELEBRATION FEATURING DAVID J.
Organiser Erik de Ridder succeeded in setting up an even stronger program for next year's edition, that will take place from Thursday 15th of August to Sunday 18th of August in Waregem (near Gent and 2hrs drive from Breda). Next year, around 80 acts will perform on three stages (main stage SYNTH SCENE, WAVE CAVE and THE OLIVIER DAOUT DOME) in four days. Since the festival's growing popularity and the already fully announced line-up, we took the chance to ask festival promoter Erik de Ridder a few questions…
Reflections of Darkness [RoD]
: Since the first edition of W-Fest in 2016 you constantly grew. Now, the event takes place on four days offering music on two stages. Could you please tell us a bit of the festival's history and why you grew so much in such a short time? What has changed since the first edition of W-Fest?
Erik
:
We started W-fest because of the lack of Synth Pop & New Wave festivals in Belgium. Above all we wanted to create the best possible scenery with the best possible music. To offer a unique event for our generation. It seems to be something sought after, if you look at our growth! The first edition had 2,200, the second 16,000 and the third 32,000 visitors...
RoD
: How are the bands for the line-up selected? Many people complain that the same bands always play at all the summer festivals and it seems W-Fest is kind of different there.
Erik
:
We try to mix the usual with the forgotten bands, the well known names as well as the small gems hidden away, the old icons with the new kids on the block. It's this mixture that explains our success I think.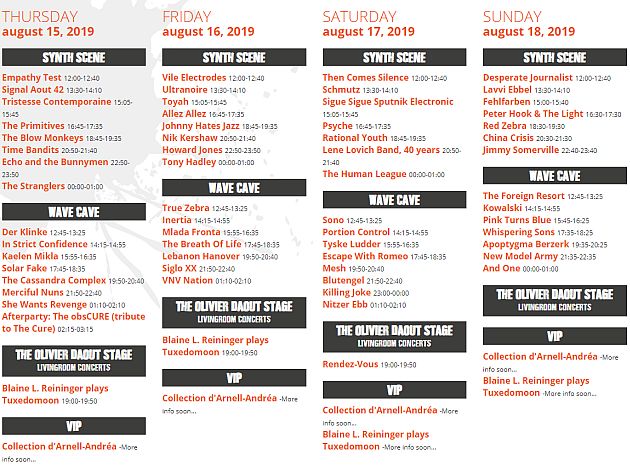 RoD
: Who picks the headliners? W-Fest presents always special bands. How do you decide who to play and who to headline the festival?
Erik
:
No system, more a "gut" feeling... what fits the DNA of the festival, what fits the very different DNA of our audience is what we try to feel and get.
RoD
: On 1st December, you announced a new location for the 2019 edition. In the last years, the festival took place in Amougies. Now, you moved to the Expo in Waregem, where in the past already the Gothic Festival took place. Could you please tell us a bit more about the location change?
Erik
:
We had to change. To ensure the growth of the festival we needed to position ourselves in a "strong" economical region, preferentially a region with a New Wave and Gothic past and not far from the 2018 site... WAREGEM is our heimatt now. W-festival is home. Mind you - the festival is still an indoor & outdoor happening - we will have three stages (two inside, one outside, + several DJ posts outside)
RoD
: Since the festival has moved to a new location now, are there more changes going along with the move? I think i.e. of the camping at the festival site…
Erik
:
The camping stays the same as set-up as last year (besides the many improvements thanks to our experience of last year) and besides that lots and lots of novelties will come your way! Like "wireless LAN", festival "bedroom experiences", a wellness centre etc...
RoD
: Food on festivals gets more and more important nowadays, especially vegetarian and vegan food. What do you offer at the festival and who is responsible for the food selection? How do you pick the catering services?
Erik
:
We work with ONE caterer that provides EVERYTHING. We have this factor well covered - remember this is Belgium: a gourmet country J
RoD
: "Perfect" is a very abstract concept. Every festival has little and big problems, it can be weather, technical issues or something else. What is a "perfect festival" for you as the organizer? Have you ever experienced it? And what problems and difficulties are you usually faced with?
Erik
:
We have the usual shit behind the scenes. None of which is visible for the visitors. Mostly technical issues, timing issues (with the bands…). Other than that we had a perfect run so far. A perfect festival for me is watching everybody (!) enjoying themselves, and seeing them leave with a smile on their faces that lasts a year long J
RoD
: Are there special great experiences you had in the past you always remember with a positive feel?
Erik
:
When we walk on the festival grounds, the many compliments and handshakes of the visitors to me will always be my highlight.
RoD
: Besides the W-Fest, do you organize other events and concerts too?
Erik
:
Once a year we have the announcement party (announcing the final headliners) and one '80 ties gig (this year we have had Peter Murphy and David J and Cock Robin)
RoD
: And finally, we would like to ask you to say a few words to those of our readers who are coming to W-Fest 2019...
Erik
:
Guys, have a blast. We do this for you! Take back superb memories!
More info about the festival and tickets are available via
https://www.w-festival.com.
See also (all categories):