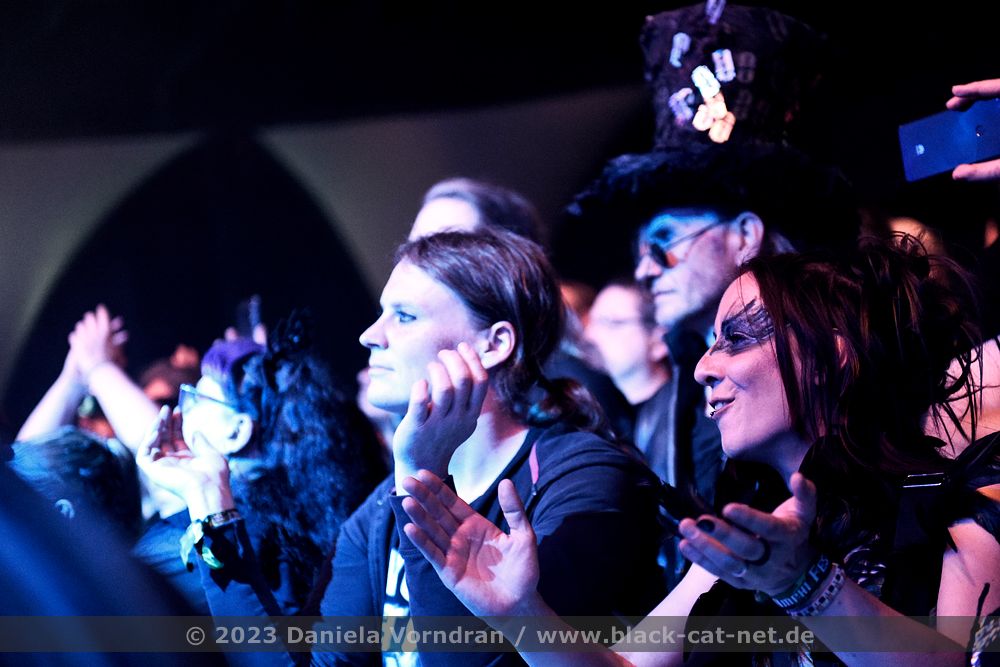 Tanzbrunnen, Cologne, Germany
30th July 2023
Amphi Festival 2023 Day 2 with Schöngeist, Wiegand, Qntal, Solitary Experiments, Unzucht, Combichrist, Lord Of The Lost, OMD, Blitz Union, Traitrs, Scarlet Dorn, Whispering Sons, Coppelius, Kite, Actors


Today's Amphi Sunday also starts with a strengthening editorial breakfast before we head back to the Tanzbrunnen. With the best festival weather (pleasantly warm and sunny), today on the Orbit Stage, starting at 1:45 pm, we'll have OBERER TOTPUNKT, POTOCHKINE, FÏX8:SËD8, RUE OBERKAMPF, NNHMN, and L'ÂME IMMORTELLE performing. In the theatre, the performances begin about an hour earlier, featuring BLITZ UNION, TRAITRS, SCARLET DORN, WHISPERING SONS, COPPELIUS, KITE, and ACTORS. As for me, I've decided to take it a bit easier today and spend most of my time in front of or near the Main Stage. I originally wanted to catch a few acts in the theatre and on the Orbit Stage, but somehow, I can't manage it today. However, Dani is out with the camera, covering main stage and theatre for you.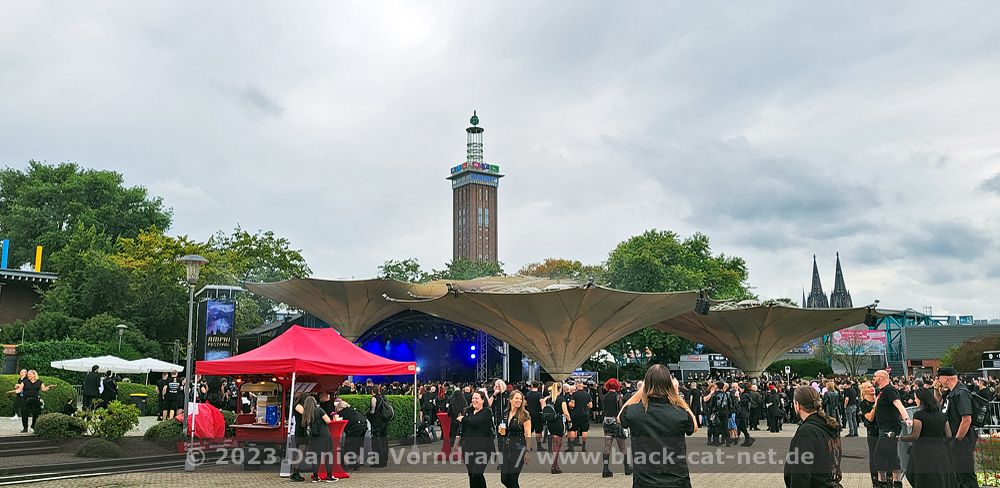 Today, it seems that not so many visitors have made their way to the festival grounds at this time. Our first must-see for today still has some time. WIEGAND will only start on the Main Stage shortly after twelve. Since we have nothing else to do, we give SCHÖNGEIST a chance, who open the festival Sunday at eleven o'clock. The Dark Rock band, founded in Munich in 2006, is actually unknown to me, so I'm looking forward to being surprised. The five gentlemen appear well-rested, in high spirits, and manage to convince the audience right from the start. The area in front of the stage quickly fills up, and we too become awake quickly with songs like 'Auge um Auge', 'Unsterblich', or 'Keine Zeit'. I am particularly impressed by the voice of singer Timur. The band will finally release a new album after three years ("the record boss is already desperate"), and they have brought the song 'Fake News' along to showcase it. After 40 minutes, SCHÖNGEIST bid farewell to the cheering Amphi audience with 'Wehe!'. It was a successful performance that not only delighted the die-hard fans. So, getting up early was already worth it.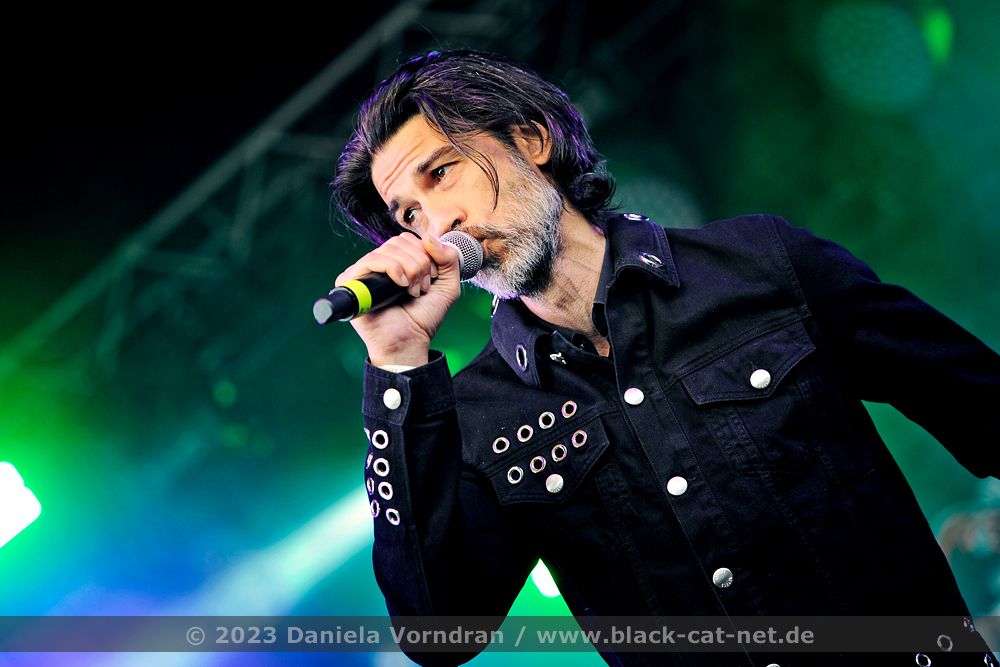 During the changeover, the crowd thins out a bit. However, around noon, the area in front of the Main Stage fills up again. The dynamic duo, about to take the stage, is only performing for the fifth time in this constellation. Helge and Jens stepped in at short notice for THE JOKE JAY and are making their Amphi debut right on the Main Stage. Their latest album, 'Arrived.', has impressively reached the top position on the GEWC Album Charts for the third time in a row, winning over both, critics and fans. Personally, I have already witnessed the duo's live qualities during their performance in January with RROYCE at their anniversary show, and I am thrilled for their festival appearance today. WIEGAND mainly bring songs from their current album and, as they say, they "don't want to talk too much" but prefer to sing. Therefore, after 'Filter' the "little ballad" 'Get Informed' follows. Helge exudes incredible naturalness, joy of playing, and presence. The audience immediately joins in, singing, clapping, and dancing with enthusiasm.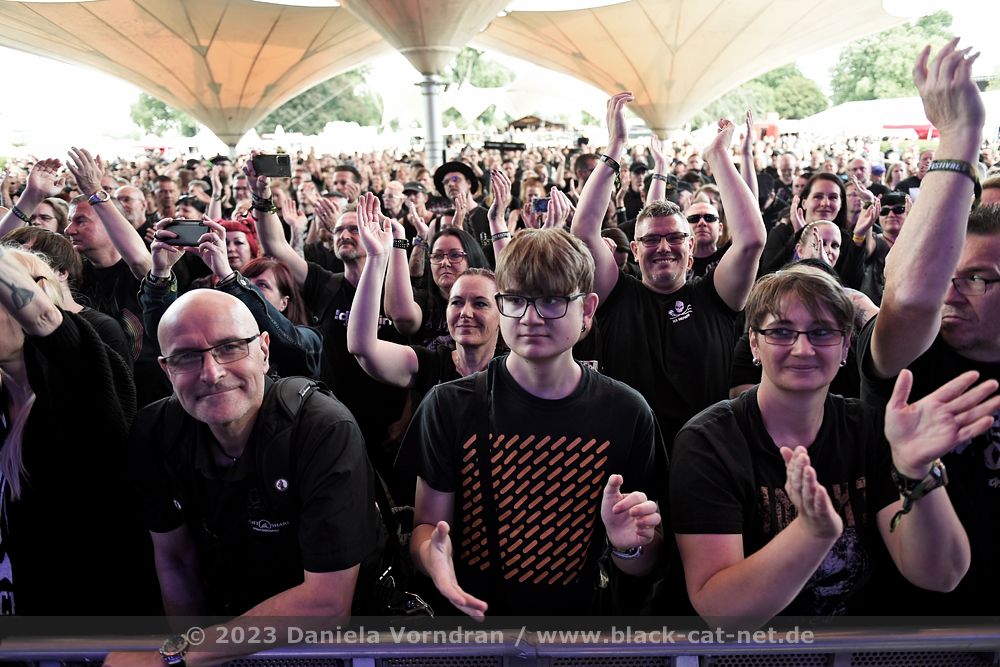 "Amphi, do you feel alive?" WIEGAND has a song for that too. 'Alive' is also celebrated, and Helge looks extremely satisfied. He and Jens are visibly excited about the turnout and the audience's participation. Next comes 'Pied Pipers', which develops live an incredible energy. Helge then takes a short break, and so it's time for "something calmer. A ballad. Well, it's not really a ballad, but a sad song from the old album from 2018." Helge switches to the electric piano for 'Falling'. And then comes something "very personal." 'Connected' is for Helge's son Noah, who is also heard in the song. The audience is audibly moved. Helge realizes that he "shouldn't write emotional songs anymore, or else I'll forget the lyrics." But as Jens rightly interjects, "that's live, that's live!" And for those who paid close attention, Helge has revealed the mystery about the mistake on the album cover. A printing error had crept in, and they had turned it into a competition.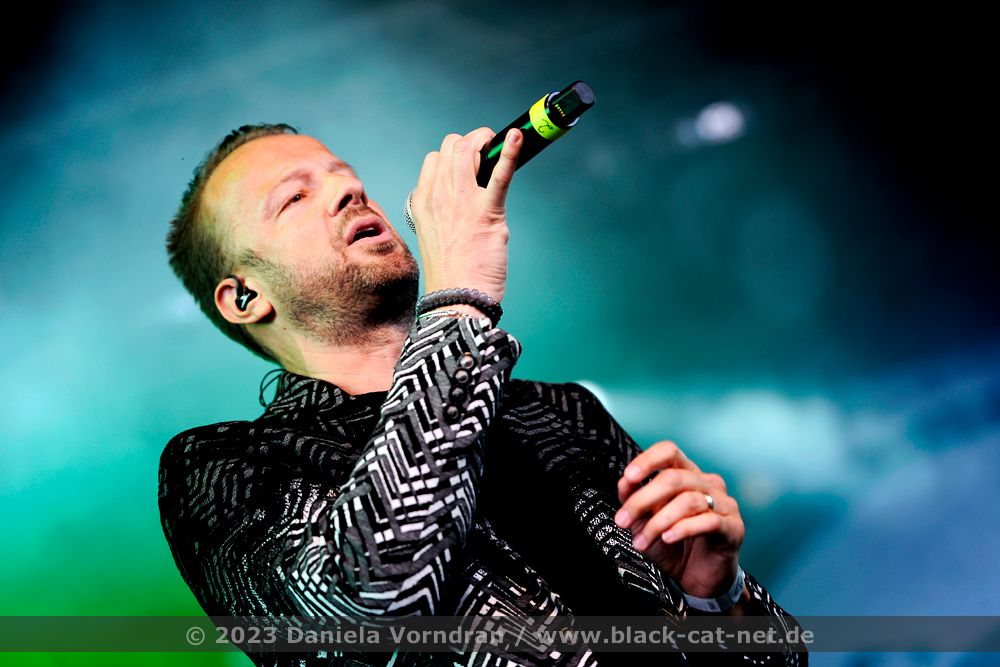 During the line "T-Rex lost his tail", Helge gestures to a tail behind him. On the cover, however, the dinosaur had lost his tale, in contrast to the original lyrics. But I digress... With 'Then Came You' another personal song follows, and "it's getting a bit poppy now". Helge jumps exuberantly across the stage, directing the audience, who sing along loudly. The next (and last) song was precisely written for the feeling we have on a weekend like this... having fun and letting go. That's the song for it, 'Floating Away'. And together, we do just that, have fun, let go, and float away. Amphi debut more than successful! As you may have noticed, enthusiasm got the better of me again, and I wrote more than I intended. I need a break now.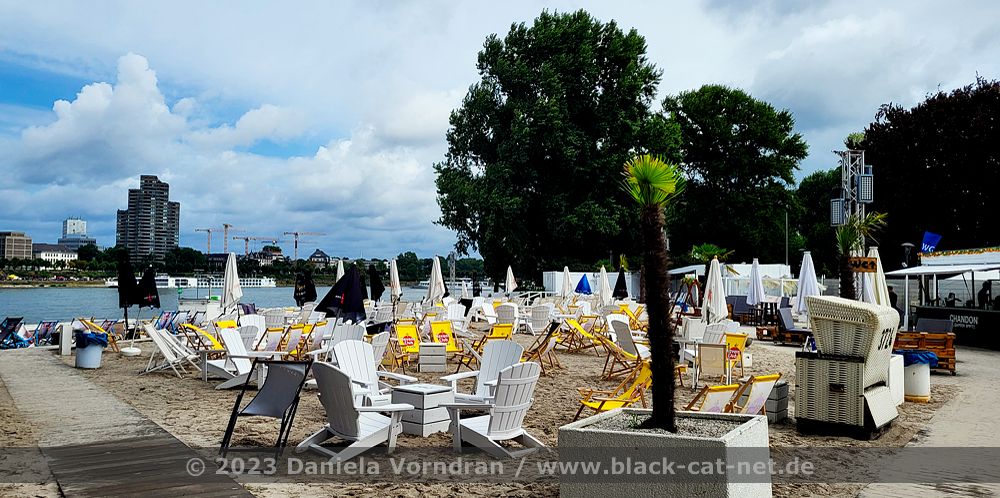 After taking a short walk to the Beachclub and enjoying some ice cream, we head back towards the Main Stage, where QNTAL is currently performing. The area in front of the stage is still quite crowded, so we decide to stand on the side for now. I am familiar with 'Ad Mortem Festinamus' and unfortunately, it's already their last song for today. QNTAL bid farewell to the stage amidst cheers and applause from the audience. As they finish, the crowd starts to disperse, and we make our way to the front. Then we have to wait again as it gets crowded in front of the stage once more.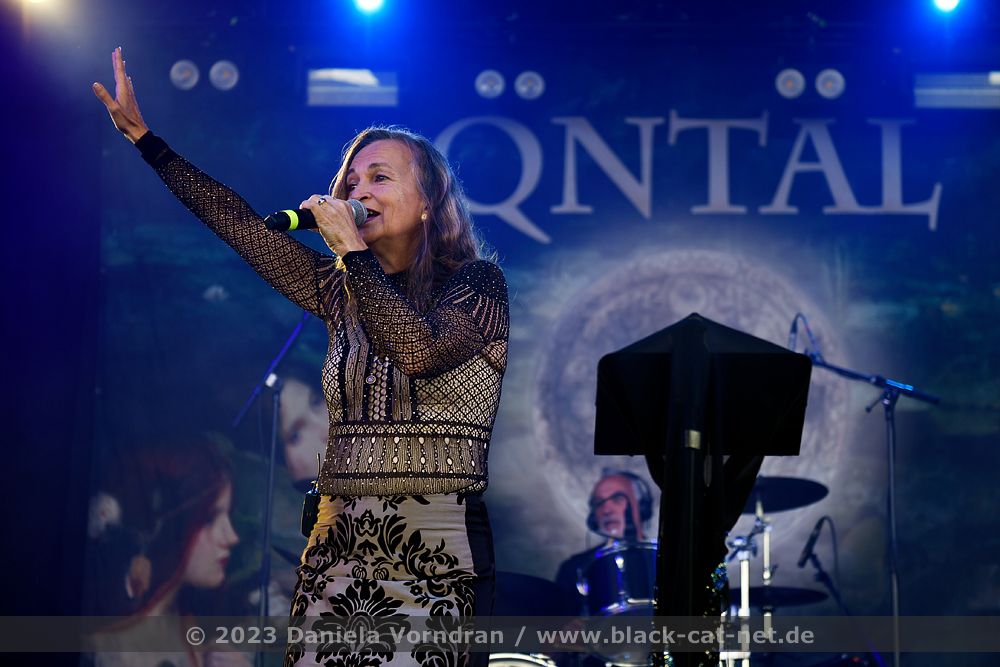 SOLITARY EXPERIMENTS are up next on the Mein Stage, and as always, they are a true delight. Singer Dennis Schober has planned something special for today's performance. But let's start from the beginning. First, Dr. Mark Benecke and his wife Ines welcome "a band that represents a beautiful connection between East and West". From Frankfurt / Oder ("the only true Frankfurt") to Leipzig, Berlin, and Cologne, today's "Axis of Good" spans across these cities. The band will celebrate their 30th anniversary next year with a big party in Berlin. Dr. Mark Benecke hopes that the band will get to play at the Brandenburg Gate for the occasion. I think, that would fit nice. However, the anniversary concert will take place on 13th and 14th September at the Kesselhaus in Berlin. As Dennis announces, it will feature numerous bands and lots of fun. So, you should mark that date on your calendars. Now, back to today's Amphi-Sunday.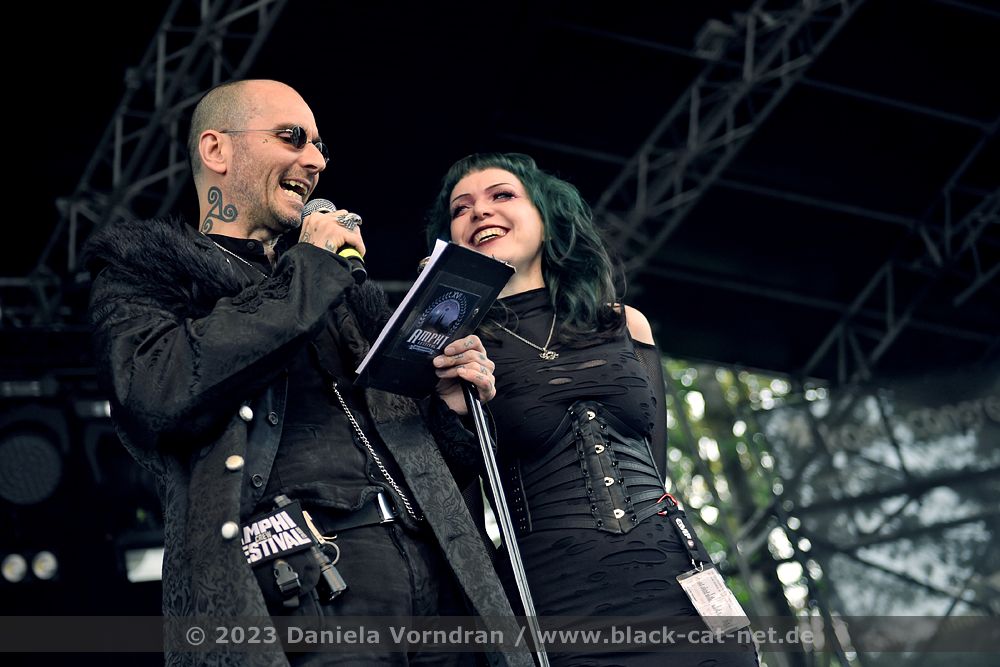 "Let's go!" SOLITARY EXPERIMENTS kick off their hit fireworks with 'Brace Yourself!' and 'Crash & Burn'. Before 'Immortal', the brakes on the drum platform have to be fixed. Even today, my gaze keeps going there again and again. The two drummers radiate incredible energy and are constantly fooling around. It's simply a pleasure to watch them. Dennis also seems to be in an exceptionally good mood today and uses the entire stage. After 'Wonderland' from their latest album 'Transcendent' ("just one of those awesome CDs"), two older songs follow. 'Delight' and 'Discipline' get the Tanzbrunnen dancing energetically. The atmosphere is absolutely fantastic. With 'Epiphany' the band plays one of my all-time favourites and keeps the mood high. Then Dennis points out the drone that will be flying around and filming. So, we're encouraged to go wild. Now comes 'Every Now and Then' and Dennis briefly disappears backstage. He quickly changes his usual red shirt for a stylish "Cornetto" shirt with the corresponding ice cream print. "Not everyone of you understands this, but most of you do."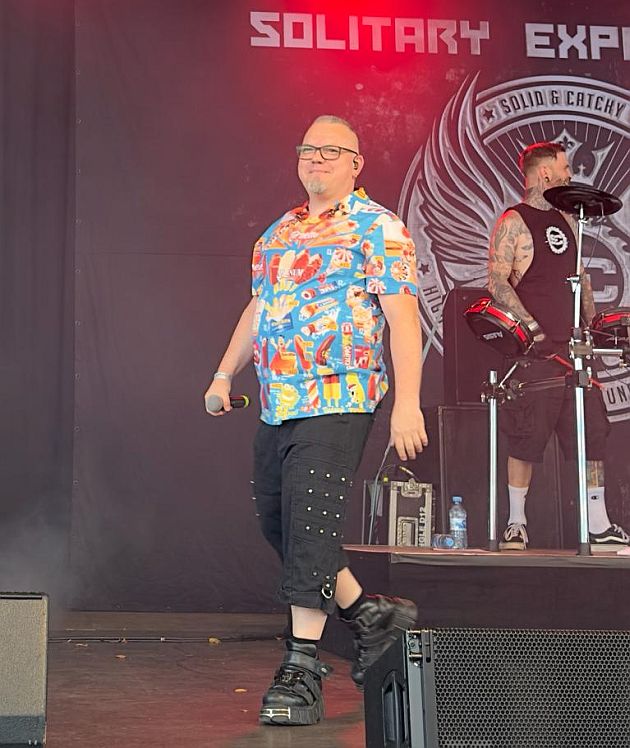 For those who don't know about the shirt... As you may have heard, Dennis is a big ice cream lover. That's why "eating ice cream" is often referred to as "schobern" in certain circles. So, if you post anything related to ice cream or eating ice cream in the future, don't forget to use the hashtag #schobern. In early July, Dennis posted a photo of himself on his Facebook page wearing the shirt he's now wearing on stage, and it adds to the good mood today. Education mission accomplished, back to the program. With 'Stars' and 'Rise and Fall' they end with two celebrated classics. All hands from the front to the back rows are in the air, and everyone sings along as if celebrating the anniversary in advance. And "we'll see you in Berlin next year". For us, it's decided; we'll be there. But now, our tired feet need a break, and we search for a place to sit. Shaded seating is scarce. Unfortunately, many of the set-up parasols have either closed or fallen victim to the wind. Nonetheless, we eventually find a spot and listen to UNZUCHT from a distance. In front of the Main Stage, it's crowded anyway. The Dark Rockers create quite a stir and receive enthusiastic cheers from the audience.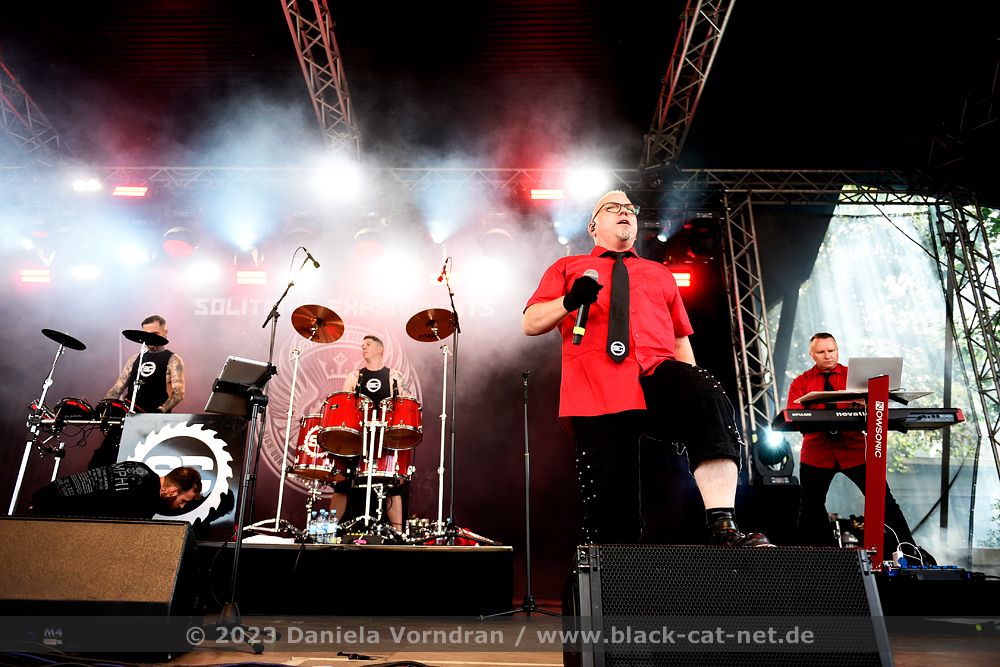 For COMBICHRIST, we are drawn back to the stage. Getting to the front is out of the question, so we find a shady spot further back from where we can still see quite well. We stumble upon a waffle stand and decide to settle here. Despite the distance and the crowd, we have a pretty good view of the Main Stage, and the smell is delicious as well. Just like in their previous concerts on their "Oldschool Electronic Set Tour 2023", Elliot Berlin remains the only instrumentalist on stage today. By the way, you can still catch glimpses of his golden mane swirling behind the keyboard when Elliot goes wild. Elliot and singer Andy LaPlegua are still here as a duo and present an old-school set today with songs like 'Blut Royale', 'Electrohead' or 'Feed Your Anger'. Right from the opener 'At the End of It All' the entire dance floor at the venue is vibrating.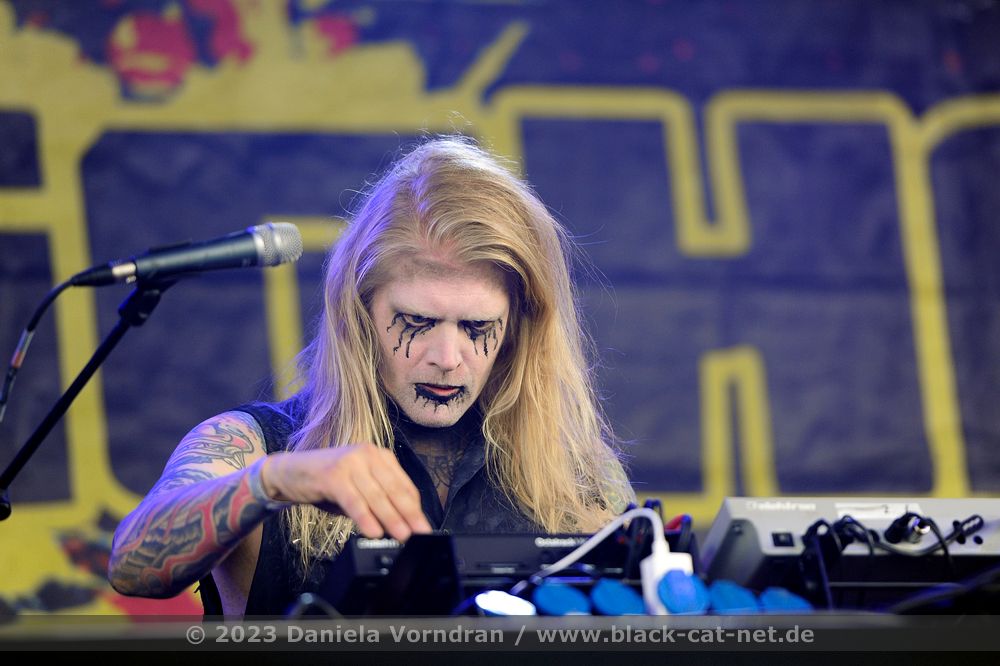 During 'Fuck That Shit' Andy calls out, "wanna see your middle finger". What a sight! During the chorus, thousands of hands raise those middle fingers in the air, and thousands of voices join in the roar. "Fucking awesome you are", Andy exclaims, and the crowd responds enthusiastically during 'Get Your Body Beat' with hands raised high all the way to the back rows. "Ladies and gentlemen, it's been a fucking pleasure!" That was also the sentiment of the jubilant crowd. Pumped up and eager, they now await the performance of LORD OF THE LOST. During the changeover, we take the opportunity to attend the autograph session of SOLITARY EXPERIMENTS. Initially, the fans of UNZUCHT are there, and we patiently wait for the session to continue.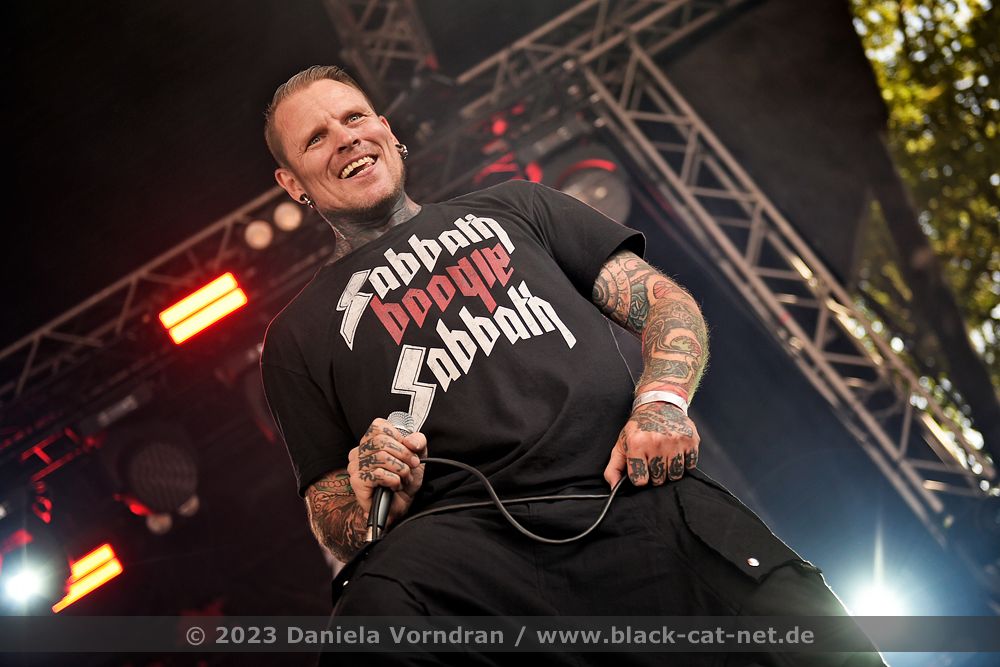 After UNZUCHT bid farewell from the tent, things continue swiftly. The queue is long, and LORD OF THE LOST are already rocking the Main Stage with great enthusiasm. No time for chatting. We quickly get our autographs and head back to our spot near the waffle stand. If we believe frontman Chris Harms, guitarist Gared either had no time or no interest today. Instead, Borat stepped in. Even from here, you can almost see the neon green fabric (there's too little fabric for a swimsuit) with the naked eye. Besides an energetic show (singer Chris Harms relentlessly darts from one side of the stage to the other), there's a little workout during 'Blood for Blood'. A round of jumping is on the agenda, or rather three rounds. It looks impressive from here when thousands of "devil horns" jump up and down in perfect synchronization. From the stage's perspective, it must be even more fantastic. I'm not a die-hard LORD OF THE LOST fan, but I recognize 'Dry the Rain' (hopefully, the gentlemen's wish for some dryness is granted, as clouds are gathering, and the sky darkens), 'Loreley' and, of course, 'Blood and Glitter'.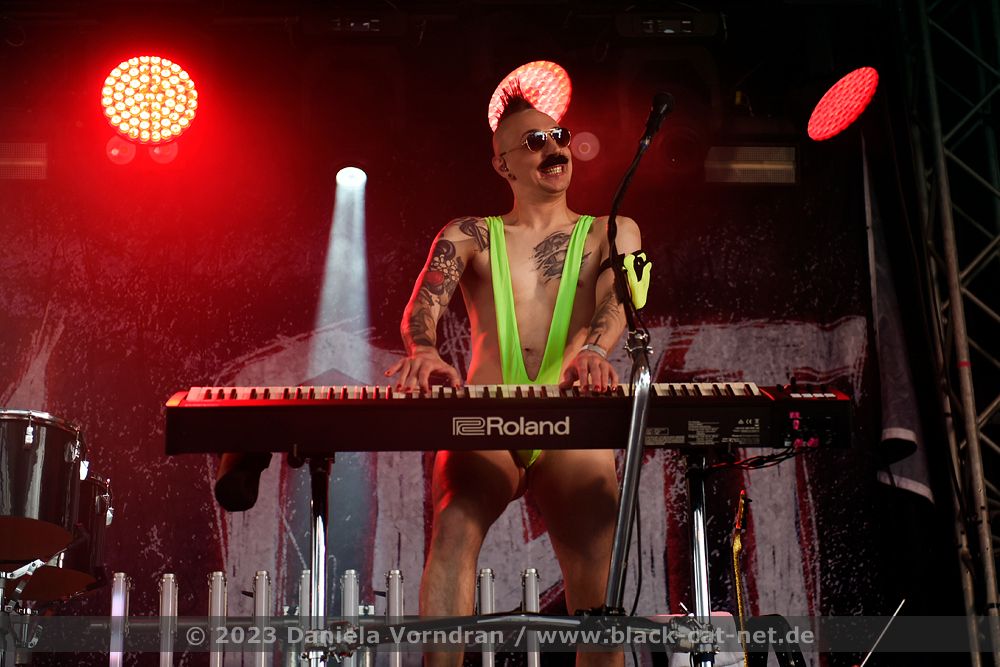 Live, this band is absolutely worth watching and highly entertaining. Nonetheless, towards the end of their set, we make our way to the Beachclub again, where some of our group has already settled in. By the end of the third day of the festival, our feet are sore, and we are extremely grateful for a few more minutes of sitting. With the rising wind, a North Sea vibe spreads here on the beach. Once we've collected enough sand between our teeth and in all the nooks and crannies, and just as it starts to rain, we seek refuge in the tent, where the press and VIP area are located. After a little refreshment and some funny group photos, the weather outside calms down a bit, and we head again towards the Main Stage.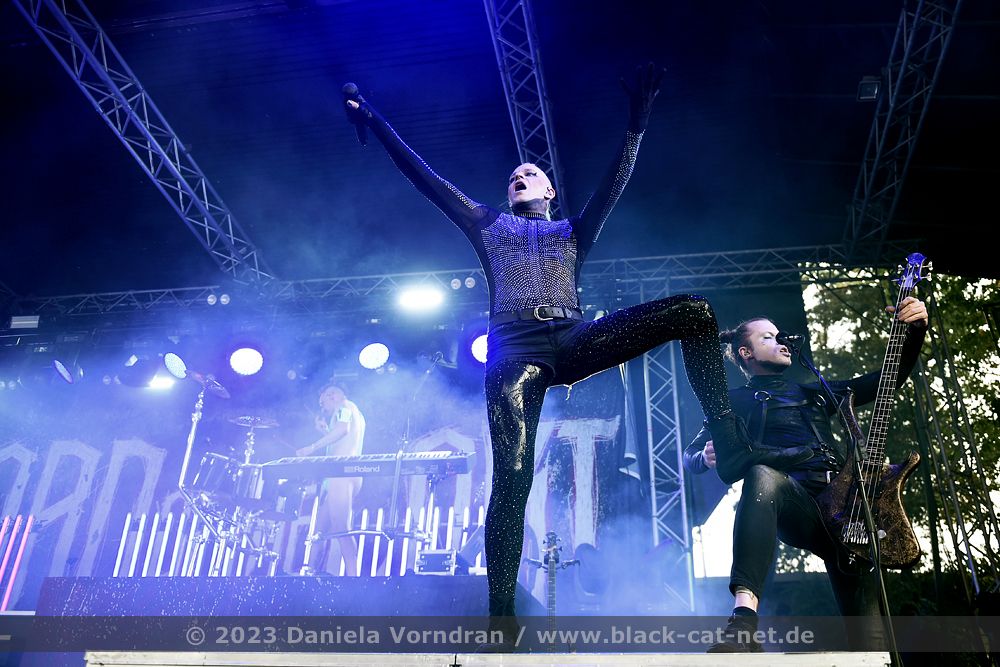 There, OMD is getting ready for their performance. The Synth Pop pioneers had already performed at Amphi in 2018, and singer Andy McCluskey asks at the end of today's show if they can come back next year. Many of those present have grown up with ORCHESTRAL MANOEUVRES IN THE DARK. Despite the rain, the atmosphere at the Tanzbrunnen is excellent, and the songs of the Brits are celebrated with enthusiasm. Titles like 'Isotype', 'Electricity', 'Pandora's Box' or 'History Of Modern Part 1' are sung along loudly. Andy McCluskey is brimming with energy, and the "Old Men Quartet" showcases such playfulness that it's a true delight. Many young musicians could learn a thing or two from them. When Mr. McCluskey calls out, "Just jump. I know you can jump all day", no one needs to be told twice. The singer himself jumps with full enthusiasm. The Brits don't take themselves too seriously either. It's wonderfully refreshing to see how they can poke fun at themselves a bit. "We started out as a very cool electronic band, and then we sold our souls to Hollywood."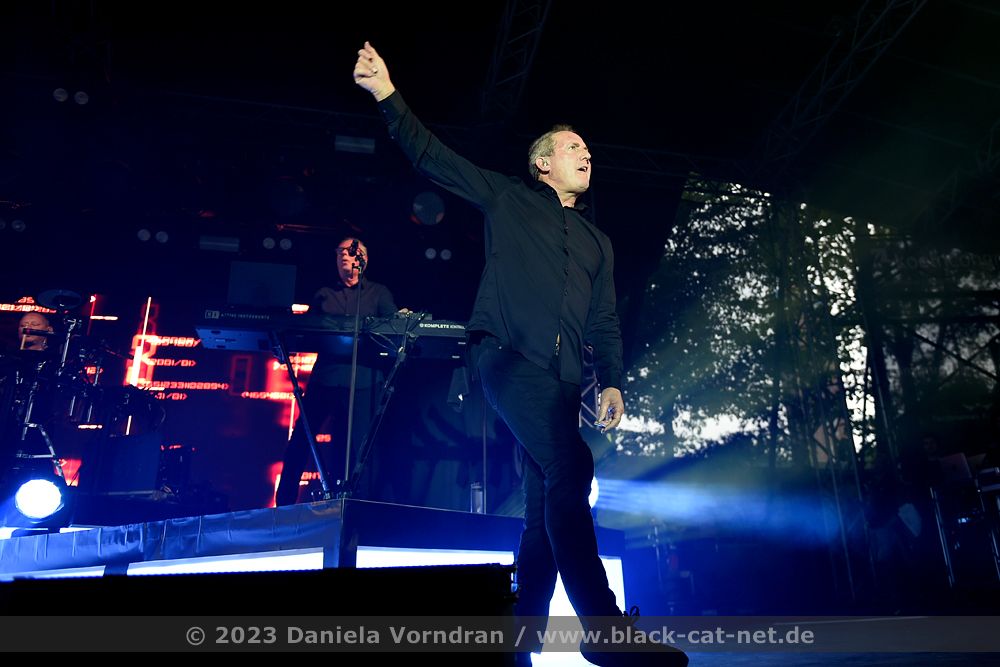 After classics like 'So In Love', 'Locomotion' or 'Sailing On The Seven Seas' the set ends, and with it, the 17th Amphi Festival, with 'Enola Gay'. Unfortunately, it must come to an end at 10:00 pm, so the persistent calls for an encore go unanswered. It's my first Amphi, and surely not my last. Even though I usually prefer smaller festivals with only one stage, I will gladly come back for the family gathering in Cologne. Date and first bands for next year's edition are already announced and the early bird tickets are already sold out. So hurry up to get your tickets soon.
All pictures by Daniela Vorndran (
http://www.vorndranphotography.com
/
http://www.facebook.com/blackcatnet
) except Dennis in Cornetto Shirt by Aileen Ritter
See also (all categories):