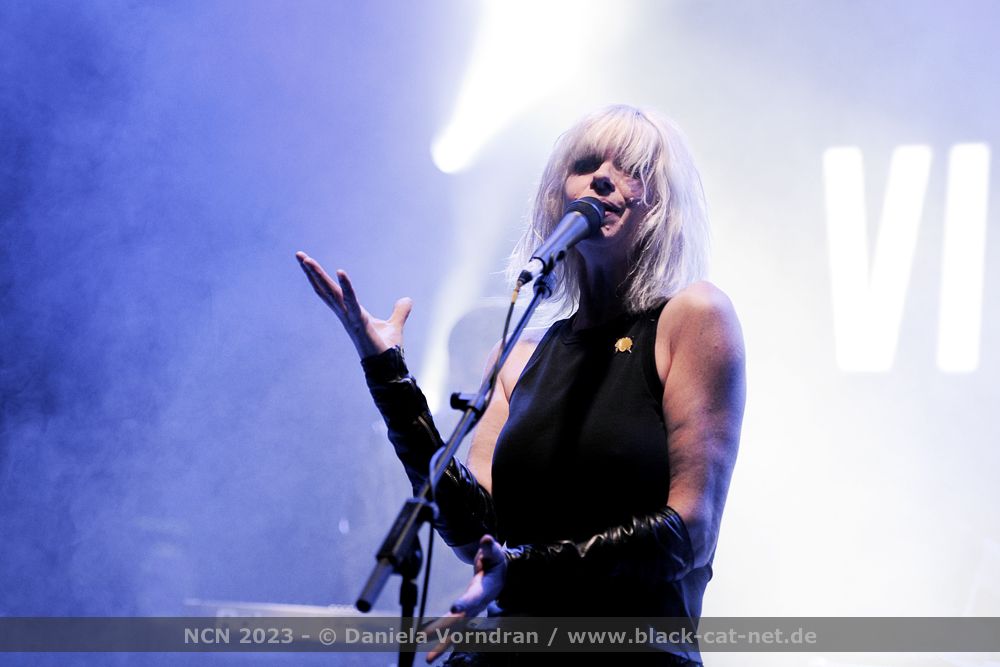 Kulturpark, Deutzen, Germany
1st to 3rd September 2023
Nocturnal Culture Night 16 Day 1 with Toal, Eisfabrik, Near Earth Orbit, Vive la Fête, Alchemists of Mu, La Scaltra, Empathy Test, Nachtmahr, XTR Human, Potochkine, Then Comes Silence, Blancmange, GULVØSS, Ian Leding, Sans-Fin, Rome, Vortex, Christian Von Aster, Markus Heitz + Warm-up with Ner.Ogris, 2nd Face, Jihad, Statiqbloom

2023 is somehow the year of my festival premieres. The 16th NCN is no exception. This rather small festival, which has been inviting attendees to the idyllic Kulturpark Deutzen every first weekend of September since 2007 (the first NCN in 2005 was held in July), is definitely one of my festival-highlights this year.
I already tip my hat to the organizers and the NCN crew, who put a lot of courage and love into organizing this wonderful festival. Here, you won't find the big headliners that you see at every festival and that guarantee good ticket sales. A significant part of the charm of this festival comes from the incredibly diverse range of acts. Of course, there are also well-known bands and scene giants in Deutzen. But there are also many bands you may not have heard of or that are not omnipresent. A great opportunity to broaden your musical horizons. In particular, I notice in this year's line-up the number of projects with women at the forefront. While female musicians are more than underrepresented at major festivals, I count 10 in Deutzen this year (hopefully I counted correctly) that know how to impress with female presence at the front row.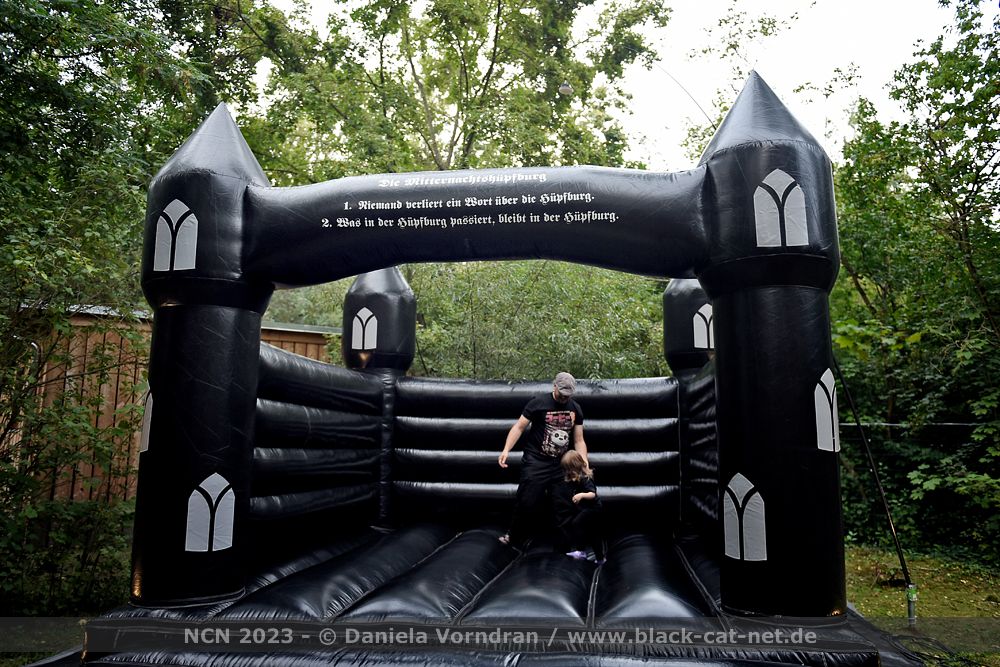 In the lovely Kulturpark, many seating options (some covered, some with large sunshades) invite you to chat comfortably with friends or new acquaintances, enjoy a drink, or savour one of the many culinary delights in peace. The culinary offerings are indeed as diverse and varied as the music. Here, too, the Nocturnal Culture Night team shows courage and innovation. The quality of the food and drinks on offer is exceptionally good and reasonably priced. Even the vegan options are extremely diverse and delicious. They range from Handbrot (a type of pastry) to pasta, Latin American cuisine, crepes, and ice cream. The selection is so diverse that I didn't manage to try everything in three days. After all, I'm not (just) here to eat. Many large festivals could definitely take a page from their book in this regard. Of course, what goes in must eventually come out. Although it's an open-air event, there are not only portable toilets on the premises but also toilet trailers at multiple locations with handwashing facilities and a permanent restroom building. Regular checks, cleaning, and restocking are carried out here. The entire area is very clean, with trash bins available everywhere, and people dispose of their trash properly. The crew is exceptionally friendly and helpful. You feel comfortable here, almost like being at home.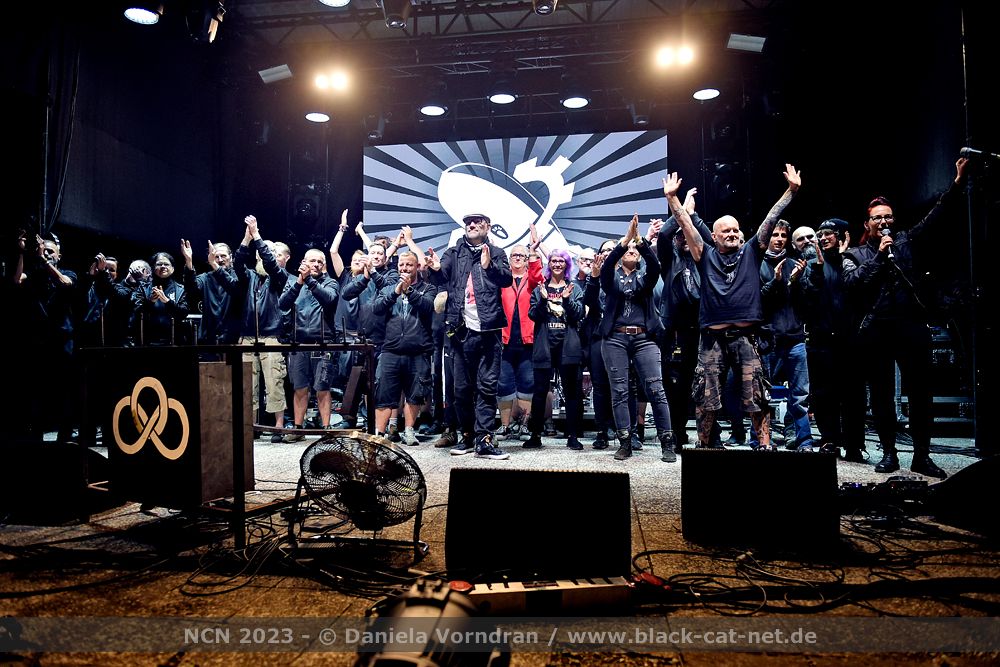 But there's not just plenty of opportunities for eating and drinking; there's also a chance to do some shopping. Of course, there's the obligatory band and festival merchandise and various clothing items. There's jewellery, music, books, decorations, and figurines. Even the little (and maybe the big) ones have their fun, albeit later in the evening. A bouncy castle is set up in the park during the late hours. The neighbouring campsite also offers affordable accommodation options, a "My Tent Is Already Set Up" service, and a campsite supermarket. The pathways between the stages (there are music performances on four stages and a fifth stage for readings) are short, and everything is close together. This allows us to at least briefly check out almost all the acts today and get an impression. I can even fully enjoy some individual performances. The technicians are also doing a great job overall. Lighting and sound on all stages are pretty good, and the visual staging is consistently impressive. Only at the reading stage, the noise from the other stages is a bit distracting, and it can sometimes be a bit challenging to listen.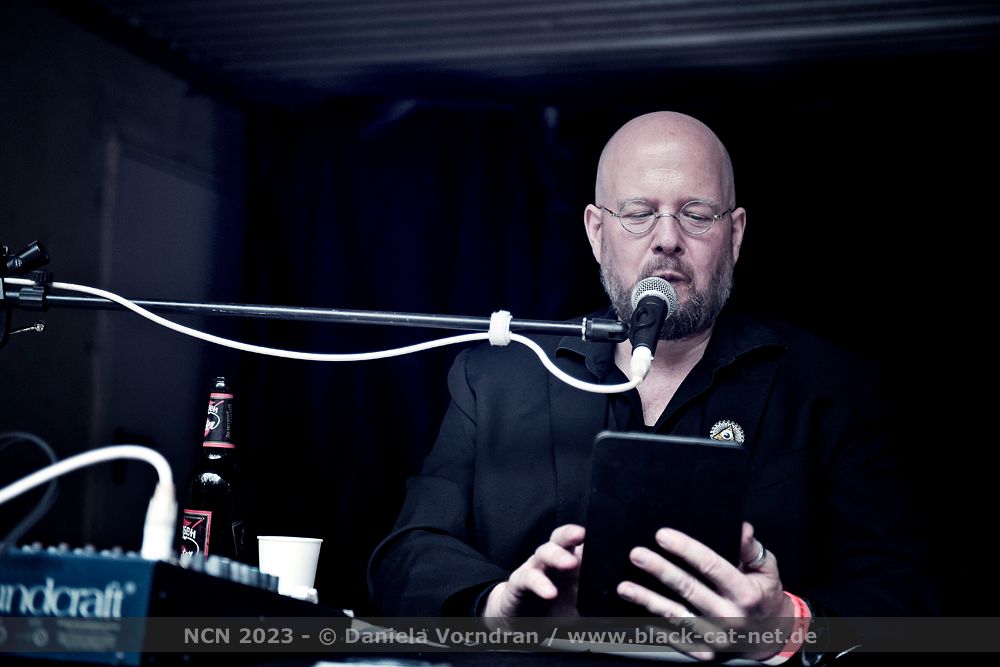 The festival weekend kicks off on Thursday evening with a warm-up party at the Kulturbühne. Before the "craziest DJ set Deutzen has ever heard", NER.OGRIS, 2ND FACE, JIHAD, and STATIQBLOOM will perform. Unfortunately, we can't be there on Thursday as we still have to attend our day jobs occasionally. Although we did take a day off for Friday, the journey to arrive on Thursday evening is just too far, so we can only set out on Friday morning. However, we spoke with some attendees of the warm-up event, and they found the evening fantastic, with all four bands being extremely worth seeing. For the night owls among the festival-visitors, there are also after-show-parties on Friday and Saturday. So, there's ample opportunity to dance even after the concerts. However, since we want to provide you with impressions of all the acts over the three festival days and need to be fresh again early (the nights are short anyway), the editorial team will skip the parties. We'd rather be back on site promptly for the entrance, which unfortunately starts later than announced on all days. But there's always something. Let's do it first things first, but not necessarily in that order.
When we arrive on Friday, the local authorities and customs officials are conducting inspections on the premises. Why the law enforcement officers can't do this one or two hours earlier remains their secret. Until these checks are completed, the entrance cannot begin. The first concert is supposed to start at half past three, but interviews with the crew are still ongoing. With almost a 40-minute delay, the gates to the Kulturpark finally open, and things can get underway. Unfortunately, the carefully planned schedule is almost rendered obsolete by this action, even before the event begins, and it needs to be adjusted. So, on Friday, the festival at the Waldühne opens with a delay of about half an hour. ALCHEMISTS OF MU takes the stage just after four o'clock. The performance by the project of Tobias Hahn and Oliver Graute is hard to put into words. Supported by a choir, the blend of narration, music, and singing has elements of musical theatre. Also running late, XTR HUMAN takes the stage at the Parkbühne. The solo project launched by Johannes Stabel in 2012 surprises with remarkable versatility. Electronic sounds and synth melodies (combined with elements from Post-Punk, Cold-Wave, and EBM, along with a cool voice) draw quite a few attendees to the front of the stage.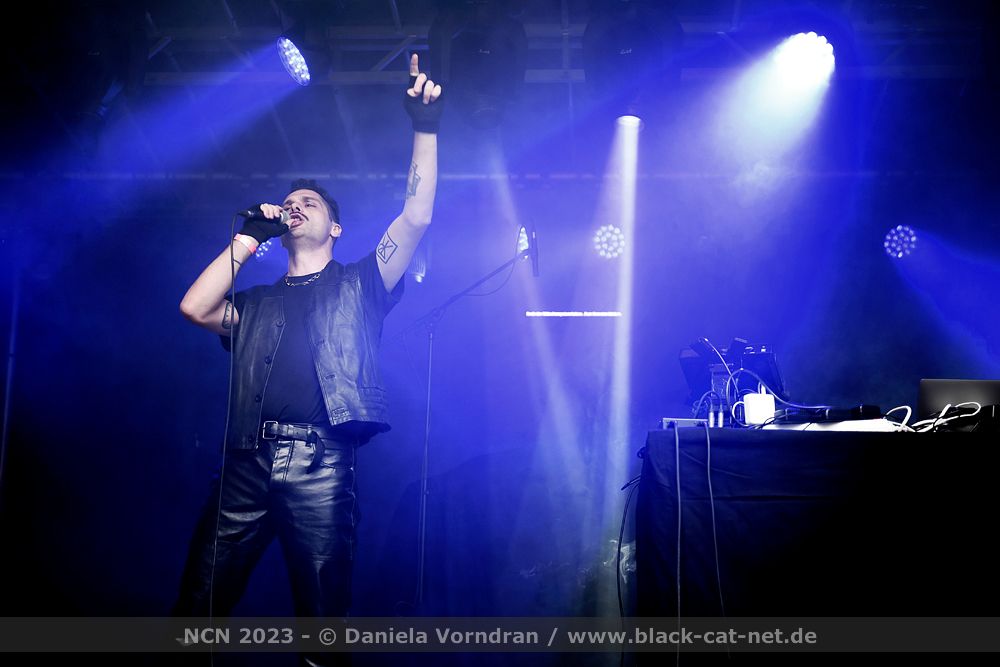 To avoid completely disrupting the schedule, they (almost) start on time on the other two stages. As soon as the last note fades on the Parkbühne, Ian Leding is ready next door on the Kulturbühne. I had seen Ian as an acoustic duo with Annie Rose at last year's "Campus Noir" in Ilmenau, where the two had already impressed me with their Gothic Folk. However, I only indulge myself with one song since TOAL is also starting their show simultaneously on the Amphibühne. I had missed it at this year's WGT (Wave Gotik Treffen), so today, I definitely want to watch the band from Lower Saxony. With Luzi Lacole, the first frontwoman is on stage right at the opener on the Amphibühne. As mentioned before, the NCN team seems to place great emphasis on diversity here as well. The organizers' courage pays off because often it's the acts with a feminine touch during this festival weekend that impress with charisma and presence, making them the discovery of the day not only for me. TOAL provide a successful opening act, giving a good taste of what's to come. The band seems to be really enthusiastic and rocks out. Meanwhile, it has started to drizzle lightly, but it doesn't seem to bother the audience or the musicians much.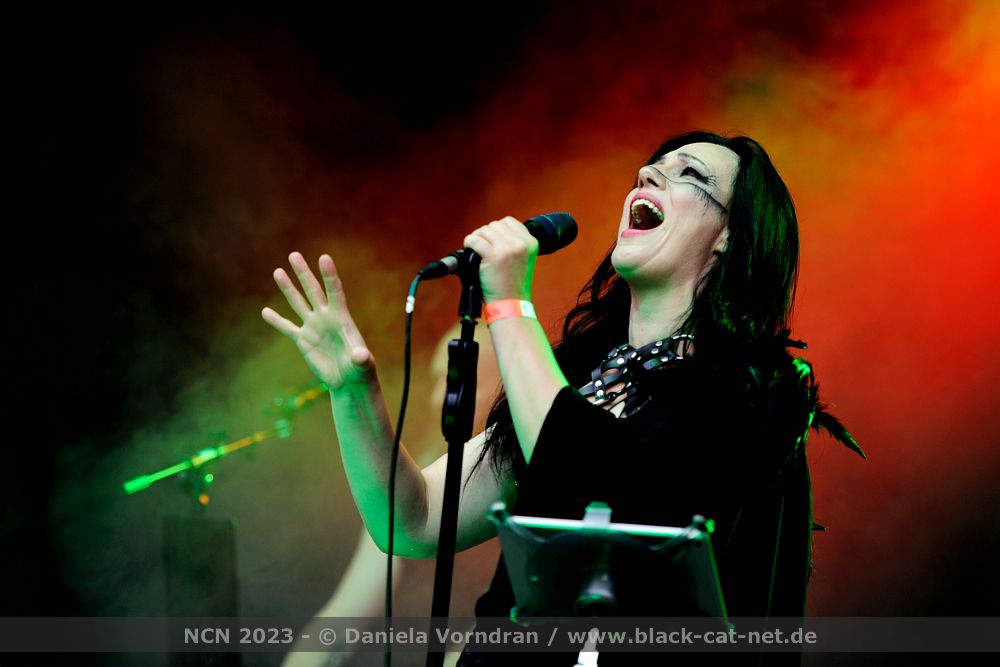 Back at the Parkbühne, it's almost impossible to move through the crowd. Despite the rain, it has become quite crowded here. For the festival visitors, POTOCHKINE offers yet another frontwoman with an amazing presence and a great voice. Performing alongside Ernst Smp, Polly Paulette is extremely expressive. The duo from Marseille dazzles with a fireworks-display of Cold Wave, EBM, Techno, and Electro Punk. Their sound goes straight to your feet, and hardly anyone in front of the stage remains still. Polly's vocals are highly versatile, sometimes loud, sometimes soft, sometimes penetrating, and then again whispering as she delivers the French songs with great emotion, complemented by compelling facial expressions and gestures.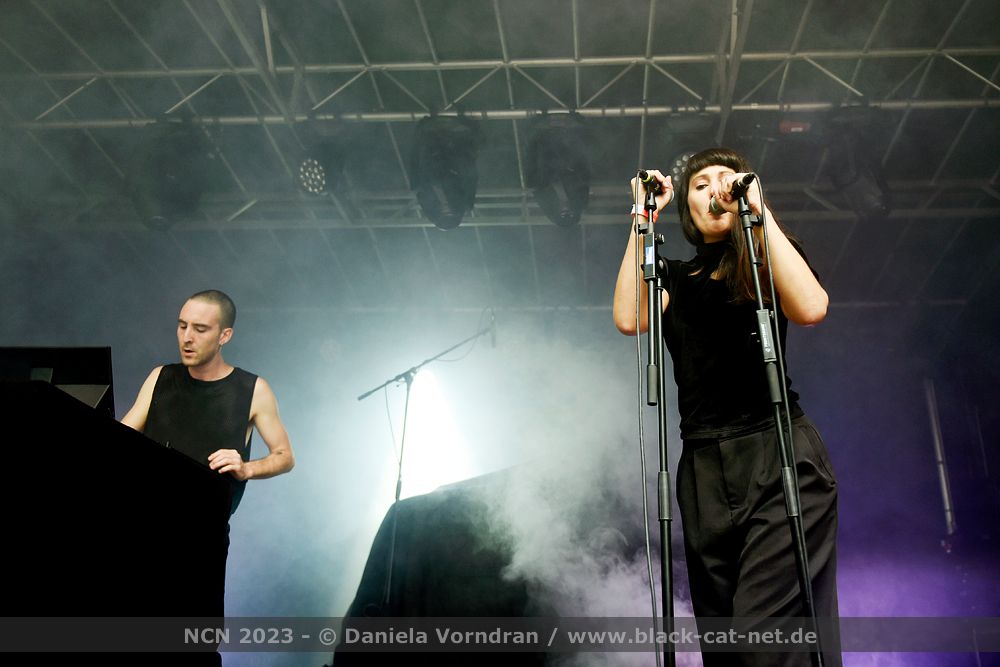 Meanwhile, at the Waldbühne, LA SCALTRA is performing, a group I'm not familiar with. There aren't as many people here (it is raining quite heavily by now, and most sought shelter under the big sunshades), but even here, two women take centre stage and impress with their voices and expressions. The project's sound is very intriguing - dark, danceable Goth Rock with sinister guitars and Wave elements, perhaps best described as gloomy Witch Wave. On my way to the Kulturbühne, where SANS-FIN is up next, I take a leisurely stroll through the stalls. However, there isn't enough time to explore everything, and I'm feeling hungry too. But the vegan Handbrot variation is still in the oven for a few more minutes, so I can first give my attention to DJ Hell's project, who is part of the Rhythm and Noise scene. Accordingly, SANS-FIN really cranks it up on the Kulturbühne, with endless soundscapes and dreamy atmospheres woven through the experimental sounds.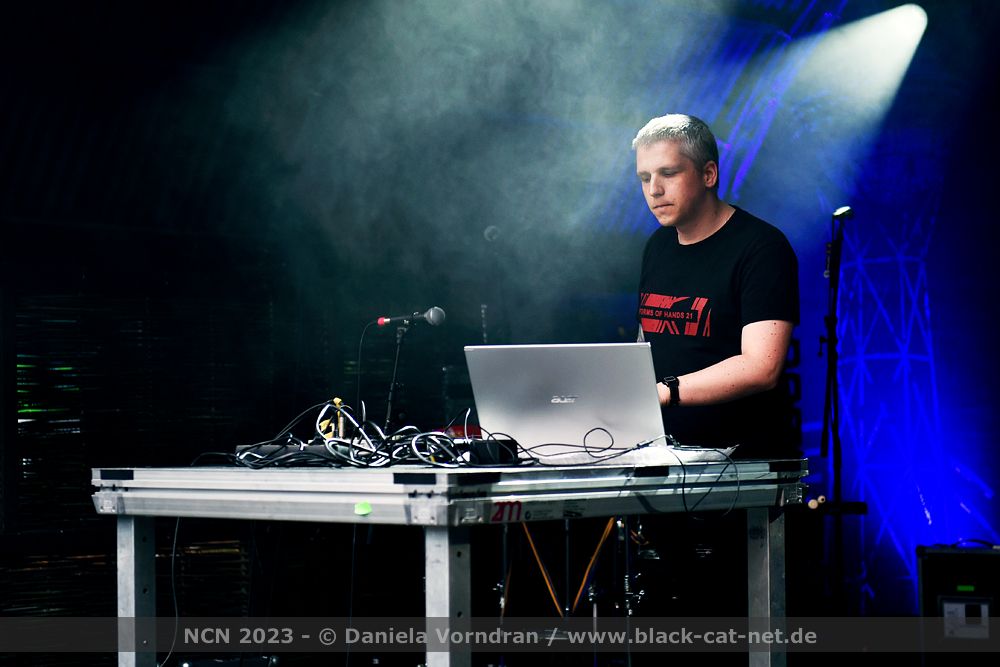 Due to the rain, armed with fresh Handbrot, I find a dry spot near the Kulturbühne to enjoy my meal. During my detour to the Handbrot stand, I can hear EISFABRIK on the Amphibühne who´s fans don't seem to mind the rain. The situation is no different in front of the Kulturbühne. While I dine in the dry, the space in front of the stage is well-filled, and SANS-FIN is still keeping the energy high. Before I dive back into the crowd, I put on my rain poncho - I came prepared. Then it's off to the Parkbühne next door. Over there, HERE COMES SILENCE has just begun. I'd really like to watch the quartet from Stockholm, who captivate with a blend of Gothic, Psychedelic, Rock, and Post-Punk. Unfortunately, the heavy rain has prompted many to open umbrellas, blocking the view of the stage for everyone else. All I can see is a wall of umbrellas, which is a shame. Therefore, I decide to head directly to the Waldbühne.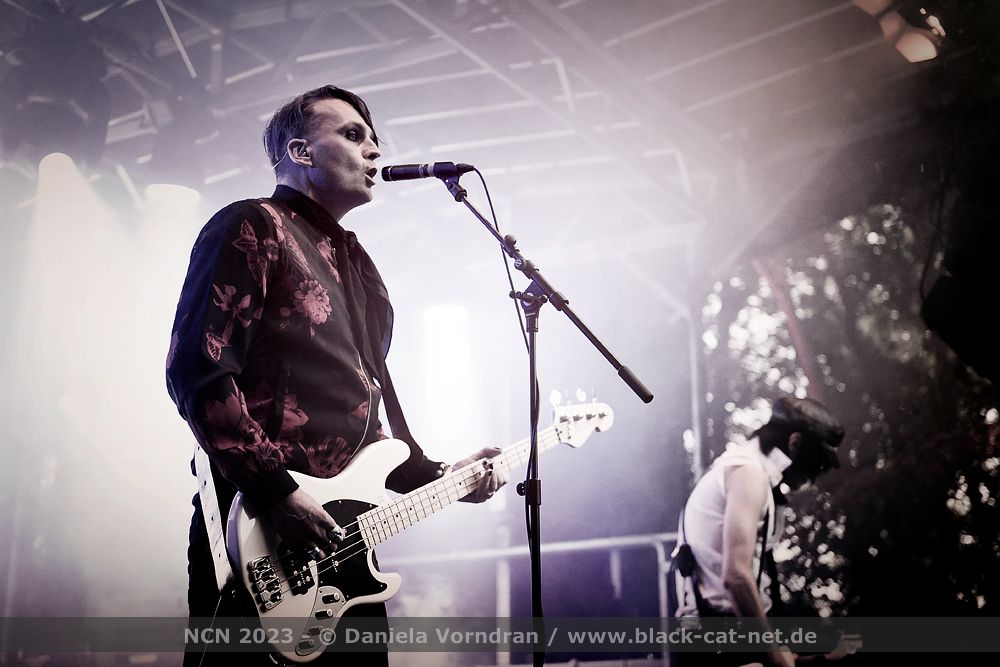 At least I'll be on time for EMPATHY TEST. Here, too, there are plenty of umbrellas, but the audience is better spread out in the larger area in front of the Waldbühne. So, you can still see quite well, and the atmosphere during the "water battle" is excellent. The musicians are also in high spirits, and small issues like broken instruments, forgotten lyrics, or missed cues are played off with humour and utmost charm. So, 'Empty Handed' quickly turns into a "broken snare drum". My third festival concert of the trio this year, and once again, it's a great pleasure. EMPATHY TEST is just always great. The band, founded in London in 2013, will embark on a "10th Anniversary Tour" next year. "And the dates are in the program. Apologies to everyone who lives in Nürnberg." Isaac "wrote Nürnburg instead." Hopefully, the people of Nürnberg will still come. In total, the trio will play 13 shows (one in January, the rest in March), and I'll definitely catch one or two. I'm not quite sure how I'll fit the dates into my calendar, especially in March it is quite full. But you know, where there's a will, there's a way.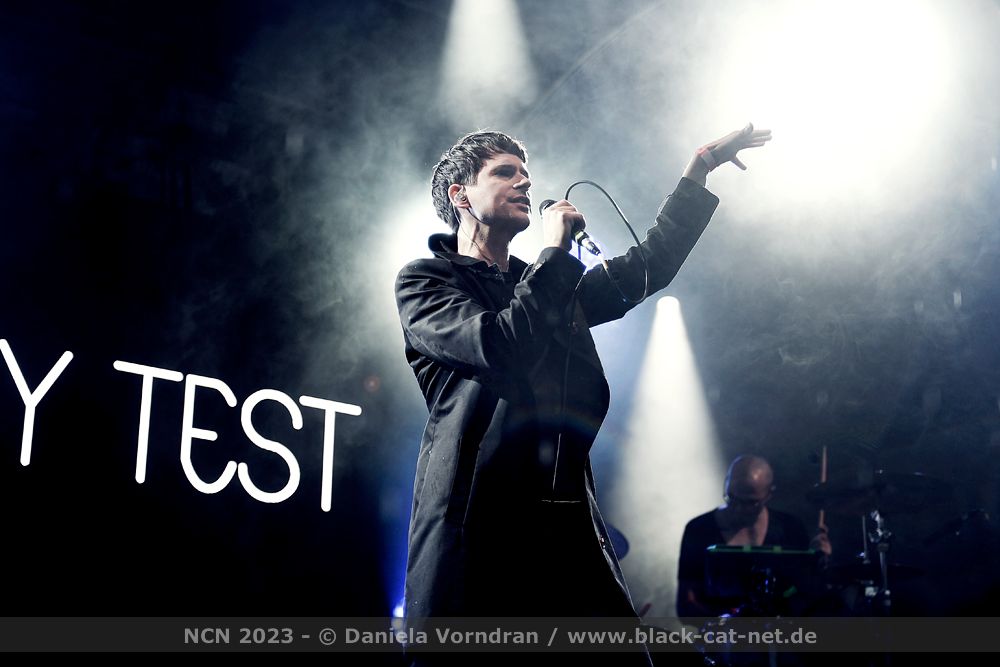 Speaking of a way, the path to the Kulturbühne has become quite challenging due to the rain (fortunately, it's not raining anymore by now), and in some places it's rather slippery. A small pond has formed in the area front of the Kulturbühne. On stage, Jerome Reuter and his project ROME are already underway, captivating the audience with his distinctive style, which the artist himself refers to as Dark Folk or Chanson Noir. I'm unfamiliar with this project, but I quite like it. However, I don't have much time here, so I'll make a note to check it out at home. But for now, it's off to the Amphibühne. NEAR EARTH ORBIT (sometimes simply called NEO or N.E.O.) is up next there. Musically, their somewhat experimental Goth Rock isn't quite my cup of tea. But for those who enjoy muted guitars, exoplanetary soundscapes, and eerie melodies, this project, founded in 2015, hits the mark. The audience in front of the stage seems to be enthusiastic, but as for me, I take another stroll and all roads lead to ROME.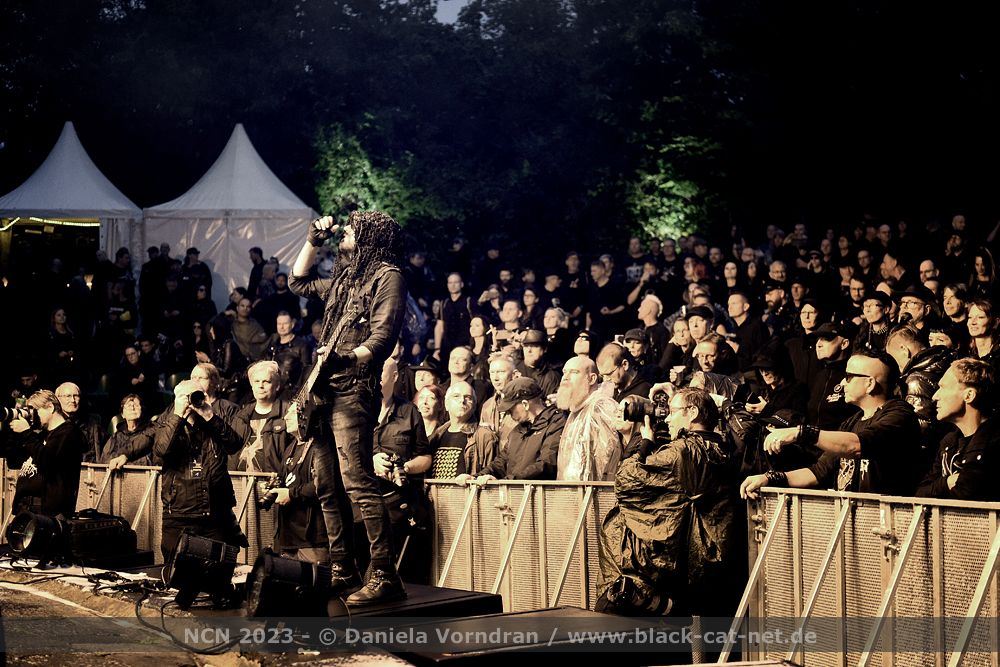 Next up, it's supposed to be BLANCMANGE at the Parkbühne. However, they aren't ready yet. So, I decide to head to the Waldbühne first, where NACHTMAHR is performing. The project by Austrian artist Thomas Rainer is quite polarizing. It's a love-it-or-hate-it kind of deal; there aren't many other options, or at least that's a bit of an exaggeration. However, I generally can't quite get into this kind of Imperial-Industrial music. It's just too loud, too bass-heavy, too brutal for my taste. I prefer something a bit more melodic, so I check to see if they're ready at the Parkbühne now. BLANCMANGE appeals to me much more. Founded in Leeds in 1979 by Neil Arthur and Stephen Luscombe, the duo became one of the influential Electronic Pop acts of the 1980s. After the band disbanded in 1986, the duo reunited in 2011. Since 2018, Neil has been performing solo under the name BLANCMANGE and is having his first performance in Germany in 40 years today. The singer exudes energy and continues to impress with his characteristic voice even today.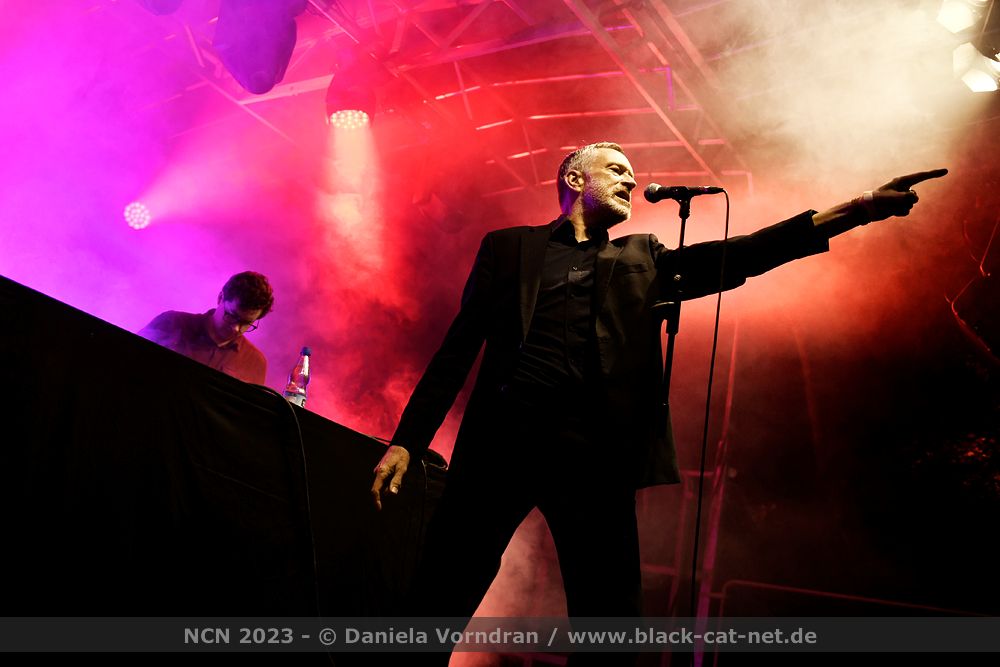 Closing out the first day of the festival on the Amphibühne is VIVE LA FÊTE. Here too, a charismatic frontwoman shines. Els Pynoo's voice is unique, but it's incredibly fun to experience live. The singer is like a whirlwind and a true bundle of energy. Els Pynoo and Danny Mommes met at a party in 1997. They decided to make music together inspired by Electroclash and Electro Pop, and they have since risen to the top of the Electroclash genre. Their high-energy show is a must-see. Their music gets you moving, and the burst of energy on stage is simply infectious. It's impossible to stand still or resist the charm of VIVE LA FÊTE. I can't get an impression of VORTEX, who is performing at the same time on the Kulturbühne, and I don't make it to the Lesebühne where Christian Von Aster and Markus Heitz are reading today. But I still have two more festival days ahead of me, and there are a few readings on the program. Maybe I'll have time for them tomorrow or on Sunday.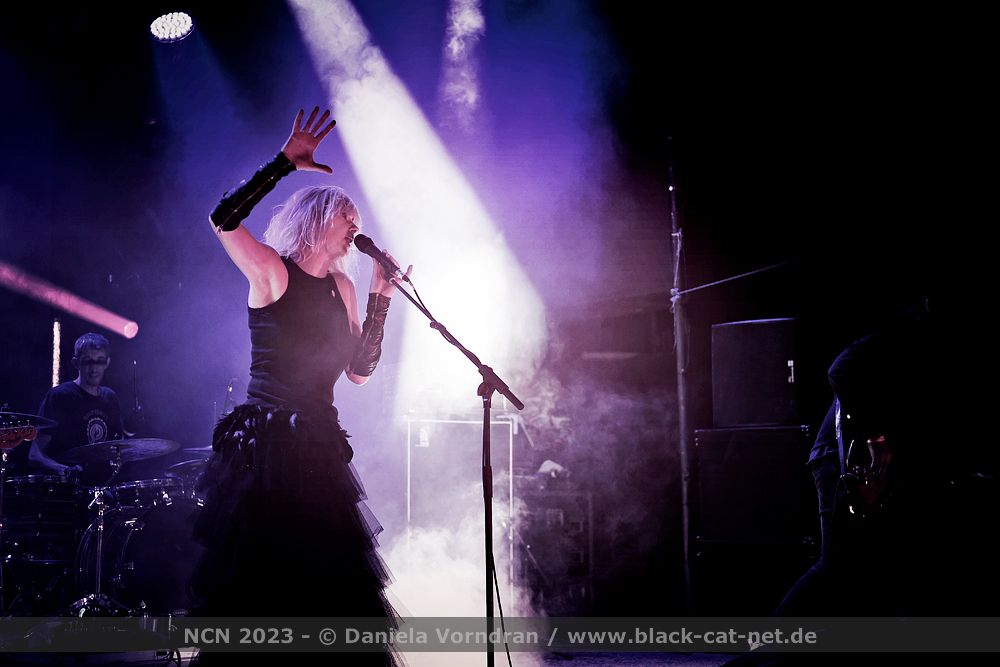 As the saying goes, "the best comes last". And so, GULVØSS takes the stage for the final concert of the day at the Parkbühne. Despite the late hour (the band starts slightly delayed 10 minutes before midnight), there's still a big crowd in front of the stage. However, this doesn't surprise me. I saw Sven Wittmiß' project live for the first time at the Synth Pop Festival in May at the Kulttempel Oberhausen and was instantly impressed. But GULVØSS also made a lasting impression here at NCN, where it had played last year. It's hard to pigeonhole the project musically. Expansive electronic soundscapes combined with guitar, a great voice, and wonderful melodies go straight to the heart and soul. One of the many highlights of the first festival day, and by no means the last.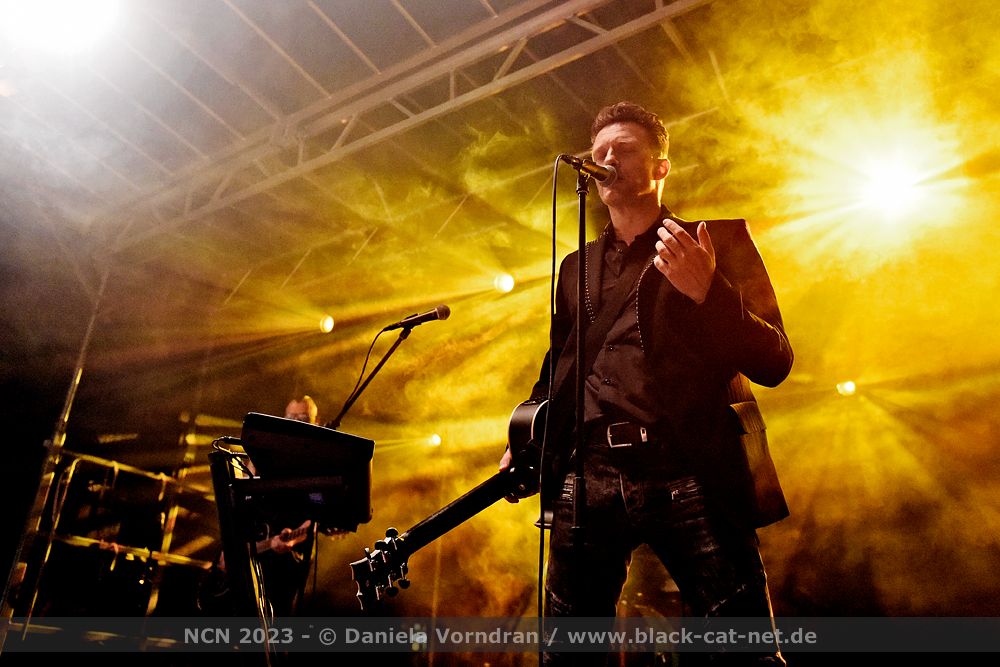 All pictures by Dani Vorndran (
http://www.vorndranphotography.com
/
http://www.facebook.com/blackcatnet
) & Aileen Ritter (some impressions)
See also (all categories):