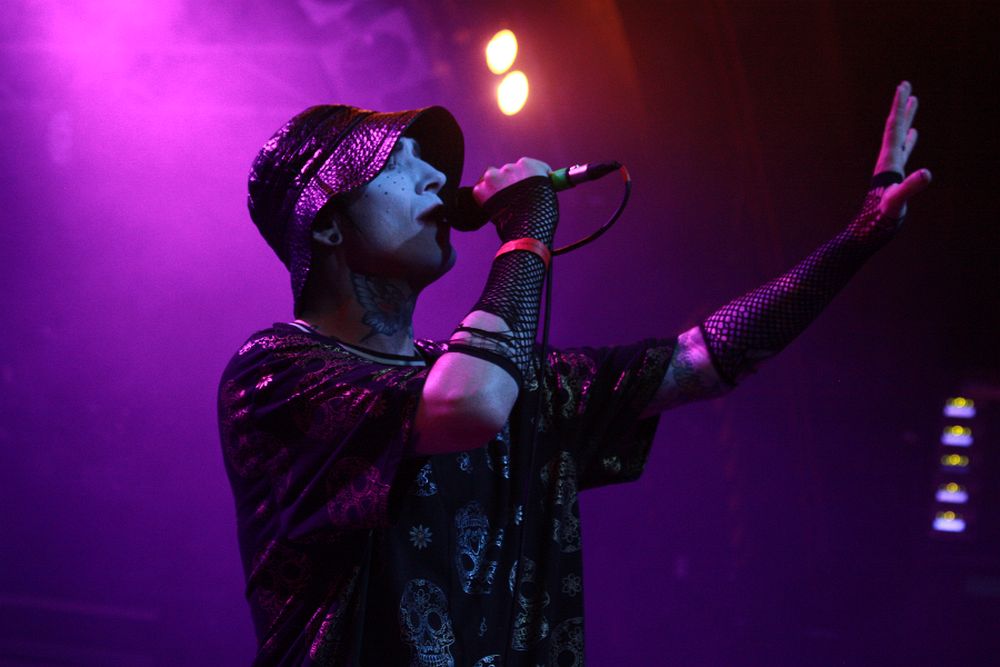 Markthalle, Hamburg, Germany
13th May 2023
Aesthetic Perfection - Support: Empathy Test (Solo Electronic) & Painbastard

Daniel Graves warned us: AESTHETIC PERFECTION is currently on their last headlining tour. In his latest interviews, Daniel makes no secret of it - organizing tours has become a financial burden for artists of his calibre, and AESTHETIC PERFECTION, barring any major changes, are currently doing their latest headlining tour. Fans of AESTHETIC PERFECTION in Hamburg had a great opportunity to party once again with tracks from the great Industrial Pop project. We interviewed Daniel twice during the Pandemic, and he always inspired us with his ideas, his style, his persistence, and his creativity. Therefore, it was an honour for me to report on the day at Hamburg's Markthalle, where, by the way, AESTHETIC PERFECTION once made their stage debut, according to Daniel himself. Ironically, this time the concert in Hamburg was the last of this farewell tour.
Painbastard

AESTHETIC PERFECTION decided to reinforce the line-up with one more band, so the opening act for Hamburg for the evening was PAINBASTARD. PAINBASTARD is a German Future Pop and Aggrotech project by lawyer Alexander Pitzinger from Leipzig. Alex P. began making experimental music on the synthesizer in 1995. Shortly afterwards, he expanded his instruments with some effects devices, which he then also used to record his first songs on CD. This gave him the opportunity to perform as an opening act for TANZWUT, BLIND PASSENGERS, and DANCE OR DIE. By mid-2000 Alex had released his first promo CD 'Just Like Dying' and in 2001 the second, 'Mindevolution'. With his third promo CD 'Skin on Fire', Alex was able to arouse the interest of Accession Records. The debut album 'Skin on Fire' hit the shops in 2003, albeit slightly delayed by the flood of the century. In 2005, Alex produced the album 'Overkill'. His first EP 'Storm of Impermanence', which rose to number three on the DAC, followed this.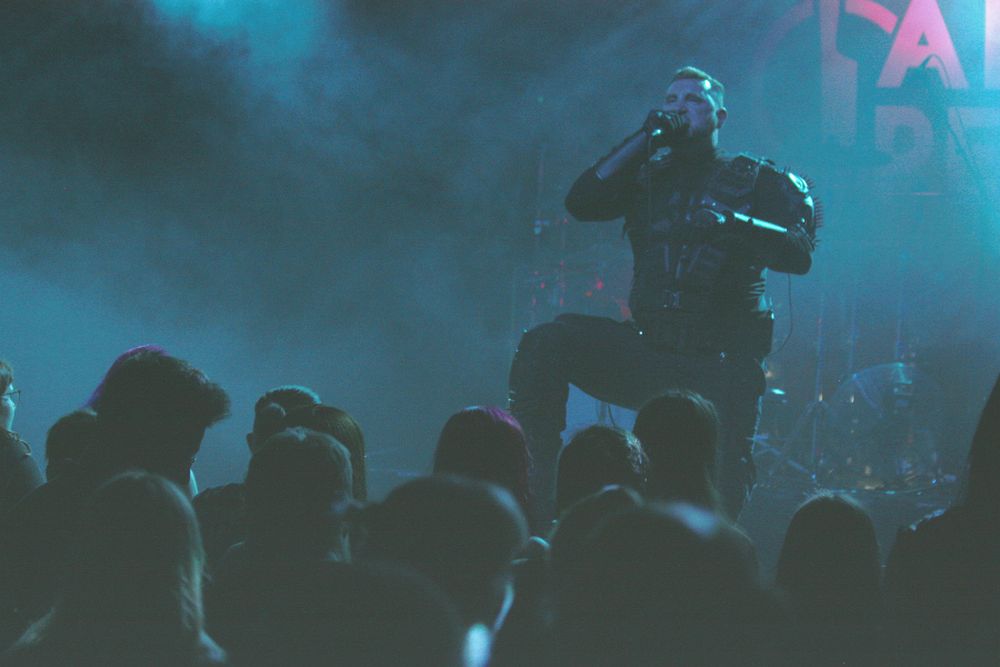 Alex completed his first German tour with SUICIDE COMMANDO and the band INSEKT. At the end of 2006, they produced the album 'No Need to Worry', on which Torben Wendt from DIORAMA sings along and on which remixes by FEINDFLUG and C. Hermodsson from S.P.O.C.K. / BIOMEKKANIK can be found. A year later, he produced 'Klangfusion Vol. 1' together with [:SITD:], a double EP with which they then also went on tour in Germany together. After the tour, the album 'Borderline' was released.
Rating

Music: 7
Performance: 8
Sound: 6
Light: 6
Total: 6.8 / 10
Empathy Test

EMPATHY TEST supports AESTHETIC PERFECTION on the tour. More specifically, it's vocalist Isaac Howlett. EMPATHY TEST is a young band with excellent potential. Their album 'Monsters 2020' deserves special attention; it is a really strong and interesting work with lots of hits. I have wanted to hear them live for a long time and am very grateful to AESTHETIC PERFECTION for the opportunity. The complementary nature of the two projects cannot be overlooked: EMPATHY TEST has already toured the United States with AESTHETIC PERFECTION, and the two have collaborated on a joint single. The British artist's melancholic Electronic Pop opened the evening with catchy, nostalgic melodies and, above all, his unique, impressive high vocals. I thought of Isaac leaving the impression of an intelligent (probably like most English people) and somewhat isolated artist, although I think with a full band, this would have been a little different.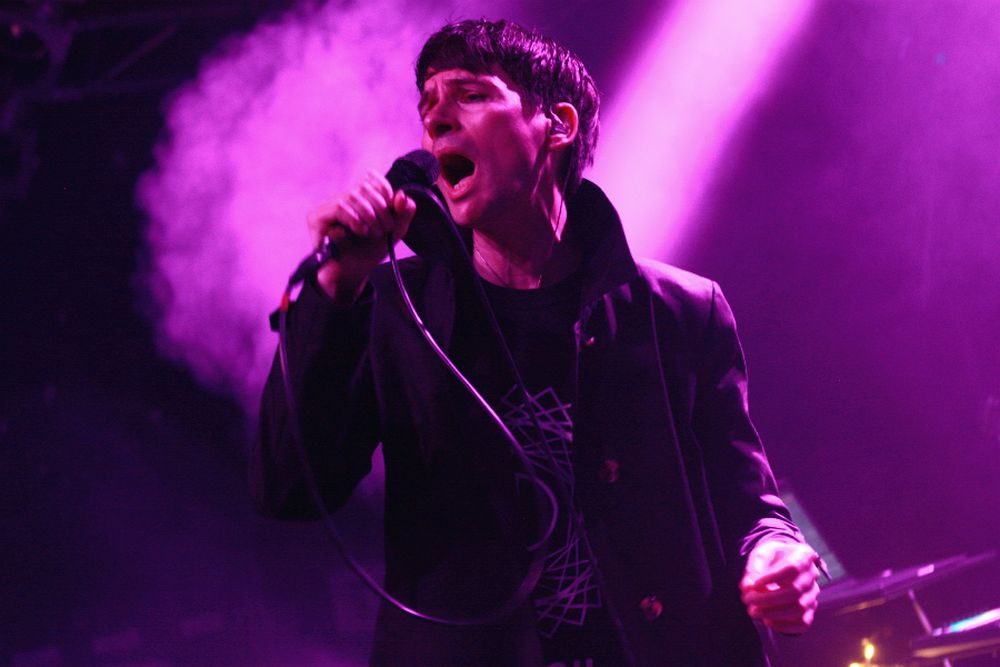 He tried to make jokes about performing alone, but it was as if he was making excuses that the songs sounded a little different. Although he felt a little uncomfortable without the other band members, he did a great job. Moreover, he seemed to enjoy the performance as much as the audience in the hall. Let it be a kind of experiment in which Isaac presented us with reworked versions of his songs. In any case, his set did not go unnoticed, his ringing voice, emotion, and energy, created a great atmosphere and touched the audience. In addition, Isaac's image itself is quite interesting - a fragile silhouette under a long black coat, and melancholic melodies, somewhat similar to Ian Curtis if he played electronic music. The audience warmly received Isaac despite some misgivings, but of course, we look forward to seeing the full band in the future.
Setlist

01. Monsters
02. Empty Handed
03. Stop
04. Making Worlds
05. Skin
06. Where I Find Myself
07. Somebody That I Used To Know (Gotye & Kimbra cover)
08. Fear of Disappearing
Rating

Music: 10
Performance: 9
Sound: 8
Light: 8
Total: 8.8 / 10
Aesthetic Perfection

AESTHETIC PERFECTION appeared on stage in extravagant outfits - Daniel wearing a fisherman's hat and baseball shirt, and drummer Joe Letz in a wig and a hideous face mask, masquerading as some kind of nightmare doll named Betty... guitarist Constance Day is the spitting image of Harley Quinn. In addition, there is something appealing about this universe created by Daniel. They are not trying to seduce anyone with their outfits, or scare them; they just seem to be having a lot of fun, on their planet of a mix of horror-movie, Goth, Dark Electro, and Pop. If Daniel's outfit, grimaces, and charisma are appealing, Joe Letz' gestures and demeanour are repulsive, though he stays true to his style, as he did when he played with COMBICHRIST, a hallucinatory spectacle, and dousing himself and the fans with water.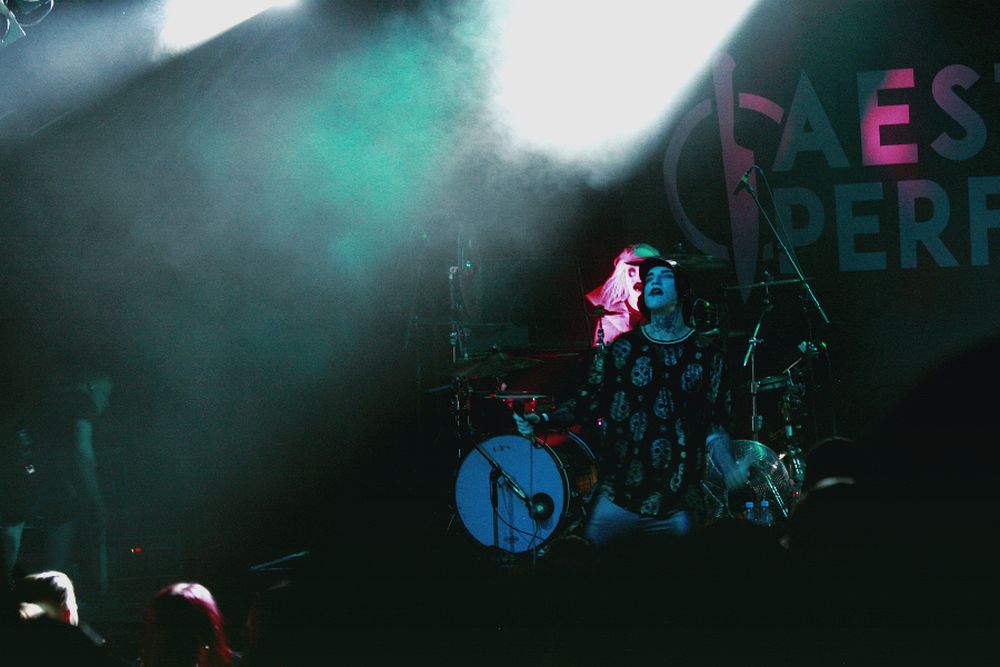 AESTHETIC PERFECTION started with 'Gods & Gold' and 'S E X', two tracks whose studio versions were recorded respectively with RAMMSTEIN's Richard Zven Kruspe and Sebastian Svalland (PAIN, LINDEMANN). These are hard-hitting tracks with a soft melodic chorus, a great choice to get the crowd fired up. In addition, provide a deeper dive into the band's discography from 'The Ones' or 'Spit it Out', 'Antibody', 'Love Like Lies', 'Never Enough', 'Rhythm + Control', and more. 'Save Myself' was performed by Daniel along with Isaac Howlett, their voices complementing each other wonderfully. Knowing that the party will not last long, that it might be the last, we enjoy it with even more enthusiasm. Daniel definitely stands out among other artists in the genre - his image is fun and his lyrics are sombre, his interviews are genuine, he is not afraid, to be honest, and humble and talk about failures, and difficulties, and strives for perfection in his songs. I am writing this and I am a little sad. Is it possible to stay in the ocean of showbiz now, when you are doing deeper things than others are?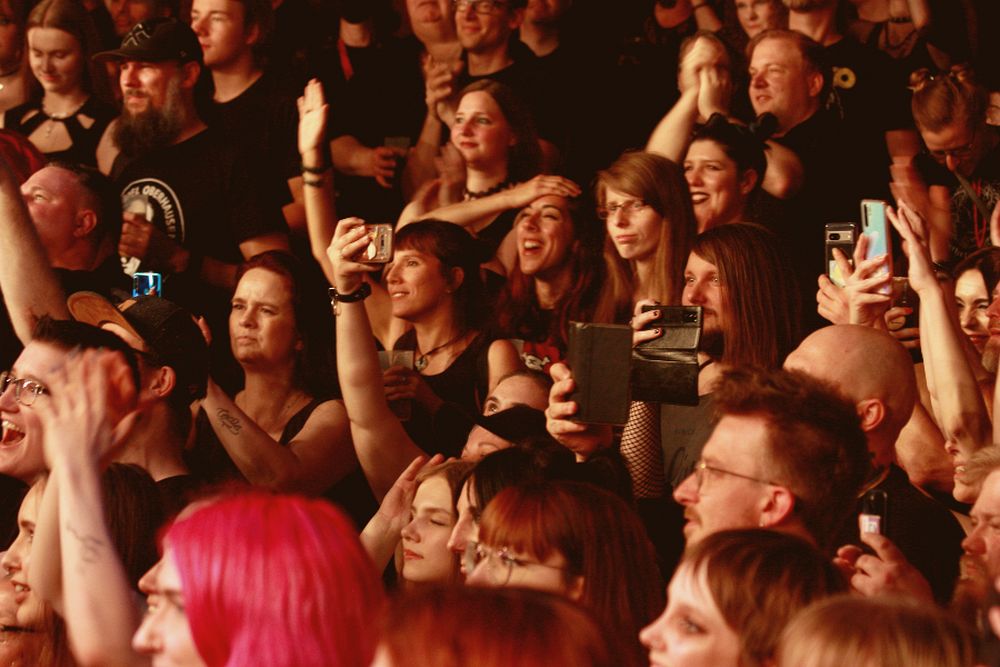 According to Daniel, it was the best tour in the history of AESTHETIC PERFECTION, with its difficulties and hardships, of course. However, it was an excellent excursion into the band's history, absurdity brought to perfection. I would like to believe that AESTHETIC PERFECTION will return, and if not, I am sure that with Daniel's ingenuity, we can still look forward to another extraordinary project. Although, in spite of the farewell tour, the band has confirmed they will play as support for the TILL LINDEMANN tour this year. Who knows, maybe the wind will change and the so-called end will be a new beginning for AESTHETIC PERFECTION…
Setlist

01. Gods & Gold
02. S E X
03. Rhythm + Control
04. Antibody
05. Never Enough
06. The Ones
07. American Psycho
08. The New Black
09. The Dark Half
10. Spit It Out
---
11. Save Myself (with Empathy Test)
12. Love Like Lies (with Empathy Test)
Rating

Music: 10
Performance: 9
Sound: 8
Light: 9
Total: 9 / 10
All Pictures by Iryna Kalenska
See also (all categories):