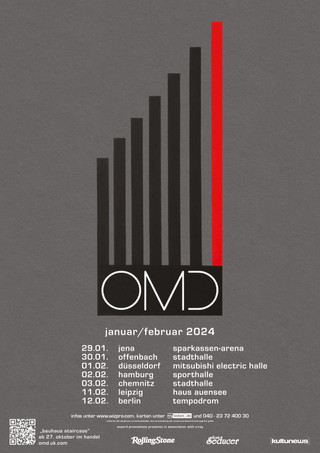 The British synth pioneers announce a tour through Germany. Seven hall shows confirmed for January and February 2024. The new studio album 'Bauhaus Staircase' will be released on October 27th, 2023 on White Noise via The Orchard. Tickets available in presale from Wednesday, September 20th, 2023.
Following the recent announcement of their new studio album, synth pioneers Orchestral Maneuvers In The Dark (OMD) announce details of their return to the stage. From January to March 2024, OMD will play 40 dates across the UK, Ireland and mainland Europe, including their biggest headline show to date at London's O2 Arena on March 24, 2024.
"We're thrilled to be hitting the road again with a brand-new album," says Andy McCluskey. "It's been six years since we rehearsed new songs for live performances. The songs from 'Bauhaus Staircase' will fit wonderfully into our setlist - we just have to decide which five to play, because we also have to impress people with the hits pamper!" Fans in Germany can look forward to a total of seven indoor shows in January and February. Tour Dates below!
Tickets are available from Wednesday, September 20, 2023 - 10 a.m. in the exclusive online presale of the ticket providers MyTicket and
CTS Eventim
. General advance sales start on Friday, September 22nd, 2023 - 10:00 a.m.
The band will also release 'Slow Train', the second release from their new studio album, which will be released on October 27th. 'Slow Train' is a raw, glamorous explosion that was created with the help of the band's only outside influence, David Watts. Watts, who is known as a Rock producer and recently produced Sheffield band THE REYTONS' number one album 'What's Rock And Roll?', has given the album a sharp, exciting new sound. "'Slow Train' is a crazy song and the video is incredibly crazy," says Andy McCluskey. "It feels good to challenge people's expectations of the band after 45 years of making music."
The new album is the band's most explicitly political record and the culmination of their desire to be both STOCKHAUSEN and ABBA - born from the impulse to embark on new explorations during lockdown. Written, recorded and mixed primarily by McCluskey and Paul Humphreys (who recently became a father for the second time), it is a wide-ranging electronic and sonic masterpiece that lyrically explores the themes of the future. OMD have sold an incredible 25 million singles and 15 million albums, establishing themselves as pioneers of electronic synthesizers and one of Britain's most popular Pop groups. Their 13 albums include the reissues of 'Orchestral Maneuvers In The Dark' (1980), 'Organization' (1980), 'Architecture & Morality' (1981) and 'Dazzle Ships' (1983).
Actually, OMD should retire and play classics like 'Enola Gay' and 'Maid Of Orleans' at nostalgia festivals, like so many of their colleagues. Instead, they have created a groundbreaking album worthy of their best work. If OMD were happy to have help in real life, then 'Bauhaus Staircase' is unmistakably the work of a duo that is still in perfect harmony 45 years after their first appearance at the legendary Liverpool club Eric's. With OMD, a true legend of Pop music is coming back to the German concert stages and is setting an absolute live highlight for 2024 right at the beginning of the new year.
German Tour Dates

29 Jan 2024 – Jena, Sparkassen-Arena
30 Jan 2024 – Offenbach, Stadthalle
01 Feb 2024 – Düsseldorf, Mitsubishi Electric HALLE
02 Feb 2024 – Hamburg, Sporthalle
03 Feb 2024 – Chemnitz, Stadthalle
11 Feb 2024 – Leipzig, Haus Auensee
12 Feb 2024 – Berlin, Tempodrom
Tickets:
CTS Eventim
See also (all categories):