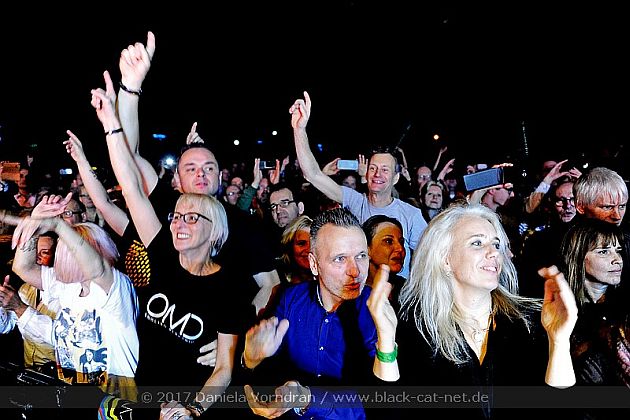 Mitsubishi Electric Halle, Düsseldorf, Germany
3rd December 2017
OMD & Holygram

"Paul?" – "Yes, Andy?" – "We have a problem! This is a very intelligent audience, and all we have left is Pop and Dance!" Just one example for the jolly banter between Andy McCluskey and Paul Humphreys, founding members and masterminds of ORCHESTRAL MANOEUVRES IN THE DARK. At the moment they are touring their new album, 'The Punishment of Luxury', but as it turns out, the pioneers of romantic Synth Pop are also great comedians and, after all, too old buddies who love some plain ole fun. And not even that some of their old heroes were in the audience could stop them!
Holygram

But before the icons of British Synth Pop would enter the stage, there was a support first! And a very good one! The Cologne-based band merges the hypnotic melancholy of early 1990s Shoegaze bands such as RIDE or SLOWDIVE with a distinct influence from Post-Punk acts as early NEW ORDER and THE CURE and a dose of synth sounds. Last time I saw
HOLYGRAM
live was in support of SHE PAST AWAY in a club that wasn't too much bigger than the stage in Düsseldorf for the OMD show. Tonight they sounded kinda poppier than last time, and it I realized that the singer's voice is a bit similar to the one of OMD's Andy McClusky. Half-jokingly I wondered how many people would think that it's already OMD, and at least the older couple next to me seemed to think so during the first song. However, HOLYGRAM got a warm welcome and quite some applause from the OMD crowd, it really seemed as everyone enjoyed them.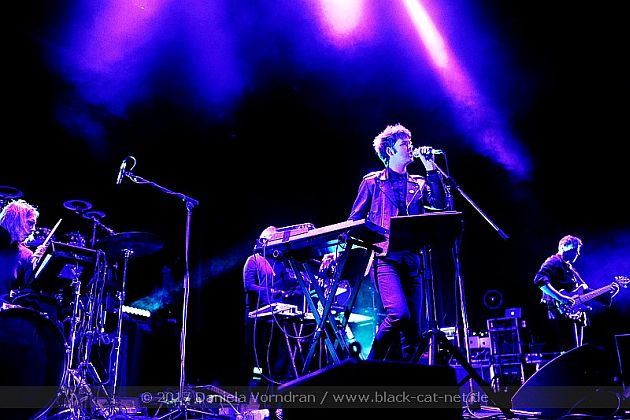 That HOLYGRAM know how to place a great hook amidst all the dreamy, psychedelic walls of sound is certainly pretty helpful too to convince a new audience. They also had some nice lighting and a decent, clear sound - something not every support act is granted! With 'Still There' and the epic 'She's Like The Sun', they placed two of their strongest songs at the end of their 30-minute set, and I'm pretty sure that they gained a few new fans this night! http://holygram.band / https://www.facebook.com/holygram.official
Setlist

01. Hideaway
02. Daria
03. Signals
04. Acceleration
05. Still There
06. She's Like The Sun
Rating

Music: 9
Performance: 9
Sound: 9
Light: 8
Total: 8.8 / 10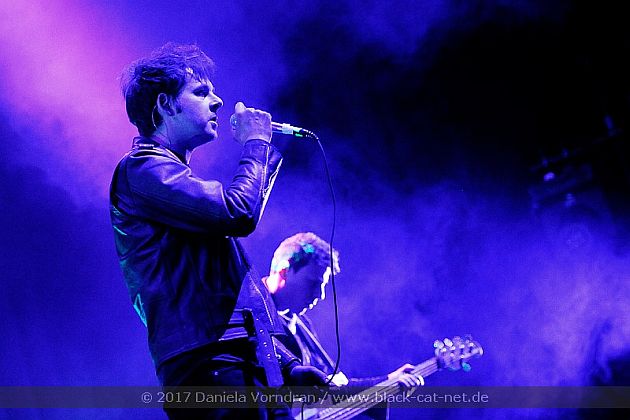 OMD

After HOLYGRAM, there was 40-minute break and with a bit of delay
OMD
entered the stage. Besides founding members Andy McClusky on vocals and Paul Humphreys on synths there were also live musicians Martin Cooper on keys and, later in the set, saxophone and drummer Stuart Kershaw. I didn't count how many incarnations of OMD were there before but clearly there were quite a few ups and downs and revolving members in the 40 years of band history. Formed in Northwest England in 1978, ORCHESTRAL MANOUEVRES IN THE DARK had a string of major hits in the early 1980s which were decidedly anti-Punk and an antipode to all macho Rock clichés. Predominantly electronic and often avoiding standard Pop formulas, songs like 'Electricity' (1979), 'Messages' or 'Enola Gay' (both from 1980) were still catchy enough to have a huge mainstream Pop appeal, nevertheless. It granted their first four albums gold or even platinum status in the UK, a series of Top 20 singles throughout Europe and 'Maid of Orleans (The Waltz Joan of Arc)' was even the best-selling single of 1982 in Germany.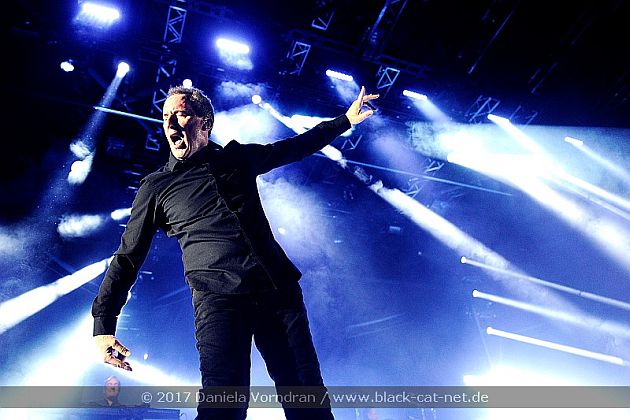 1996 OMD was laid to rest, after a period of Andy McClusky performing and producing solo under this name in the early 1990s. Humphreys said goodbye to OMD much earlier, fronted the band THE LISTENING POOL from 1989 to 1996, and recorded with former PROPAGANDA singer Claudia Brücken as the duo ONETWO from 2000 to 2013. McClusky on the other hand conceived and produced the girl group ATOMIC KITTEN and indulged major mainstream success. It really looked as if ORCHESTRAL MANOEUVRES IN THE DARK was dead and buried but the year 2006 saw an unlikely reunion of McClusky and Humphreys under their old banner. First they just toured with their old material, in particular their classic album 'Architecture & Morality' from 1981 which OMD performed in its entirety, plus a best of-set, on their tour in 2007 to promote the re-release of this album. Starting with 'History of Modern' in 2010, releases with fresh, brand new music were also offered, with 'The Punishment Of Luxury' being the latest offering. http://www.omd.uk.com / https://www.facebook.com/omdofficial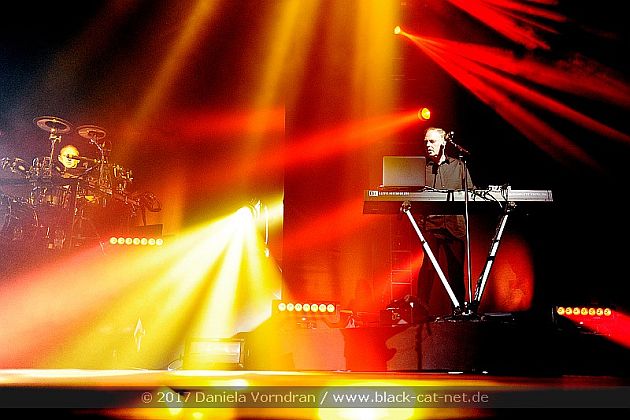 Music & Performance

All this is serious business and quite a legacy and The Oxford Times once described OMD as being "among the most important bands Britain has ever produced". Nothing could prepare me, as a newbie to the OMD live experience, for the fun-filled, almost comedy-like performance Andy McClusky and Paul Humphreys delivered at the Mitsubishi Electric Halle in Düsseldorf! (By the way, quite a perfect name for a venue that hosts an electronic band who is fond of singing about technology and machines!) This was certainly no deadpan, larger-than-life legacy act celebrating past glories. More like two ordinary, next-door blokes who know each other for almost their entire lives having some fun on a Sunday evening! And it turned out to be the perfect Sunday night entertainment! The endless banter between the protagonists, which often would start with "Paul?" followed by a "Yes, Andy?", was simply hilarious. It reminded me on the boisterous cross-talk German Pop-Punk band DIE ÄRZTE is infamous for, and I wouldn't have been too surprised if Humphreys and McClusky would eventually sit down to have a cold Lager mid-show.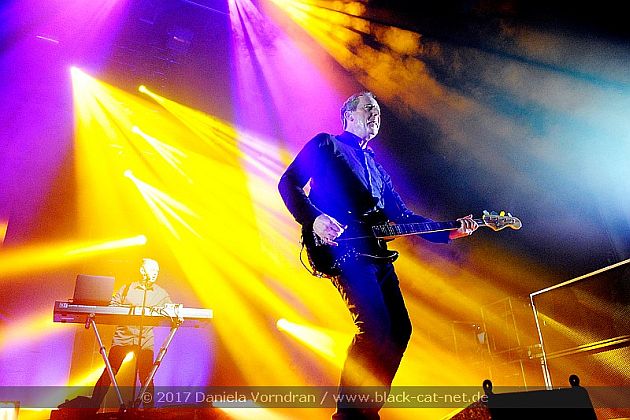 However, there was still a lot of music, of course! The start was kind of slow with the atmospheric 'La Mitrailleuse' and the dreamy 'Ghost Star' following the intro 'Art Eats Art', all taken from the album 'The Punishment Of Luxury'. But McClusky soon made clear what the evening was going to be all about: "Heute Abend: Neue Lieder, alte Lieder! Tanzen!" he said in German, and in fact his German language skills are pretty impressive! And he teased his buddy Paul more than once that his skills in this field are far less than impressive! For song number three, 'Messages', McClusky finally grabbed his iconic bass guitar, although it wasn't audible what he actually played until the end of the song. A little technical glitch, apparently. The next two hours featured a bucket load of classic OMD material from the 1980s with some more recent stuff interspersed. And, of course, even more banter! While the music often has a romantic melancholy to it, the relaxed, down-to-earth and giggly attitude on stage quickly infected the audience.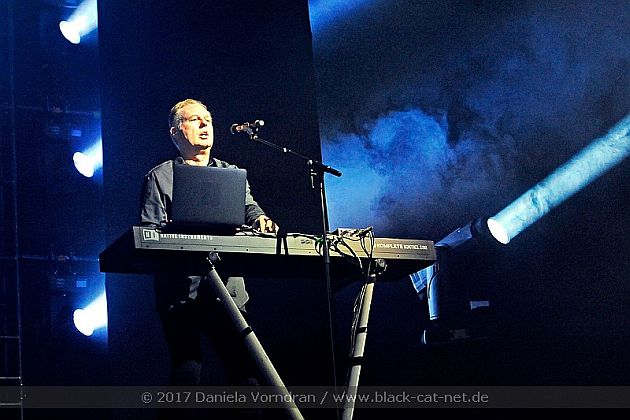 And the audience had also a say in what was going to be part of the evening: Before every show OMD have a song voting, advertised on huge displays at the merch booth and in the foyer, and people can vote for one out of three songs to be performed at the specific show. In Düsseldorf 'Genetic Engineering' got the popular vote, leaving the highly popular 'If You Leave' from the 'Pretty In Pink' movie soundtrack surprisingly behind. At one point during the gig Andy McClusky called Düsseldorf "our spiritual home", and that was more than just buttering up the audience to get some cheap applause. McClusky wouldn't say that about Hamburg, London or Paris. Düsseldorf is the birthplace of Krautrock and some of the most influential artists in electronic music: DEUTSCH-AMERIKANISCHE FREUNDSCHAFT, NEU!, LA DÜSSELDORF, DIE KRUPPS and last but not least the godfathers of any electronic music, KRAFTWERK! Some members of these Düsseldorf bands were actually in attendance, e.g. Ralf Dörper and Rudi Esch of DIE KRUPPS (or Ex-DIE KRUPPS for latter one) and, as rumour had it, some former KRAFTWERK members.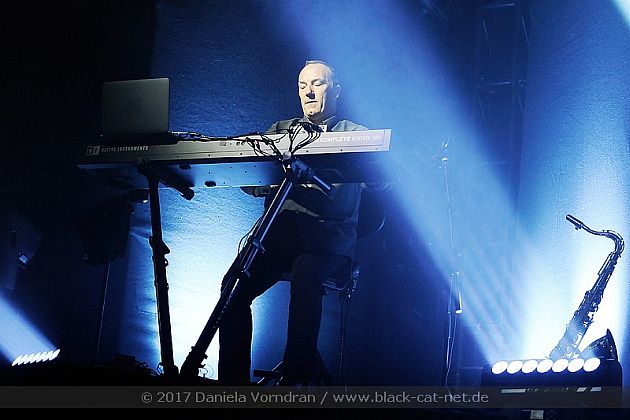 It must be quite thrilling to have some of your heroes from your teenage years, people who ignited and influenced what you're still doing today, in your audience but that certainly didn't stop OMD from even more giggly fun. KRAFTWERK is certainly the biggest influence since the earliest days of OMD, as 'Time Zones' and the subsequent 'Of All The Things We've Made' proved. All four band members came to the front of the stage, each one illuminated by a single white spot and playing on toy-ish versions of their respective instruments. This also reminded visually on the godfathers of electronic music - think of 'Pocket Calculator'! And it was one of the few contemplative moments of the show, as OMD soon kicked off a string of their classic Pop hits leading from 'Locomotion' to 'Enola Gay' to, as the final encore, 'Electricity'. Despite McClusky's pretended concerns (see above) the Düsseldorf crowd was more than happy to indulge some Pop happiness and so the show ended on a blissful high and McClusky thanked the fans for a fantastic evening. The band very obviously enjoyed their time in Düsseldorf, and indeed it was a perfect way to spend a Sunday night for everyone.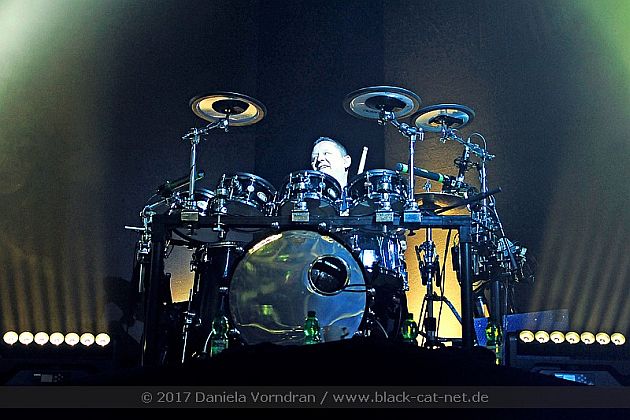 Setlist

01. Art Eats Art/La Mitrailleuse Intro
02. Ghost Star
03. Isotype
04. Messages
05. Tesla Girls
06. History of Modern (Part 1)
07. One More Time
08. Genetic Engineering (Fan vote over If you leave and She's leaving)
09. (Forever) Live and Die
10. Souvenir
11. Joan of Arc
12. Joan of Arc (Maid of Orleans)
13. Time Zones 2016
14. Of All the Things We've Made
15. What Have We Done
16. So in Love
17. Locomotion
18. The Punishment of Luxury
19. Sailing on the Seven Seas
20. Enola Gay
---
21. Walking on the Milky Way
22. Pandora's Box
23. Electricity
Rating

Music: 9
Performance: 10
Sound: 10
Light: 9
Total: 9.5 / 10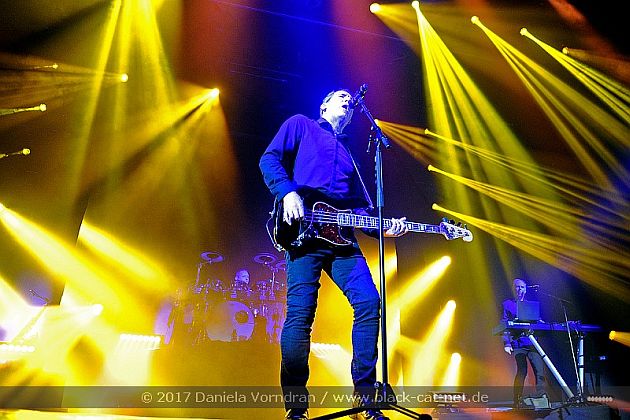 All pictures by Daniela Vorndran (
http://www.vorndranphotography.com
/
http://www.facebook.com/blackcatnet
)
See also (all categories):