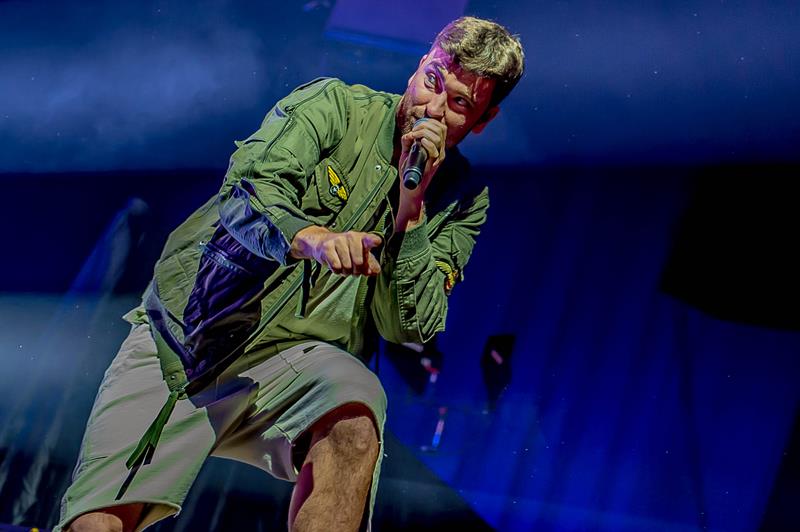 Messe- und Kongresszentrum Halle Münsterland, Münster, Germany
4th December 2017
Marteria & Kid Simius

Marten Laciny is a 35 year old hip hop artist who celebrated his 35th birthday with his "Roswell" tour as MARTERIA in Münster on December 4, 2017. 'Roswell' is his fourth album if you disregard the five ones he made as Alter Ego MARSIMOTO. On his "Roswell" tour, the support act is KID SIMIUS, who also collaborated in making some of his songs earlier. As usual on this tour, Marten also brought Marsimoto, his photographer and friend Paul Ripke and three female background singers with him. Everything that was still missing was brought by more than 7,000 fans from Münster: A good atmosphere, party vibes and even something to smoke.
Kid Simius

The supporting act of MARTERIA started at 8 pm prompt. Supported by red fog and booming bass the Spanish shook a leg of the crowd with his EDM-tracks. The musician played eight tracks including 'Hola Chica!' and a remix of MARTERIA's 'Kids (2 Finger an den Kopf)' which got the audience in the right mood for the main act. At 8:30,
KID SIMIUS
left the crowd alone but came back 20 minutes later as MARTERIA's keyboarder.
Marteria


Short before nine,
MARTERIA
introduced his tour with the title track of the current album, 'Roswell'. Afterward he told the audience he wants to have a huge birthday party and sang 'Aliens', 'Endboss', 'Scotty Beam Mich Hoch', which helped the crowd coming out of their comfort zone. Supported by a dramatic light show and some special accessories like a Bengal flare in 'Bengalische Tiger', MARTERIA gave his audience action and some eye candy. The following songs, 'Tauchstation', 'Blue Marlin' and 'Skyline Mit Zwei Türmen', were calming and let the listeners concentrate on the lyrics of the songs which were about Marten's youth in New York and his new passion for fishing. After the short visit in Marten's past, the audience needed to be more active: Before Marten started singing 'Neue Nikes', he wanted his supporters to take off their shoes and hold them up.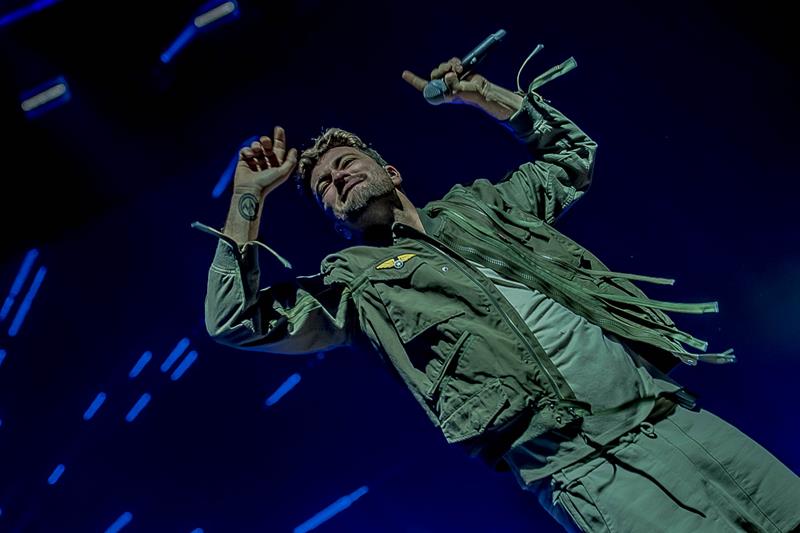 In 'Marteria Girl', the female audience was allowed to sing a part along with the Brazilian female background singer who also had an awesome voice behind her chest. Next was the song 'Verstrahlt' in which the female blonde background singer did the harmonies. Four songs later MARTERIA left the stage and the alien MARSIMOTO showed up. He sang four songs about Weed, Döner and a Nazi. All of MARSIMOTO's songs were supported by green light rays and fog. Shortly after the last song of MARSIMOTO, MARTERIA sang his three most popular songs 'OMG!', 'Kids(2 Finger An Den Kopf)' and 'Lila Wolken'. In 'Lila Wolken' the third of his female background singers sang the part of singer MISS PLATNUM and earned a lot of ecstasy by the crowd. Around 10:30 pm Marten held a short speech to thank the crowd for their support and told them that he was 10 years ago at the Skater's Palace (another location in Münster) and sang in front of 75 people. This evening he sang in front of 7,000 people and he couldn't be more proud of himself, having his 35th birthday with such a big audience.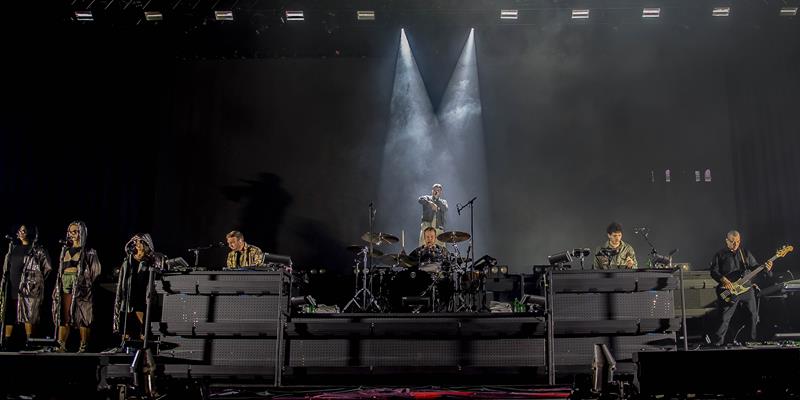 As a gift the crowd wished him a "Happy Birthday" by singing for him. Following this little speech, Marten and his band presented 'Welt der Wunder' and the crowd attended with pocket lighters and torches of their smartphones. Ensuing to this romantic scene, MARTERIA offered 'Feuer' and surprised his audience with fitting fire fountains. The last song of this fantastic evening was 'Die Letzten 20 Sekunden' which left the male crowd and band members shirtless and speechless as Marten got into the crowd and did some crowd surfing. The show ended with a confetti cannon at 10:50 pm.
Setlist

01. Roswell
02. Aliens
03. Endboss
04. Scotty Beam Mich Hoch
05. El Presidente
06. Bengalische Tiger
07. Tauchstation
08. Blue Marlin
09. Skyline Mit Zwei Türmen
10. Neue Nikes
11. Marteria Girl
12. Verstrahlt
13. Große Brüder
14. Und Dann Kam Louis
15. Das Geld Muss Weg
16. Links
17. Grüner Samt (Marsimoto)
18. Eine Kleine Bühne (Marsimoto)
19. Der Nazi Und Das Gras (Marsimoto)
20. Der Döner in mir (Marsimoto)
---
21. OMG!
22. Kids (2 Finger An Den Kopf)
23. Lila Wolken
---
24. Welt der Wunder
25. Feuer
26. Die letzten 20 Sekunden
Rating

Music: 8
Performance: 9
Sound: 9
Light: 10
Total: 9 / 10
All pictures by Andreas Gey (Kommodore Johnsen)
See also (all categories):