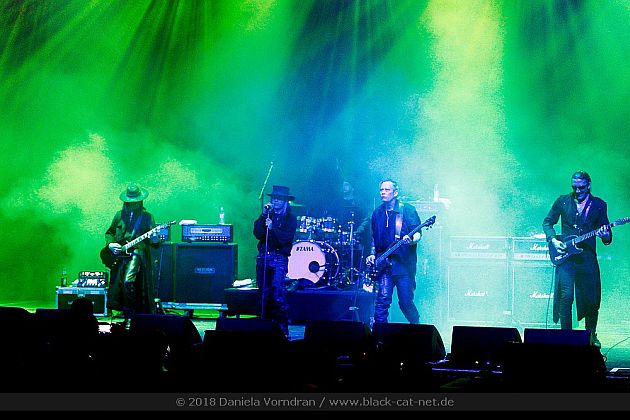 Turbinenhalle, Oberhausen, Germany
26th May 2018
New Waves Day 2018 with Holygram, Der Fluch, Clan of Xymox, Trisomie 21, The Young Gods, Chameleons Vox, The Damned, Fields of the Nephilim

It's twenty past two and the early and punctual guests are trying to endure the scorching sun of midday. Mr. Nice Goth waiting next to me fears of getting sunburned and I wish I also had one of those fancy hand fans that some ladies brought. Now, finally, the Turbinenhalle in Oberhausen is opening its gates for the second edition of the indoor festival New Waves Day and we all rush inside. While folks were freezing during the E-tropolis festival in March, today the Turbinenhalle will definitely keep us warm. Ok, too warm, but at least we're save from the relentless rays and, most importantly, this year's line-up once again promises a quite diverse day with eight striking acts who all celebrate music in their very own way.
Holygram

How about kicking off New Waves Day 2018 with a highlight? Holy moly,
HOLYGRAM
! For me it's the third time to see this youngish and rising band from Cologne live. Thus, I already know that they've created their very own sound, that they have a spark - but today's performance shows that they shine brighter than ever... in the twilight. Their characteristic version of "music for the lost", impressive live sound right from the first tune they play today, the far-away 'Hideaway', and undeniable professionalism on stage keeps me from calling them newcomers anymore. "Good afternoon!," the frontman greets us and the crowd, though not filling up the entire venue that early, has a great time dancing along and giving them a big hand. The quintet plays a set of six dreamy and at the same time intense songs convincing us with their melancholic catchiness and driving gloom in the vein of their anthem 'Still There'.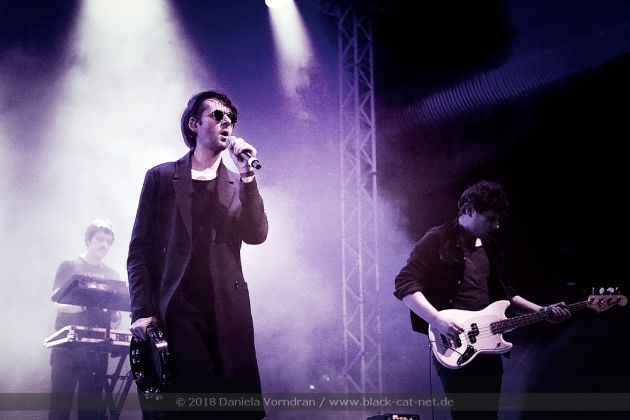 Thus far, HOLYGRAM released their self-titled debut EP in October 2016, supported acts such as SHE PAST AWAY, THE MISSION, ORCHESTRAL MANOEUVRES IN THE DARK, and played at various festivals including Amphi and Wave Gotik Treffen. The awaited first album, which the band is currently working on, is yet to see the light of day and gigs like today make one hunger for new songs even more. The band's blend of Post Punk and Wave makes them a perfect candidate for New Waves Day. And it's especially live on stage that their noisy outbursts of Krautrock as in 'Signals' and 'Distant Light' are captivating and great fun. The band closes with 'She's like the Sun' which makes one also wanna grab a tambourine. Such a shame that their 35-minute-long set is over so soon. Some who see HOLYGRAM for the first time today call them the "best surprise of the festival." // http://holygram.band/ / https://www.facebook.com/holygram.official/ // Setlist: 01. Hideaway / 02. Daria / 03. Signals / 04. Still There / 05. Distant Light / 06. She's like the Sun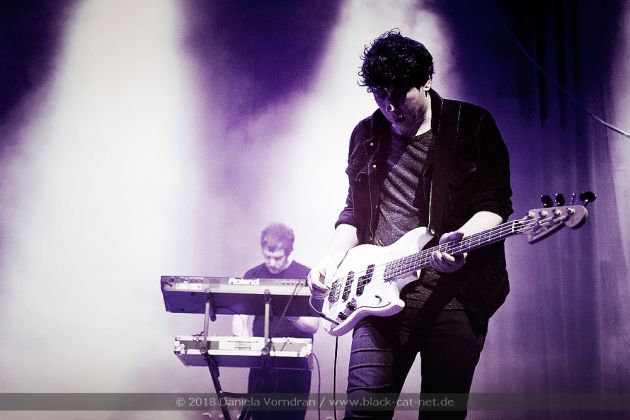 Der Fluch

"We are Old Wave!" frontman Deutscher W. announces as he dashes on stage. Horror Punk forefathers
DER FLUCH
(in English, "The Curse") are round since 1981 telling their stories out of the crypt. It is with full force and enthusiasm that he shouts and sings the German lyrics inspired by horror B movies. The combo puts on a super-fast-paced and fun show including some Gothabilly vibes and the fans bounce along and nod their heads enjoying tales of rat poison, witches, vampires, werewolves, and the lord of the flies himself. The couple partying in front me knows all the lyrics and are all smiles. 'Herr der Fliegen' conjures up a kind of STENDAL BLAST feel that I really like and the vocalist does an impressive impersonation of a fly - amazing acting skills!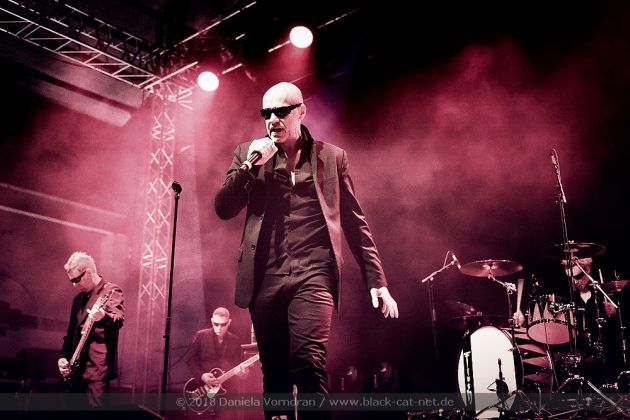 It's just afternoon, but DER FLUCH offer us a wild witching hour, gallows laughter guaranteed. Some pieces are introduced by poetic lines contributing to the eerie mood and the New Waves Day crowd totally digs the band's tongue-in-cheek creep show. Damn good times. Fans can look forward to brand new terrific tales by DER FLUCH by the end of the year. In the meantime, let's pray for them as their less-than-two-minute-long smasher 'Betet für uns' asks us to do, shall we? // https://www.facebook.com/DER-FLUCH-153505188062630/ // Setlist: 01. Ich bin der Fluch / 02. Hexen leben länger / 03. Betet für uns / 04. Fürsten der Nacht / 05. Herr der Fliegen / 06. Das Grauen geht um heut Nacht / 07. Die Nacht der Toten / 08. Rattengift / 09. Halb Mensch halb Tier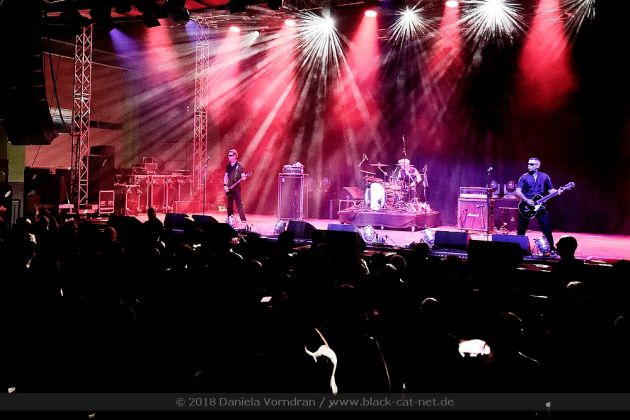 Clan of Xymox

It was back in 1985 that
CLAN OF XYMOX
have released their debut and since then countless club classics and good-spirited live shows followed. Today's performance is a set of eight songs celebrating the infectious melodies of their vast discography. Vocalist Ronny Moorings is winsome as always entertaining the audience in German and English. He is joined by band mates Mario Usai on guitar, Sean Göbel and Daniel Hoffman on keys and today we've also got Mojca Zugna on bass along for the ride. Unfortunately, the sound is not best in the beginning.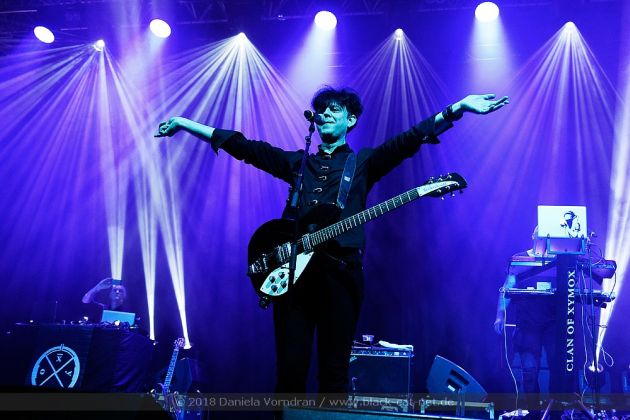 This, however, doesn't keep the CoX fans from dancing along. "One also have to write a new tune once in a while, right," Ronny asks introducing the newer piece 'Loneliness' taken from their latest record 'Days of Black' (2017). During the second half of their set the sound mixing improves and the trick is finally also played for me thanks to XYMOX' pounding, brooding, and sweet darkness. // https://www.clanofxymox.com/ / https://www.facebook.com/clanofxymox.official/ // Setlist: 01. Intro / 02. Obsession / 03. Louise / 04. Loneliness / 05. Emily / 06. Jasmine and Rose / 07. A Day / 08. Your Kiss / 09. Muscoviet Musquito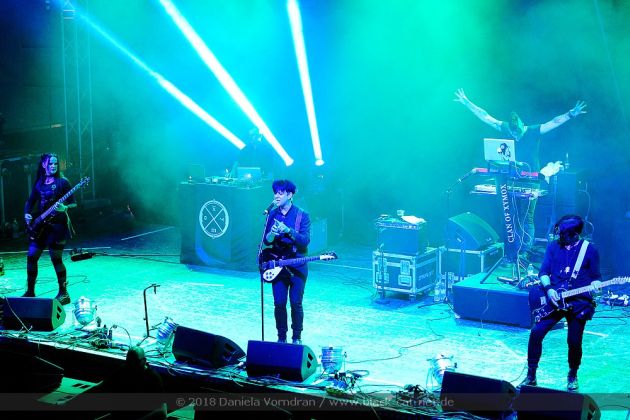 Trisomie 21

The next hour we will spend is with the Cold Wave act
TRISOMIE 21
from Lille, France. The Lomprez brothers Phillipe and Hervé have founded the project in 1981. Their experimental Electro Pop show is kicked off with 'Where Men Sit' inviting their fans to the dance floor. One highlight is the instrumental classic 'La Fête Triste', a truly nostalgic and saddish tune which earns the soloist a big round of applause. End of last year, T21 their latest record 'Elegance Never Dies' came out, which they wrote in secret and that is considered to be their best work making them tour the world again. 'Glistering like Gold' from the 'Black Label' album offers a nice moment at NEW WAVES DAY.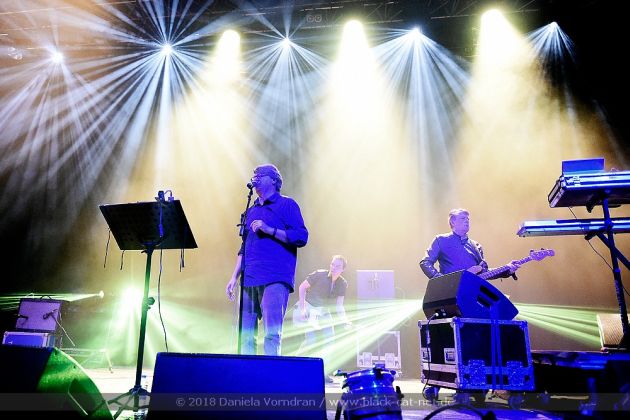 On the whole, even though we get to hear not the best vocal performance of the day, the guitar, bass and synths sound great. And the beats, like during 'Tender Now', are infectious. Then, there is time for one more song. "You know this one...," Philippe says, "...it's 'The Last Song'." And the crowd cheers; this classic T21 piece makes the fans raise their arms. // http://www.trisomie21.tv/ / https://www.facebook.com/trisomie21/ // Setlist: 01. Where men sit / 02. Waiting for / 03. The Camp / 04. Hear me now / 05. Glistering like Gold / 06. La fête triste / 07. Tender now / 08 The last Song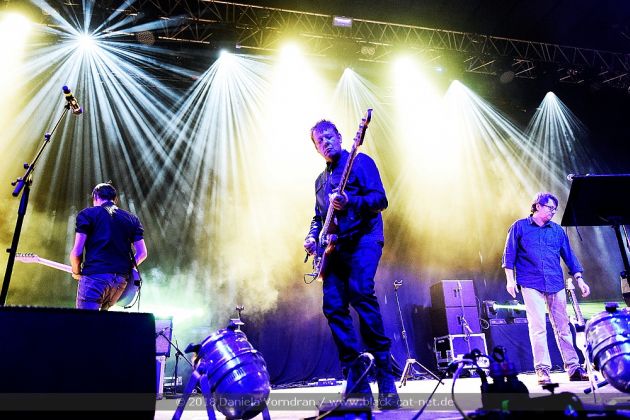 The Young Gods

I've been looking forward to seeing the Industrial Rock pioneers from Switzerland for never having had the pleasure before. The apocalyptic chanson-like 'La Fille de la Mort' (transl. "The Daughter of Death") presents a compelling and moody intro and the piece grows becoming more dramatic making the vocalist Franz Treichler scream wholeheartedly. As expected, the powerful trio brings on a loud and intense show captivating the senses. They are raising the roof of the Turbinenhalle wit gritty vocals, ambient and also crushing electronics, and sampled guitar riffs presented by Cesare Pizzi and heavy-hit, industrial drumming by Bernard Trontin. 'The Irrtum Boys' follows and some hard-core fans let the raw music take over their bodies completely.
THE YOUNG GODS
' 1992 single 'Skinflowers' is totally a tune for me and makes one realize how influential the GODS really are when it comes to the Industrial sound in the vein of NINE INCH NAILS & Co.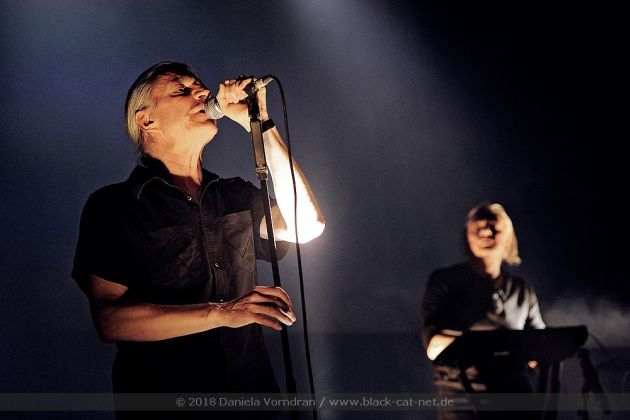 The band makes it impossible to just stand still and fully convince us with their raging and dark noise show. The shamanistic 'Envoyé' makes floor shake. Also, all thumbs up for the effective light show during the gig. There are less colours, but many long light beams, one looking as if coming straight of Franz' mike stand. Surrounded by foggy darkness he's moving his fingers in the light pillar or uses it as a spotlight to shine on the people in the crowd. TYG's last and seventh record 'Everybody Knows' came out 2010 and their "music lovers" are now eagerly awaiting their next opus to come out this fall. // http://www.younggods.com/ / https://www.facebook.com/theyounggods/ // Setlist: 01. La fille de la mort / 02. The Irrtum boys / 03. Skinflowers / 04 Criez les chiens / 05. L'eau rouge / 06. Envoyé / 07. The night dance / 08. Kissing the sun / 09. L'amourir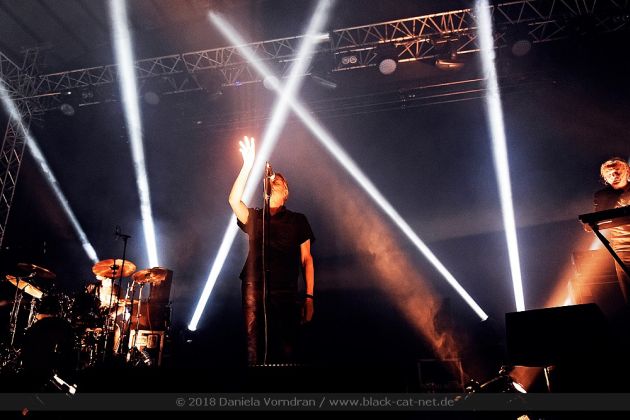 Chameleons Vox

CHAMELEONS VOX
is the continuation of THE CHAMELEONS and a must-hear for all British guitar music lovers. And Manchester's most influential band around vocalist Mark Burgess is more than welcome to grace the festival's stage again. They already played New Waves Day last year and after tonight's once again successful show, the fans will be asking them to come back again also next year. Their fans are celebrating CHAMELEONS VOX from the heart. A fan standing in front of me, who's wearing a THE DAMNED shirt, jumps along singing - no, actually performing - every single line so full of passion that even his glasses fall to the ground due to all the action. Luckily, there's no broken glass and the CHAMELEONS VOX party may continue.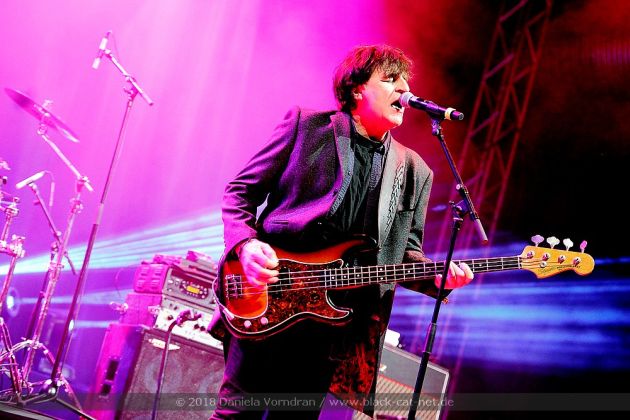 We are offered wonderful, guitar-driven, melodic tunes and a strong vocal performance right from the opener 'A Person Isn't Safe Anywhere These Days'. There's a big round of applause, the first of many to follow, after its tranquil last notes. More beautiful moment with 'Perfume Garden' and 'Less than Human' and 'Swamp Thing' is clearly one of the highlights. With 'Nostalgia' Burgess and bandmates invite their audience to sing along one last time: "Tomorrow I remember yesterday." // https://www.chameleonsv.com/ / https://www.facebook.com/Chameleonsvox/ // Setlist: 01. A Person Isn't Safe Anywhere These Days / 02. Monkeyland / 03. Thursday's Child / 04. Perfume Garden / 05. Less than Human / 06. Swamp Thing / 07. Soul in Isolation / 08. Second Skin / 09. Singing Rule Britannia / 10. Nostalgia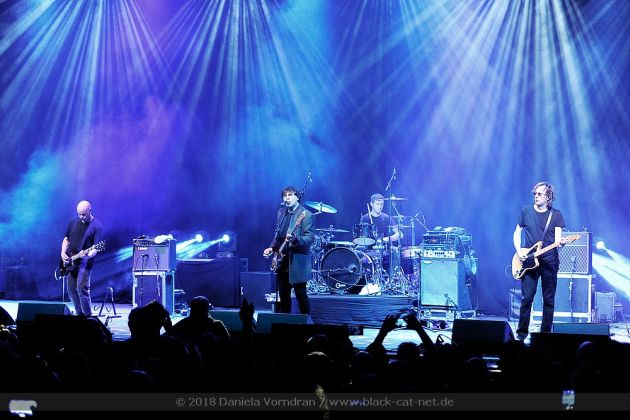 The Damned

"Is she really going out with him?!" - Drums... It was back in 1976 that Punk Rock forefathers
THE DAMNED
released 'The Rose', U.K.'s very first Punk single. It was out five weeks before THE SEX PISTOLS' 'Anarchy in the U.K.'. The combo around sharp-dressed front-vamp Dave Vanian is also the first band to brew their Punk with pinches of Goth Rock. Tonight, the rock opera 'Street of Dreams' is the perfect opener. Andy from England, whom I've met during the break, makes his way to the front to be closer to his favourite band of the day. "The first time that I've seen THE DAMNED I lost my glasses," he recalls laughing. "Too much shoving..."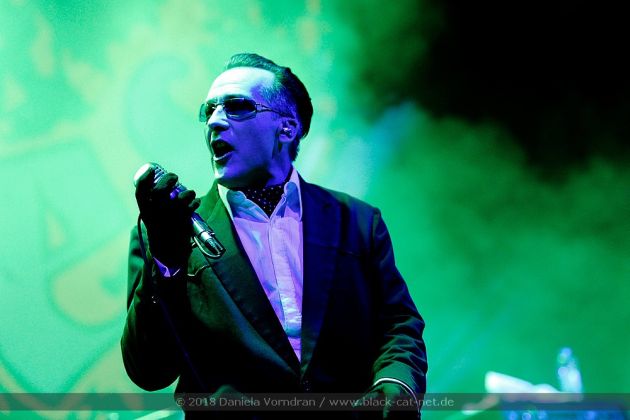 This April, vocalist Vanian, Captain Sensible (guitar), Monty Oxymoron (keys), Pinch (drums), and Paul Gray (bass) unleashed 'Evil Spirits', the band's 11th record following up 'So, Who's Paranoid' after a decade. The single 'Standing on the Edge of Tomorrow' is a very enjoyable new punch with a clear message: "This time could be the last time / Maybe the only time / to get it right... We've got to make it right!" The rest of the show is all old school and beloved THE DAMNED classics celebrating their over 40-years long band history. Of course the crowd also gets to hear the hit song 'Eloise', a PUAL/ BARRY RYAN cover.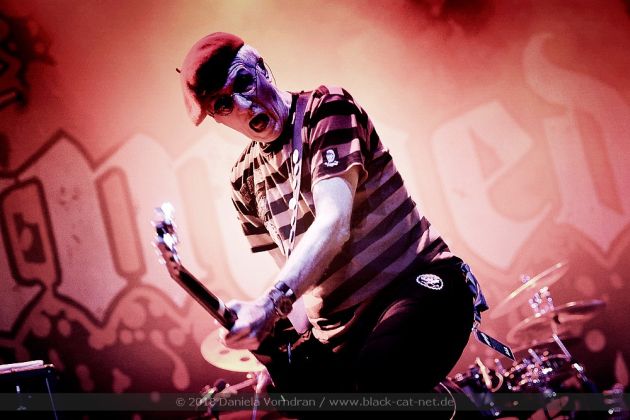 All in all, THE DAMNED deliver a fast-paced, energetic and good-humoured live show - just think 'Machine Gun Etiquette' - and the fans are dancing and rocking out even at the very back of the venue. The band also seems to have a damn good time on stage. Personally, I really like listening to a calmer piece from 'The Black Album': 'Dr. Jekyll and Mr. Hyde'. Then, it is time to boogie again as 'Ignite' resounds. The cult act closes with their anthem 'Smash It Up' leaving behind a quite happy crowd. Neat! // http://www.officialdamned.com/ / https://www.facebook.com/OfficialDamned/ // Setlist: 01. Street of Dreams / 02. Wait for the Blackout / 03. Plan 9 Channel 7 / 04. Standing on the Edge of Tomorrow / 05. Love Song / 06. Machine Gun Etiquette / 07. I Just Can't Be Happy Today / 08. New Rose / 09. Eloise (PAUL RYAN cover) / 10. Dr. Jekyll and Mr. Hyde / 11. Ignite / 12. The History of the World (Part 1) / 13. Neat Neat Neat / Encore: 14. Smash It Up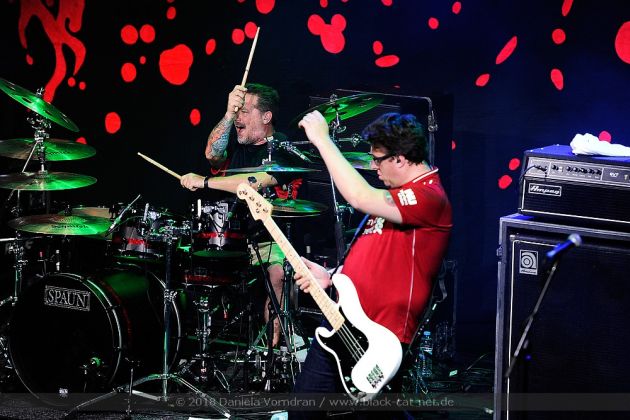 Fields of the Nephilim

Saving the best for last: It is time for the inimitably other-worldly
FIELDS OF NEPHILIM
to grace the stage and enthral the New Waves Day gathering at the Turbinenhalle. It's dim and so quiet, the air filled with expectation. Blue cones of light and some stage fog being blown in from the sides set the ambience for the haunting and cinematic undersea intro 'Dead But Dreaming'. It also gives Tony Pettitt, Gav King and Adam Paul Leach some room to pluck the strings and leads perfectly into the mighty 'Dawnrazor', title track of their 1987 debut, after drummer Lee Newell has set its rhythm. Carl McCoy is the last one to appear. His grave and gnarling vocals cut through the waves. "Cutting razors and violence... recalling cutthroats - razor sin!" The sound is splendid and FIELDS simply always manage to mesmerise their fans from the first second they walk on stage. Founded back in the mid-1980s the NEPHs celebrate over three decades of existence.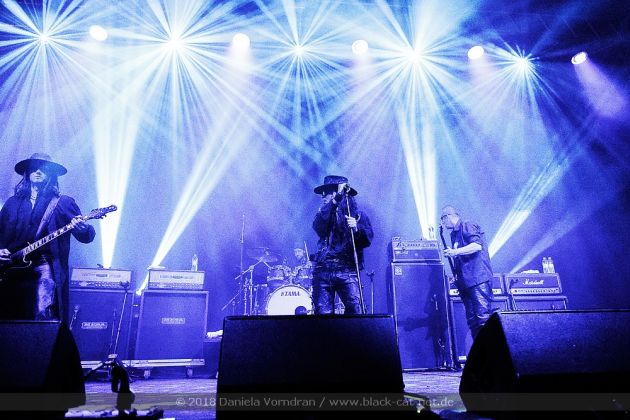 With the faster-paced 'Endemoniada' the band conjures up their Spaghetti Western Goth Rock vibes. As the song ends with the word "Stop!" McCoy raises his hand and the music dies. The second of immediate silence is interrupted by the audience's burst of applause. The following tune 'Love Under Will' takes my breath away whilst some white rays of light circle around the musicians beautifully. Then, all hell breaks loose as the 1988 hit single 'Moonchild' resounds. Some drift to the sides as the cauldron begins to cook and a mosh-pit is under way in the middle in front of the stage. And the ride goes on for the band's newest anthem, the stomper 'Prophecy' (2016), is up next. Buckle up and lift off. "Let the fire burn!" But the NEPHILIM crowd also loves the slower, doomy pieces. The band plays 'At The Gates of Silent Memory' from 'Elizium' (1990) full of soul and is one of tonight's highlights. While some take their Nephilim brother or sister on their shoulders to build a human pyramid, others just stand there listening petrified with awe. "But I feel alive with you / And I feel some kind of heaven." The captivating 'Psychonaut' following is also more than welcome and we're grooving along to the bass as Tony's flinger fly across the fret.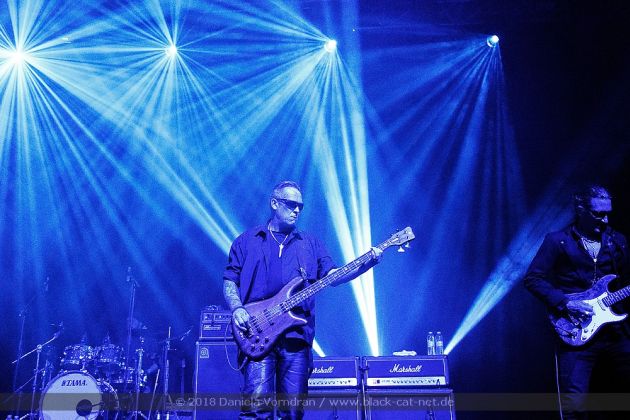 Of course 'Mourning Sun' cannot be missed. It marks the end of a stellar show, but the FIELDS OF THE NEPHILIM are called back by the loud, passionate, patient and faithful crowd for a hard to top encore. After the classic 'The Watchmen', some choral singing introduces the legendary ten-minute-long delight 'Last Exit for the Lost'. As the dramatic tune builds up Carl comes to the front spreading his arms making the mosh-pit go wild. He also turns towards those standing at the sides; a gesture appreciated by the fans with raised arms. Next to the power, there's also this melancholic feel to the leading guitar that makes 'Last Exit' a wonderful last song full of longing. "And we're getting closer... closer and closer".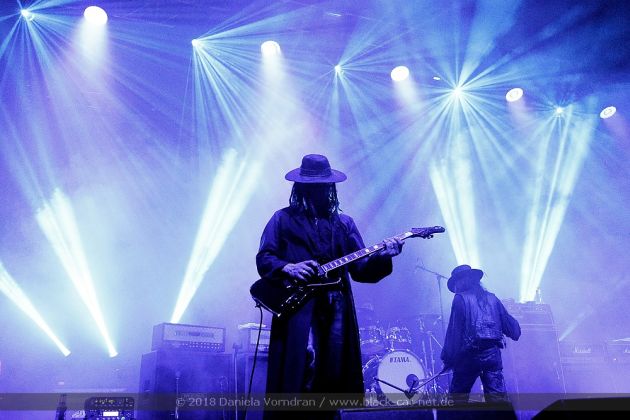 As expected, this year's headliner brings the New Waves Day crowd a truly mystical experience. Tony's throbbing bass, Gav King's and Leach's rhythmic and virtuosic guitar playing, Lee Newell's pinpoint and organic drumming, all around Carl McCoy's unique vocal performance bring THE NEPH's atmospheric, psychedelic-infused and doomy soundscapes masterfully to life. Five out of five stars; ten out of ten points! FIELDS OF THE NEPHILIM leave the moshing pit behind all sweaty and smiling and the more sentimental ones "speechless" and even "in tears." Our devotion will "forever remain"... Next chance to hear the NEPHILIM live on German soil will be at the AUTUMN MOON FESTIVAL, which is taking place in Hameln on 12th and 13th October. // https://fields-of-the-nephilim.com/ / https://www.facebook.com/FieldsOfTheNephilim/ // Setlist: 01. Dead but Dreaming / 02. Dawnrazor / 03. Endemoniada / 04. Love Under Will / 05. Moonchild / 06. Prophecy / 07. At The Gates of Silent Memory / 08. Psychonaut / 09. Mourning Sun / Encore: 10. The Watchmen / 11. Last Exit for the Lost
Conclusion

Industrial Rock, Punk Rock, Goth Rock. Old Wave, New Wave, Dark Wave, Cold Wave. Post Punk, Horror Punk, experimental Electro Pop, and Noise… New Waves Day 2018 had it all and much more. Thanks to a truly diverse line-up put together by Headline Concerts and the musical artistry of eight high-class bands, the second episode of this newish festival celebrating the sound of the 80s was an undeniable success. One couldn't miss the musicians' undying joy of playing their tunes live and I always find it quite touching to witness the devoted fans' everlasting excitement to hear and see their old and also new heroes. Besides, compared to NEW WAVES DAY's debut last year, the sound was also simply great all around the venue apart from just minor mixing issues from time to time. Bearing Mother Nature in mind there's just one point of criticism: the remaining battlefield of all those plastic cups, which made the Turbinenhalle look almost like after a SLAYER show by the end. Ending on a positive note: It is no exaggeration to say that there's no other indoor festival like the mission-conscious and versatile NEW WAVES DAY for the way it keeps the traditional Goth spirit with all its varieties alive.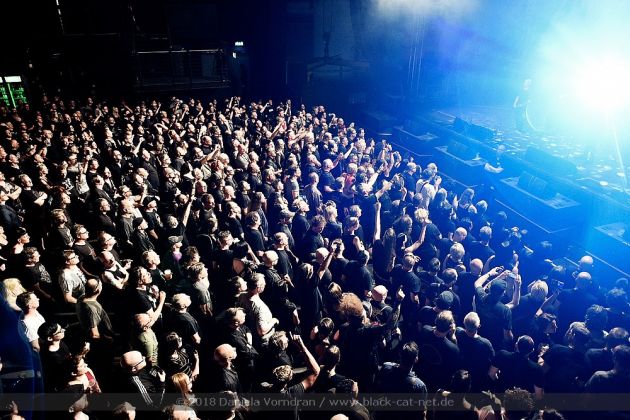 How wonderful is it that nice people from the other side of the globe - greetings to Australia! - didn't leave Germany after the WGT extravaganza, but kept on traveling to Oberhausen to be part of New Waves Day 2018?! And now that it's over, what now? Clearly we are already curious about "NWD round three" and which bands are going to rock off our socks next year.
All pictures by Daniela Vorndran (
http://www.vorndranphotography.com
/
http://www.facebook.com/blackcatnet
)
See also (all categories):