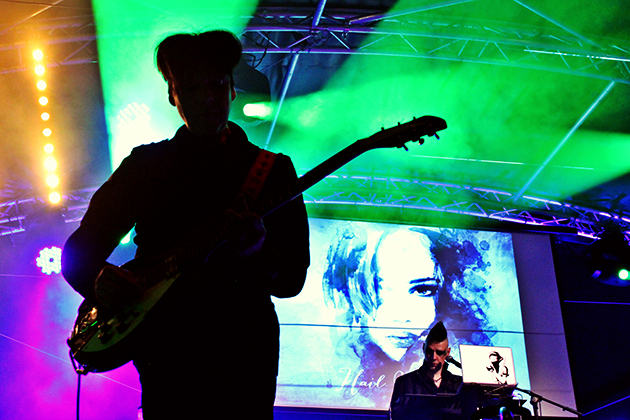 Waldbühne at the Hermannsdenkmal, Detmold, Germany
2nd July 2016
Owls 'n' Bats Festival 2016 with Saigon Blue Rain, Then Comes Silence, Black Nail Cabaret, Escape with Romeo, Clan of Xymox

After missing the debut of the Owls 'n' Bats festival back in 2014 and being kept from attending last year when almighty THE BEAUTY OF GEMINA were headlining, there's absolutely nothing that can keep me away from joining in the black festivity at the Grotenburg, a forested hill in the Teutoburger Forest, this time. The Goth spectacle in the woods close to the legendary Hermann Monument is sounding the bell for the third round and I'm on a delayed bus creeping up the hill. Get going, dear bus driver!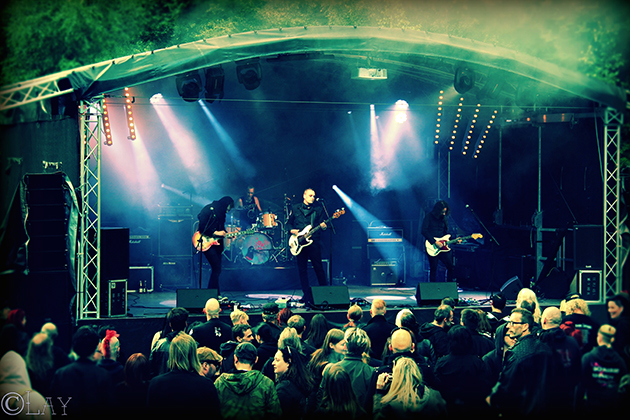 We pass wafts of mist as we keep on driving up, up, and up the serpentine road. Finally, we reach the parking lot, where the festival goers who've come by car can enjoy free parking, and I wonder where Avalon, I mean, the Waldbühne, the mysterious stage in midst of nature, might be. And then, I suddenly hear a beautiful, high-pitched, soft female voice woven into some ethereal music resounding through the trees. Following the first sounds of 'Fading Fantasies' by SAIGON BLUE RAIN, the opening act of this year, I find the entrance of the festival site easily. Fantastic! The festival's footpaths are covered with wood chippings. After just a quick chat with the friendly security and a hello at the registration where they put the black-and-yellow fabric band around my wrist, I pass the "Schattenmarkt", the "market of shadows" which I would check out later during the breaks, and head straight towards the enchanting tunes created by SAIGON BLUE RAIN. At last, I reach the stage and can finally also see the three musicians as they play their second song, 'What I Don't See'.
Saigon Blue Rain

'What I don't See' is the title track of SAIGON BLUE RAIN's atmospheric debut album released back in September 2014. It's shortly after 4 pm when the French Cold Wave trio begin their one hour show. The band from Paris, who are vocalist Ophelia SBR, Franck SBR, who's switching between guitar and synths, and Gilles Facquet on bass, manage to dispel the rain clouds with their truly sublime and otherworldly sound. Rays of sun start to flood the stage as they share their dreamy tunes with the interested crowd gathered in front of the stage and groups of curious listeners sitting on the benches of the wooden terrace.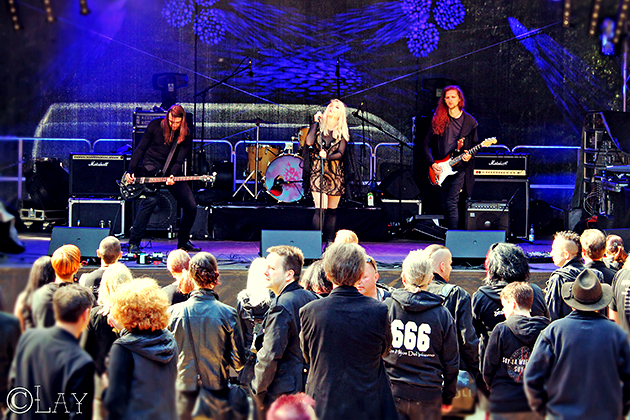 Next to three older tracks that the band released as STUPID BITCH REJECT in 2013 ('Only', 'Bean Niochain', and 'Inside my Asylum') and three songs from their debut as SBR ('What I Don't See', 'L'Offrande', and 'Queen Ephemeria'), the band presents six new songs form their latest record titled 'Noire Psyché' which has been out since end of this March. I have to confess that I'm one of those who hasn't heard of this wavy project before the festival and am enchanted by SBR right from the start. They grab my attention with their mellow melancholia and especially the songs 'Only', 'L'Offrande', 'Whispering Eyes' and 'The Unknown' put me under their spell with the wonderful bass lines that Gilles plays, the marvellous guitar and synth scapes conjured up by Franck, and Ophelia's fitting vocals as she presents her poetic lyrics.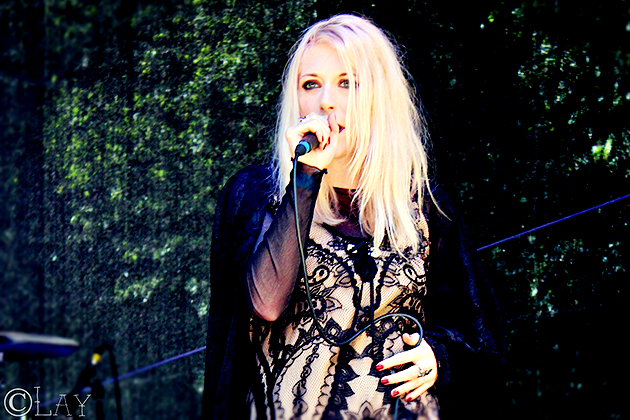 It's nice to hear that the band also "spent a magical time on stage" and that "it was a real pleasure" for them "to play for [us] all". On the whole, SBR did an excellent job opening the festival with their moody Dream Pop show – Merci, you three! I bet quite a few of the owls and bats are now looking forward to seeing SAIGON BLUE RAIN again in September/ October. That's when they will be back in Germany touring with one of their musical influences and last year's headliner, THE BEAUTY OF GEMINA. See you then! //
https://www.facebook.com/SBRofficial
/
http://saigonbluerain.bandcamp.com/
// Setlist: 01. Fading Fantasies, 02. What I Don't See, 03. Only, 04. L'Offrande, 05. The Unknown, 06. Queen Ephemeria, 07. In Other Climes, 08. Bliss, 09. Bean Niochain, 10. Whispering Eyes, 11. Mori Chimaeris, 12. Goodbye Horses, 13. Inside my Asylum // Rating: 8 / 10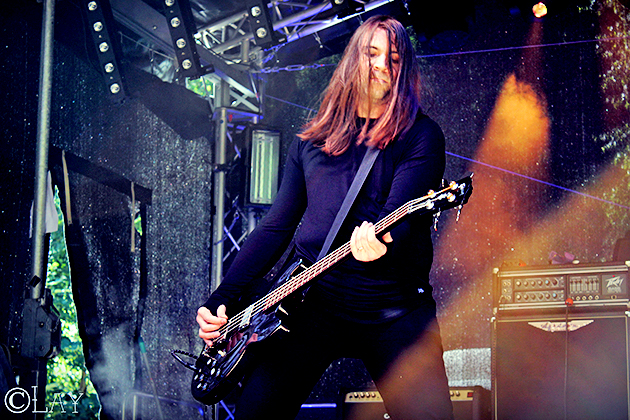 The "Market of Shadows"

The breaks between the shows invite you to take a stroll through the festival's "Schattenmarkt", the "market of shadows" where various merchants and artists offer you their unique handcrafts. There's not only shopping but also a lot cheerful chatting going on. The owls and bats mingle and have a good time. They talk about the meaning of names while checking out the impressive bat-style wooden chairs created by Dark-Living and swap ideas on sewing your own clothes while admiring the fashion designs or picking some Bat/ Goth/ Fantasy/ Steampunk/ Medieval/ Horror inspired accessories or pieces of jewellery made by FlezArt, Bat-Kitty, Cantara, Batcave-Design, Doriel Design, and Fräulein Bine. After taking a look at the CDs presented by JNB Media I head over to the official Owls 'n' Bats merch to pick up one of their shirts that I won in a raffle. Many thanks to the event organisers and the "alternative and black" music bloggers of INDEPENDENT SOUNDS!
The black shirt with its cool O 'n' B logo and the participating bands printed in white is super comfortable. On top of this, it will save me from freezing to death tonight as I already start to shiver from the cold up on the hill. Last year, the festival took place on one of the hottest days and folks were trying to hide in the shades of the trees – this year, not so much. I'm back in front of the stage wearing another layer. A group of Goths standing nearby constantly tries to step out of the growing shadows turning their faces towards the sun. But the weak sun rays don't really help against the chill and we hope that the next band, THEN COMES SILENCE, will heat things up a bit.
http://dark-living.de/
/
http://de.dawanda.com/shop/FlezArt
/
http://bat-kitty.com/
/
https://www.facebook.com/CantaraKleve/
/
http://de.dawanda.com/shop/Batcave-Design
/
http://doriel-design.jimdo.com/
/
http://de.dawanda.com/shop/fraeuleinbine
/
http://www.jnbmediarecord.com/
/
https://independentsounds.wordpress.com/
Then Comes Silence

Shortly before 6pm, the dark wavy Goth Gaze Post Punks THEN COMES SILENCE, formed back in 2011 in Stockholm, begin their one hour set with their opener 'She Loves the Night' taken from their latest record called 'Nyctophilian' (2015). Right from the start it's clear that the quartet will succeed in spreading their "apocalyptic message and dystopian soundscape" at the Owls 'n' Bats. Bandmaster Alex Svenson loses his pick a few times while playing enthusiastically his bass and delivering powerful vocals. Guitarist Jens Karnstedt also rocks out and joins Alex in singing some backing vocals, which makes their choruses even stronger. Thanks to Seth Kapadia there are also more walls of guitar and Jonas Fransson makes sure of some boisterous drumming.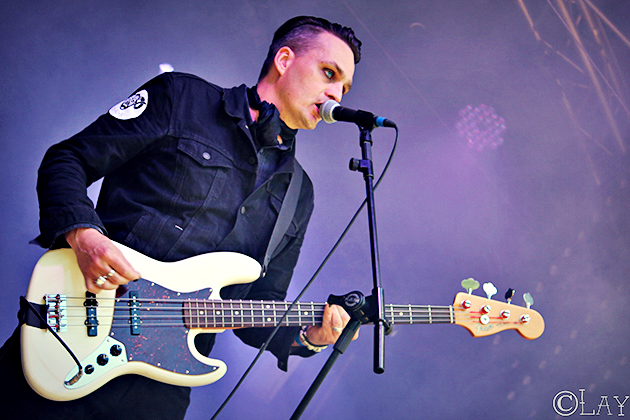 All together, the four Swedes make up a dynamic live band and their dark, impelling tunes make the standing as well as sitting audience move along to the music. I'm impressed with their performance of 'Strangers' having a THE DOORS moment, only in a blacker version, during this captivating song. We're having a sinister blast while THEN COMES SILENCE shake the "forest stage" with a great mix of their noisy repertory of death, doom, and spiritualism: they play three songs from their debut 'Then Comes Silence' (2012), four songs from the follow-up 'Then Comes Silence II' (2013), and five songs from 'Nyctophilian'.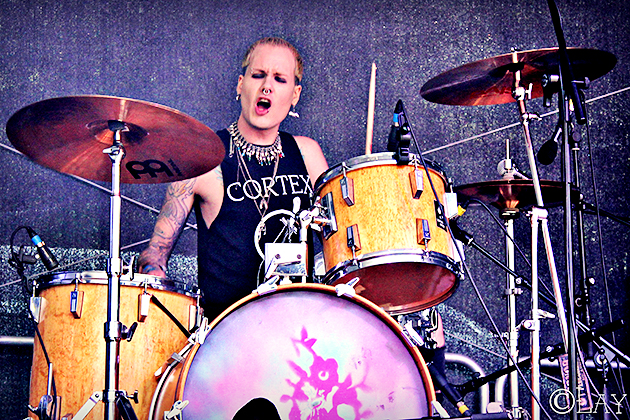 The Owls 'n' Bats audience gives the unique Psych rockers a big hand and Alex repeats how "lovely" it's been. The band leaves the stage and only "then comes silence" again. They will start working on their next album this summer and, hopefully, they'll be back again on German stages sometime soon. //
http://thencomessilence.bandcamp.com/
/
https://www.facebook.com/thencomessilence/
// Setlist: 01. She Loves the Night, 02. Strangers, 03. Spirit Flow, 04. Deepest Darkest, 05. Death by a Frozen Heart, 06. Spinning Faster, 07. Slowly Dragging you Down, 08. Falling into the Void, 09. Death Rides, 10. Animals, 11. Can't Hide, 12. She Lies in Wait, 13. Sweet Curls // Rating: 9 / 10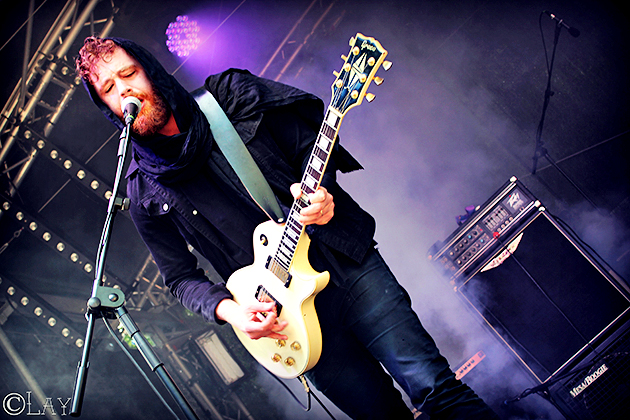 Black Nail Cabaret

It's shortly after 7pm and after the guitar-driven sound of THEN COMES SILENCE it's now time for some superb "Synth Noir" presented by the two ladies of BLACK NAIL CABARET from Hungary/ London. Exceptional vocalist Emke (Emese Árvai-Illés) and Sophie Tarr, mistress of keys, have been creating their kind of "black" music since 2008. In 2012 the electronic duo released their debut album titled 'Emerald City' and 'Harry Me, Marry Me, Bury Me, Bite Me' followed in 2015. In addition, they brought out the single 'Steril', on which Emke sings four gripping songs in her native tongue, and 'The Covers' last year. Some of you may also have heard Emke on the 'Mine' album by ARCHITECT, the experimental electronica project by Daniel Myer (HAUJOBB, DESTROID). BLACK NAIL CABARET's melancholic tunes are one of a kind and it's a pleasure to experience their dark Synth Pop live at the Owls 'n' Bats. Sounding quite retro and modernist at the same time, Emke and Sophie easily captivate the audience with their compelling pieces.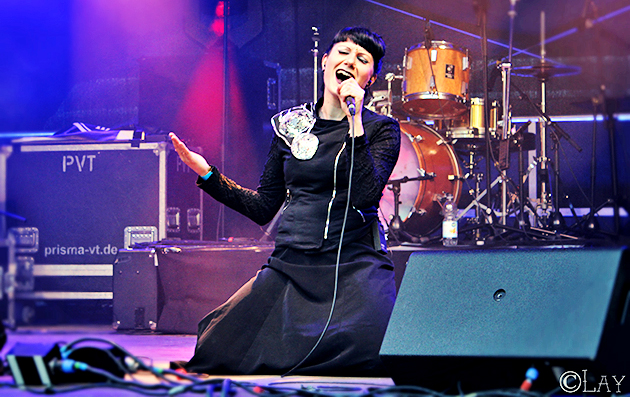 They begin their one-hour set with 'Let me in', the great opener from 'Emerald City'. While the lady in black-and-silver sings from the heart in a haunting, soothing, seductive or powerful manner, moves and dances around the stage, makes us clap our hands and dramatically falls on her knees, the lady in black-and-gold pushes solemnly all the keys and buttons and contributes to the backing vocals. BNC get under our skin and one highlight follows the other. First, they play 'Steril', which they "rarely do at international shows," as Emke tells us. That's when she also gets behind her keyboard and sings in Hungarian. Applause! And then, they mesmerise us with the beautiful 'Storm'. Another hurricane of applause. And when they present a "classic we all know from the 80s" the audience in front of the stage goes completely batty: TALK TALK's hit 'Such a Shame' performed by BNC is a real sonic treat and there's enthusiastic dancing and singing along.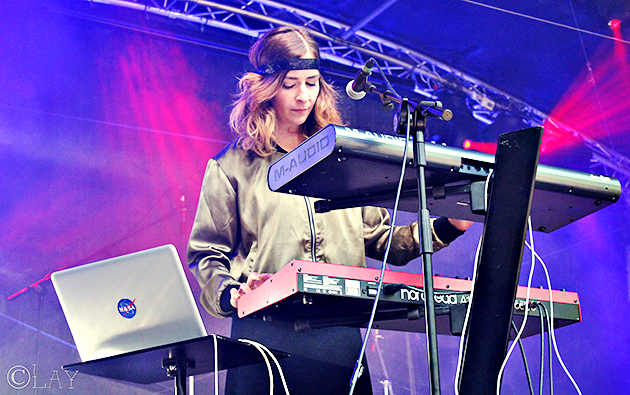 Before BNC leave us, they play many more ear worms such as the catchy 'Lovely Girl', 'Butterflies' and 'Veronica', next to beautifully moody and minimalist mid-tempo masterpieces like 'Blonde', 'The Critical Cult of Dora' and the amazing 'Down Again'. Thanks very much for the show, girls, and all the best for your musical paths! We're eagerly awaiting the birth of the third album! //
http://www.blacknailcabaret.com
/
https://www.facebook.com/bncband
// Setlist: 01. Let me in, 02. Blonde, 03. The Critical Cult of Dora, 04. Steril, 05. Storm, 06. Lovely Girl, 07. Satisfaction, 08. Butterflies, 09. Such a Shame (TALK TALK cover), 10. Down Again, 11. Veronica // Rating: 10 / 10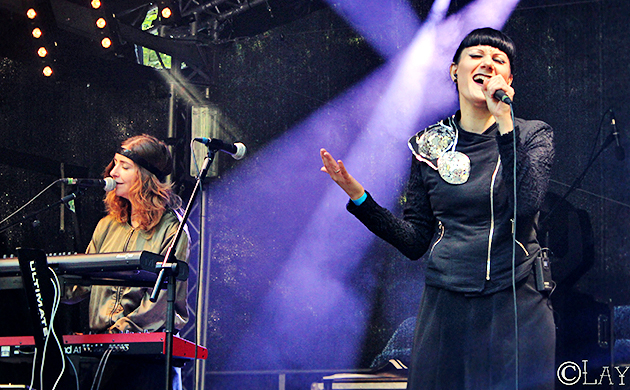 Escape with Romeo

Time: shortly before 9pm. It's not dark yet, but the sun is setting and it's getting colder. Place: up above the Amphi theatre-like terrace in between of some trees. I've joined those who try to catch the last rays of the disappearing sun. The others get another hot or alcoholic beverage. Then, moderator DJ THOMAS WAVE calls us back to gather at the stage: "Where are you, owls and bats? Come on, folks, the show goes on now!" And the next hour and 15 minutes are a celebration of some "Post Punk meeting modern Electronica" - that's the program of ESCAPE WITH ROMEO, who are vocalist and guitarist Thomas Elbern, keyboarder Martin "Potti" Pott, who also contributes some backup vocals, and drummer Frenzy. Formed back in 1989 in Cologne, the combo can be proud of a band history of one quarter of a century and, all in all, eleven diverse albums. Standing in the front row waiting for the band to come out, I immediately realise how excited all the owls and bats are to see and hear ESCAPE WITH ROMEO. There're smiling faces all around me and once the band hits the stage playing 'You'll Always be a Stranger', the fans applaud, cheer and start to dance along to their driving beats and melodies.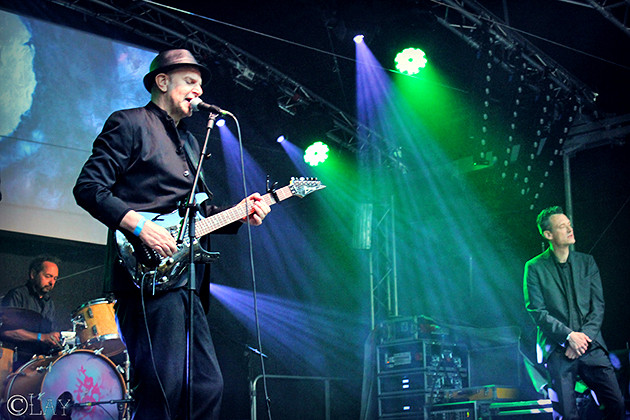 Thomas, Potti and Frenzy share six songs from their latest record 'After the Future' (2015) next to older EWR classics from the 'Samsara' (2012), 'Emotional Iceage' (2007), 'Psalms of Survival' (2004), 'Autumn of Venus' (1992) and the 'Escape with Romeo' (1990) album with us. Everyone on and in front of the stage seems to be in high spirits and frontman Thomas animates the crowd switching between English and German. The beats of 'All is Lost (Now You Can Only Win)' make us clap along. There're also images and videos on a screen supporting the band's infectious and diverse tunes which the trio performs flawlessly. It's highly probable that we'll keep on humming one of their melodies, some verse or a chorus in our heads tomorrow all day long. Maybe it'll be the dreamy 'Someone, Somewhere', maybe the minimalist tunes and spoken words of the stomper 'Heart of Darkness'. During the latter, the monochrome 'Heart of Darkness' vid appears on the screen showing the EWR gents with some Dia de los Muertos face paint.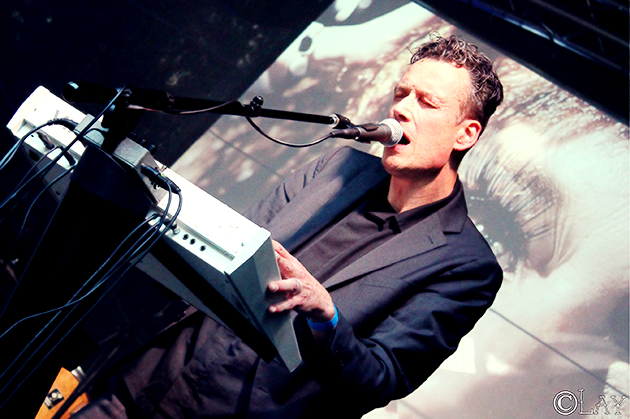 For the encore EWR revisit their 'White Room' from the 'Nothing Lasts Forever, Except' EP (1991). Dear ESCAPE WITH ROMEO, many thanks for this splendid party at the Owls 'n' Bats and see you really soon at the Amphi Festival! Dear Detmold crowd, do you want to shake a leg with EWR once more in Cologne? Then get on the helicopter on July 24 and prepare for a landing at Amphi's Orbit Stage on time, at 7:10pm. Until then, you can enjoy the new single 'Firefly' that EWR released just a few days ago (July 8). //
http://www.escape-with-romeo.de
/
https://www.facebook.com/escapewithromeospain
// Setlist: 01. You'll Aways be a Stranger, 02. Helicopters in the Falling Rain, 03. All is Lost (Now You Can Only Win), 04. Glitter on the Snow, 05. Empty Skies, 06. Fake Lover, 07. Heart of Darkness, 08. Here Comes the Night, 09. Someone, Somewhere, Someday 10. Somebody 11. It's Loneliness, 12. Tears of Kali, Encore: 13. White Room // Rating: 9 / 10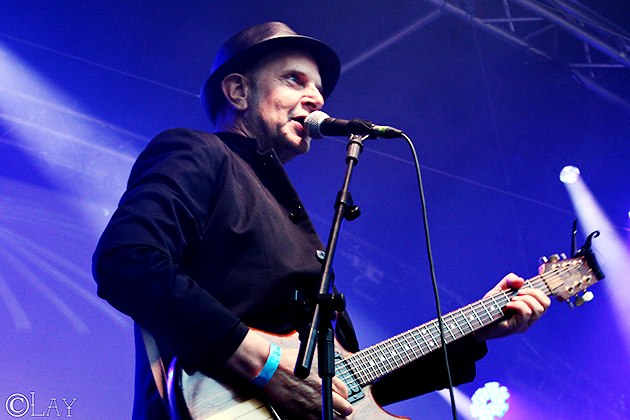 Clan of Xymox

So far, we've enjoyed a wonderfully diverse musical afternoon and early evening at the Hermann Monument in the Teutoburger Forest. Let there be night! Now it's 10:30pm and bright green lights illuminate some trees – beautiful. The Goth crowd gathers in front of the stage eagerly awaiting the festival's headliner: CLAN OF XYMOX, one of the pioneers of darkly tinted tunes, are about to grace the Forest Stage! The Dutch band was formed back in 1981 and today we'll get to see and hear founder, frontman and guitarist Ronny Moorings, Mario Usai on bass, and Sean Göbel and Daniel Hoffman on keys. I bet quite a few owls and bats in the audience have already seen the legendary clan in February this year, when they played six gigs in Germany as part of the "Electronic Transformers" festival tour. Tonight, Ronny and band mates will enthral us once more with their timeless music as they take us on a 1.5-hour-long sonic journey through their dark repertoire. Let there be gloom, let there be Goth!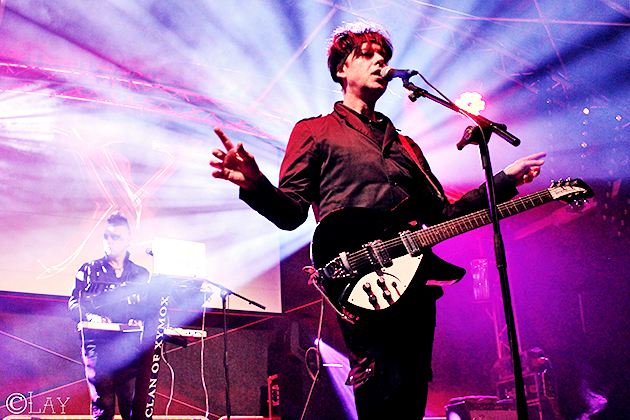 The stage is flooded in mysterious, dark, blue light and white beams. Daniel is the first one to enter the stage waiting for the others to come out one by one to open with 'Stranger', which appeared for the first time on their self-titled debut in 1985. I feel like transported back in time while Ronny plays the well-known guitar chords that harmonise wonderfully with the enigmatic electronics. Then, his unmistakable vocals resound perfectly clear and the screen in the background displays the words "Now I am feeling me a Stranger" in white letters. Amid the applause of the thrilled audience Ronny greets us in German. The screen switches showing a heart on fire and the lights change to a contrastive red and green for the following 'She's Falling in Love' taken from their last opus titled 'Matters Of Mind, Body And Soul' (2014). The sweet synths and amazing bass make it impossible not to move along. Then, the fiery heart is replaced by a huge red "X" and we keep up the red light for another atmospheric love song from the last record, which was released two years ago on Valentine's Day: the band plays their Goth hymn 'Love's on Diet' and it's just amazing the way Ronny presents the verses in his deeper register.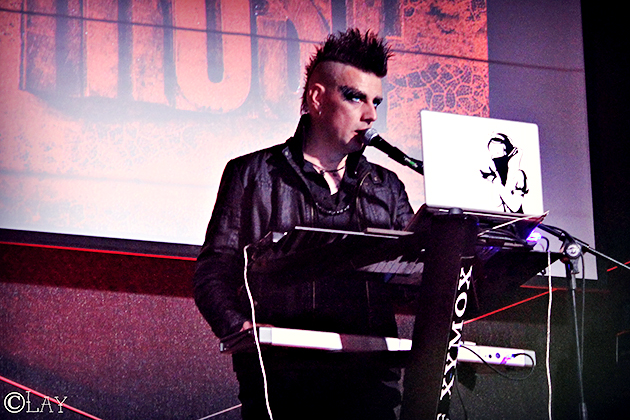 Quite fittingly, the moody title track from the 'In Love we Trust' album is up next on the set. And also the doomy 'Hail Mary' makes some of us dance in slow motion while others shake their heads and legs along to the infectious dance rhythm. After the guitar and beat driven 'Muscoviet Mosquito', Sean leaves his Snow White-MacBook and keyboard to walk around on stage playing the iconic synth sounds of their masterpiece 'Emily' on his illuminated mini keyboard. And after this smasher CLAN OF XYMOX dial it back a bit by playing the melancholic and dreamy ballad 'Louise' from 'Medusa' (1986): "Louise, it seemed a long time ago / Louise, I always remember that day!" Next to that, the Goth Rock party à la SISTERS OF MERCY goes on with their classic 'Jasmine and Rose' from 'Creatures' (1999). Soon after, some church bells and a driving beat, which makes everyone clap their hands up in the air, introduce the doomy title track from 'Farewell' (2003). The audience can see the band's joy of playing and dances in step with CoX celebrating a truly dark party.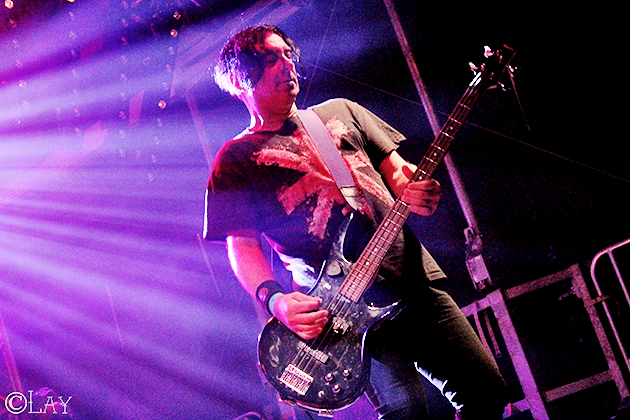 After the atmospheric 'A Day' the guys leave the stage, but are called by immediately by the cheering Owls 'n' Bats crowd. Ronny, Mario, Sean, and Daniel play four more songs for us including the requested 'Back Door' - that man standing next to me in the front row has been holding up a cardboard sign saying "Please play Back Door!" all day long. Finally, Ronny & Co end an outstanding performance with their cover version of 'Venus'. The final notes of the beloved SHOCKING BLUE tune end right on the stroke of midnight. One final round of applause and Ronny invites us to meet and greet the band at the merch stand. Such a shame - if there was more time for one more song, it would be a cover of 'Heroes', but midnight means: that's it, we have to keep it down. And so, a great black celebration ends with an amazing live show full of melancholic sounds, huge melodies, much emotion and energy thanks to the legendary CLAN OF XYMOX! //
http://www.clanofxymox.com/
/
https://www.facebook.com/clan-of-xymox-111769160178/
// Setlist: 01. Stranger, 02. She's Falling in Love, 03. Love's on Diet, 04. In Love we Trust, 05. Hail Mary, 06. Muscoviet Mosquito, 07. Emily, 08. Louise, 09. Jasmine and Rose, 10. Farewell, 11. A Day, Encores: 12. Obsession, 13. This World, 14. Back Door, 15. Venus (SHOCKING BLUE cover) // Rating: 10 / 10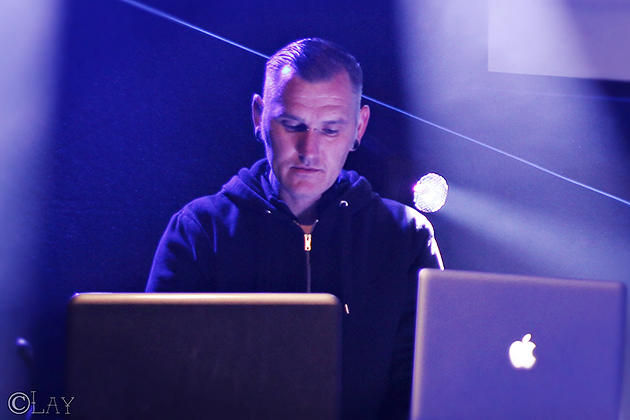 Conclusion

Well, the title says it all. I'm absolutely positive that I will never miss out on the Owls 'n' Bats festival ever again! One simply cannot deny how exceptional this wonderful location at the Herman Monument in Detmold is. This small and atmospheric festival might be compared to a garden party that you would celebrate with family and friends, only that it's taking place in the middle of the woods and some top-class, international bands are also invited. Moreover, the sound was just excellent from the very first act to the last. What a blast! The organisers can be proud for enriching the dark scene with such an event. In addition to all the various drinks, "Camp Cousine" offered burgers for carnivores, vegetarians, and vegans for 5 bucks or tasty homemade fries for 2.50€ and the "Nudelmanufaktur" brought us some hand-made pasta. On the whole, the location, the atmosphere, the line-up, the sound, the light shows, the moderation, the market, all helping hands, all guests, and also the after show party, which took place for the very first time this year, made it without a doubt a memorable event for all attending creatures of the night. //
http://www.owls-n-bats.net
Full Gallery

All Pictures by Layla Ayobi
See also (all categories):