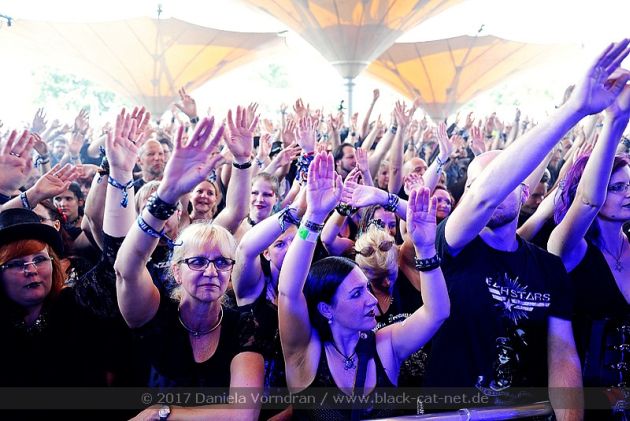 Tanzbrunnen, Cologne, Germany
22nd to 23rd July 2017
Amphi Festival 2017 Day 1 with Empathy Test, Eisfabrik, Holygram, Chrom, FabrikC, Box & The Twins, Tanzwut, Aeon Sable, Torul, Lord of the Lost, Henric de la Cour, Frozen Plasma, Diary of Dreams, Esben And The Witch, Kite, Fields of the Nephilim, Diorama, Nachtmahr, VNV Nation, Die Krupps, Clan of Xymox
Hello Cologne! The place to be for all types of underground music lovers is annually the town at the river Rhine. A programme packed with concerts and DJ sets from Friday to Sunday in varied locations at the Tanzbrunnen and the boat "MS Rheinenergie" nearby, where the kick-off event "Call the Ship to Port" with
FRONT 242
,
NEUROTICFISH
and
SCHEUBER
took place to welcome the fans.
Empathy Test - Main Stage (Janine)

Let us start off with the fabulous
EMPATHY TEST
from London, a worthy opener for this weekend. The ground of the Tanzbrunnen is already well filled when we access the venue. Obviously the word has gotten around that the band's work is full of beauty. Tender pop melodies flatter our ears and touch our hearts. Of course they play songs as 'Losing Touch' and their most recent single 'Bare My Soul'. Instantly memorable pop songs with 80s analogue synth samples and cinematic soundscapes presented by very sympathetic and chatty guys who interact with their delighted audience. Front man Isaac asks for requests for the last two songs and praises with a wink: "Did anybody say 'Demons'? Excellent, it's the next one!" They finalize their set much too quickly for their fans with 'Here Is The Place'. The next chances to see this incredible band is "Unter dem Himmel" on August 5th in the Harz Mountains or at the Nocturnal Culture Night near Leipzig September 8th to 10th. Do not miss! // https://www.empathytest.com / https://www.facebook.com/empathytest // Setlist: 01. Kirrilee / 02. Last Night On Earth / 03. Vampire Town / 04. Seeing Stars / 05. Holding On / 06. Losing Touch / 07. Bare My Soul / 08. Demons / 09. Here Is The Place // Rating: 9 / 10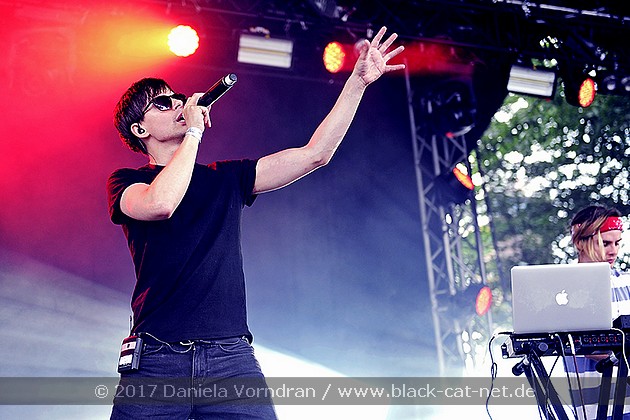 Eisfabrik - Main Stage (Janine)

The second act on the Main Stage is
EISFABRIK
. Nomen est omen! The art project with integrated characters as protagonists (Doc Snow, Frost and Celsius) has an overall show concept including music, stage set, lyrics, and special effects like snow and suddenly appearing walking acts like a polar bear or a Yeti. Die-hard fans carry on the stringent concept of the band: dressed in white, wearing fake beards or even Yeti costumes. While it is about 30 degrees outside, EISFABRIK spread winter and freezing. But there is no chance for cooling down, because their melodic electronic sound animates to dance and jump. The audience celebrates songs as 'Eisplanet', 'Strom' and 'Eisbär' in the artificial snow on this hot summer day. The escalating people scream for encore, when the show is over. But there is none on the agenda. With a thankful and heart-warming "Moin moin from Hamburg!" the guys have to leave the stage. // www.eismusik.de / https://www.facebook.com/eisfabrikofficial // Setlist: 01. Hell is Made of Ice / 02. Polar Night / 03. A Million Lights / 04. Strom / 05. Rainbow Child / 06. Maschinen / 07. Walking towards the Sun / 08. Eisbär / 09. Far Away / 10. White Storm / 11. Friends // Rating: 9 / 10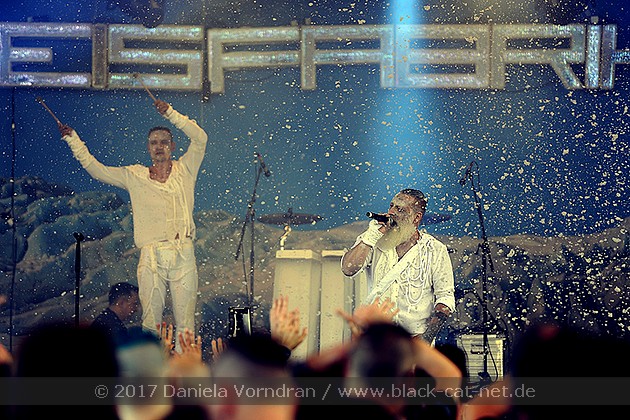 Holygram - Theatre Stage (Layla)

Local post-punks
HOLYGRAM
open the Theatre Stage today. Last October they've released their self-titled debut EP, five unique tunes on tape and as a download. The edgy act creates a "sinister soundtrack for the city at twilight" by combining New Wave, Post Punk and Industrial Krautrock. With the atmospheric and dreamy tune 'Hideaway' they immediately capture our attention and captivate the senses. 'Daria' suddenly makes one think of CLAN OF XYMOX who will fittingly end the first festival day. Being moody, yet driving at the same time - just think of their spirited 80s anthem 'Still There' and the powerful 'Distant Light' whose bass line is reminiscent of FIELDS OF THE NEPHILIM, who will also grace the Main Stage later on - HOLYGRAM fully convince us with their reverberant retro "music for the lost" with calm and clear vocals. All thumbs up! We cannot wait to hear this promising new band in September again when they will support SHE PAST AWAY and are looking forward to seeing them as special guests of THE MISSION this November! // http://holygram.band / https://www.facebook.com/holygram.official // Setlist: 01. Hideaway / 02. Borders / 03. Daria / 04. She's Like The Sun / 05. Acceleration / 06. Still There / 07. Distant Light // Rating: 8 / 10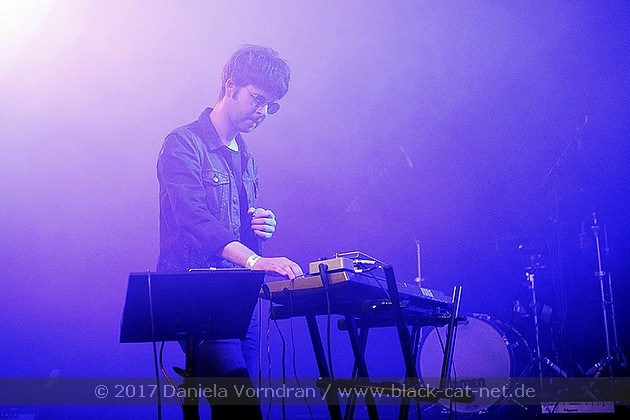 Chrom - Main Stage (Janine)

Friends of Electro Pop do not have to change the venue after EISFABRIK because
CHROM
is the next act on the Main Stage. The two men from Düren can rely on a loyal fan-base which starts a party from the very first tones of 'Walked The Line'. There is no doubt where this set is leading the crowd - to a big black celebration! Though the lyrics are mostly afflicted and desperate, the sound of CHROM lets the people dance, clap and sing along enthusiastically. Highlights of a CHROM set are for sure 'Regret & Testify' and the emotional 'Loneliness'. Touching moments to remember. Chris and Tom appreciate the cheering people and give their all on stage. With 'Memories' they complete their delightful set of danceable Synth Pop and leave a sweaty but happy crowd. // http://chrom-music.com / https://www.facebook.com/CHROM-106585156057408 // Setlist: 01. Walked The Line / 02. The Start Of Something New / 03. Down Below / 04. Loneliness / 05. Regret & Testify / 06. Losing Myself / 07. Heavenly / 08. Staring At The Sun / 09. Visions / 10. Memories // Rating: 8 / 10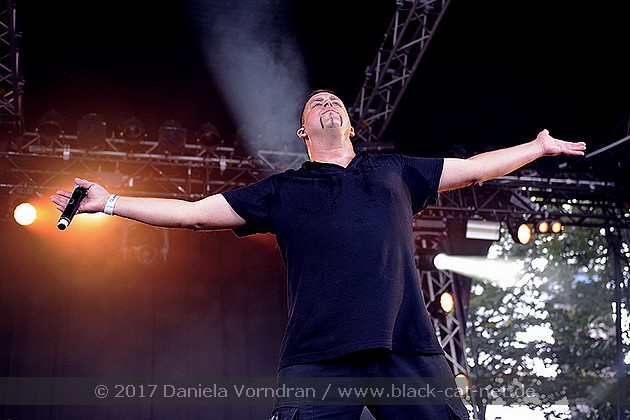 FabrikC - Theatre Stage (Janine)

Let's get loud at the Theatre Stage! The Industrial project
FABRIKC
was founded in 2005 by Thorsten Berger from Hannover, born in the (formerly) mucky Ruhr valley and grown up in the city we are visiting today. After many years performing at various international festivals FABRIKC enters a German stage the second time in 2017 after this year's WGT. FABRIKC has been working at the new release 'Independent Riot Corps' for four years now though perfectionist Thorsten Berger is hardly satisfying by his work. He and his live crew consisting of INK and FRYZ perform the title track of the new album as well as the all-time club classic 'Chinese Food' and the DAC Chart hit 'Der zweite Tod' encouraging the inspired public to stomp. The new live members also have a share in creating the long-player. Another new change are the live vocals or rather shouts adding a pinch of aggression to the presented hardness. Friends of in-your-face electronic music completely get their money worth attending. We will watch the band's development and live appearance. // https://www.facebook.com/fabrikc // Setlist: 01. Widerstand / 02. Klangaktiviert / 03. Cherubim / 04. 100% Elektronik / 05. x³ / 06. Independent Riot Corps / 07. Zu laut / 08. Passivtod / 09. Der zweite Tod / 10. Chinese Food // Rating: 8 / 10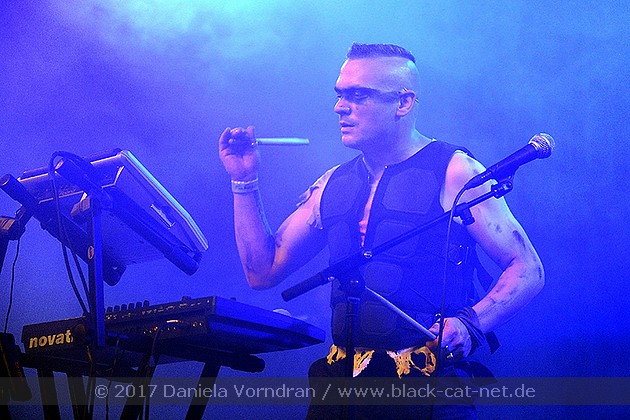 Box & The Twins - Orbit Stage (Layla)

Once again it's locals who open a stage: Cologne-based Dark Pop trio
BOX & THE TWINS
(BATT) get the sonic extravaganza started inside the boat on the Orbit Stage. Following their EPs 'Our Fears' and 'Below Zero', last November their debut album 'Everywhere I Go is Silence' came out presenting twelve successful dream-pop tracks. The redheaded, barefooted singer Box with her cold, amazingly clear and haunting vocals looks sternly while the twins, Mike and Marc, sway to and fro while playing the guitar. The newcomers make the grateful Orbit audience dance in slow motion. We appreciate BATT's ethereal sound and their authentic and captivating performance applauding from the heart after every one of their atmospheric songs. Personally, 'Perfume Well', 'This Place Called Nowhere', 'Guilty Red', and 'Birds' totally play the trick for me. In the end, there are dramatic piercing gun shots during 'Birds', the vocalist is on the floor, and the crowd is shrieking. On the whole, BATT spread music to dream to and then they shoot you awake. Impressive. The guys smile after the show looking as happy as their old and also new fans. On their Facebook page, they comment: "Best boat trip ever!" We can only agree. // http://www.boxandthetwins.com / https://www.facebook.com/boxandthetwins // Setlist: 01. Pale Blue Dot / 02. Perfume Well / 03. Big Nothing / 04. Ice Machine / 05. This Place Called Nowhere / 06. Guilty Red / 07. Gravity / 08. Birds // Rating: 8 / 10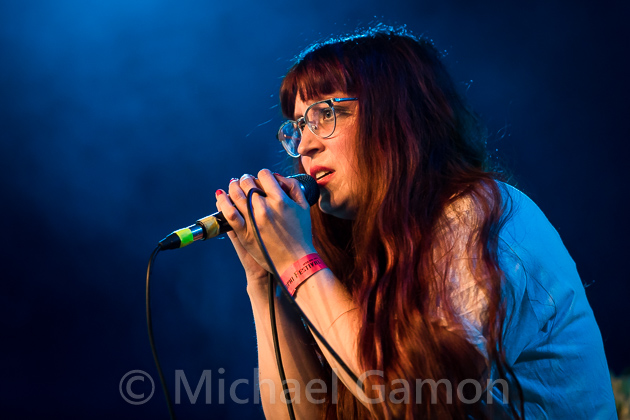 Tanzwut - Main Stage (Layla)

Being still at the boat I'm missing the bagpipe industrial rock show of the medieval electro minstrels
TANZWUT
at the Main Stage. The combo from the capital has been founded in 1997 and has ten albums under their belt by now. Their fans must be having a blast with their "dancing mania" set of eleven tracks with German lyrics including a balladry moment with 'Stille Wasser' from their latest piece 'Schreib es mit Blut', which was released last year. // http://www.tanzwut.com / https://www.facebook.com/TANZWUTOfficial // Setlist: 01. Götterfunken/Schreib es mit Blut / 02. Meer / 03. Freitag der 13. / 04. Merseburger / 05. Das Gerücht / 06. Stille Wasser / 07. Reiter ohne Kopf / 08. Geteert und Gefedert / 09. Heimatlos / 10. Spiegelkabinett / 11. Brüder im Geiste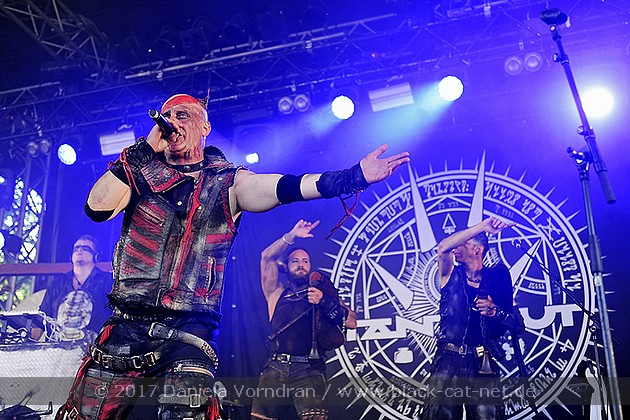 Aeon Sable - Orbit Stage (Layla)

The fog arises and spreads inside the boat as all the moonchildren, psychonauts and visionaers slowly gather in front of the stage. One doesn't want to miss a gloomy gem on the Goth ship:
AEON SABLE
! In existence since 2010 the deep and Dark Goth Rock act from Essen, Germany, has five one of a kind albums out. The band prepares for the show on stage, vocalist Nino Sable is wearing a "Thelema" shirt and gets into the right mood by moving along to 'Allseeing Eye' by MERCIFUL NUNS coming from the speakers. Lucky us, we will get the chance to enjoy this track live on the second Amphi day. To check the sound of the microphone, Mr Sable announces some "lottery numbers". And then their obscure and ecstatic show finally begins with the moody title track of their latest, white album titled 'Hypaerion' (2016). The sound on board is superb and the band, completed by Din-Tah Aeon and Jo on guitar and Quoth at the bass, sound amazing together. The delightfully uplifting "dance song" 'Dancefloor Satellite' with its addictive chorus and oriental sounding guitar brings on some colourful light beams and Nino replaces the dark hoody with a stylish hat and sunglasses.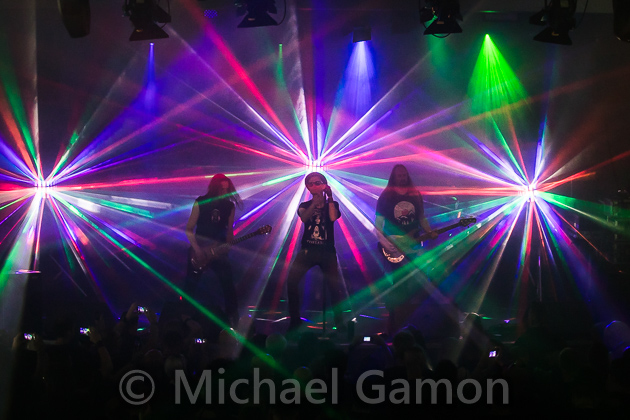 Following, the hauntingly beautiful and dramatic track 'White Snow' from their latest opus is simply to die for. The Sable crowd cheers and applauds. And with the about nine minute-long, truly spine-tingling 'Praying Mantis' from 'Saturn Return' (2012) AEON SABLE close their passionate set of seven songs. The climactic music makes the vocalist fall to the floor and we hear a loud bang; he must have hit his head. During both of the latter tunes Nino's piercing screams are indeed unreal and get under our skin. While the final distorted guitar sounds leave some of us speechless in awe, others scream "Bravo!". Before leaving, Nino thanks the "wonderful" audience "from the heart". Wow, what a magical show... AEON SABLE are clearly one of the highlights at this year's Amphi. // http://aeonsable.de / https://www.facebook.com/aeonsable // Setlist: 01. Hypaerion / 02. Visions / 03. Elysion / 04. Quaalude Tango / 05. Dancefloor Satellite / 06. White Snow / 07. Praying Mantis // Rating: 10 / 10
Torul - Theatre Stage (Janine)

The theatre is packed with people to see the three Slovenians of
TORUL
. The deep warm voice of front man Maj underlined by atmospheric sounds with trance elements on a floor of wafting beats fill the air. Almost immediately everyone is dancing to hits as 'The Prize' or 'Saviour Of Love'. The trio is a guarantee for a fine set of soulful electronic music which makes their audience cheering and dancing every time. But we have to leave for another fabulous act on the boat. // http://www.torul-recordings.net / https://www.facebook.com/torul // Rating: 7 / 10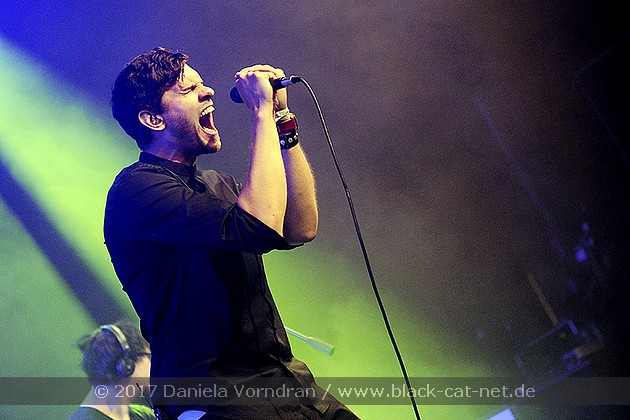 Lord Of The Lost - Main Stage (Layla)

Dark rock stars
LOTL
can be proud of a one-decade-long band history. It was back in 2007 that Chris "The Lord" Harms brought the project to life in Hamburg, Germany. Last year, the lads unleashed 'Empyrean', their fifth release thus far. Without any doubt the band is well known for their wild live shows and so it's absolutely no surprise that they do it again at Amphi: Chris & Co kick ass and make their fans rock out despite the rising heat. We're already sweating in the sun, this however, doesn't stop people from dancing along to every single song of another killer gig. A teenage girl and her dad standing in front of me are having a blast big time as they sing along every line, dance nonstop, and take a selfie together. Gared Dirge doesn't only play keys, percussion, and guitar, but is also in the limelight for wearing probably the most colourful outfit at the festival, a bright and flashy rainbow suit and of course fitting nail polish (turquoise and pink). Frontman Chris goes for the darker but nevertheless also glamorous style in brilliant black/ grey with a fancy skull covering one shoulder. Classy. More importantly though, he dazzles us with his harshly dark vocals and sharp screams and forceful growls. The show is under the banner of the quintet's latest opus as the 'Empyrean' intro resounds and we celebrate, all in all, seven melodic and at the same time heavy titles from it. My personal favourite today: 'Raining Stars', which they save for the very end. Before that, LOTL throw in three smashers of the 'From the Flame into the Fire' record (2014): Next to the classics 'Six Feet Underground' and the neck-breaker 'First up in the Air', their all-time-stand-out-song and Latin-metal-party-hit 'La Bomba' makes the crowd simply lose it. While some shake their hips and try to dance flamenco style, others laugh partying along.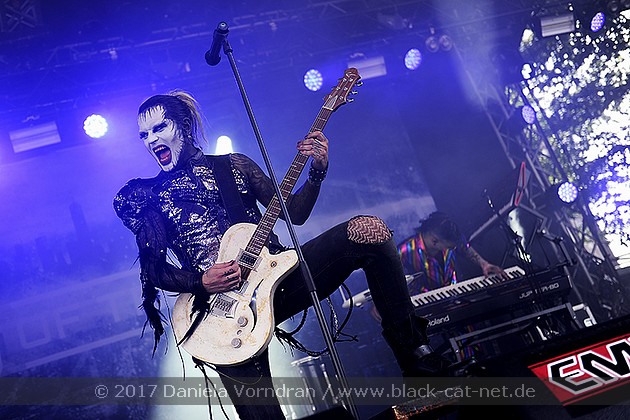 Then, there is 'Black Lolita' and the title track of the 'Die Tomorrow' album (2012). The word-perfect fans sing the chorus of the powerful 'Prison' from 'Antagony' (2011) loudly. 'Dry the Rain' from their debut 'Fears' (2010) is the oldest track to be performed today. All in all: Bombastic! The band takes a pic with all of us and leaves with heartfelt parting words. Chris: "No matter how we're feeling personally or what's going on, whenever we play for you, we feel home." So do we. Thank you, guys! // http://lordofthelost.de / https://www.facebook.com/lordofthelost // Setlist: 01. Intro: Empyrean / 02. Drag Me to Hell / 03. Miss Machine / 04. Interstellar Wars / 05. Black Lolita / 06. Die Tomorrow / 07. Prison / 08. Six Feet Underground / 09. The Love of God / 10. Fists up in the Air / 11. La Bomba / 12. Dry the Rain / 13. In Silence / 14. Raining Stars // Rating: 9 / 10
Henric De La Cour - Orbit Stage (Janine)

Due to low water level the Orbit stage aka MS Rheinenergie is relocated to the other side of the river Rhine. So we have to take one of the shuttle busses to go where the great
HENRIC DE LA COUR
will perform. With a regretful delay of ten minutes we enter the boat to be welcomed by 'My Machine'. The boat is packed with people and already enchanted by the dark and intense performance of the Swedish trio. Light show and video projection emphasize the melancholic melodies and atmospheric sounds which embrace the dark souls in the ship's stomach. Hands up for 'Worthless Web', 'Shark' and 'Dracula' and suddenly the show is over. What a pity they have to quit earlier than announced! But this is quite understandable since HENRIC was sick and played the show even though he is suffering from a blood poisoning. The crowd cheers for an encore but is left with longing. Next up on the boat are dream pop post rockers ESBEN AND THE WITCH. // https://www.facebook.com/HenricDLC // Rating: 9 / 10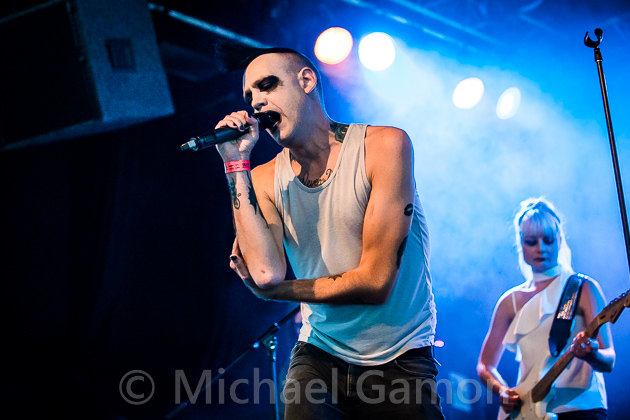 Frozen Plasma - Theatre Stage (Layla)

German Electro-Synth-Pop act
FROZEN PLASMA
has been around since 2005 when Vasi Vallis founded the project after NAMNAMBULU had called it quits. Together with vocalist Felix Marc (DIORAMA) the duo created the hit singles such as 'Hypocrite', 'Irony', 'Herz' and 'Crazy' and also the dance floor filler 'Tanz die Revolution'. For the first and only time this year, I see a long queue keeping fans from entering the Theatre Stage. Inside, a countdown introduces FROZEN PLASMA's tune 'Age after Age'. Those who've made it into the venue have a great time jumping and clapping along to the sweet melodies and bouncy beats of 'Murderous Trap', 'Earthling', and 'Living on Video'. Amongst others, the synth-heads also enjoy the wicked 'Warmongers'. // https://www.facebook.com/FrozenPlasma // Rating: 7 / 10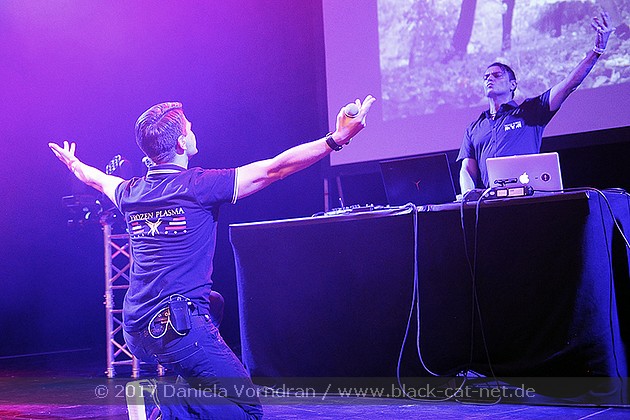 Diary Of Dreams - Main Stage (Layla)

Everybody who's not at the Main Stage right now is missing out one of today's most extraordinary, expressive and stirring moments. How could it be any different, if the one and only
DIARY OF DREAMS
are to take over the stage? And yet, they still manage to even exceed the highest of expectations blowing us away with their love of music, artistry, and energetic performance full of passion. After the almighty opener 'Malum' we are letting ourselves get carried away by one forceful song after the other: 'Chemicals' and 'the Wedding' speak for themselves. The sound is top-notch; the Tanzbrunnen is quaking. Suddenly, another member of the tribe, Torben Wendt of DIORAMA, appears before his own Orbit gig. Both vocalists sing 'Butterfly Dance' and 'the Curse' in perfect harmony. The guest is more than welcome and the fans scream their hearts out: First, "Hello!" and later "The Curse!" On top of this, when former full-time guitarist Gaun:A storms on stage for two songs, among them 'kindrom', the crowd goes wild. With their latest compositions 'Grau im Licht' and 'Endless Nights' and the older 'AmoK', which are all of the more melancholic kind, DoD stun us to the bone. The vocalist sings calmly being full in control. And in the end, the beloved 'Traumtänzer' moves us deeply and turns the crowd into a choir for the last time. In short: What a spectacular and memorable gig! Simply everybody on as well as in front of stage seems to be thrilled.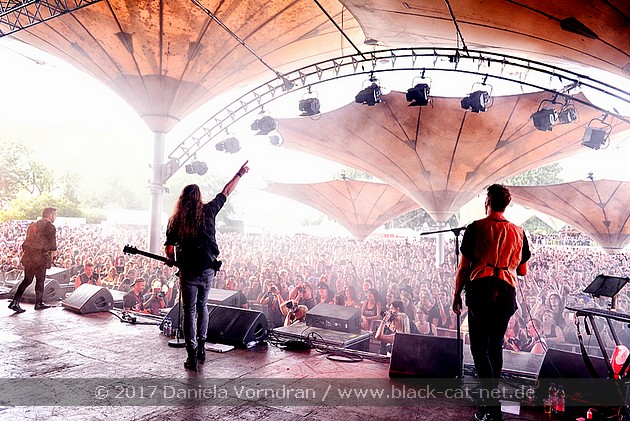 And there're great things are ahead, friends: The devoted DIARY OF DREAMS fellowship is already expecting the band's new piece 'hell in Eden'. Mr Hates tells us that a new music video is to be released soon and we obviously cannot wait for the first taste of "hiE". Finally, Adrian invites us to join in the upcoming tour in October/ November. Whoever is gonna miss this - I can only repeat myself here - your loss! And those who will attend might have to pinch themselves, just like after today's concert, to make sure all of what has happened wasn't just a dream. // http://www.diaryofdreams.de / https://www.facebook.com/officialdiaryofdreams // Setlist: 01. Malum / 02. Chemicals / 03. the Wedding / 04. Butterfly Dance / 05. the Curse / 06. Grau im Licht / 07. AmoK / 08. Endless nights / 09. kindrom / 10. Undividable / 11. Traumtänzer // Rating: 10 / 10
Kite - Theatre Stage (Janine)

Back in the theatre Nicklas Stenemo and Christian Berg aka
KITE
are 'Up For Life' (the author's favourite song of the band) respectively up on stage. The intro is followed by 'I Can't Stand' which immediately enchants the hall. The two bandmates process their castle of electronic devices in total fervour while an impressive light and video show illuminates the theatre. KITE convince once more with their special mixture of Electronic Pop Indie with catching melodies, an outstanding voice and beats which shake you to the core during 'Count The Days', 'Up for Life' or 'True Colours'. Jerking bodies wherever you look, faces full of passion and deeply touched souls. Oh my, what a memorable experience. All hands are up for 'Johnny Boy' and the farewell 'Dance Again'. Just one word to sum up this gig: fantastic! They had to postpone their German shows from May to October so take your chance and watch this extraordinary piece of art. // https://www.facebook.com/KiteHQ // Rating: 10 / 10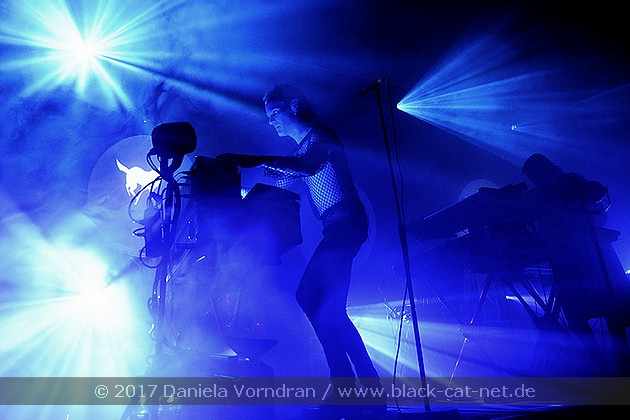 Nachtmahr - Theatre Stage (Layla)

While Industrial "dance dictator"
NACHTMAHR
under the supreme command of Thomas Rainer is up next to turn the Theatre Stage into a club, half of our team is still inside the boat for DIORAMA and the other heads back to the Main Stage eagerly awaiting FIELDS OF THE NEPHILIM. One simply can't be in three places at once. And whichever stage you have chosen, we're pretty sure you're having a blast. Right? Right?! Anyway it is said NACHTMAHR put the Theatre Stage on fire and people are dancing their feet off. // https://www.facebook.com/nachtmahr.band // Setlist: 01. Nachtmahr / 02. Tradition / 03. Weil ich's kann / 04. Feuer frei! / 05. Tanzdiktator / 06. Mädchen in Uniform / 07. BoomBoomBoom / 08. Strenge Liebe / 09. Alpha & Omega / 10. Mütterchen Russland / 10. I hate Berlin / 11. Katharsis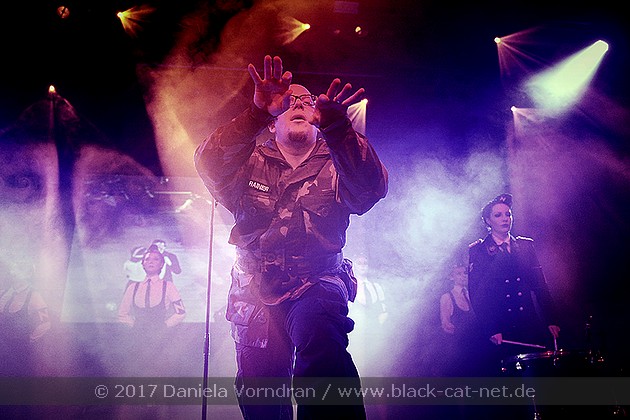 Fields Of The Nephilim - Main Stage (Layla)

Oh my Goth. The moment has come: Our legends
FIELDS OF THE NEPHILIM
are about to play this year's Amphi. The rising tension in the air, as the anticipatory FIELDS folk is waiting in front of the stage, is undeniable. Most of the fans around me are men about a decade older than me, but I can only agree when one of them says adoringly: "A band for life!" Everyone around us agrees wholeheartedly. Founded back in the mid-1980s the NEPHS celebrate over three decades of existence. Some start to scream "Tony!" as the bassist is occupied with the sound check. As we are waiting, Dieter from Great Britain invites us to join in an exclusive FOTN performance which has been announced just a day before Amphi: a special winter solstice gathering under the title of "Saturnalia" to be held on December 21st at London's O2 Forum. "It's always been my dream to see them in London. I'm flying over for sure," is what a German FONT fan replies. A third fan also affirms the plan. Mobile numbers are exchanged. And then, the soundscape of '24th Moment' starts to fill the air and less fog than one is actually used to brings the enigmatic icons of Goth Rock around Carl McCoy on stage. Next to bassist Mr Pettit on the right, Gav King on guitar takes his place on the left, while Lee Newell takes a seat on his Tama drum throne in the centre. The virtuosic new guitarist Adam Paul Leach, replacing Tom, is rocking out next to Tony. Needless to say that we are deeply missing Tom "Tommo" Edwards who passed away in January. Every single intro of the eight masterpieces and all-time-favourites, such as 'Last Exit for the Lost' and 'Moonchild', make the enthralled audience rejoice. During the mesmerizing 'At the Gates of Silent Memory', when the words "You stand / Stand with Dalila" resound, a devoted McCoy double gets up on top of shoulders holding up a NEPHILIM flag and sways his arms for the rest of the song.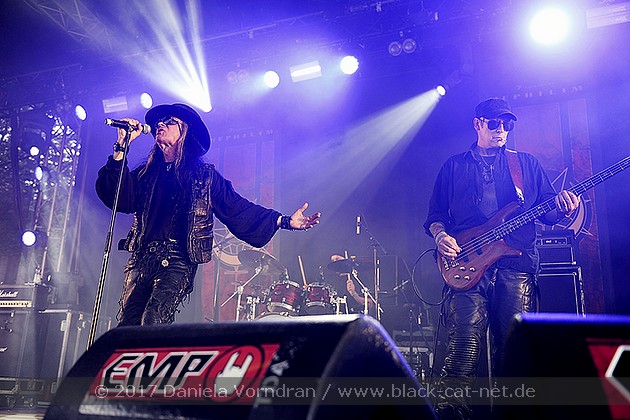 Then, the growing 'Zoon' and the band's latest Goth anthem 'Prophecy' unleash a serious mosh pit. With the beloved classic 'Psychonaut' and the stellar 'Mourning Sun' FIELDS create an unreal concert experience full of mind-blowing doom and drama. In a Christ-like scarecrow way Carl is spreading his arm climactically. Now another half-naked, sweating guy is sitting on the shoulders of his mate reaching for the stars. With the words "Thank you very much" the stoic FIELDS OF THE NEPHILIM leave an impressed crowd that's calling for an encore. All in all, the masters' sombrous notes, Carl's distinctive guttural gnarled vocals, the absolutely outstanding sound, and overall energy at the Tanzbrunnen have been a truly dusky delight. Cordial thanks, Amphi Festival, for bringing the enchanting FOTN back! // http://www.fields-of-the-nephilim.com / https://www.facebook.com/FieldsOfTheNephilim // Setlist: 01. 24th Moment / 02. Last Exit for the Lost / 03. Moonchild / 04. For her Light / 05. At the Gates of Silent Memory / 06. Zoon / 07. Prophecy / 08. Psychonaut / 09. Mourning Sun // Rating: 10 / 10
Diorama - Orbit Stage (Janine)

No time to rest, we have to enter the boat again for
DIORAMA
. We are not too late… due to technical problems with the microphones the show begins with a twenty minutes delay. Such a pity! Torben welcomes his patient audience to the "boat of dread" and starts with the intense 'Zsa (Zero Soldier Army)'. Felix Marc, meanwhile, does his job on the keys and background microphone at his second gig of the day right after his performance with FROZEN PLASMA. Respect, man! Guitarist Zura Nakamura and drummer Markus Halter complete the band on stage performing all-time favourites such as 'Her Liquid Arms', 'Ignite' and 'Exit the Grey' as well as tracks from their latest release 'Zero Soldier Army' as 'Polaroids' and 'Off'. The artful videos in the back complete the live performance. The atmosphere both on and in front of stage is energetic and the enthusiasm of the band is overwhelming. No one in the crowd can stand still. But DIORAMA are the masters of deep ballads as well and touch everyone's heart with 'Over' in remembrance of Chester Bennington who has committed suicide just a few days ago. Thank you for this intense moment. Time is running and what is left is a fascinated crowd screaming for more. The applause and cheering escalate to the max and the bunch on stage is evidently deeply touched and overwhelmed. See you hopefully soon again! // http://www.diorama-music.com / https://www.facebook.com/dioramawastaken // Setlist (extract): Zsa / Her Liquid Arms / Polaroids / Exit the Grey / Defcon / Off / Over // Rating: 10 / 10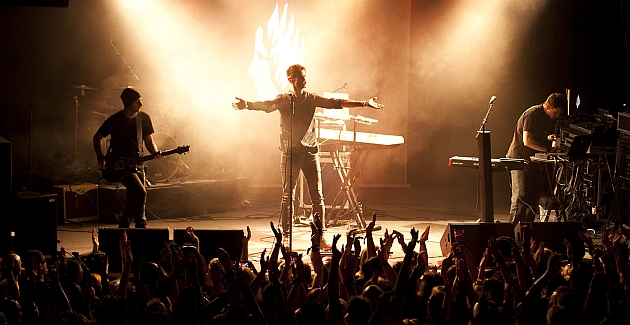 VNV Nation - Main Stage (Janine)

The day is dawning… But there is one more for us at the Main Stage: Headliner of the day are
VNV NATION
, entering the stage for pure party. The area of the Tanzbrunnen is completely covered with people, there is hardly any space left. The men on stage leave no doubt to entertain them to the max. Ronan Harris knows how to motivate his crowd. In a chatty mood he fills the shifts between the songs and involves his audience, for instance a guy with his unicorn "Johannes" who is ready for multiple jokes this evening. The powerful 'Judgement Day' is not missed in the set and Ronan screams his heart out. But also calmer tunes give the fans a chance to breathe and calm down a bit. The beautiful 'Illusion', 'Nova' and 'Standing' fill our hearts with love. Taking a look over the venue reveals almost everyone, even on the island, is singing along, dancing or waving hands. For me personally there is too much chitchat and screaming. The voice of front man Ronan suffers from that. But it does not reduce the power of the show and celebration on the ground. So "Move your f*cking asses!" to 'Control' and 'Resolution' which leave the people breathless and happy. // http://www.vnvnation.com / https://www.facebook.com/VNVNation // Setlist: 01. Chrome / 02. Sentinel / 03. Space & Time / 04. Epicentre / 05. Joy / 06. Nemesis / 07. Illusion / 08. Standing / 09. Streamline / 10. Graditude / 11. Everything / 12. Control / 13. Nova / 14. Resolution // Rating: 9 / 10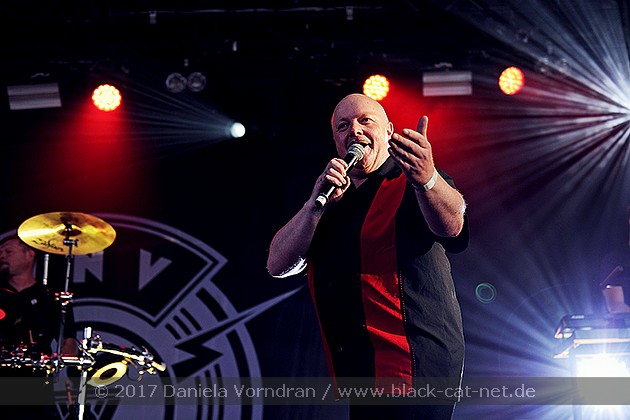 Die Krupps - Theatre Stage (Dani)

Can you imagine? It's been 37 years that the legendary
DIE KRUPPS
are spreading their personal brand of 'Metal Machine Music'. Today the formation around Jürgen Engler are headlining Amphi's Theatre stage playing a set of sixteen songs chosen from their repertoire of eleven records. And what a show this is! Band and audience are on fire! The band was already warmed up from a show some days ago in Oberhausen and their gig at Deichbrand festival. Finally in Cologne they are in best form, spitting out old classics and songs from their latest album, highly appreciated by the audience. The air in the Theatre was already hot during the day but now it is literally dropping from the ceiling. People are screaming and jumping like crazy, celebrating a big party with the band. Surely one of the festival's highlights! The set ends with the classic 'Machineries of Joy'. The obligatory final song, 'Bloodsuckers', is not played anymore due to time reasons. But well, there is always a surprise when DIE KRUPPS are on stage. Today, Jürgen is throwing his Steelophone into the pit and then, all of a sudden, jumping into the audience for some crowd surfing. What a celebration!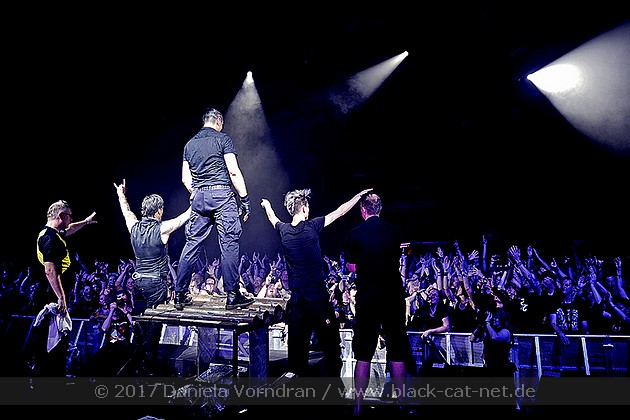 We are eagerly awaiting the album, originally planned for autumn but now postponed to a later time. Hopefully it will be accompanied by another tour. The world needs you! // http://diekrupps.com / https://www.facebook.com/diekruppsofficial // Setlist: 01. Intro: Live Longer / 02. Kaltes Herz / 03. Dawning of Doom / 04. Schmutzfabrik / 05. Der Amboss / 06. Glasscage / 07. Scent / 08. Black Beauty / 09. Fly Martyrs Fly / 10. To the Hilt / 11. MMM / 12. Robo Sapien / 13. Nazis auf Speed / 14. Fatherland / 15. Machineries of Joy / 16. Bloodsuckers (planned but not played) // Rating: 10 / 10
Clan Of Xymox - Orbit Stage (Layla)

Finally, it's time for the Dutch electro Goth rockers
CLAN OF XYMOX
to hit the Orbit Stage. One by one, the troupe around frontman Ronny Moorings appears and we're expecting darkly-tinted, infectious tunes with a romantic feel celebrating their vast discography, which goes back to 1984. And that's exactly what we get. The show begins with the atmospheric title track and opener of their last record 'Days of Black' (2017). It follows 'Your Kiss' during which Ronny's sweet-sounding, soulful vocals are slightly too faint in the beginning, but are turned up very soon. They share two more new compositions tonight, 'Loneliness' and 'Leave Me Be', and we love it swaying to and from. Superb! The show goes on with pounding beats, wonderful bass lines - bravo, Mario Usai! - great guitar riffs, and sweeping melodies resound inside the ship making it impossible to stand still. The huge COX crowd - the boat is packed - dances in step to the headliner's timeless hits such as the ballad 'Louise', the moody stomper 'Hail Mary', and Goth rock classic 'Jasmine and Rose', just to name a few. For 'Emily' Sean Göbel leaves his Snow-White-MacBook station to walk around on stage playing the beloved synth sounds on his blue-lit mini-keys. Their background images and a colourful light show illuminate the dark venue. The hour simply flies by and CLAN OF XYMOX leave just briefly to come back for an encore playing 'Muscoviet Mosquito'.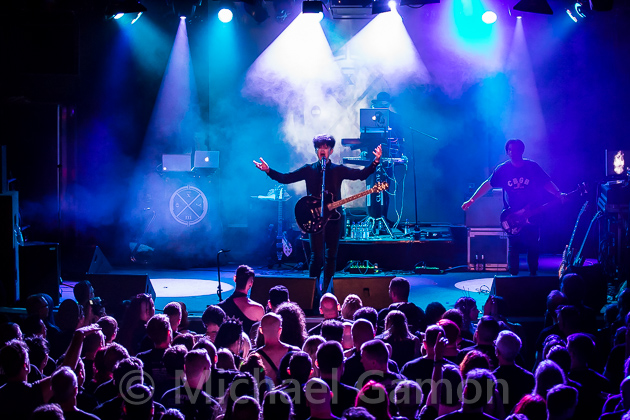 In the end, Ronny invites us to check out the merch. Those who can't get enough of COX are already looking forward to the end of year when the band will be back a for seven club shows in Germany - probably our chance to enjoy more of their outstanding new material live. // http://www.clanofxymox.com / https://www.facebook.com/clanofxymox.official // Setlist: 01. Days Of Black / 02. Your Kiss / 03. She's Falling In Love / 04. Loneliness / 05. Leave Me Be / 06. Louise / 07. Hail Mary / 08. Emily / 09. In Love We Trust / 10. Jasmine And Rose / 11. A Day / 12. Back Door / 13 (Encore): Muscoviet Mosquito // Rating: 9 / 10
What is left? The after-show party which is highly frequented due to the great line-up of Scene-DJ's. And of course our Amphi day número dos.
All pictures by Daniela Vorndran (
http://www.vorndranphotography.com
/
http://www.facebook.com/blackcatnet
) except Box & The Twins, Aeon Sable, Henric de la Cour and Clan of Xymox by Michael Gamon and Diorama by Silke Jochum
See also (all categories):