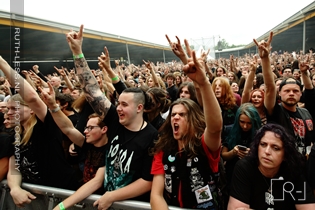 IJssportcentrum, Eindhoven, The Netherlands
15 July 2017
Dynamo Metalfest 2017 with Gojira, Testament, Devin Townsend Project, Exodus, Entombed A.D.,
Prong, Toxik, Vuur, White Boy Wasted

Everything seems in check for this third edition of Dynamo Metalfest: the sun is shining, another great line-up awaits and the fest is sold out beforehand. People are eager to bang those heads with a beer in hand and there is a big line in front of the Ice rink when I arrive. As every year, the lineup will satisfy both fans of old school trash and death metal such as TESTAMENT, EXODUS and ENTOMBED A.D. as well as some newer bands and genres: Anneke van Giersbergen will present her new band VUUR and GOJIRA will likely end the day with a loudness that is hard to match.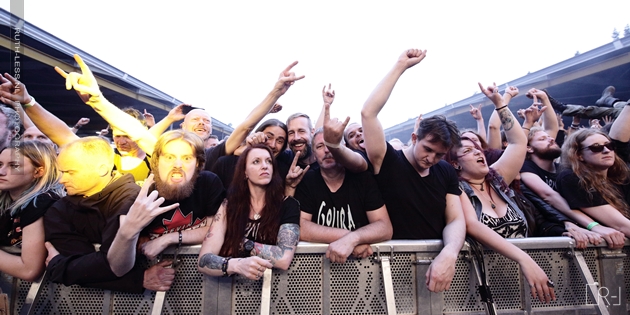 White Boy Wasted

Originating from the Metal Factory, WHITE BOY WASTED is a Speedrock band from Eindhoven that started out in 2016. During their short career the boys have already shared the stage with bands such as
NASHVILLE PUSSY
,
SUICIDAL ANGELS
,
WEDNESDAY 13
and
RAVEN
. Inspired by amongst others their local legendary friends from
PETER PAN SPEEDROCK
, WHITE BOY WASTED brings a dose of high speed loud Rock'n'Roll. WHITE BOY WASTED is Sid (bass, vocals), Alex (guitar, vocals) and Ian (drums). www.facebook.com/pg/whiteboywastedofficial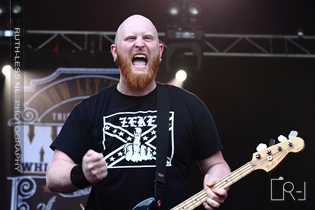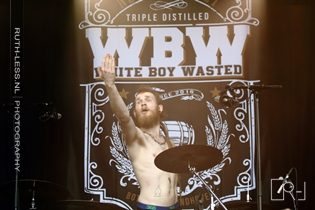 Music & Performance

WHITE BOY WASTED originates from the Metal Factory in Eindhoven and won this opening slot at Dynamo Metalfest by winning the band battle at Dynamo. And well deserved we can quickly conclude as they take off. WHITE BOY WASTED eagerly opens the festival with some fast, loud and sleazy speed metal. The energy and enthusiasm of Sid, Alex and Ian beams over the field while the growing audience sips on their first cold beers. Proudly, Sid promotes their new single 'Double Vision' that will be available at the festival today.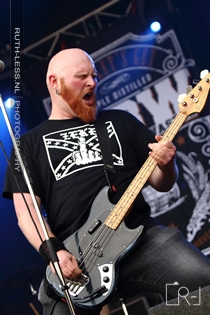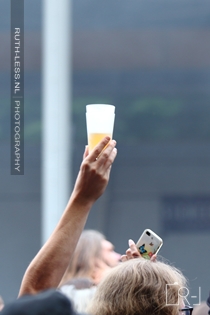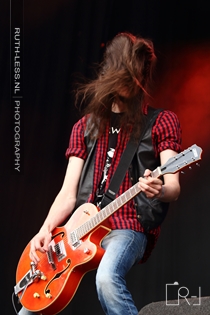 The theme of songs like 'Wet bearded boogie' doesn't leave much to the imagination, as well as the Herman Brood cover 'Dope sucks'. Time flies, and after a quick set, Dynamo is good to go!
Setlist (incomplete)

Be my baby
Wet beard boogie
Double vision
Dope sucks (Herman Brood cover)
White boy wasted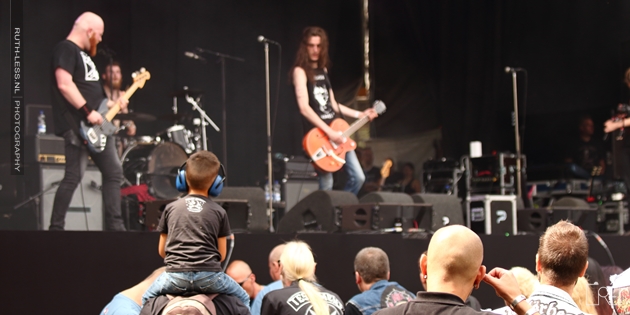 Vuur

Dutch singer
Anneke van Giersbergen
is well known as the vocalist of
THE GATHERING
in the early days. From 2007 on, she pursued a successful solo career, releasing several albums. Furthermore, she recorded and performed multiple times with Canadian metal genius Devin Townsend, who will also be on stage today. Anneke formed
VUUR
in 2016, a new band that features some well-known heavy metal musicians from the Netherlands. VUUR will release its full-length debut in October 2017 on InsideOut Music. From there the band will hit the road and focus on new material as well. VUUR is Anneke van Giersbergen (vocals), Ed Warby (drums), Jord Otto (guitars), Ferry Duijsens (guitars) and Johan van Stratum (bass). http://www.vuur.band / www.facebook.com/vuurband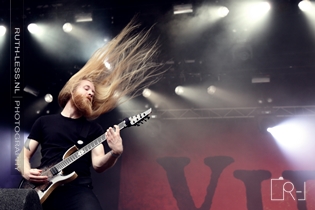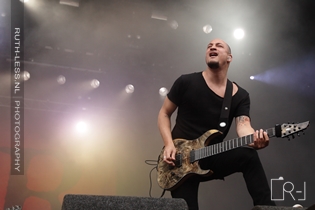 Music & Performance

Dynamo Metalfest notably filled up very early, likely because many wanted to catch a glimpse of this new project of one of the Dutch icons of female fronted metal: Anneke van Giersbergen and her new band VUUR. Obviously, with a band like this, nobody will wonder about the input of musical talent. VUUR is going back to the heavier side of Anneke's previous work. Anneke picks up a guitar herself as well, and visibly enjoys playing along on those riffs. Since the album has not been released yet, the setlist is comprised of mostly new and unknown songs, except for the single 'Days Go By – London'. VUUR's sound is excellent: heavy, complex but still easy on the ears and with Anneke's heavenly voice it is hard not to like. For old times' sake, we go a little back in time with two covers of THE GATHERING: 'On most surfaces' and classic 'Strange Machines'. Keep an eye on that new album and check their European tour list for November and December!
Setlist (incomplete)

Time
Sail Away
The Storm (The Gentle Storm cover)
Days go by – London
On most surfaces (The Gathering cover)
Save me
Glorious light
Strange Machines (The Gathering cover)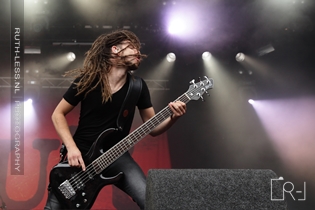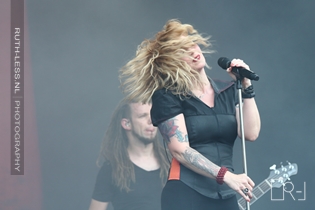 Toxik

TOXIK
is an American thrash metal band from New York. They formed in 1985 and released two full-length albums, 'World Circus' and 'Think This'. They disbanded in 1992 and in 2013 it was announced that TOXIK would reform and start work on its third album. During their career, the band completed several successful tours including a performance at the famous Dynamo Open Air in Eindhoven, Holland in 1988. This performance was released on DVD for the first time ever in 2007, along with re-issues of both albums. After disbanding in 1992 several reunions were initiated, but forming a full band seemed not possible until 2013, when Jason Bittner was introduced as the new drummer. Later on Bill Bodily was added on bass. A new album took longer than anticipated. After postponing several times, in July TOXIK announced that they will release the EP 'Breaking Class', and premiered their first song in 28 years, 'Stand Up', that same day. TOXIK is Charlie Sabin (vocals), Josh Christian (guitar), Shane Boulos (bass), Jim DeMaria (drums). www.toxikmetal.com / www.facebook.com/pg/TOXIKMETAL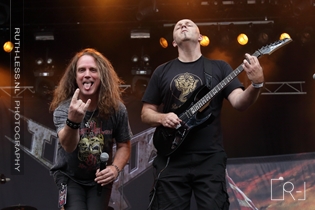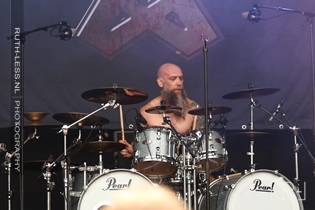 Music & Performance

And then it's up to TOXIK to serve some old school trash metal. At the front row a bunch of obvious fans gathered to see their heroes play. From the start, he band goes right at it, despite some technical problems with the sound levels being out of balance and some vocals that are off here and there. Fortunately, this doesn't curb the enthusiasm of neither the band nor the front row audience! TOXIK plays all three songs from their brand new EP 'Breaking Glass', but their early days are certainly not forgotten with several songs from their first albums such as 'Social Overload', 'World Circus' and 'False Prophets'. Last but certainly not least, a little tribute is paid with a
BLACK SABBATH
cover ('Symptoms of the Universe').
Setlist

01. Spontaneous
02. Heart Attack
03. Social Overload
04. Stand Up
05. Greed
06. Count Your Blessings
07. False Prophets
08. Psyop
09. World Circus
10. Symptom of the Universe (Black Sabbath cover)
11. Breaking Class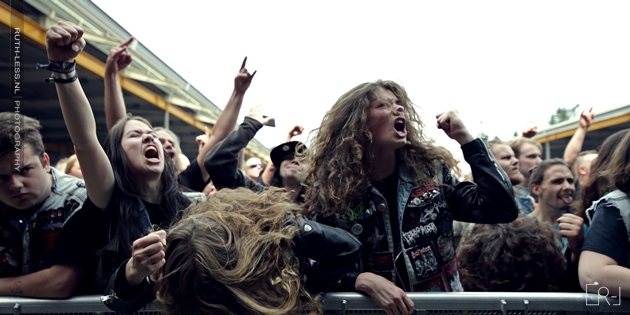 Prong

PRONG
is an American crossover thrash band formed in 1986. After two independent releases, 'Primitive Origins' and 'Force Fed' the band was signed by Epic Records. PRONG disbanded in 1997 after the Rude Awakening tour, but reformed in 2002. To date, they have released eleven studio albums, one live album, four EPs, one DVD and one remix album. Their latest work 'Zero Days' is about to be released at the end of July. PRONG is Tommy Victor (vocals, guitars), Mike Longworth (bass, backing vocals) and Art Cruz (drums). www.prongmusic.com / www.facebook.com/pg/prongmusic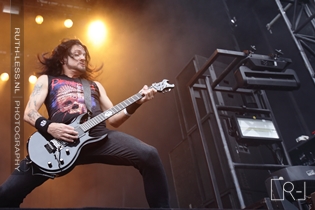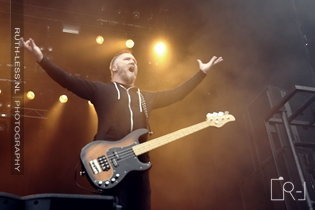 Music & Performance

Tommy and his men are determined to not let even a second go to waste of their set here at Dynamo Metalfest. They go through their repertoire like maniacs with 'Beg to differ' from their early days (1990), 'Unconditional' (Prove you wrong – 1991), the 1994 album 'Cleansing' (With the song 'Whose fist is this anyways?') and moreover work from their last lag since 2002: 'Turnover' (Ruining Lives – 2014), and 'Divide and Conquer' from the upcoming album 'Zero days'. Their setlist combines several styles from trash metal to hardcore and more groovy metal influences, each and every one delivered with fierce guitar riffs and furious lyrics. In between songs, Tommy remembers the first time they played here at Dynamo Open Air in 1994 with a big smile on his face. After a couple of beers and with an band like this, it will be no surprise that the audience gets going with wild mosh pits and some crowd surfing.
Setlist

01. Disbelief
02. Ultimate Authority
03. Beg to Differ
04. Unconditional
05. Divide and Conquer
06. Turnover
07. Cut and Dry
08. Broken Peace
09. Another Worldly Device
10. Whose Fist Is This Anyway?
11. Snap Your Fingers, Snap Your Neck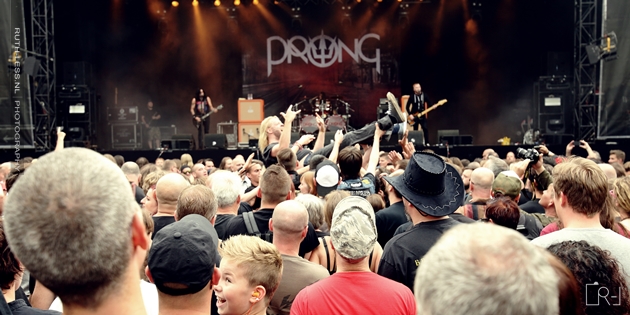 Entombed A.D.

ENTOMBED A.D.
is a death metal band from Stockholm, Sweden, formed in 2014 after
ENTOMBED
broke up. ENTOMBED was known as on the big four of Swedish death metal. The "new" ENTOMBED A.D. released their debut album, titled 'Back to the Front' the same year of their initiation. ENTOMBED A.D. is Lars-Göran (LG) Petrov (vocals), Olle Dahlstedt (drums), Nico Elgstrand (guitar), and Victor Brandt (bass) and Guilherme Miranda (guitars). www.facebook.com/pg/EntombedAD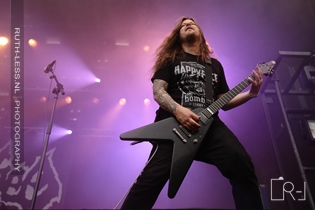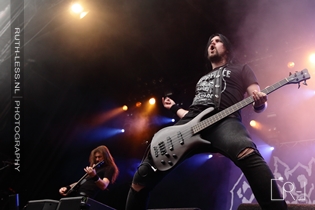 Music & Performance

On this sunny summer day, it will probably not get any darker than this: ENTOMBED A.D. enters the stage to bring some classic death metal and starts out by wishing everyone a 'goodnight'. LG Petrov chuckles as he notices his mistake and adds that it's always dark as night in the head of a metal head. Aside from a series of obvious ENTOMBED covers from the early days ('Wolverine Blues', 'Chaos Breed' and 'Revel In flesh'), some new work is brought forward. They start out with 'Midas' in reverse' from their 2016 album 'Dead Dawn', of which they will also play the title track later on in the set. They end with the title track from ENTOMBED's debut album 'Left hand Path' and after a quick selfie for the people at home, these death metal heads leave the stage with a very mortal smile on their face.
Setlist
01. Midas In Reverse
02. Stranger Aeons (Entombed cover)
03. Second to None
04. Eyemaster (Entombed cover)
05. Dead Dawn
06. Living Dead (Entombed cover)
07. Out of Hand (Entombed cover)
08. Chaos Breed (Entombed cover)
09. Revel in Flesh (Entombed cover)
10. Wolverine Blues (Entombed cover)
11. Left Hand Path (Entombed cover)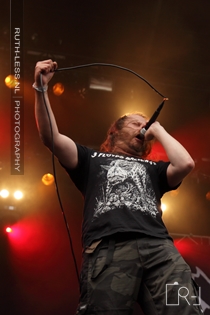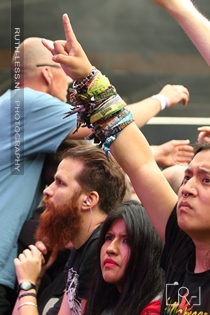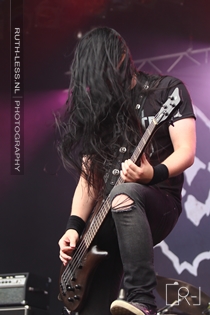 Exodus

EXODUS
is an American thrash metal band formed in 1979 in Richmond, California. Along with
POSSESSED
,
TESTAMENT
,
DEATH ANGEL
,
VIO-LENCE
,
FORBIDDEN
, LÄÄZ RICKIT and
METALLICA
, whose longtime lead guitarist Kirk Hammett was an original member of EXODUS, they are often credited as pioneers of the Bay Area thrash metal scene. Since its formation, the band has released ten studio albums, two live albums, one compilation album, and a re-recording of their first album. Over a career of 38 years, EXODUS has gone through numerous line-up changes, two extended hiatuses, and the deaths of two former band members. EXODUS disbanded in 1994 and reunited in 2001, releasing five more studio albums since then. The band is expected to release their next studio album early 2018. EXODUS is Steve "Zetro" Souza (vocals), Gary Holt (guitars), Lee Altus (guitars), Jack Gibson (bass) and Tom Hunting (drums). www.facebook.com/pg/exodusattack / www.exodusattack.com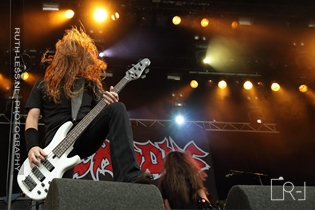 Music & Performance

EXODUS are a welcome guest at European festivals and this year they also take some time to trash the stage at Dynamo. Several bands here at Dynamo Metalfest pay tribute to the early days, remembering Dynamo Open Air in the nineties, and so does vocalist Souza, highlighting some of the obvious things that the Netherlands is most famous for. Giving the crewmembers in the photo pit a bit of work, Souza promotes some more mosh pits and crowd surfing. And what EXODUS asks for, they get! That said: hats off to the great team of sympathetic crowd-surf-catchers for getting our (photographers) back and keeping those surfers safe as well! Spanning a career of 38 years, their setlist is a journey through the decades with a mix of old and new work (see setlist). The band has lost none of its energy or enthusiasm over the years. Without losing focus on their play, Gary, Lee and Gibson enjoy quite a bit of interaction with the audience, making faces and pointing those horns. Even the small ones are not forgotten, as Souza near the end invites two little girls on stage to play some riffs: the future of metal!
Setlist

01. Piranha
02. Blood In, Blood Out
03. And Then There Were None
04. Body Harvest
05. Children of a Worthless God
06. Blacklist
07. War Is My Shepherd
08. Bonded by Blood
09. The Toxic Waltz
10. Strike of the Beast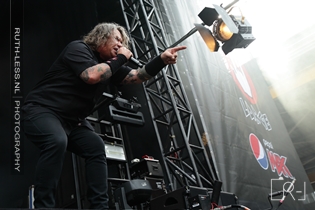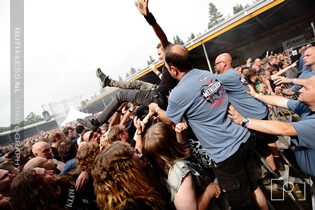 Devin Townsend Project

Devin Garrett Townsend is a Canadian musician, songwriter and record producer. He founded extreme metal band
STRAPPING YOUNG LAD
and was its primary songwriter, vocalist, and guitarist in from 1994 to 2007. On the side, he has an extensive career as a solo artist. Across all his bands and projects, Townsend has released twenty-three studio albums and three live albums. Townsend's solo albums, a diverse mix of hard rock, progressive metal, ambient, and new-age, have featured a varying lineup of supporting musicians. In 2002 he formed the
DEVIN TOWNSEND BAND
, a dedicated line-up which recorded and toured for two of his solo releases. In 2007, he disbanded both STRAPPING YOUNG LAD and the DEVIN TOWNSEND BAND, taking a break from touring to spend more time with his family. Two years later he began recording again, and soon announced the formation of the
DEVIN TOWNSEND PROJECT
.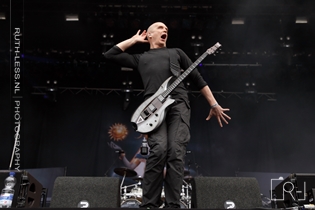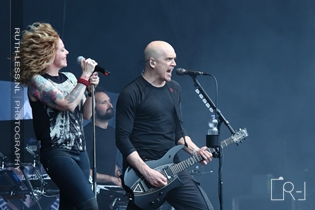 The project began with a series of four albums, released from 2009 to 2011, each written in a different style, and Townsend continues to record and tour. His latest album with the DT PROJECT titled 'Transcendence' dates from last year. THE DEVIN TOWNSEND PROJECT is Devin Townsend (vocals, guitar, synths and ambience), Dave Young (guitar, keys, mandolin), Ryan Van Poederooyen (drums), Brian Waddell (bass) and Mike St-Jean (keys, synths, programming). www.facebook.com/pg/dvntownsend / www.devintownsend.com
Music & Performance

Let me start by admitting that I was not very familiar with Devin Townsend, although I knew the name. No more after this show that blew me – and probably many others – away. For his directness and bluntness, Devin might just as well have been Dutch. And quite the personality, with his facial expressions and amusing between-song-intermezzo's. The audience loves it right from the start. There is no way to characterize or capture the style of the DEVIN TOWNSEND PROJECT, except to say that there is no way around it once the band starts hitting those notes. There seem to be hardly any limits to DEVIN's vocal qualities, ranging from grunts, screams to opera voice.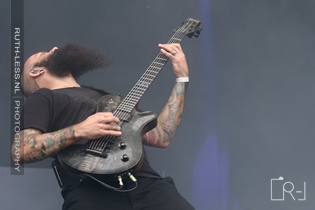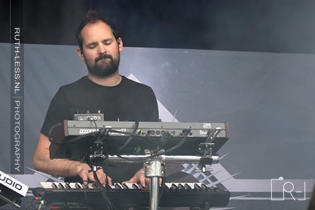 Starting off with some 'Rejoice' from 2014, DEVIN and his band touch upon the latest album 'Transcendence' with 'Stormbending' and 'Failure', before going back a little further with some DEVIN TOWNSEND BAND covers. About halfway, ANNEKE VAN GIERSBERGEN, or lovingly called 'Annie' by Devin, enters the stage and their synergy provides all ingredients for an amazing set.
Setlist

01. Rejoice
02. Stormbending
03. Failure
04. Deadhead (The Devin Townsend Band cover)
05. Supercrush! (w. Anneke van Giersbergen)
06. March of the Poozers (Devin Townsend song)
07. Kingdom (Devin Townsend song) (w. Anneke van Giersbergen)
08. Grace (w. Anneke van Giersbergen)
09. Higher (w. Anneke van Giersbergen)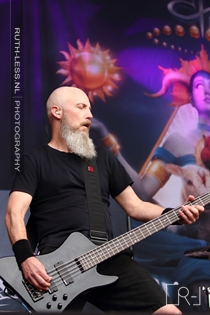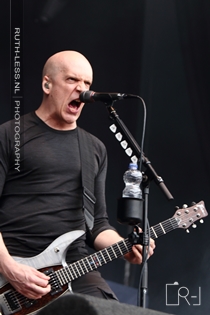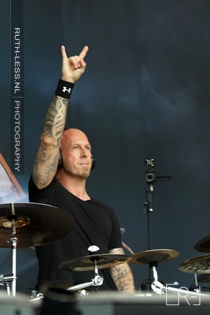 Testament

TESTAMENT
is an American thrash metal band from Berkeley, California, formed in 1983 under the name
LEGACY
. In the 34 years since its inception, TESTAMENT has had numerous line-up changes, and Peterson has been the only constant member. Billy replaced former singer Steve Souza (who left the band to join EXODUS) in 1986, prior to the recording of their first studio album. Peterson and Billy are the only band members to appear on every album. TESTAMENT is often credited as one of the most popular and influential bands of the thrash metal scene.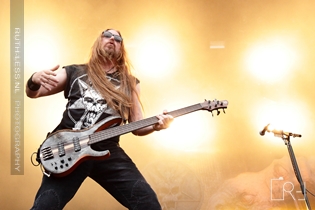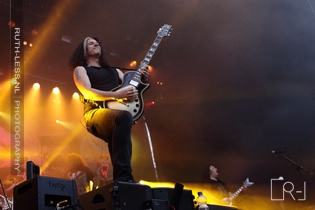 To date, the band has released eleven studio albums, four live albums, six compilation albums, and six singles. Their latest work, 'Brotherhood of the Snake' dates from 2016. In March 2017 front man Chuck Billy revealed that the band begun working on new material for their twelfth studio album, and plans to continue writing in the summer after their U.S. and European tours. TESTAMENT is Chuck Billy (vocals), Eric Peterson (guitar), Alex Skolnick (guitar), Steve Di Giorgio (bass) and Gene Hoglan (drums). www.testamentlegions.com / www.facebook.com/pg/testamentlegions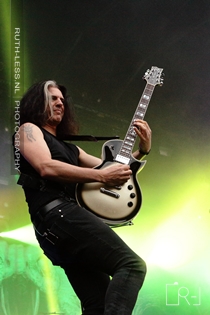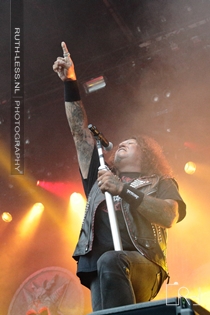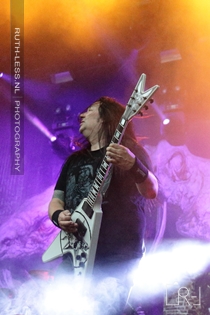 Music & Performance

Unfortunately, one of the co-headliners today is off for a bad start. There seem to be some serious technical problems for TESTAMENT as the sound check takes up almost half of their playing timeslot. This must have been a big disappointment for the band itself as well, but by the time everything seems to be functioning, front man Billy apologizes professionally and makes up for the time left with an awesome set as can be expected from these trash metal legends.
Setlist

01. Over the Wall
02. The New Order
03. Practice What You Preach
04. Into the Pit
05. Signs of Chaos
06. Electric Crown
07. Disciples of the Watch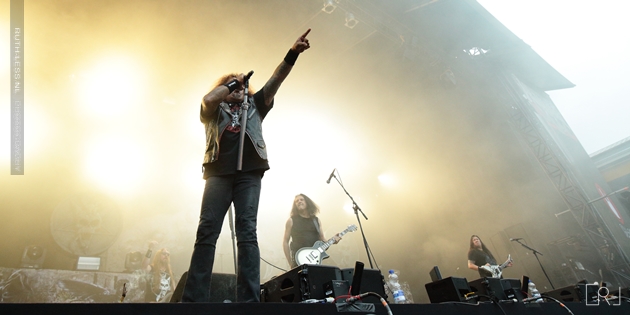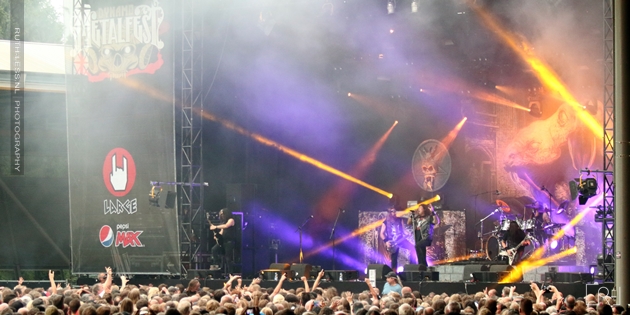 Gojira

GOJIRA
is a French progressive metal band from Bayonne, France. They started out in 1996 as GODZILLA and released their debut album 'Terra Incognita' in 2001. The name change was involuntary and due to legal constraints. In Japanese word GOJIRA means gorilla-whale or gorilla the size of a whale. The band is known for their uncompromised brutal sound and environmentally-themed lyrics. GOJIRA released six studio albums and three live DVDs. They have received Grammy nominations for Best Rock Album for their latest album Magma (2016), and Best Metal Performance for their single 'Silvera'. GOJIRA is Joe Duplantier (vocals, guitar), Mario Duplantier (drums), Christian Andreu (guitar) and Jean-Michel Labadie (bass). www.gojira-music.com / www.facebook.com/GojiraMusic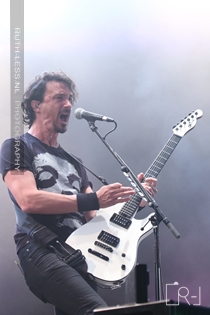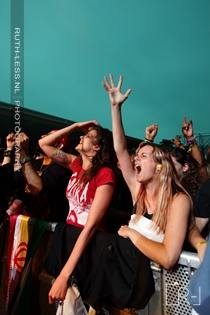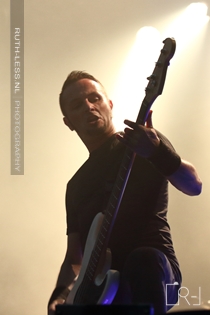 Music & Performance

The "piece de resistance" of today are French progressive metallers of GOJIRA. As some of you may remember, due to agenda issues they were booked then cancelled last year. Personally I am thrilled to see these guys on stage again, growing bigger and bigger in the international scene each time. Their light/fireworks show definitely has professionalized and fits the grandeur that's expected from a headliner at a festival like this, not that they need this to add to their musical skills. In their earlier work, GOJIRA seemed to have only two settings: on and off. Their most recent album 'Magma' however, seems more balanced and dynamic, without losing their characteristic rage. Despite their serious-themed songs, the band fortunately knows how to have fun on stage as well and halfway through the set there is some instrument switching and jams between the brothers Duplantier.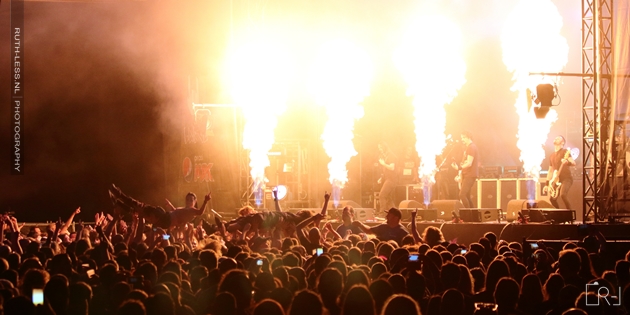 The audience literally gets smacked in the face with some deep lyrics, out-of-this-world-drums and heavy guitars. And on top of it, some serious flames and fireworks. A proper headliner, glad they made it after all!
Setlist

01. Only Pain
02. The Heaviest Matter of the Universe
03. Silvera
04. Stranded
05. Flying Whales
06. The Cell
07. Backbone (with Remembrance outro)
08. Terra Inc.
09. L'Enfant Sauvage
10. Drum Solo
11. The Shooting Star
12. Toxic Garbage Island
13. Jam (Mario on guitar and vocals, Joe on drums)
14. Oroborus
---
15. Vacuity
16. Pray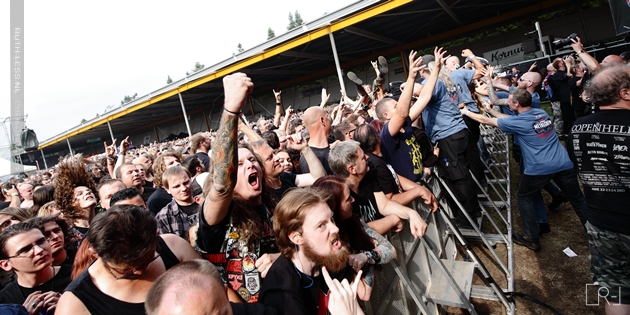 The conclusion is quite straight forward; DYNAMO METALFEST just gets better every year. The organizers are able to stably program a various selection of old and new metal bands at this great location. The audience has slowly increased from 5,000 visitors in 2015 to double (10,000) this year. In my personal opinion, this is about the max this location can take; nicely crowded, but still enough room to chill out on the grass or hang out in the shade and walk from front to back to get some drinks and snacks. Also worth mentioning is this years' initiative on recycling beer cups: thumbs up! Dynamo metal fest can look back at another successful edition with a great lineup and again several practical improvements. Traditionally, the first band of 2018 has been announced with
ANNIHILATOR
. Very early bird tickets are already on sale!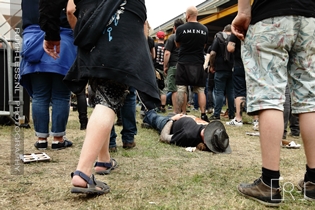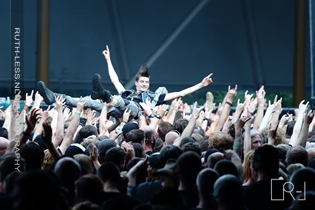 All pictures by Ruth Mampuys (www.ruth-less.nl)
See also (all categories):