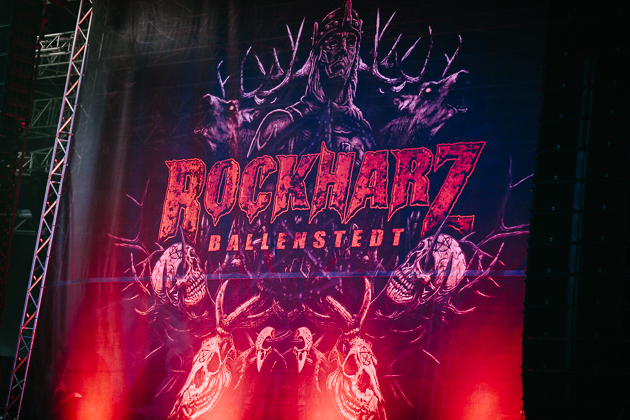 Airport, Ballenstedt, Germany
6th to 9th July 2016
RockHarz Festival Day 2: Impressions, Deadlock, Grand Magus, Illdisposed, Spiritual Beggars, Entombed A.D., Annihilator, Soilwork, Gamma Ray, ASP, Saxon

If you want to understand real pure Heavy Metal, straightforward, clear and simple - you have to be at RockHarz the second day. The afternoon was packed with the best representatives of this musical genre, mostly coming from Northern Europe, like DEADLOCK from Germany, GRAND MAGUS from Sweden, ILLDISPOSED from Denmark (Death Metal), SPIRITUAL BEGGARS from Sweden, ENTOMBED A.D. from Sweden (Death Metal), ANNIHILATOR from Canada (Thrash Metal) and SOILWORK from Sweden (Melodic-Death-Metal). It was a great pleasure listening and enjoying the energy and power of all of those performances. You could really feel the great enthusiasm each band was proud to deliver. People either relaxed in the warm and sunny afternoon, holding beers in their hands or just head-banging at the front of the stages.
Deadlock

Back after four years of absence from RockHarz and recovered from some bad throwbacks, DEADLOCK returned with a new album 'Hybris' to the RockHarz festival. The new lead singer is Margie Gerlitz. Her performance was outstanding - and by the way I think she was the only female singer during the day or even for the whole festival. //
https://www.facebook.com/deadlockofficial
/
http://www.deadlock-official.com
Grand Magus

GRAND MAGUS, founded 1996 by Janne "JB" Christoffersson, played as the opening act during MOTÖRHEAD's Europe tour in 2010. GRAND MAGUS performed with 'Varangian' a song from their new album 'Sword Songs' but also well-known songs like 'Sword of the Ocean', 'Steel Versus Steel' or 'Frost and Fire'. Finally everyone was singing along with the last song 'Hammer of the North'. The crowd showed their exaltation continuing even after the band had left the stage. //
https://www.facebook.com/grandmagusofficial
/
http://grandmagus.com/
Illdisposed

The band around front squaller Bo Summer is a gladly seen guest on German stages. Possibly this was the reason why Jakob "Batten" Hansen was dressed in a German football shirt as an anticipation for the upcoming football match between Germany and France in the evening. 2016 they launched their new album 'Grey Clouds Over Black Town' from which they performed some songs among older stuff like 'Throw Your Bolts'. //
https://www.facebook.com/illdisposed1
/
http://www.illdisposed.com
Spiritual Beggars

SPIRITUAL BEGGARS, founded 1990 by Michael Amott including Per Wiberg on the keyboard, which is quite unusual for a Heavy Metal band but not bad for the sound at all. They performed 'Young man old soul' but also 'Hard road' or 'Diamond under pressure' from the new album 'Sunrise to Sundown'. Unfortunately people in front of the stage were few and their mood could have been better. //
https://www.facebook.com/spiritualbeggarsofficial
/
http://www.spiritualbeggars.com
Entombed A.D.

The Swedish band with Olle Dahlstedt on drums, Victor Brandt on bass and Nico Elgstrand on guitars has an outstanding performer on the stage: fronter Lars Göran "LG" Petrov. I cannot remember seeing a passionate and enthusiastic singer like him, always running from one side of the stage to the other or just head-banging with unbelievable power. Between the songs they celebrated drinking beer, no wonder by that immense effort. //
https://www.facebook.com/EntombedAD
// Setlist: 01.Midas in reverse / 02. Stranger Aeons / 03. Second to none / 04. Dead Dawn / 05. Living Dead / 06. Revel in Flesh / 07. Wolverine Blues / 08. Left Hand Path
Annihilator

ANNIHILATOR, founded 1984 by Jeff Waters, is one of the Trash Metal legends having sold more than three million albums worldwide. ANNIHILATOR has undergone so many line-up changes but Waters is still the remaining original member left in the band. For RockHarz, Waters was joined by Aaron Homma, Rich Hinks and Fabio Alessandrin. Jeff Waters mentioned that this was the first greater live-act for Fabio as ANNIHILATORS drummer - welcome in the band! They started their performance with the song 'King of Kill' from the fourth album and the crowd celebrated the act by starting some mosh pits. //
https://www.facebook.com/annihilatorband
/
http://www.annihilatormetal.com/
Soilwork

The Swedish band SOILWORK visited RockHarz for the first time, after they had to cancel their announcements two times in past. But this time everything was perfect, they performed a lot of songs from their new album 'The Ride Majestic' which is an ode and celebration of family members the bandmates have lost over the years. SOILWORK finished the awesome performance after ten titles with their well-known burner 'Stabbing The Drama'. //
https://www.facebook.com/soilwork
/
http://www.soilwork.org
// Setlist: 01. The Ride Majestic / 02. Nerve / 03. Bastard Chain / 04. Death in general / 05. Crestfallen / 06. Follow the hollow / 07. Living infinitive / 08. Whirl of pain / 09. Rejection role / 10. Late for the kill / 11.Stabbing The Drama
So a really great afternoon went by, demonstrating bands and musicians without any striking attitude, just addicted to their only passion - real Metal music! But at the beginning of the evening one huge question was "in the air"': Are you a real fan of Metal music or are you a real fan of the German football national team which played in the Euro 2016 semi-final against France? I noticed a lonely young girl claiming very loud and angry "Ich hasse Fussball" (I hate football) and on the other side two young girls in German football shirts with funny hats. RockHarz did not announce a public broadcasting but as the match was near to start a large screen was set up on the right side of the stages in an area next to the "Mutantenstadl". So at the end two crowds settled down, one in front of the stages, continuing the celebration of Heavy Metal and another joining the public viewing to watch the German national team.
Gamma Ray

GAMMA RAY was powerful welcomed by the crowd with "Alter Scheiss" (old shit) shouts. I did not understand the meaning of these shouts, but Kai Hansen, the standing lead singer of GAMMA RAY seemed to understand the crowd and simply asked back: 'Do really want to hear the old shit?' During the performance Kai Hansen dedicated the song 'Fight' to the German national team. I think that even he, who has been on stage with GAMMA RAY since 1989, has never played against a public viewing at the same time. //
https://www.facebook.com/gammarayofficial
/
http://www.gammaray.org
// Setlist: 01. Heaven Can Wait / 02. Last before the Storm / 03. Fight / 04. I want Out / 05. Induction / 06. Dethrone Tyranny / 07. Master of Confusion / 08. Rebellion in Dreamland /Heavy Metal Universe / Ride the Sky / Somewhere Out in Space / 09. Send me a sign
ASP

For the fourth time, ASP visited RockHarz as a well-known and welcome guest. And for the first time this evening it was time for pyrotechnics on stage. Alexander "ASP" Spreng with his white make up is a charismatic actor, telling stories about love and desire. He harmonizes with his audience in a very special way. The band closed the performance with the song 'Ich will brennen', a song with a remarkable lyric. //
https://www.facebook.com/AspsWelten
/
http://www.aspswelten.de
// Setlist: 01. Intro 'Das Dröhnen' / 02. Wechselbalg / 03. Odem / 04. Krabat / 05. Souvenier, Souvenier / 06. Ich bin ein wahrer Satan / 07. Eisige Wirklichkeit / 08. Werben / 09. Lykantropie / 10. Schwarzes Blut / 11. Umrissmann / 12.Ich will Brennen
Saxon

The headliner of the evening was SAXON, founded long time ago in 1976. SAXON was one of the leaders of the new wave of British Heavy Metal. They had eight UK Top 40 albums in the 1980s and have sold more than 15 million albums worldwide. Lead singer Peter Byford could be considered as the grand seigneur of the Metal scene, a respectable person with his long white hair. It was a worthy closing of the day to have a band with such a history and success on the stage at RockHarz, grateful celebrated by the audience. //
https://www.facebook.com/saxon
/
http://www.saxon747.com
// Setlist: 01.Battering Ram / 02.Motorcycle Man / 03. Power and the Glory / 04. Got to rock / 05. Battalions / 06.20.000 FT / 07. Dogs of war / 08. Heavy Metal Thunder / 09. 747 or bands played / 10. Crusader / 11. Wheels / 12. Denim & Leather / 12. Princess
All Pictures by Chris W. Braunschweiger (
https://www.facebook.com/ChrisWBraunschweigerPhotographie
)
See also (all categories):