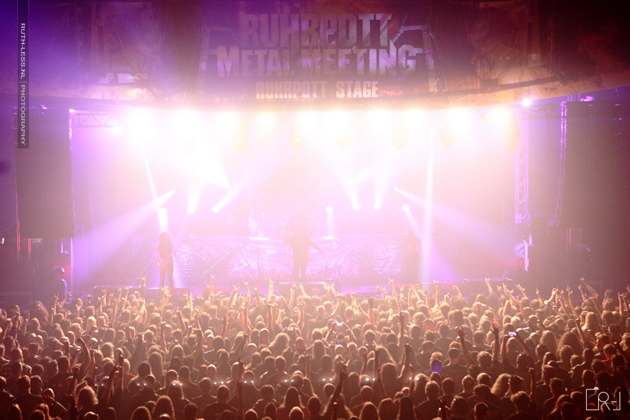 Turbinenhalle, Oberhausen, Germany
8th to 9th December 2017
Ruhrpott Metal Meeting 2017 Day 2 with Testament, Doro Pesch, Annihilator, Orden Ogan, Gloryhammer, Death Angel

Despite the snowy weather, about 3,000 metal heads came out to the Turbinenhallen in Oberhausen for the Ruhrpott Metal Meeting. The second day presents another great line-up with i.e. DEATH ANGEL, GLORYHAMMER, ORDEN OGAN, ANNIHILATOR, DORO and trash metal legends TESTAMENT.
Death Angel

Among the youngest bands ever to storm the metal genre,
DEATH ANGEL
has come to be known as one of the most influential bands to emerge from the thriving Bay Area Thrash Metal Scene in the early 1980s. Their debut album 'The Ultra Violence' was released in 1987 with their drummer being just 14 years old. DEATH ANGEL was initially active from 1982 to 1991 and again since 2001. The band released eight studio albums, two demo tapes, one box set and two live albums.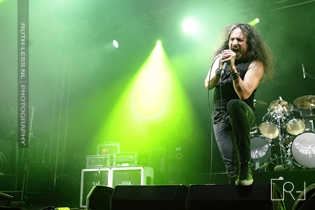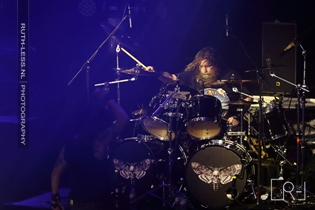 DEATH ANGEL released their very successful 7th studio album 'The dream calls for blood' in 2013, soon to be followed by a documentary DVD 'A Trashumentary' and live album 'The bay calls for blood – live in San Francisco' in July 2015. Never uninspired, the band released 'The Evil Divide' in 2016. DEATH ANGEL is Mark Osegueda (vocals), Rob Cavestany (guitar), Ted Aguilar (guitar), Will Carroll (drums) and Damien Sisson (bass). www.deathangel.us / www.facebook.com/deathangel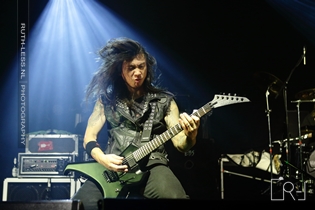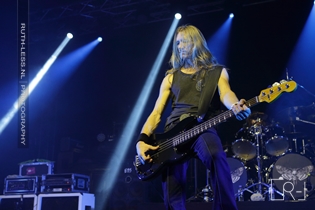 Kind of a surprise to see these guys opening at a festival like this. However, this will not keep them from showing RMM who is boss! Vocalist Mark Osegueda and his guys know how to put up a live trash metal show and in fast forward mode, they go through a snippet of their impressive repertoire with 'Mistress of pain' from their debut album, 'Claws in so deep' from 'Relentless Retribution' and a couple more from their most recent work 'The evil divide': 'Father of Lies' and 'The Moth'. Trash metal like it should be; follow up bands eat your heart out!
Setlist

01. Father of Lies
02. The Dream Calls for Blood
03. Claws in So Deep
04. Thrown to the Wolves
05. Mistress of Pain
06. The Moth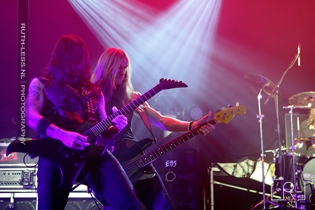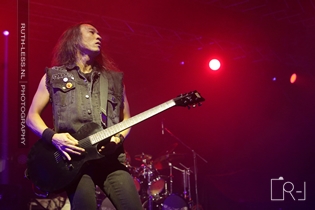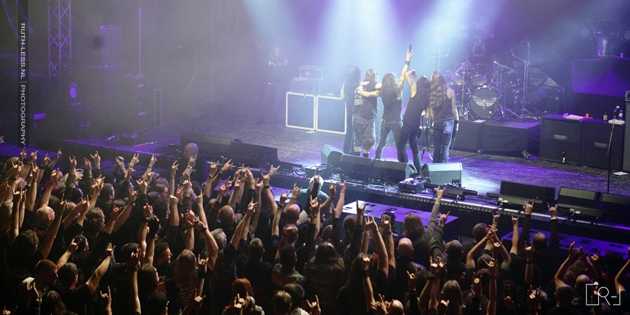 Gloryhammer

GLORYHAMMER
is a Scottish-Swiss epic power metal band founded by keyboard player Christopher Bowes, vocalist of the band ALESTORM. They released their debut album 'Tales from the Kingdom of Fife' through Napalm Records in March 2013. Every member of the band represents a character in the story concept. The band appears on-stage in armour and costumes. On 16 May 2017 GLORYHAMMER was nominated as best band in the category "Up & Coming" of the Metal Hammer Awards 2017 by the German edition of international music magazine Metal Hammer. GLORYHAMMER is Thomas Winkler (vocals), Christopher Bowes (Keyboard), Paul Templing (guitar), James Cartwright (bass), and Ben Turk (drums). http://www.gloryhammer.com / www.facebook.com/pg/gloryhammer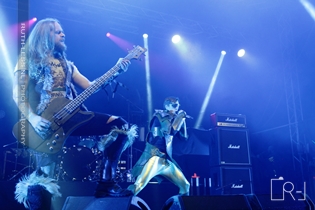 No one could have prepared me for this band… GLORYHAMMER… They owned the stage, blew away the enthusiastic audience. So who am I to judge?
Setlist

01. Infernus Ad Astra (intro)
02. Rise of the Chaos Wizards
03. Legend of the Astral Hammer
04. Hail to Crail
05. Questlords of Inverness, Ride to the Galactic Fortress!
06. Goblin King of the Darkstorm Galaxy
07. The Hollywood Hootsman
08. Angus McFife
09. Universe on Fire
10. The Unicorn Invasion of Dundee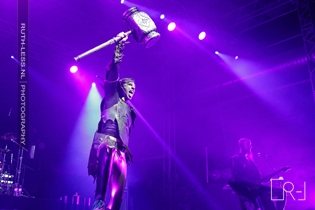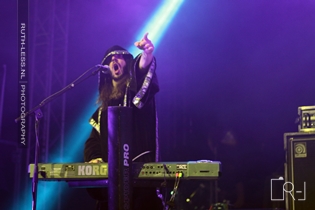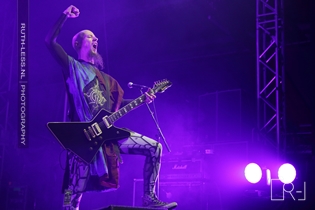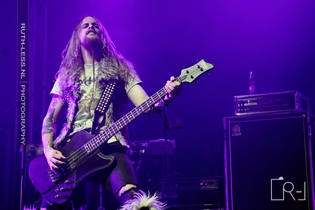 Orden Ogan

ORDEN OGAN
is a German power metal band with progressive and folk metal elements. The band was formed in 1996 by Sebastian Grütling (drums) and Sebastian Levermann (lead vocals and guitar). They currently have 3 demo albums and 5 studio albums and are signed with AFM Records. Their latest album 'Gunmen' Dates from 2017. ORDEN OGAN is Sebastian Levermann (vocals), Tobi (guitars), Niels Loffler (bass0 and Dirk Meyer-Berhorn (drums). www.ordenogan.de / www.facebook.com/pg/ORDENOGAN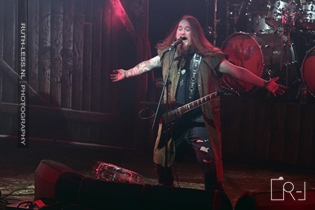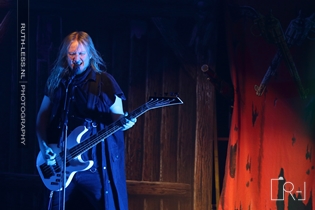 ORDEN OGAN opened with 'To new shores of sadness'' from their 2010 album 'Eason hope'. Their short set list also paid attention to their most recent work with the title track of their latest album 'Gunman'. Although they gave it their best, after the incredible energy of DEATH ANGEL and overwhelming GLORYHAMMER, ORDEN OGAN unfortunately came along as a bit of an intermezzo.
Setlist

01. To New Shores of Sadness
02. F.E.V.E.R.
03. Gunman
04. Deaf Among the Blind
05. Come With Me to the Other Side
06. Forlorn and Forsaken
07. We Are Pirates
08. The Things We Believe In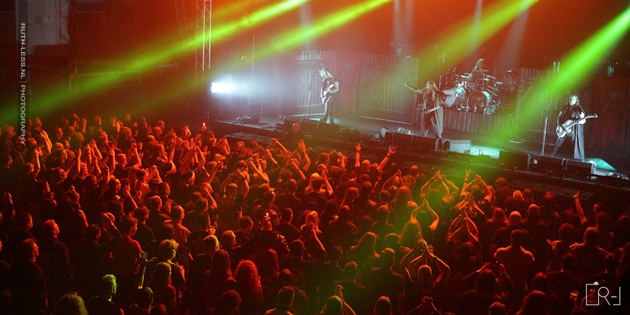 Annihilator

Canadian thrash metal band
ANNIHILATOR
was founded in 1984 by vocalist, guitarist, bassist, songwriter, engineer, producer, mixer and mastering engineer Jeff Waters and former vocalist John Bates. They are the highest-selling heavy metal group from Canada in Canadian history, having sold more than three million albums worldwide, although most of their sales have been generated outside the band's home country. Along with SACRIFICE, VOIVOD and RAZOR, ANNIHILATOR is credited as one of the "Big 4" of Canadian thrash metal.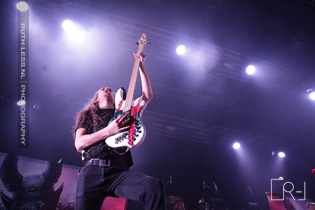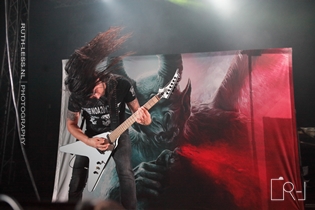 Since its inception, ANNIHILATOR has released sixteen studio albums and has undergone many line-up changes. Waters is the only remaining original member left in the band, and usually assembles touring or session musicians to perform with him. Their recent studio album, 'For the Demented', was released on November 3, 2017. ANNIHILATOR is Jeff Waters (vocals), Aaron Homma (guitar), Rich Hinks (bass) and Fabio Alessandrini (drums). www.annihilatormetal.com / www.facebook.com/annihilatorband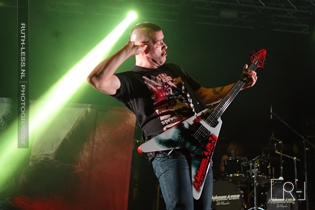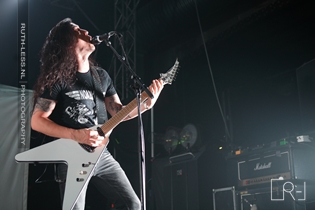 ANNIHILATOR gets back at the energy, Jeff and his boys jump around on stage like madmen while playing riffs and spitting out some trash metal vocals. Despite Jeff being the only remaining original member of this band, their on stage dynamics are great. After opening with 'Crystal Ann' from their 1989 debut, ANNIHILATOR jumps to 'One to Kill' from their latest album 'For the Demented' going back and forth in their repertoire during the set. Never a dull moment!
Setlist

01. Crystal Ann (intro)
02. One to Kill
03. King of the Kill
04. Annihilator
05. No Way Out
06. Set the World on Fire
07. W.T.Y.D.
08. Twisted Lobotomy
09. Alison Hell
10. Phantasmagoria
11. Human Insecticide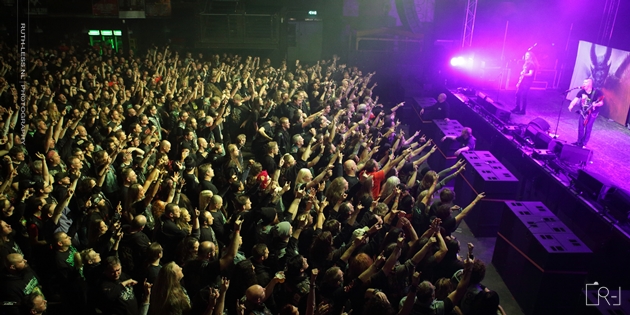 Doro

Dorothee Pesch, popularly known as DORO PESCH or
DORO
, is a German heavy metal singer-songwriter, formerly front-woman of the heavy metal band WARLOCK. The name DORO has also been associated with the touring band accompanying the singer, whose members have continuously changed in more than twenty years of uninterrupted activity, the most stable presences being those of bassist Nick Douglas and drummer Johnny Dee. To this date, she has released sixteen studio albums, the latest being 'Raise Your Fist' in 2012. DORO continues her recording career and is prolific touring artist all over the world.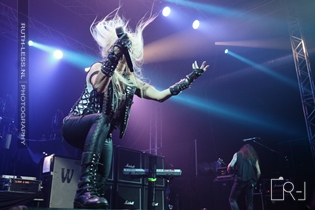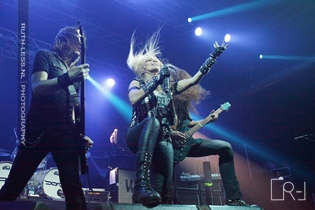 When not on tour, she resides in New York City. Current line-up consists of Doro Pesch (vocals), Nick Douglas (bass), Johhny Dee (drums), Bas Maas (guitars) and Luca Princiotta (guitar). www.doro.de / www.facebook.com/pg/DoroPeschOfficial
DORO is the only female in the line-up standing proud at this RMM festival. And she takes on that role with verve. The queen of metal knows how a live performance works and she has an excellent team of experienced band members behind her. The audience was eating out of her hand, fists up in the air. Great show!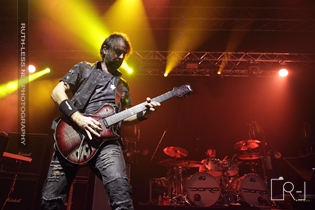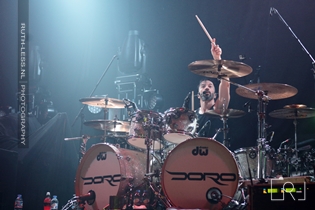 Setlist

01. I Rule the Ruins (Warlock cover)
02. Raise Your Fist in the Air
03. Burning the Witches (Warlock cover)
04. Fight for Rock (Warlock cover)
05. Hellbound (Warlock cover)
06. East Meets West (Warlock cover)
07. Earthshaker Rock (Warlock cover)
08. Für Immer (Warlock cover)
09. Wacken Hymne (We Are the Metalheads) (Skyline cover)
10. Breaking the Law (Judas Priest cover) (with Jeff Waters)
11. All We Are (Warlock cover)
---
12. True as Steel (Warlock cover)
13. Revenge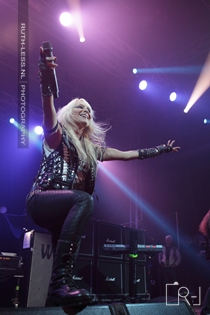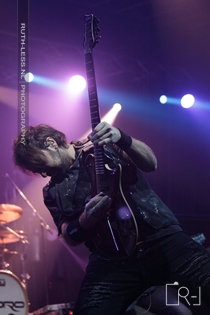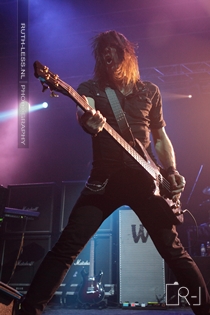 Testament

TESTAMENT
is an American thrash metal band from Berkeley, California that started out in 1983. In the 34 years since its inception, Testament has had numerous line-up changes, and Peterson has been the only constant member. Billy replaced original singer Steve "Zetro" Souza (who left the band to join Exodus as the replacement of Paul Baloff) in 1986, prior to the recording of their first studio album, The Legacy, and has been a member of the band since.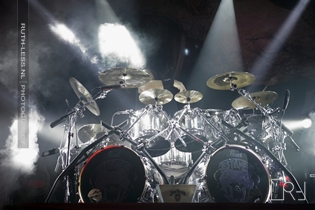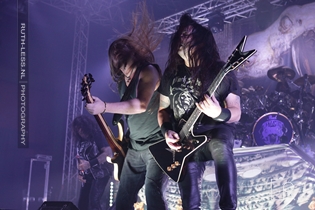 Testament are often credited as one of the leaders of the second wave of thrash metal in the late 1980s, along with bands such as SACRED REICH, DEATH ANGEL, DESTRUCTION and DARK ANGEL. To date, the band has released eleven studio albums, four live albums, six compilation albums, and six singles. The band's current line-up comprises guitarists Eric Peterson and Alex Skolnick, lead vocalist Chuck Billy, drummer Gene Hoglan, and bassist Steve Di Giorgio. www.testamentlegions.com / www.facebook.com/pg/testamentlegions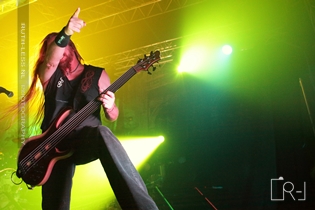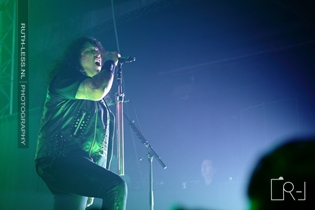 Last but certainly not least, it was up to trash metal legends of TESTAMENT to blow out the candles. But not before putting up a respectable trash metal show with an impressive stage setup, awesome lighting and lots of guitar and drum solos. These guys know how it's done and they roll out their set with well-deserved confidence. The audience easily picks up TESTAMENT's energy, singing along and there's some mosh pit action going. This band's repertoire is just too big to go through it all, though we get some of the classics with 'The New Order', 'Low' and 'Disciples of the Watch'.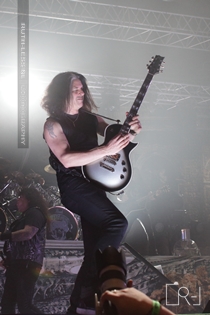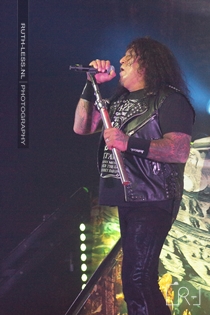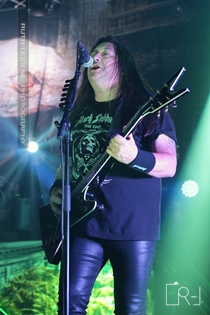 Setlist

01. Brotherhood of the Snake
02. Rise Up
03. The Pale King
04. More Than Meets the Eye
05. Centuries of Suffering
06. Guitar Solo (Alex Skolnick)
07. Electric Crown
08. Into the Pit
09. Low
10. Stronghold
11. Throne of Thorns
12. Guitar Solo (Eric Peterson)
13. Eyes of Wrath
14. Drum Solo (Gene Hoglan)
15. First Strike Is Deadly
16. Bass Solo (Steve Di Giorgio)
17. Urotsukidôji
18. Souls of Black
19. The New Order
20. Practice What You Preach
21. Disciples of the Watch
22. Outro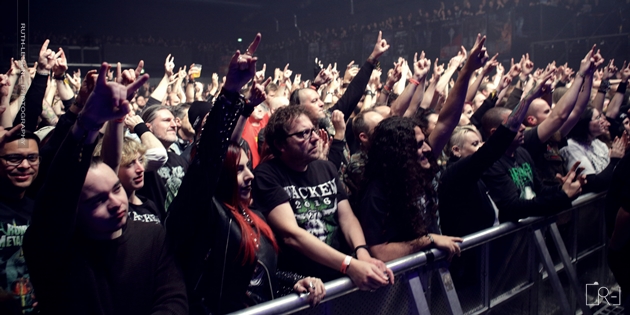 Despite the snowy weather, great festival and line-up! See you next year RMM!
All pictures by Ruth Mampuys (www.ruth-less.nl)
See also (all categories):