Veltins Arena, Gelsenkirchen, Germany
29th to 31st May 2015
Rock im Revier 2015 Day 1: Exodus, Hatebreed, ...And You Will Know Us By The Trail Of Dead, Testament, Within Temptation, Anathema, Faith No More, Meshuggah, Dir en Grey, Metallica

The headlines that festival made in advance. The date and name of that which started as Grüne Hölle Rock at Nürburgring was changed at first and after non-satisfying presales, the location was also changed. Mockery, shit storm but also a lot of dangerous superficial knowledge and polemics made a circuit. Even though many won't believe it the presale recovered and the Veltins Arena at Schalke was found as a new partner and thus, a rock-stronger alternative to Rock am Ring could take place. EXODUS made the beginning on the so-called Big Stage which was directly positioned in the stadium.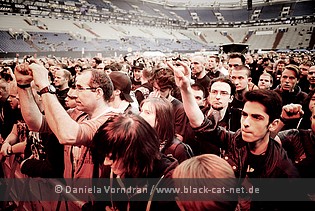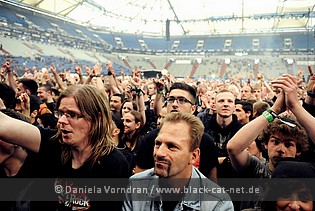 Exodus (US) – Big Stage [Jan Rombout]

EXODUS are a trash metal band from California whose cofounder is no one else but Kirk Hammet, METALLICA's current guitarist. There were many line-up changes and Steve Zousa came back as the singer to EXODUS in 2014 whom he had left before. A titbit for all fans of the band since they have performed rarely in this line-up after his comeback. EXODUS had to fight against playing so early and the sound which didn't want to work the way they wanted to. The rockers celebrated six songs and showed that even though they count as forerunner for a dozen bands they do not belong to the oldies. Blood in, Blood Out and Body Harvest from the new work 'Blood In, Blood Out' which they played in their 30 minutes long set were powerful and loud. Even though the sound sounds badly one's appetite was whetted. //
http://www.exodusattack.com
/
https://www.facebook.com/exodusattack
// Setlist: 1. Blood In, Blood Out / 2. Blacklist / 3. Body Harvest / 4. Bonded by Blood / 5. The Toxic Waltz / 6. Strike of the Beast // Rating: 6 / 10
Hatebreed (US) – Big Stage [Jan Rombout]

Even though HATEBREED change the genre between Metal, Metalcore and influences from Punk they do get more mainstream. HATEBREED are famous for soundtracks for films like xXx – Triple X and SAW VI and can already show off a Grammy nomination. Their discography entails 8 studio records whose focus became more and more melodious. Fans of the first hour accuse HATEBREED of "selling out". HATEBREED also had to fight against lack of audience and sound problems during their 45-minutes long set und thus, they couldn't present themselves from their best side. The roof of the stadium was closed so the lightshow was very impressive and the rest of the show and the setlist were not bad at all. Nevertheless, a good feeling didn't want to come up even though HATEBREED tried their best. //
http://www.hatebreed.com
/
https://www.facebook.com/hatebreed
// Setlist: 1. To the Threshold / 2. Dead Man Breathing / 3. Honour Never Dies / 4. Everyone Bleeds Now / 5. In Ashes They Shall Reap / 6. Invisible/ 7. Tear It Down / 8. Last Breath / 9. Empty Promises / 10. Defeatist / 11. As Diehard as They Come / 12. Smash Your Enemies / 13. Not one Truth / 14. Boundless (Time to Murder It) / 15. The Language / 16. This is now / 17. Driven by Suffering / 18. I Will Be Heard / 19. Destroy Everything // Rating: 6.5 / 10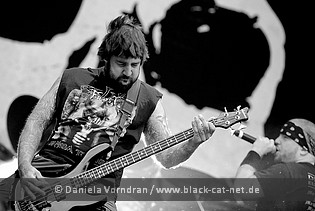 ...And You Will Know Us By The Trail Of Dead – Boom Stage [Daniela Vorndran]

This band started as a duo, comprised of multi-instrumentalists Jason Reece and Conrad Keely. The two had originally met while living in Hawaii where Reece had made a name for himself by taking first prize in a local "best drummer" competition. After relocating to US mainland AND YOU WILL KNOW US BY THE TRAIL OF DEAD developed into a fully-fledged band consisting today additionally of Autry Fulbright II and Jamie Miller. In early 1998 the band released their self-titled debut on Trance Syndicate Records to mixed critical reception. The band played quite early at the Boom Stage in front of a manageable crowd. The music is definitely no easy listening, AND YOU WILL KNOW US BY THE TRAIL OF DEAD are not only fond of long band names but also for extra-long live songs and a challenging performance by switching instruments repeatedly. It was an artsy performance, especially musically it was top-notch. //
http://www.trailofdead.com
/
https://www.facebook.com/andyouwillknowusbythetrailofdead
// Setlist: 1. It was there / 2. A Million Random Digits / 3. The Lie Without a Liar / 4. Another Morning Stoner / 5. Catatonic / 6. Will You Smile Again? / 7. Homage / 8. A Perfect Teenhood // Rating: 7 / 10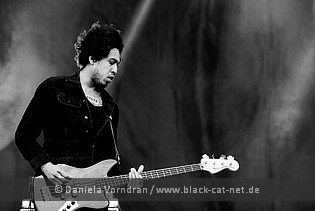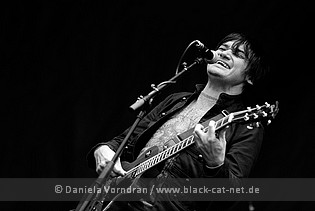 Testament – Big Stage [Daniela Vorndran]

With TESTAMENT, one of the oldest Thrash Metal bands was up next. The band from Berkeley, California, formed in 1983, is often credited as one of the most popular bands of the 1980s thrash metal scene. In the 30 years since its inception, TESTAMENT has had numerous line-up changes. To date, TESTAMENT has released more than ten studio albums, several live albums, compilation and singles. The band released their debut album 'The Legacy' in 1987, their latest work dates from 2012 and is titled 'Dark Roots of Earth'. Sirens were sounding through the hall when the set was opened with 'Over the Wall'. In the back, red lightened pentagrams could be seen. At the beginning, there were some technical issues, as singer Chuck Billy signalised to the technicians, but in the course of the set, they could be solved. The venue slowly filled up and people were enjoying songs like 'More Than Meets the Eye' or 'Into the Pit'. I think people were agreeing that this was a pretty good show. //
www.testamentlegions.com
/
www.facebook.com/testamentlegions
// Setlist: 1. Over the Wall / 2. Rise Up / 3. More Than Meets the Eye / 4. Native Blood / 5. Practice What You Preach / 6. The New Order / 7. Into the Pit / 8. 3 Days in Darkness / 9. Disciples of the Watch // Rating: 8 / 10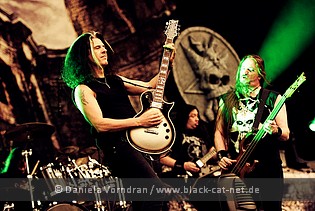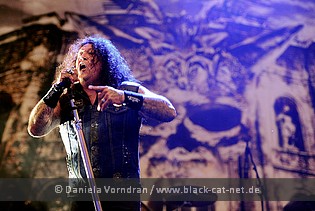 Within Temptation (NL) – Big Stage [Jan Rombout]

WITHIN TEMPTATION are the successful export from the Netherlands and the first band of the day with a front woman and thus with female vocals. That is one of the main reasons for the great success. Singer Sharon den Adel's voice can get very high. It is joined by keyboard sounds and harsh guitar riffs that bring along a lot of force. Besides the sound's direction and Sharon's partly elven vocals that is one of the further reasons why members and lovers of gothic get their money's worth. WITHIN TEMPTATION get in the doubtful way of playing the Big Stage before the headliners in the "Revier", at the sister festival Rockavaria they are the big name on the second stage. Finally, the sound go better so it is not only dependent on technology. The truly spectacular thing about the gig are the songs' duet vocals that are joined and played on the screens. It is still different live but it's a successful move for the atmosphere and familiarity nevertheless. The current record 'Hydra' is represented most by four songs but also older songs are played. Sharon and her boys blossom out to be the obvious highlight with the better sound which is still not good by far and the good show. //
http://www.within-temptation.com
/
https://www.facebook.com/wtofficial
// Setlist: 1. Paradise (What About Us?) / 2. Faster / 3. In the Middle of the Night / 4. Stand My Ground / 5. Dangerous / 6. And We Run / 7. Iron / 8. Covered By Roses / 9. The Cross / 10. The Heart of Everything / 11. Mother Earth // Rating: 7 / 10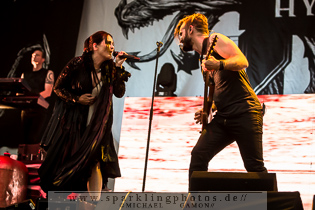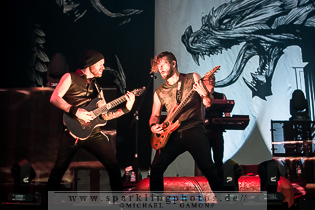 Anathema (UK) – Boom Stage [Jan Rombout]

Those who want male front vocals and fresh air can go to the Boom Stage where the English band ANATHEMA honoured the stage while WITHIN TEMPTATION were playing inside the stadium. They have served many genres between metal and rock for years but they don't sound truly harsh anymore. Anathema's songs can be longer than ten minutes and it's important for the songs that every tone is perfect. Thus, almost pieces of art are created which are rather unfitting for radio or a car ride. Thus, the band cannot deliver true hits that everybody knows. It turned out to be beneficial to be outside because the sound is good here. ANATHEMA brought six songs on stage which can be enjoyed after all the "arena mish mash". Show and entertainment are not one of the band's strengths but that doesn't bring any great losses. The show is atmospheric and one gets what the band stands for. The focus is put on the sound, good arrangements and a good light show as well. This is the disadvantage of open air: The latter does not come into its own, it rather sinks in meaninglessness as long as it's light outside. //
http://www.anathema.ws
/
https://www.facebook.com/anathemamusic
// Setlist (incomplete): 1. Anathema / 2. Untouchable, Part 1 / 3. Thin Air / 4. A Natural Disaster / 5. Distant Satellites // Rating: 7.5 / 10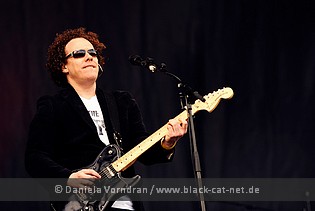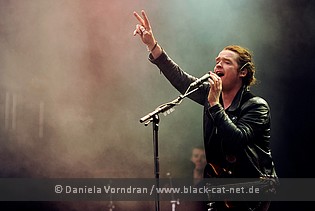 Faith No More (USA) – Big Stage [Jan Rombout]

FAITH NO MORE don't have to be introduced anymore, do they? They are a band of the superlative from times of grunge and are mentioned in the same breath as NIRVANA, SOUNDGARDEN or PEARL JAM. They have a new record ready with 'Sol Invictus' since 15th May from which songs were performed live at the festival. Many flowers decorated the stage which was set in white otherwise. It almost appeared like an altar and even the musicians surrounding the charismatic singer Mike Patton were dressed in white. Optically definitely something different for once, since black was the trend colour before. But unfortunately, this positive surprise did not work with the sound of the songs on stage. Those were chosen carefully and the biggest hits were also played but the sound was extremely terrible. Thee insufficient and extremely annoying sound definitely spoiled FAITH NO MORE's show which was impeccable beside that. It can be considered a gift that the songs were quite quiet. Fans take over the vocals during stunners like 'Easy' so that the mood and audience was slowly increasing. //
http://www.fnm.com
/
https://www.facebook.com/faithnomore
// Setlist: 1.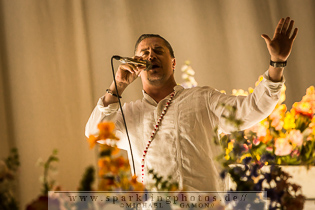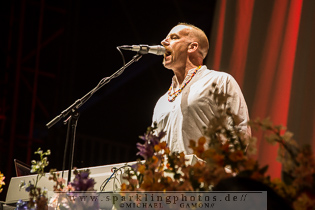 Motherfucker / 2. Land of Sunshine / 3. Caffeine / 4. Evidence / 5. Epic / 6. Sunny Side Up / 7. Surprise! You're Dead! / 8. Midlife Crisis / 9. The Gentle Art of Making Enemies / 10. Easy / 11. Separation Anxiety / 12. King for a Day / 13. Ashes to Ashes / 14. Superhero // Rating: 6.5 / 10
Meshuggah – Boom Stage [Daniela Vorndran]

Many people had a different task to decide which band to see: FAITH NO MORE or MESHUGGAH. Even though MESHUGGAH already celebrates its 25th anniversary, the crowd in front of the Boom Stage was rather small compared to the capacity offered. I guess around one thousand fans found their way to celebrate with the band's Progressive Metal. And MESHUGGAH did not disappoint, they played a tight set with lots of enthusiasm and perfection. The setlist contained a few songs from the latest release 'Koloss' as well as a good mix of older songs from the band's history. The audience was caught by colossal riff cascades and complex rhythm arrangements as well as by the enthusiastic performance of front man Jens Kidman. The attentiveness of the audience was rewarded with some additions. It was just a little sad that the PA had some minor lapses. But the band just overplayed it in perfection. //
http://www.meshuggah.net
/
https://www.facebook.com/meshuggah
// Setlist: 1. Rational Gaze / 2. obZen / 3. Do Not Look Down / 4. The Hurt That Finds You First / 5. Future Breed Machine / 6. Demiurge / 7. Bleed / Encores: 8. [Mind's Mirrors] / 9. In Death - Is Life / 10. In Death - Is Death // Rating: 8 / 10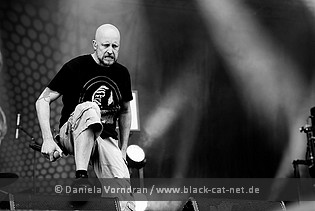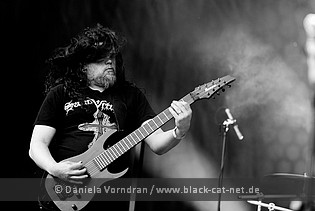 Dir en Grey – Boom Stage [Daniela Vorndran]

Japanese rock band DIR EN GREY was formed in 1997 as a result of La:Sadies split up. Their debut was marked by the simultaneous release of three singles, all of which reached the Top Ten. Five albums later, DIR EN GREY have added to their international success by solidifying their presence in the U.S. with the 2007 release of 'The Marrow of a Bone', their second release in as many years for Warcon Entertainment. Their latest studio album 'Arche' was out in December 2014, followed by the music clip collection 'Average Sorrow' in April 2015. When I reached the boom stage I was kind of shocked. The place in front of stage was nearly empty. Seems most people were already heading to the main stage to see METALLICA. Even though there should have been enough time to see at least a bit of DIR EN GREY's show. This Japanese band is really a matter of taste. Their music blends elements of rock and metal with vast amounts of theatrical expression the band succeeds in evoking most extreme reactions. They are really extroverted and kind of crazy on stage. //
http://www.direngrey.co.jp
/
https://www.facebook.com/direngreyofficial
// Setlist: 1. New SE / 2. Shoshaku / 3. Chain repulsion / 4. Un deux / 5. Behind a vacant image / 6. Rinkaku / 7. Magayasou / 8. Sustain the untruth / 9. Revelation of mankind / 10. Kukoku no Kyouon / 11. Red Soil / 12. The Final / 13. Rasetsukoku / -Saku- / 14. HAGESHISA TO, KONO MUNE NO NAKA DE KARAMITSUITA SHAKUNETSU NO YAMI // Rating: 6 / 10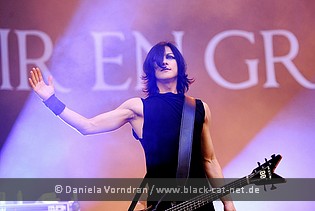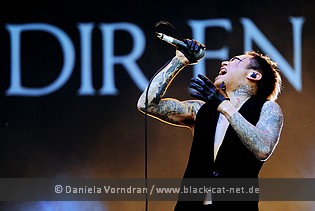 Metallica (USA) – Big Stage [Jan Rombout]

METALLICA are rather known as regulars at Rock am Ring and Rock im Park but they count as the great top seller for the new festival series. This seemed to work well because the infield and the lower ranks were filled well when METALLICA began their show with the intro of Enno Morricone's song 'Ecstasy of Gold'. A handful of people could enjoy the METALLICA show who were the best show of the evening with their backs turned to the fans. They promised a different show for the Death Magnetic tour in advance and at first, not much was repeated. They played quite hard songs and fewer hits or stunners in the first hour the way they were expected to. It wasn't a truly festival programme but the sound could be considered acceptable. The second half of the gig was more according to the audience's taste and a better mood came up. METALLICA worked again with laser beams and the balls fall down on the fans with turned on lights at the end. They relinquished pyro technology surprisingly. METALLICA did set some focuses differently but a lot remained the same. Those who have seen them multiple times have to admit regretfully that it wasn't their best day. //
http://www.metallica.com
/
https://www.facebook.com/Metallica
//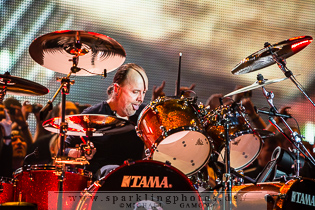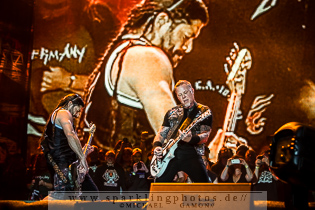 Setlist: 1. Intro: The Ecstasy of Gold (Ennio Morricone song) / 2. Fuel / 3. For Whom the Bell Tolls / 4. Metal Militia / 5. King Nothing / 6. Disposable Heroes (Followed by a guitar solo by Kirk) / 7. The Unforgiven II (First time played live since December 8, 1997 and first time played in concert) / 8. Cyanide / 9. Lords of Summer / 10. Sad But True (Followed by a bass solo by Robert) / 11. The Frayed Ends of Sanity / 12. One / 13. Master of Puppets / 14. Damage, Inc. (Followed by a guitar solo by Kirk) / 15. Fade to Black / 16. Seek & Destroy / Encores: 17. Creeping Death (preceded by 'Blitzkrieg' jam) / 18. Nothing Else Matters / 19. Enter Sandman (with 'The Frayed Ends of Sanity' outro jam) // Rating: 8 / 10
Conclusion – [Jan Rombout]

One could feel that the Arena Gelsenkirchen was not the first choice. Many things like the Boom or Bang Stage were kind quickly approachable by foot over stairs. Those who couldn't use them had to walk certain distances which made a "band hopping" impossible. There were too few signs and these were too small and thus inconspicuous. Security was often not informed very well and photographers and editors also suffered from the organisation on the first day. Luckily it got better at the next days, I was informed. But the most annoying thing – for everyone – was the sound which left much to be desired. At no point of time (apparently also on the subsequent days) the music could be enjoyed thoroughly. A 3-day long festival, a stadium is unsuitable for this format I think. Charm or flair did not come up in my opinion.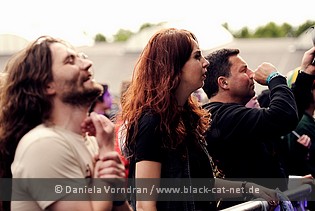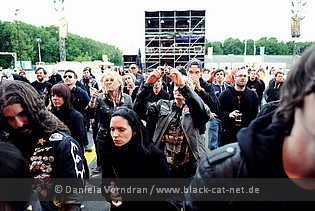 Written by Jan Rombout (with translations by Alex UltraRiot) and Daniela Vorndran
Pictures by Daniela Vorndran (
http://www.vorndranphotography.com
/
http://www.facebook.com/blackcatnet
) and Michael Gamon for Within Temptation, Faith no More and Metallica (
http://www.sparklingphotos.de
)
See also (all categories):