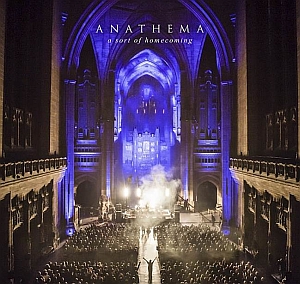 Artist: Anathema
Title: A Sort Of Homecoming
Genre: Rock / Acoustic
Release Date: 30th October 2015
Label: kScope Music
Album Review

ANATHEMA are a band who succeed because they never stand still. Having started life as a doom-metal band, they veered towards the gothic for a while before settling on a more melodic and increasingly sophisticated prog-rock sound. Shared vocals, both male and female, and a knack for composing both intricate, lengthy pieces alongside punchy, anthemic rock songs, has ensured their stock has always been steadily on the rise. Most fans have been with them from the beginning, yet they seem to gather an additional audience with each album release. There was even an orchestrated album in 2009, 'Falling Deeper', which re-worked some of the earlier, heavy material into something beautiful and delicate. Quite an achievement.
'A Sort Of Homecoming' is a concert film showcasing ANATHEMA playing the enormous Anglican Cathedral in their home city of Liverpool. As with all live albums, there hangs a huge cloud of 'you had to be there' over the soundtrack – it must have indeed been something truly special, and there is a sense of that as the album unfolds, but the between-song banter, occasional laughter at an in-joke, or the feeling that the songs need the impressive structure, acoustics and lights of the cathedral to really bring them to life, detracts from the whole. However, as these things go, it's still impressive at times. The recording is wonderful, and the clarity of the vocals especially is thrilling throughout. The audience are clearly happy to hear 'Untouchable' (parts 1 and 2) which suits this slower pace, the harmonies patient and rewarding as the song builds and builds. 'Electricity' works well, hushed and gentle, and 'Distant Satellites' is similarly dreamy and ethereal.
This formula doesn't always work. On 'Anathema' for example, the stripped back format reveals a quite boring song at heart, and 'Temporary Peace' is a curious inclusion here, despite good harmonies between Mr Cavanagh and Ms Douglas. A highlight comes with the stunningly beautiful 'A Natural Disaster', the interplay between the two vocalists and the steady, graceful orchestration raising this to a whole new level. It seems almost a pity to not end there, but the band get everyone joining in on the finale of 'Fragile Dreams' – although again, from the audience reaction there is clearly something visual whipping them into a frenzy. Alas, with just a CD, it will remain a secret and the album does somewhat fizzle out at the end.
When it's good, 'A Sort Of Homecoming' can feel celebratory, almost spiritual, and it highlights some of the best songs by the band in a unique setting. But it drags in places, and feels exclusive and cold on occasion. As with any live album, for ultra-fans and completists, this is a must-have. For the casual fan or the curious, go and see them live. And make your own live album in your head. One that's personal to you, and will stay with you far longer than this.
Tracklist

01. The Lost Song, Part 2
02. Untouchable, Part 1
03. Untouchable, Part 2
04. Thin Air
05. Dreaming Light
06. Anathema
07. Ariel
08. Electricity
09. Temporary Peace
10. The Beginning And The End
11. Distant Satellites
12. Take Shelter
13. Internal Landscapes
14. A Natural Disaster
15. Fragile Dreams
Line-up

Vincent Cavanagh - Vocals, Guitar, Keys
Danny Cavanagh - Guitar, Keys, Vocals
John Douglas - Acoustic/Electronic Percussion
Lee Douglas - Vocals
Jamie Cavanagh - Bass
Daniel Cardoso - Drums
Website

http://www.anathema.ws
/
https://www.facebook.com/anathemamusic
Cover Picture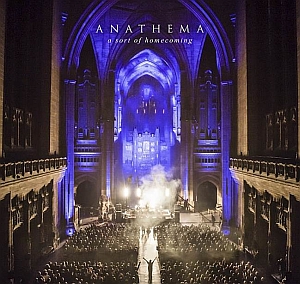 Rating

Music: 7
Sound: 9
Total: 8 / 10
See also (all categories):