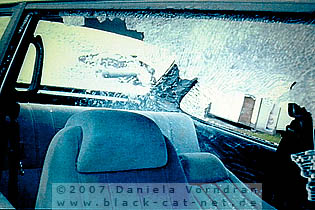 Ringlokschuppen, Bielefeld, Germany
30th November 2007
Porcupine Tree & Anathema


PORCUPINE TREE do not fit in any genre draw. Without any doubt they are one of the hardest to categorize and most innovative bands at the moment. They move somewhere between psychedelic Trip-Hop and progressive Metal as well as different other genres. Their music is simply breathtaking. For a while now, also Rock music in general seems to move away from "Radio Hit Singles" to songs with real structures and conceptual albums. Also PORCUPINE TREE follow this tradition. Support during their tour were no one else than one of the best Dark Rock / Metal formations of the last ten years, namely ANATHEMA. Those two bands together promised an extraordinary concert experience for me and some more 1,500 visitors at the Ringlokschuppen in Bielefeld. And let me just say, no one was disappointed.



Anathema

Founded in Liverpool 1990 under the name PAGAN ANGEL, the band first served more doom music. First demo 'An Iliad of Woes' was spread in January 1991 and received positive critics. Thanks to support slots for bands like BOLT THROWER or PARADISE LOST, the band quickly built up a true fan basis. Soon after the second demo, the band signed a contract with Peaceville records. During the years, the doom influences were fallen away and were replaced by Gothic and Psychedelic elements causing comparisons with PINK FLOYD. Currently, the band has not signed a record deal but anyway is working to release a new album. Also some changes in the line-up happened and the current line-up is Vincent Cavanagh (vocals, guitar, vocoder), Danny Cavanagh (guitar, vocals, keyboards), Lee Douglas (vocals), Les Smith (keyboards), Jamie Cavanagh (bass) and John Douglas (drums).
http://www.anathema.ws/
/
http://www.myspace.com/weareanathema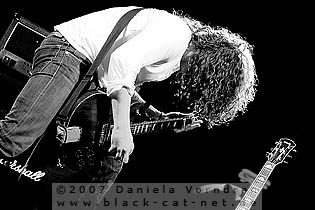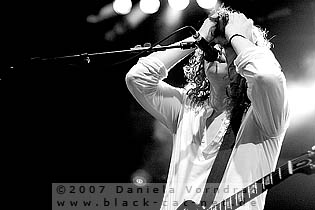 Music & Performance

Due to the fact that a friend told me the band would start earlier than announced, I arrived at the venue when the doors just opened because I did not want to miss this band. Slowly but quite constant the venue was filling up and several fans of the British guys occupied their places in the first rows. You could even spot some OPETH shirts there. Finally the band entered the stage at short before eight. When you think of ANATHEMA you know that this band offers the right sound track for people drowning in sadness, seeing only the shadows of life. The repertoire of this band is hardly to been taken out in its sadness and emotionality. Its embrace is deadly. And also the set in Bielefeld seemed like made out of sadness and emotions.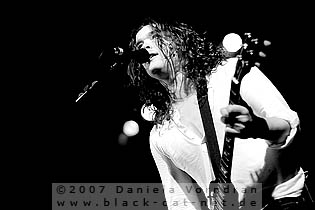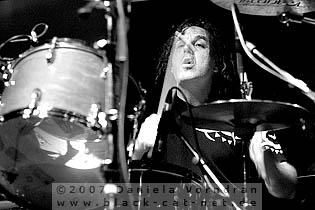 With the wonderful double 'Fragile Dreams' and 'Empty' from the genius 'Alternative 4' album (any superlatives are very legitimate here) the band opened the set. And also when one guitar did not produce the right sounds right away, very quickly a magical atmosphere was created with which the lads bewitched their audience during several years now. As already mentioned, the band currently works on a new album (two of those songs can be downloaded on the band's website) and integrated three new songs into their set. Maybe this was one too much in a set of only eight songs in total but it is very understandable that the new material should be promoted. Those new songs offer softer sounds than you know it from the past even though the track 'Angels walk among us' is quality-wise connected to the older songs. From the mentioned older songs, also 'Deep' was presented. Furthermore, the band offered two songs from the latest studio album 'A Natural Disaster' from 2003.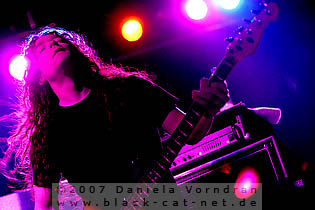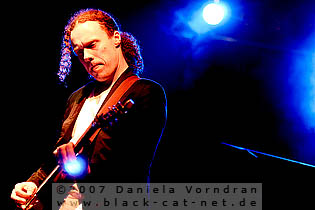 In the foreground, definitely the three brothers with their guitars acted while keyboardist Smith and drummer Douglas built up the musical basis in the background. The whole set lasted about 45 minutes and according to several fans it could have been much longer. The final instrumental 'Hindsight' with its sampled female monologues was very haunting but anyway another old classic would have crowned the set. Sadly there was also no time for an encore but we hope to see ANATHEMA soon on solo tour in Germany, maybe when the upcoming album is released.

Setlist

01. Fragile Dreams
02. Empty
03. A Simple Mistake
04. Closer
05. Angels walk among us
06. Deep
07. Flying
08. Hindsight
Rating
Music: 9
Performance: 7
Sound: 8
Light: 7
Total: 8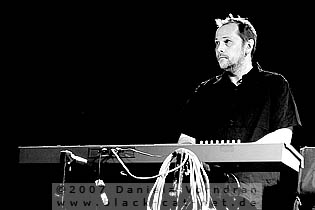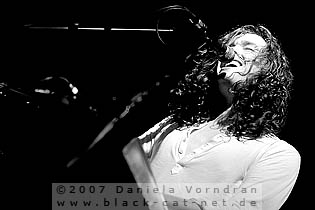 Porcupine Tree

Creative head of PORCUPINE TREE is Steven Wilson who is well-know also for his work as producer i.e. of OPETH or ANJA GARBAREK. Besides that he's working in several side projects. Wilson founded PROCUPINE TREE as creative valve but anyway the first release in 1992 - 'On the Sunday of Life' - had not much to do with the current sound of the band. Over the year, Wilson created progressive Rock combined with Ambient and Trance. First a solo project, PORCUPINE TREE soon became a real band and released the first "real" album 'Signify' in 1996. In December 2006 the band started recording the ninth studio album 'Fear of a Blank Planet' (Roadrunner Records) which turned out as the most ambitious album so far. Since April 2007, the band is on tour around the world. PORCUPINE TREE are Steven Wilson (vocals, guitars), Richard Barbieri (keyboards), Colin Edwin (bass) and Gavin Harrison (drums). John Wesley on guitar completed the line-up.
http://www.porcupinetree.com/
/
www.myspace.com/porcupinetree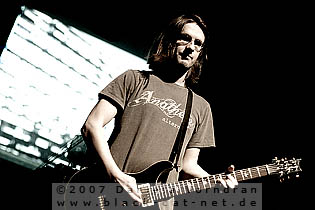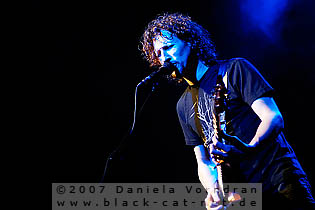 Music & Performance
PROCUPINE TREE present expansive soundscapes of melodies and ambient rock experiments. Within their work, you can also find used string arrangements - on the album 'Lightbulb Sun' - built on a high quality mix of song writing, great sounds and the dynamics of rock, presented in an intense and organic way. The latest album 'Fear of a Blank Planet' lyrically deals with a 21st century cocktail of MTV, sex, prescription drugs, video games, the internet, terminal boredom, and subsequent escape. The topics of this album have been transformed to video projections by long-time collaborator Lasse Hoile which were projected onto a screen in the background during several songs of the show. These videos created a dark and surreal visual counterpoint to PORCUPINE TREE's music.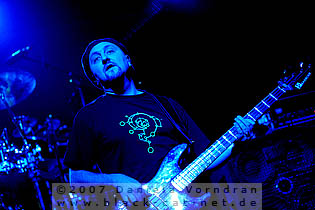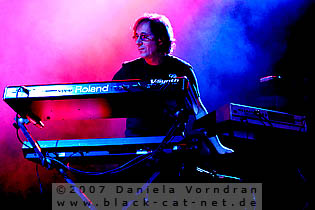 Soon after ANATHEMA finished their set, it was time for the headliner of this evening. Mastermind Wilson entered the stage of course barefoot accompanied on the left side by Mr. Wesley on guitar who delivered some second vocals every now and than as well. Bass, keys and drums completed the line-up. Wilson acted quite unpretentious with clean but not too intrusive chant while his "ancient" ANATHEMA short caused further sympathies. Quite funny was also his head banging he's done during the harder parts of the set. Musically, the band uses same influences as the opener but expands it with wide Prog Rock - which causes comparisons to such heroes as PINK FLOYD - and spices it up with an extra pinch of modern ingredients. The current album 'Fear of a blank Planet' was honoured with long compositions such as 'Way out of here' or the encore 'Sleep Together'. Also the opener 'Open With' from the 2005 'Deadwing' album was very impressive.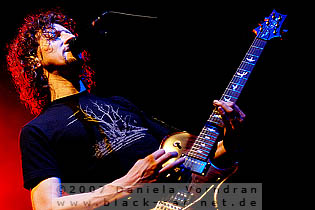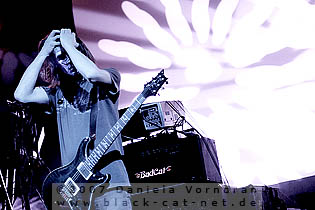 The audience was amazed, dreamt and nodded commendatory to the beat - what was not that easy if you did not know the songs because they are party very complex. Well behaved, the glass wearing genius thanked his German fans that they brought the current album into the top 20 of the charts - what happened for the first time to PORCUPINE TREE. Well, the target group probably belongs to the "honest buyers" just because of its age. Besides that you could not really spot any mobile phones recording parts of the set. Furthermore the Brits had an interesting instrumental in stock to be released as EP in February 2008. Besides 'Nil Recurring' three more songs were recording during the sessions for the current album but have not been released so far.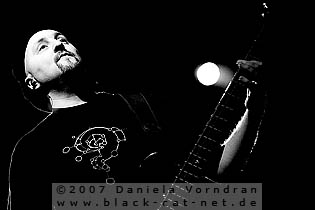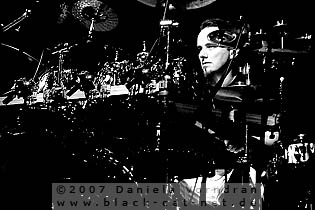 After about two hours of high-quality music the evening found its end. This show was probably one of the highlights 2007 for lovers of demanding rock music.
Setlist

01. Blank Planet
02. What Happens Now
03. Sound of Muzak
04. Lazarus
05. Anesthetize
06. Open Car
07. Dark Matter
08. Blackest Eyes
09. Nil Recurring
10. A Smart Kid
11. Way Out Of Here
12. Sleep Together
---
13. Even Less
14. Trains
15. Halo

Rating
Music: 8
Performance: 7
Sound: 8
Light: 9
Total: 8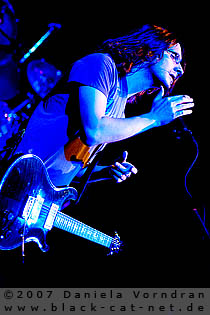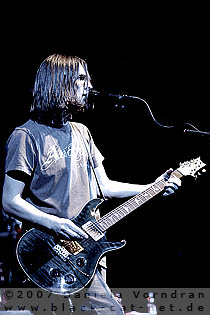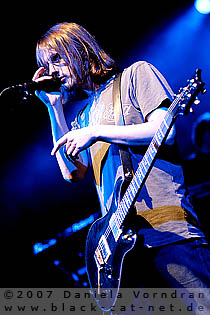 All pictures by Daniela Vorndran (
http://www.vorndranphotography.com/
/
http://www.black-cat-net.de/
/
www.myspace.com/vorndranphotography
)
{jos_sb_discuss:17}
See also (all categories):