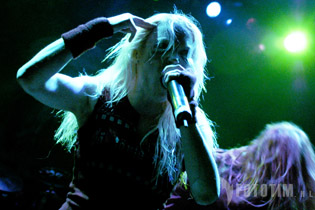 Musis Sacrum, Arnhem, The Netherlands
December 9 2006
Aeternus, Flesh made Sin, Melechesh, Moonsorrow, Necrophobic, Skyforger, Tankard, Anathema, Arch Enemy

The Arnhem Metal Meeting was held for the third time. Also it was the third year in the Musis Sacrum in Arnhem. The Musis sacrum is officially a theatre. Only once a year all the seats are put in storage, the place get decorated with all different posters, big PA sets are pulled out, and The Musis sacrum is turned into a Walhalla for the Dutch metalheads. This year again, the AMM team worked their butts off making sure there was a nice varied line-up and everything was arranged. So on Saturday morning me and my companion made our way from Utrecht to Arnhem. An adventure to come…
I wasn't feeling very well, so we decided to leave on time, to make sure we got their on time. Off course the Dutch trains had a delay, we arrived 30 mins later then expected, and managed to miss today's first band which was Thronar. I've heard from several people they played well. Once we were ready with hanging up our coats and getting coins for drinks, we walked into the slamming sound wall of Aeternus on the Nuon stage.
Aeternus
Formed in 1993, this Norwegian extreme metal band likes their music fast and loud. The band has got quite a name in their years, and has toured with a lot of big names like Emperor, Deicide and Mayhem. On tour trough Europe (well, mainly Germany) to promote their 2006 album HeXaeon, they would to two shows today. One show in the afternoon in Arnhem, And in the evening in Germany again. Whoever said rock stars don't work hard?
Music
Aeternus equals extreme death metal, influenced by different styles. The band it selves like to describe it as Dark metal. Sounds cheesy! When I walked into the venue the first thing that happened was me slamming into the door again. The sound was incredibly loud and not balanced at all! Such a waste. This music is pretty massive, its not easy to make it sounds great in the entire venue, but just opening up all the volume it really not going to work. Even with earplugs it hurt. Because of this I didn't really get a chance to listen how the guys were actually doing. After a few songs we left.
Performance
On stage this now four man formation is very strong. Even though they haven't been on stage in a couple of years, this tour really has done them good, all members knew what they were doing on stage and it looked like they were very happy to be there. Their energy was very present and made it nice to watch.
Rating
Music: 7
Sound: 4
Light: 6
Performance: 7
Total: 5 (5.2)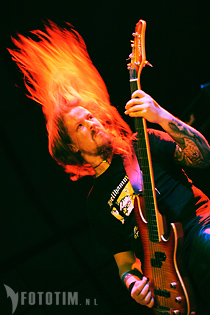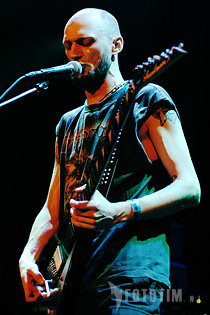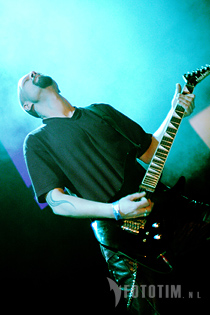 Flesh Made Sin
Flesh made sin, a band from below the rivers, Tilburg, was performing in the basement, the D&T stage. They were added to the line up last minute. Because of this there were a few line up changes. Flesh made sin was supposed to play on the Nuon stage, but apparently this worked out better. Alright then. At least it was there on time. With no air-conditioning, and having a lot of trouble walking it was nice to find me a good spot on time.
Music
The bands dream was to make 80's trash metal. They tried all their best. And are doing pretty well. Also in the basement to sound wasn't optimal, but it wasn't so extremely loud, so I had some time to just watch and enjoy the music. Whilst actually playing some new stuff their was found a good balance between the older as well. The audience liked it and was moving quite well to the trashy beats. Vocalist Twan was making enough noise for the rest of the band, with some pure deep grunts. Fast beats are mixed with nice guitar solos, the music varies so much its nice to keep watching.
Performance
Their performance is so much fun to watch. These guys are having a blast on stage. In between the songs they can argue like married couples, and whilst playing they are concentrated and play with a lot of energy. It's nice to watch. They keep urging the audience to move and well, and it worked!
Rating
Music: 8
Sound: 6
Performance: 7
Light: 5
Total: 6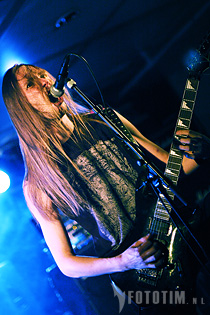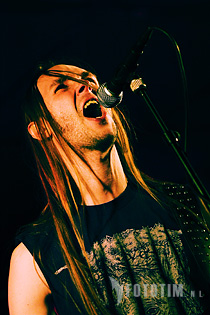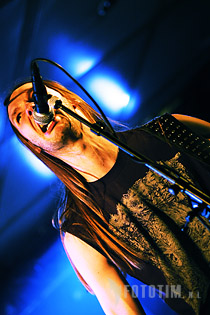 Melechesh
Back to the Nuon stage it was, for Melechesh. This Band is from Jerusalem. They have been around for quite some years now, and have just released their fourth full length album Emissaries. It took the band quite some time complete their line-up and release their music. Living in Jerusalem didn't always make things easier. After the release of their demo 'As Jerusalem Burns' the Jerusalem police accused the band of engaging in cult-activities. The band was cleared of these accusations a few years after, but it did put a stamp on the band for quite some time. After this, thing could only go up, and up they went. Melechesh kept exploring their music, and topped this of so far with Emissaries. This was their first performance in Holland, and the band was looking forward to it!
Music
Thy work hard try to make something original. The black metal is quite extreme and mixed with Mid-Eastern folk, and a slice of Mediterranean drums. This mix worked out very well, and makes the band unique in what they do. Once again, the sound was way too loud. My ears were pounding afterwards. And this is with protection. Besides this the sound of Melechesh is not as massive as the previous bands, this was a bit easier to balance. It blended in better with the atmosphere.
Performance
The performance of the band was very raw and true. The band seemed very happy to be on stage, they thought it was about time Melechesh would play in Holland. In the end the performance really added the looks to the sound. with a big backdrop it was quite easy to see who was playing.
Rating
Music: 8
Sound: 4
Performance: 7
Light: 6
Total: 6 (6.2)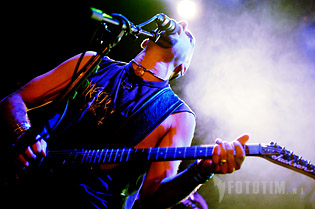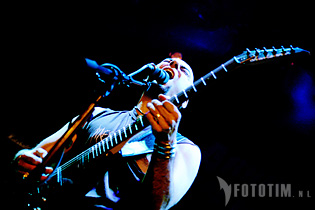 Moonsorrow
Moonsorrow was also performing on the Nuon stage. When we entered is was not very busy yet, and the roadies were working hard to make everything look just fine for Moonsorrows' gig. The band has been around for some years now, and with their epic metal folk they make to audience to back to the time when the Vikings wandered across land and sea, and saluted their gods. With their new album Viides Luku – Hävitetty, being released 10th of January next year, Moonsorrow is busy touring and promoting their old and new music. Until a few years ago, the Finnish men never played in the Netherlands. Luckily, this has changed and to day they were at the AMM.
Music
Compared to most of the bands performing today, Moonsorrow has more spherical tunes, using keys to give the music a more bombastic sound. The songs are all in native language. It always surprised me with Finnish bands singing in Finnish, that all the Dutchies at a gig can sing along to the tracks. Also here, during the well known songs of Moonsorrow people were singing along. The sound was a lot better. Moonsorrow's sound isn't as massive as the previous bands and is also slower. The sound wasn't as loud as with the other bands, and because of the nice rhythm in the music I was really enjoying this!
Performance
On stage most of the members had taken their shirt of and covered themselves in blood and dirt. All with their hair loose and uncombed, the bands tries to come across as rough and raw. All of the members work well on stage. They like to move and to interact with the audience. The crowd picked this up and especially in the front people were going crazy. They performed well and used the epic music to make dramatic and theatrical moves and poses. I was pretty convinced of this image so far, until the singer started drinking water from a little SPA bottle! That's not very Viking like! If they switch that bottle to a horn with beer, their gig would be almost perfect ;).
Rating
Music: 8
Sound: 7
Performance: 7
Light: 6
Total: 7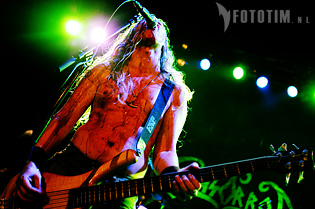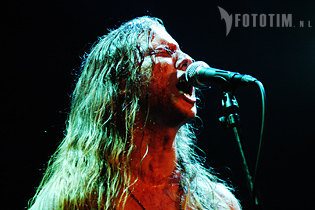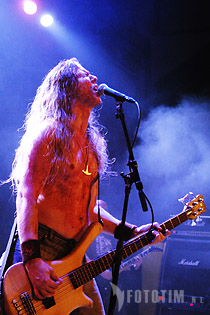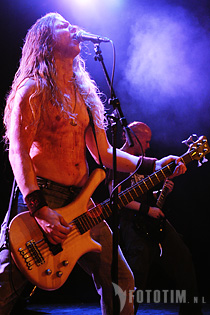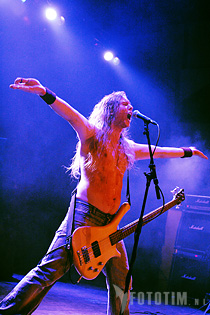 Necrophobic
From Finland's folky Moonsorrow on the main stage to Sweden's death and black metallers of Necrophobic playing the upstairs stage was quite a difference on itself. The band who have been around since the early nineties have been a very well-kept secret from the underground for about ten years .But with their releases of "Bloodhymns" (2002) and this year's "Hrimthursum" the band led by former Therion guitar player Sebastian Tobias Sidegård, who is now doing bass and vocals, have more and more come out of the shadow which resulted in a small headlining European tour only two month prior to this show.
Music
The four-piece Necrohobic plays a rather raw and aggressive mixture of old school death and Scandinavian black metal. Their style is rather unique and hard to compare to other bands because like for example it is less black than a band such as Dissection in their "Storms Of The Lights Bane"-era and it comes with more black influences and technical difficulties like Unleashed for instance. But nevertheless Necrophobic can be highly recommended to people who are into those bands.
Performance
Compared to their performance on the earlier mentioned European tour this show was quite the opposite in some ways. First of all Necrophobic played for a much bigger crowd, probably even more people that visited their three Dutch shows combined late September/early October this year. Second of all the sound was quite a mess. With the heavy aspects of Necrophobic's music the sound balance should be nearly perfect which today unfortunately was not the case. The steady factors however were again the band's incredibly tight playing which again didn't come with a spectacular performance and the strong set list with the accents to the newer material. In my personal opinion the crowd's responses could have been better but the same could be said – and was probably due to - the rather unbalanced, rather noisy sound mix which also would have been much nicer with a number of decibels less. But Necrophobic are definitely a band to keep an eye on. Their last two albums are therefore highly recommended.
Rating
Music: 8
Sound: 5
Performance: 7
Light: 5,5
Total: 6 (6.4)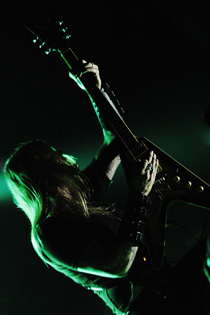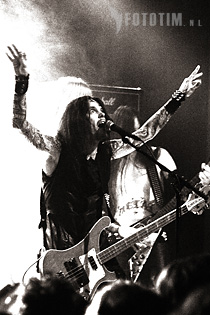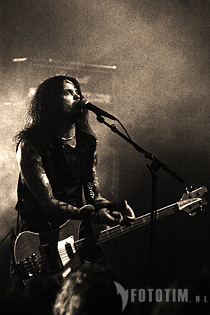 Skyforger
At the same time Necrophobic was doing their thing upstairs. Downstairs the folksy metal went on after Moonsorrow for another short hour. In the basement I was to watch Skyforger. With five people on stage there was hardly enough room for all of them on stage, but they managed. Found in 1995 in Latvia they are one of the best folk metal bands around I reckon. They have the outfit, they have the bearded faces, and besides al the metal instruments they have Kaspars, who is responsible for all the folk instruments.
Music
Like said, Skyforger makes folk metal. There music does vary al lot from Moonsorrow, for example. Whereas Moonsorrow used their epic sounds to make the show one big experience, Skyforger can play very well, in the basement venue. Their music is more energetic and has gives a party feeling. I felt like being in a pub, and everybody singing along, clutching together like one happy family. With 3 people on stage doing vocals, I felt sometimes like listening to a choir. The thing that I noticed most of all was Edgars doing backing vocals. I was standing a bit on the side of the stage, and honestly I don't think he needed a mic. That guy has got one monstrous voice! With Kaspars doing the folk instruments the band sounds real.
Performance
Even though they hardly fitted on the stage all together, they did their very best. The band tried to move as much as they could, which resulted in one stepping back to bang his head, the other leaning to the front and the next one was sitting in one knee and banging hit head. It was a messy stage, but a lot of fun to look at. All the members did their best to dress up as pagan and folk like a possible, probably making it unbearable for themselves. It was very clammy and warm downstairs. The best part of the show probably was Kaspars urging the crowd so sing along, raising hit fists into the air. One of those fists was holding a tiny soprano flute. Very metal! The band almost burst with energy and so did the crowd. Even though the sound wasn't too good, this really wasn't anyone's concern. Two thumbs up!
Rating
Music: 8
Sound: 6
Performance: 8
Light: 5
Total: 7 (6.6)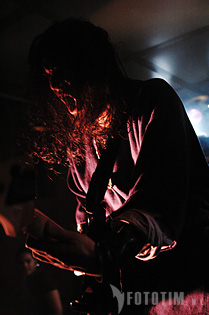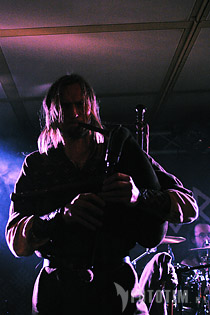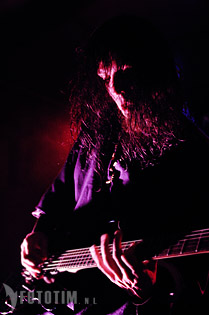 Tankard
Having been around for ages, this band is the founder of alcoholic metal. They have a long history, a long discography and by now the band has traded in the classrooms and tiny venues for main stages, making the crowd going mental.
Music
Their music is fast and energetic. With a pounding rhythm and bright voices it is hard to not get sucked into the music and let yourself go. So this was exactly what most people did. They partied hard. The energetic beats and various riffs let know Tankard not only knows how to drink beer but sometimes they can even make music.
Performance
With off course besides only drinking beer on the stage, some more bound to happen. This really wasn't that positive though! Every time Gerre would lift his arms hit belly would fall out from underneath his shirt! I know big beer bellies are very metal and all when it comes to men, I find it gross :P. Besides this he wasn't running around enough to loose at least a few pounds, and also the rest of the band was very active. I did not stay in for very long. Listening to some songs from Beast of Bourbon I decided the crowd was a bit much for me.
Rating
Music: 7
Sound: 6
Performance: 8
Light: 6
Total: 7 (6.5)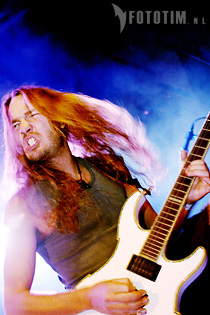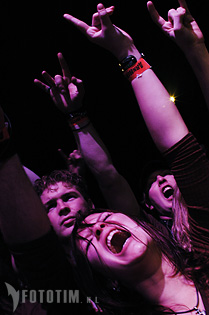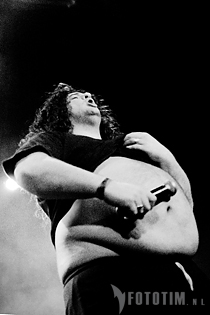 Anathema
Anathema. Progressive rock, at a metal meeting. Yep it is a bit different. But it was a nice change, a time to just let your thoughts go, on the beautiful sounds and listening to the clean and emotional vocals of Vincent. They have been around for quite some time, and are known by practically every music fan. This band is 16 years old already, and started by Daniel (Danny) Cavanaugh. With their demo 'All faith is Lost' they really put the band out there. People enjoyed the renewing sound and feeling. Within these years they have grown to be one of the most famous UK bands right now.
Music
Anathema was the odd one here. With their music mainly consisting of rocky emotional tunes and clear vocals, it was a delight after all the grunting and screaming guitars. The sound was quite good, not so loud. The progressive sounds of Anathema aren't just a massive wall of sound. Their music is build up from different layers and this we could all hear quite well tonight. Unless we happened to be really drunk ;). The band started the show with a new song, I couldt quite catch its name, but I seemed to be a bit more experimental then their older stuff. Most of the gig was build up from older material. During the gig Vincent also took care of the keys, since Les Smiths wasn't performing tonight.

Performance
Right before the band walked on stage the stage was filled with blue light only and smoke. With quite a long intro the audience had plenty of time to settle. One by one the members walked on stage, the lights hardly changed. They were quite sober. The band performed alright. They don't move that much and every now and again it looked like they weren't having fun on stage, but hey, they were booked. They did their thing nothing more, nothing less. After a while a moved a bit more to the back, and listened on form there.
Rating
Music: 8
Sound: 8
Performance: 6
Light: 7
Total: 8 (7.7)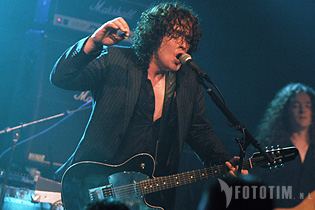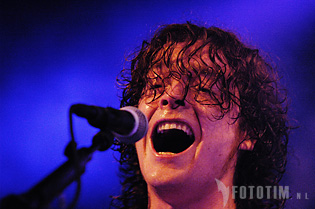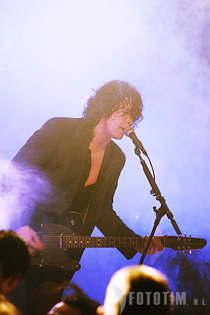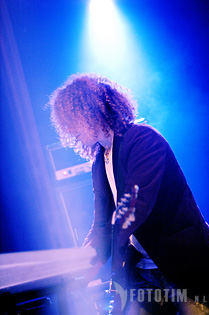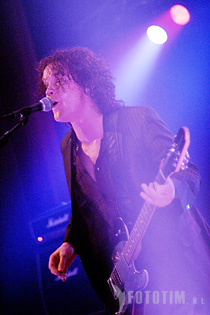 Arch Enemy
I took the lift down, and made my way to the Nuon stage for the last time. It was time for this years headliner, the Swedish/German formation, Arch enemy. Nowadays known for their front woman Angela Gossow, and loved by many because of their looks and energy on stage. Formed by guitarist Michael Amott, they have established quite a name and have toured with festivals like Ozzfest, and have performed on Wacken Open air several times. Being on their European Doomsday tour, they were at the right place at the right time, and rocked the Musis Sacrum as a true headliner.
Music
Arch Enemy's aggressive speedmetal is played at tight as they could. The setlist did not vary much from last year. Their well known hits like 'Ravenous', 'We will Rise', and 'Dead Eyes See no Future' were played with verve. Some new tracks were played as well. In between al the members had their moment of fame with quite long solo's. The audience seems to like this quite well. The sound was quite good, with a better balanced sound the music could be enjoyed more.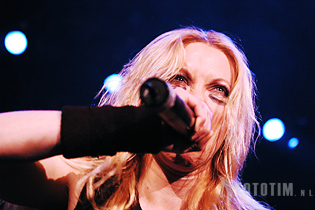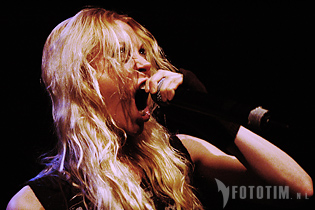 Performance
The performance mainly stood on the enthusiasm of Angela. The way she stands on stage makes people hard to believe she is a woman of average height and weight. She has a huge personality. The rest of the band is doing their thing, making jokes with each other and are just enjoy being on stage. Same as the setlist, the band has not altered their show much since last year. The lights weren't very good, again. That seemed to be the curse of the day.
Rating
Music: 8
Sound: 8
Performance: 7
Light: 6
Total: 8 (7.7)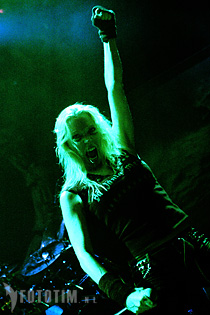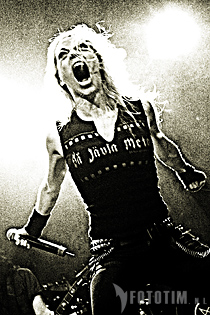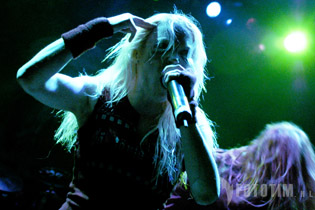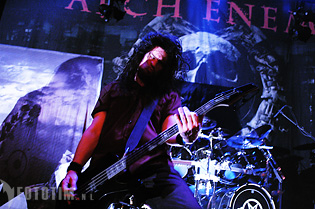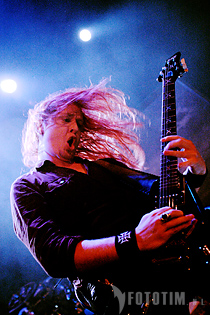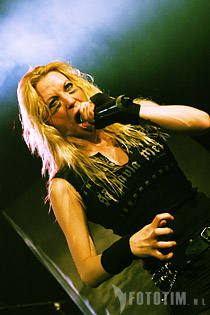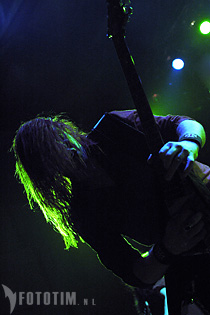 Conclusion
After the headliner I had to leave to catch my train back home. I enjoyed this day and the bands very much. All the venues had a merchandise corner, were the bands could sell their stuff. I wasn't very impressed with the amount. No metal market here today! Last thing I would like to notice: the food could have been better. Since I don't eat meat, there was no way I could have survived without going out to eat.
I reckon this is one of the best gatherings for metalheads in Holland, and I think it was no surprise it was sold out. Counting down to AMM 2007 already!
{jos_sb_discuss:18}
See also (all categories):