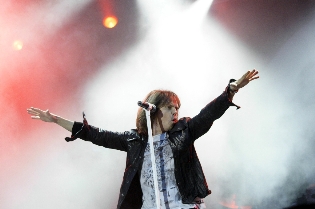 Catton Hall, Walton on Trent, Derbyshire, UK.
14th, 15th, 16th August 2009
Bloodstock Open Air Festival Day 3: Beholder, Sabaton, Girlschool, Equilibrium, Anathema, Turisas, Moonspell, Amon Amarth, Satyricon, Europe

We already reached the third day of the festival being headlined by famous EUROPE.
Beholder (11.00-11.30)

Having played a lesser slot at Bloodstock in 2007, this year saw BEHOLDER take to the place that is rightfully theirs... the main arena. I can't tell you how much I enjoyed this true honest to goodness unpretentious band. They were simply brilliant. From the fabulous dreadlocked guitarist to the charismatic front man, these guys were obviously having the time of their lives and doing what they truly loved, playing hardcore infectious metal. This band will be all over the place before you can blink so I suggest you check out their solid and earthy version of the genre. Great!
www.myspace.com/beholderuk
Rating

Music: 8
Performance: 9
Sound: 7
Light: - (daylight)
Total: 8.2 / 10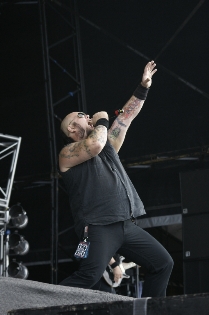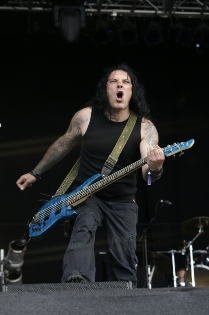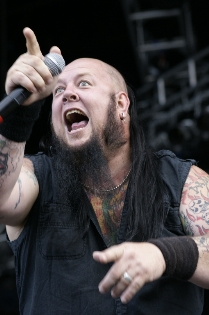 Sabaton (11.55-12.25)

These guys are hard, happy and heavy, claiming the stage with a feral energy, the lead man running form side of the stage to the other beckoning the audience into their world of metal. Tight hot riffs and glorious large noises tore from the speakers to produce a setlist which was exciting and dynamic and was excellently received by the fans. Certainly different and certainly worthy of a look with good sound and an excellent live flavour!
http://www.sabaton.net/
/
www.myspace.com/sabaton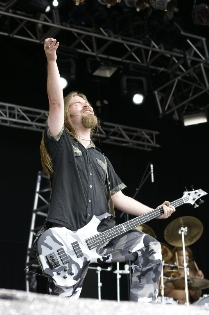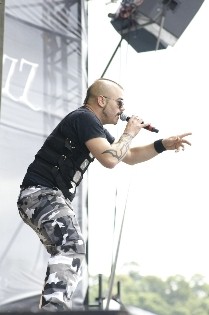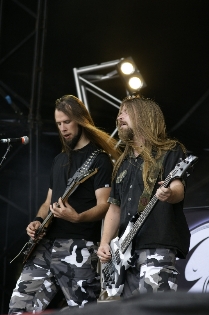 Setlist

01. Ghost Division
02. The Art of War
03. 40:1
04. Cliffs of Gallipoli
05. Primo Victoria
06. Metal Machine / Metal Crüe
Rating

Music: 9
Performance: 9
Sound: 7
Light: - (daylight)
Total: 8.7 / 10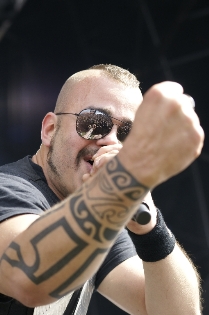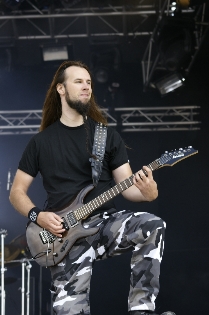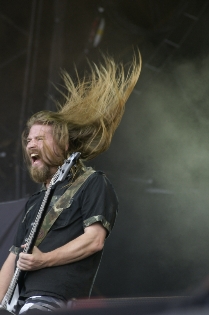 Girlschool (12.50 -13.30)

It was a pity that the audience clearly didn't expect GIRLSCHOOL to be any good and for the most part had wandered off by the time they arrived on stage. However a lot wandered back when after a few technical difficulties, these ladies who have been busy for the last God knows how many years doing this, struck up with solid self confidence. Every track I knew from my cradle and it was simple in its format but slickly delivered with a friendly self depreciation that won the audience over and surprised more than a few people. Showing particular style was the lead guitarist who seemed to be thoroughly enjoying herself and their brief but well received set came to and end all too soon.
http://www.girlschool.co.uk/
/
www.myspace.com/girlschool1
Setlist

01. C'mon let's Go
02. Not for Sale
03. Hit and Run
04. I Spy
05. Screaming Blue Murder
06. Coming at You
07. Everything
08. Race with the Devil
09. Demolition Boys
10. Emergency
Rating

Music: 7
Performance: 7
Sound: 7
Light: - (daylight)
Total: 7 / 10
Equilibrium (13.55-14.35)

Fantastic black folk metal band from Germany, they are one of my personal favourites of the whole festival. They make the most majestic epic noise on the planet and their set was truly outstanding with particular merit going to 'Blut im Auge'. I may be slightly biased as this is exactly the genre of music that I love, but the crowd seemed to agree with me, and whilst folk music in Derbyshire is by and large someone singing unaccompanied with a team of Morris men in tow, EQUILIBRIUM's brand of heart wrenching head banging folk really woke up the English countryside and showed how folk metal should be at it's best. Totally recommended!
http://www.equilibrium-metal.de/
Setlist

01. Prolog auf Erden
02. Wurzelbert
03. Snüffel
04. Blut im Auge
05. Met
06. Unter der Eiche
07. Unbesiegt
08. Nordheim
Rating

Music: 9
Performance: 9
Sound: 7
Light: - (daylight)
Total: 8.7 / 10
Anathema (15.05-15.50)

I've never really liked ANATHEMA overly much but today they delivered a set that is worthy of any stage in Europe. With Nick Barker on drums things tanked along fervently and the crowd was well aware from the off that they were witnessing a very special performance indeed. It was a set that was too short by half for the calibre of the band that they are and by the time it culminated in a genius and impassioned version of IRON MAIDEN's ' Phantom of the Opera' I had completely changed my mind about the band. They earned my deepest respect as performers and deserve all of the very great praise that the audience and I hope the media will heap upon them.
http://www.anathema.ws/
/
www.myspace.com/weareanathema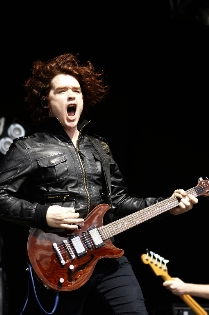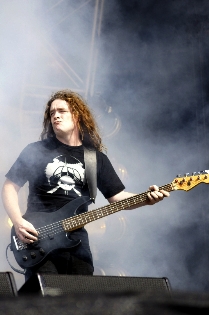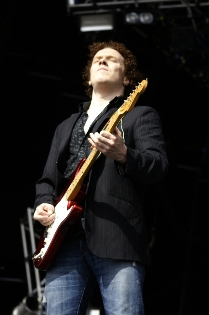 Setlist

01. Fragile Dreams
02. Empty
03. Deep
04. A Natural Disaster
05. Sleepless
06. A Dying Wish
07. Phantom of the Opera (Iron Maiden cover)
Rating

Music: 8
Performance: 8
Sound: 7
Light: - (daylight)
Total: 7.8 / 10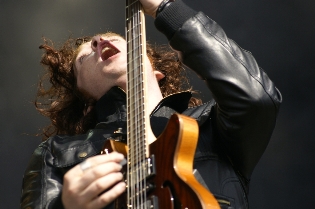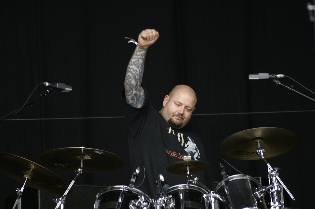 Turisas (16.20 - 17.05)

I was so impressed by ANATHEMA, that I thought there would be problems following them, but right from the off these crazy people from Finland totally owned the arena. They had endless diehard fans present, all dressed to impress including one disabled guy in a stretcher wheelchair which was shaped like a longboat (awesome!!!) but whether you were a fan of the band or not to start with you were by the time they'd finished. Their lead singer totally rocks, commanding the audience with a vehement enthusiasm whilst the fiddler resembled something from a mythical realm as he carouses around in a sort of sinister rampage so totally at odds with the cheerful gentleness of the fabulous lady accordion player.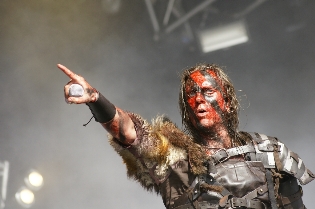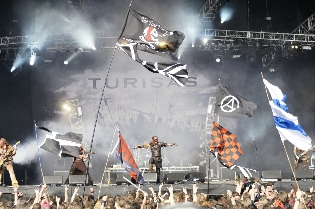 They actually included a BONEY M cover (Rasputin), an act of daring which would have been enough to see any other band lynched under normal circumstances, but their frantic metal version had everyone instead singing along and cheering for all they were worth. The finale saw confetti fired out of huge cannons into the summer sun, a truly exceptional performance from, in my opinion, the band who gave the best performance of the whole Festival without a doubt. I will never miss an opportunity to see them live again if I can possibly help it.
http://www.turisas.com/
/
www.myspace.com/turisasofficial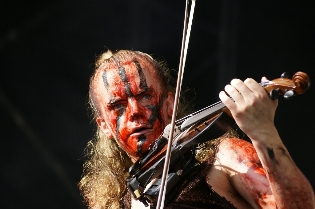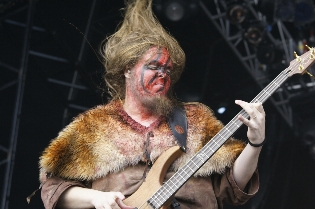 Setlist

01. To Holmgard and Beyond
02. A Portage to the Unknown
03. One More
04. Rasputin (Boney M. cover)
05. Battle Metal
06. Miklagard Overture
Rating

Music: 9
Performance: 10
Sound: 7
Light: - (daylight)
Total: 9 / 10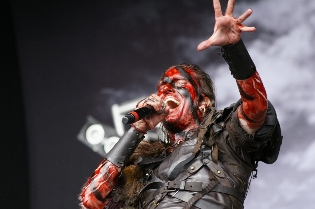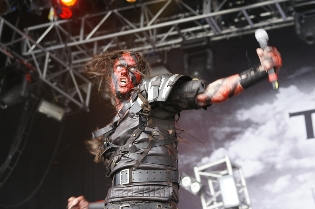 Moonspell (17.35 - 18.20)


I love MOONSPELL, but they got somehow dragged down and carried to a rather lacklustre place by all the spare adrenaline kicking about after TURISAS. Despite this, they gave a sterling performance, full of emotions and flair, the lead singer smouldering sombrely in good fashion. On any other slot they would have been proclaimed excellent, but their unfortunate billing after the TURISAS spectacular left something wanting and that's a real pity because they put on a very tight, good show which the audience knew they should have enjoyed and did, albeit it seemed a little tame.
http://www.moonspell.com/
/
www.myspace.com/moonspell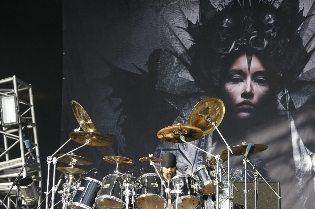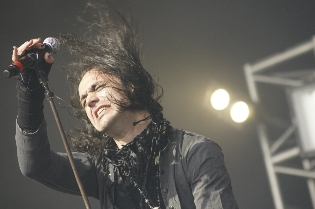 Setlist

01. At Tragic Heights
02. Night Eternal
03. Finisterra
04. The Southern Deathstyle
05. Opium
06. Blood Tells
07. Vampiria
08. Alma Mater
09. Full Moon Madness
Rating
Music: 8
Performance: 8
Sound: 7
Light: - (daylight)
Total: 7.8 / 10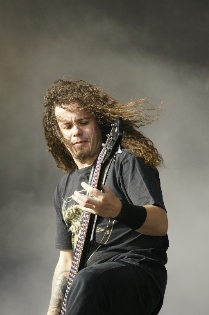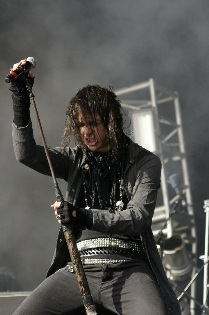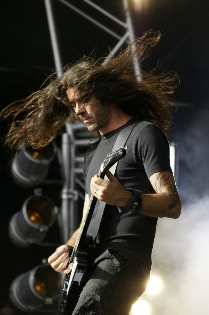 Amon Amarth (18.50 - 19.50)


AMON AMARTH had a sort of strange majesty about them because they literally filled the stage with their presence. Riotous Viking lyrics cascaded down on the assembled like a rain of fire and those present replied with ardent urgent appreciation for what they were being given. Massive vocals and front man style from Johan Hegg meant they claimed Bloodtsock for their own leaving SATYRICON a very hard job to follow them.
http://www.amonamarth.com/
/
www.myspace.com/amonamarth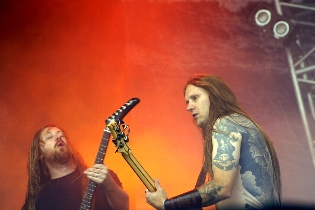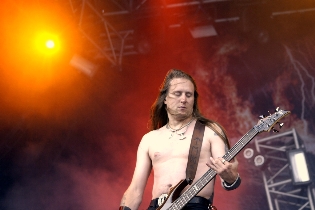 Setlist

01. Twilight of the Thunder God
02. Free Will Sacrifice
03. Asator Play Video
04. Varyags of Miklagaard
05. Runes to My Memory
06. Guardians of Asgaard
07. Live for the Kill
08. Victorious March
09. The Pursuit of Vikings
10. Cry of the Black Birds
11. Death in Fire
Rating
Music: 8
Performance: 9
Sound: 7
Light: Daylight
Total: 8.2 / 10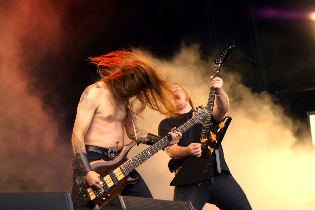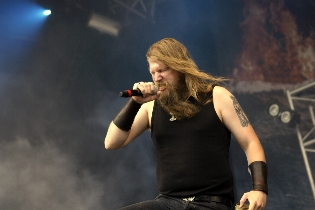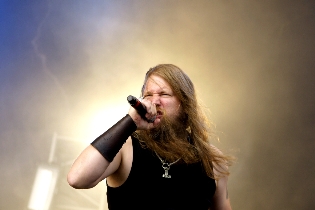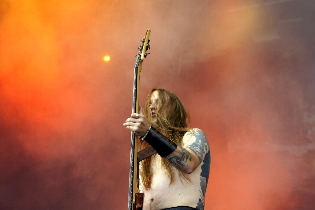 Satyricon (20.20 - 21.20)


And follow AMON AMARTH they did and in beautiful style too. Although the majority of their excellent set was their newer stuff it was well worth waiting for 'Mother North' their finale. Satyr lurked and strode about the stage owning it and the audience completely. It's always nice to see someone totally at home on a stage and this is the impression he gives, of utter relaxed confidence. The lighting was amazing and the sound very good, making them easily worthy of their near the top billing. An awesome set!
http://www.satyricon.no/
/
www.myspace.com/satyricon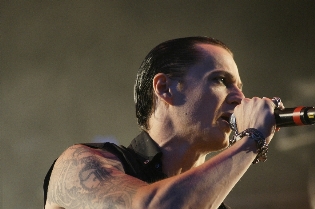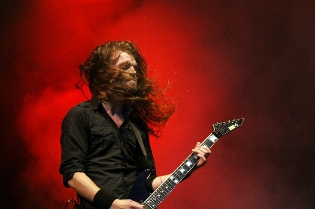 Setlist

01. Commando
02. The Wolfpack
03. Now, Diabolical
04. Black Crow on a Tombstone
05. The Pentagram Burns
06. Den Siste
07. K.I.N.G.
08. Fuel for Hatred
09. Mother North
Rating

Music: 9
Performance: 9
Sound: 8
Light: 9
Total: 8.9 / 10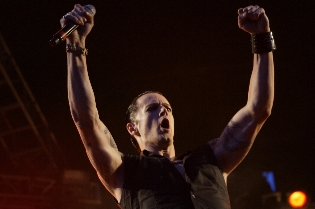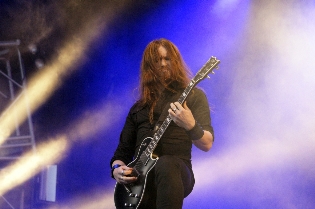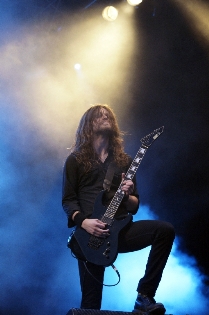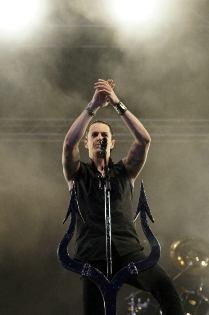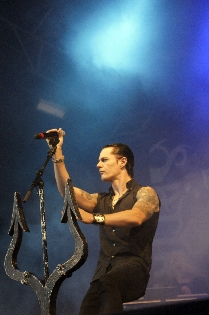 Europe (22.00 -23.30)


All weekend we'd been regaled with people yelling "Da da da daaaaah, da da da da daaaah, da da da daaah, da da da da daaaah" a la 'Final Countdown', and now the time was upon EUROPE to prove they were more than the sum of their greatest hit. They entered to huge appreciation as the opening bars of 'Last look at Eden' rang out. Completely comfortable they thoroughly enjoyed themselves for the whole set and the crowd just loved them. There had been a lot of nay sayers who had derided them as a choice for the ultimate slot, but they soon proved everyone wrong and gave a performance of outstanding merit, with great sound and even better lighting.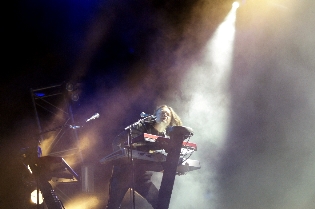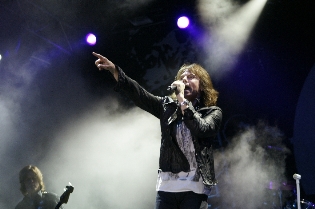 As they exited the stage with 'Final Countdown' still unsung, the crowd cheered and called for their return and sure enough back they came for their two song encore. They finished with the song everyone had waited all weekend to sing and when it came it was hard to hear the band for the audience joining in and a huge party atmosphere, something like New Years Eve permeated the arena and led to some awesomely good after show parties. EUROPE is without doubt a great band live. Check them out.
http://www.europetheband.com/
/
www.myspace.com/europe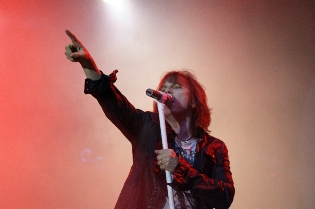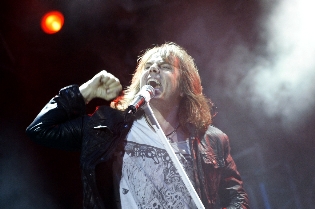 Setlist

01. Last Look at Eden
02. Love Is Not the Enemy
03. Superstitious
04. Scream of Anger
05. Sign of the Times
06. Always the Pretenders
07. Girl from Lebanon
08. Sevens Doors Hotel
09. Let the Good Times Rock
10. Optimus
11. Seventh Sign
12. Start from the Dark
13. Ready or Not
14. Rock the Night
---
15. The Getaway Plan
16. The Final Countdown
Rating

Music: 8
Performance: 9
Sound: 8
Light: 9
Total: 8.5 / 10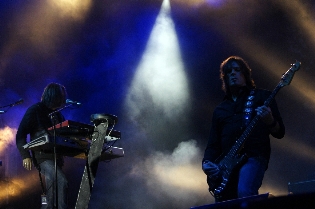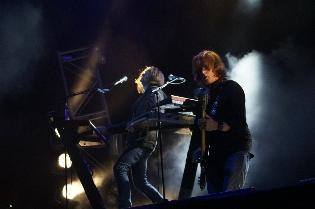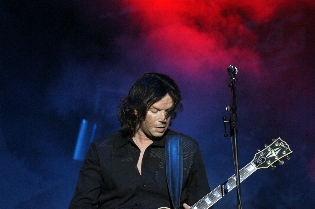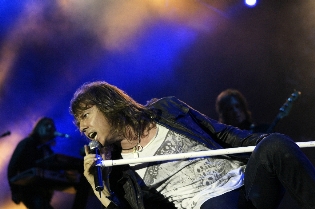 All pictures by Maddi Isaacs
{jos_sb_discuss:18}
See also (all categories):