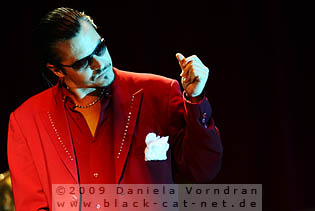 Flugplatz Borkenberge, Lüdinghausen, Germany
21st - 23rd August 2009
Area4 Festival 2009 Day 3: Faith No More, Farin Urlaub Racing Team, Kettcar, Anti-Flag, Life of Agony, Pantéon Rococó, Alberta Cross, Baddies, Bombay Bicycle Club

Grande Finale of Area4 Festival 2009! The third festival day offered a colourful mixture of Indie, Alternative, Latin-Ska, Punk and Crossover. Still, the weather was wonderful, sun was shining, no rain in sight. And, this day had my personnel festival highlight to offer: FAITH NO MORE!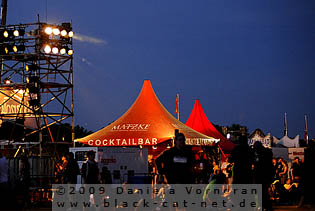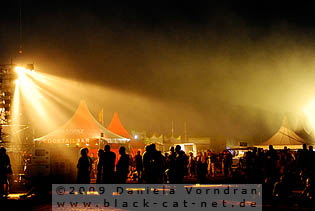 Bombay Bicycle Club (Sebastian Huhn)

The band came to life in 2005 starting as THE CANALS with regular changes of the name until summer 2006. First they played little gigs in school and such. In August 2006, they won the "Road to V" challenge as one of two. May 2007 saw the release of their debut EP 'The Boy I Used To Be' through their own label "Mmm…Records". The release was supported by a headline show in Camden as well as a few support gigs with THE YOUNG KNIVES across their UK tour. Following the second EP 'How We Are' in 2007, the band's debut album 'I Had the Blues but I Shook Them Loose' came out in July. BOMBAY BICYCLE CLUB' is Jack Steadman (vocals, guitars, bass), Jamie MacColl (guitars, bass, vocals), Suren De Saram (drums, chanting) and Ed Nash (bass, keys).
http://www.bombaybicycleclubmusic.com/
/
http://www.myspace.com/bombaybicycleclub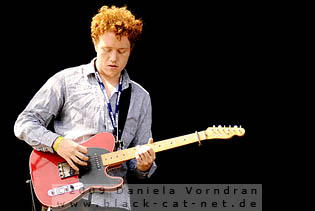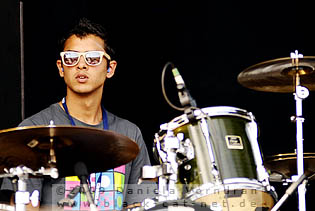 Music & Performance

The image I had in mind was a multi-cultural band whose members were coming from all sorts of places playing a kind of world-music laden rock. But the image was farther off than I thought. The band came from England and played thought-provoking indie rock with a progressive touch and melancholic keys. Vocalist and guitarist Jack Steadman through the whole gig looked just as if he was grown together with the instrument he played with visible passion and dedication, even if it struck one or the other odd sometimes. The rest of the band followed him regarding dedication while not being as vivid on stage as he was. With their show they entertained a little crowd that might have been drawn just by the uncommon name and me who really enjoyed the show, moreover the music.
Rating

Music: 8
Performance: 7
Sound: 7
Light: - (daylight)
Total: 7.5 / 10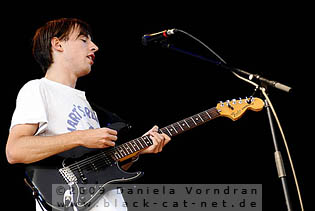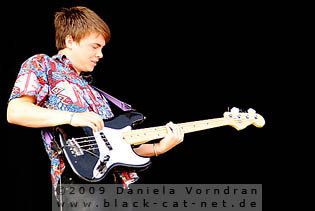 Baddies (Sebastian Huhn)

The BADDIES have just formed in April 2007 but already have gained a reputation as "one of the most exciting new bands around" and gets massive support by "BBC Introducing" which is a brand showcasing unsigned, self signed and other emerging musical talent primarily from the UK. Their first album 'Do the Job' is due for a September 2009 release. BADDIES are Danny Rowton (bass, vocals), Jim Webster (drums, vocals), Michael Webster (vocals, guitar) and Simon Bellamy (guitar, vocals).
http://www.myspace.com/baddies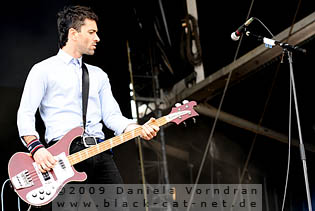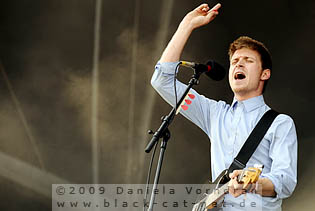 Music & Performance

Want to see a group of freaked-out British students? Then come and see the BADDIES! No, actually it wouldn't be fair to reduce them to that. They were to bring the groove and a proper rock-feel to the stage on this Sunday morning. It seemed like the easiest thing in the world for them to pull an energetic show at this hour while for the most part the people in front of the stage had their problems to catch up. Two festival days had taken their toll I guess. Anyway, that sounded much worse than it actually was, as to catch up with the energy the BADDIES created on stage was indeed not so easy. But they did the best they could, while the rhythms of 'At the Party', 'Collin' or 'Tiffany I'm Sorry' rattled the ground beneath them and lead singer Michael did the robot-dance to some of the tunes. I think they've won over a few people that day with their passionate show who will love to come to one of their shows when the return to Germany in October for a little club tour.
Rating

Music: 7
Performance: 8
Sound: 7
Light: - (daylight)
Total: 7.4 / 10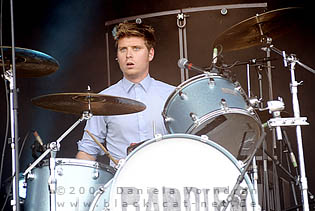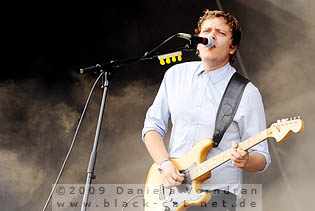 Alberta Cross (Sebastian Huhn)

The band was formed by Petter Ericson Stakee (vocals, guitar) & Terry Wolfers (bass). For their debut mini album 'The Thief & the Heartbreaker' released in 2007 they were joined by Petter's brother John Alexander Ericson on organ. In the course of the same year, another EP titled 'Leave Us or Forgive Us' was released. Meanwhile they've toured extensively, playing with such bands as THE SHINS or BAT FOR LASHEES. In October 2008 they even supported OASIS on their UK arena tour. Their debut full-length 'Broken Side of Time' is going to surface in record stores just a few weeks from now. ALBERTA CROSS is Petter Ericson Stakee, Terry Wolfers, Sam Kearney, Austin Beede and Alec Higgins.
http://albertacross.net/
/
http://www.myspace.com/albertacross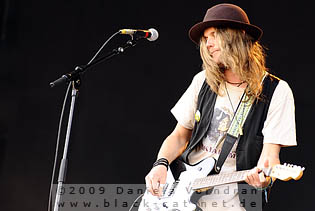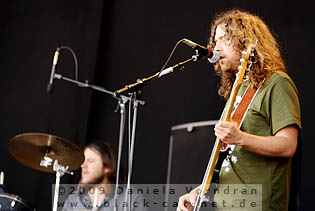 Music & Performance

Even more than the BADDIES before them, ALBERTA CROSS had to cope with a significantly decreased crowd and one started wondering if there were still people here when the next band started. A pity for ALBERTA CROSS who had a really intriguing mixture to offer, encompassing Blues Folk and Gospel as well as Southern Rock! During the course of the set they interspersed louder and softer passages and songs. The solemn character of some of the pieces intrigued and compelled just as the more energetic parts were driving you on to move along to them. All the compositions were crowned by the distinctive and in some songs weightless organ of singer Petter Stakee who took place behind his microphone on serene numbers or stalked the stage together with his fellow band members on the powerful tunes. Actually, a set that left nothing to be desired if it weren't for the short length! A band to look out for!
Rating

Music: 8
Performance: 8
Sound: 8
Light: - (daylight)
Total: 8 / 10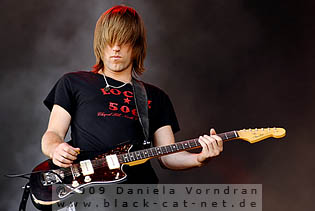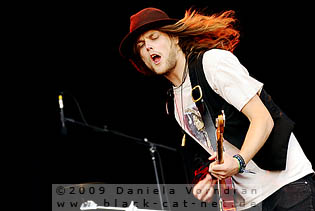 Pantéon Rococó (Sebastian Huhn)

The Mexican band already started its career in 1995. The first album 'Toloache pa' mi Negra' was released in 1997 followed by 'A la Izquierda de la Tierra' in 1999. In their native Mexico they're stars and also in Europe, especially Germany, they're welcomed guests on various festivals and thus, the band is touring over here regularly. Meanwhile they've released a total of 7 albums with the self-titled one being the latest, released in 2007. PANTÉON ROCOCÓ is Dr. Shenka (vocals), Leonel Rosales (guitar), Dario Espinosa (bass), Felipe Bustamante (keys), Gorri (guitar), Missael (saxophone), Paco Barajes (Trombone), Pascal Montaño (trumpet), Tanis (percussion) and Hiram Paniagua (drums).
http://www.panteonrococo.com/
/
http://www.myspace.com/panteonrococooficial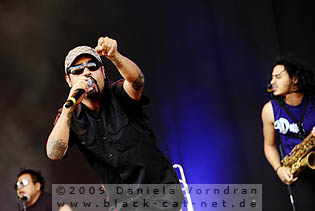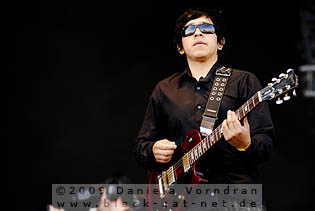 Music & Performance

Now look who's coming - the missing audience of the Area4 festival. Suddenly, the space in front of the stage filled up quite quickly with people resulting in the then biggest crowd of the day. The reason for this must have been that this band is another one committed to the very popular Ska genre, mixing it with elements of Rock, Punk, Salsa etc to an own style. The lyrics were completely in Spanish, so even if I wanted to I couldn't tell you what their songs were about. But information I found says they're about love and socially critical topics. However, it's the music's fun factor that drew most people to the stage; I guess as soon as the first rhythms flew down from the stage people started dancing and, as experienced already with another Ska formation, smiled constantly. They were following the example of the band that just as well delivered a show with straight-up energy and radiated the spirit of the music to the crowd. The aforementioned even started a polonaise later on. Again, a big party and fun for the people! Not so much for me as I still can't get into all that Ska stuff.
Rating

Music: 4
Performance: 7
Sound: 7
Light: - (daylight)
Total: 5.6 / 10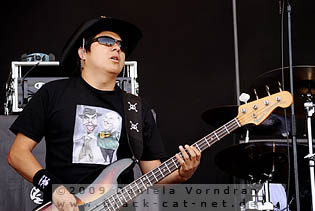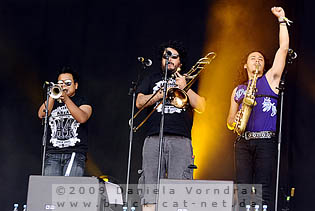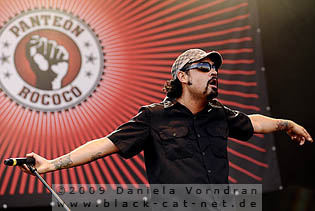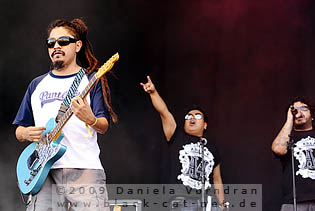 Life of Agony (J. "Niggels" Uhlenbruch)

In 1989, Keith Caputo, Joey Z. and Alan Robert formed LIFE OF AGONY in Brooklyn, New York. With their 1993 debut 'River Runs Red' they became one of the leading Alternative Metal bands in the Post-Grunge Rock scene. LIFE OF AGONY today is Keith Caputo (vocals, keyboards), Alan Robert (bass, backing vocals), Joey Z. (guitars, backing vocals) and Sal Abruscato (drums). LIFE OF AGONY perfected their angst-filled Hardcore / Heavy Metal hybrid and already built up a cult following in New York City when they signed a record deal with Roadrunner Records. Former TYPE O' NEGATIVE drummer Sal Abruscato joined LIFE OF AGONY as a permanent member at this time. The resulting album, 'River Runs Red', was similar to their stage show at the time: straight-up energy and aggression in a Hardcore / Thrash format, with elements of Heavy Metal cutting through at times, and the group toured extensively after the album release. Once the tour was completed, LIFE OF AGONY went directly back into the studio to work on their next album, 1995's 'Ugly', which signalled a complete overhauling of the band's signature heavy-duty sound.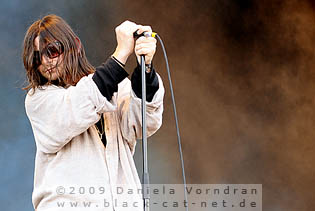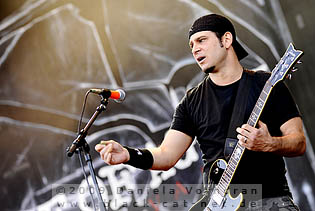 The album resembled the sounds of the alternative stars of the day, especially STONE TEMPLE PILOTS, and it wasn't greeted favourably by the record-buying public. LIFE OF AGONY was still able to retain their audience, and the resulting tour was a success, as they opened for the likes of OZZY OSBOURNE, KORN, ANTHRAX and drummer Abruscato's former band TYPE O' NEGATIVE. Abruscato left the band after the tour, and two years later Keith Caputo left the group as well before the tour for LIFE OF AGONY's 1997 release 'Soul Searching Sun'. After a few attempts re-build the line-up, which involved former UGLY KID JOE singer Whitfield Crane among others, LIFE OF AGONY officially disbanded in April of 1999. It seemed the ultimate end of the band but four years later LIFE OF AGONY reunited in its original line-up for two shows in 2003. This led to a live album ("River Runs Again") as well as the studio effort 'Broken Valley' (2005). While there's no new material in the works, LIFE OF AGONY did a European festival tour this summer including a stop at the Area4.
http://www.url.com/
/
www.myspace.com/lifeofagony
Music & Performance

After a short sound check, LIFE OF AGONY got on stage raising a big cheer from the audience. The small, skinny Keith Caputo - dressed in a long-sleeve and a cardigan despite the pretty warm weather - played the ultra-cool, big-ego front man and left communicating and interacting with the crowd to guitarist Joey Z. A task sharing which actually worked well - on one side the cool and distant Rock star, on the other hand the down-to-earth common guy. The band started with 'River Runs Red', followed by 'This Time' and 'Method of Groove' from the same album. 'Love to Let You Down' from 2005's 'Broken Valley' album was just a short interruption from the 'River Runs Red' material before LIFE OF AGONY continued with 'Other Side of The River'. 'Weed', a minor hit in the Post-Grunge era, was the only song from the 'Soul Searching Sun' album and sounded a lot edgier and rougher than its studio counterpart.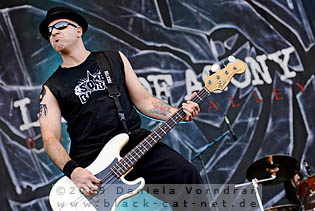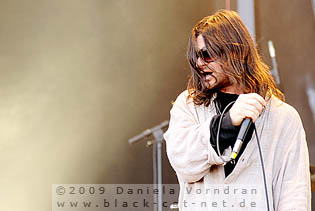 The rest of the set focussed on the first two LIFE OF AGONY albums. Performance-wise it was a good gig, Caputo was singing great, his vocals were emotional and poignant and Joey Z and his other band mates were obviously having a damn good time. As well as the crowd in front of the stage, that soaked in the energy coming from stage and let things get a little rougher in a huge circle pit - a familiar sight over this weekend, actually. LIFE OF AGONY's sharp-as-razor riffs, the catchy melodies and the energy are all pretty irresistible. Closing with 'Through and Through' and 'Underground', LIFE OF AGONY were joined by some guys on stage for some extra vocals during the chorus of the latter. Unfortunately I couldn't figure out who the guys were, perhaps some members of a band playing earlier this day. A great end of a great gig, LIFE OF AGONY proved that they are a band which has a lot to offer and delivered exactly what the Hardcore lovers demanded. Next time LIFE OF AGONY should be granted a later slot in the festival line-up!
Setlist
01. River Runs Red
02. This Time
03. Method of Groove
04. Love to let you Down
05. Other Side of the River
06. Weeds
07. Lost at 22
08. I Regret
09. Through And Through
10. Underground
Rating

Music: 8
Performance: 9
Sound: 9
Light: - (daylight)
Total: 8.5 / 10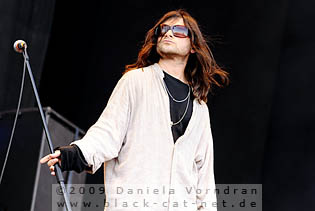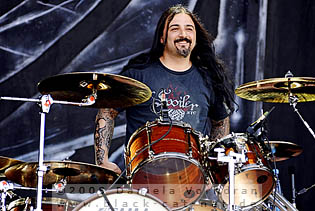 Anti Flag (J. "Niggels" Uhlenbruch)

ANTI-FLAG is an American Punk band from Pittsburgh, Pennsylvania known for their outspoken views on American government. Most recently, the band has focused criticism on the United States bailouts. Making their debut at a local Pittsburgh radio station in 1993, ANTI-FLAG got together for the sake of responding to their disgust at religion, nationalism, and fascism. They are playing Punk Rock which is true to the roots of the Punk movement. Justin Sane (vocals, guitar), Andy Flag (bass, vocals and later replaced by Chris#2), and Pat Thetic (drums) released their first album 'Die for the Government' in 1997, after releasing a handful of singles and support slots for their idols the U.K. SUBS and THE EXPLOITED. A few tours, line-up changes and releases later ANTI-FLAG's career reached a new level when the band signed a deal with the major RCA. Especially in the USA their popularity increased notably, and many tours including one with BILLY TALENT in 2008 gained them a lot of new fans in Europe as well. One reason for ANTI-FLAG's continuing success is surely that the band sticks to the old-school ethics of Punk: fast, loud, wild, politically conscious and anti-everything that ends with an "ism".
http://www.anti-flag.com/
/
www.myspace.com/antiflag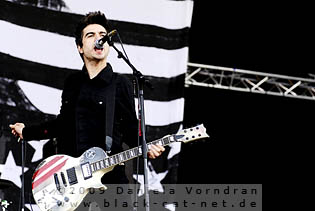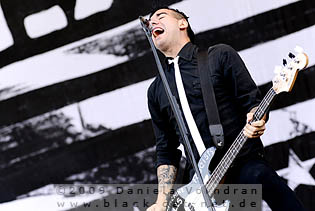 Music & Performance

Talking about circle pits: The circle pit during LIFE OF AGONY's show seemed to be just a warm-up for what was to come at ANTI-FLAG's show! Front man Justin Sane encouraged the crowd to build "the biggest circle pit in the World", and while I'm not sure if people achieved that it was still a damn big pit with a huge dust clouds over it. When ANTI-FLAG played their first riffs a lot of fans - mostly from the "angry young man" category and many in full Punk outfits and with Mohawks - rushed to the front. While ANTI-FLAG's music is perhaps not as complex and sophisticated as the one by the band before, it is surely a very passionate mix which had a great effect on the crowd. And they really love what they are doing! This passion translated perfectly to the audience, so ANTI-FLAG delivered the wildest moments of the weekend. In between songs Justin Sane talked to the crowd, thanking them for coming and supporting them, and also talking about social and political issues. Still a major point for the band!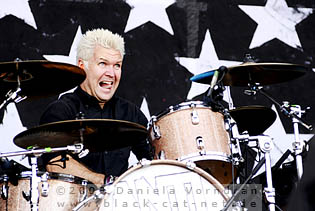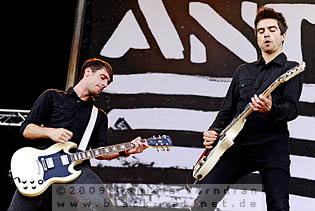 Every song was performed with a lot of passion and energy, from old fan-faves like 'Die For the Government' to stuff from their first major album 'For Blood and Empire' like the hits 'I'd Tell You But' or '1 Trillion Dollar$' to material from this year's 'The People or the Gun' album, making the show truly a memorable one. Before they finished their set, ANTI-FLAG made a tribute to their "favourite band in the entire world", as Justin Sane stated, and played a powerful cover of THE CLASH's 'Should I Stay or Should I Go' which went down like a storm. For the final song 'Cities Burn', the band invited the fans to storm the stage, and while the security staff might have been close to a heart attack in this moment ANTI-FLAG delivered just another memorable moment and celebrated the end of their gig with about fifty fans on stage jumping up and down. It was my first ANTI-FLAG show and they are definitely a band to see!
Setlist
00. Intro
01. Turncoat
02. I'd tell you But...
03. Die for the Government
04. Sodom, Gomorrah, Washington D.C. (Sheep in Shepherd's Clothing)
05. The Smartest Bomb
06. 1 Trillion Dollar$
07. Death of a Nation
08. Mind The G.A.T.T.
09. The Press Corpse
10. This is the End (For You My Friend)
11. Should I Stay or Should I Go (THE CLASH)
12. Cities Burn
Rating

Music: 8
Performance: 9
Sound: 9
Light: - (daylight)
Total: 8.5 / 10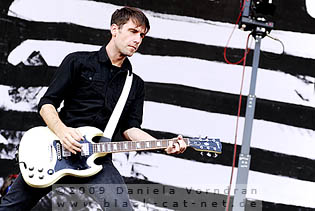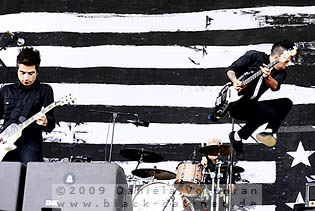 Kettcar (J. "Niggels" Uhlenbruch)

Having some roots in the Punks scene and hailing from the remains of the Punk outfit BUT ALIVE and the Ska band RANTANPLAN, Markus Wiebusch's KETTCAR is nevertheless pretty different from the bands which played at the third day of the Area 4 before them. After all, Marcus Wiebusch (vocals, guitar), his brother Lars Wiebusch (keyboard), Erik Langer (guitar), Frank Tirado-Rosales (percussion) and bass player Reimer Bustorff disbanded their former groups to leave aggressive, energy-driven sound behind them to make more emotional, rather moody and Brit-Pop-influenced Indie Rock with clever and rather personal lyrics. Emerging from Hamburg, Germany, KETTCAR formed in 2001 and released their debut 'Du und wieviel von deinen Freunden' via their own label Grand Hotel van Cleef Records, which they founded with fellow Hamburgers TOMTE. After a three-year break, during which time the band members were busy with the business of running a label, KETTCAR released their second album 'Von Spatzen und Tauben, Dächern und Händen' featuring the singles 'Balu' and 'Deiche', which were both minor mainstream hits in Germany. Last year the third full-length 'Sylt' followed which included the singles 'Am Tisch', 'Nullsummenspiel' and 'Graceland' and steadied KETTCAR as a welcome billing at German festivals.
http://www.kettcar.net/
/
www.myspace.com/kettcar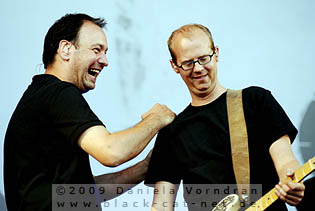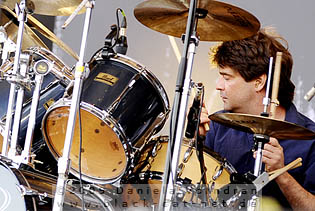 Music & Performance

Singer Marcus Wiebusch couldn't resist pointing out a couple of times that KETTCAR feel like the strange fish in the pool at the Area4, after all of the heavy riffs and Punk Rock attacks of this weekend. Indeed KETTCAR had a totally different approach compared to most other Area 4 acts but at this point this was more than welcome. KETTCAR started with their classic 'Deiche', one of their more upbeat songs, but they lowered the tempo for most of their set for a more emotional and touching tone. The audience was rather quiet - a nice break after all the circle pits, pogo dancing and screaming along - and the area in front of the stage filled rather nicely during the first few songs. During 'Deiche', the space was still pretty empty, also because KETTCAR started a little earlier than scheduled. Wiebusch joked that KETTCAR's performance would come across like a poetry lecture after the gigs of ANTI-FLAG and LIFE OF AGONY but any concerns that the Area4 crowd would not appreciate KETTCAR's show were needless.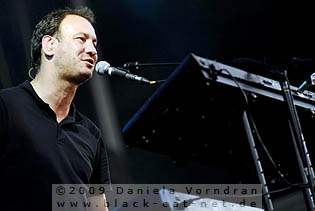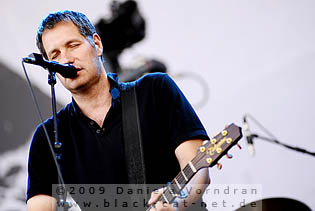 Surprisingly KETTCAR's set concentrated on their first two albums; the only songs from the band's most recent album were the three singles from 'Sylt', and also featured short snippets of THE CURE's 'Close to Me' and a DEATH CAB FOR CUTIE song thrown in KETTCAR's own songs. While the music was surely softer and more introverted than most other band's this weekend, the performance was nevertheless pretty captivating and the feeling got more intense during the course of the gig. People loved KETTCAR's show so much that they even returned for an encore, a heart-warming acoustic rendition of the ballad 'Balu'. A quiet end of a great gig, and I could swear I saw a tear of joy somewhere…
Setlist
01. Deiche
02. Kein Außen mehr
03. 48 Stunden
04. Balkon gegenüber
05. Landungsbrücken raus
06. Graceland
07. Im Taxi weinen
08. Money Left To Burn
09. Nullsummenspiel
10. Ausgetrunken
11. Ich danke der Academy
12. Am Tisch
13. Balu
Rating

Music: 8
Performance: 9
Sound: 8
Light: - (daylight)
Total: 8.4 / 10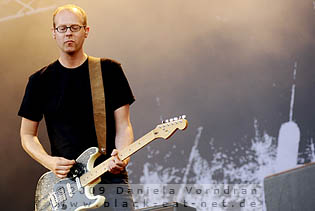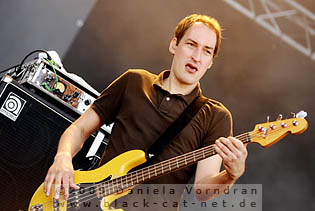 Farin Urlaub Racing Team (J. "Niggels" Uhlenbruch)

The FARIN URLAUB RACING TEAM is the side-project of Farin Urlaub, co-founder and front man of the popular German Punk / Pop act DIE ÄRZTE. Being front man of German Punk pioneers DIE ÄRZTE since the early 1980s, Farin Urlaub spearheaded the German punk rock revolution. While DIE ÄRZTE never achieved the same international success like their (alleged) rivals DIE TOTEN HOSEN, the trio is simply massive in their home country and have a broader mainstream appeal than DIE TOTEN HOSEN thanks to their more melodic sound also thanks to FARIN URLAUB's humours and frequently political lyrics. Born Jan Vetter in Berlin on October 27, 1963, FARIN URLAUB began playing guitar at age nine. At 16, he vacationed in London, discovered Punk, and returned home to join the short-lived Punk group SOILENT GRÜN in 1980 alongside drummer Dirk Felsenheimer, who would adopt the alias Bela B. FARIN URLAUB and Bela B. founded DIE ÄRZTE with bass player Hans Runge in 1982 and released their debut EP 'Uns Gehts Prima' a year later.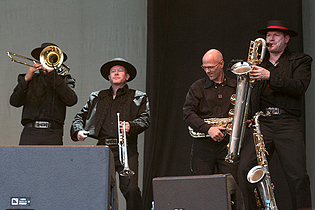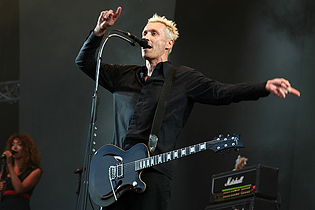 The record attracted the attention of Columbia Records, which issued the band's debut LP 'Debil' in 1984. 'Im Schatten der Ärzte' followed a year later, the last cooperation with Runge who left the band before to the recording of DIE ÄRZTE's 1986 breakthrough album simply titled 'Die Ärzte'. The album introduced the distorted guitar sound that would emerge as the trio's signature in the years to come, while Urlaub's melodies embraced the classic Rock & Roll influences of his youth, in particular THE BEATLES. At the peak of their fame DIE ÄRZTE announced in 1988 plans to dissolve, with a farewell tour yielding the chart-topping live LP 'Nach uns die Sintflut'. Both Urlaub and Bela B. soon formed new bands but Urlaub's new band KING KONG was a commercial disappointment, Urlaub and Bela B. reunited DIE ÄRZTE in 1993, recruiting former DEPP JONES bassist Rodrigo Gonzales to join the revitalized line-up. DIE ÄRZTE's comeback single 'Schrei Nach Liebe' was also their most explicitly political effort to date, a polemic against the growing rise of right-wing extremism and racially motivated violence. With the 1993 Long player 'Die Bestie in Menschengestalt' becoming a bestseller in Germany, Austria, and Switzerland, DIE ÄRZTE embarked a successful reunion tour. Since then the career of DIE ÄRZTE only knew one way - they way up! In 1998, 'Ein Schwein namens Männer' became their first number one single in the German charts, and its success launched the album '13' to the top of the album charts as well.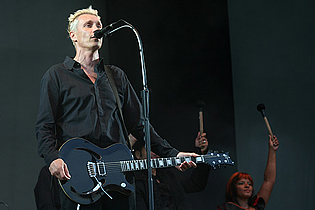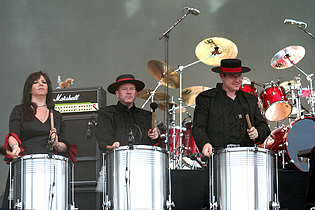 While still recording and touring with DIE ÄRZTE successfully to date, FARIN URLAUB started his solo career in 2001 with the album 'Endlich Urlaub!'. He released four albums so far under his own name and the FARIN URLAUB RACING TEAM moniker respectively - RACING TEAM is the band playing alongside him when performing live. The latest album called 'Die Wahrheit übers Lügen' (The Truth about Lying) was released on 31 October 2008.
http://www.farin-urlaub.de/
/
www.myspace.com/farinurlaubracingteamsupport
Music & Performance

A black curtain increased the tension among the huge crowd waiting for FARIN URLAUB and his RACING TEAM, and when it was lifted it revealed URLAUB and his ten(!) band mates each with a drum delivering heavy percussions as the intro of the song 'Insel'. A cool start for a great party, as FARIN URLAUB is the master of giving people a good time, last but not least because of his great sense of humour reflected both in his lyrics and in his moderations between songs. The RACING TEAM, which features three female background singers and a four-piece wind section, play a Ska-influenced Rock with great hooks and at the Area4 the band was really well rehearsed. No big surprise as this gig was the last of a series of 16 gigs for FARIN URLAUB RACING TEAM. The setlist contained songs from all albums and eras of FARIN URLAUB's solo career, even including a single b-side like 'Petze'. Only the old hit single 'Sumisu' was sorely missed but apart from that the gig left hardly anything to wish for. Highlight was the song 'Zehn' in which Urlaub - a true champion of artist-crowd interaction - motivated the entire crowd to crouch down and to jump up at the same time after a countdown to ten. This happened a couple of times during the song - the countdown is actually the song's chorus - and was a pretty funny sight and a sight to be seen again at the end of the show when the band performed 'Zehn²'… so to speak volume two of the same song.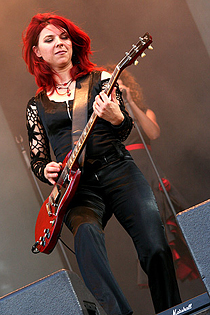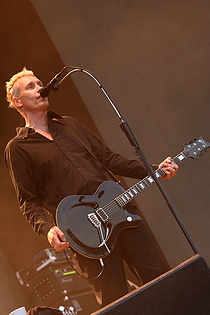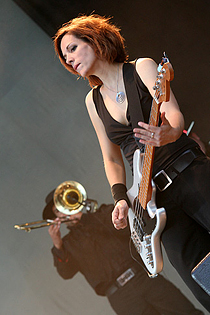 After such fun-filled 70 minutes the fans of course demanded more, but surprisingly the RACING TEAM didn't prepare an encore. So they returned to perform the fan fave 'Dusche' on request by the fans at the front, although the band did not rehearse the song for the show. Nevertheless a great performance and a wonderful finale of a very, very fun concert!
Setlist

01. Insel
02. Unscharf
03. Glücklich
04. Ich gehöre nicht dazu
05. Am Strand
06. I.F.D.G.
07. Der ziemlich okaye Popsong
08. Krieg
09. Worte fehlen.
10. Niemals
11. OK
12. Sonne
13. Alle dasselbe
14. Zehn
15. Wo ist das Problem?
16. Karten
17. Petze
18. Unter Wasser
19. Abschiedslied
20. Zehn²
---
21. Dusche
Rating

Music: 8
Performance: 10
Sound: 9
Light: 7
Total: 8.6 / 10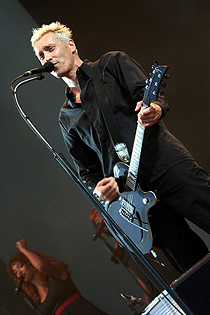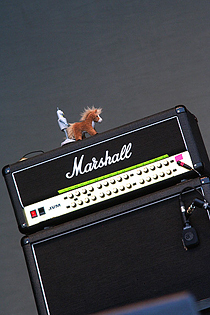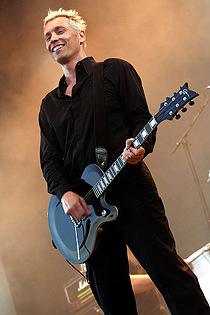 Faith No More (J. "Niggels" Uhlenbruch)

The headliner of the last day of the Area4 festival was a legend in itself: FAITH NO MORE! With their fusion of Metal, Rap, Funk and Progressive Rock, FAITH NO MORE has earned a substantial cult following and were pioneers of the Crossover genre which was to become highly popular in the 1990s. By the time FAITH NO MORE recorded their first album in 1985, the band had already had a string of lead vocalists and their debut, 'We Care a Lot', featured Chuck Mosley's abrasive vocals but was driven by Jim Martin's metallic guitar. FAITH NO MORE's next album, 1987's 'Introduce Yourself', was a more cohesive and impressive effort; for the first time, the rap and metal elements didn't sound like they were fighting each other. In 1988, Mosley was replaced by vocalist Mike Patton during the recording of their next album 'The Real Thing' which became a highly successful album in 1989 and featured their breakthrough hit single 'Epic'. The band continued this success with 1992's 'Angel Dust' album, which spawned the hit 'Midlife Crisis', FAITH NO MORE's sole number one hit in the Modern Rock Tracks chart in their career. Patton was a more accomplished vocalist, able to change effortlessly between rapping and singing, as well as adding a considerably more bizarre slant to the lyrics.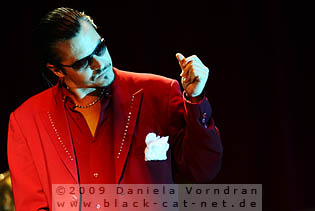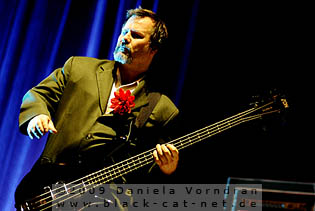 After a number of line-up changes and a certain decline in popularity over the years, FAITH NO MORE broke up in April 1998 after a tour in support of their 'Album of the Year' long player, which was released in 1997. All members began work on side projects since then. Mike Patton, who had previously fronted MR. BUNGLE and had avant-garde projects with John Zorn, formed a new band named FANTOMAS with MELVINS guitarist Buzz Osbourne, bassist Trevor Dunn, and former SLAYER drummer Dave Lombardo. Roddy Bottum continued with his band IMPERIAL TEEN, who released their first album, 'Seasick', in 1996. In 2009, eleven years after its disbanding, FAITH NO MORE announced plans for a European tour featuring the group's original line-up.
http://www.fnm.com/
/
www.myspace.com/faithnomore
Music & Performance

FAITH NO MORE were not just the headliner of the Area4 festival but also the most anticipated performance of the weekend. Many fans never had the hope to see FAITH NO MORE live in concert again so expectations were high. And FAITH NO MORE even exceeded all expectations! The red silken backdrop delivered a noble atmosphere, and when FAITH NO MORE entered the stage wearing pastel suits to perform a cover of the classic PEACHES & HERB Soul ballad 'Reunited' some people might have been confused that a fluffy cosy Pop show by a few middle-aged men would follow. But it was just a tongue-in-cheek moment and a class comment on FAITH NO MORE's own reunion. But 'Reunited' was just a razzle-dazzle, and with the second song 'From out of nowhere' hell broke lose! Patton got rid of the suit jacket quickly as if it was a sign that the Soul crooner of the first song is gone now to give way for a manic beast.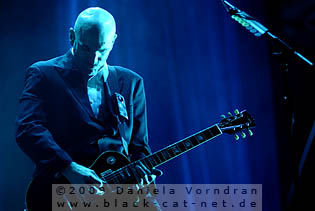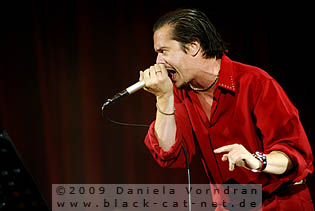 Patton was as agile and energetic as he always was, strolling across the edge of the stage, and his legendary vocals sounding just brilliant while the band performed tight, faultless and spot on. But even though FAITH NO MORE was very well-rehearsed and performed absolutely professionally their shows are unpredictable and you can never know what comes next, especially with a front man like Mike Patton. When someone threw a 1-Euro coin on stage halfway through 'Midlife Crisis' he stopped the band to make jokes about throwing money on stage and if this was a good sign or not. After his contemplation he turned around and sang the first word of the chorus and the entire was back in no time, simply continuing the song where they stopped as if nothing had happened. What a great moment, and what a great Rock monster! FAITH NO MORE is a storm of energy, unpredictability, aggression, mischievousness, love and humour and played to absolute perfection. FAITH NO MORE crank out their unique blend of music with a setlist which is just as erratic as Mike Patton himself, with the crooning 'Easy' thrown in after the high-speed attack of 'Digging the Grave' and playing the band's probably biggest hits rather in the middle of the set.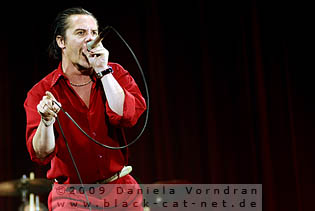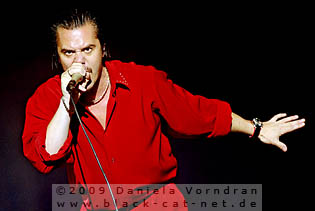 The encore started with the 'Chariots of Fire' theme that merged into a brilliant rendition of 'Stripsearch', followed by FAITH NO MORE's first big hit 'We Care A Lot'. FAITH NO MORE returned for another encore with 'Midnight Man' but unfortunately we were already on our way to the car to avoid the huge traffic jam which was surely to come. However, FAITH NO MORE delivered an impressive performance which didn't indicate at all that this band was gone for more than ten years. A superb show!
Setlist
01. Reunited (PEACHES & HERB Cover)
02. From out of Nowhere
03. Be Aggressive
04. Caffeine
05. Evidence
06. Suprise! You're dead!
07. Last Cup of Sorrow
08. Digging the Grave
09. Easy
10. Midlife Crisis
11. Epic
12. I started a Joke
13. The Gentle Art of Making Enemies
14. King for a Day
15. Ashes to Ashes
16. Just a Man
---
17. Chariots of Fire
18. Stripsearch
19. We care a lot
---
20. Midnight Cowboy
Rating

Music: 10
Performance: 10
Sound: 9
Light: 8
Total: 9.5 / 10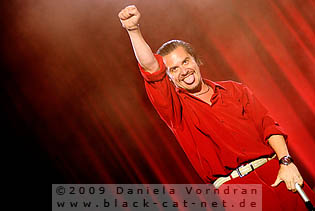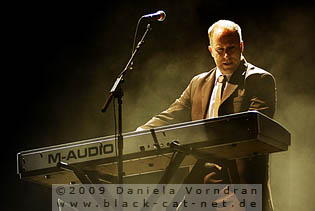 With this fantastic show and my personnel festival highlight, Area4 2009 ended not without any trouble for me after the show because I got stuck on the parking lot for about two hours. Same happened to lots of other people. This year's festival welcomed more than 20,000 fans of the harder musical genres. West Germany rocked! So, we're already up for next year's edition!
All pictures (except FARIN URLAUB) by Daniela Vorndran (
http://www.vorndranphotography.com/
/
http://www.black-cat-net.de/
/
www.myspace.com/vorndranphotography
)
Written by Daniela Vorndran (common parts and overall editorial), Sebastian Huhn and J. "Niggels" Uhlenbruch
{jos_sb_discuss:18}
See also (all categories):