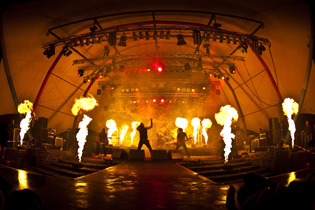 Loreley, Germany
20th – 22th August 2009
Rockarea Festival Day 2: Amon Amarth, Schandmaul, Sabaton, Endstille
Lorely is first of all the most beautiful location for a festival. Second Saarconcerts managed to have an outstanding line-up. Enough reason to forget the Dutch 'Lowlands' festival and cross the border with Germany to the south near Belgium.


It is already a big adventure to get there and without a car it is almost impossible. St. Goarhausen is a beautiful old city with little winding streets with many differences in altitude. It has a very Romantic atmosphere due to the little houses and the old Roman castles. Crossing wine fields, high mountains and big castles. Following the River Rhine till the ferry when you pay five euro's to cross the big river in five minutes. Then it begins: the way to the top. Higher and higher till a wide green field, where you park the car and have to go down truth the camping side, a very bluff road. Somewhere down there is the big Amphi theatre where it all happened.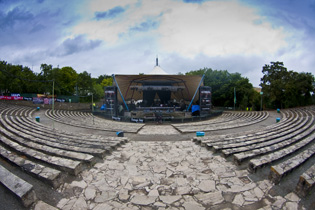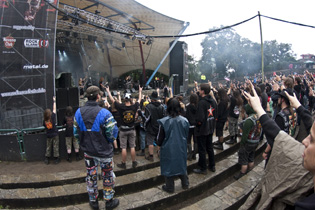 Endstille
German black metal proud, formed in 2000. They just released 'Verführer' their seventh album. In October they will start a huge European tour, supporting Dutch death metal band God Dethroned. Both bands performed on Wacken Open Air this year.
http://www.endstille.com
Music & Performance
There is a new vocalist. Mannevond makes his debut on Rockarea and in a very good way. Of course he is also totally covered with corpsepaint, what makes his face expression a bit flat. Older songs like 'The One I Hate' are still very groovy and of course the fans will miss their former frontman Iblis, but believe me there is a perfect replacement.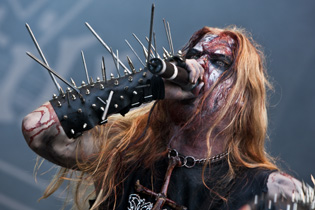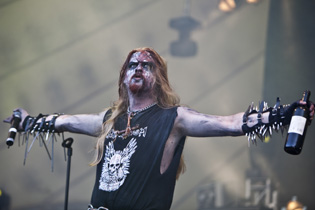 Personally I like the more straight forward black metal without many arrangements. Endstille became a master in that and also life they know how to bring the adrenaline on stage. They have a deeper sound, due to an extra guitarist. Old songs are played like 'The One I Hate' or 'Biblist Burner' and new 'Depressive/Abstract/Banishes.' They did a signing session afterwards and it was pretty crowded, for the Friday.
Video youtube: http://www.youtube.com/watch?v=_w4IGeLoCEc.


Rating
Music: 7
Performance: 7
Sound: 7
Light: - (daylight)
Total: 7 / 10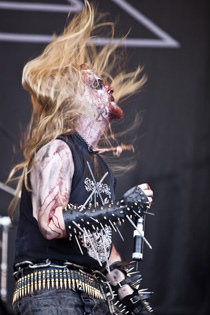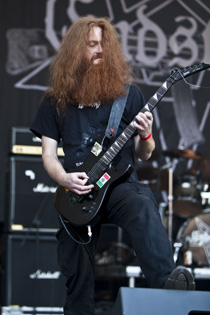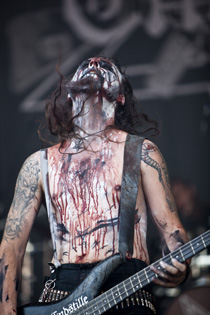 Sabaton
A curious Swedish band, formed in 1999 making power metal. They toured with Hammerfall, who hit the stage last Thursday. In 2008 they became better known with 'The Art Of War' based on the famous book of Sun Tzu.
http://www.sabaton.net

Music & Performance
With a dark intro they grab the attention. Shame there are less people, almost an empty camping ground proves it too. In the beginning the sound is a bit too loud, too much bass. I am sure you can hear it down below near the ferry where I was when Endstille started their first song. Luckily the crowd is in a party mood, they scream and make the bands feel welcome tonight. Standing on the stone arena benches, it is a nice view from the stage side.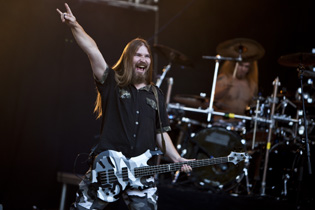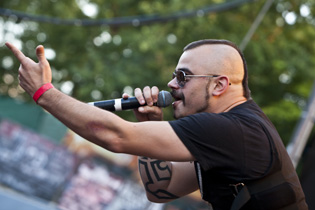 Singer Joakim Brodén has a real 'whisky voice.' Sometimes raw and not so charming, but don't let it mislead you. He can change it into a very pure and dynamic melody. He is for sure the eye catcher of the band. Queer: because he dares to wear sunglasses in the beginning and he shows more intimate parts of his body, covered with a green entourage. On the other hand he doesn't need those 'tricks' because he is true-harted and really happy to perform for his audience, even when it is much smaller than the festival crowd he had before.

'Art Of War' is catchy but still technical due to the heavy drum parts. Power metal on a high level with very nice guitar parts, like in 'Cliffs Of Galippoli.' Sometimes they have some Sonata Arctica influences with their arrangements, but that is in a good way. Joakim says: ,,Lovely big stage extension, I like it to be close to the audience." Halfway the set they gave everything and the whole atmosphere changed into a huge party. With sing-a-long- song 'Prima Vicoria' the band gave their last bit of energy. The crowd creates a nice polonaise, shaking hands with the whole local crew from the beer and food corner. A sympathetically band who played a dynamic and convincing show.


Rating
Music: 8
Performance: 8.5
Sound: 7.5
Light: - (daylight)
Total: 8 / 10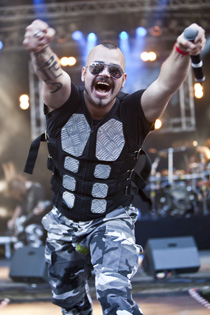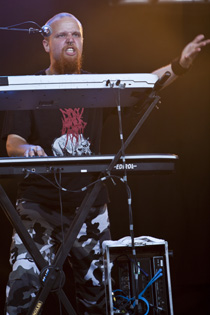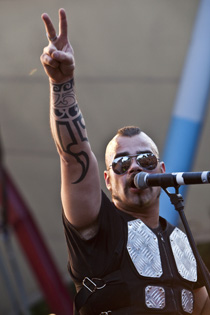 Schandmaul
A totally different band in this daily line-up is Schandmaul. Trademark is their Medieval - Folk music with German lyrics. Formed in 1998, Munich. Six members mix old instruments, like bagpipes with electric guitars. Producing sixth albums, last one 'Anderswelt' (2008), but more recent their live dvd 'Sinnfonie'(2009).
http://www.schandmaul.de/

Music & Performance
When the formation enters the stage a long applause is already a warm welcome. Many fans came for this band tonight. Still it is not that crowded, but there is a good festival mood among the people. Some relaxing on the top of the Amphi theatre, drinking their beer. Others singing along in the front. It is getting darker and colder but Schandmaul brings a new fantasy world full of myths. Singer Thomas Lindger starts in soft German, soon the bagpipes sets in. Anna Katharina Kränzlein with her violin and old instruments is a real eyecatcher. Birgit Muggenthaler on her other side with the bagpipers, have a lot of interaction. Dance a lot during the whole gig. 'Vor der Slacht' is more traditional song, with groovy guitar riffs. Sometimes Lindger is a bit monotonous, more storytelling. It is easier to focus on the diversity of instruments.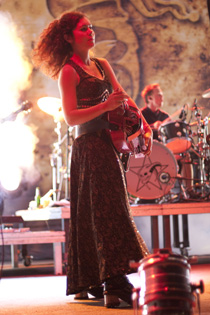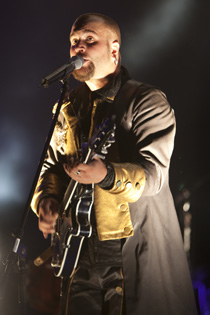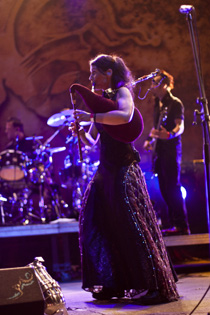 'Der Kurier' is very happy and melodic, with very high flute and has a totally own atmosphere. It is nice that Schandmaul worked on many details like clothes and a long setlist. 'Wolfsmensch' with stamping feet makes the audience energetic and the beer flows more often. An interesting set with a good sound. The Lorely area is the perfect entourage for Schandmaul.

Rating
Music: 8
Performance: 7.5
Sound: 7.5
Light: - (daylight)
Total: 7.5 / 10
Amon Amarth


The headliner of the evening is Amon Amarth, death metal band from Sweden. Formed in 1992. Inspiration for their lyrics is the Norwegian myth. Don't be deceived by that theme, it is definitely no folk but very technical metal. Their tenth and last release is 'Twilight Of The Thunder God'(2008). In the more mainstream metal scene known from the song with Finish cellists Apocalyptica: 'Live for the Kill.' http://www.amonamarth.com/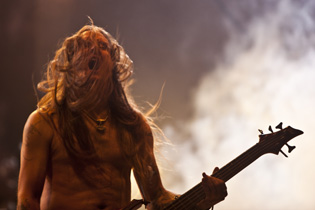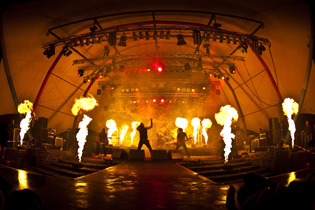 Music & Performance
Headliner in front of 2000 people, that is almost unbelievable for such an evening. Maybe blame the distance or the other great festivals. This line-up deserves much better, but the most important thing is that the bands and audience had an unforgettable time. The local crew that build up the stage and did the change-over's, had a long cold night. And all those others who made it possible did their best to have fun for a whole weekend. Amon Amarth gives the fans what they want: a very fast, up tempo and technical show. With a lot of fireworks: very loud, but guarantees a spectacular show. In compare with the first bands of the evening, the area is more packed and the sound is much better than in the afternoon. 'Victorious March' represented their sound very well: catchy guitars, long grunt parts from singer Johan Hegg. A nice detail is his 'ivory' drink horn on his belt. He is a real Viking with his long hair, strong posture and heavy voice.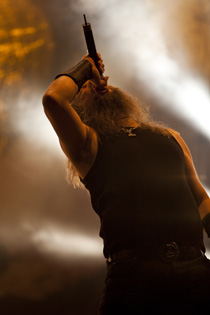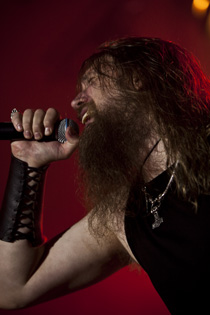 No doubt why they are headlining this festival, after Hammerfall yesterday. Those man bring something dynamic and heavy on stage. Not only their sound is raw and fast, also their personality is down to earth. Not much talking, just playing and stand there. Headbanging a lot with their long hair, sometimes running around. There isn't that much interaction between each other. Most of the time focused on their audience. Technically no doubt that they win, but I think on the other levels all bands were very impressive. A highqualitated day, that promises a lot for tomorrow!
Total: 8 / 10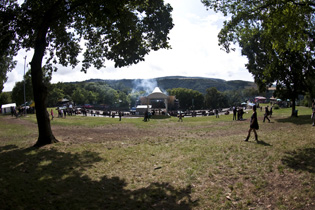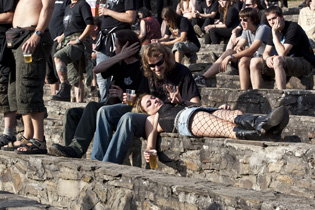 Pictures by Uwe Bartzsch (
www.gothicandart.com
)
More photo's from KIRA APPELT on:
map Lorely
{jos_sb_discuss:18}
See also (all categories):