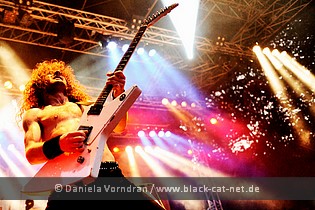 University Campus, Essen, Germany
4th July 2010
Devilside Festival 2010 Devil Stage: Airbourne, Amon Amarth, Danko Jones, Zebrahead, Snapcase, Mad Sin, Mr. Irish Bastard, DevilDriver, Neaera, Failed Perfection, V8 Wankers
The second edition of the Devilside festival was up on this Sunday and on two stages the attendees would get to see a mixed bag of artists; newcomers just as big names. This time admission was handled quite quickly when we arrived and soon we could get an overview of the university campus where the festival was set to take place. I was sceptic as to how this would be enough space to hold all the attendees but we would see. The day kicked off at the Devil Stage with the guys of V8 WANKERS.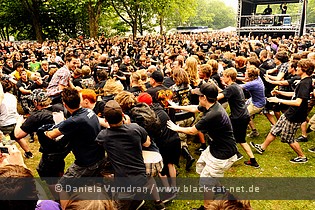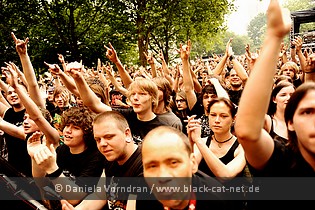 V8 Wankers


The V8 WANKERS started their career in 2000 and from there on would first be playing a couple live shows. In 2002, the first album by the title of 'Blown Action Rock' came out, followed by a tour through Germany. Following the second album 'Automotive Rampage' the band also gets to play at Wacken Open Air besides touring again. Meanwhile, the band has established a more than solid following and has released four more albums, of which 'Foxtail Testimonial' is the latest one. V8 WANKERS are Lutz Vegas (vocals), Blind Ferenc (guitar), Schmuddel, (guitar), Marc de Vil (bass) and David Green (drums). http://www.v8wankers.de/ / http://www.myspace.com/v8wankers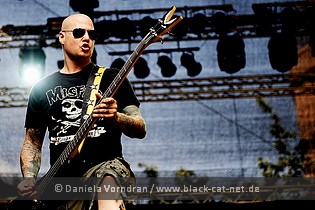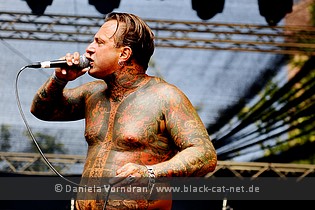 Music & Performance
Since it was still early morning, the expression of many of the festival attendees said "I'm tired; I want to go back to my bed." That would change drastically soon and all thanks to the festival openers V8 WANKERS, who delighted the audience in these early minutes with their fast-paced yet classic Rock'n'Roll stuff. The small set however opened with a spoken-word introduction, followed up by the blasting 'Hell on Wheels' and suddenly we had many wide-opened eyes in front of the devil stage and latest with the third song 'Bad Boys Paradise' a few felt the urge to move a little. A visual highlight also was Lutz' fully tattooed upper body. Not something I would want for myself but an eye-turner nonetheless.

Rating
Music: 7
Performance: 7
Sound: 6
Light: - (daylight)
Total: 6.8 / 10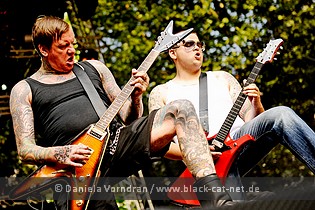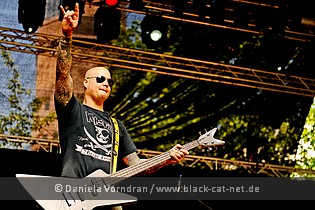 Failed Perfection

FAILED PERFECTION came into existence in 2005. The band's been founded by two guys, who had just parted ways with their former bands. However, the assemblage of a stable line-up took them about 3 years. First gigs were going down around that time as well. That was just before another personnel change took place and the band concluded the year with a performance at Christmas Metal Meeting. Currently, the band is working on their debut album. FAILED PERFECTION is Chris (vocals), Marco (guitars), Schnitti (guitars), Tom (bass) and Andi (drums). http://www.myspace.com/fpmetal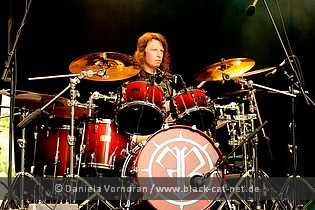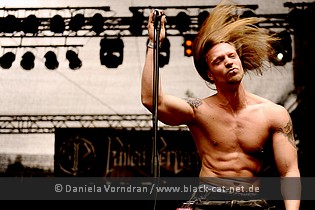 Music & Performance
Actually, American metal core formation THROWDOWN were supposed to play on this slot yet they'd to cancel on short notice and FAILED PERFECTION filled in for them which they were very happy about as stated during the show. It started hard and fast with some racing rhythms and growling vocals attracting a lot of people. 'Born under a Demon Sky' added a few spherical key textures to the raw sound. The band themselves also had to replace someone and that was bass player Tom who couldn't be there and so Dave got the job for a short while, I suppose. Generally, he did a good job on the instrument and the chemistry with the band matched, obviously due to them knowing him for a while already. With the rumbling 'Daymares', the short set ended already after 4 songs.

Rating
Music: 6
Performance: 6
Sound: 6
Light: - (daylight)
Total: 6.4 / 10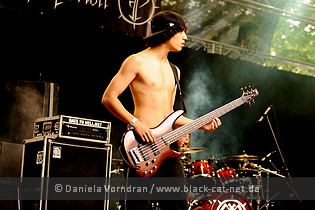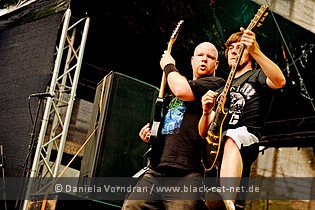 Neaera

NEAERA is a melodic death metal band from Münster, Germany, currently signed to Metal Blade Records. Recently, they have completed their third album, 'Armamentarium' (including a DVD), which was released on August 24th, 2007 in Europe. Tobias Buck (guitar) started NEAERA to change the musical influence of the style he had played before with fellow Münster death metal band MALZAN. In August of the same year the new album 'Armamentarium' is released followed by the first headliner tour through Germany and many neighbour countries. Almost 2 years later, their fourth and most recent album, titled 'Omnicide - Creation Unleashed' came out in May 2009. http://www.myspace.com/neaera / http://www.neaera.com/home/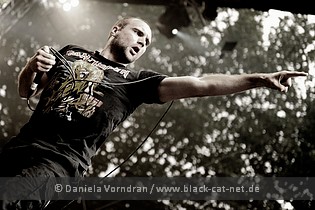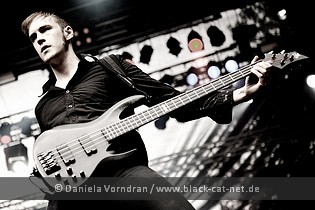 Music & Performance
I can recall NEAERA having played last year's debut of the festival and was quite surprised seeing them again already. They had hardly started playing as the first pits already took shape in the midst of the crowd, depicting what an unrestrained adrenaline flow can do. Singer Benny was just as wild on stage, succumbing with his body completely to the abrasive rhythms and riffs. To 'Armamentarium', he was asking the crowd to split up in the middle since he wanted to see this day's first wall of death, and it should become a big and hard one as it turned out. The crowd controller he is, he got them to form a massive circle pit that went straight around the sound tower. From farther away looked really amazing. NEAREA musically once again presented fierce, melodic death metal, combined with the frightening screams of Benny. A great show undoubtedly yet the music is not quite up my alley.

Rating
Music: 5
Performance: 8
Sound: 7
Light: - (daylight)
Total: 6.4 / 10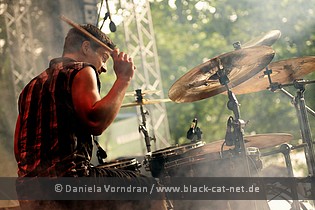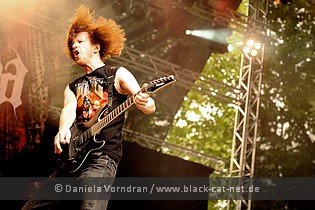 DevilDriver

DEVILDRIVER also formed in 2002. Quite quickly they landed a deal with Roadrunner Records and their self-titled debut album came out in 2003. Critical reception to the album was largely negative; still it entered the top Heartseekers chart at #117. The band went back into the studio in 2005 to record the follow-up, eventually titled 'The Fury of the Maker's Hand' which was released in June of that year. This time around, the critic's response was overwhelmingly positive. After the release, the band toured extensively in support of the album with shows in the US, Europe, and Canada followed by their first ever headlining show in 31st October 2006. With 'Pray for Villains', DEVILDRIVER has released their fourth album 'Pray for Villains' in 2009. News says a new album can be expected sometime next year. DEVILDRIVER is Dez Fafara (vocals), Mike Spreitzer (guitar), Jeff Kendrick (guitar), Jon Miller (bass) and John Boecklin (drums, additional guitar). http://www.devildriver.com/ / http://www.myspace.com/devildriver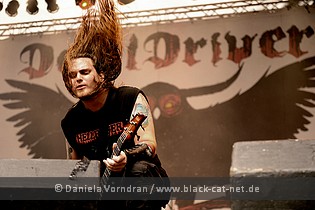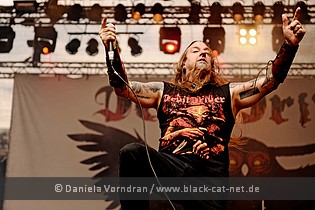 Music & Performance
Before the show of DEVILDRIVER started, the space before the stage got really crowded and even way beyond. An indicator for a large popularity and fan base already! That kind of fan base, pushing the band just as the band pushes them which in my opinion just happened at this show. I was interestedly watching the events while the band got the ball rolling and was simply fascinated how there was this mentioned give and take between the band and their followers, who went completely crazy when vocalist Dez announced 'Clouds over California' to be the next one, a song that had a nearly insane amount of steam under its hood. Following 'Not All Who Wander Are Lost' was 'I Could Care Less' that was screamed along intensively by the crowd and before the last song hit the crowds ears, they were asked to form a true route 66 Californian style circle pit. Hell, what a name and what an impressing pit at that. The massive show found its end with 'Meet the Wretched'.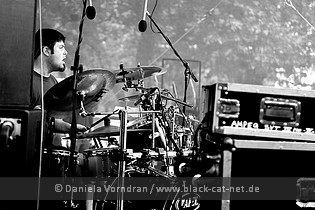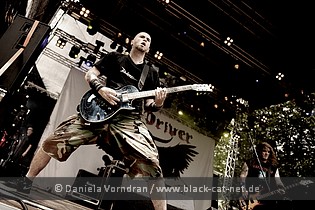 Setlist
01. End of the Line
02. Before the Hangman's Noose
03. Pray For Villains
04. Clouds over California
05. Not All Who Wander Are Lost
06. I Could Care Less
07. Meet The Wretched

Rating
Music: 7
Performance: 8
Sound: 7
Light: - (daylight)
Total: 7.4 / 10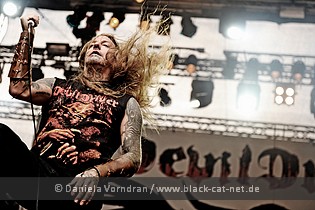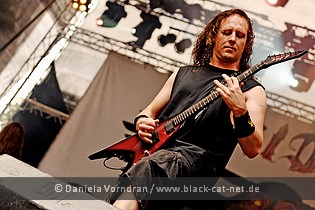 Mr. Irish Bastard

The band founded in 2006 and shortly after their inception were already asked to play the support spot of THE LEVELLERS on their European tour. That year they also released the debut EP 'St. Mary's School of Drinking'. The first full-length 'The Bastard Brotherhood' came out after they've already spent three months of the year 2008 on the road. The next release available in Germany, after couple of releases for China & Japan, is the album 'A Fistful of Dirt' from this year's March. MR. IRISH BASTARD is The Irish Bastard (Himself) (vocals, guitar), Lady Lily (tin whistle), Gran E.Smith (banjo, mandolin), Boeuf Strongenuff (bass guitar), Ivo K'Nivo (drums), Itchy Quetchy (accordion), P (guitar) and Moe Leicester (guitar). http://www.mririshbastard.com/ / http://www.myspace.com/mririshbastard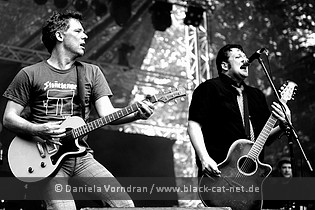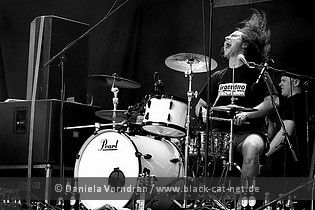 Music & Performance
MR. IRISH BASTARD truly were a good diversion after all the hard stuff going on here at the stage with their Irish-folk inspired music. They introduced their appearance with a pure folk-ish instrumental to immediately afterwards started the fire that would be igniting many people in the crowd. Not only the traditional guitar and bass instrumental set belongs to their sound, they incorporate banjo and accordion just as well for instance. A guarantor for fun? Definitely! The soon starting dances among the people around me were proving that just all too well, even though some were making jokes because they were not that hard in style as previous offerings here. But let me just say that it's not always about being the harshest, sometimes it's also about entertaining in a different way which they did perfectly and invited also two of their fans to party with them and wave their flag. Suppose these were members of their street team. Anyway, nice performance!

Rating
Music: 6
Performance: 8
Sound: 7
Light: - (daylight)
Total: 6.9 / 10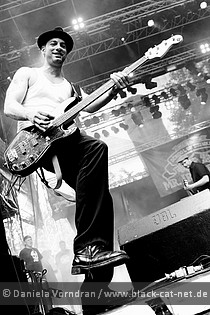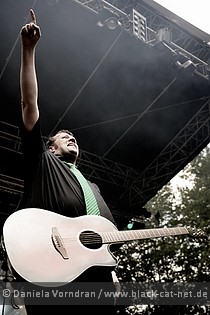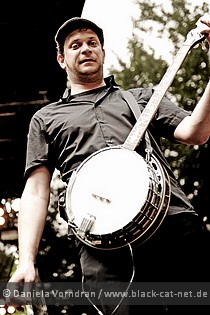 Mad Sin

Actually, MAD SIN was born as a street and pub band in Berlin in the late 1980s, but soon the troop would sign their first record deal and the whole thing became much more serious. In 1988, they debuted with 'Chills & Thrills in a Drama of Mad Sin & Mystery'. Until 1996 they'd have released five more albums and that same year supported bands like FAITH NO MORE or GWAR on their tours which exposed them to a wider audience and opened the door for a major label deal with Polydor. But that partnership only lasted for one album 'Sweet & Innocent? ...Loud & Dirty!', after the release of which the label wanted to rid of them again and did by paying some money! Afterwards, the band took a longer break! It would take four years for them to come back with the next album 'Survival of the Sickest' in 2002. Today, the band has grown to a six-piece line-up and released 11 albums, latest one being 'Burn And Rise'. MAD SIN is Koefte Deville (vocals), Valle (bass and backing vocals), Matt Vüdü (guitar), Stein aka "Dr. Solido" (guitar), Andy Laaf (drums) and Hellvis (backing vocals). http://www.madsin.com/ / http://www.myspace.com/madsin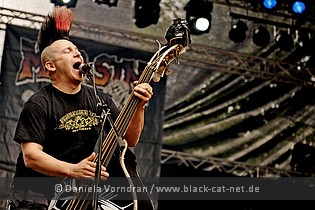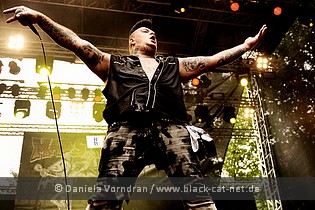 Music & Performance
If you were up for a bit Psychobilly, then the upcoming performance of MAD SIN surely was something to look forward to. The band wasted no time after taking the stage and impressed right away with their energy-driven show, led by Koefte Deville. Also they'd something visually unique to them, looking like punks from a time long gone; somehow also reminded me of some of those old rocker movies you get to see on TV once in a while. That uniqueness was reinforced by an old-fashioned looking upright bass, I couldn't take my eyes off of; especially how agile Valle could still act with that huge instrument was captivating to watch for example to the kicking 'Point of no Return'. Also the crowd was compelled by the performance and couldn't resist dancing to the highly infecting tunes that were raining down on them and with further songs such as 'Wreckhouse Stomp', or 'Communication Breakdown' would just become more insisting, getting even the most stubborn guy or girl to do what the band wanted.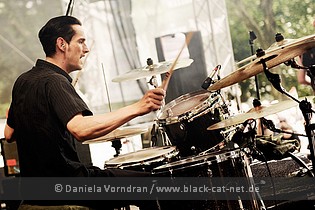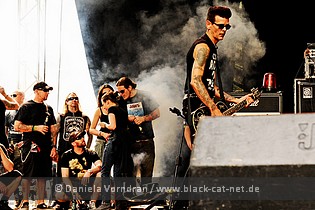 Setlist
01. Cursed
02. Point Of No Return
03. Outta My Head
04. 1000 Eyes
05. Brainstorm
06. Wreckhouse Stomp
07. 2.3.4
08. Straight to Hell
09. Nothing's Allright
10. Fuel For Brains / Geisterfahrer
11. Mealtrain / Walltown
12. 9 Lifes
13. Communication Breakdown

Rating
Music: 7
Performance: 7
Sound: 7
Light: - (daylight)
Total: 7 / 10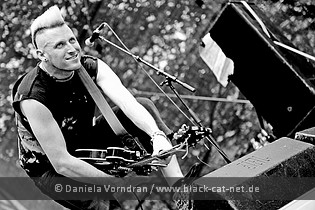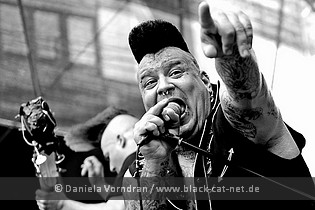 Snapcase

The band came about in 1989 as SOLID STATE but following a series of line-up changes it was decided to change the name to SNAPCASE. 1994 was the year to release the debut 'Lookingglasself', followed by the 'Steps' EP. 'Progression through Unlearning', which has a high status with many hardcore fans, was put out in April 1997. Touring would be their primary focus in the following months, just stopped by educational breaks. 'Design for Automotion', their third effort, was released in 2000 and supported by a tour which consumed most of the year 2000. Until the band broke up in 2005, they crafted two further full-length releases with 'End Transmission' (2002) and 'Bright Flashes' (2003). The band had a brief reunion in November 2007 but nothing happened beyond playing live and nothing is intended to beyond their 2010 reunion shows. SNAPCASE is Daryl Taberski (vocals), Jon Salemi (guitar), Frank Vicario (guitar), Dustin Perry (bass) and Tim Redmond (drums). http://www.snapcase.com/ / http://www.myspace.com/officialsnapcase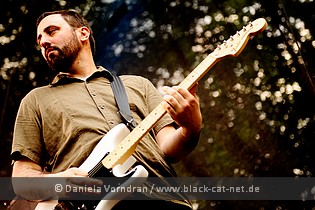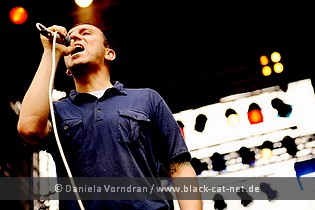 Music & Performance
I read a lot about this band beforehand and by that figured this must be something very interesting for me and indeed; the music that blasted through the PA with the first song was, even though audibly related to the Hardcore genre, more complex in its build and took some getting used to. That might be the reason why I heard some people saying they did not quite like what they were hearing. Well, different tastes, different opinions. I for one was very impressed by the vigour, Daryl Taberski has been putting into his heartfelt, uncontrived vocal performance while either dashing from left to right, screaming at the front or moving to the eclectic rhythms. He pumped the message that's inheriting their songs right into the brains of those who were open-minded enough to let it in.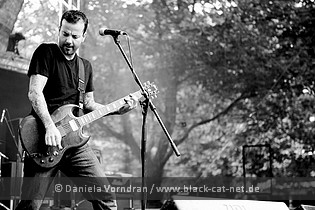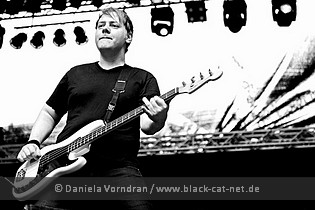 So songs like 'Steps', and 'Energy Dome' invited to let the limbs run wild, which the people had plenty space to do in the middle, and think while a dark, mid-paced effort like 'New Kata' with its calm moments was obviously rather something to provoke thoughts. Following 'She Suffocates', on the other hand again, floored the pedals hard style, just like 'Typecast Modulator'. A blistering 'Caboose' and a little mosh pit wrapped up the performance of a band that in my opinion should've had a bigger audience.

Rating
Music: 8
Performance: 8
Sound: 8
Light: - (daylight)
Total: 8 / 10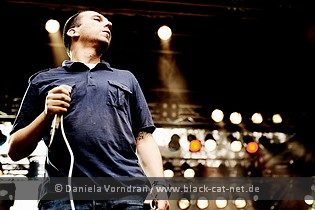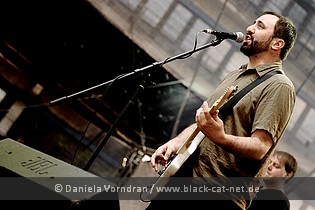 Zebrahead

ZEBRAHEAD, based in Orange County, California started their career in 1996, because the future band member's former bands all shared the same practice space at that time and during sound exploring sessions they became friends eventually. After the release of their self-titled debut EP in 1998, the band signed to major label Columbia Records to release their first full-length 'Waste of Mind' later the same year, followed by their sophomore 'Playmate of the Year' in 2000. Another EP was issued before the band embarked on a European tour with GREEN DAY. Equipped with a new vocalist following their former one's departure, they put out their fifth album, named 'Broadcast to the World'. In 2009 the band released a cover album with the title 'Panty Raid'. ZEBRAHEAD is Matty Lewis (rhythm guitar, vocals), Ali Tabatabaee (vocals), Greg Bergdorf (lead guitar), Ben Osmundson (bass), Ed Udhus (drums, percussion). http://www.zebrahead.com/ / http://www.myspace.com/zebrahead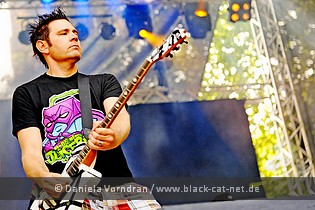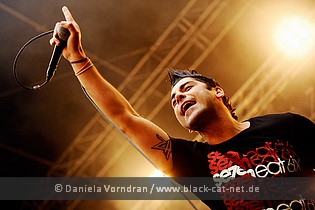 Music & Performance
After FEAR FACTORY had concluded with their performance at Hell Stage, the time had come for ZEBRAHEAD to enter the Devil Stage. I had seen them for the first time last year already and vividly remember some of their announcements and a particular game; they did play again during their performance at this festival. But first things first! The guys visibly had a lot of energy inside that needed to be released and some of that did with the opening cut 'Rescue Me' where Matty and Ali shined with their contrasting vocal performances to the high-speed rhythms. With the second song, the guys were sending 'Postcards from Hell' before animating the crowd to sit down and jump up on demand of Ali on the next tune. But not only was the crowd jumping like mad, the guys on stage did it as well. The song with the catchy title 'Two Wrongs Don't Make a Right, But Three Rights Make a Left' later kept the party mood up.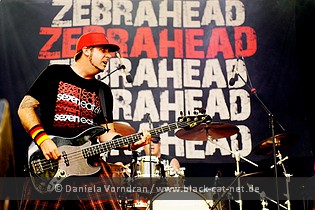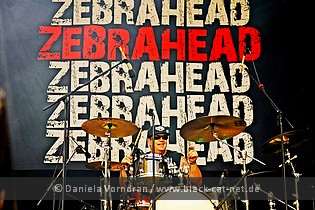 A "new song" was announced later and lacking a better title is called by me 'Who wants a Scheiße party'. Cool title I know, and exactly what made the people laughing out loud. Laughing like they did when it was time for the "pussy game" which obviously just appealed to males but not every single one, I have to add! To 'Anthem' there was again a huge circle pit until 'The Set-Up' wrapped up ZEBRAHEAD's show. Well, was a funny if sometimes a bit childish show!

Rating
Music: 7
Performance: 9
Sound: 8
Light: - (daylight)
Total: 7.9 / 10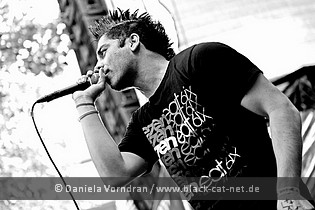 Danko Jones

DANKO JONES is a three-piece hard rock band, formed in Canada in 1996. For the next two years they toured consistently through the Northern US and Canada, opening for a variety of acts. In 1999, they released their first self-produced EP 'My Love is Bold', nominated for a Juna Award for "Best Alternative Album" in 2000. In 2002, the first full-length followed, on the Bad Taste label. They enjoyed a growing popularity with every further release. Preliminary peak was their fourth album 'Never Too Loud', lifted in February 2008. With the 'B-Sides' album came one huge collection of 27 songs from the DANKO JONES archives. Songs from every period of the band's career are included, many of them having seen their first release on a record. In 2010, the trio now returned with a proper full-length by the name of 'Below the Belt'. DANKO JONES is Danko Jones (vocals, guitar), John Calabrese (bass) and Dan Cornelius (drums). http://www.dankojones.com/ / http://www.myspace.com/dankojones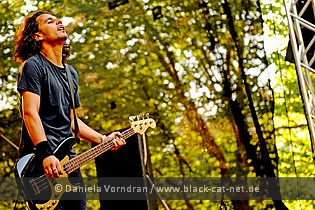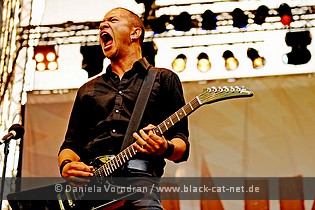 Music & Performance
Now it was up to Canadian bad-asses of DANKO JONES to mix up the crowd and they did. According to some comments I heard I can only conclude it's a lovers or haters thing with the band. I'm counting myself to the first category by the way. But now let's come to the show. The three-piece took the stage and quickly afterwards the first chords of the new album's opener 'I Think Bad Thoughts' sounded. Since that is quite some driving piece of music, I had expected Danko to move bit more instead of spending most of the time behind the microphone. I also think after this tune it got quite apparent why that album was titled 'Below the Belt'. Next up DANKO JONES did 'Play The Blues', but in their own dirty rockier version of course that didn't exactly make you feel sad but wanting to dance as lots of people did, while others just kept standing still and looked a bit sceptical.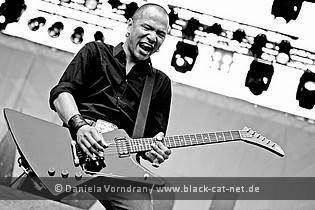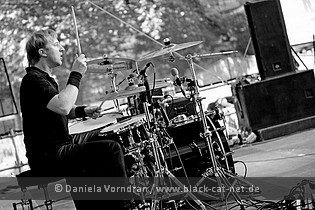 The next tune led right away into a 'Sticky Situation' before Danko himself started talking about how this band would only play for winners, and that's why they didn't want to play in Argentina. What a side blow! That was before they came along with 'Do You Kiss on the First Date' which animated a few girls in close distance to sing along loudly. A little technical problem at some point prevented the show from continuing right away and so Danko started talking again, and apparently he loves to do that and he's good at it admittedly. I really enjoyed seeing the band live finally and am looking forward the next time.

Rating
Music: 8
Performance: 7
Sound: 8
Light: - (daylight)
Total: 7.7 / 10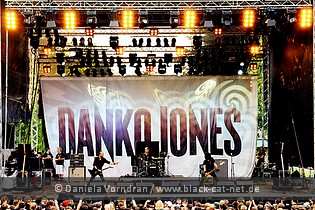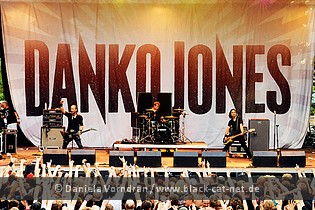 Amon Amarth

AMON AMARTH arose in 1992 from the band SCUM. Having changed their name to AMON AMARTH before, the band released a first demo in 1994 called 'The Arrival of the Finbul Winter', gaining them their first record deal. The mini album 'Sorrow throughout the Nine Worlds' was the only release for that label. After changing labels again, and drummer, the debut album 'Once Sent from the Golden Hall' saw the light of day in 1998. The band set out on a tour with DEICIDE, SIX FEET UNDER and BRUTAL TRUTH afterwards. Sophomore 'The Avenger' followed just one year later and also cleared the way for their first live performance at renowned German Wacken Open Air. The breakthrough in case of AMON AMARTH was called 'Versus the World' and released in 2002, getting high ratings from music critics. 'Twilight of the Thunder God' is the last one in a series of albums that built the band a top reputation and was out in 2008. AMON AMARTH is Johan Hegg (vocals), Olavi Mikkonen (guitars), Johan Söderberg (guitars), Ted Lundström (bass guitar), Fredrik Andersson (drums). http://www.amonamarth.com/ / http://www.myspace.com/amonamarth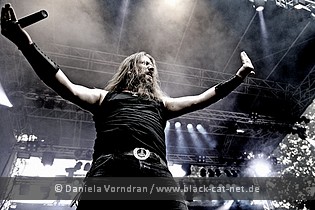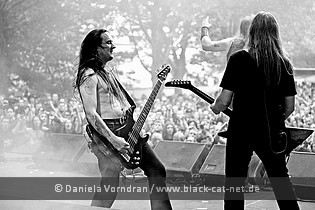 Music & Performance
AMON AMARTH were obviously a highly anticipated act at Devilside festival. The crowded space spoke volumes and it was kind of hard to get a good view on the stage even if you were arriving there early, but at least I got to see something and that's the important thing. AMON AMARTH also where the first band where mentioning the light show makes sense since it was dark enough for it at least to add some gloomy effect. Enough now and straight forward to the beginning which has been made with 'Twilight of the Thunder God', carried by a blast beat and the deep growls of Johan Hegg. Great applause followed after its performance and Hegg surprised, at least me, with his good German. The words "Raise a stone for all to see / Runes carved to my memory" introduced the next song 'Runes to my Memory', celebrated greatly.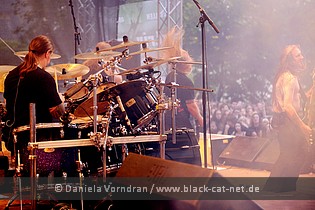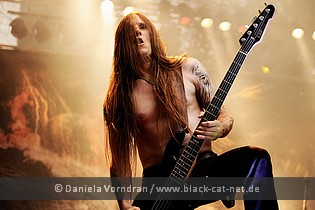 Later on, the guys would introduce part of their audience to the 'Guardians of Asgaard' which must be truly awe-inspiring creatures judging by how this song sounds. The following 'Thousand Years of Oppression' added a few more melodic accents. The mood at the time had risen constantly and clapping, dancing, and probably more importantly, head banging people could be seen everywhere. I'm not entirely into that Nordic, say motif, within the music but I understand that it bears a certain fascination. The technical skills of the band however have to be rated high and are unquestionable to anyone who's at least seen them once.

Setlist
01. Twilight of the Thunder
02. Runes to my Memory
03. Asator
04. Varyagsof Miklagaard
05. Guardians of Asgaard
06. Thousand Years of Oppression
07. Death in Fire
08. Live for the Kill
09. Cry of the Black Birds
10. Pursuit of Vikings

Rating
Music: 7
Performance: 9
Sound: 8
Light: 7
Total: 7.8 / 10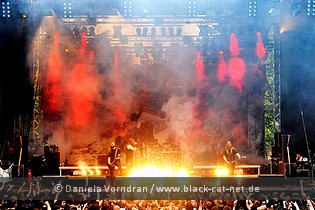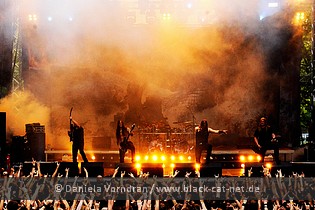 Airbourne

The first release of the band AIRBOURNE dates back to 2004 with the EP 'Ready To Rock'. Close to the end of 2005, the band signed with the Capitol Records label and in the following time played quite some live shows. First album 'Runnin' Wild' hit the streets in Australia in 2007. The second and latest album was released not so long ago in March and goes by the title of 'No Guts. No Glory'. AIRBOURNE is Joel O'Keeffe (lead vocals, lead guitar), Ryan O'Keeffe (drums, percussion), David Roads (rhythm guitar, backup vocals) and Justin Street (bass guitar, backup vocals). http://www.airbournerock.com/ / http://www.myspace.com/Airbourne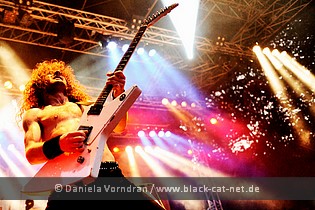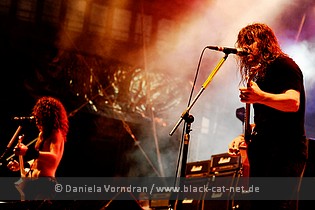 Music & Performance
Last band of the devil stage and of the festival were the shooting stars of AIRBOURNE and a procession of people set in motion to be at the stage in time for the show to start. Soon bright lights would start to illuminate the stage and the terminator theme would accompany them running on stage and fluently starting into the set with 'Raise the Flag'. While most of the people started to get really tired, the guys were just the opposite and spewed energy able to resurrect the last powers in the attendees' bodies. Their style strongly reminds of AC/DC but has an own twist of modernity to it that emphasises their uniqueness. No time for resting, the guys quickly let follow the second offering by the name of 'Hellfire' while scouring the stage with an untiring urge to keep the crowd awake and entertain them, which they easily managed. 'Chewin' The Fat' was the next one and latest there you had to move, tired or not.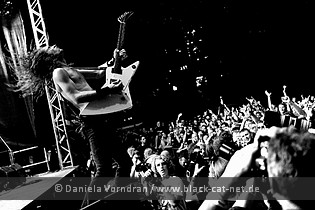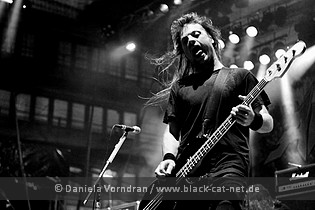 Quite a surprise followed on the track 'Girls in Black' when Joel suddenly climbed one of the stage pillars way up to the top and played an awesome guitar solo from up there. Honestly, how crazy can you be to pull something like that, huh? But even though it's a risk, the entertainment factor is extremely high. During 'Blonde, Bad and Beautiful', I decided it's time for me to call it a day and head back home. The day was long and exhausting, and frankly I was dead tired too. Anyway, what I saw whetted the appetite for a full show.

Setlist
01. Raise the Flag
02. Hellfire
03. Chewin' the Fat
04. Diamond in the Rough Play Video
05. Girls in Black
06. Cheap Wine & Cheaper Women
07. Blonde, Bad and Beautiful
08. Born to Kill Play Video
09. No Way but the Hard Way
10. Too Much, Too Young, Too Fast
11. Runnin' Wild

Rating
Music: 8
Performance: 9
Sound: 8
Light: 8
Total: 8.3 / 10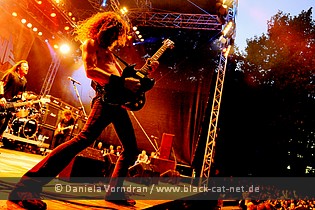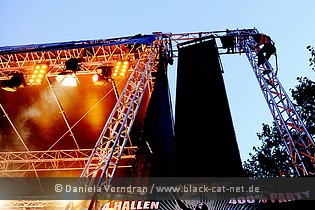 The second Devilside festival ended with a big celebration of AIRBOURNE. Approximately 6,000 people were attending this year's edition which honestly felt too much for the grounds the festival was taking place on as it was at times hardly possible to catch anything happening on stage. But nevertheless, the organizers improved a lot compared to the debut. There have always been enough beverages in stock and the stuff handled everything quickly, so you had no long waiting times in a queue. The schedule however is way too tight; at least a 10 minute break between every band should be possible and is much more comfortable.

All pictures by Daniela Vorndran (http://www.vorndranphotography.com/ / http://www.black-cat-net.de/ / www.myspace.com/vorndranphotography)
{jos_sb_discuss:17}
See also (all categories):