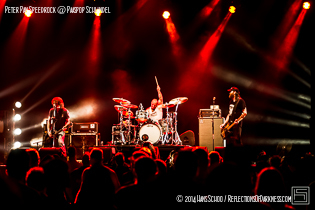 Paaspop, Schijndel, The Netherlands
19th to 20th April 2014
Paaspop Festival Day 1: And So I Watch You From Afar, Band of Skulls, Blood Red Shoes, Devildriver, Halestorm, Navarone, The Paceshifters, Silverfaces, Peter Pan Speedrock, Prodigy, Triggerfinger

Paaspop or "Easter pop" in Schijndel is the usual kick off for the festival season in the Netherlands and the weather proves to be quite unpredictable this time of year. While last year I geared up with gloves and a woollen hat in my camera bag, this year sunglasses and sunscreen were in the bag! Paaspop obviously has grown even further with more bands, more & bigger stages and a bigger visitor capacity. Line-up is very diverse as it is each year, with rock, metal, pop, dance, reggae, theatre and whatnot. Loud guitars and drums were mostly to be found at the Phoenix, Jack Daniel's stage and the Thunderbolt, but in between there was some time to wander around the festival compound and enjoy the sun!
Navarone

NAVARONE (named after the movie 'The Guns Of Navarone') started off a couple of years ago as a project by singer Merijn van Haren and guitarist Kees Lewiszong. After release of their debut EP back in 2009 they got some airplay and did some gigs. Winning the "Next Best Band" competition got them their very first appearance at Paaspop in that same year. After a period of silence they got back together to create their first full album 'A Darker Shade Of White' released in September 2012. The way in which they perform their 70s style rock that remind of bands like WOLDMOTHER and BLACK CROWES was positively received by the press; result was a pretty much sold out spring tour in 2013 and many gigs in the following festival season.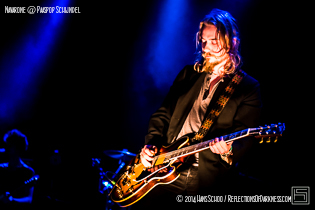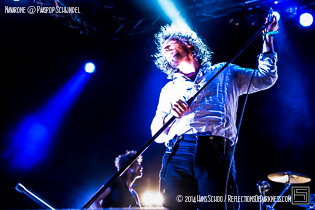 Now they are at the brink of the release of their second album 'Vim and Vigor' (stands for energy and enthusiasm). Release party will be on 14 May in Tivoli Vredenburg, Utrecht. NAVARONE are Merijn van Haren (vocals), Kees Lewiszong (guitars), Bram Versteeg (bass), Roman Huijbreghs (guitar / vocals) and Robin Assen (drums).
www.navaronemusic.com
Music & Performance

NAVARONE opened the Saturday at the Phoenix stage. A small crowd has gathered and it was clearly still time to slowly wake up for many of them. That does not stop them from thoroughly enjoying the long guitar riffs and Merijn's typical high voice though. Merijn announces that many songs in today's setlist have never been played before as they are from the new yet to be released album. The AEROSMITH-like song 'Leaves' is great in this setting.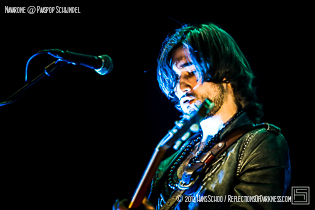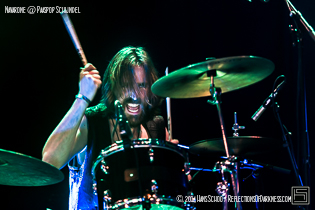 'The Wander', in which Merijn tries to seduce the audience to participate, is beautiful but it apparently still is way too early for most in the small crowd gathered here to sing along and his efforts hardly pay off. 'Smash 'n Grab it', the new single, is well received though. Looking forward to that new album and definitely are going to see them again.
Rating

Music: 9
Performance: 8
Sound: 7
Light: 8
Total: 8 / 10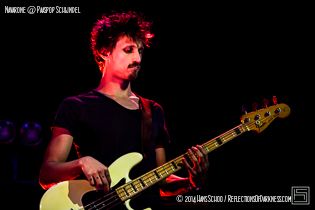 Halestorm

HALESTORM was founded by brother & sister Lzzy and Arejay Hale in 1998 in high school. They began playing local shows and soon gathered a following across Pennsylvania. After signing with Atlantic Records, they released a live EP 'One and Done' and soon they hit the road to start touring with bands like SHINEDOWN, SEETHER and FLYLEAF. HALESTORM's self-titled debut album was released in 2009, and their first single 'I Get Off' proved quite successful. Singer Lzzy describes the band's sound as powerful rock 'n 'roll:
"We have a lot of classic rock influences, but the music never feels dated. It's got an old school feeling with a modern edge".
While working on their next album, HALESTORM released two cover EP's with covers from amongst others from LADY GAGA, GUNS 'N ROSES, DAFT PUNK, MARILYN MANSON, THE BEATLES and JUDAS PRIEST.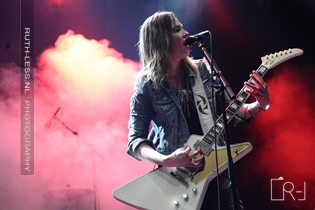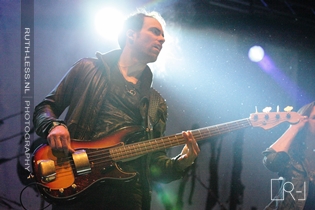 Their latest album 'The strange case of…' was released in April 2012. HALESTORM is Lzzy Hale (lead vocals, rhythm guitar and keyboard), Arejay Hale (drums, percussion, backing vocals), Joe Hottinger (lead guitar, backing vocals) and Josh Smith (bass guitar, backing vocals).
www.halestormrocks.com
/
https://www.facebook.com/halestormrocks
Music & Performance

A proper crowd had gathered at the Phoenix to welcome the American rockers of HALESTORM to the stage. Lzzy, Arejay, Joe and Josh took off in style - sunglasses on - and kicked it off with 'I Miss the Misery' and 'Love bites' from their latest album. The band clearly didn't need a warming up and neither did the audience. HALESTORM treats the audience to a solid portion of hard rock, and although not each and every note is hit spot on by leading lady Lzzy, this is more than made up for by their convincing live performance.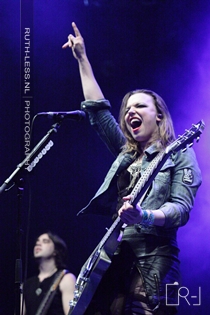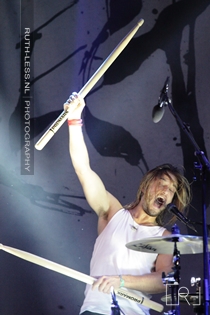 Besides, there's no doubt that Lzzy has an amazing rock voice. The set list included a mix of songs from their repertoire, including JUDAS PRIEST cover 'Dissident Aggressor'. While guitarists Joe and Josh remain mostly in the background, Arejay and Lzzy both have their spotlight moments during the show with heart-breaking ballad 'Break In' and a signature drum solo with huge drum sticks. The show comes to an end in sing-alongs style with their first single 'I get off' and 'Here's to us'. Great show, great atmosphere and finally I'd like to note the kick-ass spiked high heels that Lzzy was wearing (and abstain from comments on the rest of her outfit).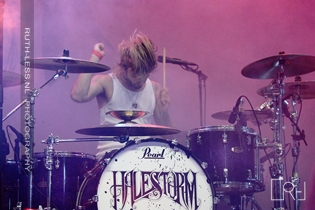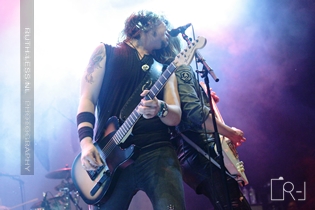 Setlist

01. I Miss the Misery
02. Love Bites (So Do I)
03. It's Not You
04. Freak Like Me
05. Rock Show
06. Break In
07. Familiar Taste of Poison + Drum Solo
08. Dissident Aggressor (Judas Priest cover)
09. Mz. Hyde
10. Daughters of Darkness
11. I Get Off
12. Mayhem
13. Here's to Us
Rating

Music: 8
Performance: 8
Sound: 8
Light: 8
Total: 8 / 10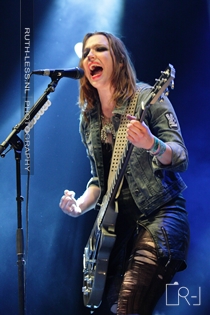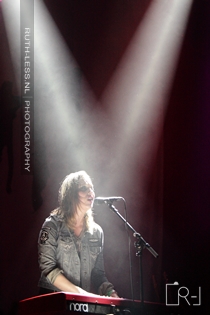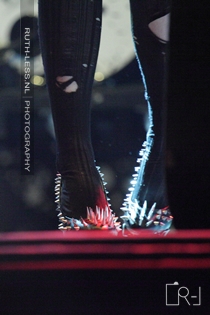 Band of Skulls

BAND OF SKULLS are an alternative garage rock band that formed in 2008 in Southampton, England. The band consists of Russel Marsden (guitar, vocals), Emma Richardson (bass, vocals), and Matt Hayward (drums), who got together in college. Initially, they played at night clubs in the greater London area and recorded some demos under the name of FLEEING NEW YORK before changing their name to BAND OF SKULLS in November 2008. Their debut album 'Baby Darling Dollface Honey' was released in 2009. Their latest album 'Himalayan' was released this March.
www.bandofskulls.com
/
www.facebook.com/bandofskulls
Music & Performance

The British trio BAND OF SKULLS had quite a challenge to convince the Phoenix of their super fresh album 'Himalayan', released not even a month ago. This gig is the final one in their European tour and with previous albums the band has proven its status on several European festivals. With dimmed light and the musicians intensely focusing on their play, it took some time for the audience to catch up with their flow.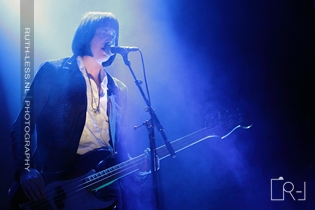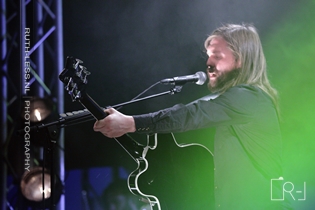 For the part of the audience who aren't familiar with their work, like me, their performance seemed quite static at first and lacked contact with the people in front of the stage. But don't mistake their absence of expression for a lack of interest. Russel, Emma and Matt play each note with absolute devotion and concentration and they obviously master their instruments. Further along, the band clearly plays some older work, which is welcomed more enthusiastically by the front rows of the audience. They close their set with 'Death by Diamonds and Pearls' from their debut album 'Baby Darling Doll Face Honey'.
Setlist

01. Asleep at the Wheel
02. Himalayan
03. You Aren't Pretty But You Got It Going On
04. I Know What I Am
05. Nightmares
06. Bruises
07. I Feel Like Ten Men, Nine Dead and One Dying
08. The Devil Takes Care of His Own
09. Hoochie Coochie
10. Hollywood Bowl
11. Light of the Morning
12. Death by Diamonds and Pearls
Rating

Music: 7
Performance: 6
Sound: 8
Light: 6
Total: 6.8 / 10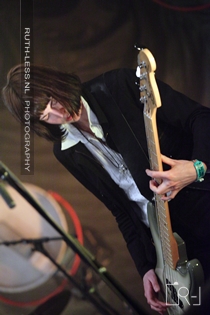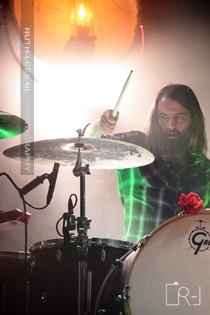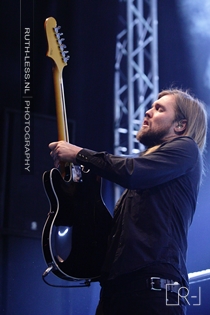 The Silverfaces

THE SILVERFACES are a young, a very young band who are inspired by the psychedelic sound of bands from the 60s. They are founders Jesse Koch (guitar/ vocals) and Sonya Vos (bass/ vocals) plus Martin Scheppink (keys) and Nienke Overmars (drums). They have no album out yet, but what they do have is a series of videos recorded at FC Walvisch Studios in Amsterdam. Recorded by the rules
"one take, live mixing and no mastering. As real as it gets."
And those recordings are impressive. Talented is the word. They have not played many gigs yet, but they are moving fast. They had their 1 minute of fame on Dutch national television show DWDD and their eighth performance ever was at the prestigious Noorderslag Festival in January 2014.
www.thesilverfaces.com
/
https://www.facebook.com/thesilverfaces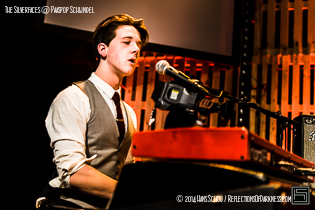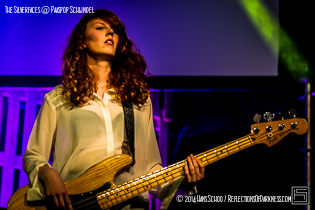 Music & Performance

When THE SILVERFACES are announced at the Jack Daniel's stage today it is mentioned that this "mixed double" now has their first EP out (consisting of the five FC Walvisch recordings) and that the price can be set by the buyer. And indeed, on their website too, the 'FC Walvisch Sessions' are offered for download and "pay what you want". Nice. And these kids rock. Sixties blues rock is what they play and they play it convincingly. Solos by each of the band members, impressing technical skills, lots of interaction on stage especially between Jesse on guitar and Martin on keys. They grab your attention from the start and do not let go until they are done, half an hour later. Well done and keep going!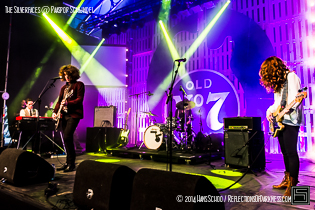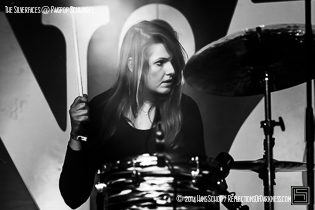 Setlist

01. For you, My Love
02. I Have To Have Her
03. Ballad Of Friends
04. Look Into The Dark
05. Thoughts Of You
06. Brother
Rating

Music: 9
Performance: 9
Sound: 8
Light: 8
Total: 8.5 / 10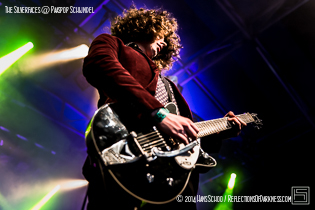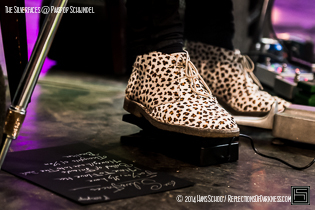 The Paceshifters

THE PACESHIFTERS were founded in 2008 by brothers Paul and Seb Dokman at the age of 17 and 15. They both had experience with other bands, but decided to join forces and focus on louder rock music. Since they both played guitar, they agreed Paul should switch to bass and the brothers looked for a drummer to complete their formation. THE PACESHIFTERS' drums were taken care of by Koen Klarenbeek until 2013, after which Jesper Albers joined the band. THE PACESHIFTERS released 'One for the Road' in 2010, followed by 'Home' in 2012. Their third album with the title 'Breach' is expected in 2014. THE PACESHIFTERS are Paul Dokman (bass/ vocals), Seb Dokman (guitar/ vocals) and Jesper Albers (drums/ vocals).
www.paceshifters.com
/
www.facebook.com/Paceshifters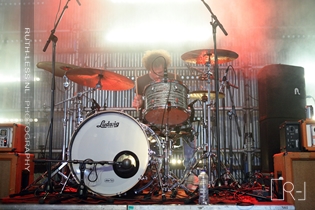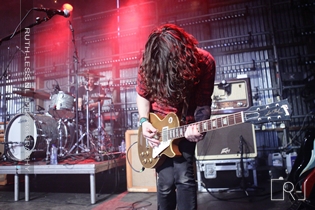 Music & Performance

I heard some positive comments about the PACESHIFTERS, but entering the Thunderbolt stage I couldn't help but wonder how these "kids" were going to put out a convincing rock show. But that didn't take long. The PACESHIFTERS kicked off with 'Drone'; the first single of their upcoming album 'Breach'. From that point on it was loud, vile, grunge, garage, punk and energy all over the stage. The PACESHIFTERS produce a sleazy rock sound that is strengthened with the raw voices of Paul and Seb. The Thunderbolt audience seemed pleasantly surprised by their performance as well, although it didn't stimulate them to move around or put down their beers for hardly a minute.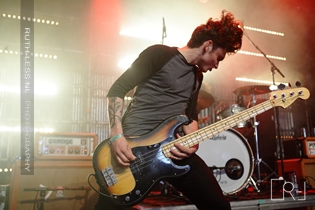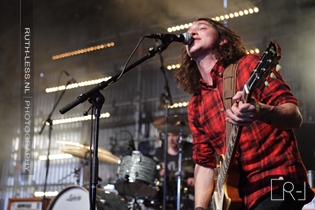 Then again, this stage has the ambiance of a rock café so the atmosphere fits that perfectly. Their set list is built up with work from both their albums and their upcoming CD. Great show, definitely keep an eye on these guys in the future!
Setlist (incomplete)

Drone
Right now
Drive me insane
Where
This road
Memories
State
Rating

Music: 8
Performance: 8
Sound: 8
Light: 8
Total: 8 / 10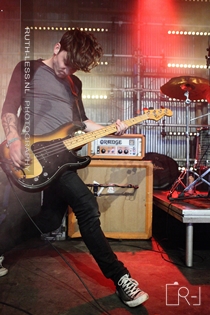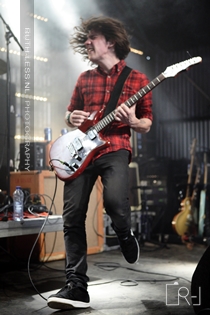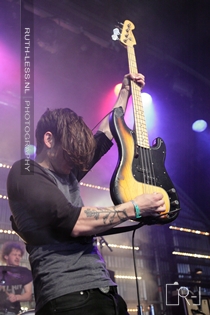 Blood Red Shoes

BLOOD RED SHOES are Steven Ansell (drums) and Laura-Mary Carter (guitar) from Brighton, UK. They started BLOOD RED SHOES back in 2004 during a jam in Berlin after their previous bands had broken up. They describe themselves as
"a rock n roll band from the south of England. living the JAZZ LIFE"
with interest in
"mortality. psychosis. neurosis. sex. dreams. the future. alienation. failure. escape. mass celebration. hope. regret. taking things too far........ and Fleetwood Mac."
BLOOD RED SHOES have four albums out so far, the latest one being the self-titled Blood Red Shoes which was released on 3rd March this year.
www.bloodredshoes.co.uk
/
https://www.facebook.com/bloodredshoes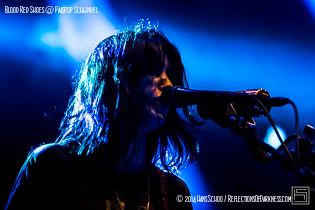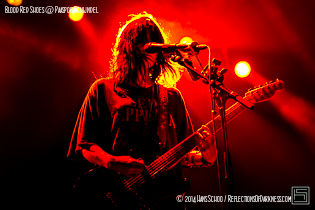 Music & Performance

My expectations of BLOOD RED SHOES were high, mainly based on reviews of earlier shows. Unfortunately their performance today was nothing like the Rock'n'Roll party they seem to have put up on some other occasions. Of a band who have been on the road for ten years now one would expect some feel for how to behave on stage in order to get the attention of the crowd. Nothing at all. The act is very much an almost shy, literally shoe-gazing performance with hardly any interaction with the audience. Performed in almost complete darkness too.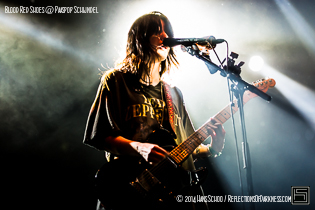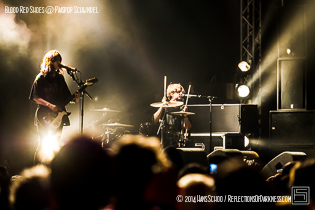 And when they then do try to make contact ("you really must check out The Wytches who will be performing later today. You should see them. Really. We are asking nicely." says Steven and "They're fucking amazing" adds Laura-Mary) there is no response whatsoever. Typical. Perhaps they are just at the wrong place at the wrong time today, surely hope that there will be more magic when they play Melkweg Amsterdam tomorrow night.
Rating

Music: 7
Performance: 5
Sound: 7
Light: 4
Total: 5.8 / 10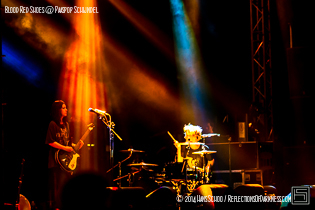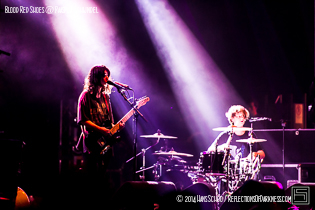 And So I Watch You From Afar (ASIWYFA)

ASIWYFA are a four-piece rock band from Belfast, Northern Ireland. They wrote and released two albums and two EPs as a four-piece with former member Tony Wright. Their 2011 album release 'Gangs' earned the band a second Choice Music Prize nomination for "Irish Album of The Year" 2012. In the meantime, ASIWYFA has been touring extensively all over the world, adding less-travelled roads (and stages) in China, Russia, Ukraine and Belarus to their touring list. ASIWYFA's third album 'All Hail Bright Futures' is their first recording done as a three-piece following the departure of Tony Wright. The sound on this album distinguishes ASIWYFA more and more from many other instrumental bands, although an occasional word is put out in the songs.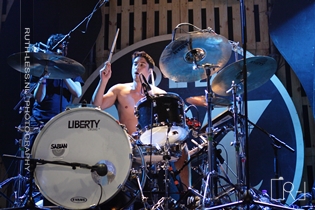 The ASIWYFA sound is underpinned by trademark guitar riffs, complemented by a colossal and increasingly expressive rhythm section. ASIWYFA are Rory Friers (guitar), Niall Kennedy (guitar), Johnny Adger (bass) and Chris Wee (drums).
http://asiwyfash.tumblr.com/
/
www.facebook.com/andsoiwatchyoufromafar
Music & Performance

I've visited several shows of this great band over the years, and caught them on Paaspop a few years back as well. ASIWYFA's overload of very well-orchestrated layers and their frivolous live performance always puts a smile on my face and so it did this year. My Reflections of Darkness colleague Sebastian Huhn described their music perfectly a few years ago by saying
"ASIWYFA are masters at lulling you into a sense of false security, making you think you're having a safe stand but then pushing you over the edge."
I can confirm this hasn't changed.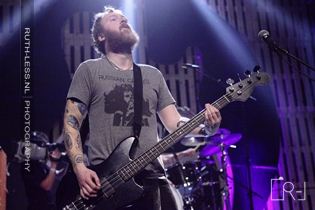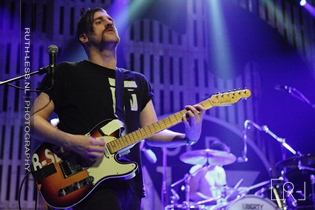 With songs from their entire repertoire both old ('if it ain't broke...', 'D is for Django') recent ('Beautiful universe master champion') and new ('Big Thinks Do Remarkable', 'Like a Mouse') ASIWYFA puts out a superb dynamic show that makes you not want to even blink before you'll miss the next transition in their music. I find their sound extremely loud but still delicate in a very unique way. Great show, keep up the good work guys!
Setlist

01. Big thinks Do Remarkable
02. Like a Mouse
03. If it ain't broke… break it
04. Beautiful universe master champion
05. Gang (starting never stopping)
06. 7 Billion people all alive at once
07. D is for Django The Bastard
08. Think: Breathe: Destroy
09. Search Party Animal
10. S is for Salamander
11. The Voiceless
Rating

Music: 9
Performance: 8
Sound: 8
Light: 8
Total: 8.3 / 10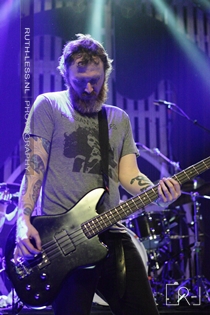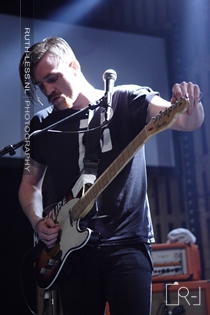 DevilDriver

DEVILDRIVER from Santa Barbara CA, USA was formed in 2002 by Jon Miller (bass), John Boecklin (drums) and Jeff Kendrick (guitar). When former COAL CHAMBER singer Dez Farara joined them, heavy metal band DEVILDRIVER (a.k.a. DEATHRIDE in the early years) was born. The guys have released albums at a steady pace of one every other year starting in 2003 with debut 'DevilDriver' ending up for now with number six, 'Winter Kills', which was released in August 2013. Their style in their own words is "Pure Fuckin' Metal" of the angry kind. That anger came to a climax in their previous album 'Beast' (2011). 'Winter Kills' is more diverse.
www.devildriver.com
/
https://www.facebook.com/DevilDriverOfficial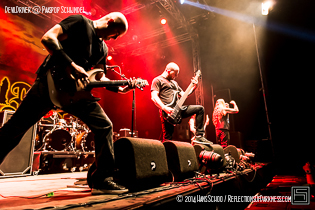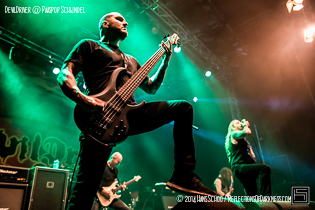 Music & Performance

DEVILDRIVER opens with 'Head On To Heartache' and from then on keeps up the pounding pace until an hour later they finish up with 'Meet The Wretched' from their debut album. Response from the crowd in the front is good, obviously the die-hard fans have assembled there and are having big fun in the mosh pit. DEVILDRIVER's setlist mainly consists of songs from 'The Last Kind Words' and of the latest album. The guys are really putting a lot of energy in connecting to the crowd and to entertain their fans. Somehow tonight they don't seem to reach further than the front rows though. Not to blame them, after all Paaspop is not a metal fest.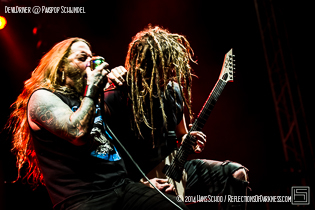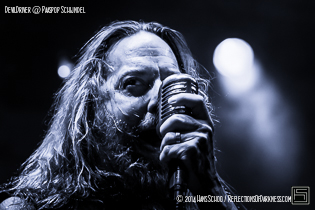 Setlist

01. Head on to Heartache
02. Hold Back The Day
03. Not All Who Wander are Lost
04. Before the Hangman's Noose
05. I Could Care Less
06. The Appetite
07. Sail
08. End of the Line
09. Dead to Rights
10. Clouds over California
11. Ruthless
12. Meet The Wretched
Rating

Music: 8
Performance: 8
Sound: 7
Light: 8
Total: 7.8 / 10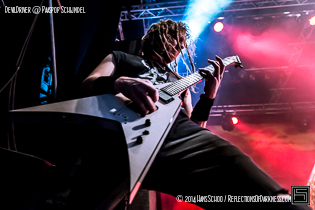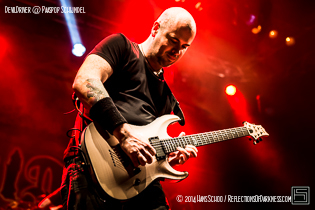 Of course, we did see many bands this festival and we can't (and don't want to) review them all in detail. On Saturday, we also caught a glimpse of the sweeter than sweet all-girls formation BELLS OF YOUTH and we got into that summer feeling with SPLENDID who rightfully state that they produce "sunshine from a speaker". In between the tight schedule with so many stages, there was some time to wander around and enjoy a beer and some of the great food selection Paaspop had to offer. Another band worth mentioning, whether you like 'm or not, are the Spanish party animals from LA PEGATINA who's mission to get Paaspop to dance and smile seemed to be quite successful.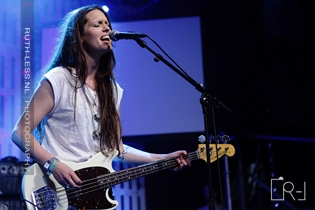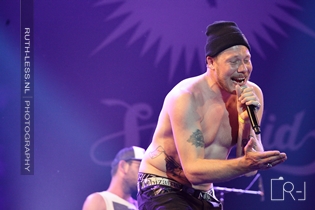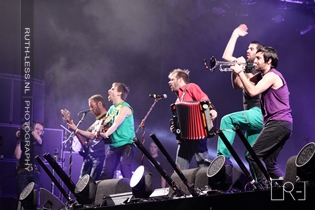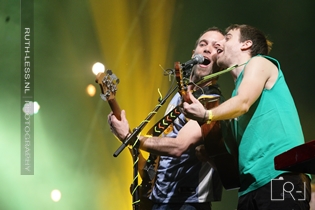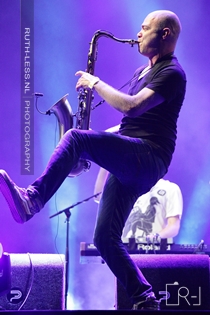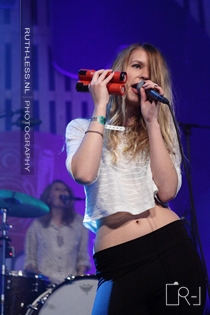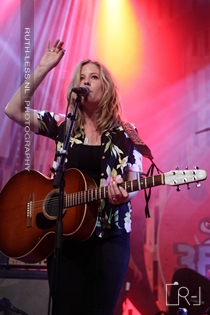 Triggerfinger

TRIGGERFINGER is a Belgian rock band from Antwerp formed in 1998 with an international sound that appeals to several generations of people, recognizing both bands like QUEENS OF THE STONE AGE or LED ZEPPELIN / DEEP PURPLE in their sound. TRIGGERFINGER receives rave reviews from the media. One such review claims TRIGGERFINGER's live show makes about 500,000 other so-called rock bands instantly redundant. TRIGGERFINGER is Ruben Block (singer/ guitarist), Paul van Bruystegem - aka lange Polle / Monsieur Paul (bass) and Mario Goossens (drums).
www.triggerfinger.net/
/
www.facebook.com/triggerfingerpage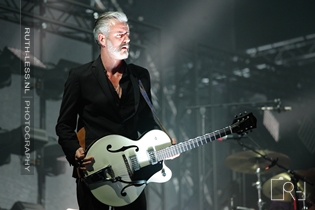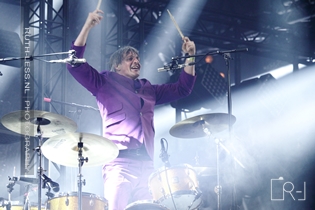 Music & Performance

TRIGGERFINGER is one of the closing acts on the main stage for today, and I was very happy to see that the drum kit was placed right at the front of the platform. The Apollo tent had grown about 50 meters longer this year, and the stage had gone up in height as well it seemed. Only thing that hadn't grown was the photo pit. With a lengthy but narrow strip in front this resulted in mostly portrait shots from beneath and some pretty annoyed photographers. TRIGGERFINGER took off with the first song from their latest album 'By Absence of the Sun' before taking it back in time to a song from their 2008 album 'What Grabs Ya?'. Ruben, Paul and "Monsieur P" make an impressive trio on stage with their cool slick looks and solid performance. The audience in a loaded Apollo seemed to need a bit of a warming up, though the front row already was singing along from start to end with most of the songs.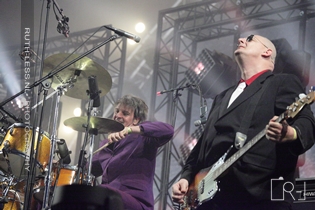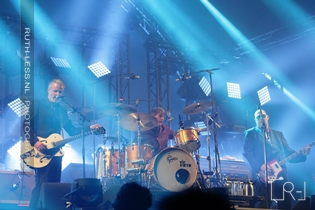 TRIGGERFINGER takes the audience on a journey about their musical career playing songs from several albums, some slow & sleazy, some fast and rock N roll. It's great to see these gifted musicians enjoying their play on stage, working together but also taking up their own role. Finishing their show with their famous LYKKE LI cover 'I follow Rivers' and 'First Taste' from their 2008 album, they leave a happy and satisfied audience that is ready to reload for some serious rave music with the last band of the evening: THE PRODIGY.
Setlist

01. Game
02. Short Term Memory Love
03. By Absence Of The Sun
04. On My Knees
05. Perfect Match
06. My Baby's Got a Gun
07. Camaro
08. All This Dancin' Around
09. Let It Ride
10. I Follow Rivers (Lykke Li cover)
11. First Taste
Rating

Music: 8
Performance: 8
Sound: 8
Light: 8
Total: 8 / 10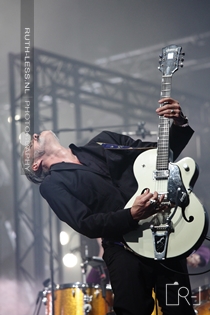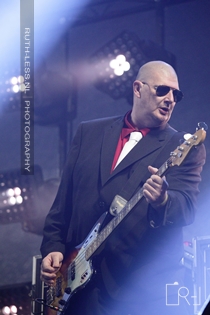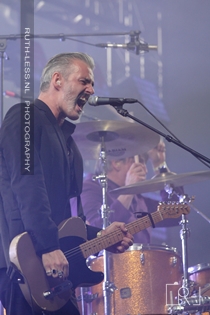 Peter Pan Speedrock

PETER PAN SPEEDROCK is a trio founded in 1996 with the intention to play MOTÖRHEAD-like music. From their second album 'Rocketfuel' (1998) they have been quite successful. Quite like their example they have not changed their approach since then, and members since then have always been Peter van Elderen (guitar / vocals), Bart Geevers (bass) and Bart Nederhand (drums). PETER PAN SPEEDROCK like to work very hard and play a lot. As a result they now have played 1,800(!) gigs in their 17 years of existence and released 12 albums. Usually they are accompanied by their band mascot "Dikke Dennis" (Fat Dennis), a tattoo artist from Amsterdam whose role in the show is to announce the band and who is guest singer on 'Schoppenaas', their Dutch version of MOTÖRHEAD's 'Ace Of Spades'.
peterpanspeedrock.nl
/
https://www.facebook.com/peterpanspeedrock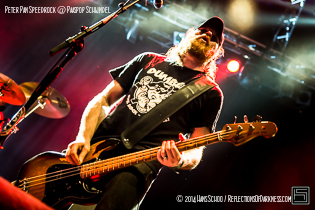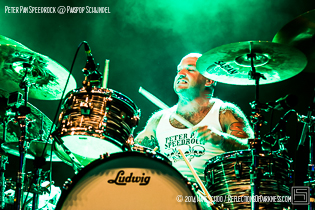 Music & Performance

I might as well admit it, I doubt that there is anything after a long festival day that can cheer me up like a PETER PAN SPEEDROCK show. And that is exactly what happened today. Dikke Dennis announced the band, Peter told the crowd that he was informed that this was the 16th time they played Paaspop and that the 16th time always is special (…), the speedrock machine started and never stopped again. Full throttle is the only way and off we go. Love it. Who cares that the show has been more or less the same ever since they started and probably will be like that forever? Not these fans. Not the band. Definitely not me. Quality of the albums may differ slightly but bottom line is pure straightforward fast rock.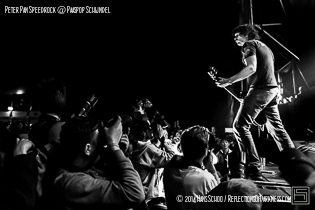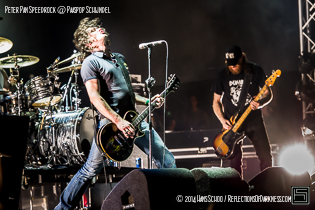 And so we enjoy being completely bulldozered by this speedrock machine. Are happy when Peter looks to the side of the stage and yes, indeed, Dennis is released from his cage to do his 'Schoppenaas' trick. Nothing as nice as confirmation of the expected. And scream out loud when we recognize the intro of 'We Want Blood' from the last album of the same name. I have seen it before and will probably see it again. And again. Just for the fun of it.
Rating

Music: 8
Performance: 9
Sound: 8
Light: 8
Total: 8.3 / 10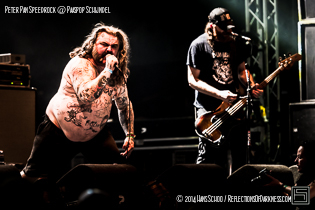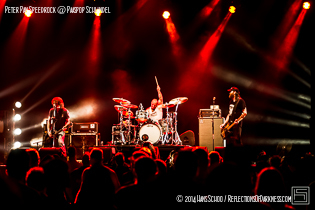 The Prodigy

THE PRODIGY are an English electronic music group formed by Liam Howlett in 1990. The current members include Liam Howlett (keyboardist and composer), Keith Flint (dancer and vocalist), Leo Crabtree (drums), Rob Holliday (lead guitarist) and Maxim (MC and vocalist). Along with the CHEMICAL BROTHERS, FATBOY SLIM and other acts, THE PRODIGY have been credited as pioneers of the big beat genre, which achieved mainstream popularity in the 1990s and 2000s. They have sold over 25 million records worldwide and won numerous music awards throughout their career. The group's brand of music makes use of various styles ranging from rave, hardcore techno, industrial, and break-beat in the early 1990s to big beat and electronic rock with punk vocal elements in later times.
www.theprodigy.com
/
www.facebook.com/theprodigyofficial
Music & Performance

I'm not sure Paaspop was completely ready for the mayhem these British ravers would bring. The Apollo tent was so packed with people it almost surprised me there were still people elsewhere on the festival compound. The only entrance in the back wasn't very convenient and arriving late meant squeezing, pushing, sliding through a sea of people to get a glimpse of the stage. The minute THE PRODIGY started with their hit 'Voodoo People' the roof was almost blown off as the crowd started dancing. The stage was either pitch dark or dazzling with light because of the strobes and the screens on the sides and the back of the tent only showed their VJ material. That made it hard to catch anything of their live performance, except perhaps for those in right front of the stage. Those who came to just dance, rave and rock to the beat we're satisfied most certainly with an extensive set of hits and other material from their repertoire.
Unfortunately, this part of the review contains no photos. The organization informed us beforehand that only a selection of photographers selected by PRODIGY management would be allowed to take photos and that wasn't RoD unfortunately. To my surprise however, even not all photographers who got that VIP pass were allowed near the stage in the end. It was said that this lead to quite some confusion / disturbance among the photo crew.
Setlist

01. Voodoo People
02. Jetfighter
03. Filler Discontent
04. Breathe
05. Omen
06. Rock Weiler
07. Poison
08. Thunder (Dubstep Mix)
09. AWOL
10. Firestarter
11. Run With the Wolves
12. Get Your Fight On
13. Spitfast
14. Omen (Reprise)
15. Invaders Must Die
16. Smack My Bitch Up
---
17. Take Me to the Hospital
18. New Beats
19. Their Law
20. Hyperspeed (G-Force Part 2)
Rating

Music: 8
Performance: ?
Sound: 8
Light: ?
Total: -
All pictures by Ruth Mampuys (
www.ruth-less.nl
) and Hans Schoo (
http://www.hansschoophotography.com/
)
See also (all categories):