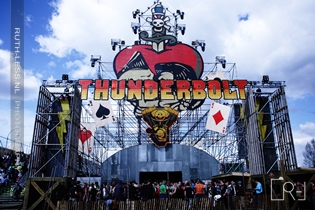 Paaspop, Schijndel, The Netherlands
3rd to 5th April 2015
Paaspop Sunday: July Talk, The Gentle Storm, Vintage Trouble, Nothing But Thieves, The Black Marble Selection, Liptease, Sven Hammond, Against Me!, Peter Pan Speedrock

Rise and shine was easy on Paaspop Sunday: the weather had improved and the sun was already warming the party people at the festival compound. Unfortunately, this didn't change much at the muddy parking meadow and tractors were still working busy hours to get the cars in and out. I decided to be creative today and brought my bike so I could park somewhere else and cycle the last few miles. No more worries about nightly drifting adventures! Anyhow, the sun was shining and the beer still tasted good on this final day at Paaspop. Today I will be focusing more on the smaller stages where loads of (potentially) interesting bands have been scheduled.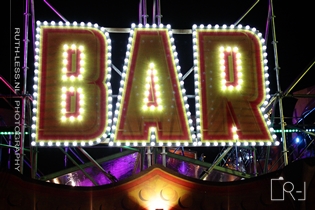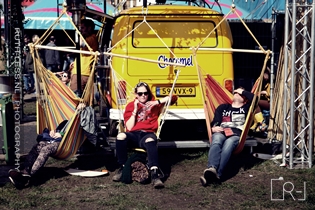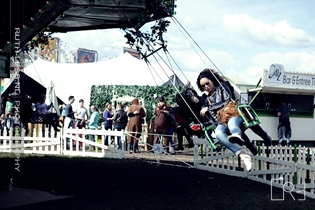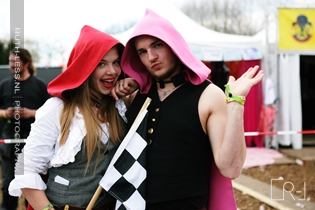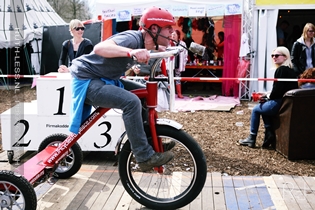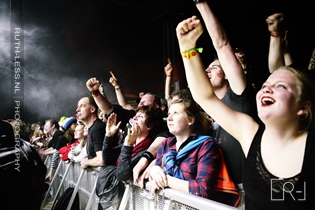 July Talk

JULY TALK is a Canadian blues/ alternative rock band formed in 2012 in Toronto. The band consists of singers Peter Dreimanis and Leah Fay, guitarist Ian Docherty, bassist Josh Warburton and drummer Danny Miles. The band released their self-titled debut on Sleepless Records (Formerly White Girl Records) on 16th October 2012. July Talk's style of music is a mix of alternative and indie rock.
http://www.julytalk.com
/
www.facebook.com/julytalk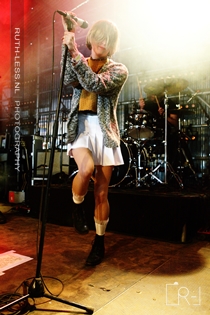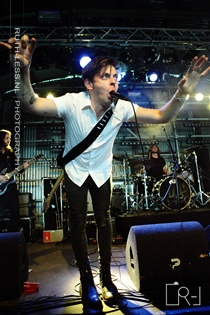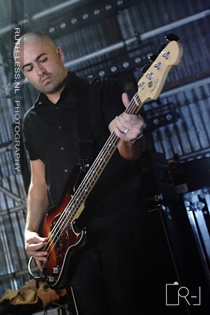 Music & Performance

Crazy – sexy – vicious – playful. Even after the performance of JULY TALK, it seems I am not the only one in the audience left puzzled. One thing is certain though: they know how to keep the audience's attention. Musically, their sound is inspired by blues and alternative (indie)rock, varying from lovely sugar sweet tones and vocals to angry outbursts (Peter has a great whiskey & cigars voice that surprised me given his boyish looks). Combined with sleazy guitar riffs, each of their song tells a story. Additionally, the facial expressions of singer Peter and the provocative, defiant dancing of Leah (with unshaved armpits) are a trivial part of this vibrant gig. I don't know that to think and I think that's exactly what I like about this band.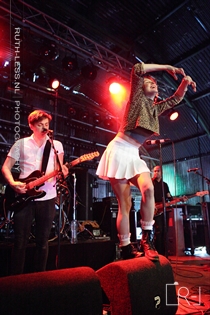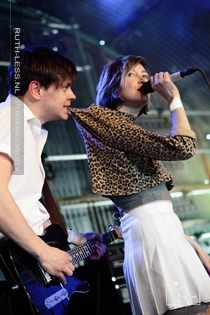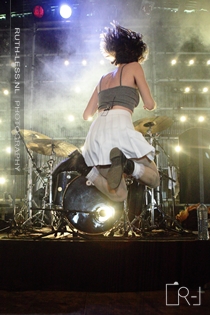 Setlist

01. Blood & Honey
02. Someone
03. Summer Dress
04. Gentleman
05. Guns & Ammo
06. Don't call home
07. Headsick
08. Lola & Joseph
09. Let her Know
10. Rationed
11. Sex song
12. My neck
13. Paper Girl
14. The Garden
Rating

Music: 7
Performance: 9
Sound: 8
Light: 8
Total: 8 / 10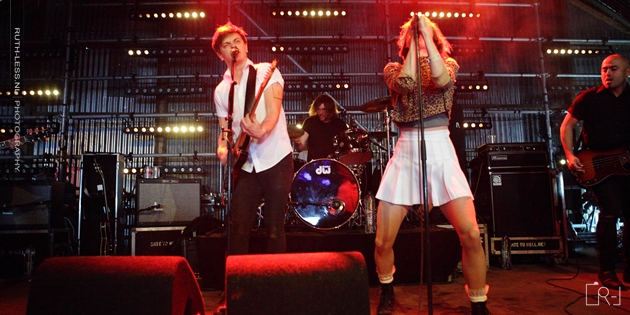 The Gentle Storm

With a working relationship dating back to 1998, two of Holland's finest musicians have united for a new project. THE GENTLE STORM is a new band formed by Arjen Lucassen and Anneke van Giersbergen. Their double concept album was released 23rd March 2015. Due out in early 2015, the album release will be followed by live dates through the spring and summer European festival season. Known for touring extensively year after year, Anneke will take THE GENTLE STORM on the road backed by well-known Dutch talents. Arjen, however, will not be part of the live production.
https://www.facebook.com/TheGentleStorm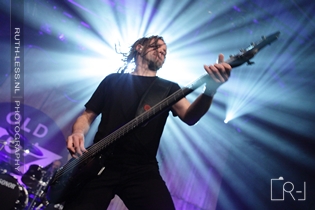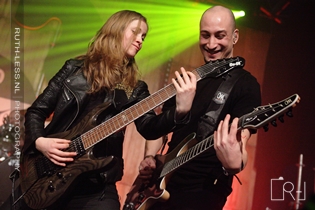 Music & Performance

Although Arjen Lucassen will not play any live shows of THE GENTLE STORM project, he and Anneke gathered an impressive band to do the honours: we have Marcela Bovio and Johan van Stratum of STREAM OF PASSION taking care of backing vocals and bass, Ferry Duijsens (ANNEKE VAN GIERSBERGEN BAND) and Merel Bechtold (MAYAN, PUREST OF PAIN, DELAIN) on guitars and Joost van den Broek (Ex-AFTER FOREVER) on keys. Vibrant and sparkling with joy as always, Anneke van Giersbergen takes off with 'Endless sea' from the concept album 'The diary': a double CD that consists of a 'gentle' folk/classic part and a 'stormy' alternative metal part. Going back to her roots, today's playlist also included one old song from THE GATHERING: 'Strange Machines'.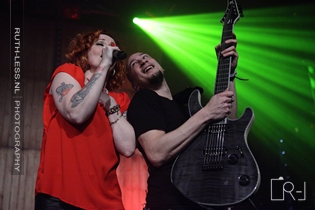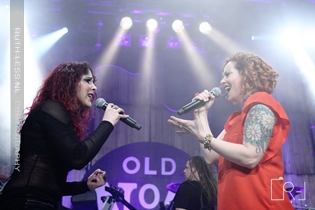 With such experienced musicians on stage it will be no surprise that the show was rock solid and energetic. The Jack Daniels stage was crowded and the audience enthusiastic. Fans of female fronted alternative metal will definitely enjoy the upcoming tour!
Setlist

01. Endless sea
02. Heart of Amsterdam
03. Brightest light
04. The storm
05. Witnesses
06. Strange machines (The Gathering)
07. Fall out
08. Shores of India
Rating

Music: 8
Performance: 8
Sound: 8
Light: 8
Total: 8 / 10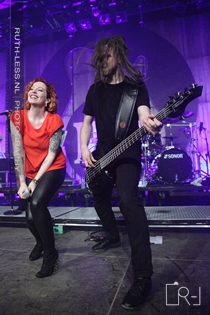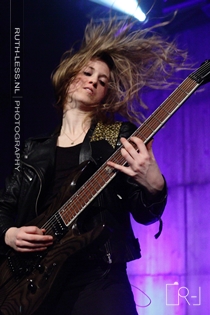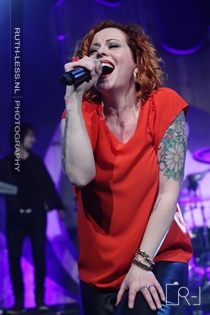 Vintage Trouble

VINTAGE TROUBLE is an American blues rock band. The band formed in Hollywood, California in 2010. They have released one studio album called 'The Bomb Shelter Sessions' (2011). Their sound has been described as "retro", reminiscent of a number of late 50s and 60s blues and rock artists, such as THE ROLLING STONE, CHUCK BERRY and THE ANIMALS. VINTAGE TROUBLE is Ty Taylor (vocals), Nalle Colt (guitar), Rick Barrio Dill (Bass), Richard Danielson (drums).
www.vintagetrouble.com
/
www.facebook.com/vintagetrouble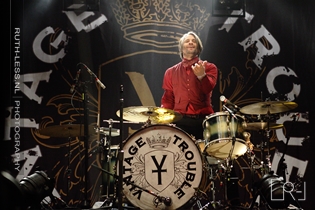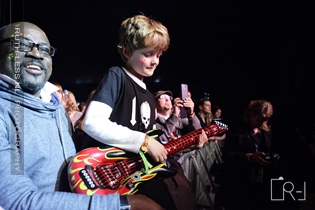 Music & Performance

Nostalgic – danceable – funky: now these guys take their American blues rock serious! Dressed to impress, they make the Phoenix stage move their feet. With their vintage hats, velvet jackets and ties, Ty, Nalle, Rick and Richard impress the audience with their own dancing skills as well. In between songs, frontman Ty tries to convince us that LA California is the best place in this world (and beyond). Given the muddy circumstances of this festival, it is hard to disagree. VINTAGE TROUBLE brings blues rock that is easy on the ears, carried out flawlessly and convincing with a big smile from the band members!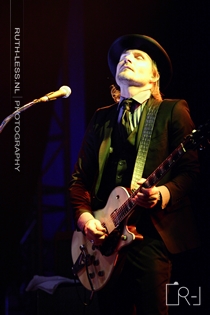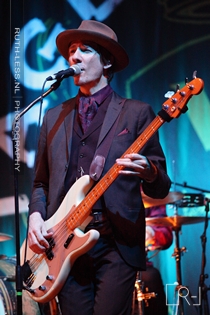 Setlist (incomplete)

Blues Hand Me Down
Nancy Lee
Alright By Me
Rating

Music: 8
Performance: 8
Sound: 8
Light: 8
Total: 8 / 10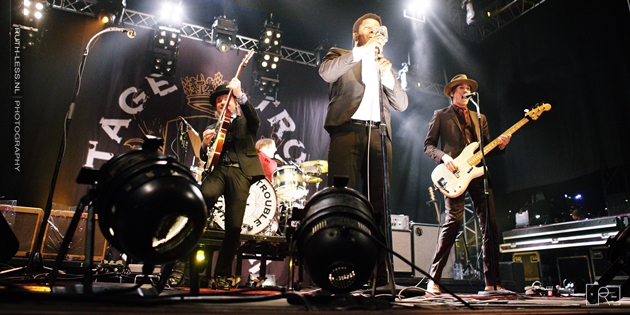 Nothing But Thieves

NOTHING BUT THIEVES is a high school band from Southend, Essex, UK. Inspired by artists as diverse as Ray Charles and Led Zeppelin, Foo Fighters and Arcade Fire, they gained valuable experience on the local live circuit. Soon after they started playing bigger stages and abroad. NOTHING BUT THIEVES is Conor (vocals), Joe (guitars), Dom (guitars), Price (drums) and Phil (bass).
www.nbthieves.com
/
www.facebook.com/NothingButThieves
Music & Performance

Let's start with the conclusion: NOTHING BUT THIEVES was the best surprise for me this Paaspop. Thinking this would be another one of "those" rock bands I entered the Jack Daniels stage but I left quite impressed.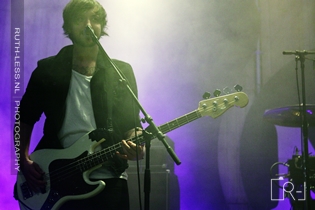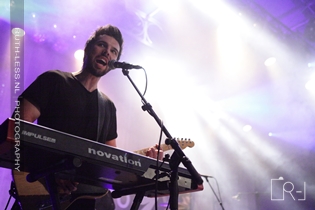 Musically, their sound sticks in your head like one of those COLDPLAY songs (but less boring) and vocally it reminded me of MUSE (but without the annoying high tones all the time). Conor's voice is strong and fragile at the same time (and more mature than you would expect given his youthful appearance). NOTHING BUT THIEVES' music is muggy and dynamic working going back and forth between emotional outburst and then getting back to very subtle tunes. Great show!
Setlist (incomplete)

Itch
Wake up call
Trip Switch
Ban all the music
Emergency
Excuse me
Rating

Music: 9
Performance: 7
Sound: 8
Light: 8
Total: 8 / 10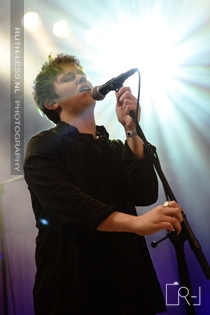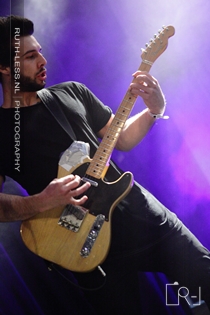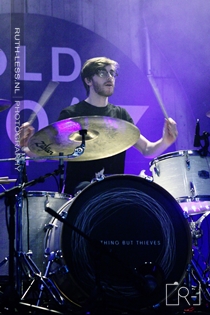 Furthermore and in between

Again, some quick and dirty impressions of a couple of other bands I think are worth mentioning on Paaspop Sunday:
The Black Marble Selection

Extremely cheerful & funky with a big hint of Beatles juice: the boys of THE BLACK MARBLE SELECTION may not yet be as glamorous as VINTAGE TROUBLE, but just give 'm a few years and they'll be serious competition!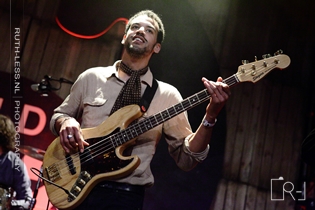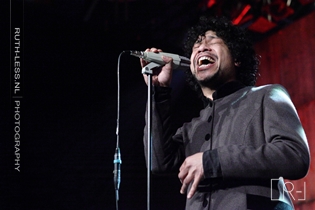 Liptease

Talent show 'Holland's Got Talent' only gave them a stage to shine, but these three lovely ladies and their rock n roll boys must have been born on stage (in Las Vegas). They can do it all: dance, sing, shine, act and look marvellous!
http://www.liptease.nl/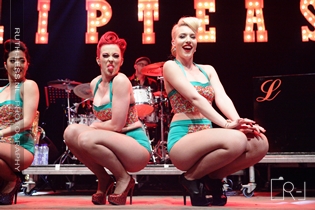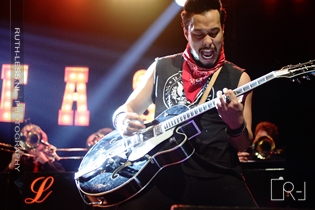 Sven Hammond

I can only confirm the "dirty gritty soul" description of Dutch band SVEN HAMMOND that was formed by Hammond organ virtuoso Sven Figee. With a naughty sparkle in his eyes, front man Ivan drops his lyrics on those characteristic Hammond sounds. Feeling blue? Listen to Sven Hammond, clap your hands, shake your booty and cheer up!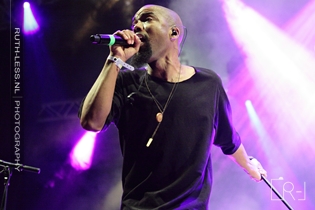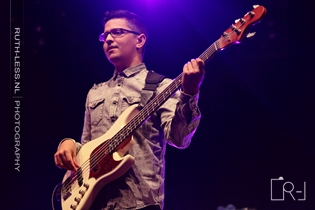 Against Me!

AGAINST ME! is a punk rock band formed in Gainesville, Florida, in 1997 by singer and guitarist Laura Jane Grace. Their fifth album, 2010's 'White Crosses', was their most successful, reaching no. 34. In 2011 the band launched their own record label, Total Treble Music, through which they plan to release future albums. The band finished recording their sixth studio album 'Transgender Dysphoria Blues', during the summer of 2013, and released it in January, 2014. AGAINST ME! is Laura Jane Grace (guitar / vocals), James Bowman (guitar / vocals), Atom Willard (drums) and Inge Johansson (bass).
http://www.againstme.net
/
www.facebook.com/AgainstMe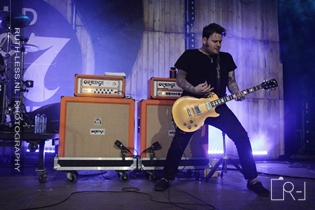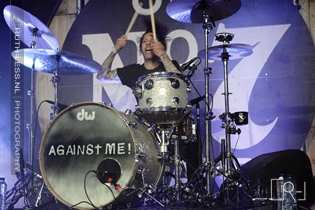 Music & Performance

AGAINST ME! is a band with a rich history and although it would be quite interesting to elaborate on that, this is a live review and not an in depth interview. A modest crowd had gathered at the Jack Daniels stage (I guess the rest of the rock-minded people where already practicing throwing beer at the Phoenix stage where PETER PAN SPEEDROCK was about to start). AGAINST ME! brings punk rock music with no frills and limited talking or introductions. Despite the fact that their performance didn't really seem to stir the crowd, I'd like to see them again sometime!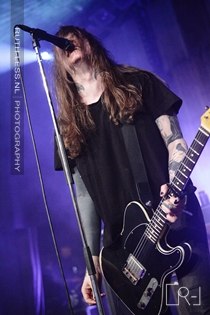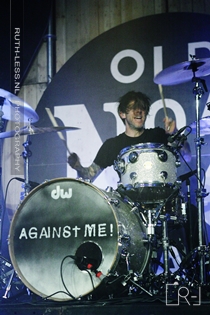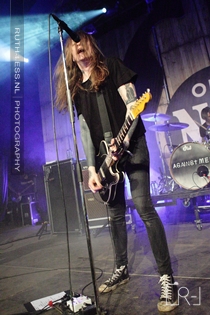 Setlist

01. Pints
02. FML666
03. True trans soul rebel
04. Cliché
05. New Wave
06. Walking
07. Teenage Anarchist
08. Ocean
09. Transgender dysphoria blues
10. Pretty girls
11. 1203
12. How low
13. Unconditional love
14. Black me out
15. Trash unreal
16. Sink
Rating

Music: 7
Performance: 7
Sound: 7
Light: 7
Total: 7 / 10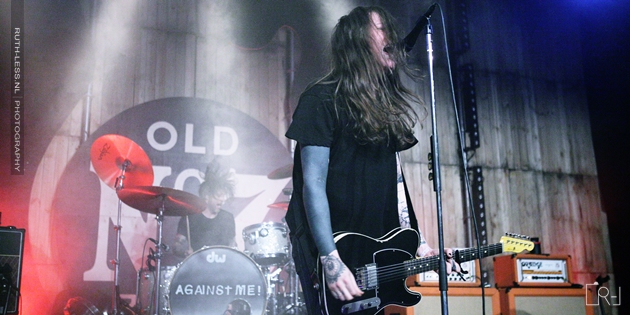 Peter Pan Speedrock

PETER PAN SPEEDROCK is a trio founded in 1996 with the intention to play MOTÖRHEAD-like music. From their second album 'Rocketfuel' (1998) they have been quite successful. Quite like their example they have not changed their approach and members have always been Peter van Elderen (guitar / vocals), Bart Geevers (bass) and Bart Nederhand (drums). Usually they are accompanied by their band mascot Dikke Dennis (Fat Dennis), a tattoo artist from Amsterdam whose role in the show is to announce the band and who is guest singer on 'Schoppenaas', their Dutch version of MOTÖRHEAD's 'Ace Of Spades'.
http://www.peterpanspeedrock.nl
/
www.facebook.com/peterpanspeedrock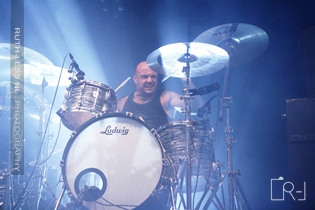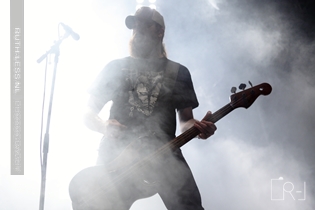 Music & Performance

There is one thing certain at Paaspop festival, and that is the fact that PETER PAN SPEEDROCK will be there to (speed)rock your socks off! This year's their 20th anniversary at the festival. The review can be short: it's loud, it's fast and excellent music to yell along with after a couple of beers (and a few more). See you next year PETER PAN SPEEDROCK!
Rating

Music: 6
Performance: 8
Sound: 6
Light: 6
Total: 6.5 / 10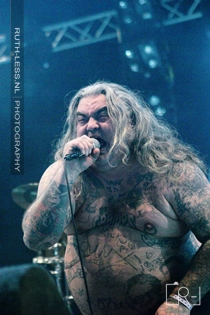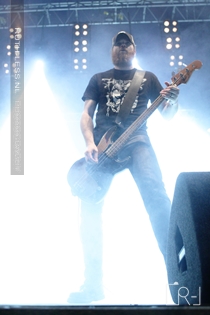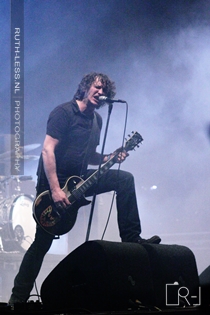 All pictures by Ruth Mampuys (
www.ruth-less.nl
)
See also (all categories):