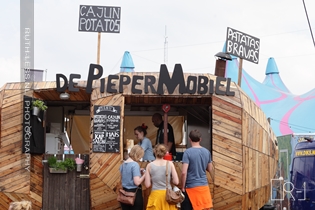 Paaspop, Schijndel, The Netherlands
19th to 20th April 2014
Paaspop Festival Day 2: Black Bottle Riot, Boxer Rebellion, Tribute 2 Bob Marley, Taymir, Sleepy Sun, Kensington, Hans Teeuwen & The Painkillers, Hatebreed, Vandenberg's Moonkings
The last day of Paaspop festival is again blessed with loads of sunshine and it doesn't take long for most festival goers to crawl out of their tents and get back at it on the festival compound again. Today's line-up doesn't have as much heavy guitars as yesterday, but still there are some interesting bands to go see like VANDENBERG'S MOONKINGS and HATEBREED.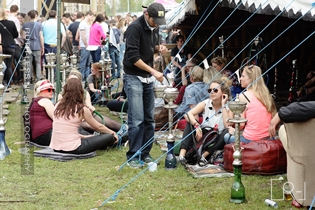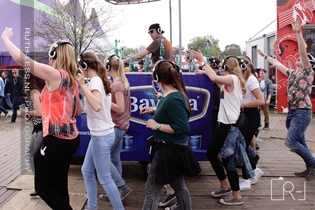 Black Bottle Riot

BLACK BOTTLE RIOT is a group of Dutch musicians with a background in blues, country and classic rock music. Citing LYNYRD SKYNYRD, LED ZEPPELIN, ZZ TOP and BLACK SABBATH as major influences, they've taken their lessons to heart. According to their website, they approach their music "with a ferocious, 'wolfpack' attitude whether playing in a small club, or at a large outdoor festival". The band has released three albums thus far, their latest dating from 2013 called 'Soul in Exile'. BLACK BOTTLE RIOT is Mike Sedee (guitar), Pieter Hendriks (drums), Simon Snel (vocals, guitar & bluesharp), Jaap van den Berg (bass).
www.blackbottleriot.com
/
www.facebook.com/blackbottleriot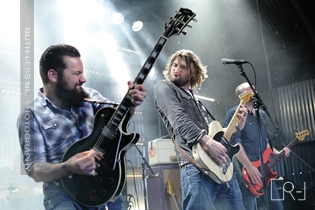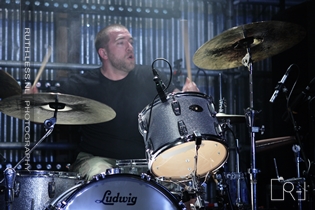 Music & Performance

BLACK BOTTLE RIOT kicks off at the Thunderbolt stage this Sunday with the title song from their latest album 'Soul in exile'. Their catchy and energetic sound makes the first heads in the audience nod along and as they continue, it becomes clear that there are some skilled musicians at work here. It's great to see how singer/guitarist Simon and guitarist Mike enjoy playing their solos. Furthermore, it should be noted that singer Simon has an extraordinary pleasant voice to listen to. Their set list focuses mostly on their latest album with a few steps back in time with 'Doin' fine' and 'In the Balance' from their self-titled debut album. All in all a pretty mainstream rock band, but there's nothing wrong with bite-sized rock music that is performed in great way!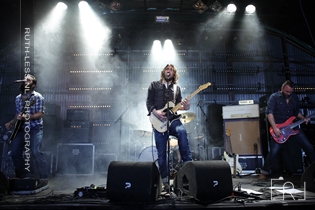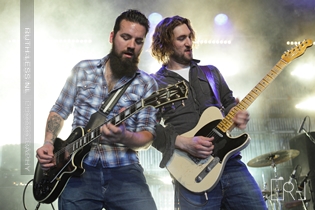 Setlist

01. Soul in exile
02. We'll be rolling
03. Doin' fine
04. Rocky road
05. Backseat boogie
06. Knock Yourself out
07. You should know
08. Tryin' too hard
09. Bright light city
10. Texas Pete
11. In the Balance
12. Exit spoiler
13. Stay Hungry
Rating

Music: 7
Performance: 8
Sound: 7
Light: 8
Total: 7.5 / 10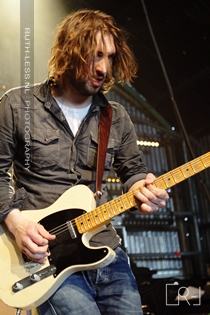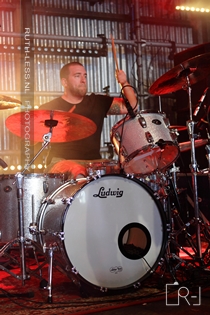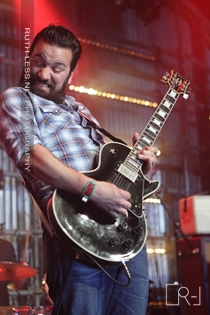 Hans Teeuwen & The Painkillers

Hans Teeuwen is a famous Dutch comedian who took a break several years ago to switch to his other passion: jazz music. With his band "The Painkillers" consisting of some of the best Dutch jazz musicians he is taking the stage with a selection of cover songs (Frank Sinatra, Ray Charles and more), translations from his comedy repertoire and some new songs. One album was released 'How it Aches'. The company HANS TEEUWEN & THE PAINKILLERS are Hans Teeuwen (vocals), Benjamin Herman (saxophone), Joost Kroon (Drums), Jesse van Ruller (guitar), Kasper Kalf (bass) and Ruben Hein (keys).
Music & Performance

I was able to sneak into the Paaspop Theatre a bit early and catch the sound check of Hans Teeuwen and his painkillers which was great to see. A big line had gathered in front of the theatre, although I'm pretty sure that some of them are expecting a comedy show because this is what Teeuwen is best known for. This is confirmed when several people quickly leave the theatre after a song or two. For those who persist, it soon becomes clear that Hans doesn't need any of his brutal jokes to be magnificent anyways.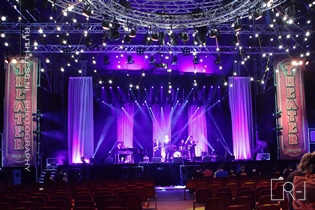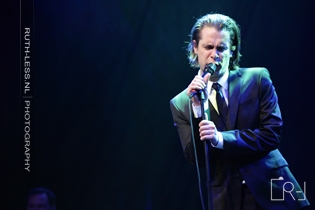 HANS TEEUWEN & THE PAINKILLERS are a bless for the ear and eye; superb jazz music performed by amazing musicians with a hint of humour from Hans' side when he brings a translation of his famous 'snelkookpan' song ('Hardware store'). Side note: I'm a sucker for resemblances, and I notice Hans looks quite a lot like Nick Cave. With so many acts on the Paaspop menu, I wasn't able to see the full gig which was a pity. I would love to see another of his shows, preferably in a smoky dark jazz café :)
Setlist (incomplete)

Hardware store
I got a woman
Give it to me straight
Rating

Music: 9
Performance: 9
Sound: 9
Light: 9
Total: 9 / 10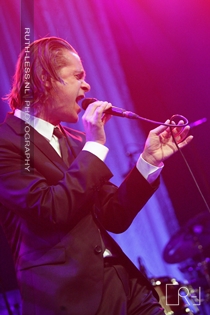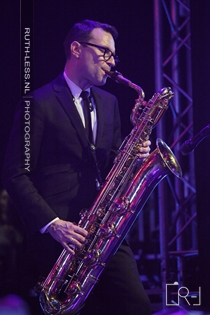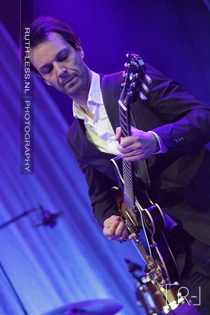 With a lack of serious metal music today, I took some time to wander around and catch a glimpse of bands that I normally wouldn't go see. Amongst others I checked out TAYMIR; a Dutch indie rock band that makes "authentic pop songs in the '60's beat' tradition, with the balls of the Arctic Monkeys and the edge of The Strokes". TAYMIR's band members are very, very young and therefore their Beatles style looks seem a little too artificial to me. However, their –Beatles influenced – music testifies of some pretty good musical skills and is easy to listen to. Not my cup of tea, but I can understand the popularity of a band like this.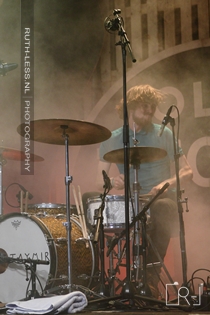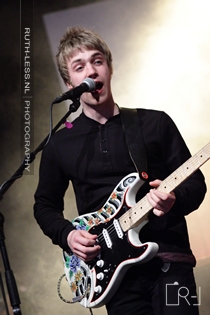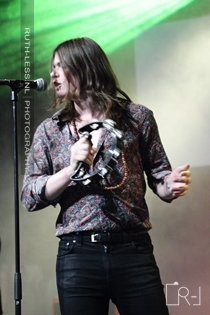 Paaspop has numerous bands but also other activities to participate in or watch. Pro Wrestling Holland had their place in the menu again, performing several shows per day at the RestoLounge. Whether positive or negative, a fascinating thing to see. Paaspop seemed to host a little culinary festival as well, and audience could smoke a little water pipe, get a workout or visit one of the many tiny disco floors. In between I did a little dancing with BASKERVILLE and also Elvis decided to give away a little performance at Paaspop.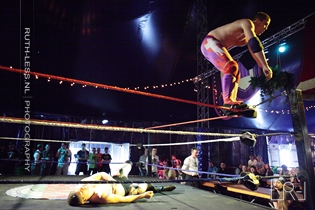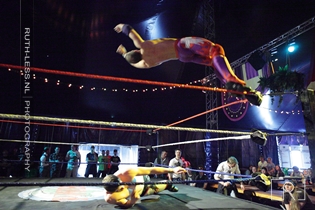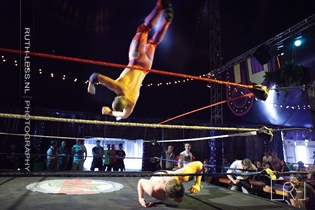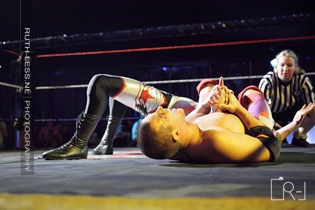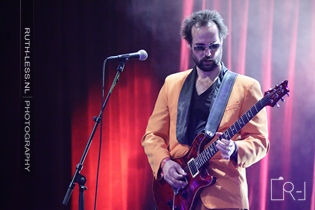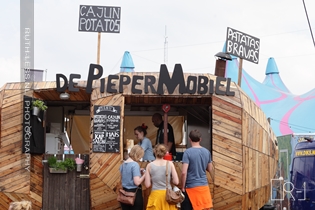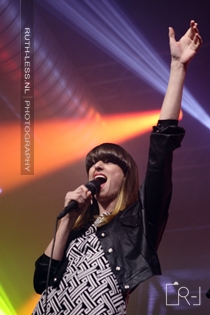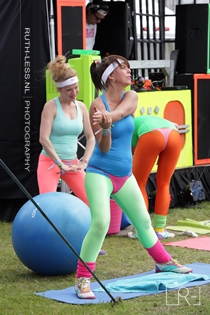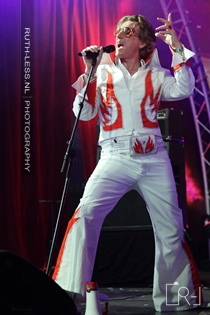 Sleepy Sun

SLEEPY SUN is an American psychedelic rock band from San Francisco, California consisting of vocalist Bret Constantino, guitarists Matt Holliman and Evan Reiss, bassist Jack Allen, and drummer Brian Tice. I arrived at the Jack Daniels Stage quite late so no photos of this show (light was pretty awful anyways). I got myself a beer and enjoyed the music instead. Their psychedelic songs and sound instruments fascinated me and I couldn't do anything than just stand there and enjoy their songs, of which some even lasted for about 10 minutes. The fact that I didn't got bored says a lot here.
Kensington

KENSINGTON is a rock formation from Utrecht, The Netherlands. The band was formed in 2005 and has released two EPs and two albums since then. Their first album 'Borders' was released in 2010. Its follow-up, 'Vultures', came out in 2012. Current band members are singer/ guitarist Eloi Youssef, singer/ guitarist Casper Starreveld, bass player Jan Haker and drummer Niles Vandenberg. KENSINGTON rightfully took the main stage as the tent was pretty crowded. Although I know this band is quite popular with the broader audience, I couldn't really concentrate any longer after a song or two.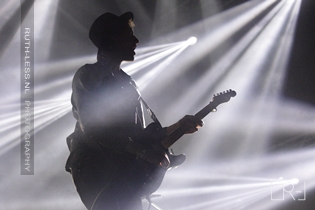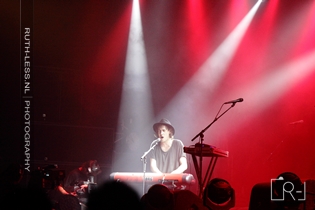 Tribute 2 Bob Marley

TRIBUTE 2 BOB MARLEY or the ROOTSRIDERS are a Dutch/ Caribbean group, known for their infectious live shows honouring the King of Reggae. The band is a welcome guest at many summer festivals and venues in the Netherlands. Their show at Paaspop offers a nice break to relax, have a beer or two and sing along with some of the classic BOB MARLEY songs such as 'I shot the Sheriff' and 'No Woman no cry'. The ROOTSRIDERS are a fabulous live band and singer Philip Tecla who even looks like Marley makes the reggae experience complete. During the show, guest vocalist Mitchell Brunnings, known from TV talent show 'The Voice of…' also steps in to take over for a couple of songs.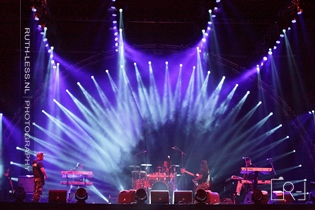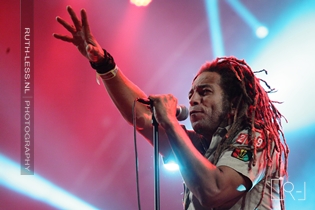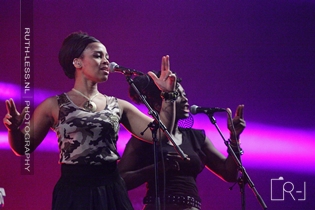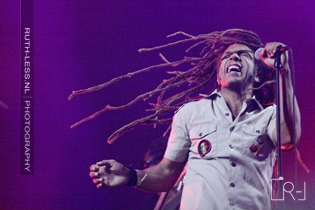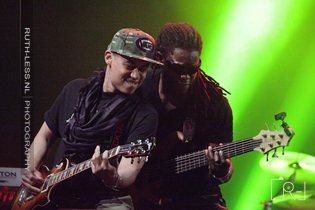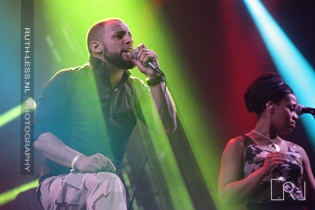 Blaudzun

BLAUDZUN or Johannes Sigmond (real name) is a Dutch singer songwriter. After several bands and projects he went solo and has released four albums thus far. He gained immense popularity with his album 'Heavy Flowers' and recently released his fourth album 'Promises of No Man's Land'. BLAUDZUN had been downgraded to a smaller stage this year, but the Phoenix tent was clearly too small for all fans that had gathered. The show took off with a really annoying bass drum that shuffled my entrails in a very unpleasant way. If this would've been compensated by some kick ass music I would've endured it but unfortunately this wasn't the case. Despite his popularity, the audience and BLAUDZUN didn't seem to get in sync with each other and to my personal opinion BLAUDZUN is an overrated band from a guy with weird hair.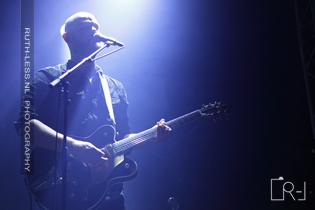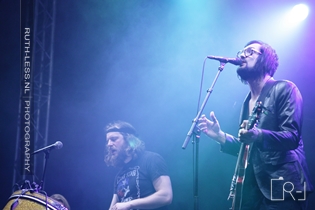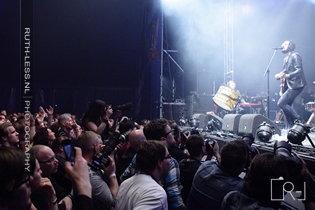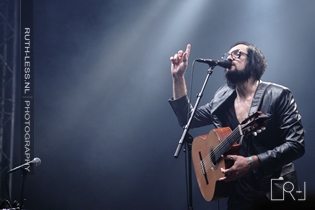 The Boxer Rebellion

THE BOXER REBELLION is an international indie band formed in London, United Kingdom around 2001, consisting of Tennessee-native Nathan Nicholson (vocals, guitar, keyboards), Australian Todd Howe (lead guitar), and Englishmen Adam Harrison (bass guitar) and Piers Hewitt (drums). They have so far released an eponymous EP, four studio albums, 'Exits' (2005), 'Union' (2009), 'The Cold Still' (2011) and 'Promises' (2013), as well as a compilation album, B-Sides & Rarities Collection, Vol. 1 & 2 (2012). Despite the applauding reviews and quotes on their website, unfortunately THE BOXER REBELLION is far from convincing this afternoon at Paaspop's main stage.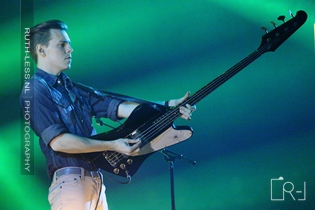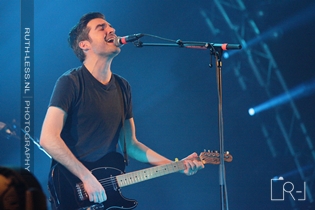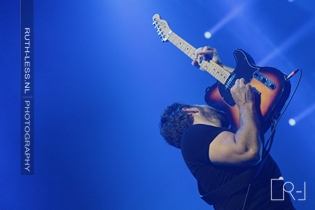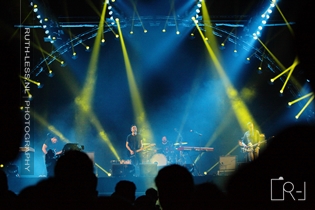 Vandenberg's Moonkings

VANDENBERG'S MOONKINGS is a band founded by Dutch guitarist Adrian Vandenberg (known from classic rock band WHITESNAKE). Many people thought that he'd said goodbye to music. But his passion for rock & roll remained. Adrian is very happy with his return to the international music scene.
"The last record I made was with Whitesnake in 1998. Now that I've announced my return, I am really overwhelmed by the thousands of enthusiastic reactions that I've gotten from all over the world. It amazes me how faithful the fans have remained. It's just bizarre,"
he says. And with a smile he adds: "And it just so happens that the MOONKINGS album is the best record I've ever made. Well, in my modest opinion, anyway. People probably expected the obvious classic rock, but I didn't want to go that route semi-automatically. I wanted to build a bridge between the greatest rock of the seventies and that of today, and I have the feeling that worked out very well."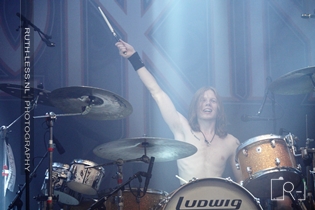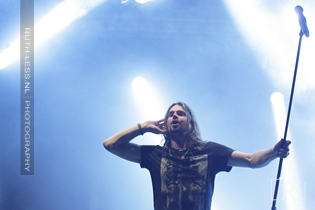 VANDENBERG'S MOONKINGS is Adrian Vandenberg (guitar), Jan Hoving (vocals), Mart Nijen-Es (drums) and Sem Christoffel (bass). On 21 February, 2014 VANDENBERG'S MOONKINGS has released their debut album 'MoonKings' on Mascot Records.
www.facebook.com/moonkingsband
/
www.moonkingsband.com
Music & Performance

Due to the unfortunate heart attack of THE EXPLOITED singer Wattie Buchan, their show at Paaspop was cancelled. Instead VANDENBERG'S MOONKINGS took the stage, a Dutch band by legendary guitarist Adrian Vandenberg. So thus plans switched from classic punk to classic rock. The age differences between the band members seem quite big, but the minute they take off it becomes clear that each of them is "young at heart". Paaspop is treated to some genuine classic yet modern rock music and the atmosphere is great. Vocalist Jan does an amazing job at taking the crowd along on a classic rock journey and when the first notes of 'Burning heart' sound, the audience sings along lustily.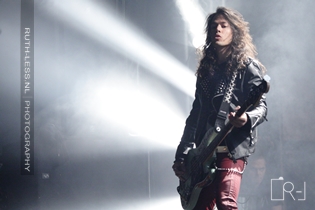 Adrian bursts with pride when he tells the audience how happy he is with his new band, all obviously very skilled musicians. I had a great time watching this show, not only because of the music, but also because the band members visibly had fun on stage.
Setlist (incomplete)

Intro
Line of Fire
Steal away
Feel it
Burning heart (VandenBerg cover)
Nothing touches
Good things
Burning fart
(drum solo)
Close 2 you
Judgement
Here I go again
Lust and lies
Leeches
Rating

Music: 8
Performance: 9
Sound: 8
Light: 8
Total: 8.3 / 10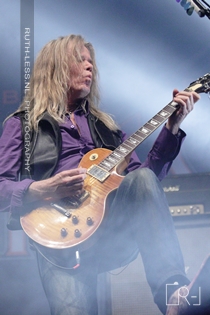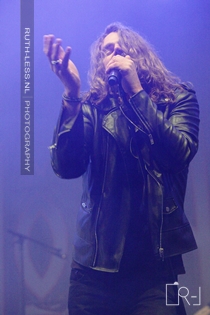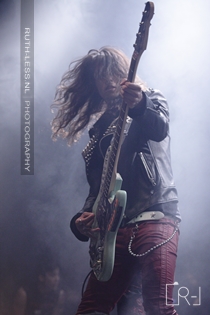 Hatebreed

HATEBREED is an American Hardcore band from Connecticut founded in 1994. They are known for their Hardcore sound that blends crossover thrash with Hardcore punk. The band is part of the early 1990s metallic Hardcore scene along with other bands like EARTH CRISISs, ALL OUT WAR, INTEGRITY and CONVERGE. HATEBREED's sound can be classified as metallic Hardcore, they are influenced by death and groove metal and their sound has heavily influenced many modern Metalcore, Hardcore and crossover bands. A constant touring schedule pushed them beyond the boundaries of the Hardcore punk scene, and tours with national metal bands such as SLAYER, DEFTONES, ENTOMBED and NAPALM DEATH brought them to the attention of many non-Hardcore / Metalcore fans. HATEBREED is Jamey Jasta (vocals), Frank Novinec (guitar), Chris Beattie (bass), Wayne Lozinak (guitar) and Matt Byrne (drums).
www.facebook.com/hatebreed
/
www.hatebreed.com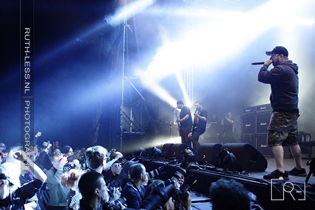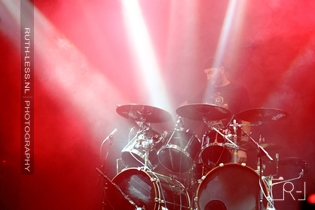 Music & Performance

Loud, brutal and in-your-face, HATEBREED takes off with 'Put it to the torch'. Quite a bunch of fans had gathered in front of the Phoenix stage to see this old school Hardcore band perform. Sound and light were pretty poor, but isn't that the way it's meant to be with these kind of shows? It doesn't take long before a steaming moshing pit was formed in front of the stage, to satisfaction of front man Jasta. Heavy grooves and raging guitar riffs hit the audience faster and faster while Jasta spits out his lyrics. I had some trouble distinguishing the groove from a noisy wall of sound but still this show is a great way to finish this year's edition of Paaspop. HATEBREED closes the Phoenix stage with 'I will be heard' and 'Destroy Anything'.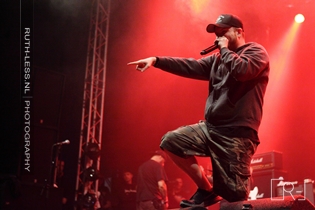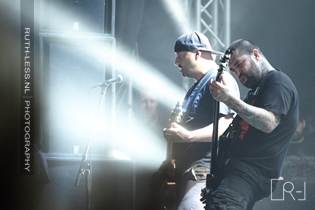 Setlist (incomplete)

Put It to the Torch
Defeatist
I Will Be Heard
Destroy Everything
Rating

Music: 7
Performance: 7
Sound: 6
Light: 5
Total: 6.3 / 10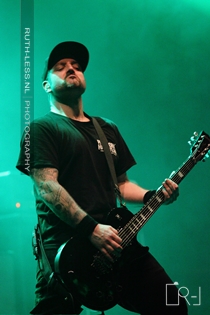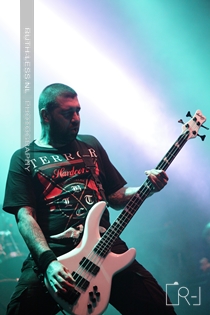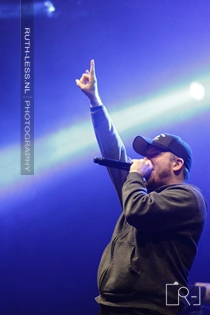 Though I'd like to note that the heavy rock and metal section was a little scarce this year, we should not forget that Paaspop is not a rock / metal festival. They do a magnificent job at providing an awesome diverse program that will satisfy many different tastes and flavours. Atmosphere, food and festival compound are great and very well organized – see you next year Paaspop!
All pictures by Ruth Mampuys (
www.ruth-less.nl
)
See also (all categories):