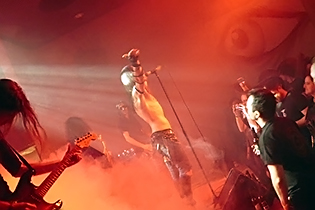 Area 51, Hilden, Germany
2nd and 3rd May 2014
Gotham Sounds Festival II Day 1: Arts Of Erebus, Aeon Sable, The Spiritual Bat and Soror Dolorosa

Gotham Sounds Festival II is a 2-days event with nine bands & six DJs. After-Show-Parties with DJ Wahni, DJ Stun, DJ Tuxxedomoon, DJ Den Y, DJ George Goodspeed & special guest DJ: Iconoclast (Resurrection). The first festival day presented four bands with SOROR DOLOROSA headlining the evening.
Arts Of Erebus

Not for the faint-hearted, opening a festival, but German/ French band ARTS OF EREBUS approach this unenviable task in the best way possible – play it like you're headlining. They emerge to a good response from an expectant crowd, dry-ice swamping the stage and a projection of their logo blazing out of a screen at the side of the stage. And they soon get stuck in. Comeback single 'On The Edge Of Insanity', from 2012, lends itself wonderfully to a live setting, meatier and more complete, it sees vocalist Raven Burroughs immersing himself completely in the moment, while the single's video plays on the screen. If it's disconcerting playing alongside yourself then it doesn't show, and the extra visuals make for a good addition. 'Spark Of Hope' has all the drama and Romanticism that good gothic-rock should ooze without effort, and it's big chorus goes down especially well. 'Point Of No Return' is similarly well received.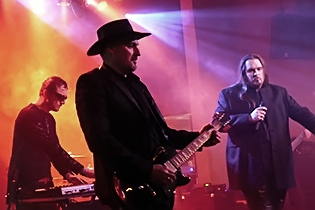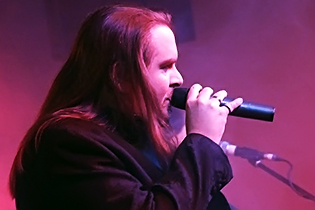 But things take an unexpected turn on 'Shadows Of Life'. A vast, powerful drone builds majestically around the singer's uncharacteristic monotone here, a slow, stomping beat and chiming THE MISSION guitars giving the sense of something brooding and sinister. There are several shades of dark here, menacing and creepy. But it's not done there. A spoken-word mid-section just adds to the sense of foreboding, and this band prove they have an excellent grasp of texture and atmosphere as well as the more straight dynamics of a good rock song. They then hurtle through 'Insight In Darkness', all moody, broody minor chords and gothic imagery, and 'Requiescat In Pace', with its spitty, pithy NEPHILIM feel and Latin-chanted chorus ( and why not!). By the end, they've whipped up a storm, and take a well justified theatrical communal bow. ARTS OF EREBUS leave as they arrive, arms aloft, completely victorious, playing it like they're headlining. Good stuff.
http://www.arts-of-erebus.com
/
https://www.facebook.com/ArtsOfErebus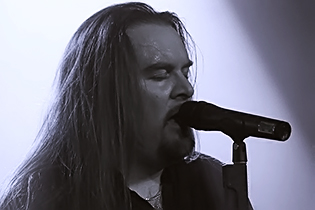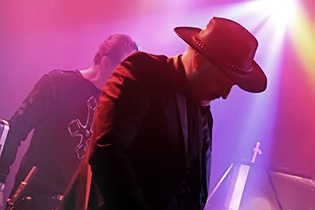 Aeon Sable

There's more of a shuffle to get on stage for AEON SABLE, which suits their heads-down, almost shoe-gaze style. Nino Sable slinks to the microphone in a kind of forward moon-walk, hood covering his face, while the rest of the band get things going. It soon becomes apparent, while watching the hand gyrations and flared trouser motions, that this is a curious mix indeed. Like watching Tim Booth from JAMES fronting HAWKWIND. But enough of such prattle. 'At The End Of The World' is a quivering shimmer of mournful vocals and stabbed beats, its infectious guitar interplay and patient dark beauty a thing to behold. With the hood now down, and Mr Sable firmly in his groove, unreleased newbie 'Visions' rocks like a bastard, cracked, passionate vocals raising this to somewhere momentous. There's more smoke on stage now than at a Mr Marlboro Man competition, the band lost in this fug and the audience briefly losing touch with the song. But by the end, they're back and it gets a warm reception. Musically, AEON SABLE wander through a kind of dark psychedelia, which if you allow it, sweeps you up and keeps you moving through a treacly, druggy fog, although they can still bang out a good straight-up rock song when required, as on the tight, taut 'Tenfifteen'.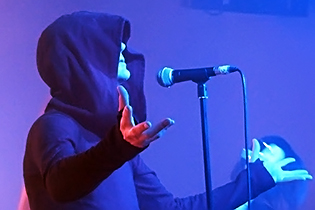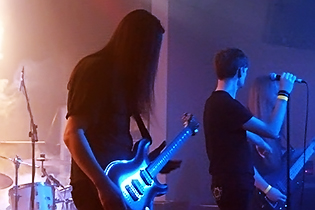 An obvious high-point, this song has it all, gorgeous vocals, understated melody and a chunky chorus that gets the crowd nicely agitated. Nino Sable continues to snake-dance throughout, spitting out "Tell me, do you want to get high…" before the chorus crashes on in again. He's a good frontman. Reappearing at one point dressed like Suggs from MADNESS, he proceeds to move amongst the crowd and keep everything nicely interactive. 'Praying Mantis' has the feel of early THE CURE or WHISPERS IN THE SHADOWS before it gets very loud, pummelling the audience with a big, mad, metal ending and some impressive screaming that the young man looks incapable of uttering. Credit to him. Totally bonkers, but brilliant. They deservedly encore with 'Agnosia', a neat little thing compared to what has just stampeded through the venue, and end with the duelling guitar rampage of 'Exodus'. It's a job well done, and they know it, and even the excessive smoke seems to part for them as they saunter off.
http://aeonsable.de
/
https://www.facebook.com/aeonsable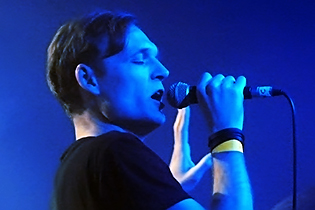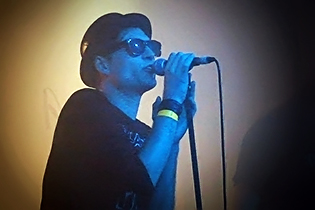 The Spiritual Bat

When Italy's THE SPIRITUAL BAT take to the stage, there's not a wisp of smoke left. Perhaps AEON SABLE had smuggled it all backstage with them. A pity as the thunderous gothic rock on offer here would only benefit from some additional eldritch haze. Importantly, as the spooky opening bars of 'Death March' sound out, the large drum-kit that has been hiding, unloved and unused thus far at the festival, appears to have found a drummer. Indeed Alessio gives an impressive master-class in tribal thumping and driving percussion throughout, and he is a massive bonus to the live sound of the band. There are always lazy comparisons to be made to the spiky early years of SIOUXSIE AND THE BANSHEES, but THE SPIRITUAL BAT are far from a retro band, and their sound, washes of guitar interspersed with a more jagged edge, has an immediate and modern feel to it.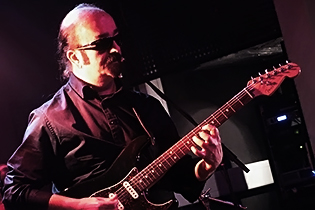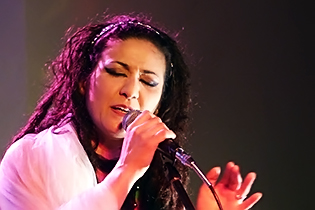 Singer Rosetta Garri's singing easily runs the full gamut of emotions, often within the same song. Her banshee wail can cascade to moments of operatic tenderness, before soaring off into a seductive, witchy whisper. Take 'Cruel Machine', for example. As this live favourite pounds from the stage, it's every bit a band effort, but it's Rosetta who captures the eye, swaying and swooning, eyes closed, wrestling with the song to get the absolute maximum from it. Exhausting yet exhilarating, and a thing of rare beauty and pure theatre. Songs from the new album 'Mosaic', whose impressive artwork adorns the screen at stage-left, feel adventurous and fully formed, and the crowd are soon captured by the performance, and seem happy to give themselves to it.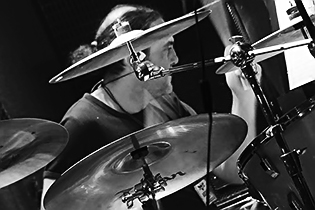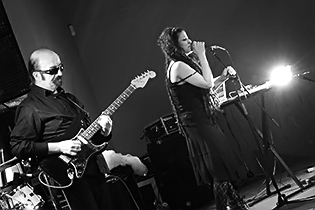 'Of Breath And Veils' lifts THE SPIRITUAL BAT to a whole new level, it's passionate and sophisticated, and a highlight here tonight, proving that Goth, and all it's strange little sub-genres, can still be forward thinking and dynamic. 'Sacrament' gets the crowd moving, all menacing guitar and lurching beats, and 'The Journey' is sung with such forcefulness it simply demands your attention. Which leaves the furious tumble of 'We Are Born, We Live, We Die' to end things, a jittery, post-punk romp with barely concealed rage and desperation in Rosetta's voice, and proving 'Mosaic' is one of the must-have albums of 2014. THE SPIRITUAL BAT, then, fluttering and flapping with righteous fury, passion and drama, a band any festival should be glad to showcase.
https://www.facebook.com/pages/The-Spiritual-Bat/128593959630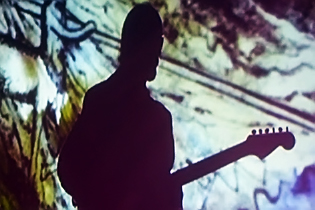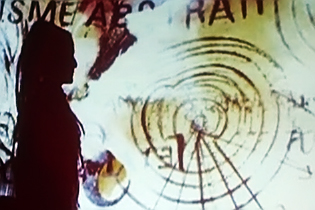 Soror Dolorosa

Hailing from France, SOROR DOLOROSA actually seem to be everywhere these days, and they certainly appear to be relishing this headline slot at the end of a long but highly successful first day at the festival. As they take to the stage, visually they are 'Vision Thing' era SISTERS OF MERCY, but apart from the swathes of thick smoke that seems to have rediscovered its mojo, the comparisons end there. The sedately whump of 'Hologram' starts things off, building up expectation, and it's the perfect intro. 'A Dead Yesterday' feels like the real start though, shimmery rock dynamics and the impassioned voice of Andy Julia getting the crowd waltzing. As a frontman, he's electric, throwing every clichéd shape in the book but getting away with it, and once the leather jacket gets tossed aside, it's like watching an ageless IGGY POP draped in bits of lace. The crowd love it. And one suspects, so does he.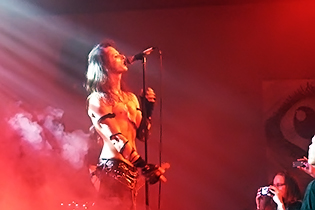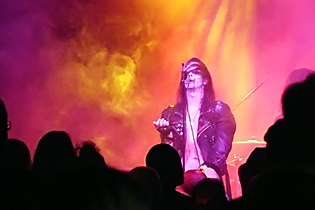 'The Figure Of The Night' has all the workings of a live Goth-rock classic, the mumbly verse vocals over chiming THE CULT guitars soon evolving into some impressive higher register singing. The light-show has to be commended at this point too, the whole stage looking impressive and professional. Despite the late hour, most of the audience have stayed to watch the show, and SOROR DOLOROSA do not disappoint, notching up the bounce factor on 'In A Glance', which is huge of drum, fierce of guitar and sees Mr Julia flailing his arms like a wind-milling Pete Townsend. We get a sludgy change of pace on 'Cathodicum', doomy echo added to the vocals and some impressive howling it has to be said. Any lower to the ground and the bassist would be sweeping up here, a head banging frenzy going on, rendered totally frantic by the strobe lighting. It's heavy as fuck, and totally awesome.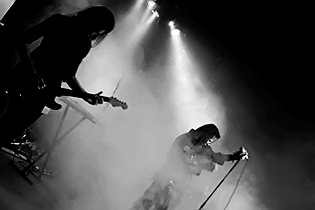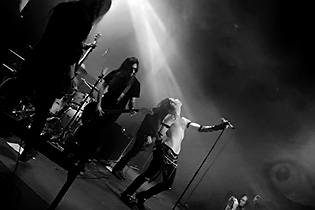 'Exodus' seems almost tame in comparison, but its slinky bass and NEPHILIM tones sees it through admirably. 'Low End' is a mournful coming-down song. It's THE CURE bedding down with Brett from SUEDE, it's plucky guitars and soaring vocals like nothing that's gone before. This shows the diversity of SOROR DOLOROSA, that they can deliver such a gorgeous piece of melodrama on the same night as stamping all over gothic-rocks tired and worn old boots. Visually arresting, knowingly rock 'n roll, and with a versatile and eclectic set-list, tonight they were certainly worthy headliners. I hear the party went on until 6am…
http://www.sorordolorosa.com
/
https://www.facebook.com/pages/Soror-Dolorosa/185417498164481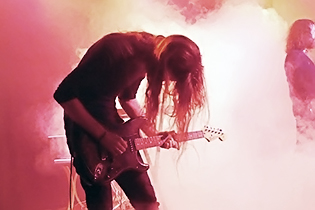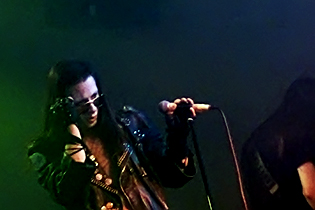 All Pictures by Stephen Kennedy
See also (all categories):