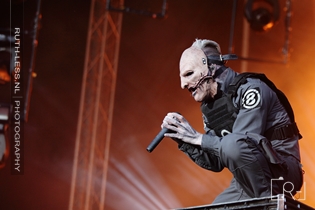 Goffertpark, Nijmegen, The Netherlands
6th June 2015
FortaRock 2015: Slipknot, Epica, Lamb of God, Parkway Drive, Godsmack, Enforcer, Leprous, Converge, Dying Fetus, Red Fang, Hatebreed, Carach Angren, Sylosis, Papa Roach, Flotsam and Jetsam, Exodus, Clutch, Venom

FortaRock, the "heaviest day in the park", is one of the only big rock/ metal festivals left in The Netherlands and quite popular among a certain audience. In 2013, the festival was upgraded to an XL version with bigger bands and a larger location at the Goffertpark in Nijmegen.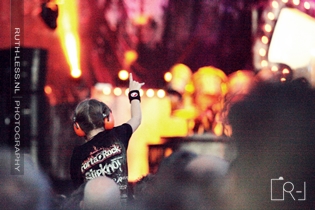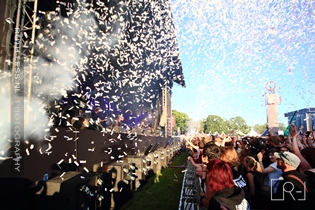 After headliners such as RAMMSTEIN (2013) and IRON MAIDEN (2014), this year's line-up is slightly more modest but certainly not less impressive with bands such as LAMB OF GOD, PAPA ROACH, GODSMACK and finally SLIPKNOT as headliner. Not sold-out, the organization made a smart move to reduce the festival terrain and set up one large and two smaller (all open air) stages. Today, 18 bands take the stage and I am looking forward to checking them out!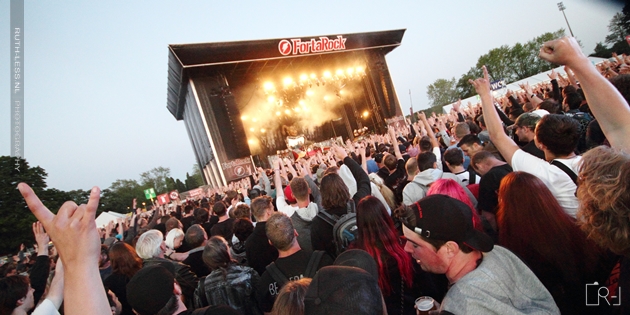 Leprous

LEPROUS is a five piece progressive metal band from Notodden, Norway that was founded in 2001. The quintet has made name in the Norwegian prog- and metal scene by making the finals in the Norwegian Rock Championship. In 2008, LEPROUS was signed to American label Sensory Records and recorded their debut album 'Tall Poppy Syndrome'. To date, they released three more albums 'Bilateral' (2011), 'Coal' (2013) and the latest album 'The Congregation' (2015). LEPROUS is Einar Solberg (synth, vocals), Tor Oddmund Suhrke (guitar), Øystein Landsverk (guitar) and Baard Kolstad (drums).
www.leprous.net
/
www.facebook.com/leprousband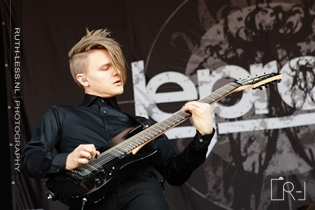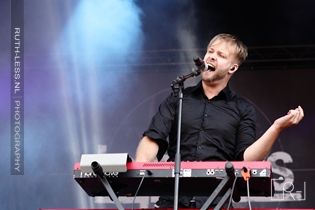 Music & Performance

LEPROUS previous album 'Coal' was a favourite on my playlists some time ago so I was curious to see them in a live setting. Their sound is layered and complex, providing a challenge for an open air stage at the start of the day. Most of their set is comprised from the latest album 'The congregation' such as 'The Price', 'The Flood' and 'Rewind' and I must say I am quite impressed. Their performance is a well-oiled machine and you don't often see a keyboard player that expressive. LEPROUS did not attract a huge audience, but the crowd that did show up was clearly familiar with their work. A must see for fans of progressive metal!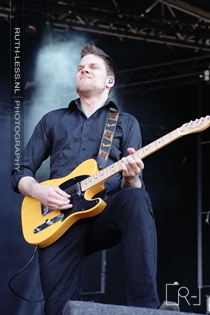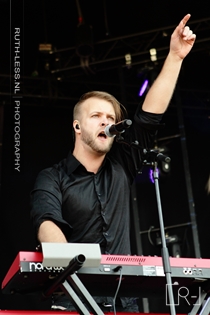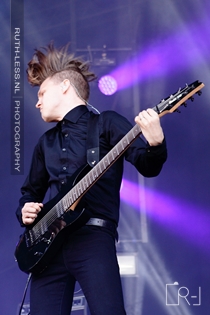 Setlist

01. The Flood
02. The Price
03. Chronic
04. Thorn
05. Rewind
06. The Valley
Rating

Music: 8
Performance: 8
Sound: 8
Light: 8
Total: 8 / 10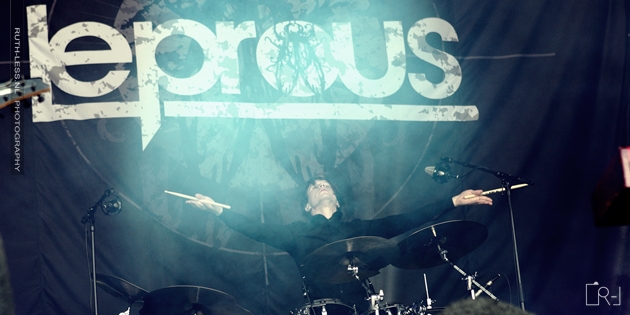 Enforcer

ENFORCER is a heavy metal band formed in 2004 in Arvika, Sweden. Their style is often compared to older speed metal bands like AGENT STEEL, EXCITER and ANVIL. They released their first album 'Into the Night' in 2008 and its successor 'Diamonds' in 2010. Their latest album 'From Beyond' was released earlier this year. ENFORCER is Olof Wikstrand (vocals, guitar), Jonas Wikstrand (drums), Joseph Tholl (guitar), Tobias Lindqvist (bass).
www.enforcer.se
/
www.facebook.com/enforcerofficial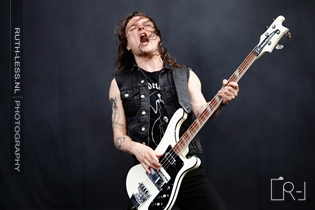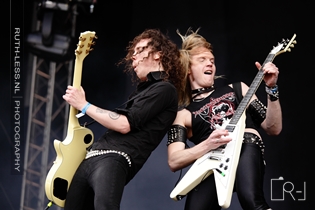 Music & Performance

We are on a tight schedule today and there is hardly any break between the bands playing the different stages. Swedish heavy metal band ENFORCER has the honours of kicking it off at the main stage spot on when the other two stages finish. While most of the audience is still on their way (or having a beer- / toilet break) ENFORCER speeds it up with some fast-paced drums, raging guitar riffs, fists in the air, high pitched screams and most importantly: crazy faces! It's not new or innovative but never a dull moment with a band like this!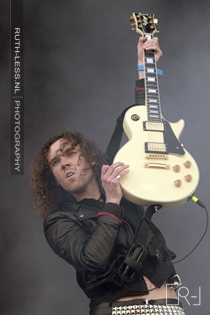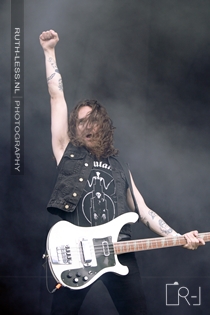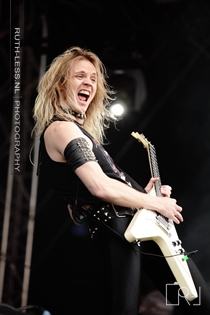 Setlist

01. Destroyer
02. Mesmerized by Fire
03. Live for the Night
04. Run for Your Life
05. Death Rides This Night
06. From Beyond
07. Take Me Out of This Nightmare
Rating

Music: 6
Performance: 8
Sound: 8
Light: 8
Total: 7.5 / 10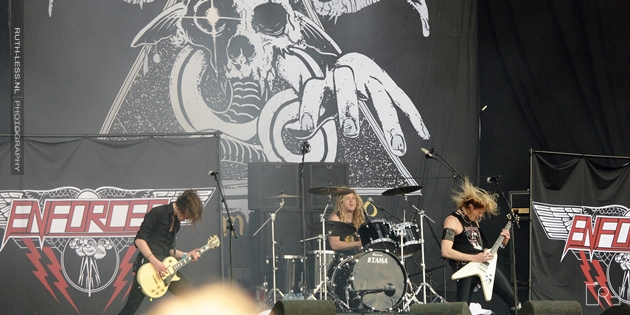 Converge

CONVERGE from the US is a 4-piece Metal/ Hardcore/ Punk band, formed in 1990 in Salem, Massachusetts. Their influences range from Hardcore Punk bands, such as BLACK FLAG, NEGATIVE APPROACH, THE ACCUSED, and BORN AGAINST; metal bands like Black Sabbath, Godflesh, Slayer, and Entombed, and proto-Mathcore bands Starkweather and Rorschach. Vocalist Jacob Bannon also named thrash metal such as Suicidal Tendencies, Vio-Lence, and Death Angel, and post-punk groups, such as Depeche Mode and The Cure as an inspiration. Their latest album 'All We Love We Leave Behind' dates from last year and was released by Epitaph records. CONVERGE is Jacob Bannon, Kurt Ballou, Nate Newton and Ben Koller.
www.facebook.com/converge
/
www.convergecult.com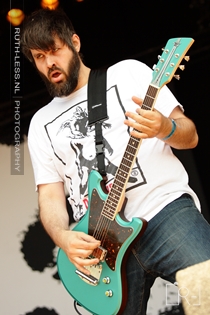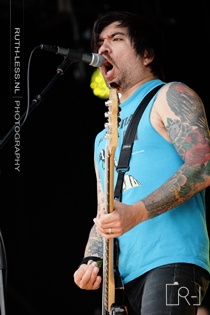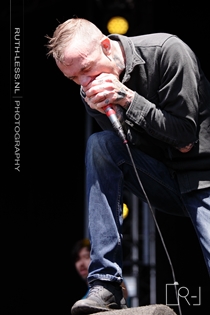 Music & Performance

Doing some background research on the bands at FortaRock festival, I was pleasantly surprised by CONVERGE. Unfortunately, their show today didn't live up to that for me. It is said that the extreme nature of their music, particularly the atonal vocals and often complicated finger-work of the guitar riffs make it not for just any metal fan. After a few songs I can only conclude that I belong to the group of 'any metal fan' and I decide to head over to the other side to check out SYLOSIS.
Sylosis

SYLOSIS is a British melodic death metal band from Reading, Berkshire formed in 2000. They have used various genres in their music over the years with their first 2 EPs and debut album. Their influences range from 1980s thrash metal crossed to modern styles of music like melodic death metal. The band has been around since 2001 starting out as an old school trash metal band. Founding member and lead guitarist Josh and bassist Carl are the only surviving members from the original line-up. SYLOSIS has released four studio albums, the latest 'Dormant Heart' was released this year. The band is formed by Josh Middleton (guitar, vocals), Alan Bailey (guitar), Carl Parnell (bass) and Ali Richardson (drums).
www.sylosis.com
/
www.facebook.com/Sylosis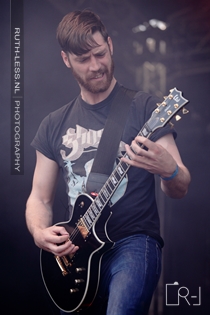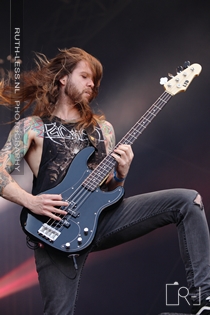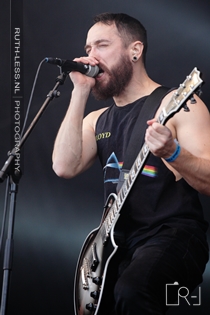 Music & Performance

Quite a crowd has gathered at the stage and it didn't take long to figure out why. SYLOSIS brings a proper dose of melodic death metal to FortaRock this year. Their sound is well balanced with both heavy and more subtle guitar riffs and powerful vocals of vocalist Josh. SYLOSIS put up a convincing show comprised of mostly songs from their latest album 'Dormant heart' and a few older ones such as 'Fear the World' and 'Altered states of Consciousness'.
Setlist

01. Dormant Heart
02. Fear the World
03. Mercy
04. Teras
05. Servitude
06. Leech
07. All Is Not Well
08. Altered States of Consciousness
09. Empyreal
Rating

Music: 8
Performance: 8
Sound: 8
Light: 8
Total: 8 / 10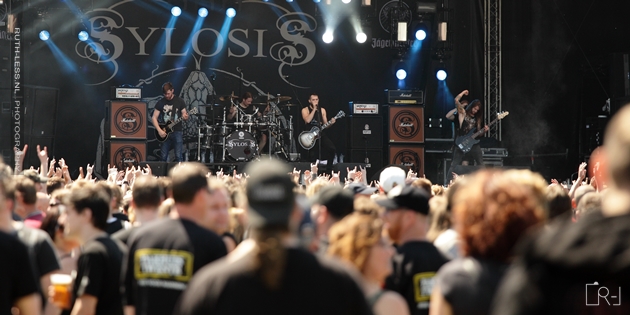 Godsmack

GODSMACK is an American alternative metal band from Lawrence, Massachusetts, formed in 1995. The band has had three consecutive number-one albums on the Billboard 200, and 20 top ten rock radio hits. GODSMACK has toured on Ozzfest on more than one occasion, and has toured with many other large tours and festivals, including supporting its albums with its own arena tours. They've sold over 20 million records in just over a decade. Their latest album '1000P' was released last year after a long break. GODSMACK is Sully Erna (lead vocals, rhythm guitar, keyboards, harmonica, drums, and percussion), Robbie Merrill (bass guitar, backing vocals), Tony Rombola (lead guitar, backing vocals), Shannon Larkin (drums, percussion).
www.godsmack.com
/
www.facebook.com/Godsmack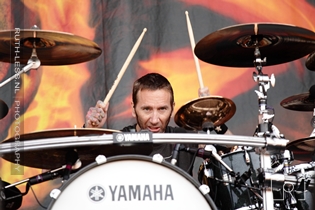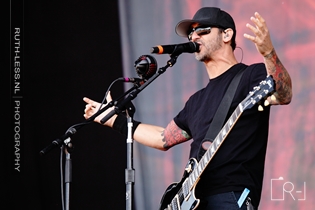 Music & Performance

GODSMACK opens the main stage again, starting out with '1000p' from their latest album. The experience of these rockers radiates from the stage. They don't need to convince the audience and take their time to make their way through the set list. GODSMACKs music is characterized by spot on, fierce, bite-sized rock songs – take it or leave it. Halfway through the set, front man and founder Sully Erna takes up the drums together with Shannon Larking (Erna used to drum) for a lengthy double drum solo ('Batalla de los Tambores'). Just as some of the audience start to wander off to the nearby beer garden, GODSMACK picks it up again with 'I stand Alone' and the crowd sings along loudly!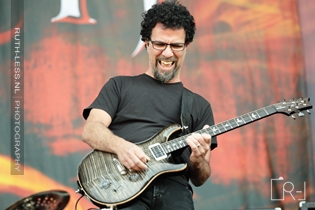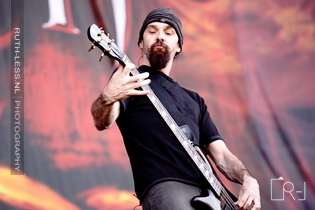 Setlist

01. 1000hp
02. What's Next
03. Cryin' Like a Bitch
04. Something Different
05. Awake
06. Batalla de los Tambores
07. Whatever
08. I Stand Alone
Rating

Music: 7
Performance: 7
Sound: 7
Light: 7
Total: 7 / 10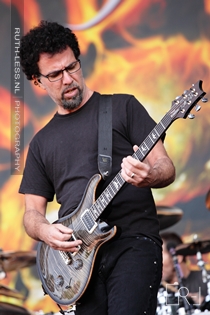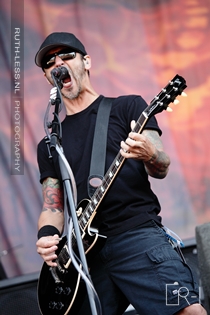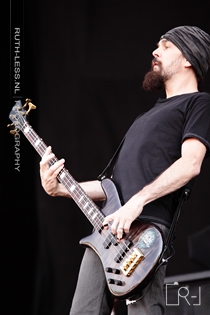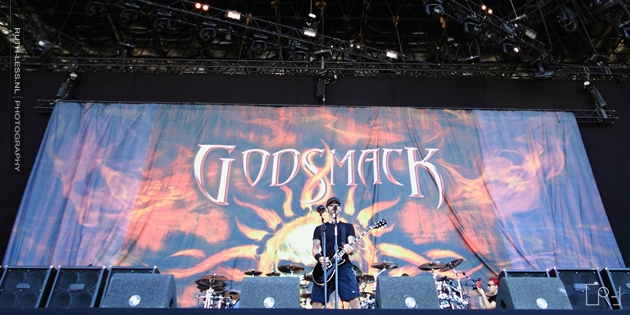 Flotsam & Jetsam

FLOTSAM & JETSAM is a thrash metal band that formed in Phoenix, Arizona in 1981. The band renamed itself after writing a song inspired from a chapter of J. R. R. Tolkien's The Two Towers. They have released eleven studio albums, several EP's and three DVD's. FLOTSAM & JETSAM is Eric A. 'A.K.' Knutson (vocals), Michael Gilbert (guitar), Michael Spencer (bass), Steve Conley (guitar) and Jason Bittner (drums).
www.flotsam-and-jetsam.com
/
www.facebook.com/flotsamandjetsam.official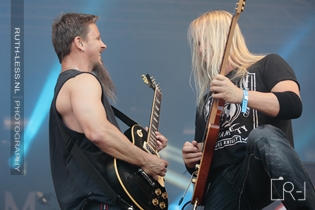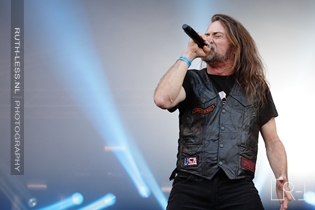 Music & Performance

Since I can miss DYING FETUS like a hole in the head, I decide to check out some old school trash metal at the 3rd stage with FLOTSAM & JETSAM. With a history going back all the way to 1981, some veteran experience from the trash metal scene is to be expected and FLOTSAM & JETSAM take up that role with verve, playing mostly songs from their early years. Happy trashers, happy audience!
Setlist (incomplete)

Hammerhead
No Place for Disgrace
Rating

Music: 7
Performance: 7
Sound: 7
Light: 7
Total: 7 / 10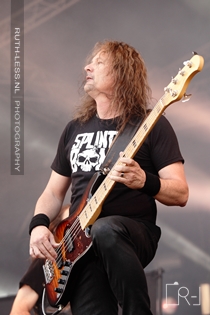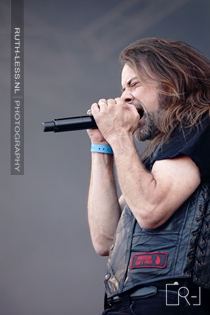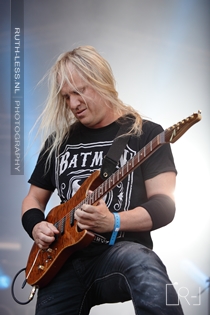 Papa Roach

PAPA ROACH is an American rock band from Vacaville, California. The band started out in 1993 at the Vacaville High School football field with singer Jacoby Shaddix and drummer Dave Buckner. Their first major-label release was the triple-platinum album 'Infest' (2000). The group's success continued with their gold album 'Lovehatetragedy' (2002) their platinum album 'Getting Away with Murder' (2004), 'The Paramour Sessions' (2006), 'Metamorphosis' (2009) and 'Time for Annihilation' (2010). Their latest album 'F.E.A.R.' was released in 2014. PAPA ROACH is Jacoby Shaddix (vocals), Jerry Horton (guitar), Tobin Esperance (bass) and Tony Palermo (drums).
www.paparoach.com
/
www.facebook.com/paparoach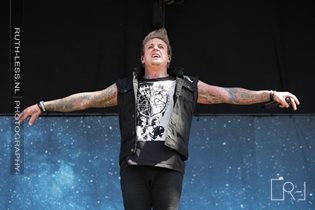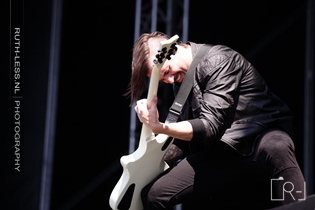 Music & Performance

I have seen live shows of PAPA ROACH several times over the years, and I appreciate their strong live performance. Still I was somewhat surprised by their appearance on the FortaRock line-up, wondering if they would be applauded or eaten alive. Last minute changes shifted their show from the small stage to the main stage but earlier on the day. Quite an audience gathered in front of the main stage. It soon turned out that - whether you like them or not - most of us have some high school memories triggered by one or two of their songs and it's hard to stand motionless to their energy on stage. The set list sums up the best known songs from each of their albums, right from the old ones such as 'last resort' and newer material such as 'Warriors' and 'Face everything and Die' from the latest album 'F.E.A.R.' Not the toughest kid on the block today, but PAPA ROACH is energetic and easy on the ears with a beer in hand on this sunny day in the park – Enjoy!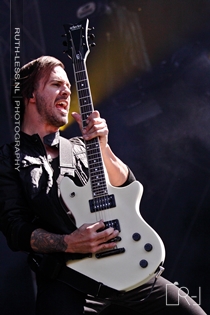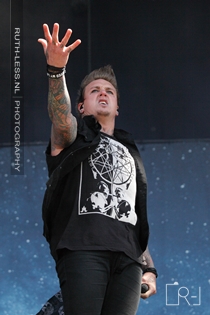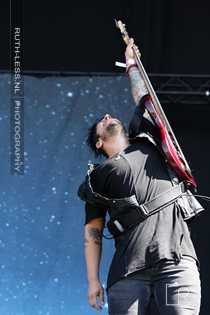 Setlist

01. Face Everything and Rise
02. Between Angels and Insects
03. Where Did the Angels Go?
04. Blood Brothers
05. Getting Away with Murder
06. Broken Home
07. Falling Apart
08. Kick in the Teeth
09. Scars
10. Lifeline
11. Warriors
12. Last Resort
13. ...To Be Loved
Rating

Music: 8
Performance: 8
Sound: 8
Light: 8
Total: 8 / 10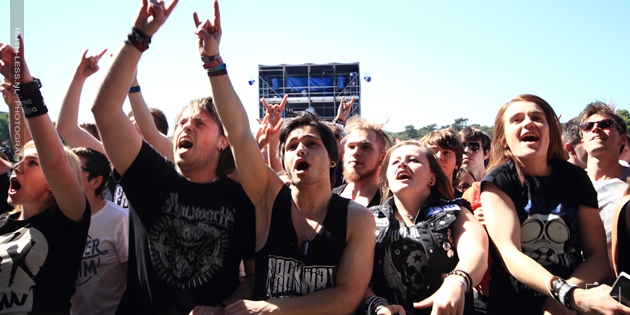 Red Fang

RED FANG is an American heavy metal band from Portland, Oregon, formed in 2005. It is composed of guitarist and vocalist Bryan Giles, bassist and vocalist Aaron Beam, guitarist David Sullivan and drummer John Sherman. They have released three studio albums: 'Red Fang' in 2009, 'Murder the Mountains' in 2011 and 'Whales and Leeches' in 2013.
http://redfang.net
/
www.facebook.com/redfangband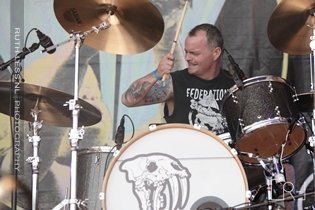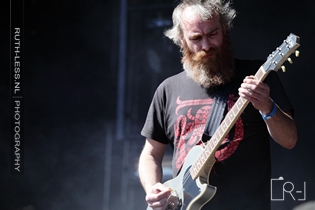 Music & Performance

Heard a lot about them, never seen them live. Until today. The FortaRock audience has quenched their initial thirst and it's time to enjoy RED FANG and hang out in the sun. From their promotional photos and videos you would expect quite a frivolous foursome, but what we get is 'just' a full set of heavy/ stoner metal, with a hint of Rock'n'Roll. For today's show they picked songs throughout their repertoire such as '1516' from the 2013 album 'Whales and Leeches' and 'Dirt Wizard' and 'Malverde' from 'Murder the mountains' (2011) and finally 'Prehistoric Dog' from their self-titled debut.
Setlist

01. 1516
02. Crows in Swine
03. Into the Eye
04. Malverde
05. Dirt Wizard
06. Wires
07. No Hope
08. Blood Like Cream
09. Prehistoric Dog
Rating

Music: 8
Performance: 7
Sound: 7
Light: 7
Total: 7.3 / 10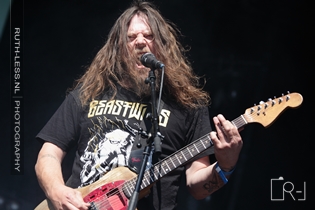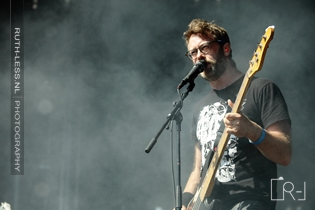 Lamb of God

LAMB OF GOD is an American groove metal band from Richmond, Virginia. The band was founded in 1994 by the name BURN THE PRIEST. Since its formation, LAMB OF GOD has released seven studio albums, one live album, one compilation album and three DVDs. In 2010 and 2011 the band received Grammy nominations for songs from their 2009 album 'Wrath'. LAMB OF GOD has toured with the Ozzfest twice and appeared on SLAYER's "The Unholy Alliance Tour" in 2006. Other appearances include Download Festival and Sonisphere Festival in the UK, Soundwave Festival, Mayhem Festival 2010 and Gigantour. From 2008 to 2010 they toured as part of METALLICA's "World Magnetic Tour". This year they announced the title of their upcoming album 'Hiatus and VII: Sturm und Drang'. LAMB OF GOD is Randy Blythe (vocals), Mark Morton (guitar), Will Adler (guitar), John Campbell (bass) and Chris Adler (drums).
www.lamb-of-god.com/
/
www.facebook.com/lambofgod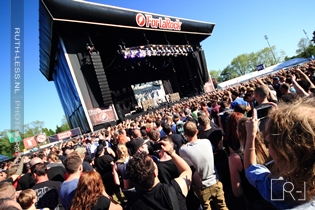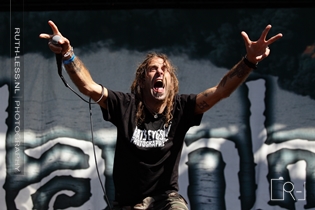 Music & Performance

LAMB OF GOD hardly needs an introduction and gets an enthusiastic welcome from the FortaRock crowd. Due to the wind at the enormous main stage, the ferocious vocals of Randy can hardly be heard but after a few more riffs this seems fixed and we get a loud, angry and brutal LAMB OF GOD show. Blythe and his men are energetic and have no problem handling the crowd. The audience goes wild, jumping up and down and the band gets circle pits on demand. LAMB OF GOD has a new album coming up this July and we get a little taste of that with 'Still Echoes' referring to the difficulties Blythe experienced when a fan died after an unfortunate stage dive the band got the blame for. The set list proves that LAMB OF GOD has a heavy and solid sound that simply doesn't need much change. LAMB OF GOD proves to be a worthy headliner at this festival and I look forward to seeing them again!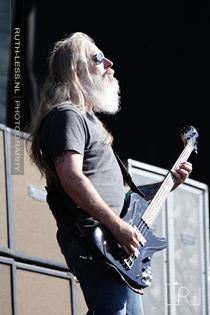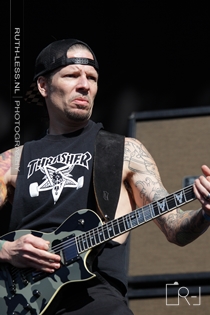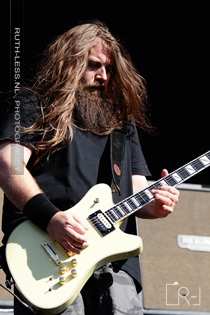 Setlist

01. Desolation
02. Ghost Walking
03. Walk with Me in Hell
04. Ruin
05. Set to Fail
06. Still Echoes
07. Now You've Got Something to Die For
08. Laid to Rest
09. Redneck
10. Black Label
Rating

Music: 9
Performance: 9
Sound: 7
Light: 7
Total: 8 / 10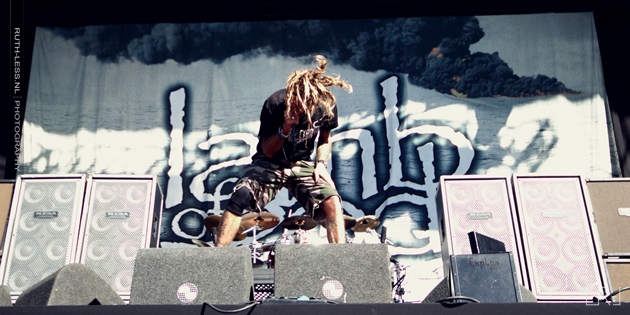 Clutch

CLUTCH is an American rock band formed in 1991. To date, the band released ten studio albums, and several rarities and live albums. They are now signed by their own record label, Weathermaker. Each of CLUTCH's albums is marked by its own distinct and cohesive sound and the band's musical style may be said to have migrated from Hardcore punk to hard rock and blues over the course of their career. Their songs make frequent reference to history, mythology, popular culture, and religion. On a side note: Bam Margera often uses CLUTCH songs in his MTV show 'Viva La Bam'. CLUTCH is Dan Maines (bass), Tim Sult (guitar), Jean-Paul Gaster (drums) and Neil Fallon (vocals, guitar, harmonica).
http://pro-rock.com/
/
www.facebook.com/Clutchband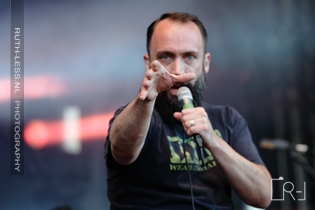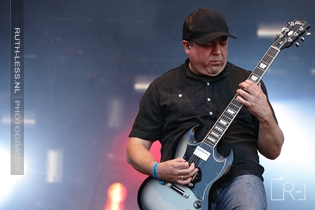 Music & Performance

I didn't really know what I was up for when I decided to check out CLUTCH at FortaRock but one thing's for sure: it put a big smile on my face. Their music has a rock n roll feel, but the atmosphere of their songs alternates from fast, funny to furious. Judging from his theatrical expressions, front man Neil goes through a storm of emotions at each song which is great to see (and photograph). And not to forget: he has a great voice and easily interacts with the audience. CLUTCH is catchy, tight and they have a talent for interesting song titles such as '50,000 Unstoppable Watts', 'Burning beard' and 'Pure rock fury'.
Setlist

01. Unto the Breach
02. Pure Rock Fury
03. The Mob Goes Wild
04. Profits of Doom
05. Crucial Velocity
06. Burning Beard
07. Cyborg Bette
08. 50,000 Unstoppable Watts
09. Earth Rocker
10. D.C. Sound Attack!
11. X-Ray Visions
12. The Face
13. Electric Worry
14. One Eye Dollar
Rating

Music: 8
Performance: 9
Sound: 8
Light: 8
Total: 8.8 / 10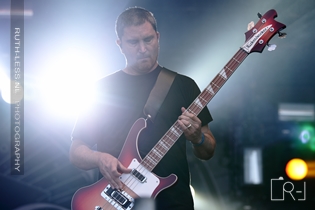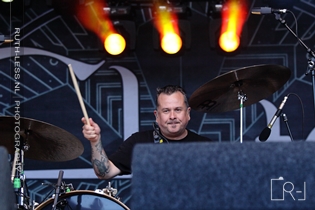 Epica

EPICA is a Dutch symphonic metal band, founded by guitarist and vocalist Mark Jansen subsequent to his departure from AFTER FOREVER. They are known for their symphonic sound and the use of female vocals and male growls, performed by Simone Simons and Mark Jansen. Their songs largely deal with philosophical topics, including science, religion, and world events. 'The Quantum Enigma' marks the seventh studio record and was released at the beginning of May 2014, via Nuclear Blast Records. In 2013 EPICA celebrated their 10th anniversary with a huge live event called Retrospect hosting a live orchestra from Hungary along with special guests and former members. EPICA is Simone Simons (vocals), Mark Jansen (guitars, vocals), Isaac Delahaye (guitars, vocals), Rob van der Loo (bass), Coen Janssen (keyboards) and Ariën van Weesenbeek (drums, vocals).
http://www.epica.nl
/
https://www.facebook.com/epica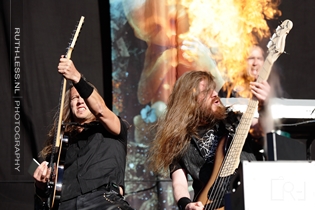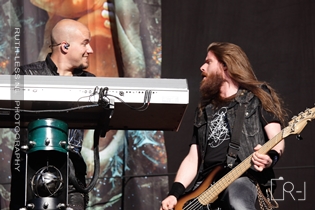 Music & Performance

Another surprising band in the line-up: EPICA. The only female fronted band on this heavy day is known for its symphonic rock metal shows and that's exactly what we get. Vocalists Mark and Simone give us their best beauty and the beast performance while Coen, Arien, Isaac and Rob try to catch a few moments from the audience attention as well. We get a best-off set list with amongst others 'Sensorium' that brings back some good memories for EPICA from a show they played 12 years ago. During their set, we get more grunts, more opera, more symphonic bombastic passages and lots of fire as well. The pyros didn't have their full effect I the afternoon sun though and were a waste of money if you ask me. I should mention that EPICA is not in my all-time favourite playlist, but they did a well-orchestrated show that quite a few people here at FortaRock seemed to enjoy.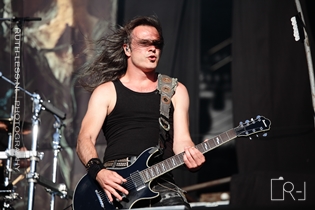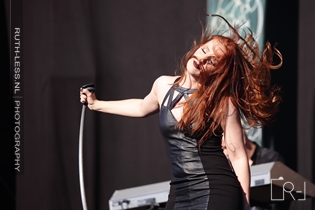 Setlist

01. The Second Stone
02. The Essence of Silence
03. Sensorium
04. Unleashed
05. Storm the Sorrow
06. Victims of Contingency
07. Cry for the Moon
08. Unchain Utopia
09. Consign to Oblivion
Rating

Music: 7
Performance: 7
Sound: 7
Light: 7
Total: 7 / 10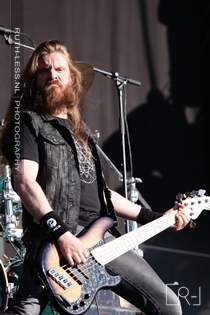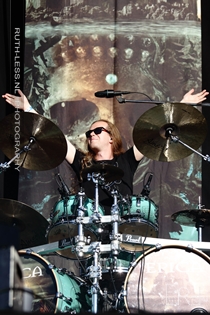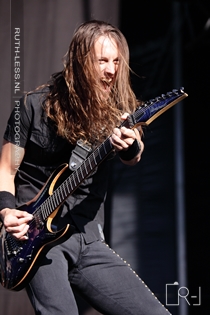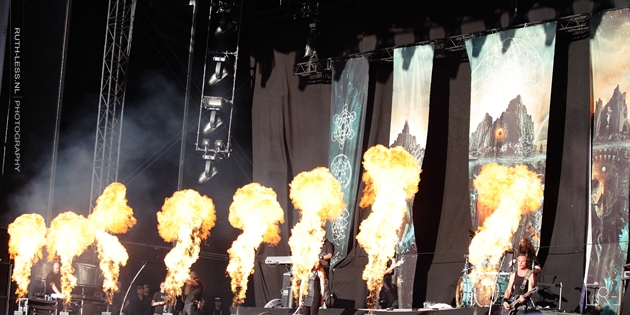 Parkway Drive

PARKWAY DRIVE was founded in 2002 in Byron Bay, Australia. The name of this Metalcore band originates from a street name in their hometown. So far, PARKWAY DRIVE has released four full-length albums, a DVD, an EP and two split albums. Their debut album 'Killing with a Smile' was recorded in 2005 with metal producer Adam Dutkiewicz from KILLSWITCH ENGAGE. At the start of 2010, the quintet recorded their third album, 'Deep Blue'. Ever since, the band has been touring off and on, ensuring their spot at the top of the metal core scene. PARKWAY DRIVE has travelled the world for the last two years and released a DVD called 'Home is for the Heartless'. In 2012, they released their fourth studio album 'Atlas'.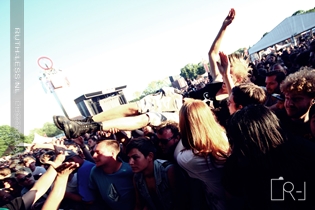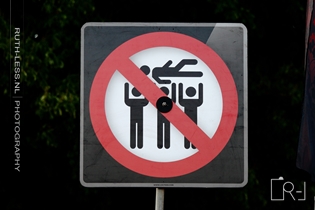 PARKWAY DRIVE is Winston McCall (vocals), Luke Kilpatrick (guitars), Jeff Ling (Guitars), Ben Gordon (drums) and Jia O'Connor (bass).
www.parkwaydriverock.com
/
www.myspace.com/parkwaydrive
Music & Performance

After I withstood another confrontation with the confetti shooter, it's time for a metalcore party with PARKWAY DRIVE. Fortunately we also got some FIRE later on! Despite the lack of new material since 2012, the good news is that Winston, Luke, Jeff, Ben and Jia can't get enough of touring (last time I saw them was December 2014) and they do so with limitless energy and a big smile on their face. I am happy they switched places with PAPA ROACH today. Although it did put them on one of the smaller stages it was absolutely crowded and had a great atmosphere.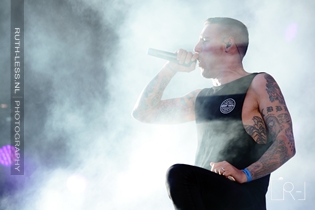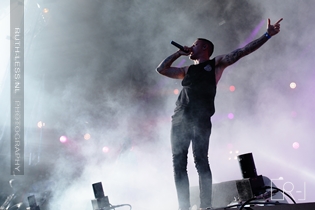 PARKWAY DRIVE lived up to their reputation of putting on a fantastic show and it didn't take long for a huge mosh pit to be formed, shoes flying through the air and crowd surfers making their way to the front. Even though crowd surfing is not allowed, the security guards were going easy on the surfers, escorting them out so the side and letting them go (for another round :P). The atmosphere is great as the sun goes down (perfectly timed Mr McCall!). PARKWAY DRIVE pays tribute to RAGE AGAINST THE MACHINE with a well-executed version of 'Bulls on parade' and after 'Swing' and classic 'Home is for the heartless' it is time for today's headliner SLIPKNOT.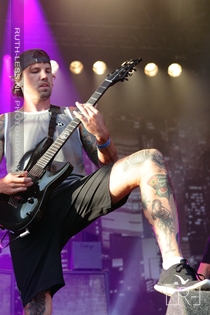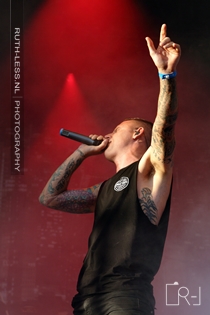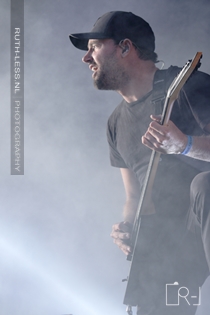 Setlist

01. Dream run
02. Carrion
03. Karma
04. Dark Days
05. Deliver Me
06. Sleepwalker
07. Dead Man's Chest
08. Idols and Anchors
09. Romance Is Dead
10. Boneyards
11. Bulls on Parade (Rage Against the Machine cover)
12. Swing
13. Home Is for the Heartless
Rating

Music: 9
Performance: 9
Sound: 9
Light: 9
Total: 9 / 10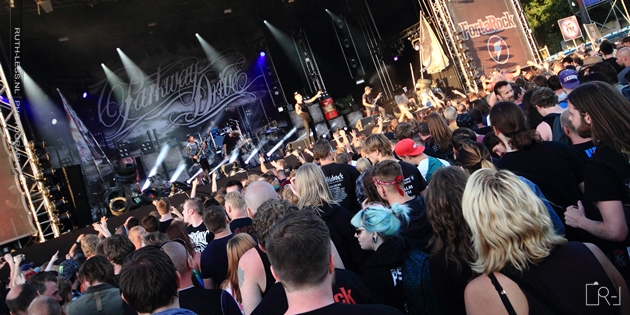 Slipknot

SLIPKNOT is an American heavy metal band from Des Moines, Iowa. Formed in September 1995, the group was founded by percussionist Shawn Crahan and bassist Paul Gray. Slipknot is well known for its attention-grabbing image, aggressive style of music, and energetic and chaotic live shows. The band enjoyed a somewhat meteoric rise to success following the release of their eponymous debut album in 1999, and the 2001 follow-up album, 'Iowa', further increased the band's popularity. After a brief hiatus, Slipknot returned in 2004 with 'Vol. 3: (The Subliminal Verses)', before going on another hiatus and returning in 2008 with their fourth album 'All Hope Is Gone', which debuted at no. 1 on the Billboard 200. After an even longer hiatus, Slipknot released their fifth and latest studio album '5: The Gray Chapter' in 2014. Additionally, the band has released a live album, 9.0: Live, a compilation album, Antennas to Hell, and four live DVDs.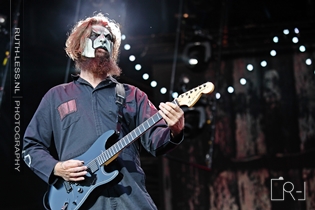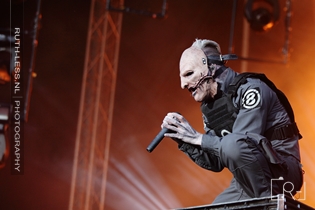 SLIPKNOT is Corey Taylor (vocals), Mick Thomson (guitar), Jim Root (guitar), Craig Jones (keyboard, samples, media), Sid Wilson (turntables), Shawn Crahan (custom percussion, backing vocals), Chris Fehn (custom percussion, backing vocals), Alessandro Venturella (bass) and Jay Weinberg (drums).
www.facebook.com/slipknot
/
www.slipknot1.com/
Music & Performance

In the meantime, the main stage has been decorated with a huge creature holding a mirror, lots of risers and multiple drum kits. Once they take off, this 9-piece band is hard to keep track of on the stage with them running around and moving risers at every corner. After 'Sarcastrophe' and 'The Heretic Anthem', front man Corey proves his excellent vocals with 'Psychosocial' and 'The Devil in I'. Then a new song called 'AOV' is announced that they haven't played in The Netherlands yet (they did a show in the Heineken Music Hall last February).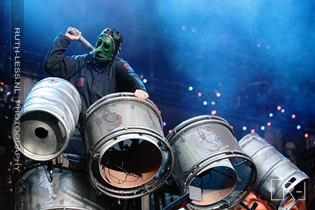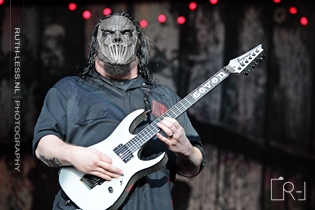 The audience doesn't really care: they love whichever song SLIPKNOT plays. Latest additions to the band (bass player Venturella and drummer Weinberg) didn't receive their "number" yet and kept a little in the background while the long-time members of SLIPKNOT show them how it's done. SLIPKNOT choose a well-balanced setlist, although some of the crowd may have expected a more up-tempo gig with more focus on the older work such as debut album 'Iowa'. Being a fan of STONE SOUR's work as well, I was pleased to hear the slower songs as well. The 90 minutes go by with several breaks where band members all leave the stage. Judging by the previous headliners at FortaRock, I was somewhat expecting something extra, something even more spectacular to happen each time they left the stage. But it didn't. And it didn't really influence my opinion about their show.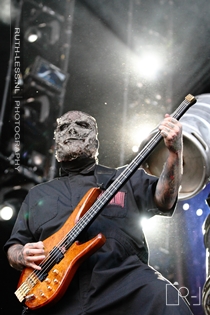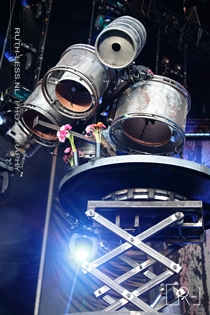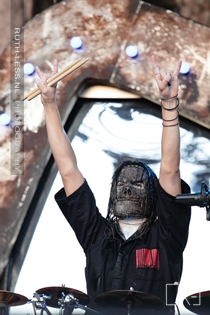 SLIPKNOT are known for their energetic live shows and they keep it up from the start to the end. Despite the visual chaos on stage, they put up a professional show with a huge band, great musicians and amazing vocals from front man Corey. Although I personally consider 90 minutes too long for almost any band, I think we can conclude that SLIPKNOT is a worthy headliner of FORTAROCK 2015. Although the organization experienced some difficulties with this year's line-up because of the many festivals taking place at the same time, FortaRock succeeded in presenting a broad range of metal, great facilities, good food and fantastic weather. See you next year!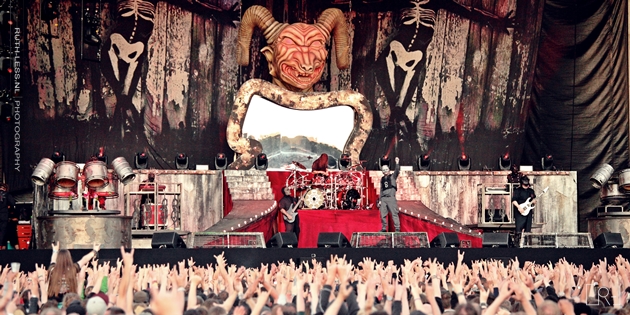 Setlist

01. Sarcastrophe
02. The Heretic Anthem
03. Psychosocial
04. The Devil in I
05. AOV
06. Wait and Bleed
07. Vermilion
08. Killpop
09. Before I Forget
10. Duality
11. Eyeless
12. Spit It Out
13. Custer
---
14. (sic)
15. Surfacing
Rating

Music: 9
Performance: 9
Sound: 9
Light: 9
Total: 9 / 10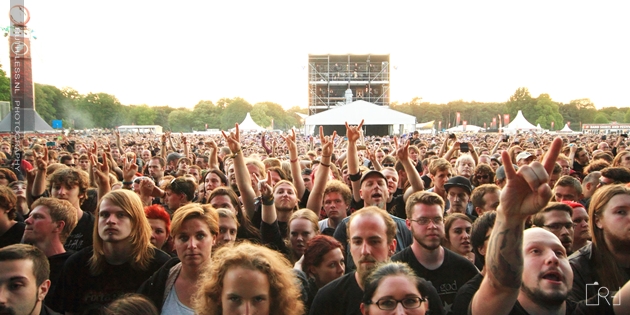 All pictures by Ruth Mampuys (
www.ruth-less.nl
)
See also (all categories):