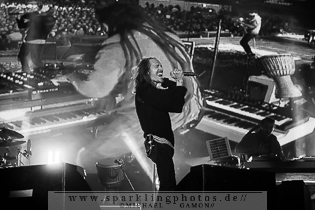 Veltins Arena, Gelsenkirchen, Germany
29th to 31st May 2015
Rock im Revier 2015 Day 2: Arcane Roots, Orchid, Triggerfinger, Paradise Lost, Bonaparte, Babymetal, The Hives, Eisbrecher, Incubus, Muse

The second festival day still did not look like summer and while it was dry in our way it started raining just when we arrived. Besides, it was not really warm either. But there were some cool bands coming up, ready to increase the heat level, and we were anxious to check some of them out. It is just a little sad that the distances were quite far between stages and we misses some bands definitely being worth a glimpse, such as TRUCKFIGHTERS, BRANT BJORK or SAINT VITUS. But you can't have it all I guess…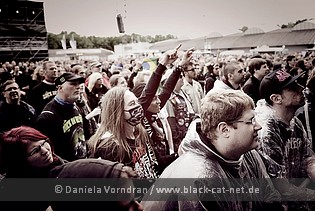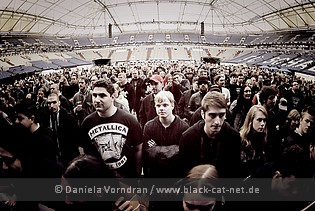 Arcane Roots – Boom Stage

We started our day already half past one with ARCANE ROOTS from Kingston Upon Thames / UK. The three-piece alternative rock band was founded by guitarist & vocalist Andrew Groves and drummer Daryl Atkins. Third member is Adam Burton. Even though it was really early, the band delivered a good show incorporating progressive music, math rock and indie rock. So far, they have only released an EP, 'Left Fire', in 2011 and, besides some singles, their debut album 'Blood & Chemistry' (May 2013). ARCANE ROOTS already supported MUSE and so it was a lucky co-incidence to play on the same day with them at Rock im Revier. In my eyes, this band has a lot of potential, the show was good, they were playing tight and you had the impression they are already very experienced on stage. //
http://www.arcaneroots.co.uk
/
https://www.facebook.com/ArcaneRoots
// Setlist: 1. Over & Over / 2. Sacred Shapes / 3. Leaving / 4. Energy Is Never Lost, Just Redirected / 5. Resolve / 6. If Nothing Breaks, Nothing Moves / 7. You Are // Rating: 7 / 10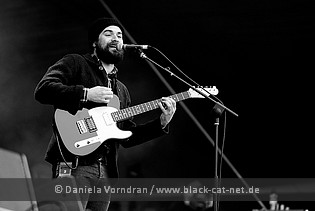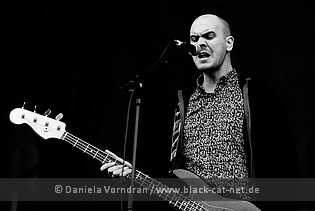 Orchid – Big Stage

Next band for us were ORCHID, opening the Big Stage. Founded in 2007 in San Francisco, the Theo Mindell fronted retro rock band ORCHID quickly established them as the new hope of 70s inspired doom rock. Their debut album 'Capricorn' was out in 2011, followed by 'The Mouths of Madness' in 2013, again to great critical acclaim. ORCHID are often compared with BLACK SABBATH, but their Retro Doom Rock was not really fitting to the program of the main stage being rather Indie / Alternative. And since the stage was rather big, the band looked a bit lost up there and could not really convince performance-wise. Anyway, musically ORCHID delivered good stuff and convinced with songs like 'Capricorn' or 'Eyes Behind The Walls', bringing back the Rock of the 70s. Technically, ORCHID are really worth to be checked out. But like so many others on that weekend, the US band suffered from the bad sound in the arena. //
http://www.orchidsf.com
/
https://www.facebook.com/orchidsf
//Setlist: 1. Eastern Woman / 2. Eyes Behind the Wall / 3. Helicopters / 4. John the Tiger / 5. Capricorn / 6. The Mouths of Madness / 7. He Who Walks Alone // Rating: 7 / 10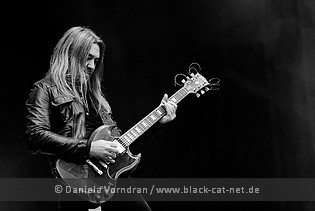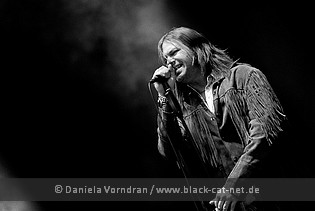 Triggerfinger – Big Stage

I've seen TRIGGERFINGER before and know how good they are live on stage. Latest since their cover version of 'I Follow Rivers', the band is known to a bigger audience. The Belgian Rock band from Antwerp was formed in 1998. The received a lot of positive critics, especially for their live shows. One such review claims TRIGGERFINGER's live show makes about 500,000 other so-called rock bands instantly redundant. And well, Ruben Block (singer/ guitar), Paul van Bruystegem (bass) and Mario Goossens (drums) really know how to entertain a crowd. As usually, the drum kit is prominently places quite in front of stage so people could watch the weird acting of Mario pretty well. I head a lot of laughs for instance when he was starting poking in his nose with a drum stick. But of course he is playing really good too. Ruben is also great to watch. He is very charismatic and very vivid on stage. Ruben, Paul and Mario make an impressive trio on stage with their cool slick looks and solid performance. . It's great to see these gifted musicians enjoying their play on stage, working together but also taking up their own role. If you ever have the chance to see TRIGGERFINGER on stage: go! You won't regret it! //
www.triggerfinger.net
/
www.facebook.com/triggerfingerpage
// Setlist: 1. Black Panic / 2. By Absence of the Sun / 3. On My Knees / 4. My Baby's Got a Gun / 5. Camaro / 6. All This Dancin' Around / 7. Is It // Rating: 8 / 10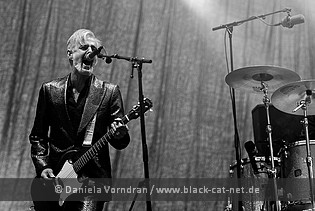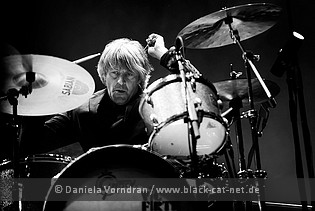 Paradise Lost – Boom Stage

While TRIGGERFINGER were entertaining the arena, outside PARADISE LOST were scare away the rain. Just when they started, the sun came out and enlightened the musicians' faces. The British band is counted as one of the most influential Metal bands as not only they were essential to development of Doom Metal but also pioneered Gothic Metal. In their career they were never afraid to expand boundaries. With 'Tragic Idol' they returned to their Doom Metal roots and now they just released 'The Plague Within' the day before their Rock im Revier show. Of course, some of the songs were presented live. I.e. 'No Hope In Sight' and 'Terminal' celebrated their live debut the day before at the sister festival Rockavaria. The show is diverse and of course there were several old gems presented. Just the latest album 'Tragic Idol' was totally ignored. In best Doom, Death and Black Metal manner, Nick Holmes was partly growling like in good old times. And even the sun did not disturb the black dressed guys. But they are not as dark as you might think. The dry British humour spreads good mood within the audience.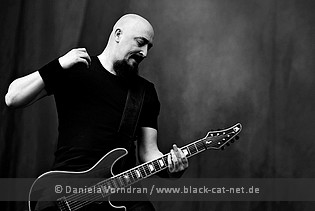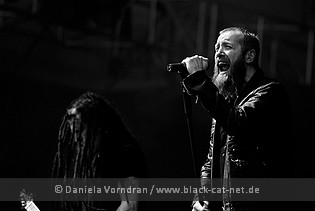 Attentive observers might have recognized that not Adrian Erlandsson was operating the drums today since he is on the road with AT THE GATES and THE HAUNTED. Instead, 20 year old Waltteri Väyrynen from VALLENFYRE did a pretty good job! //
www.paradiselost.co.uk
/
https://www.facebook.com/paradiselostofficial
// Setlist: 1. The Enemy / 2. No Hope in Sight (live debut) / 3. Gothic / 4. Erased / 5. Hallowed Land / 6. Victim of the Past / 7. Faith Divides Us - Death Unites Us / 8. Terminal (live debut) / 9. Say Just Words // Rating: 8 / 10
Bonaparte – Big Stage

A crazy band like BONAPARTY is a must-see! So we soon returned to the Big Stage for their show. Already known as the "hot shit" in Berlin, this band certainly starts through nationwide in 2008. The hedonist collective crushes every stage and already managed to convince Quentin Tarantino ("I booked them to ruin my party in Berlin but they ruined my suit."). The word "trash" maybe fits this performance and the music surrounding it best. But there is a concept behind the crazy show, supported by some dancers who came in on bicycles during the second song, wearing as always fantastic costumes. And of course you could also see some skin while they were dancing or spreading champagne. But the project, containing up to twenty people, is not meant to be sexy – they are controversial and critical, they are artsy and avant-garde. But there was not only stuff to watch, you could also sing along to songs like 'Too Much', 'Anti Anti' or 'Computer in Love'. We could not see really much of the show since on the Boom Stage, BABYMETAL were on the list. We heard already quite some stuff about the Japanese girl band and of course had to check them out. //
http://www.bonaparte.cc
/
https://www.facebook.com/bonaparte
// Setlist: 1. Sue Someone / 2. Anti Anti / 3. Two Girls / 4. Fly a Plane into me / 5. Me so selfies / 6. Computer in Love / 7. Wir sind keine Menschen / 8. Out of Control / 9. Quarantine / 10. Riot in my Head / 11. Too Much / 12. Yes Dear You're Right I'm Sorry // Rating: 8 / 10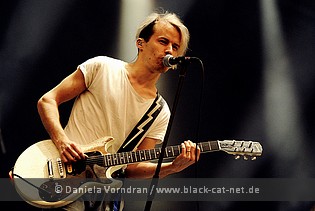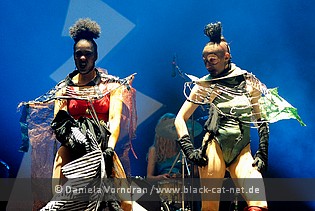 Babymetal – Boom Stage

And there we go with the second Japanese band in the festival billing after DIR EN GREY: BABYMETAL. I did not really knew what to expect, but the things I heard were quite weird. The girls are really young and if they are over a certain age they had to leave the band. There is just one girl in for whom they made an exception. The Metal vocal and dance trio consists of Su-Metal, MoaMetal and YuiMetal, supported on stage by a full band. Performance-wise, they rely on a typical Japanese Lolita image with short skirts and a rehearsed choreography. The age and the short skirts might have been the reason that the photographers were not allowed to shot from the pit but from father back. The supporting band was wearing corpse paint and delivered the "Metal" music. But I won't really call it Metal. Can you take the band's concept serious? I don't know. In Japan, they surely are really successful. I doubt that it would work in Europe. But still the audience was curiously watching what was happening on stage. //
http://www.babymetal.jp
/
https://www.facebook.com/BABYMETAL.jp
// Setlist: 1. Megitsune / 2. Headbanger!! / 3. Catch Me If You Can (with Kami Band instrumental) / 4. Akumu no Rondo / 5. Onedari Dai Sakusen / 6. Road of Resistance / 7. Doki Doki☆Morning / 8. Give Me Choco!! / 9. Ijime, Dame, Zettai // Rating: 6 / 10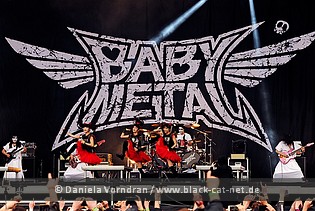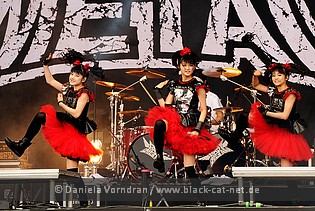 The Hives – Big Stage

Back from our short visit at the Boom Stage tot he Big Stage, where Swedish THE HIVES were up next. The Garage Rock band gained first attention in early 2000s. Their mainstream success came with the release of the "greatest hits" album 'Your New Favorite Band', featuring their most well-known song 'Hate to Say I Told You So'. The band is not only known for their catchy songs but also for their entertaining live performances where they are wearing ever-changing, matching black-and-white suits. The band puts emphasis on their energetic live shows, notably with lead vocalist Howlin' Pelle Almqvist's engaging onstage banter and his guitarist brother Nicholaus Arson's crazy stage antics. And of course their show at Rock im Revier was no exception. The Swedes delivered a great end energetic show. Very soon in the set, Pelle left the stage, nearly fell over the photographers in the pic and strangle them with the microphone cable, entered the fans and sang from there, very close to the fans. THE HIVES' music originates from garage rock but produces bite sized rock that makes you want to jump.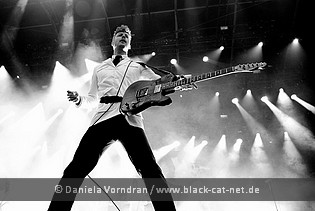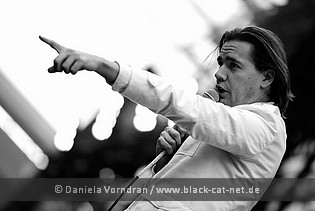 Even though the hall was not really full, the audience was infected by the energy and celebrated with the band. Highlight of course was the last song and an absolute fan favourite, 'Hate to Say I Told You So'. THE HIVES really never disappoint live! //
http://www.thehivesbroadcastingservice.com
/
https://www.facebook.com/hives
// Setlist: 1. Come On! / 2. Take Back the Toys / 3. Die, All Right! / 4. Walk Idiot Walk / 5. No Pun Intended / 6. Try It Again / 7. I'm Alive / 8. Main Offender / 9. Go Right Ahead / 10. Won't Be Long / 11. Tick Tick Boom / 12. Hate to Say I Told You So // Rating: 9 / 10
Eisbrecher – Boom Stage

Currently, EISBRECHER from Bavaria are not only steady guest on Gothic festivals, but also on Rock or Metal festivals. Originally formed out of the band MEGAHERZ in 2002, Alexander "Alexx" Wesselsky (vocals), Jochen "Noel Pix" Seibert (guitar), Achim Färber (drums), Rupert Keplinger (bass) and Jürgen Plangger (guitar) have become one of the top bands of the Neue Deutsche Härte (NHD) genre and sell out in great regularity venues of a capacity holding a few thousand people. Their latest album 'Schock' celebrated big success and climbed up the charts to position two. When EISBRECHER entered the stage, sun was shining brightly. Guitarist Jürgen Planger was touring with his band A Life DIVIDED currently as support for UNHEILIG, and so, he was replaced for this show by former band member Oliver Pohl on bass. As usually, the band delivered an energetic show from the very beginning and front man Alex as usually proved himself sharp-tongued as always. The sixty minutes show contained several songs from the new album, like 'volle Kraft Voraus', 'So oder so' or 'Himmel, Arsch Und Zwirn'.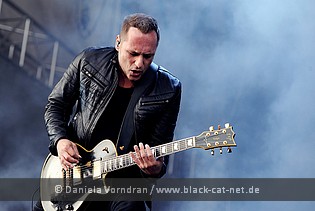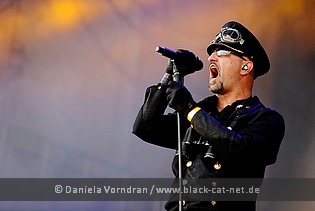 But there was also room for the classics, like 'Antikörper', 'Leider' or 'This is Deutsch'. Final song was traditionally 'Miststück' and Alex jumped down from the stage into the pit to let people scream "Miststück" into his microphone. Solid show! //
http://www.eis-brecher.com
/
https://www.facebook.com/eisbrecher
// Setlist: 1. Intro 2015 / 2. Volle Kraft Voraus / 3. So oder so / 4. Antikörper / 5. Willkommen im Nichts / 6. 1000 Narben / 7. Leider / 8. Prototyp / 9. Himmel, Arsch und Zwirn / 10. This Is Deutsch / 11. Verrückt / 12. Miststück (Megaherz cover) // Rating: 8 / 10
Incubus – Big Stage

INCUBUS was formed in 1991 and became famous as a cross-over band with many different styles. Catchy ballads and cracking Cross-Over hits are the trademarks of INCUBUS. The success of 20 years of career is not only visible in 15 million albums sold, but also in numerous tours around the globe with sold-out concerts. In 2011, the band released its 6th studio album 'If Not Now, When?'. This album is darker, calmer, richer and more personal then everything the band did before. Four years after the album, the band is now back with a new single called 'Absolution Calling' and the EP 'Trust Fall'. INCUBUS had to suffer a little from the fact that the headliner at the Boom Stage, LIMP BIZKIT, were starting during their set and many people decided to see them outside instead of INCUBUS in the arena. While LIMP BIZKIT rocked the crowded Boom Stage with hits like 'My Way', 'Rollin'', 'Nookie' or 'Take A Look Around', we stayed inside for INCUBUS though since I had never seen them before. INCUBUS gave an impressive live show! Brandon and his band started with 'Wish You Were Here' while a large projection wall supported the songs. The well-tested formula of mixed styles, danceable and fast songs and calmer balladry stuff worked pretty well. The setlist was well balanced because fast, slow, new and old songs were mixed.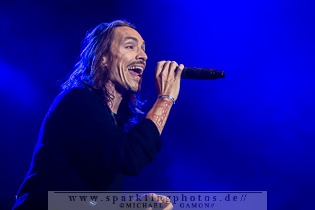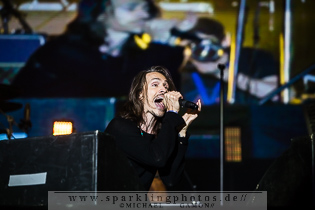 Towards the end for 'Megalomaniac ', they added the 1st verse of NIRVANA's 'Come As You Are' during the bridge. Really cool! My fist ever INCUBUS show convinced me. Now I need them in a smaller surrounding… //
http://www.incubushq.com
/
https://www.facebook.com/incubus
// Setlist: 1. Wish You Were Here / 2. Anna Molly / 3. Absolution Calling / 4. Vitamin / 5. Are You In? / 6. Dance Like You're Dumb / 7. In the Company of Wolves / 8. A Kiss to Send Us Off / 9. Sick Sad Little World / 10. Nice to Know You / 11. Drive / 12. Pardon Me / 13. Megalomaniac (1st Verse of Nirvana's Come As You Are during the bridge) / 14. A Crow Left of the Murder // Rating: 9 / 10
Muse – Big Stage

If you think of MUSE, you're thinking of high quality music, which they're creating since their inception in 1994. The band combines in their sound Alternative-, Hard- and Progressive Rock with classical music and electronica. Today, MUSE are amongst the best British live bands ever, their riffs are amongst the most brilliant on the scene and their albums enjoy a cult-like status. The new album 'Drones' was due to be released on 5th June. When the stage time of MUSE came closer, the venue still looked pretty empty even though there must have been 10,000 people waiting. But the arena is really HUGE! Start was supposed to be at nine, but nothing happened. Soon, I guess LIMP BIZKIT had just finished, people were rolling in and finally when the flow of people ebbed away, Grammy awarded MUSE entered the stage 15 minutes later than announced. Along to the intro, the drill sergeant flickered over the screens. Finally, the band around singer Matthew Bellamy opened the set with 'Psycho' from the new album 'Drones'. Fans loved the perfect voice and performance of Matthew as well as the fast changed in instrumentation.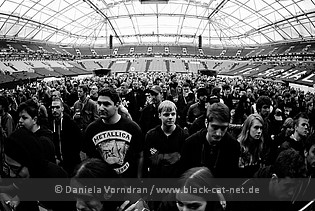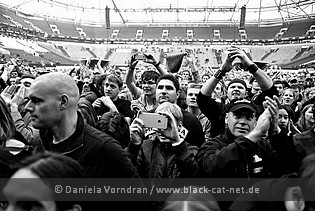 The theatrically presented Pop / Rock was perfect. Maybe too perfect for the Metal preferring audience. But fans and I loved it. While the new album was not convincing to all critics and its songs were hesitantly welcomed by the fans, they celebrated to songs like 'Supermassive Black Hole' or 'Stockholm Syndrome'. 'Hysteria' worked very well and people were jumping, 'Time is running out' was presented in a great interpretation. Generally, the songs differed to their studio versions what was a pretty good thing. Traditionally, epic 'Knights Of Cydonia' was ending the set after 90 minutes. //
http://www.muse.mu
/
https://www.facebook.com/muse
// Setlist: 1. [Drill Sergeant] / 2. Psycho / 3. New Born (+Ashamed riff outro) / 4. Supermassive Black Hole / 5. Dead Inside / 6. Interlude / 7. Hysteria (+Back in Black riff outro) / 8. Animals / 9. Munich Jam / 10. Apocalypse Please / 11. Stockholm Syndrome (+Township Rebellion riff outro) / 12. Plug In Baby / 13. Mercy / 14. Time Is Running Out / 15. Reapers / Encores: 16. [JFK] / 17. Uprising (Extended outro) / 18. Starlight / 19. Knights of Cydonia (Ennio Morricone's Man With a Harmonica intro) // Rating: 8 / 10
All Pictures by Daniela Vorndran (
http://www.vorndranphotography.com
/
http://www.facebook.com/blackcatnet
) except Incubus by Michael Gamon (
http://www.sparklingphotos.de
)
See also (all categories):