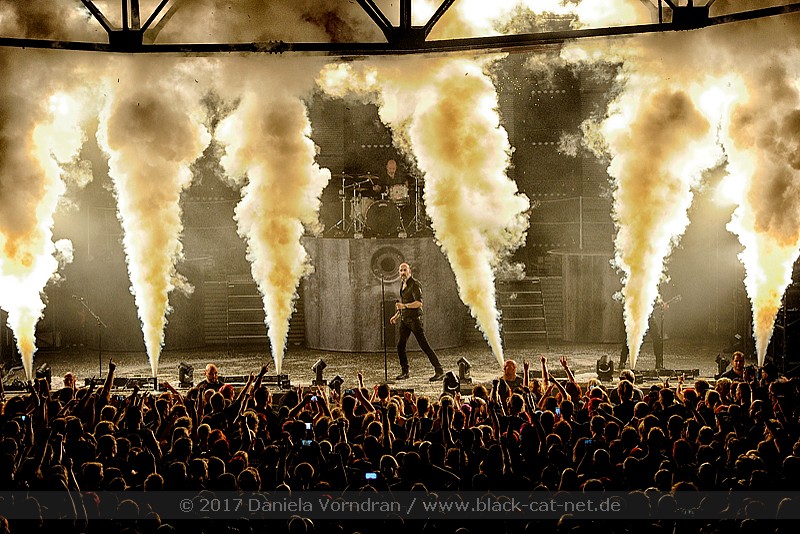 Turbinenhalle, Oberhausen, Germany
29th September 2017
Eisbrecher, Unzucht

EISBRECHER released their new album 'Sturmfahrt' on 18th August via Sony Music. The album contains 1.5 years of hard work and the ex-ante single 'Was ist hier los?'. 'Sturmfahrt' promises to be diverse with cracking Gothic Metal, steely riffs and dance-floor compatible beats, like on the title song of the album, as well as pure head bangers like the song 'Der Wahnsinn'. As a special highlight, the album contains the cover version of the GRAUZONE NDW song 'Eisbär' and a re-adaptation of the classic 'Das Boot', written by Jazz legend Klaus Doldinger.
A few weeks after the release, the band embarked on an accompanying tour. As special guest for the "Sturmfahrt Tour 2017", UNZUCHT are confirmed. The band already toured with EISBRECHER in spring 2016. The tour started on 29th September in Oberhausen and both bands played in front of a sold-out venue. What an amazing evening! We have some pics for you!
Unzucht

http://www.unzucht-music.com / https://www.facebook.com/Unzucht
Setlist

01. Der dunkle See
02. Widerstand
03. Lava
04. Unzucht
05. Deine Zeit läuft ab
06. Neuntöter
07. Nur die Ewigkeit
08. Ein Wort fliegt wie ein Stein
09. Engel der Vernichtung
Eisbrecher

http://www.eis-brecher.com / https://www.facebook.com/eisbrecher
Setlist

01. Sturmfahrt
02. Willkommen im Nichts
03. Das Gesetz
04. Automat
05. Fehler machen Leute
06. Eisbär (Grauzone cover)
07. Amok
08. So oder so
09. Die Engel
10. Prototyp
11. Himmel, Arsch und Zwirn
12. Wo geht der Teufel hin
13. Eiszeit
14. 1000 Narben
15. Was ist hier los?
16. This Is Deutsch
---
17. Verrückt
18. Miststück (Megaherz cover)
---
19. In einem Boot
More on
Eisbrecher
and
Unzucht
See also (all categories):