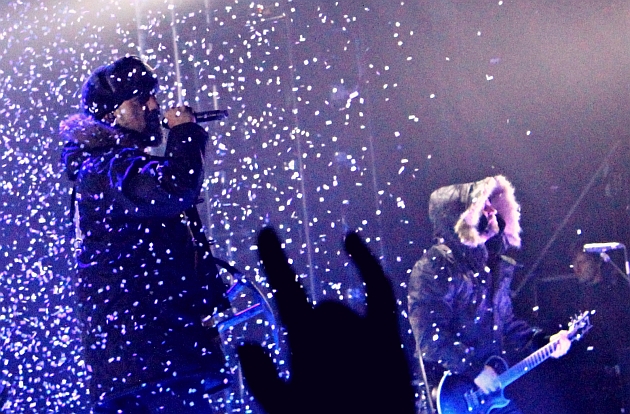 Turbinenhalle, Oberhausen, Germany
16th December 2017
Eisbrecher, Clawfinger, Jürgen und ich

For aficionados of the New German Hardness sound there's no better way to celebrate the end of the year than having a blast with the Munich combo EISBRECHER. It was for the second time this year that the winning team around vocalist Alexx Wesselsky decided to raise the roof of the Turbinenhalle in Oberhausen. Alex thanked their followers for coming out once again and of course we of Reflections of Darkness also gladly accepted the band's invite.
For some, the witty crossover act CLAWFINGER, who stand for "Rapmetal since 1993", might had been an interesting and maybe unfamiliar choice for a special guest, but was indeed a dream come true for Alexx to share the stage with the punky Metal rappers from Sweden. Those also brought along some diehards from Belgium and made the Oberhausen crowd bounce and have a good time. Before it got hard and heavy though, JÜRGEN UND ICH, meaning Alexx and guitarist Jürgen Plangger of EISBRECHER, surprised the audience with a little Christmas special bringing an acoustic Advent choral concert on stage.
Jürgen und ich

There was a fancy Christmas tree on stage when the gents JÜRGEN UND ICH (trans. "Jürgen and me") dressed in "eggshell white" suits came on stage equipped with their acoustic guitars. The "ich" (or "me") refers to Alexx who was also dragging a huge sack with him like Santa, which was filled with some healthy gifts. We sang together - or rather tried to sing - some traditional German Christmas carols such as 'Kling Glöckchen' and 'Oh Du Fröhliche'. In between they were handing out their presents. "Have you behaved well this year? Then watch out, there's an orange coming your way!" Jürgen and Alexx also presented their version of HOWARD CARPENDALE's 'Hello Again' next to WHAM's infamous 'Last Christmas'. When the first three songs were done and the photographers were about to leave the pit, we were called back by Alexx: "No, don't leave, it's getting so nice now..." JÜRGEN UND ICH's slapstick X-mas sing-along set lasted for about twenty minutes.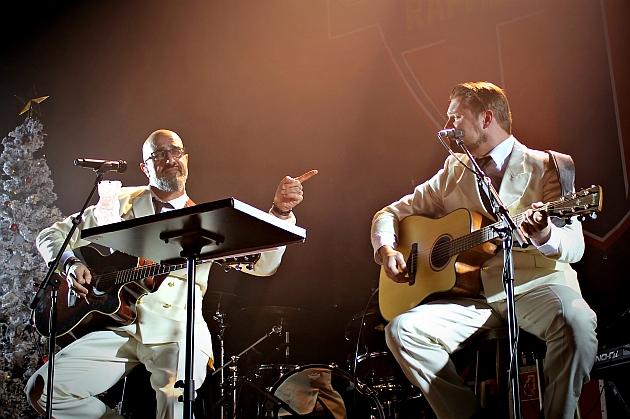 It was the last piece though that the amused crowd celebrated the most: Compared to the chorales, the Schlager classic 'Die Biene Maja' ('Maya the Honey Bee'), the title song of the same-titled cartoon series, was welcomed with a burst of happy laughter and applause and was sung loudly by the word-perfect audience.
Clawfinger

Pioneers of the Crossover scene
CLAWFINGER
are Zak Tell (vocals), Jocke Skog (keys, vocals), Bård Torstensen (guitar), André Skaug (bass) and Micke Dahlén (drums). With their worldwide hits such as 'Nigger', 'The Truth' or 'Do What I Say' they became a voice of a generation in the 90ies and are considered the European answer to RAGE AGAINST THE MACHINE. After four years of musical silence the eloquent and socio-critical act from Gothenburg brought out a new single this August: 'Save Our Souls' is a "song is about how trumpism turns the world into a cesspool full of fucking heartless piss," the Scandinavians declare. "How can someone put a logic on certain ethnics, religions or sexes having certain traits of character and how can someone blame them for the world going wrong? How regressive and ridiculous is that? There are idiots in all shapes and colours, same as heroes, and if we aren't standing together, the world will be fucked," CLAWFINGER speaks out against neo-nationalism. https://www.facebook.com/clawfinger.net / http://www.clawfinger.net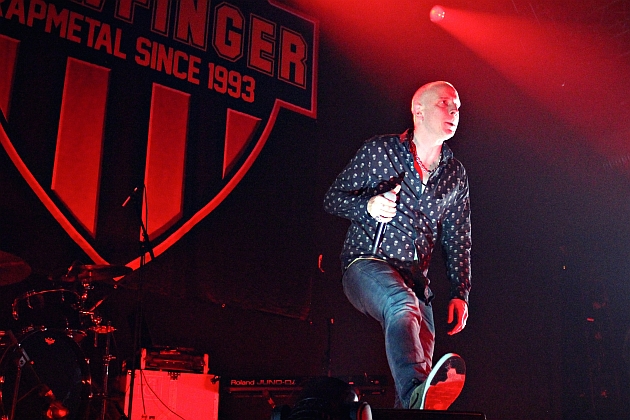 Music & Performance

Despite their break from music and the fact that the band is not their main job anymore, CLAWFINGER stormed on stage and put on a show full of force, joy of playing, self-irony and fun. Particularly the younger folks in the audience and those who are not used to old-school Crossover sounds seemed slightly overtaken by the Rap Metal act raging on stage at first. With a wink good-humoured vocalist Zak announced that they were actually the headliner tonight which made Alexx of EISBRECHER throw his cap towards the rapper. Next to CLAWFINGER hits taken from their discography they of course also presented their new Anti-Trump-tune 'Save Our Souls' convincing with its groove and interplay between powerful rapping and hymnal, melodic vocals.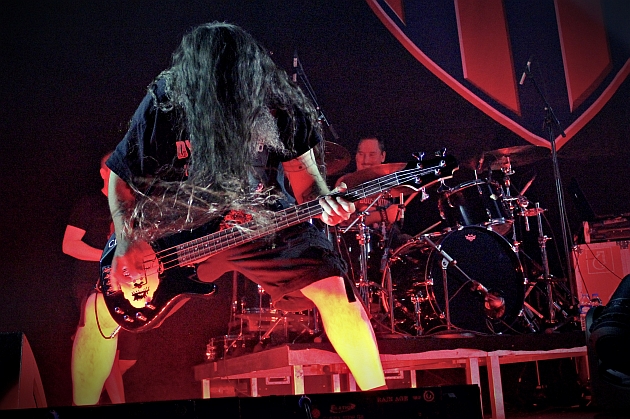 Diehard CLAWFINGER fans had a very good time rapping and bouncing along. Bassist Skaug made multiple bouncy turns while beating dynamically the strings, banged his head letting his long mane fly, and even took a leap into the audience. "Thanks for almost not catching our bass player," Zak commended with a laugh. "Please be kind and don't leave already, but check out our "support" act EISBRECHER," Zak finally said and concluded: "EISBRECHER will have an amazing time with you because you've been already so good to us."
Rating

Music: 8
Performance: 9
Sound: 8
Light: 9
Total: 8.5 / 10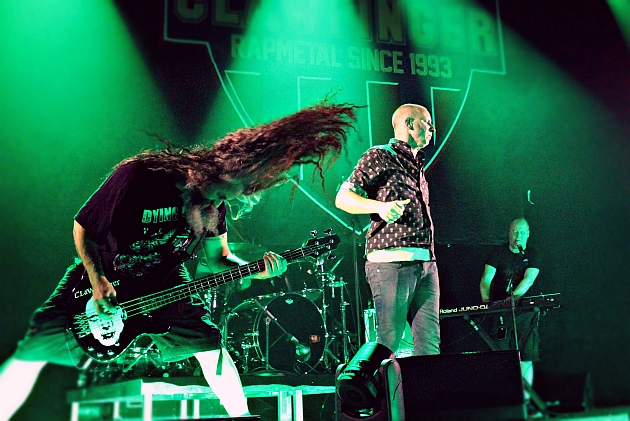 Eisbrecher

2017 has been
EISBRECHER
's most successful year and the NDH heroes really don't need any introduction anymore. It was only less than three months ago, that Alexander "Alexx" Wesselsky (vocals), Noel Pix (guitar, programming), Jürgen Plangger (guitar), Rupert Keplinger (bass) and Achim Färber (drums) kicked of their "Sturmfahrt" tour to at the Turbinenhalle in Oberhausen. The show was already sold out five weeks in advance and their No. 1 record 'Sturmfahrt', their seventh album, was celebrated live by all in all 30,000 fans. In addition, the band introduced their very own festival under the banner of "Volle Kraft Voraus" (transl. "Full Steam ahead!"). All EISBRECHER followers could take it for granted that the final "submarine" show of the year taking place at the Turbinenhalle 1 would be a grand and ice-breaking spectacle. http://www.eis-brecher.com / https://www.facebook.com/eisbrecher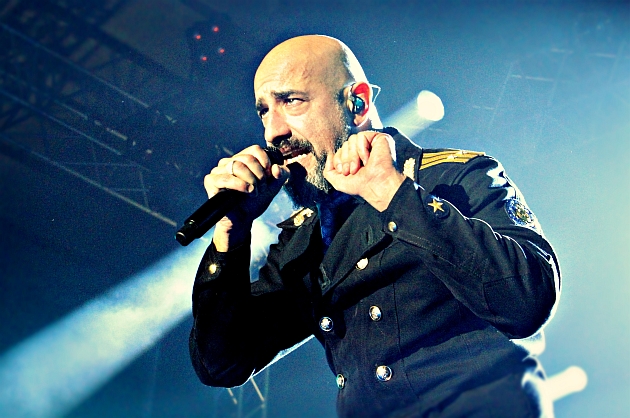 Music & Performance

With their title track 'Sturmfahrt', EISBRECHER put the pedal to the metal taking us on a riff-laden ride. After the thundering 'Himmel, Arsch und Zwirn', the ballad 'Herzdieb' called for a more melancholic moment. Alexx dedicated the song to a very young fan in the front row. The fan standing next to me was in tears for the beautiful tune triggered some very emotional memories. After a short break the band reappeared dressed in winter jackets and armed with ice axes to 'Eiszeit' (transl. 'Ice Age') - one of my personal favourites, I have to add. Besides, it was pouring a ton of artificial snow - fitting and fulminant. During '1000 Narben' the frontman visited the first row handing his mike to the audience. With their in-your-face single 'Was ist hier los?' EISBRECHER served as well a generous helping of social criticism. Of course Alexx also gave his best by presenting his yodelling skills and playing his harmonica.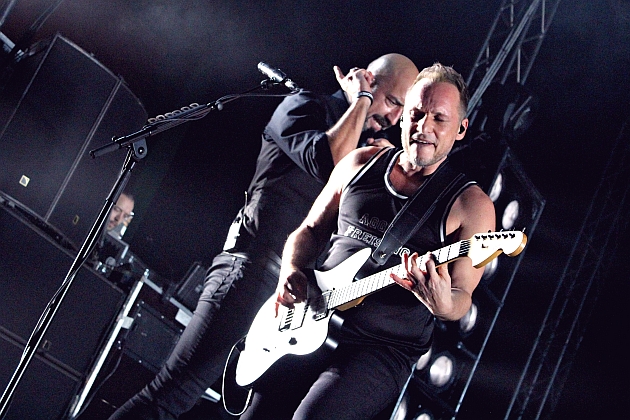 After smashers 'Verrückt' and 'Miststück' and a drum 'n' synth solo in between played by Noel and Achim, the final encore song 'In einem Boot' made for a very special ending and the perfect closure - atmospheric as well as dramatic - of an, all in all, spectacular show. The masterful tune is a reworking of the beloved instrumental classic 'Das Boot', which was composed by Klaus Doldinger for the German war film of the same title. Once again drowned in deep and dark blue lights EISBRECHER delighted us with this sublime submarine tune ending beautifully on a rather pensive note. Bravo! What's more, all thumps up for EISBRECHER's characteristically professional light show which is not just some nice background wall of random colours, but which supports every single song in the most effective way and doesn't cease to surprise with amazing and absolutely fitting effects from the intro to the last song.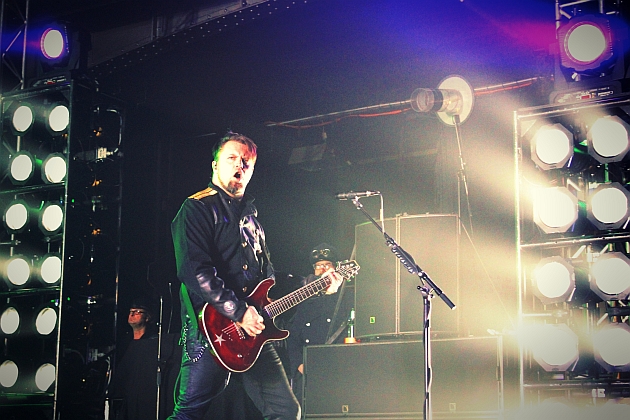 Once again the EISBRECHER tradition of inviting their fans to their annual closure concert was crowned with success. In the end, some lucky fans caught some furry polar bears from the band and there's only one thing left to say: Thank you, EISBRECHER, keep on rocking, and all the very best for 2018!
Setlist

01. Sturmfahrt
02. Das Gesetz
03. Antikörper
04. Fehler machen Leute
05. Augen unter Null
06. Amok
07. So oder so
08. Leider
09. Prototyp
10. Himmel, Arsch und Zwirn
11. Herzdieb
12. Eiszeit
13. 1000 Narben
14. Was ist hier los?
15. This Is Deutsch
---
16. Verrückt
17. Miststück (MEGAHERZ cover)
18. In einem Boot
Rating
Music: 9
Performance: 10
Sound: 9
Light: 10
Total: 9.5 / 10
All pictures by LAy
See also (all categories):