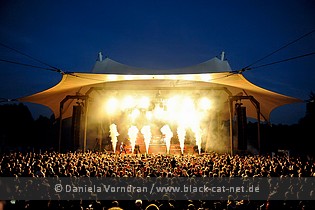 Amphi theatre, Gelsenkirchen, Germany
12th - 14th June 2015
Blackfield Festival Day 2: X-Divide, Frank The Baptist, She Past Away, .com/kill, Sono, Die Kammer, Solar Fake, Unzucht, Mesh, Deine Lakaien, Eisbrecher

The second day started a bit cool with a short and heavy rain at noon but then the sky cleared off and once again we had perfect sunny weather. And once again I omit using sun blocker early enough and got a little bit sunburnt. Besides my favourite band of the day there were a lot of great musical acts but also some I could do without. Like last year much more people were present on this day and the next than on Friday.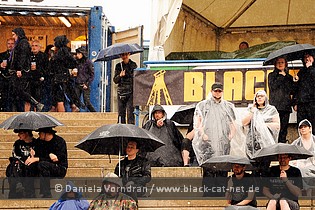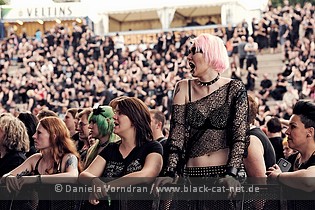 X-Divide [M]

Opener of the second day was the Cologne based Synth Pop duo X-DIVIDE. Members are the host of the festival Jens (keyboard, backing vocals) and his band mate Eric (vocals). Founded in 2005, both had already profound stage experiences with diverse musical projects. The in 2007 released promo EP entered the German Alternative Charts and this without the backing of a label. This changed soon as the project then was discovered by Torben Schmidt of Infacted Recordings. The song 'Forever' of its in 2010 launched album 'X' was nine weeks in the DAC (German Alternative Charts). It's really not a grateful job to be opener of a festival. More so as the weather didn't look so promising and thus not so many people have turned up when the guys entered the stage. The small number didn't encourage them and with some nice Synth Pop songs X-DIVIDE gave a solid warm- up show. //
http://www.x-divide.de
/
https://www.facebook.com/xdividecologne
// Setlist: 1. Sympathy (NNB Mix) / 2. My Love is… / 3. 3. Holding on / 4. Crying over you (new Song, played for the first time) / 5. Forever // Rating: 7 / 10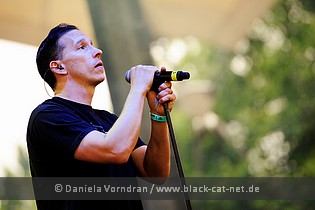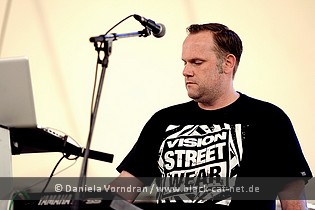 Frank The Baptist [M]

Actually hailing from California, the US American Goth Rock band was founded in the late 90's by Frank Vollmann. After the release of the first EPs in 1999 and 2000 the new founded label Strobelight Records took notice of the band and in 2003 the first official album was launched which was critically acclaimed. After the release of the second album one year later the band toured in Europe for the first time and amongst others it performed at the Wave Gotik Treffen. Celebrating bigger successes in Europe than in the US, Frank moved in 2006 to Berlin where the third album was recorded and released. The band experienced several changes in the band members. The actual line-up is Frank Vollmann (vocals, guitar), Fez Wrecker (guitar), Justin Stephens (bass) and Thomas Fietz (drums). Before the band hit the stage we learnt from Jens amongst other information that the guys brought their own beer with them. For me it was the first time that I saw the band perform and was hooked by the very cool Rock songs and performance. While Frank, Fez and Justin seem to enjoy to play right from the beginning, the drummer looked quite severe at the beginning.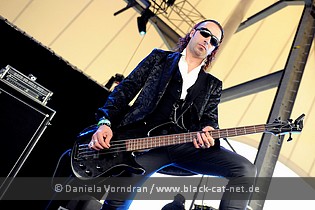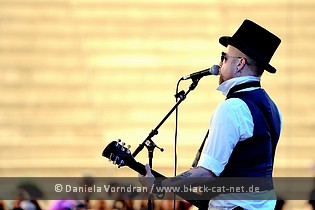 But with every further song he seemed to have more fun as well, as he was smiling more and more. Must have been their special beer or maybe he was thrilled by the positive reaction of the audience. Definitely a band I would like to see again. //
http://frankvollmann.com/frankthebaptist
/
https://www.facebook.com/frankthebaptist
// Setlist: 1. Diogenes Travels / 2. Ashes Ashes / 3. Falling Stars / 4. Bleeding in my arms / 5. Sealegs On A Train / 6. How Low Are We / 7. Silver Is Her Color / 8. If I Speak // Rating: 8 / 10
She Past Away [M]

Last year I had the opportunity to see this band for the first time at the Amphi Festival. Among all the other bands it is a kind of sensation as this is a Turkish band singing with lyrics in its native tongue. The duo of Volkan Caner (guitar, vocals) and Doruk Ozturkcan (bass) blends the sound of the eighties with a fresh outfit and lyrics reflecting actual topics. In any case you hear the influence of bands like THE CURE, SISTERS OF MERCY, THE MISSION and the like. Founded in 2006 the band has released two albums up to now. Though the sound check was done and the band announced, Volkan had to tune up his guitar before the guys finally could start. I could have overlooked it if it was only for the beginning of the concert, but it appeared that before each following song, he was tuning his guitar anew. And this was for me just annoying and in the end a pity as precious time got lost, respectively as the time schedule for the bands performing at this time of day is very short. //
https://www.facebook.com/shepastaway
// Setlist: 1. Sanrı / 2. Katarsis / 3. Asimilasyon / 4. Narin Yalnızlık / 5. Hayaller / 6. Kasvetli Kutlama / 7. Ruh // Rating: 6.5 / 10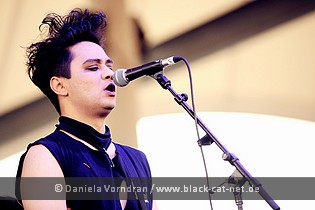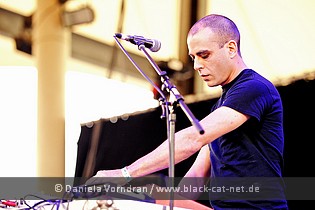 .com/kill [M]

This band Electronic/ Dark noise act is a side project of Adrian Hates and Gaun:A from DIARY OF DREAMS. In contrast to DoD, the sound is more harsh and angry. Actually both guys were planning and working on this project secretly since 1996 but not until 2013 they launched their first self-titled album which was critically acclaimed even from the die-hard DIARY OF DREAMS fans. The lyrics of the songs are in German as well in English language. When the duo entered the stage the place in front of the stage filled immediately and soon after the first tunes a lot of people danced. Both were singing alternately and playing the keyboard. Apparently the audience liked the music a lot. I was not so thrilled as I found the songs quite boring after the third song. Definitely not my cup of tea. //
http://www.comkill.me
/
https://www.facebook.com/comkill
// Setlist: 1. Intro / 2. Still die Gier / 3. Das Blendwerk / 4. Freaks like us / 5. who:ah! / 6. Revenge / 7. Machines / 8. Monster Divine // Rating: 7 / 10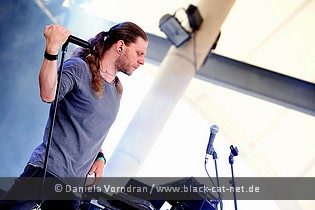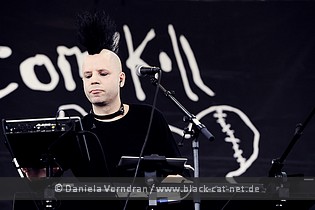 Sono [M]

SONO is a German, Hamburg based, Synth Pop / Electro/ House band founded in 2001. Members are: Lennart A. Salomon (vocals, guitar), Florian Sikorski (keyboard) and Martin Weiland (DJ, keyboard). Up to now, five albums and a live album are released. Having seen the band some months ago for the first time live with ROTERSAND I was eager to see it again. And so this was my first highlight of the day. Two new songs of the upcoming album were performed and very well accepted. There were some short sound issues but fortunately this was sorted out quickly. A lot of people gathered in front of the stage and happily danced to the songs and altogether it was a good and solid live act. //
http://www.sono.fm
/
https://www.facebook.com/sonofm
// Setlist: 1. Flames Get Higher / 2. 2000 Guns / 3. Too Little Too Much / 4. All Those City Lights / 5. Keep Control / 6. Leave Me As I Am / 7. Supersonic / 8. Better / 9. Blame // Rating: 8.5 / 10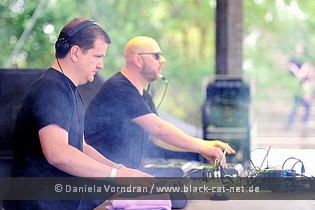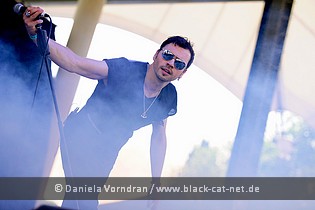 Die Kammer [M]

A very nice surprise was the Guerrilla gig of DIE KAMMER (the chamber) and that was my highlight number two of the day. I only discovered by chance that the guys were performing, not being announced in the programme. Knowing that the small stage at the shopping and catering area was unused, Matthias Ambré and Marcus Testory asked the organisers of the festival if they can use it for their performance during the stage rebuilding times. The guys knew each other from collaborations between ASP and CHAMBER. In 2011 they decided to form DIE KAMMER in order to make solid handmade singer songwriter music. As the band name implies they make chamber music with a small orchestra with string instruments, tuba and minimal percussion while both are playing acoustic guitars. On this day they performed as a duo like they did already on the main stage in 2013. So whenever it was rebuilding time some of us, who are very fond of their music and performance, hurried upstairs in order to see them perform. And thus a small crowd gathered at the small stage dancing and singing with the guys and having a lot of fun. Also some people, who actually wanted to go to the medieval area, stopped and stayed for the short interludes. //
http://www.die-kammer.com
/
https://www.facebook.com/diekammer
// Rating: 9 / 10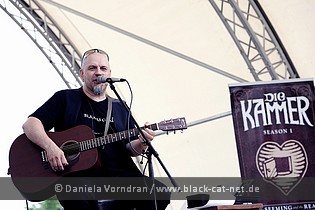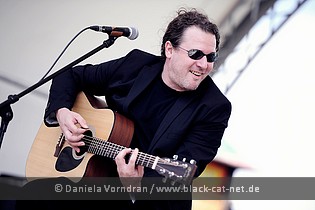 Solar Fake [M]

This band is another project of the highly talented Sven Friedrich, also known from his bands THE DREADFUL SHADOWS and ZERAPHINE. Partner in crime is André Feller. SOLAR FAKE was founded in 2007. With the in 2013 launched 'Reasons to kill' the band has released three albums. The music can be ranged in the Electro Pop genre with very danceable songs and the recognizable vocals of Sven Friedrich. The guys provided us with a good laugh because as André entered the stage and started to play his keyboard and dancing wildly to it, you couldn't hear a sound. Shortly after Sven hit the stage, started to dance and sing without any music. Well, this was at first irritating but all too funny. Seemed that the artists heard the music only via their in-ear monitors. Finally, the sound engineer pushed the right button and then the music set in for all of us. The rest of the show then passed without any further technical problems. In no time Sven got, with his charm and convincing performance, the audience dancing and singing along. And of course we haven't had to miss a superb cover version, this time from LINKIN PARK which was really rocking. //
http://www.solarfake.de
/
https://www.facebook.com/SolarFake
// Setlist: 1. I Hate You More Than My Life / 2. No Apologies / 3. Here I Stand / 4. More Than This / 5. Reset To Default / 6. Under Control / 7. Parasites / 8. Where Are You / 9. One Step Closer (Linkin Park cover) / 10. My Space // Rating: 8.5 / 10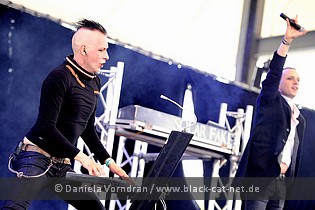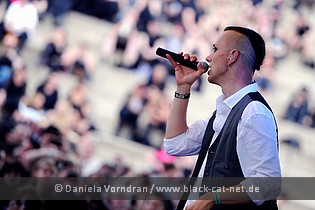 Unzucht (NU)

UNZUCHT from Hannover, Germany, are quite some fast climbers since the release of their debut-album 'Todsünde 8' in 2012. From supporting bands like MONO INC., JENNIFER ROSTOCK, or STAHLMANN to sold-out club shows to a first chart success with their 2013 album 'Rosenkreuzer', so it's not too surprising that UNZUCHT got a rather prominent slot at this year's Blackfield Festival. Often compared to RAMMSTEIN and EISBRECHER, De Clercq (guitar, electronics), singer Der Schulz, Blaschke (bass) and drummer Fuhrmann describe their music simply as Dark Rock. It wasn't dark at all in the blazing sun when UNZUCHT started their show with 'Der Untergang' at 5 p.m. to give a distinguished guide to audience involvement, including arm waving and a crowd-surfing singer. Musically UNZUCHT delivered plain Rock with plenty of drama, melancholic moments, harsh Metal riffs and cheesy moments, as well. UNZUCHT are at their best with songs like 'Unendlich', which appeals with a clever arrangement full of breaks and tempo changes. The audience loved the performance and was happy to join all the band/crowd interaction and saw UNZUCHT off with loud cheering after the band finished their set with their single hit 'Engel der Vernichtung'. //
http://www.unzucht-music.com
/
https://www.facebook.com/Unzucht
// Setlist: 1. Der Untergang / 2. Deine Zeit läuft ab / 3. Seelenblind / 4. Schwarzes Blut / 5. Der letzte Tanz / 6. Unendlich / 7. Nur die Ewigkeit / 8. Unzucht / 9. Kleine geile Nonne / 10. Engel der Vernichtung // Rating: 7 / 10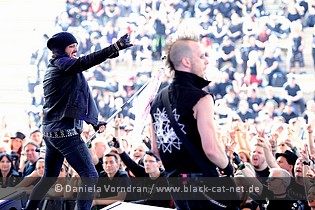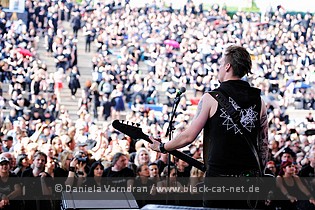 Mesh [M]

My third highlight of the day was the show of my favourite band from Bristol, UK, MESH. Founded in 1991 the Synth Rock/ Synth Pop band is quite an old stager. Its band history embraces seven studio albums, five live albums and compilations as well as numerous singles and EPs. Actually the band was once a trio consisting of Mark Hockings (vocals), Richard Silverthorn (keyboard, guitar, backing vocals) and Neil Taylor(keyboard) but the latter left the band in 2006. For live performances the guys have Sean Suleman (drums) and Lord Richard Broadham (keyboard, backing vocals) on board. As it was Richard's birthday, a birthday balloon was fixed at his keyboard. Meanwhile a greater crowd had gathered in front of the stage and at the seats of the Amphi theatre. The start of the show was not really flawless as the vocals were too low at the first half of the first song. And somehow the technical issues didn't stop during the greatest part of the show: the vocals too low, the drums too loud and then Sean didn't get the signals from the monitors and thus he played quite confusing stuff not fitting to the songs. It got that worse that Mark stopped to sing and when the music paused for a moment there was at least the chance for the audience to sing Richard a birthday song to bridge the waiting time - a bit restrained though as the people seemed to be quite confused by the mishaps as well.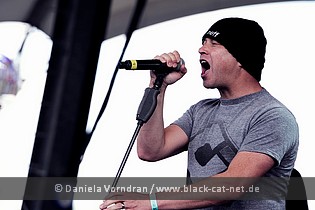 Furthermore Mark told us a joke about a horse that went into a pub… Well, such things can happen at live performance. Nevertheless it was a pity that so many things went so wrong. //
http://www.mesh.co.uk
/
https://www.facebook.com/meshtheband
// Setlist: 1. Intro/ 2. Flawless/ 3. You didn't want me/ 4. Adjust your set/ 5. How long?/ 6. From this height/ 7. It scares me/ 8. Step by step/ 9. Crash/ 10. Just leave us alone/ 11. Born to lie/ 12. Taken for granted // Rating: 7 / 10
Deine Lakaien (NU)

Alexander Veljanov and Ernst Horn aka DEINE LAKAIEN delivered some quieter moments at the second day of the Blackfield Festival with their romantic and melancholic sound. Backed up by percussionist Slobodan Kajkut and Goran Trajkoski (guitar, electronics), DEINE LAKAIEN, who are also renowned for their acoustic performances, played a rather electronic set at the Blackfield. Starting with 'Colour-Ize', one of their oldest songs, the first half of the gig was full of DEINE LAKAIEN classics like 'Gone', 'Where You Are' and 'Reincarnation'. Perhaps they should have saved some of the hits for the second half as things started to drag on a bit when the band presented some songs from their last album 'Crystal Palace' and some lesser known tracks as 'Overpaid' from the 'Kasmodiah' album. There is surely no doubt at all about the musical genius of Ernst Horn, who is a learned classical composer and orchestra conductor after all, but in my book things got a bit too artsy during the DEINE LAKAIEN gig. Alexander Veljanov of course has a great and very significant, highly recognizable voice but he perhaps lacks a bit of variety. It's weird, but some vocalists who are technically not half as good as Veljanov transport a wider range of emotions than Veljanov.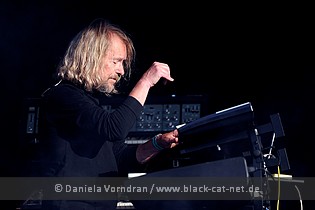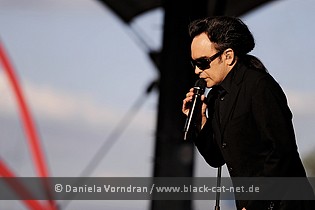 Well, perhaps it's just me, as I'm not the biggest DEINE LAKAIEN fan in the world. The audience clearly loved it and that the Amphi theatre quickly got more crowded than during the previous bands proved that DEINE LAKAIEN could attract casual fans and people with a rather mild interest as well. And although I wasn't exactly carried away by the performance I have to acknowledge that this gig had some of the best-skilled and most competent musicians on stage. //
http://deine-lakaien.com
/
https://www.facebook.com/DeineLakaien
// Setlist: 1. Colour-Ize / 2. Reincarnation / 3. Fighting The Green / 4. Over And Done / 5. Where You Are / 6. Nevermore / 7. Gone / 8. Return / 9. Overpaid / 10. Farewell / 11. Crystal Palace / 12. Love Me To The End // Rating: 7 / 10
Eisbrecher (NU)

Bavarian quintet EISBRECHER was Saturday's headliners, and it's fair to say that they were also the true headliners of the entire Blackfield. The round of the Amphi theatre got really packed when guitarist Jürgen Plangger, drummer Achim Färber, Rupert Keplinger (bass), guitarist and mastermind Noel Pix and singer Alexx Wesselsky entered the stage to the opening sounds of 'Volle Kraft Voraus' from their last chart album 'Schock', which was on the brink to get the No. 1 spot of the official sales chart in Germany earlier this year. Some still dismiss EISBRECHER as some sort of poor man's RAMMSTEIN but inebriated by such a success the band from Munich probably couldn't care less. So the well-oiled show machine called EISBRECHER mercilessly started to roll with a set packed with hits.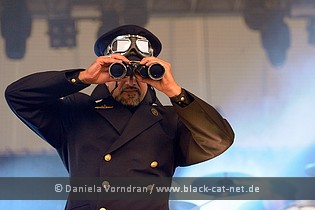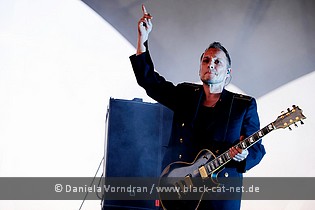 It's a perfectly choreographed, highly professional show which, as impressive as it looks, almost runs the risk to become to sterile and lifeless if it wasn't for showman Wesselsky. He loves to prattle between songs and especially enjoys to banter with his side-kick, Noel Pix. He likes to take the piss, including of himself. Frequently he gloried in being "such an old man" and there might be more truth to it as he would like to think, as he welcomed the audience at the Blackfield with "Hello, Amphi!" (a completely different festival!) and at one point he got totally confused with the setlist and announced the new single 'Rot wie die Liebe', which was actually to be performed much later in the performance. An old man's capacity for remembering, indeed? Anyway, Wesselsky brought a human element to the perfect show machine and is a true entertainer who loves to communicate with band mates and audience likewise. After all, Wesselsky is also a TV presenter for German station DMAX, a men's lifestyle channel, and this might tell you something. At various points of the EISBRECHER show the band left the stage for a costume change while some playback interlude filled the gaps. For 'Eiszeit', title track of their first top ten album from 2010, the group members returned in the iconic "polar explorer" outfits, complete with fur coats, ice picks and winter caps. Must have been quite warm on a warm summer night!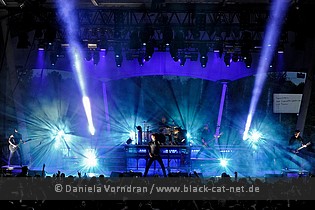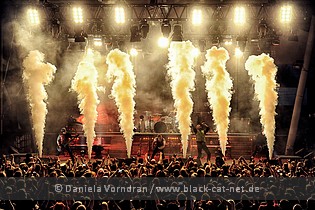 Well, I guess you have to suffer for your art but there were only four songs left to perform, including the obligatory 'Miststück', a track from the EISBRECHER precursor MEGAHERZ, and the speedy 'Verrückt'. A rather entertaining performance at the end of the day, even though musically a bit too polished and too predictable. But EISBRECHER wanted to cater the masses, and they did! //
http://www.eis-brecher.com
/
https://www.facebook.com/eisbrecher
// Setlist: 1. Volle Kraft Voraus / 2. So oder so / 3. Antikörper / 4. Willkommen im Nichts / 5. Fehler machen Leute / 6. 1000 Narben / 7. Amok / 8. Leider / 9. Prototyp / 10. Rot wie die Liebe / 11. Vergissmeinnicht / 12. This Is Deutsch / Encores: 13. Eiszeit / 14. Verrückt / 15. Miststück (Megaherz cover) / 16. Schlachtbank // Rating: 8 / 10
All Pictures by Daniela Vorndran (
http://www.vorndranphotography.com
/
http://www.facebook.com/blackcatnet
)
Written by morTICIA [M] & Niggels Uhlenbruch [NU]
See also (all categories):