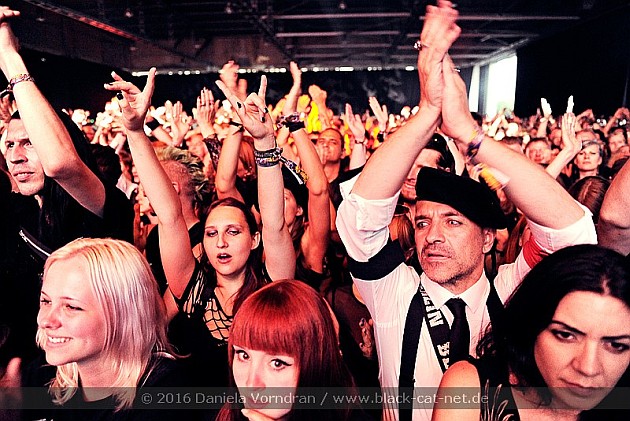 Airport Drispenstedt, Hildesheim, Germany
13th and 14th August 2016
M'era Luna Festival 2016 Day 2: Essence Of Mind, Me The Tiger, Aeverium, Rabia Sorda, Agent Side Grinder, Heldmaschine, Letzte Instanz, Centhron, Combichrist, Beborn Beton, Faun, S.P.O.C.K, Lord of the Lost Ensemble, Zeromancer, Eisbrecher, Suicide Commando, In Extremo, IAMX, Within Temptation


Goths, steam-punkers, medieval rockers, Electro maniacs, metal heads, everyone in between, and even the carnival society, which was represented by Spiderman and a pink rabbit – we all crawled out of our tents and were looking forward to the "M'era Luna Sunday", the second day of "the darkest festival on earth". The line-up promised another series of diverse concerts from "A" as in AEVERIUM to "Z" as in ZEROMANCER. Here we go!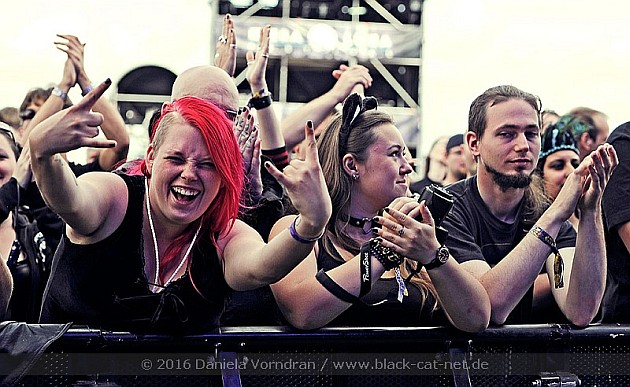 Essence Of Mind - Main Stage (Layla)

The Norwegians ESSENCE OF MIND, winners of the newcomer contest of the SPOT Festival, opened M'era Luna's Main Stage. The three lads from Oslo, Erlend (vocals), Christian (guitar), and Hasse (keyboards), play multilayered Electro Rock and presented four songs out of their repertoire. There were wonderful synth parts and amazing vocals as Erlend switched between singing softly and screaming loudly. Especially the tune 'No Place To Hide' taken from their album 'The Break Up!' convinced the early morning crowd. What a bummer that their playing time was over so soon! And how great would it be, if they also had a live drummer and bassist? Inside the Hangar venue, there was another Scandinavian trio, ME THE TIGER, starting the Sunday program.
//
http://www.essence-of-mind.com
/
https://www.facebook.com/essenceofmind
// Setlist: 01. Escape / 02. Hate / 03. No Place To Hide / 04. Wrong // Rating: 9 / 10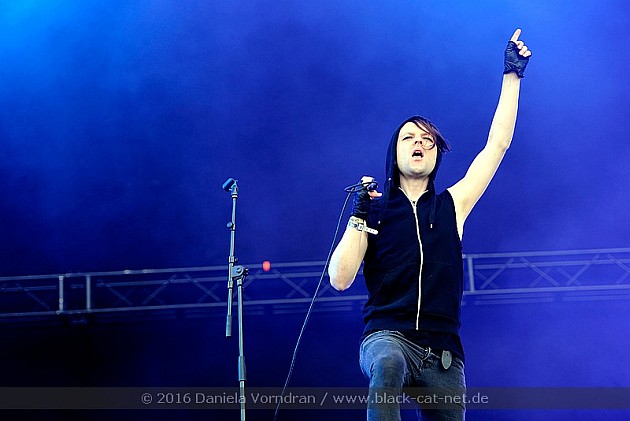 Me The Tiger - Hangar (Linda)

ME THE TIGER were the most surprising act of the second festival day for me. I haven't heard of them before and the Swedish trio managed to convince me from the first sound on with their danceable, fantastic Dark Pop compositions, great lyrics, and the wonderful voice of Gabriella Åström. Towards the end of their last song 'What Promises Are Worth' from their album entitled 'Vitriolic', there was again and again thundering applause by the audience. What a shame that the performance of ME THE TIGER was also over that fast. //
http://www.methetiger.com
/
https://www.facebook.com/MeTheTiger
// Setlist: 01. Pocket Sized Edition Ending / 02. As We Really Are / 03. Ariana / 04. What Promises Are Worth // Rating: 10 / 10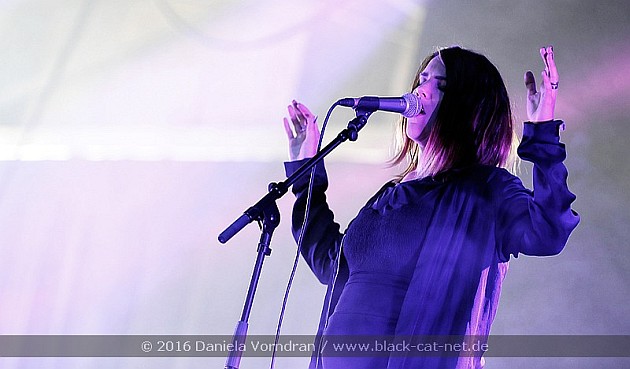 Aeverium - Main Stage (Layla)

With AEVERIUM, the winners of the last M'era Luna newcomer contest, it got melodic and heavy outside in front of the Main Stage. The six-strong Gothic Metal band was "happy to be part of the best festival in the world once again" and their audience was happy to rock out with a true, complete band: There were drums, bass, guitar, keys, and, on top of that, two different voices. Their variation between clear and high vocals by Aeva Maurelle and the more aggressive shouts of Marcel "Chubby" Römer was successful and their polyphonic singing absolutely in harmony. Chubby encouraged everyone to "buy CDs rather than to steal them" and even took some time to "play around with the audience" animating the crowd to do their early-morning workout along to their winning tune 'Break Out'. After their last song 'Heaven's Burning (Harvest Time)', the band didn't want "to simply disappear backstage," as the vocalist said, but instead click glasses with the fans – and so they did. //
http://www.aeverium.com
/
https://www.facebook.com/aeverium
// Setlist: 01. Do you remember / 02. Distrust / 03. The other side / 04. What are you waiting for / 05. Break out / 06. Heaven's burning (Harvest Time) // Rating: 9 / 10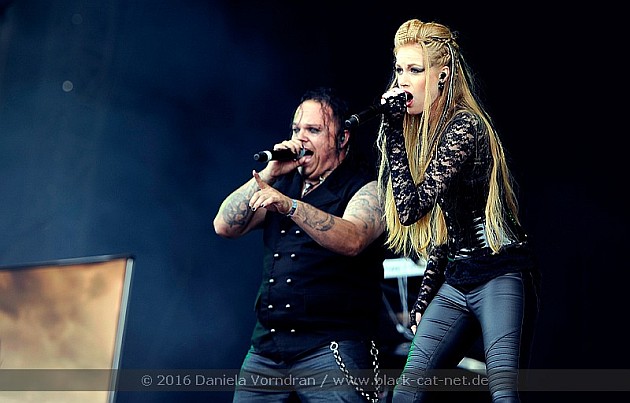 Rabia Sorda - Hangar (Layla)

RABIA SORDA at twelve noon: definitely a must-hear! Their unique mix of harshness and melodies has made RABIA SORDA one of the most interesting electronic acts in the last few years. Even though most of us wondered about the early playing time of these hymnal Electro punks, the Hangar was jam-packed. After the HOCICO gig last night, Erk Aicrag, the "King of the Wasteland", entered the stage for the second time at M'era Luna. Together with Marcus Engel (guitar, keys, percussion) and drummer Maxx they got the RABIA SORDA party started with their new single 'King of the Wasteland' and were greeted with a hurricane of applause. The crowd danced wildly to 'Out of Control' from the 'Noise Diary' album and sang along the popular 'Hotel Suicide' at the top of their lungs, while Erk swept across the stage wearing his red sneakers and jumped up into incredible heights. The trio granted their fans a kick-ass show full of energy and put everybody into a good mood. RABIA SORDA's intense and at the same time melodic smashers are diverse and catchy. And so, the band was without question the first Hangar-highlight of the day. //
http://www.rabiasorda.com
/
https://www.facebook.com/rabiasordaofficial
// Setlist: 01. King of the Wasteland / 02. Radio Paranoia / 03. Obey Me! (Promises of Monsters) / 04. Deaf / 05. I'm Tragedy / 06. Out of Control / 07. Hotel Suicide // Rating: 10 / 10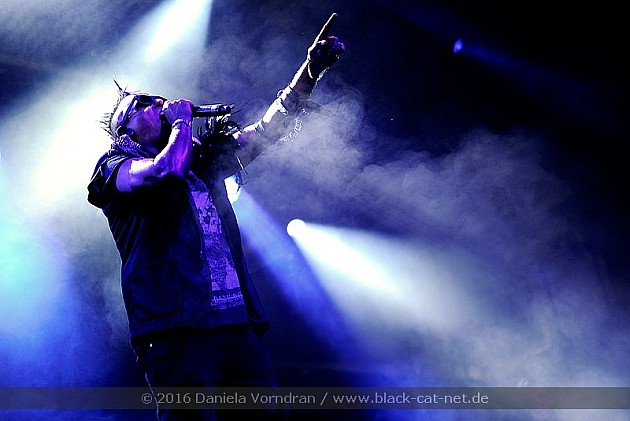 Agent Side Grinder - Main Stage (Niggels)

Swedish band AGENT SIDE GRINDER were new to the M'era Luna and are, despite more than 10 years of band history, considered as one of the up-and-coming bands. Their last album, last year's 'Alkimia', was critically acclaimed and tightened their underground following all over Europe. At the M'era Luna AGENT SIDE GRINDER were kind of the strange fish in the pool as the Swedes are hard to categorize, at least they are no typical ambassadors of Goth or EBM or Industrial. Call their style Indie-Electro with a shot of dark, melancholic Pop, if you like. Live AGENT SIDE GRINDER sounds much more electronic than I expected – we all know a fistful of bands that focus more on guitars when paying live, don't we? – and the towers of vintage synths and modern gear was quite impressive. And they know how to use them! Braving the midday sun, AGENT SIDE GRINDER started with 'Into The Wild' (and, unfortunately, some minor sound problems) and continued to perform a set which was melancholic and seductive at the same time and whose only regrets were that it was too short and too early in the day. But it was one of the true musical gems of the M'era Luna weekend, and one can only hope that the Swedish band will be invited again! //
http://www.agentsidegrinder.com
/
https://www.facebook.com/agentsidegrinder
// Setlist: 01. Into the Wild / 02. Look Within / 03. Giants Fall / 04. Mag 7 / 05. This is Us / 06. Wolf Hour / 07. Die to Live // Rating: 10 / 10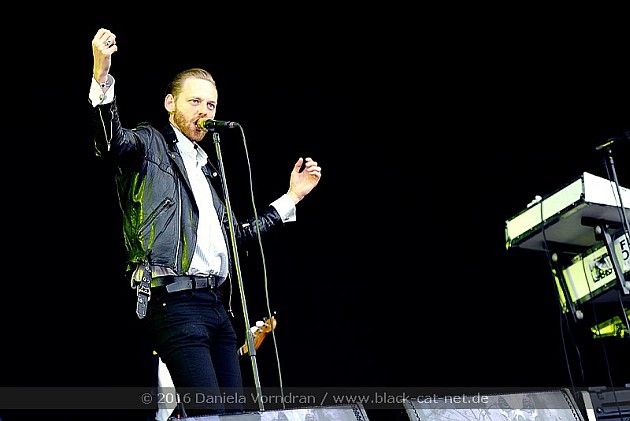 Heldmaschine - Hangar (Niggels)

René Anlauff's project HELDMASCHINE is a spin-off of VÖLKERBALL, a RAMMSTEIN tribute act from Koblenz, Germany. Besides covering RAMMSTEIN songs and performing a facsimile of RAMMSTEIN's show, VÖLKERBALL also wrote and produced songs of their own. In 2013 the band decided to release their self-written songs under the moniker HELDMASCHINE. As the M'era Luna gig proved, HELDMASCHINE live still sounds like a RAMMSTEIN tribute act, just with songs you are not familiar with. Tracks like 'Sexschuss' or 'Radioaktiv' could be unreleased RAMMSTEIN outtakes. The lyrical style and themes are identical, the musical style is identical, as well. To be honest, I find it hard to see the point in such a self-limitation and denial of originality and a separate identity, but I will admit that the show may be entertaining when you've had a few beers already. That's why I spent the gig at the bar in the back of the Hangar... Technically, it was a solid performance; singer René Anlauff, Tobias Kaiser (guitar), Björn Müller (guitar), Tilmann Carbow (bass), Dirk Oechsle (drums) and Andreas Schanowski (keys) know what they are doing as professional musicians. The (surprisingly huge) crowd apparently enjoyed the gig but I can't help to admit that I was only mildly entertained. //
https://www.facebook.com/Heldmaschine
// Setlist: 01. Wer einmal lügt / 02. Collateral / 03. Ich komme / 04. Weiter / 05. Radioaktiv / 06. Sexschuss / 07. Propaganda // Rating: 5 / 10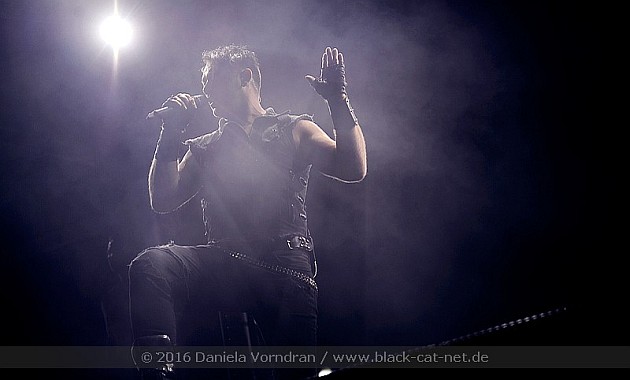 Letzte Instanz - Main Stage (Linda)

Then, we waited eagerly for LETZTE INSTANZ, who have released their twelfth opus 'Liebe im Krieg' just on that Friday. When the first tones of 'Flucht ins Glück' (transl. "Flight into Happiness") resounded, the fan's anticipation increased even more and when Holly Loose started to sing it was like coming home. The sun was shining, the audience was dancing, and one could see the band's happiness. They presented their brand new album by playing the titles 'Wir sind eins' ("We are One") and 'Tränen aus Stein' ("Tears of Stone"). Cellist Benni Cellini and violin player M. Stolz (both instrumentalist barefoot), guitarist Bernie Geef, bassist Michael Ende, drummer Andy Horst, and singer Holly delivered an awesome show with a superb sound. Time just flew with LETZTE INSTANZ. They ended their set with 'Wir sind allein', during which an ocean of swaying arms arose and the M'era Luna crowd sang "Na, na, na, na" together. //
http://www.letzte-instanz.de
/
https://www.facebook.com/letzteinstanz
// Setlist: 01. Flucht ins Glück / 02. Wir sind eins / 03. Blind / 04. Der Garten / 05. Tränen aus Stein / 06. Komm! / 07. Finsternis / 08. Wir sind allein // Rating: 10 / 10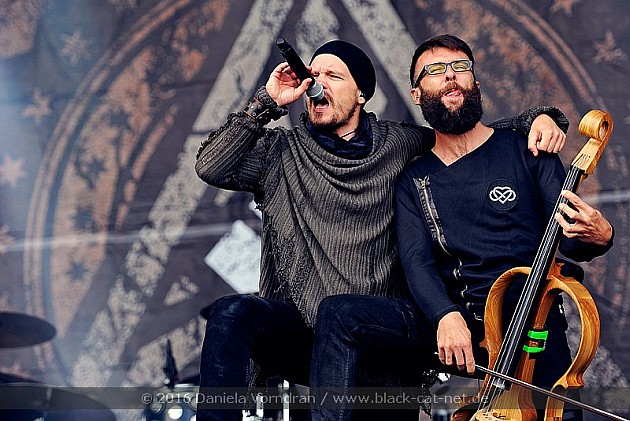 Centhron - Hangar (Niggels)

Elmar Schmidt (vocals), Markus Vogler (bass) and Anette Schmidt (synths) aka CENTHRON were the next to enter the stage of the Hangar. Harsh Electro and Aggro Tech are the trademarks of the German act and if you are greedy for nothing but pure aggression and stomping beats, CENTHRON may be your band of choice. The band started off at full tilt at the M'era Luna and didn't let the energy level drop a single bit for the rest of their gig. The surprisingly huge crowd was grateful for this sonic attack but musical aesthetes probably ran for their lives as soon as the show started. In the end, CENTHRON is little more than old-fashioned 90s Techno crushed by noisy distortion and garnished with furious shouts. There is little variation in the music and the lyrics oscillate between crude and mindless. Maybe I'm just too old for this kind of music; maybe it needs more than endlessly hammering four-to-the-floor beats to impress me after three decades in the scene. However, the fans seemed to love it and danced their asses off, some looking like "Mortal Kombat" characters on speed fighting imaginary enemies in their Cyber Goth outfits. I headed for a beer instead. //
http://www.centhron.de
/
https://www.facebook.com/centhron
// Setlist: not available // Rating: 4 / 10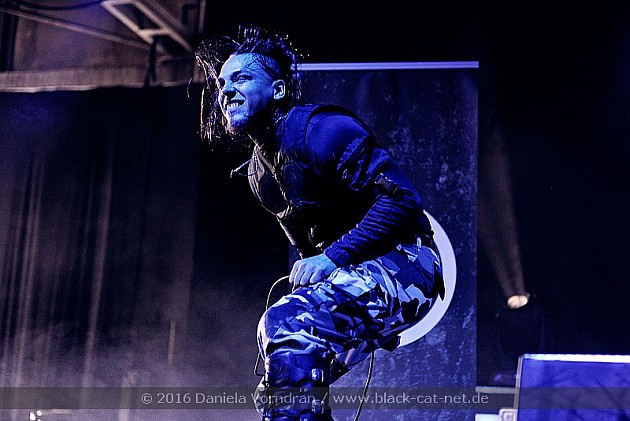 Combichrist - Main Stage (Layla)

One could read the words "Party Time" on the shirt of drummer Joe Letz and that was exactly the program of the quintet COMBICHRIST on the Main Stage. 'Slakt' and 'Skullcrusher' heated things up and by the third song, 'Can't Control', the M'era crowd was moshing, which made the shouting vocalist Andy LaPlegua smile big time. Bassist Brent Ashley and guitarist Eric13 also contributed greatly to the background vocals and gang shouts. The drummers, Joe Letz and Nick Rossi, did not just demolish their instruments, but also threw their sticks at each other all across the stage, caught them and kept on beating the drums. With songs such as 'Throat Full of Glass', a great mid-tempo tune with clear vocals and a catchy chorus from the album 'Making Monsters', the beat driven 'Get Your Body Beat', and the dark 'Blut Royale' the COMBICHRIST fans kept on dancing, jumping, and partying hard-core. Towards the end of the raw Aggrotech/ Rhythm 'n' Noise show they even disassembled the drums to throw some parts wildly around. After, all in all, eight Industrial COMBICHRIST party smashers, the band finally played their rocking get-out dance 'Maggots at the Party'. The party people in front of the Main Stage seemed to agree: COMBICHRIST were the bomb! //
http://www.combichrist.com
/
https://www.facebook.com/combichrist
// Setlist: 01. Intro / 02. Slakt / 03. Skullcrusher / 04. Can't Control / 05. Throat Full of Glass / 06. No Redemption / 07. Get Your Body Beat / 08. Blut Royale / 09. My Life My Rules / 10. Maggots at the Party // Rating: 8 / 10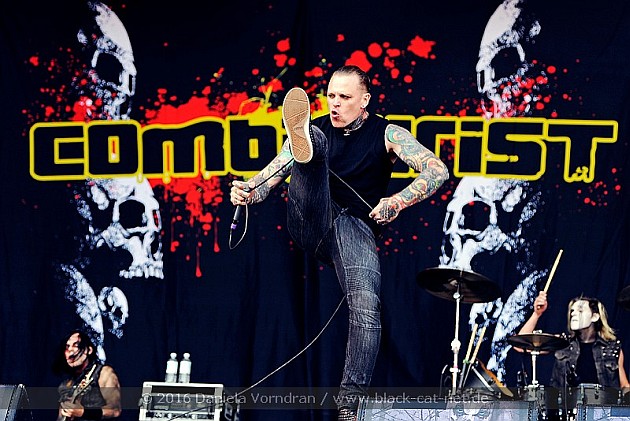 Beborn Beton - Hangar (Layla)

Thumps up and heartfelt thanks for another Hangar-highlight go out to the Electro Pop trio of BEBORN BETON. The melancholic synth sounds created by Stefan Netschio (vocals), Stefan Tillmann (keys, drums), and Michael B. Wagner (keys) capture one's heart and at the same time make you wanna shake a leg. The band played five pieces out of their current and long-awaited album titled 'A Worthy Compensation': Next to the new '24/7 Mystery', 'Daisy Cutter', and 'She Cried' (as an extended club remix), their large following appreciated their beautiful love song 'I Believe' and the amazing 'Last Day On Earth' – my personal favorite, I must confess. During 'Mantrap – The Seduction' the merry mood inside the Hangar was at its climax and with the tunes 'The Colour Of Love', 'Another World', and 'Im Innern Einer Frau' BEBORN BETON shared three more, older tracks from their "Finest Synth Pop since 1989"-catalog. //
http://www.bebornbeton.de
/
https://www.facebook.com/bebornbeton
// Setlist: 01. Intro & 24/7 Mystery / 02. The Colour Of Love / 03. I Believe / 04. Last Day On Earth / 05. Another World / 06. Daisy Cutter / 07. Im Innern Einer Frau / 08. Mantrap - The Seduction / 09. She Cried (Extended Club Remix) // Rating: 10 / 10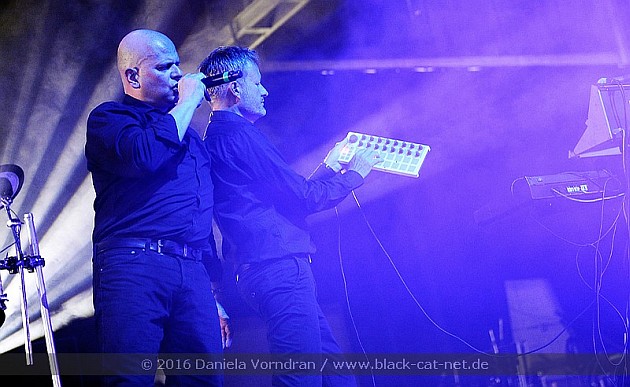 Faun - Main Stage (Linda)

Outside the Pagan Folk formation FAUN brought us back into the Dark Ages and far North. Unlike any other band they manage to transport their audience into a magical world with their numerous instruments, polyphonic singing, and amazing light show. Bagpipe, harp, and wheel fiddle sounds came together with the beats of ultra-large drums. The musicians offered us fantastical Nordic Folk tunes and showed their joy of playing. With their songs FAUN easily took the festival visitors into a world full of myths. //
http://www.faun-music.com
/
https://www.facebook.com/FaunOfficial
// Setlist: 01. Wind und Geige / 02. Alba II / 03. Walpurgisnacht / 04. Blaue Stunde / 05. Rhiannon / 06. Wenn wir uns wiedersehen // Rating: 8 / 10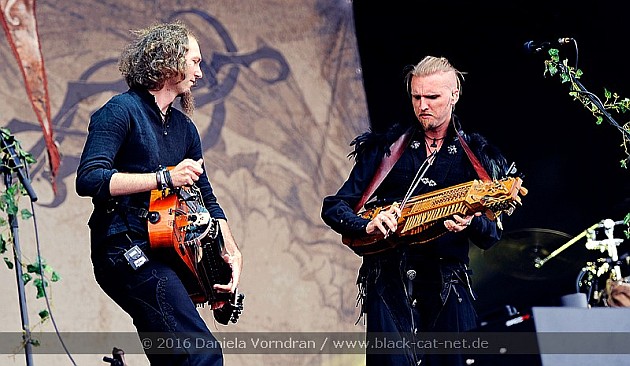 S.P.O.C.K - Hangar (Niggels)

It's been a while since the legendary S.P.O.C.K. played the M'era Luna the last time, and as the band's activities are rather few and far between, this gig really felt like a comeback show. And the trio from planet Sweden proved that they didn't lose a tithe of their entertainment qualities. After a short soundcheck in front of a packed Hangar, Alexander Hofman aka Android (vocals), Val Solo (keys) and Johan Malmgren aka Yo-Haan (keys, backing vocals) left the stage just to return a second later to give the audience a lesson in Synth Pop. Star Trek and Science Fiction are still their favorite topics, as the opener, the yet unreleased song 'Borg', proved, and the rest of the set was a distinct reminder how many classic hits this band has up their sleeves. From the smashing 'Dr. McCoy' to the charming 'Astrogirl' and the cheerful 'Out There', there were many tunes you are oh so familiar with and which you probably didn't hear in a while.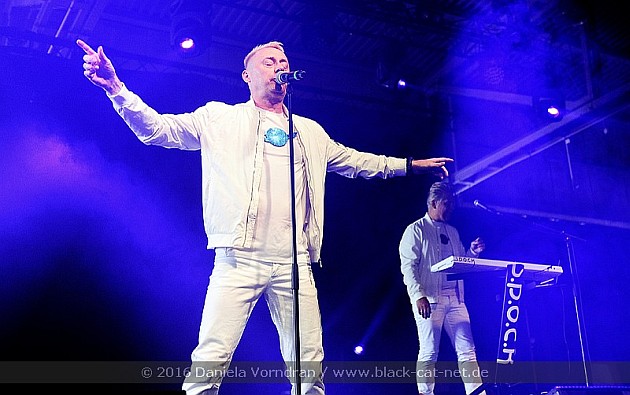 S.P.O.C.K are also still supreme masters of not taking themselves too seriously and the focus of the show was clearly on having some good ole fun. Soaking the first rows with a big water pistol wasn't exactly the most Goth thing to do at a Goth festival, to say the least. The fans were more than happy to join in the fun and as the grand final everyone was bellowing out the famous line "Never, never, never trust a Klingon!" The most fun-filled gig of this year's M'era Luna by a mile (or should I say by a lightyear?) and S.P.O.C.K get 11 out 0f 10 points – because they are clearly out of this world! ;-) Live long and prosper! //
http://www.subspace.se/spock
/
https://www.facebook.com/StarPilotOnChannelK
// Setlist: 01. Borg / 02. E.T. Phone Home / 03. Dr. McCoy / 04. Astrogirl / 05. Not Human / 06. Astrogirl's Secret / 07. In Space No One Can Hear You Scream / 08. Out There / 09. Speed of Light / 10. Never Trust a Klingon // Rating: 11 / 10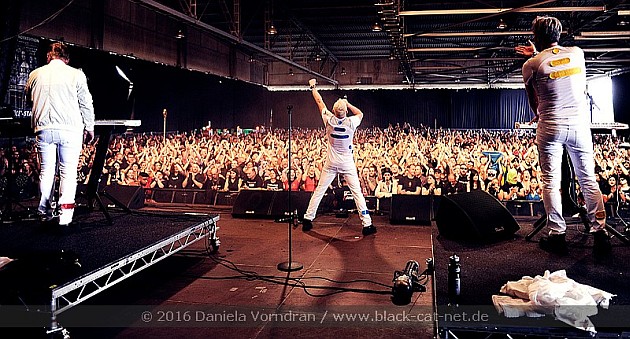 Lord of the Lost Ensemble - Main Stage (Layla)

At about the same time it got really crowded in the infield: The marvelous LORD OF THE LOST ENSEMBLE, that was dressed to kill, graced the Main Stage to put the M'era audience under their spell. Together with their chamber orchestra, the Dark Rock stars LORD OF THE LOST played an acoustic show in the vein of the "A Night to Remember Tour 2015" and their acoustic album 'Swan Songs'. Unsurprisingly, this was a very special event for all fans and the musicians themselves. "Is the hairdo still in place," vocalist Chris "The Lord" Harms asked the crowd as he "had made extra effort" with his mane that day. To hear their compositions 'Lost in a Heartbeat', 'Six Feet Underground', 'Dry the Rain', 'Go to Hell', 'Prison, and 'Credo' as orchestral pieces with soulful, dark vocals was simply bombastic and truly moved the large gathering in front of the Main Stage. 'See You Soon' granted many goosebumps and quite a few fans shed a tear.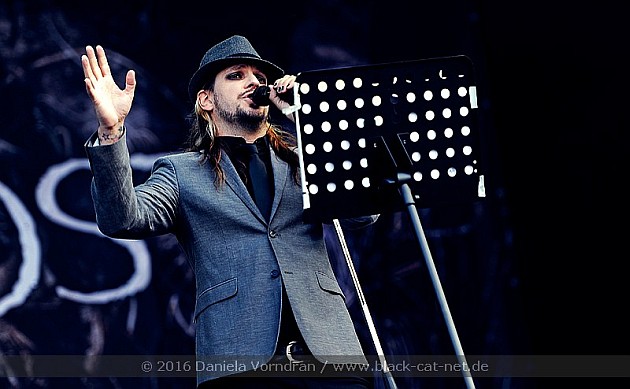 The ENSEMBLE wanted to play this song because they "know that this tune means a great deal to a lot of folks". Another highlight was the musical version of the poem "Annabel Lee" by wordsmith Edgar Allan Poe. This was particularly interesting to those familiar with the exceptional poet – and since we were at a Goth fest, there should had been quite a few of the bookworms who enjoy Poe's Dark Romantic work. By now, LORD OF THE LOST have been playing at M'era Luna for the fourth time and it was "an immense joy to be able to present also this kind of program," as Chris told us. He thanked the audience for listening so carefully and all we can say is: It was a great delight! //
http://www.lordofthelost.de
/
https://www.facebook.com/lordofthelost
// Setlist: 01. Six Feet Underground / 02. Dry the Rain / 03. Go to Hell / 04. See You Soon / 05. Prison / 06. Annabel Lee / 07. Lost in a Heartbeat / 08. Credo // Rating: 10 / 10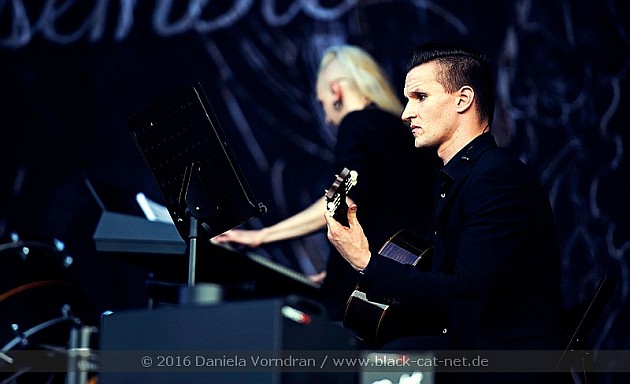 Zeromancer - Hangar (Linda)

It was about to get Scandinavian once again for the Norwegian Electro Rock act ZEROMANCER hit the Hangar Stage. Those who know this exceptional band knew what one could expect from the boys around vocalist Alex Møklebust: a celebration of synth sounds next to rough Metal tunes. And so we were looking forward to their sparkling performance inside the dark venue. Unfortunately, there was too much stage fog, for my taste, and the sound wasn't at its best, which is sad since ZEROMANCER were in top form playing a great show, as most people inside in front of the stage and outside in front of the screen could tell. //
http://www.zeromancer.com
/
https://www.facebook.com/zeromancerzentral
// Setlist: 01. Auf Wiedersehen Boy / 02. Need You Like A Drug / 03. Clone Your Lover / 04. Sinners International / 05. Something For The Pain / 06. Neo Geisha/ 07. Cupola / 08. Fade To Black / 09. Hate Alphabet / 10. Ammonite / 11. Dr. Online // Rating: 8 / 10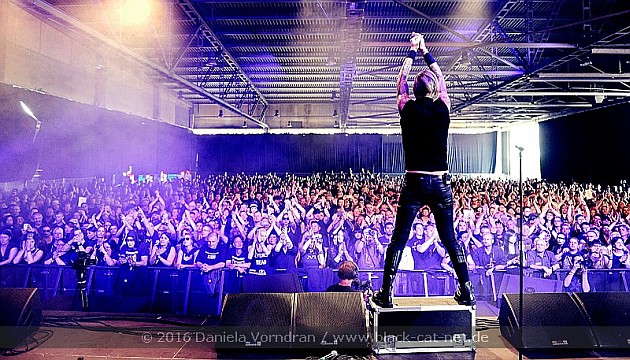 Eisbrecher - Main Stage (Layla)

According to the event organizer, EISBRECHER were the most memorized band in the digital timetable app. No wonder, for who would want to miss a NDH show full of power and also humor as one is used from EISBRECHER? The good humored front man Alexx Wesselsky gave his tie as a present to "one of the kind ladies in the front row" and even cleared the sky from a big, white cloud with the help of a mouth harp solo. Even though one missed the 'Eiszeit' (transl. "Ice Age"), EISBRECHER played a killer show with titles as 'Willkommen im Nichts' ("Welcome to Nowhere"), 'Vergissmeinnicht' ("Forget-Me-Not"), 'Verrückt' ("Lunatic"), and '1000 Narben' ("1000 Scars"). With EISBRECHER it's always "Full speed ahead!" and so people danced, clapped, sang, and banged their heads with the band for one hour till the final song 'Miststück/ Rock Me Amadeus'. Good times! //
http://www.eis-brecher.com
/
https://www.facebook.com/eisbrecher
// Setlist: 01. Verrückt / 02. Willkommen im Nichts / 03. Fehler machen Leute / 04. Leider / 05. Vergissmeinnicht / 06. Prototyp / 07. Himmel, Arsch und Zwirn / 08. 1000 Narben / 09. This Is Deutsch / 10. Miststück / Rock Me Amadeus // Rating: 10 / 10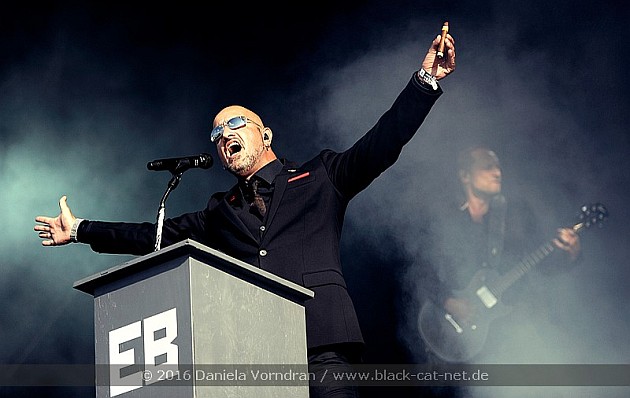 Suicide Commando - Hangar (Linda)

"Welcome to my world, welcome to my hell!" - welcome back inside the Hangar, where the brute Electro formation SUICIDE COMMANDO from Belgium took their audience on an infernal trip. This trip didn't just take them through the inner lives of homicidal psychopaths, but also crossed paths with the evil in the midst of our society. Mastermind Johan van Roy likes to explore the dark side of humanity and during the show he hit his listeners with every single word and tone by combining sinister lyrics with psychotic shouts and hard beats with dark sound spaces. SUICIDE COMMANDO, formed back in 1986, is not for the faint-hearted, but definitely worth a visit. "Blind, Torture, Kill!" - outside the Hangar in front of the widescreen, quite a few Cyber dancers raised a lot of dust from the ground. //
http://www.suicidecommando.be
/
https://www.facebook.com/IIXIII
// Setlist: 01. Intro / 02. Severed head / 03. Bind, Torture, Kill (remix) / 04. God is in the Rain (clubmix) / 05. The pain that you like / 06. Unterwelt / 07. The Perils of Indifference / 08. Love Breeds Suicide / 09. Too far Gone / 10. Dein Herz, meine Gier / 11. Cause of death: Suicide (remix) / 12. Die Motherfucker Die / 13. Hellraiser // Rating: 8 / 10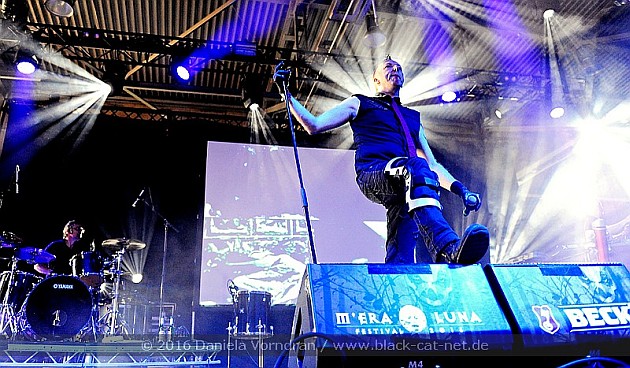 In Extremo - Main Stage (Layla)

Back at the Main Stage we could enjoy some more "extreme" music, just of another kind: The rockers IN EXTREMO attended to medieval sounds and celebrated freedom with the M'era Luna tribe under the open sky. Vocalist Michael "The Last Unicorn" Rhein and the six multi-instrumentalists "Dr. Pymonte" (André Strugala), "Yellow Pfeiffer" (Boris Pfeiffer), "Flex The Flexible" (Marco Zorzytzky), "Specki T.D." (Florian Speckardt), "Die Lutter" (Kai Lutter), and "Van Lange" (Sebastian Lange) kicked off their set with 'Rasend Herz' (transl. "Racing Heart") - same as at their past gig at the Rock im Revier festival. Of course "the Seven" brought along their new album 'Quid Pro Quo'. Thereout, they presented not only the title track, but also 'Störtebeker' and 'Sternhagelvoll' – the latter made the huge crowd sway to and fro. Also beloved classics such as 'Vollmond' ("Full Moon"), 'Frei zu sein' ("Being Free"), and 'Küss mich' ("Kiss me") were, naturally, not to missed on an In Ex concert. From the beginning of the show on, the word-perfect and cheerful fans danced and sang along having a great time with their favorite Medieval Rock band. //
http://www.inextremo.de
/
https://www.facebook.com/officialinextremo
// Setlist: 01. Rasend Herz / 02. Feuertaufe / 03. Zigeunerskat / 04. Vollmond / 05. Störtebeker / 06. Nur ihr allein / 07. Quid pro Quo / 08. Sternhagelvoll / 09. Sängerkrieg / 10. Frei zu sein / 11. Küss mich / 12. Spielmannsfluch / 13. Liam / 14. Moonshiner // Rating: 9 / 10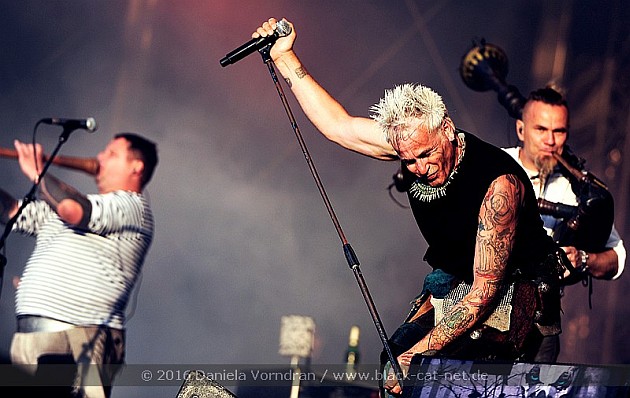 IAMX - Hangar (Linda)


There are bands, with which it's simply not enough to just listen to them – one also has to see them! SNEAKER PIMPS founder Chris Corner created the project IAMX to express his theatrical side and that one can not only hear, but also behold! Their performance at M'era Luna was unbelievably amazing – a Glam, Goth, and cabaret feast for the eyes! Chris wore a giant top hat decorated with long feathers, a nylon catsuit with patterns on it, and short pants and a tank top over it. His make-up was white accentuating his dark eyes and garish red lips. The entire band appeared in a catsuit look and the members wore more or less on top. Janine Gezang and Sammi Doll at the keys played an energetic show and the erotically charged lyrics did the rest making IAMX a very special live act. They began their set with 'I Come With Knives', which made the Hangar tremble.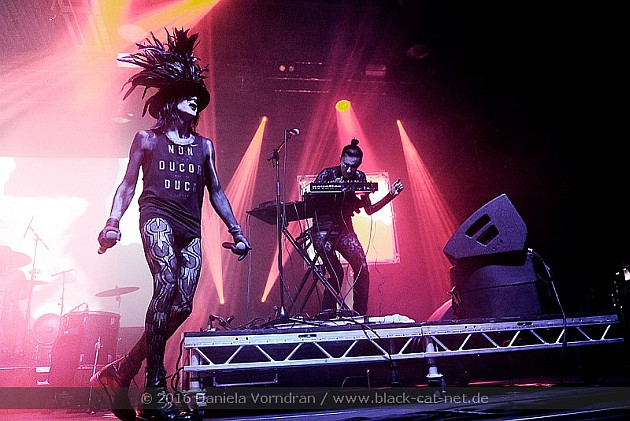 The energetic vibes in the venue kept on growing during their hits like 'Happiness' and 'Nightlife' and everything ended with the magical moments of 'Your Joy Is My Low' and an encore of three more songs. Unfortunately, one has to say that there was too much stage fog so that their fulminant performance slightly got lost at times for those standing further in the back. Also the back coupling of the mikes caused some ear discomfort. Apart from that, it's been an enigmatic, emotional, and explosive IAMX show! //
http://www.iamxmusic.com
/
https://www.facebook.com/IAMXOFFICIAL
// Setlist: 01. I Come With Knives / 02. The Alternative / 03. Happiness / 04. No Maker Made Me / 05. Tear Garden / 06. Oh Cruel Darkness Embrace Me / 07. Spit It Out / 08. Nightlife / 09. Insomnia / 10. North Star / 11. Aphrodisiac / 12. Your Joy Is My Low / Encore 1: 13. Mercy / 14. Kiss + Swallow / Encore 2: 15. I Am Terrified // Rating: 9 / 10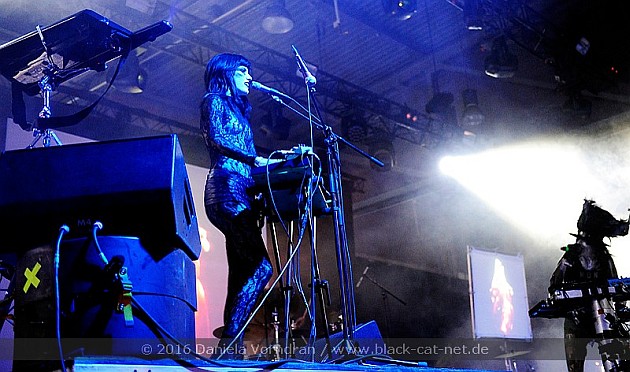 Within Temptation - Main Stage (Linda)

The jewel in the M'era Luna crown was the Dutch Symphonic Metal band WITHIN TEMPTATION. With a wonderful stage setting and spectacular show they concluded the festival on a high note. The internationally successful combo celebrates its 20th jubilee this year and so they didn't leave out a single hit. They started with the opener 'Ice Queen' and the audience was immediately on fire. Next on were the songs 'Caged' and 'Candles', which vocalist Sharon den Adel sang together with Robert Westerholt, and the pompous 'Mother Earth' followed. About the track 'Stand my Ground' Sharon told us that "it's a song about equality" and that it means a lot to her. During 'Faster' and the powerful 'What Have You Done' there was no standing still anymore; everyone was jumping and clapping their hands euphorically. The highlight was a fantastic BLACK SABBATH cover of the beloved song 'Black Sabbath' and that night's surprise was when TARJA TURUNEN entered the stage during 'Paradise (What About Us?)' to sing a wonderful duet with Sharon.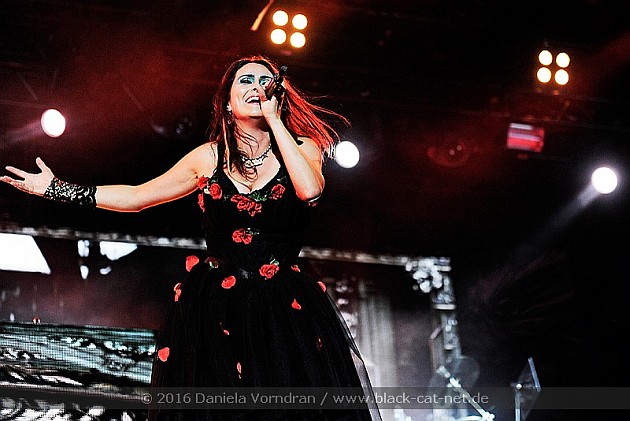 The light and fire show were amazingly beautiful as well as Sharon's black dress which was covered with red roses. Quite fittingly, the band played 'Covered by Roses' as their final encore. Thank you WITHIN TEMPTATION, for a perfect closure of a M'era Luna 2016 that was just too wonderful for words. //
http://www.within-temptation.com
/
https://www.facebook.com/wtofficial
// Setlist: 01. Ice Queen / 02. Caged / 03. Faster / 04. In the Middle of the Night / 05. Black Sabbath (Black Sabbath cover) / 06. The Heart of Everything / 07. Sinéad / 08. Candles (with Robert Westerholt) / 09. Stand My Ground / 10. Paradise (What About Us?) (with Tarja Turunen) / 11. Mother Earth / Encore: 12. What Have You Done (Proceeded by "Wir gehen noch nicht nach Hause" chant by Robert Westerholt) / 13. Covered By Roses // Rating: 10 / 10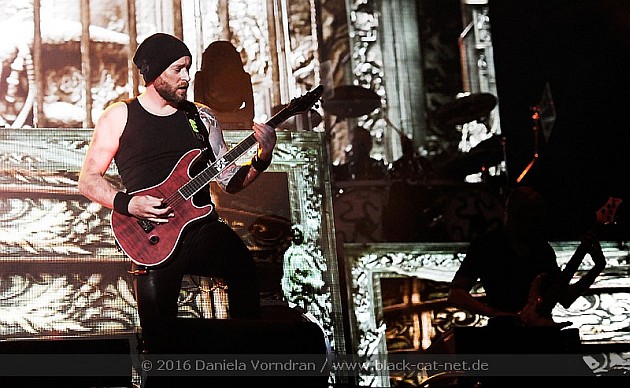 Conclusion
Once more the M'era Luna festival succeeded in thrilling their visitors from around not only with amazing concerts and parties, but also with a diverse and entertaining supporting program: The exciting and witty readings with Luci van Org, Christian Aster and Markus Heitz; the extravagant fashion show presenting incredible outfits by Tourniquet Costume Art, Ponycouture, Lucardis Feist, and Isabeau Ouvert; the popular shopping miles and Gothic Fashion Town – at this point, one of your reviewers especially would like to praise the outfitters of Anki Art + Design, a label from Berlin, for offering such unique fashion and being so helpful; the authentic Medieval Market including the blacksmith's workshop, a public bath, an impressive fire show, the popular band PESTILENZIA, and where one had the chance to try out archery or temporarily marry someone; the festival's nicely done decorations like the figure of Death and a demon at the pond as well as the fascinating silvery dinosaurs as giant walking acts; and also the abundance of delicious treats for one's taste buds – all this and the festival's familial atmosphere made this year's M'era Luna a memorable event.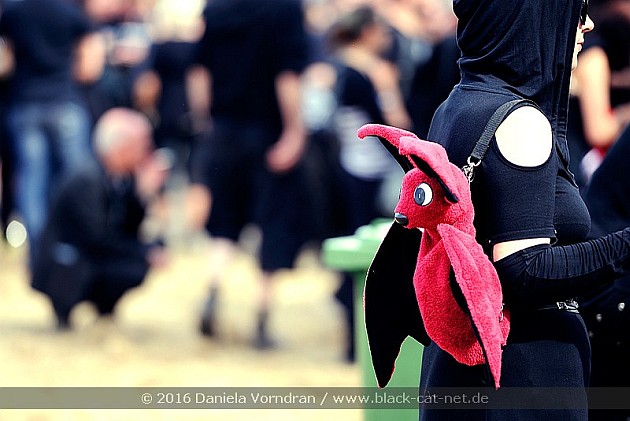 We also welcomed the festival's new jewelry collection and the radio station "M'era Luna FM". And obviously, people kept the old post-festival tradition alive: drumming together on the airport's tarmac and making some tribal noise after Sunday's headliner until Monday morning dawned. As always, "after the M'era Luna" is "before the M'era Luna"! Next year, on August 12 & 13, the Goth community will come together again and can already look forward to the first bands that have been confirmed so far: ASP, SUBWAY TO SALLY, MONO INC., FADERHEAD, FEUERSCHWANZ, DARKHAUS, VERSENGOLD, and UNZUCHT. It was a pleasure to report on this year's event and now we're all counting the nights till M'era Luna 2017.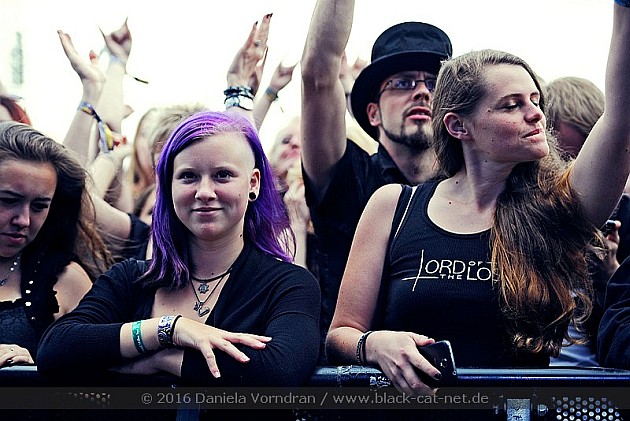 All Pictures by Daniela Vorndran (
http://www.vorndranphotography.com
/
http://www.facebook.com/blackcatnet
)
Written by Layla Ayobi, Linda Jane Moedebeck & Niggels Uhlenbruch
See also (all categories):