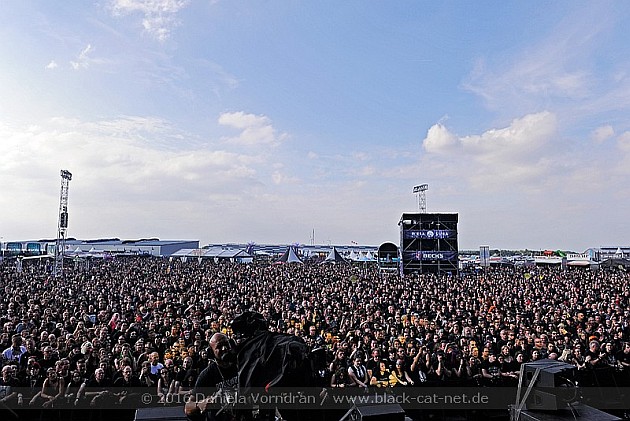 Airport Drispenstedt, Hildesheim, Germany
13th and 14th August 2016
M'era Luna Festival 2016 Day 1: Shaârghot, Vlad In Tears, Erdling, A Life Divided, Gothminister, Chrom, Stahlmann, Noisuf-X, Lacrimas Profundere, The Cassandra Complex, Oomph!, Hämatom, Diary Of Dreams, Diorama, Apocalyptica, [:SITD:], Lacrimosa, Die Krupps, VNV Nation, Hocico, Sisters of Mercy as well as readings on Friday evening of Markus Heitz, Luci van Org and Christian von Aster

Once again, about 25,000 people returned to Hildesheim to enter the M'era Luna festival in 2016, making the festival sold-out once more. Of course there were the obligatory Friday traffic jams, but anyway first tents were built up in the early afternoon hours on Friday and of course the legendary opening party was joined by many visitors. There were "private" pre-parties all-over the festival area, people dressed all in black and of course the concerts taking place at the main stage and inside the Hangar. The weather was perfect - not too warm, not too cold and dry - only the nights were quite cold. But when people finally arrived they could celebrate the whole weekend with top acts like WITHIN TEMPTATION, IAMX, SISTERS OF MERCY or HOCICO.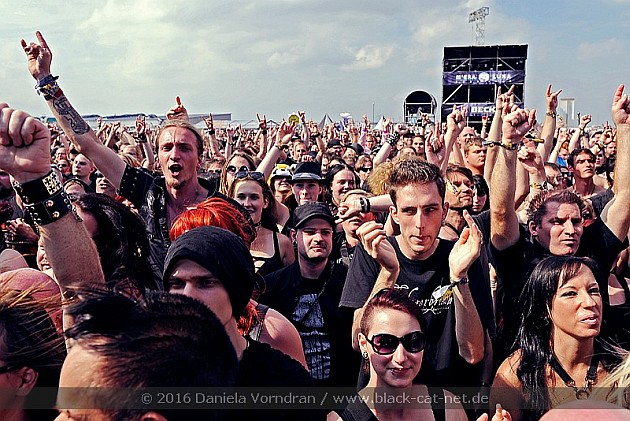 Promoter FKP Scorpio took special care for the comfort of the attendees this year including the physical well-being. Thus, the festival organizers presented an expanded food offering consisting of regional, organic, vegan and delicious stalls leaving no culinary wishes open and which were praised by the visitors. Furthermore, many playful decorations like the Steampunk outfit of the Hangar stage, the gigantic dinosaurs walking acts and an illuminated lake on the festival ground turned the whole area into a fairy wonderland, especially at night. The new conceptual orientation of the area led to a better arranged infield and more space for all visitors with nearly perfect view onto stage from all angles. The amount of seats was nearly doubled which the attendees welcomed highly. Traditionally, the medieval market was well-visited and an atmospheric attraction for all participants into the late evening hours.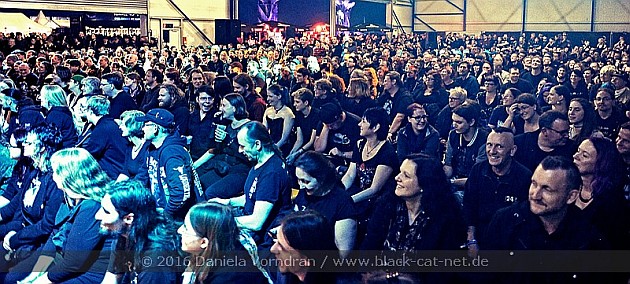 Like every year, already Friday evening and night had a program. Of course there was the obligatory opening party at the Disco Hangar and before, like during the last few years, there were some author's readings. Like in the past years, Markus Heitz was beginning and Christian von Aster was ending the readings. In-between, there were thirty minutes time for Luci van Org. Starting at eight, one of Germany's most successful fantasy authors, Markus Heitz, read from his new book 'Wédōra - Staub & Blut' that was just released. Luci van Org, who people know from her work in LUCILECTRIC or ÜBERMUTTER, was adding a bit of acoustic music to her reading. She presented some excerpts from her current novel 'Schneewittchen und die Kunst des Tötens' and from her upcoming book to be released in 2017, 'Hausbuch der Nordischen Sagen'. The grand finale was made by Christian von Aster, who based his reading that evening on the erotic novel 'Höllenherz'. In addition, Christian von Aster also brought some funny verses and short stories which made the audience laugh a lot.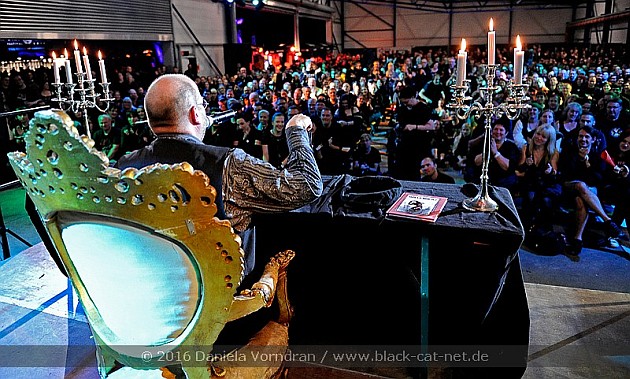 And the coming season is already ahead since the first acts for 2017 have just yet been confirmed. Visitors can look forward to ASP, SUBWAY TO SALLY, SCHANDMAUL, MONO INC., FADERHEAD, FEUERSCHWANZ, DARKHAUS, VERSENGOLD and UNZUCHT. Many more bands will follow in the coming weeks and months. Next year's M'era Luna will take place on 12th and 13th August 2017. Tickets are already available at www.meraluna.de, wwweventim.de or by phone via +49 (0)1806-853 653. Caravans need an extra tickets which can be bought for 10 euros.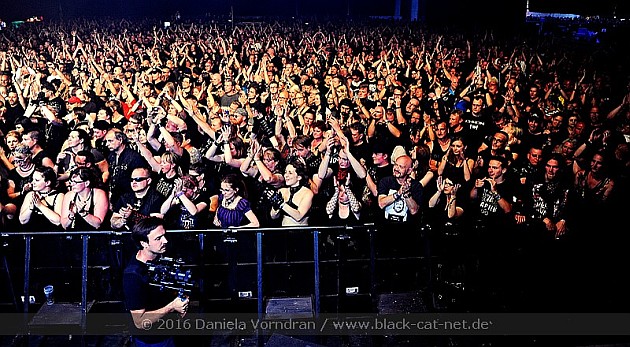 Shaârghot - Main Stage (Layla)
Saturday, 11 am: After the first of three too short M'era nights the party at the Main Stage got started by this year's winners of the newcomer contest: SHAÂRGHOT – there couldn't be a better stimulant than the Voodoo Industrial sound of this band from France! Completely covered in black body paint, the post-apocalyptic Electro Metal band celebrated a true "Mad Party" together with their "Shadow Army" that gathered in front of the stage at that early hour. Vocalist Etienne Bianchi jumped around swinging his baseball bat, and if you stood in the first rows or have eyes like a hawk or took a look at the large screen next to the stage at the right moment, you could read the message "Fuck the World" on the bat. Etienne stuck out his tongue, grinned, laughed madly like the Joker, and even bashed another cloaked person up who was just taking pictures on stage and later on contributed to some Hey-shouts. SHAÂRGHOT's show lasted only 20 minutes, but these were absolutely intense and quite in the sense of the band's mission: destroying the world with a loud bang and dancing towards the end of time.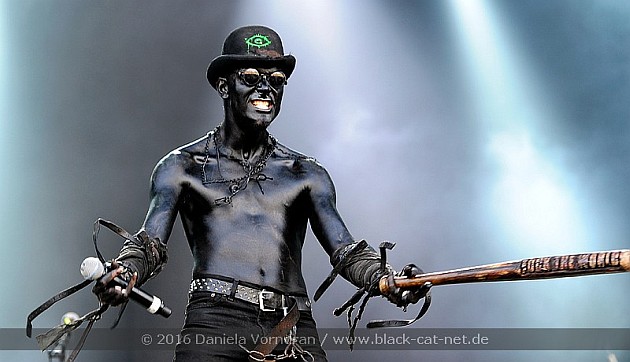 Why? Because SHAÂRGHOT is an amoral creature from a Cyberpunk world and it stands for chaos. Once human and being the result of a failed scientific experiment, the creature always does what it wants with no regard for anyone or anything. And thus the band and their audience celebrated human degeneration with the songs 'Sandstorm Calling', 'Uman Iz Jaws', 'Mad Party', and 'Azerty' from their record 'Shaârghot, Vol. 1'. Everybody who enjoys a successful blend of ROB ZOMBIE and HOCICO had without any shadow of a doubt a lot of fun with the newcomers. The crowd clapped their hands, banged their head, and stamped their feet. With the growled words, "My name is Shaârghot and you are all my Shadows! Thank you, M'era Luna, see you soon," and a deep bow the creature said farewell. //
https://www.facebook.com/shaarghot
// Setlist: 01. Sandstorm Calling / 02. Uman Iz Jaws / 03. Mad Party / 04. Azerty // Rating: 10 / 10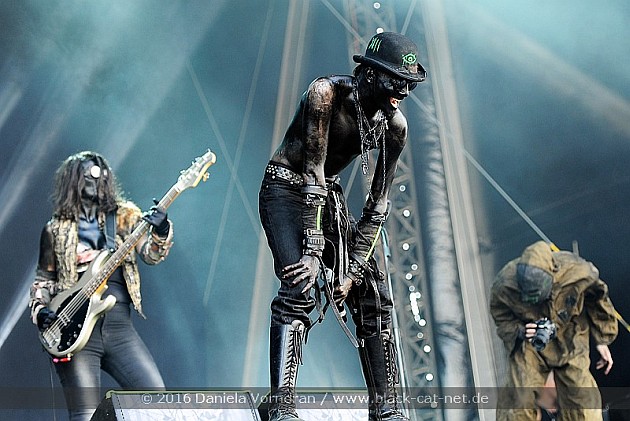 Vlad In Tears - Hangar (Linda & Layla)


At the Hangar Stage, the indoor celebration of the first festival day was opened up by the lads of VLAD IN TEARS. Unfortunately, the amazing dark metallers of EWIGHEIM had to cancel their performance; however, the "vlady" dark rockers from Berlin were a charming stand-in. The venue was half full, which was no mean feat for the early time. The stage was dark, the first tones resounded and then, one after the other, four energetic boys appeared. Front man and vocalist Kris Vlad, brother and bassist Dario Vlad, guitar hero Gregor Friday, and drummer Cosmo Cadar played one of their best shows. With the older track 'Mary' and newer smashers like 'Feed on Me' and 'Kiss my Soul' they shared their passion for Alternative Rock and joy of music that's full of emotion as well as concentrated power.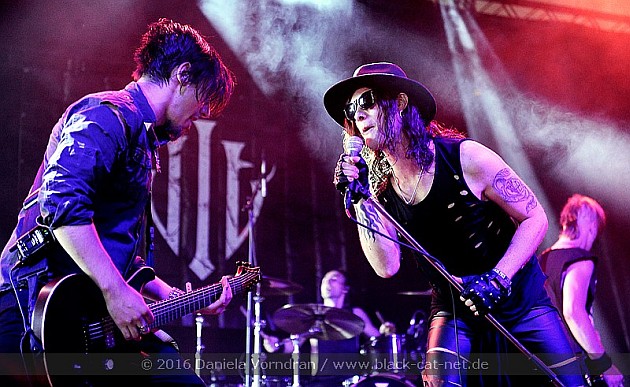 In addition to their heavy version of the CHRIS ISAAAK classic 'Wicked Game', the band also presented two brand new tracks form their recently released and fifth album titled 'Unbroken': VLAD IN TEARS easily convinced the crowd with the album opener 'Blame Yourself' and especially their new single 'Burn Inside' was a winner. After 25 minutes playing time, they said bye according to customs: "Stay Vlad!" The band adopts new tones with Alternative and Metal sounds being more in focus and was definitely one of the gems at the M'era Luna festival. We'll see each other at the upcoming tour across Germany! //
http://www.vladintears.com
/
https://www.facebook.com/vladintearsofficial
// Setlist: 01. Mary / 02. Feed on Me / 03. Wicked Game / 04. Blame Yourself / 05. Kiss my Soul / 06. Burn inside // Rating: 10 / 10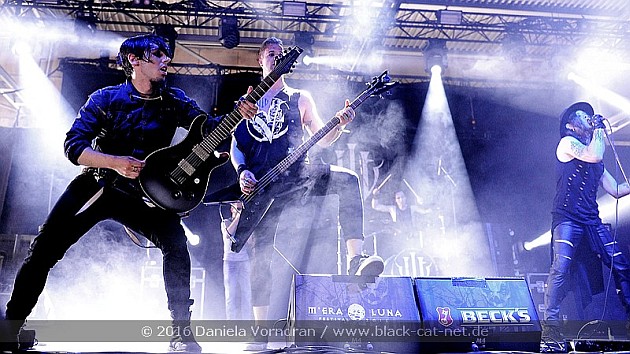 Erdling - Main Stage (Layla)

Back at the Main Stage there was more of some masterful Dark Rock. The relatively young band ERDLING played their sinister hymns for half an hour. Front man Neill Devin said: "Unbelievable, we've been on the road together for just 10 months and now we're standing here!" Since 2014 Neill (vocals, guitar, programming), Niklas Kahl (drums, programming), Neno Knuckle (guitar), and Marco Politi (bass) have been creating their dark tunes with German lyrics. "It's a big honor for us to be here," Neill told us and thanked the large crowd for being there so early. The quartet opened their darksome set with the title track of their first release 'Aus den Tiefen' (transl. 'Out of the Depths'). With the following song 'Du bist Soldat' (transl. 'You're a Soldier') they shook the stage.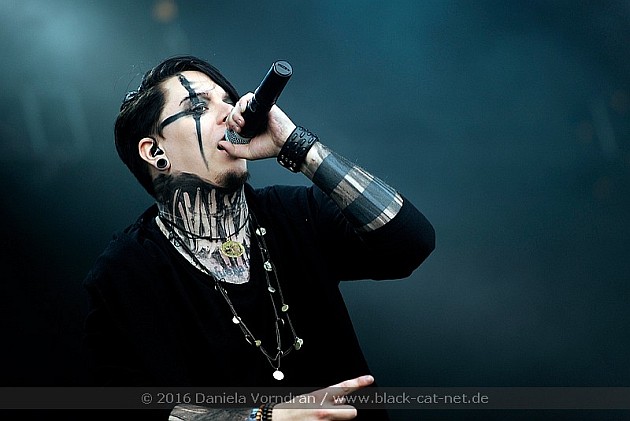 When 'Stimme der Wahrheit' (transl. 'The Voice of Truth') resounded, the festival's audience swayed their arms from one side to the other and then ERDLING took everyone on an emotional journey across their 'Schattenland' (transl. 'Shadowland'). A wild dance through the 'Dickicht', in English 'Thicket', invited us to clap along and keep on shouting "Hey!" together. When the band announced that 'Firmament' would be the second to last song, a super sad "Ohhhh!" escaped from the audience. With 'Blitz und Donner' the band put the pedal to the metal for one last time and the vocalist animated the audience to "let it all out". And so the ERDLING fans jumped along and sang at the top of their voices about thunder and lightning. //
http://www.erdling.band
/
https://www.facebook.com/erdlingofficial
// Setlist: 01. Aus den Tiefen / 02. Du bist Soldat / 03. Stimme der Wahrheit / 04. Schattenland / 05. Dickicht / 06. Firmament / 07. Blitz und Donner // Rating: 10 / 10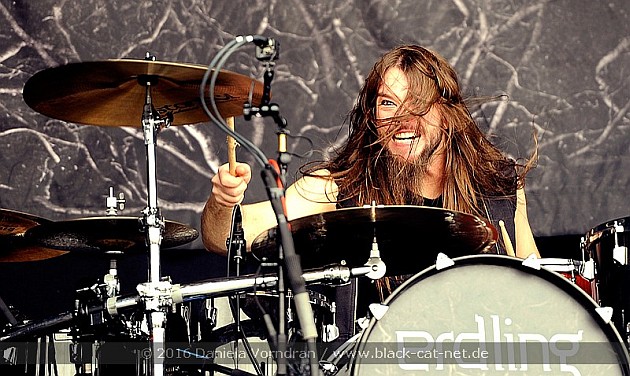 A Life Divided - Hangar (Linda)

The band A LIFE DIVIDED around front man Jürgen Plangger had already been on the road with genre greats such as APOCALYPTICA, EISBRECHER, and OOMPH! and now they were rocking the Hangar Stage. The Synth rockers got started at full speed and no later than when they played the third song, the single-success 'Doesn't Count', there was nothing but the musicians up stage and their fans who were included and encouraged vigorously to sing along at all times. During the VNV NATION cover of 'Perpetual', singer Ronan Harris himself came up on stage, took over the microphone, and sang along. The surprised band was just as flashed as the audience. Almost the full repertoire of songs which represent best what A LIFE DIVIDED are all about, found their place on the setlist. //
http://www.a-life-divided.de
/
https://www.facebook.com/alifedivided
// Setlist: 01. Burst / 02. The Most Beautiful Black / 03. Doesn't Count / 04. Drive / 05. Words / 06. The Lost / 07. Perpetual (VNV Nation cover) / 08. The Last Dance / 09. Heart on Fire // Rating: 8 / 10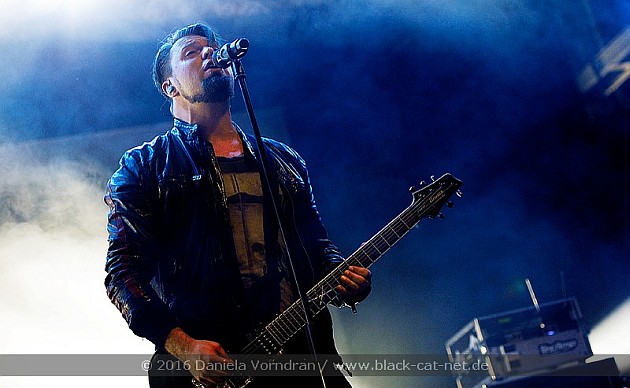 Gothminister - Main Stage (Layla)

One was curious about the freaky performance of GOTHMINISTER's Electro Goth hymns. "My favorite band of all times! I've missed them every time so far and finally I'm about to see them here," a fan in the front rows told us beaming with anticipation. And once the band from Oslo kicked off their show with 'Someone Is After Me', the young fan closed his eyes and sang along every line. The band around singer Bjørn Alexander Brem managed to delight not just hardcore fans with their terrific mix of old hits and new songs, their Metal riffs in combination with diverse Electro sounds, melodic and catchy choruses, Bjørn's varied vocals and also an amusing monster show which included a few props and even a fight with a zombie.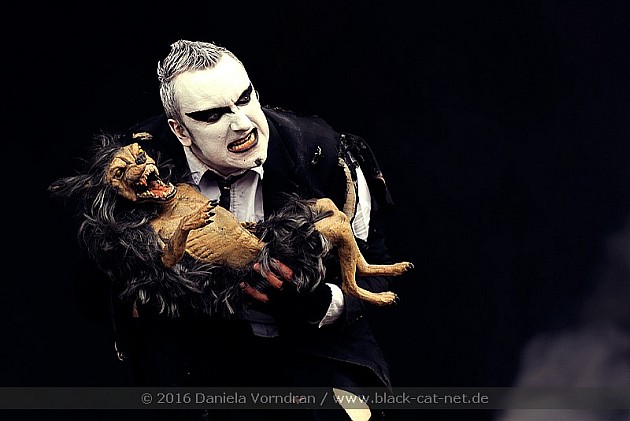 Similar to SHAÂRGHOT's performance it got slightly cruel on stage – however, all with a wink. A werewolf puppet, which the vocalist held like a baby and sang to baring his teeth, made a lot of people laugh. Musically-speaking the highlights consisted of the titles 'Liar' of the 'Anima Inferna' album and of course 'Beauty After Midnight' and 'Darkside' taken from their 'Happiness in Darkness' record. Even though the sound wasn't at its best at times, we had, all in all, a damn good time with GOTHMINISTER. //
http://www.gothminister.com
/
https://www.facebook.com/officialgothminister
// Setlist: 01. Someone Is After Me / 02. Stonehenge / 03. Beauty After Midnight / 04. Dusk Till Dawn / 05. Up (within German Refrain) / 06. Liar / 07. Monsters / 08. Darkside / 09. Utopia // Rating: 9 / 10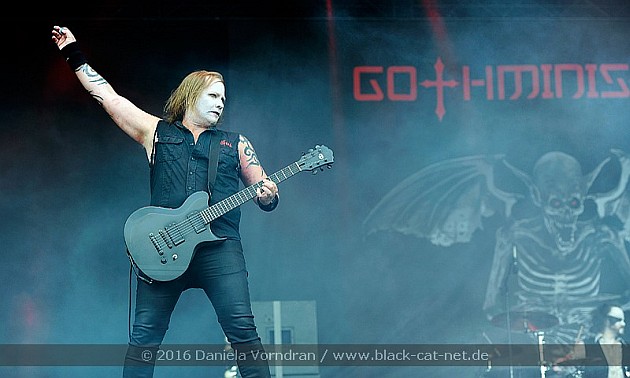 Chrom - Hangar (Linda)

I was very happy to see CHROM, because I've never seen them before. Their music is a mix of cool electronics, much emotion, fine melodies and undistorted vocals. And that's why they're loved by their fans. Once Chris and Tom entered the stage, the half-filled Hangar venue suddenly filled up so quickly that a lot of fans weren't allowed to come in. A small solace was the screen in front of the entrance on which one could follow the events on stage. And so everybody enjoyed CHROM's show, either indoors dancing closely next to each other or outdoors in sunlight, as the duo from Düren, Germany, presented their melodic electric sounds. They brought along their third studio album 'Peak and Decay' and raised the roof with the new and catchy 'Murder Fantasies'. //
http://chrom-music.com
/
https://www.facebook.com/CHROM-106585156057408
// Setlist: not available // Rating: 10 / 10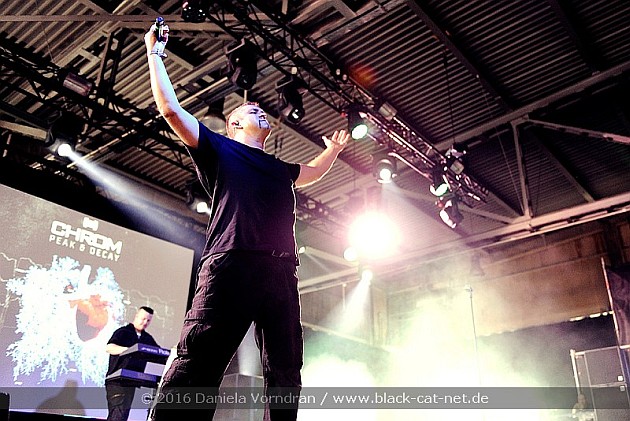 Stahlmann - Main Stage (Layla)

Together with the quicksilver musicians of STAHLMANN, the M'era Luna crowd celebrated the genre of "New German Hard/ Heavyness" (in German referred to as "Neue Deutsche Härte"). With deep and dark vocals, crushing guitars, booming basses, and forceful drums the musicians Mart, Frank, Ablaz, and Max opened their set playing the title 'Feindflug' (transl. 'Combat Flight') which was followed by 'Stahlmann' (transl. 'Steel Man') and 'Schwarz' (transl. 'Black'). Music-wise it was a blast reminiscent of RAMMSTEIN. When the heavy guys from Göttingen, Germany, presented their melodic 'Engel der Dunkelheit', their "Angel of Darkness", there was a sea of swaying arms. Front man Mart commented: "Sheer madness!" After that, it was the turn of 'Der Schmied' – in English, 'The Blacksmith' - a song that STAHLMANN haven't performed live in a while. "Nobody knows why, for the song actually fits the band just perfectly," Mart explained.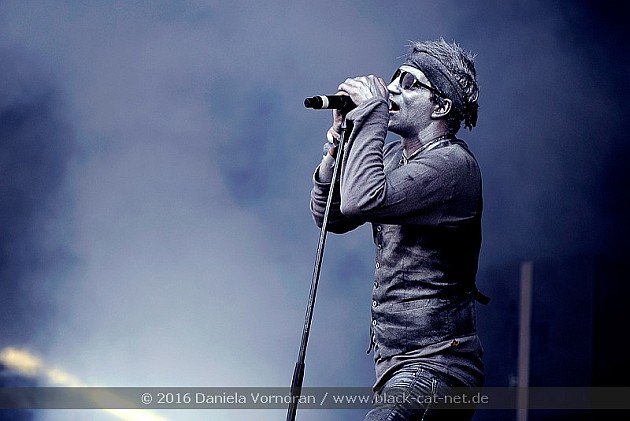 And so, further staccato guitars and a catchy "steel-chorus" blasted out from the speakers. On they went with their new single 'Plasma' during which the crowd should prove whether they were "truly awake by now". With the first sounds all arms were immediately up in the air and people clapped in time to the music. We continued our early-morning exercise along to 'Spring Nicht', which means "Don't jump" in English. And since one should actually always do, what one is not supposed to, everybody kneeled down and jumped up high and kept on bouncing through the entire song. Thanks for the workout! Finally, STAHLMANN made us shake our hair one last time along to 'Süchtig' ('Addicted') – there were enthusiastic cheers for the band and loud calls for an encore. //
http://www.stahlmann.tv
/
https://www.facebook.com/Stahlmann-138756019513864
// Setlist: 01. Feindflug / 02. Stahlmann / 03. Schwarz / 04. Engel der Dunkelheit / 05. Der Schmied / 06. Plasma / 07. Spring nicht / 08. Süchtig // Rating: 9 / 10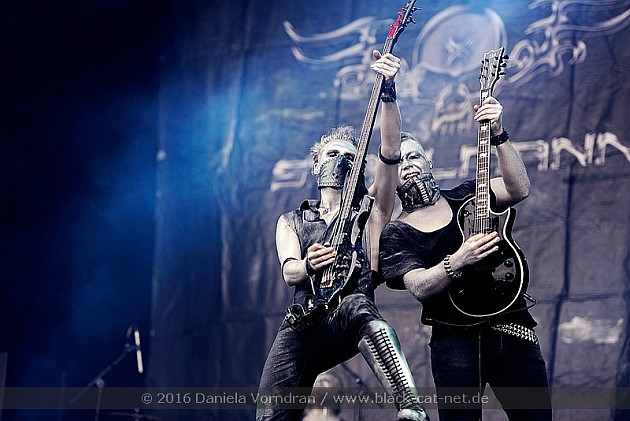 Noisuf-X - Hangar (Linda)

The lyrics "Give me hard and give me fast" say it all – that's exactly the program of the three guys of NOISUF-X. And so their show was hard, fast, and loud – first class Industrial! The entire band was in a very good mood; they made the audience dance and the Hangar quake. What an exchange of pure energy! //
http://www.noisuf-x.com
/
https://www.facebook.com/NOISUFXofficial
// Setlist: not available // Rating: 10 / 10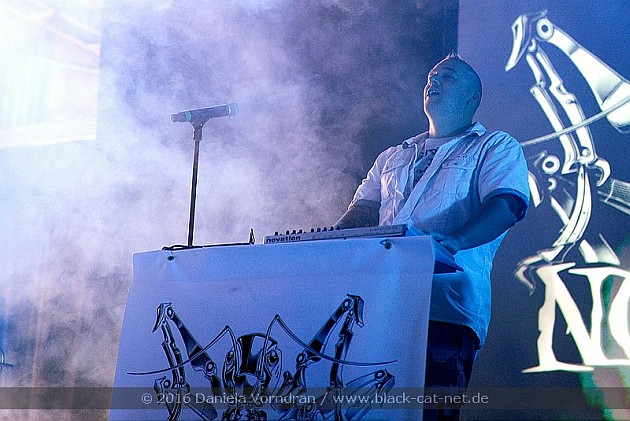 Lacrimas Profundere - Main Stage (Layla)

Meanwhile, it got more rocking and melancholic outside for the Rock'n'Sad crew LACRIMAS PROFUNDERE graced the Main Stage. The doomy rockers from Munich shared four songs out of their new baby 'Hope is Here', which saw the light of day just one day before the festival. They presented 'Awake' and the title song and their fans were especially under the spell during 'My Halo Ground' and the hauntingly beautiful ballad 'Black Moon'. For the latter and 'Hope is Here' vocalist Rob also took out his acoustic guitar. Obviously the band had to play LACRIMAS favorites such as 'My Release in Pain', 'Again It's Over', 'Amber Girl' and their goosebumps ballad 'My Mescaline' at "one of the most awesome festivals in the word," as Rob put it. On the whole, it was another M'era Luna performance which proved that the Goth rockers are a well attuned winning team and great live band.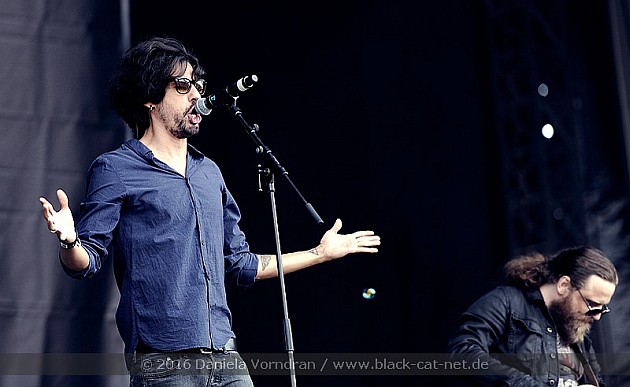 As usual, Rob sang full of power and emotion, for the rhythm there couldn't be a better combo than the twins Christoph "Steel Panther" Schepperle (drums) and Clemens Schepperle (bass), and the gents Oliver Nikolas Schmidt und Tony Berger took care of the amazing guitar sound. Mr. Berger was the second time on stage as he had already rocked out with A LIFE DIVIDED a few hours ago. Both bands will be on the road together at the beginning of next year – fans can look forward to join in a double headliner tour true to the motto: "ONE stage, TWO headliners, TWO full shows!" According to tradition, LACRIMAS PROFUNDERE ended their Rock'n'Sad set with the smasher 'Ave End' making the audience scream their minds to the heavens. //
http://www.lacrimas.com
/
https://www.facebook.com/lacrimasprofundereofficial
// Setlist: 01. Awake (live premiere) / 02. My Release in Pain / 03. My Halo Ground (live premiere) / 04. Again It's Over / 05. Hope is here (live premiere) / 06. Black Moon (live premiere) / 07. Amber Girl / 08. My Mescaline / 09. Ave End // Rating: 10 / 10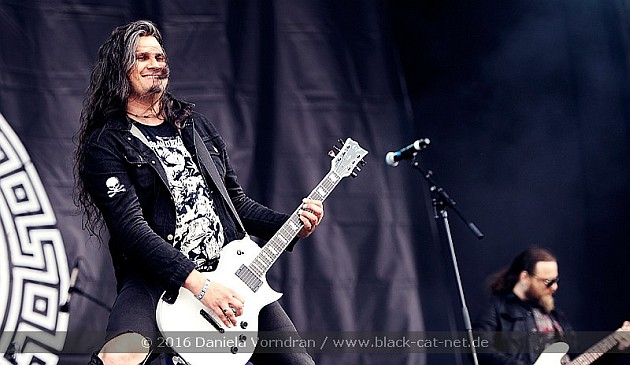 The Cassandra Complex - Hangar (Linda)

At 15:25 pm, magic and occultism in the guise of Punk, Industrial and Wave found their way into the Hangar. Founded in Leeds, England, in 1980s, THE CASSANDRA COMPLEX were ground-breaking by combining Punk and Gothic Rock with a heavy dose of electronics and the unorthodox use of saxophone played on top of it. THE CASSANDRA COMPLEX released their debut album 'Grenade' in 1986. Having the chance to see THE CASSANDRA COMPLEX live on stage is still a rare event. And so many old fans gathered in front of the stage and welcomed the band with loud applause when they opened their show with 'Nightfall (over EC)'.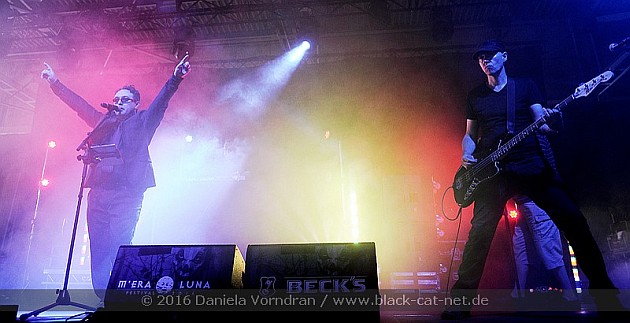 It was a perfect song to get started, first of all, due to the song's epic, orchestral intro and, secondly, because lines like "Night falls over Western Europe, Jihad is coming, Jihad is coming" still have a bitter topicality 26 years after the release of this song. CASSANDRA COMPLEX handcuffed their listeners as always confidently and took them to another dimension. The light show was fantastic and the sound, too. The atmosphere in the Hangar was a very special. //
http://cassandracomplex.eu
/
https://www.facebook.com/thecassandracomplex
// Setlist: 01.Nightfall / 02.Too Stupid To Sin / 03. Presents / 04. Datakill / 05. Why / 06. Second Shot / 07. War / 08. Against Sleep / 09. Moscow Idaho / 10. One Millionth HC // Rating: 10 / 10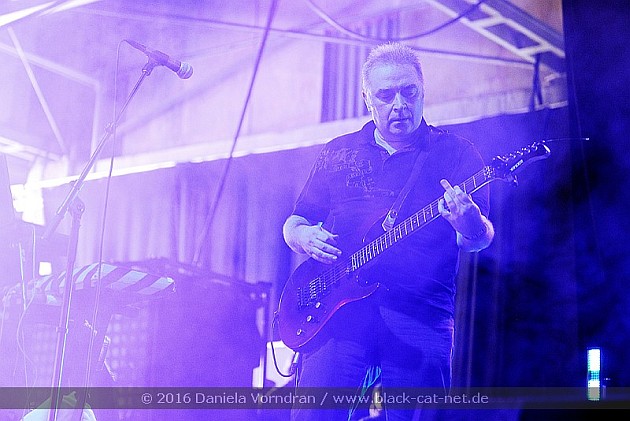 Oomph! - Main Stage (Linda)

Having spent the whole day in the Hangar thus far, I went to the Main Stage since OOMPH! were next on my list. It was a great, diverse show. The audience was partying hard the entire time, the band was on the ball, and front man Dero took a bath in the crowd, even though it was actually prohibited. The light show was perfect as well. OOMPH! is an amazing band and really great fun on stage with songs like 'Augen auf', 'Labyrinth', and 'Gott ist ein Popstar'.//
http://www.oomph.de
/
https://www.facebook.com/oomphband
// Setlist: 01. Intro / 02. Labyrinth / 03. Träumst Du / 04. Niemand / 05. Sandmann / 06. Der neue Gott / 07. Gekreuzigt / 08. Jetzt oder nie / 09. Gott ist ein Popstar / 10. Augen auf! // Rating: 10 / 10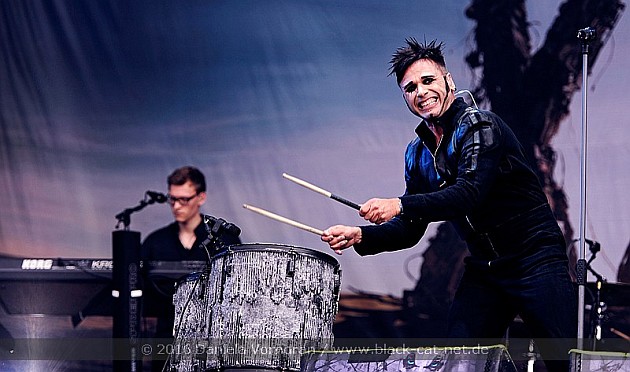 Hämatom - Hangar (Linda)

Back inside the Hangar, HÄMATOM provided musically, artistically, and technically speaking a good performance. They started with 'Wir sind Gott' (transl. 'We're God') and ended with 'Leck Mich!' (transl. 'Kiss my Ass!'). The atmosphere in the Hangar was great, however, while their fans clearly had fun, those who saw this artist for the first time went through some kind of a culture shock. //
http://www.haematom.de
/
https://www.facebook.com/haematommusic
// Setlist: 01. Wir sind Gott / 02. Made in Germany / 03. Seelenpiraten / 04. Fick das System / 05. Auge um Auge / 06. Kids (2 Finger an den Kopf) (Marteria cover) / 07. Alte Liebe rostet nicht / 08. Leck Mich! // Rating: 6 / 10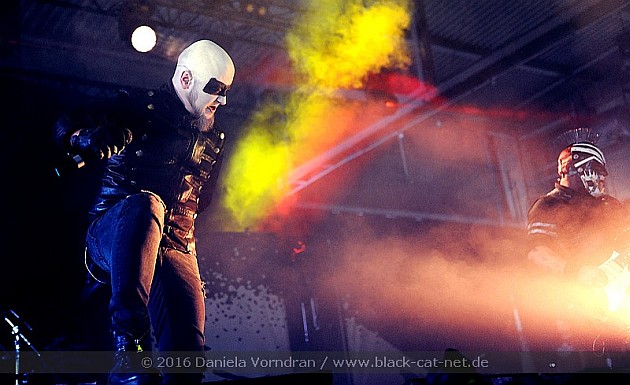 Diary Of Dreams - Main Stage (Layla)

The next performance at the Main Stage was without question a celebration: After the moody intro 'Schwarz' (transl. 'Black'), exceptional singer Adrian Hates, Gaun:A (guitar, keyboard, backing vocals), Flex (guitar, backing vocals), Dejan (drums) and the new member Max (keys, vocals) of DIARY OF DREAMS impressed and moved the M'era Luna audience with one insanely intense song after the other. Is there anyone else who can combine melodic melancholia and brute force the way DIARY have been doing for over two decades? With his bright yellow Studiologic Sledge Synthesizer Max didn't just add a speck of color, but also enriched the captivating DIARY soundscapes brought to life by the band on stage. In addition, with him on board there's one more harmonic voice for their forceful background vocals now. Alongside newer tracks like the massive and steadily pounding 'Sinferno', the beautiful 'Endless Nights', as well as the melancholic and tranquil title song from their current masterpiece 'Grau im Licht', the band also presented older stunners: the mighty 'Malum', the gripping 'Butterfly:Dance!', the dark 'Soul Stripper', and the stomper 'Undividable'.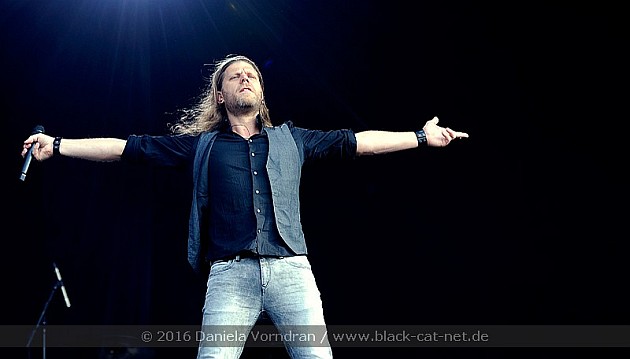 Their singing, clapping, and dancing audience celebrated every single composition, which the band played, undeniably, full of passion. DIARY OF DREAMS had been at M'era Luna in 2012 for the last time and finally they were back this year! That's what their longtime fans thought and now these and also new devotees are all hoping that they'll be back again rather sooner than later. After the last song, the dramatic 'Kindrom', there was a hurricane of a heartfelt applause for this one of a kind Electronic Darkwave group. They let their sweeping music speak for itself and in even on a sunlit afternoon the band easily took the listener someplace else. It's really no surprise, if you're facing difficulties with your reality check after a DIARY OF DREAMS show. //
http://www.diaryofdreams.de
/
https://www.facebook.com/officialdiaryofdreams
// Setlist: 01. Schwarz / 02. Sinferno / 03. Malum / 04. Butterfly:Dance! / 05. Soul Stripper / 06. Grau im Licht / 07. Endless Nights / 08. Undividable / 09. Kindrom // Rating: 10 / 10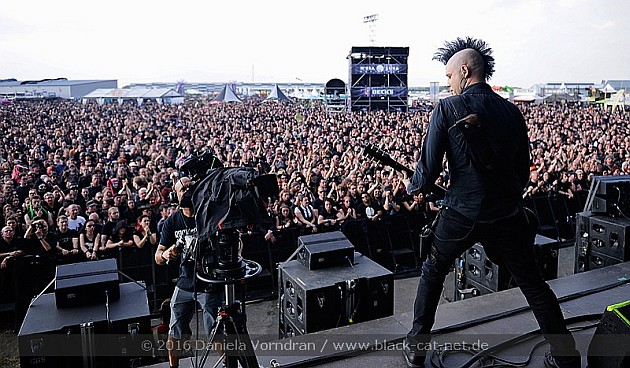 Diorama - Hangar (Layla)
Right after the last DIARY OF DREAMS song, all Dark Wave disciples from the front rows rushed out of the infield, weaved their way through the crowd and groups of people sitting on their picnic blankets, fought their way through the long line of waiting autograph hunters, and practically ran into the Hangar venue. Is there anything better than to be hearing DIORAMA immediately after DIARY OF DREAMS? The dark wavy, progressive rockers of DIORAMA have been around since 20 years and have released eight records so far. Vocalist Torben Wendt, keyboarder and background singer Felix Marc, guitarist Zura Nakamura and drummer Markus Halter delighted the M'era Luna audience with four classics from their repertoire: Next to 'Exit in Grey' from the 'a different life' album (2007) and 'Hope' from their last work 'Even the Devil Doesn't Care' (2013), they played the beloved tune 'Erase Me'. During the all-time favorite 'Advance' from the album 'Her Liquid Arms', Torben jumped down into the photographer's pit and sang the first verse with one of the fans in the front row. This tune was the last song and because of the way it builds up, clearly the climax of the show. Further sonic treats were three new songs from DIORAMA's anticipated album 'Zero Soldier Army', which will be out on September 9th.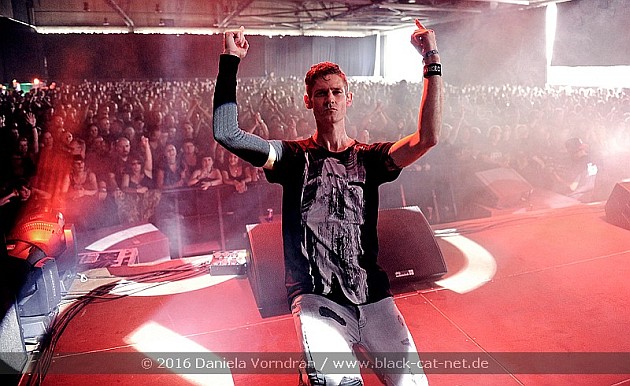 The speech song 'Smolik' presented a chorus that repeats the lines "What about the unborn? Alien under your skin!" 'Off' started as a hauntingly beautiful ballad in which Torben's and Felix's two-part vocals harmonized perfectly; then the driving beats set in and they presented more sprechgesang which led into a melodic and lively chorus. The new song 'Defcon' featured another melancholic DIORAMA refrain and, on the whole, was at the same time an impelling tune. The musicians played its amazing C-part with distorted guitar sounds brilliantly. With these three pieces presented live, the band gave us a great taste of what one can look forward to on their forthcoming release. DIORAMA – clearly also one of the Hangar-highlights of the day! Their fans bid them adieu with long lasting and loud round of applause for their show was extremely atmospheric and also made the crowd dance. To see and hear these creative sound-smiths next to DIARY OF DREAMS at the M'era Luna, raised the fans' anticipation of the upcoming "Coma Alliance Tour 2016" sky high. Both bands will be finally on the road together for a few German gigs in September – these special double-D-events are not to be missed! //
http://www.diorama-music.com
/
https://www.facebook.com/dioramawastaken
// Setlist: 01 Defcon / 02. Hope / 03. Off / 04. Exit the Grey / 05. Smolik / 06. Erase Me / 07. Advance // Rating: 10 / 10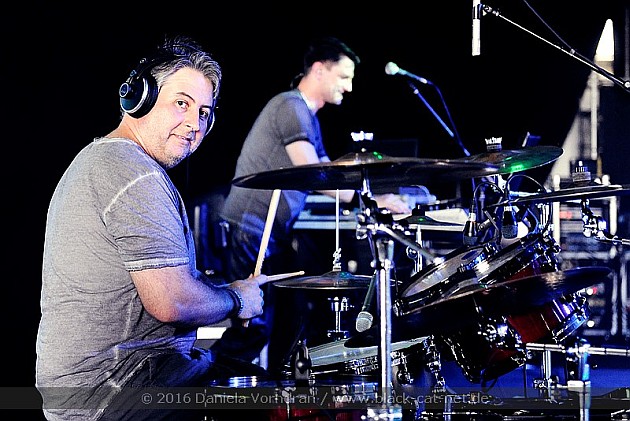 Apocalyptica - Main Stage (Layla)

Meanwhile on the Main Stage, the awe inspiring cello metallers of APOCALYPTICA were having a blast with the rock singer Franky Perez. The Finnish combo consists of Eicca Toppinen, Perttu Kivilaakso, Paavo Lötjönen and drummer Mikko Sirén, who likes to appear all in white. Those fans who had already seen APOCALYPTICA at the Rock im Revier festival at the end of May, must had been quite familiar with their set at M'era Luna. In any case, it's always a pleasure to listen to the band's original pieces like 'Reign of Fear', 'Grace', and 'Bittersweet' being performed live. Mr. Perez supported the band with his powerful vocals during the titles 'I'm Not Jesus', 'House of Chains', 'I Don't Care', and the epic masterpiece 'Shadowmaker' from APOCALYPTICA's latest album. It got really hard and heavy with their SEPULTURA cover of the classic 'Inquisition Symphony' and of course people enjoyed their METALLICA pieces, which lead back to the band's very beginnings.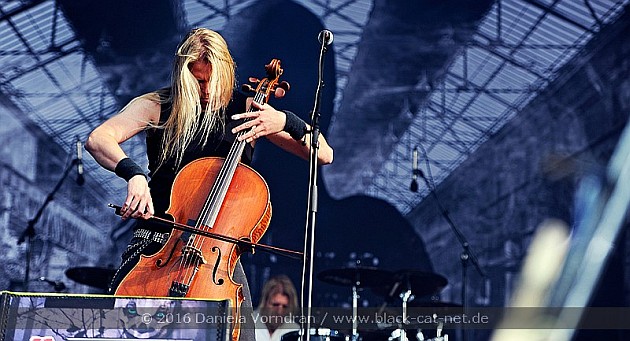 From the first rows to the last fans banged their heads and sang along enthusiastically to 'Master of Puppets' and 'Seek & Destroy'. As always, APOCALYPTICA wanted to "punish" their audience "with some classical music" when closing their show. And so they played 'In the Hall of the Mountain King' by Edvard Grieg, a tune growing in tempo. APOCALYPTICA – all in all, bombastic as always. //
http://www.apocalyptica.com
/
https://www.facebook.com/Apocalyptica
// Setlist: 01. Reign of Fear / 02. Grace / 03. I'm Not Jesus / 04. House of Chains / 05. Master of Puppets (Metallica cover) / 06. Inquisition Symphony (Sepultura cover) / 07. Bittersweet / 08. Shadowmaker / 09. I Don't Care / 10. Seek & Destroy (Metallica cover) / 11. In the Hall of the Mountain King (Edvard Grieg cover) // Rating: 9 / 10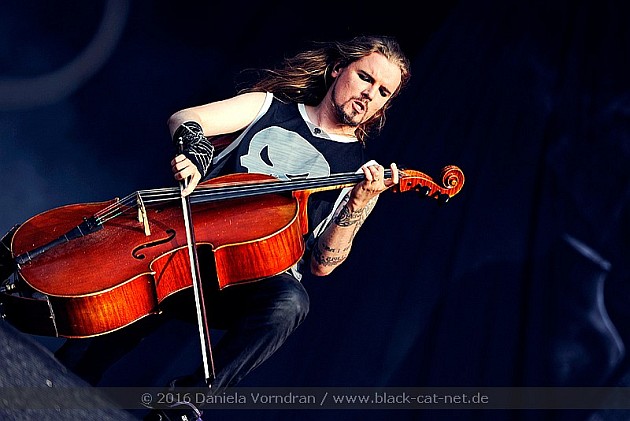 [:SITD:] - Hangar (Layla)

Congratulations! [:SITD:] are celebrating their 20th band anniversary this year. And so Carsten Jacek at the mike threw a wild party together with Tom Lesczenski and Frank D'Angelo, both at the keys, inside the Hangar. There they celebrated their multi-faceted electronic "Shadows in the Dark" music of two decades with their fans. The band started with the Industrial 'Rot' from their album of the same title and moved on with the sinister stomper 'Lebensborn' from the 'Stronghold' record, which was followed by 'Dunkelziffer' taken out of their current release. During the atmospheric tunes 'Redemption' and 'Laughingstock' they also sang in English.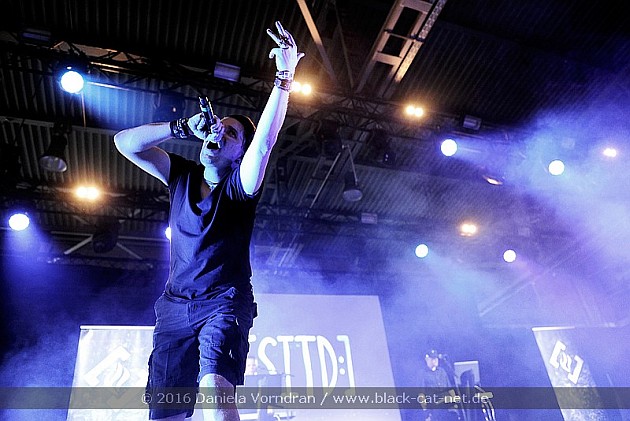 Once the well-known words "Jeder Mensch hat ein zweites Gesicht" ("Every person has a second face") introduced their song 'Richtfest', the audience raved. There's just no holding still when the driving beats of [:SITD:] fill a venue. The stage was illuminated in red as the final song, 'Snuff Machinery', resounded – all hands were raised and folks sang along the chorus loudly. We gave the Dark Electro trio a big hand which they clearly deserved after such a thrilling performance. //
http://www.sitd.de
/
https://www.facebook.com/SITDofficial
// Setlist: 01. Rot / 02. Lebensborn / 03. Dunkelziffer / 04. Redemption / 05. Laughingstock / 06. Richtfest / 07. Snuff Machinery // Rating: 9 / 10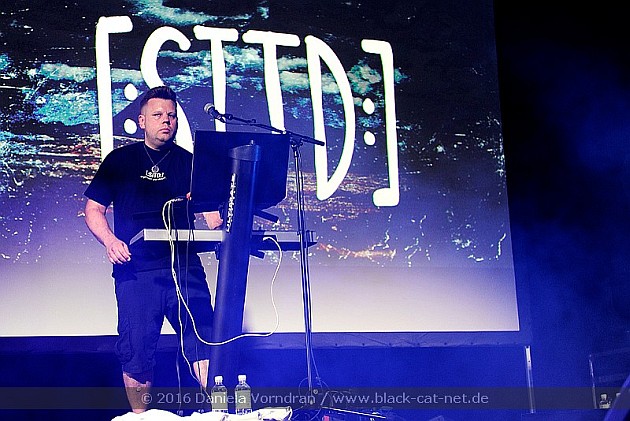 Lacrimosa - Main Stage (Linda)

Since I was 15 years old, I wanted to experience LACRIMOSA live. Back then, I had all their CDs and singles. As time passed by, this wish had become a little bit less, but I was very pleased when I heard that the band would be playing at M'era Luna. It was indeed a surprise for all longtime fans when LACRIMOSA confirmed the gig just a few weeks before the festival. So, I was tremendously excited and my expectations got fulfilled. Tilo Wolf and his comrades were simply fabulous. The audience celebrated their lyrical titles like, for example, 'Lichtgestalt', 'Der Morgen danach', 'Schakal', 'Feuer', and the English-language song 'Apart'. The band around Tilo commented on the event saying in German: "Ein bleibendes Erlebnis!", which is, "A lasting experience!". Everything was perfect. The fans celebrated their old heroes of German Gothic and I was totally captivated feeling like back in time when I was 15. //
http://www.lacrimosa.com
/
https://www.facebook.com/LacrimosaOfficial
// Setlist: 01. Intro: Lacrimosa Theme / 02. Ich bin der brennende Komet / 03. Lichtgestalt / 04. Schakal / 05. Stolzes Herz / 06. Apart / 07. Der Morgen danach / 08. Feuer / 09. Irgendein Arsch ist immer unterwegs // Rating: 10 / 10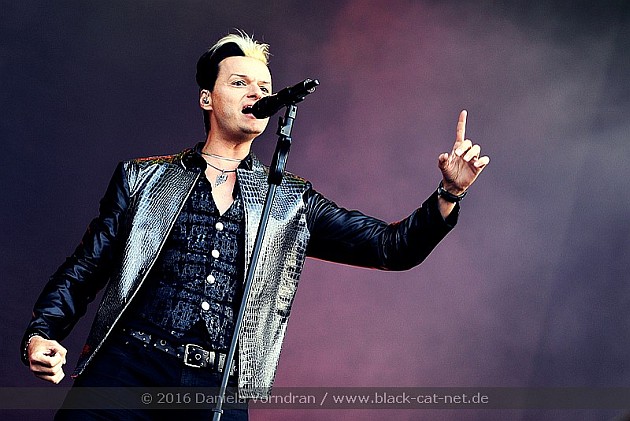 Die Krupps - Hangar (Niggels)

Being a true legend and having no less than 35 years of band history, DIE KRUPPS are not just a pioneering band of several genres but also have a reputation as an awesome live band. Two years ago DIE KRUPPS performed at the main stage of the M'era Luna – this year their gig was moved to the Hangar stage, but this had the advantage that the Düsseldorf band co-headlined the Saturday night instead of having an afternoon slot, as in 2014. However, the Hangar was quite packed with old and new fans alike when founding members Jürgen Engler (vocals, steelophone) and Ralf Dörper (synths) entered the stage with their current band mates Marcel Zürcher (guitar), Nils Finkeisen (guitar) and drummer Volker Borchert. DIE KRUPPS delivered a kick start to delve into a best of set with a couple of songs of their last two fabulous albums, 'The Machinists of Joy' (2013) and 'Metal Machine Music' from 2015, thrown in. The sound seemed to be a little tricky at first, but the technicians sorted it out quickly. A band with such an experience as DIE KRUPPS is of course unimpressed by minor glitches and the band kept steamrolling their blend of heavy electronics and even heavier guitars.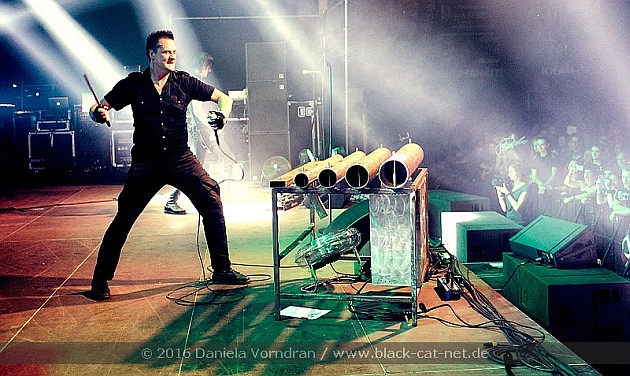 Jürgen Engler, an agile and energetic performer as ever although a decade or two older than many other performers at the M'era Luna, got the audience wrapped around his little finger, but the audience was up for it, anyway. Fans who saw DIE KRUPPS at their latest club tour should have been familiar with most of the set's songs, but it was great to see 'Der Amboss' returning after not being played in a while. Highlights were of course the smashing 'To The Hilt' and 'Fatherland', a 23-year old song against nationalism and right-wing tendencies which is unfortunately more relevant as ever. DIE KRUPPS finished their set, as usual, with 'Bloodsuckers', a sonic high-speed assault which saw Engler climbing his steelephone (this musical instrument is a unique DIE KRUPPS invention, by the way) to pose for the grand final of this powerful, intoxicating show. DIE KRUPPS – still a benchmark in terms of live performances after all those years! //
http://www.diekrupps.com
/
https://www.facebook.com/diekruppsofficial
// Setlist: 01. Intro / 02. The Dawning of Doom / 03. Schmutzfabrik / 04. Kaltes Herz / 05. Alive In A Glass Cage / 06. Der Amboss / 07. To the Hilt / 08. Metal Machine Music / 09. Robo Sapien / 10. Nazis Auf Speed / 11. Machineries of Joy / 12. Fatherland / 13. Bloodsuckers // Rating: 9 / 10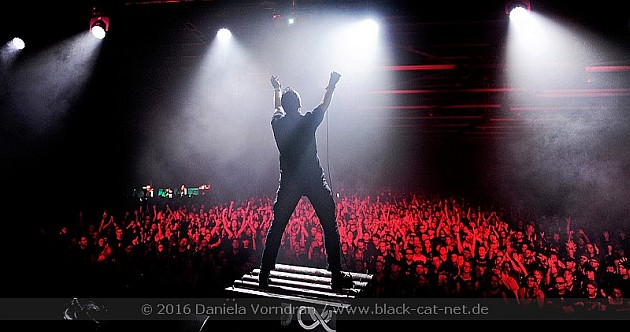 VNV Nation - Main Stage (Layla)

Another highlight of the first festival day were the Synth Pop heroes VNV NATION, who've been sharing their music with us for over a quarter of a century. From the first song, 'Space & Time', to the last the huge M'era Luna crowd dreamed, danced, and sang along with the Irish/English band. The charismatic vocalist Ronan Harris sang their hits 'Illusion', 'Legion', 'Control', and many more soulfully. Together with drummer Mark Jackson and two further keyboardists VNV NATION spread some genuine headliner vibes. By then it was dark and the beautiful 'Nova' made us all shudder: what an overwhelmingly stunning moment when a vast ocean of cellphone flashlights shone during the ballad! Ronan was also enthralled and told us laughingly that it was the most beautiful thing he had ever seen. It was truly magical when even the waxing August moon came out from behind the clouds hanging above the stage and shining down on thousands of music lovers.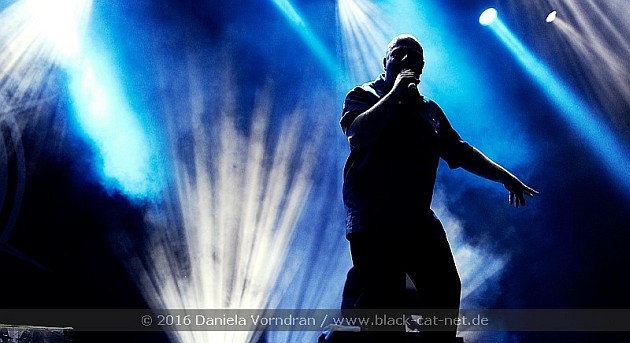 The band shared a photo of the wonderful 'Nova' happening on their Facebook page and one fan commented: "During this song I proposed to my future wife at the M'era Luna festival and she said yes. Thank you, VNV NATION, for this special and unforgettable moment!" And finally, after a truly amazing show everybody enjoyed one last tune that the band hadn't performed live in a while: 'Electronaut' from the 'Futureperfect' album. During this instrumental piece the front man also hit some keys. For a lot of people the Alternative Electro act with the message "Victory not Vengeance" behind its name marked the culmination of the first festival day at the Main Stage. //
http://www.vnvnation.com
/
https://www.facebook.com/VNVNation
// Setlist: 01. Intro / 02. Space & Time / 03. Tomorrow Never Comes / 04. Legion / 05. Primary / 06. Illusion / 07. Epicentre / 08. Standing / 09. Everything / 10. The Farthest Star / 11. Control / 12. Nova (Shine a Light on Me) / 13. Resolution / 14. Electronaut // Rating: 10 / 10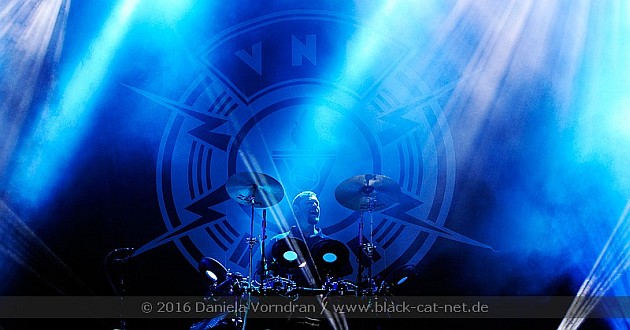 Hocico - Hangar (Layla)

One simply had to pay the Hangar Stage one final visit on that day – that's where the hard-floor heroes HOCICO set the house on fire. HOCICO from Mexico stand for "Pure Electronic Hate!" and they are known for unleashing their songs at full steam. Mastermind Erk Aicrag, who had painted half of his face in white color, presented distorted, harsh vocals at its finest and his accomplice Racso Agroyam handled the synthesizer. In addition, they were accompanied by two masked percussionists. Their brutal and infectious Industrial show was under the banner of their last record 'Ofensor'. There out, the atmospheric opener served as a great intro which built up some tension and led perfectly into the mid-tempo tune 'I Will Be Murdered (4 Minutes of Horror)'. And with 'Sex Sick' HOCICO's dark Aggrotech party got really started. Their big crowd clapped with the music and shouts filled the venue.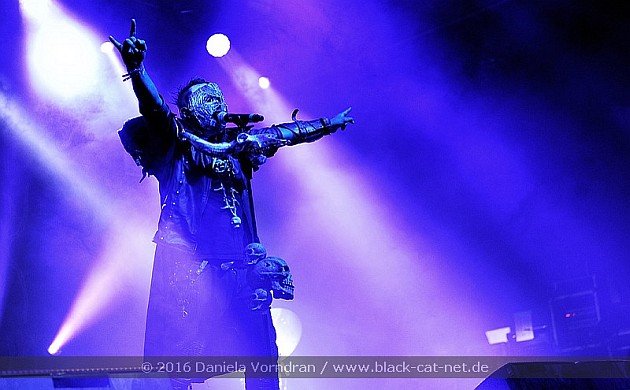 HOCICO made their fans go wild with further 'Ofensor' titles: 'In the Name of Violence', 'Heart Attack', 'Auf der Flucht', and 'Bienvenido a la Maldad' which Erk sang in Spanish. Matching their hard beats, like during the older track 'Poltergeist', the light show also went loco. Needless to say, we celebrated their popular singles 'Bite Me!' (2011) and 'Forgotten Tears' (2015) as well like maniacs. HOCICO as the final Hangar-highlight were without any doubt a firecracker. //
http://www.hocico.com
/
https://www.facebook.com/hocicoofficial
// Setlist: 01. Déjà-Vu Siniestro (Intro) / 02. I Will Be Murdered / 03. Sex Sick / 04. Dead Trust /05. In the Name of Violence / 06. Bite Me! / 07. T.O.S of Reality / 08. Heart Attack / 09. Poltergeist / 10. Auf der Flucht / 11. Forgotten Tears / 12. Bienvenido a la Maldad // Rating: 10 / 10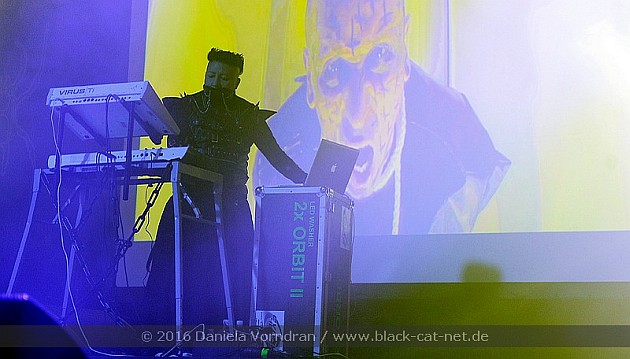 The Sisters of Mercy - Main Stage (Layla)

It was a dream come true for quite a few to see the legendary THE SISTERS OF MERCY from Great Britain again. By now, it's been 26 years since their last (and only third) album release 'Vision Thing' and so we waited with bated breath for the fabulous "industrial groove machine" as the headliners on M'era Luna's Main Stage. Unsurprisingly, there was a ton of stage fog and once in a while vocalist Andrew Eldritch showed up wearing his usual yellow neon shirt and sunglasses. Both guitarists, Chris Catalyst and Ben Christo, also joined in singing. Too bad, that their truly amazing guitar playing was too low and drowned out at times. The world-famous drum machine Doktor Avalanche did, as expected, a magnificent job. One only wished the band had interacted more with their countless fans. Even though one could see the guitarists' joy of playing and although Ben smiled at the first rows and it seemed that grandmaster Eldritch also had fun, THE SISTERS appeared, sad to say, kind of remote.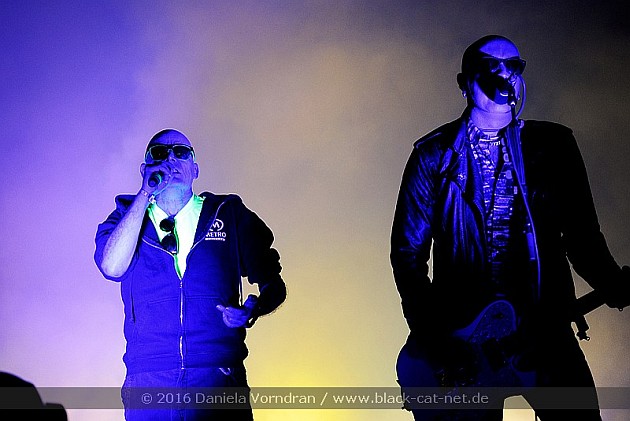 The fact that the headliner of all people was the only act that didn't want to be on-screen disappointed a lot of Goth Rock enthusiasts. Despite everything, THE SISTERS OF MERCY still excited the audience with their timeless classics and all-time favorites like 'More', 'Marian', 'Dominion/Mother Russia', 'Flood II', 'Lucretia My Reflection', 'Vision Thing', 'Temple of Love', and 'This Corrosion'. //
http://www.thesistersofmercy.com
/
https://www.facebook.com/The-Sisters-of-Mercy-Official-Fanpage-162263750576884
// Setlist: 01. More / 02. Ribbons / 03. Doctor Jeep / Detonation Boulevard / 04. Amphetamine Logic / 05. Body Electric / 06. Alice / 07. Marian / 08. Crash and Burn / 09. Arms / 10. Dominion/Mother Russia / 11. Summer / 12. First and Last and Always / 13. Jihad (The Sisterhood cover) / 14. Flood II / 15. Roadrunner (The Modern Lovers cover) / 16. Lucretia My Reflection / 17. Vision Thing / 18. Temple of Love / 19. This Corrosion // Rating: 8 / 10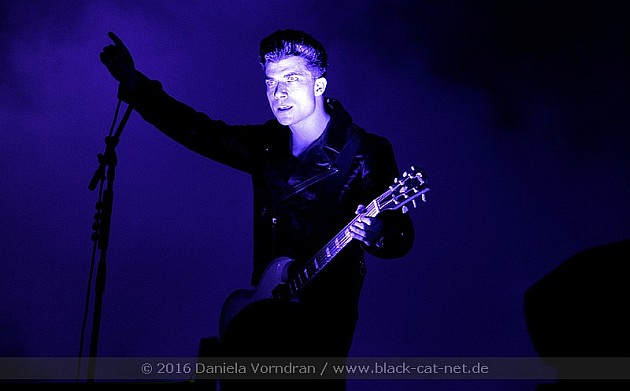 Conclusion
After THE SISTERS OF MERCY, folks gathered for another party at the Hangar Disco. That night, Martin Engler of MONO INC. and Sven Enzelmann of KIR/MARTHALLE were responsible for the playlist. On the whole, the "M'era Friday" and the "Luna Saturday" were once again a huge success! The talented and original sounding newcomers blew us away with such killer performances and a great sound, that many wished their playing wasn't over so soon. And then, the international M'era tribe had a blast with a variety of superb shows raging from traditional Goth Rock to contemporary Dark Rock, and from Cello Metal or NDH over to Synth Pop, Dark Wave, and Industrial. And whether you were dancing the night away in the Hangar Disco or getting some rest inside your sleeping bag, this much was certain: There were even more good times ahead of us and a lot of splendid live music to look forward to: The "M'era Luna Sunday" was about to dawn!
All Pictures by Daniela Vorndran (
http://www.vorndranphotography.com
/
http://www.facebook.com/blackcatnet
)
See also (all categories):