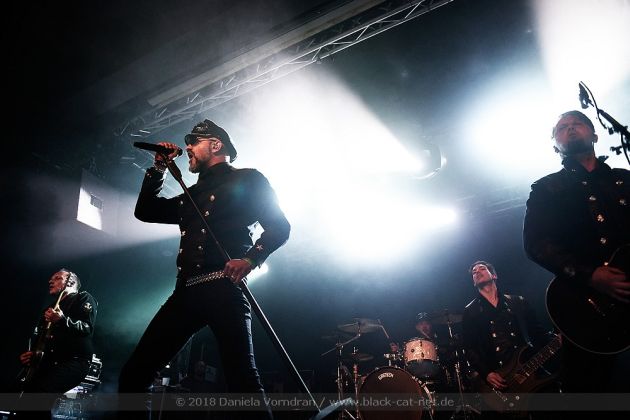 MS Rheinenergie, Cologne, Germany
12th May 2018
Unter schwarzer Flagge ("Under Black Flag") 2018 with Eisbrecher, Diary of Dreams, Unzucht and Null Positiv

Ahoi! For the first time, 1,333 spectators could enjoy the "Unter schwarzer Flagge" festival, a special concert cruise on the ship called MS RheinEnergie that some of you know from the Amphi Festival, starting in Cologne, then driving to the beautiful small city of Königswinter and back to Cologne. Four bands, stylistically classified between Neue Deutsche Härte and Dark Rock, were on board to entertain the audience.
Null Positiv

Things started 80 minutes after cast-off with NULL POSITIV. The female fronted-quartet from Berlin wrapped up a long European tour with their performance at "Unter schwarzer Flagge". Elli (vocals), Flo (drums), Martin (guitar) and Tom (bass) are about to release their second album with some more powerful Metal tunes. www.nullpositiv.com / www.facebook.com/nullpositiv/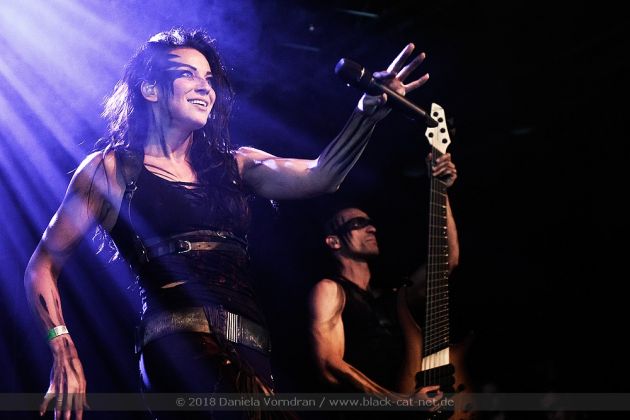 Music & Performance

NULL POSITIV were musically the harshest act of the day. They delivered straight Metal sound with typical verse-chorus structure and catchy hooks. Some of the lyrics are really cheesy, maybe sometimes embarrassing, but the great performance of lead singer Elli overlapped this. This girl definitely knows to use her voice. She sounds great in clear vocals and growls, got stage presence and succeeds in heating up the audience. Maybe this girl should get in contact with a Mathcore band… this genre needs more female performers! All in all, the quartet played a solid 60 minute-show and took extended presence at the merch table directly after the show. Kudos for that!
Rating

Music: 6
Performance: 8
Sound: 8
Light: 6
Total: 7 / 10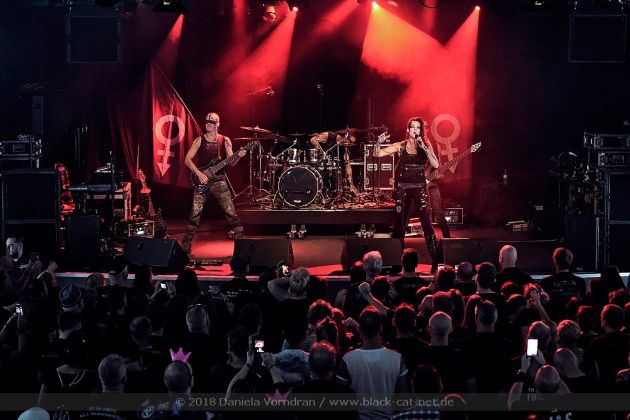 Diary of Dreams

Since their debut 'Cholymelan' in 1994, DIARY OF DREAMS have been a constant for dark music lovers. Last year the band around singer and founding member Adrian Hates released their thirteenth album, 'Hell in Eden', and of course they played some songs of that album on the MS RheinEnergie. http://www.diaryofdreams.de / https://www.facebook.com/officialdiaryofdreams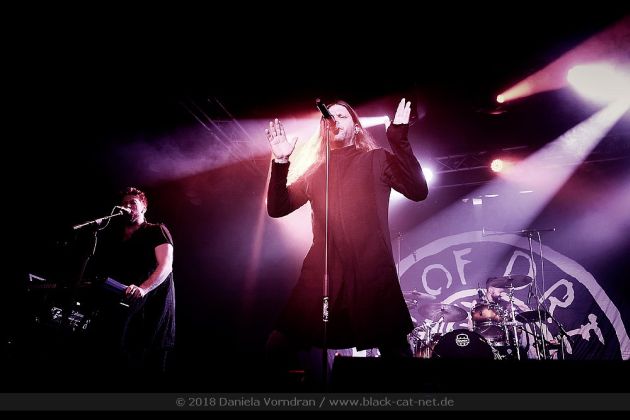 Music & Performance

If you like melodic and melancholic dark tunes between Electro and Rock, DIARY OF DREAMS is your band. When they perform at festivals you always get a solid show with lots of classic hits like the show-closer 'The Curse', 'Kindrom', or 'Traumtänzer'. But in general they also throw in a load of songs from their most recent record, and so did they at "Unter schwarzer Flagge". Adrian's voice sounded great as always, the sound was powerful, the audience cheered, sang along loudly and simply enjoyed the gig. No big surprises or anything spectacular happened, it was just 90 minutes of good dark-scene-music on a constant quality level.
Rating

Music: 8
Performance: 7
Sound: 8
Light: 7
Total: 7.5 / 10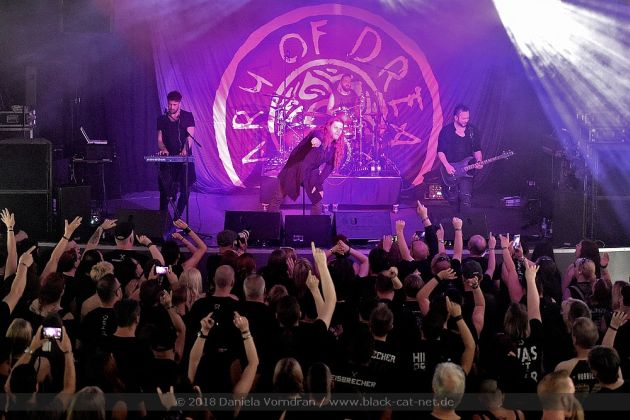 After a three-hour shore leave where much more than 1,000 people on the ship visited the beautiful city of Königwinter with its legendary Castle Drachenburg, it was time to the return onto the ship. 15 minutes after a panorama drive along the sight called "Drachenfels", UNZUCHT entered the stage.
Unzucht

UNZUCHT come from Hanover, Germany. Founded in 2009 and consisting of Daniel Schulz (vocals), Daniel De Clercq (guitar, vocals), Alex Blaschke (bass) and Tobi Fuhrmann (drums), they released four albums since then, moving musically between Goth Rock, Metal and Electronica. www.facebook.com/Unzucht / http://unzucht-music.com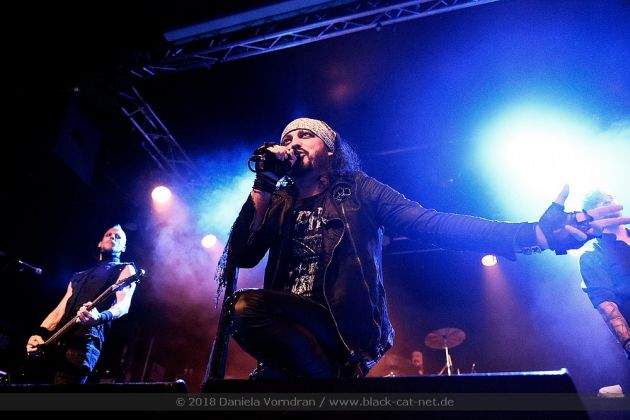 Music & Performance

It just took seven minutes to make Daniel Schulz speechless. After the shore leave the audience seemed to have even more fun than in the first half of the day. Loud singing, arm waving, rhythmic clapping, sometimes even without any animation by the band… there was a big party going on with UNZUCHT! Probably lots of EISBRECHER fans got to know this band on the last tour when UNZUCHT played the support slot and like them. The fans also helped Schulz at this successful stage diving moment during 'Unzucht'. The setlist was similar to their last tour on which they played their whole debut album 'Todsünde 8'. Seven tracks from that LP made the setlist for "Unter schwarzer Flagge", followed by three songs of their recent album 'Neuntöter' and two of the second long-player 'Rosenkreuzer'.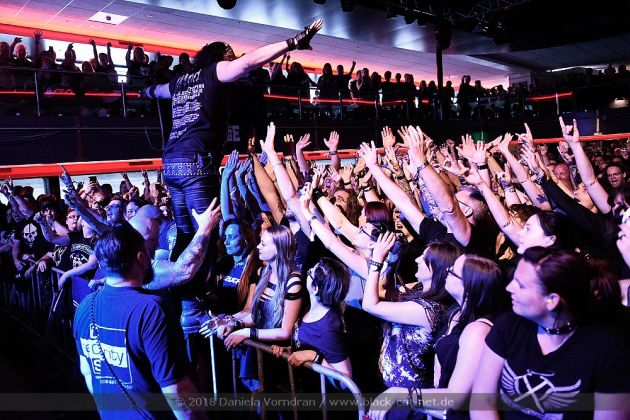 The band from Hanover just proved again that they deserve longer slots at festivals than the ones they usually get.
Setlist

01. Allein
02. Engel der Vernichtung
03. Auf Sturm
04. Unzucht
05. Der letzte Tanz
06. Deine Zeit läuft ab
07. Kleine geile Nonne
08. Widerstand
09. Lava
10. Ein Wort fliegt wie ein Stein
11. Nur die Ewigkeit
12. Mit dir oder ohne dich
Rating

Music: 8
Performance: 9
Sound: 8
Light: 7
Total: 8 / 10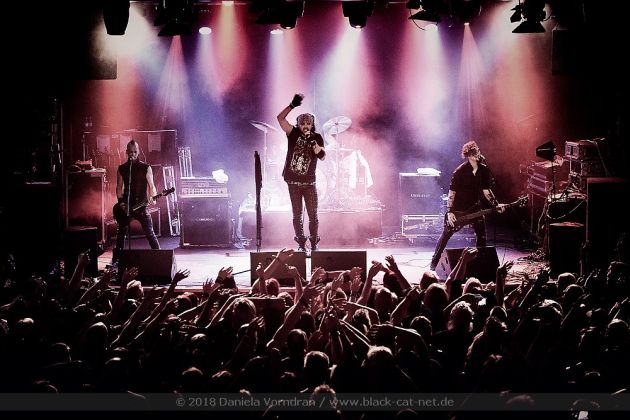 Eisbrecher

10.20 pm, it was time for the headliner, a band that truly became a giant in the German dark scene. From year to year, EISBRECHER increase their success. Alexander "Alexx" Wesselsky (vocals), Noel Pix (guitar, programming), Jürgen Plangger (guitar), Rupert Keplinger (bass) and Achim Färber (drums) played lots of sold out shows in 2017. Their No. 1 record 'Sturmfahrt', their seventh album, was celebrated live by all in all 30,000 fans. In addition, the band introduced their very own festival under the banner of "Volle Kraft Voraus" (transl. "Full Steam ahead!"). Before this takes place again on the 8th September, EISBRECHER played a full length-show at the festival whose setting perfectly fits the band name. http://www.eis-brecher.com / https://www.facebook.com/eisbrecher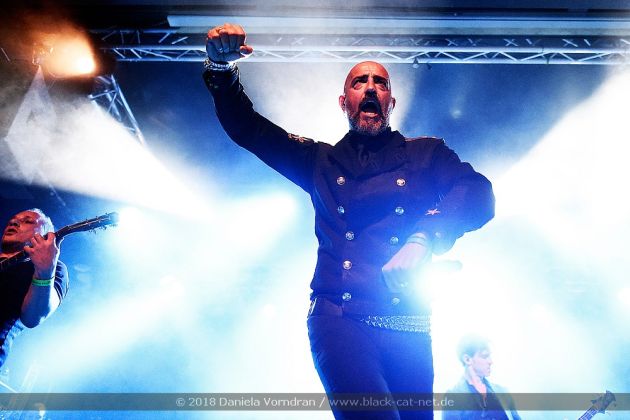 Music & Performance

For luck, singer Alex Wesselsky was able to play this show. Three weeks ago he fell from a ladder (five metres!) and broke a spine. Obviously he wasn't that movable but his entertainment qualities were not affected by this serious health problem. As always Wesselsky made some jokes of mixed quality and interacted with the crowd pretty well. At one point he mixed up the setlist - how good there were four more focused band members to bring their frontman back on track. As they did on their previous "Sturmfahrt" tour, EISBRECHER abdicated from playing lots of their old club hits as 'Schwarze Witwe', 'Leider' or 'Vergiss mein nicht'. They put the focus on lots of hard rocking, fast and danceable tracks from all of their six albums.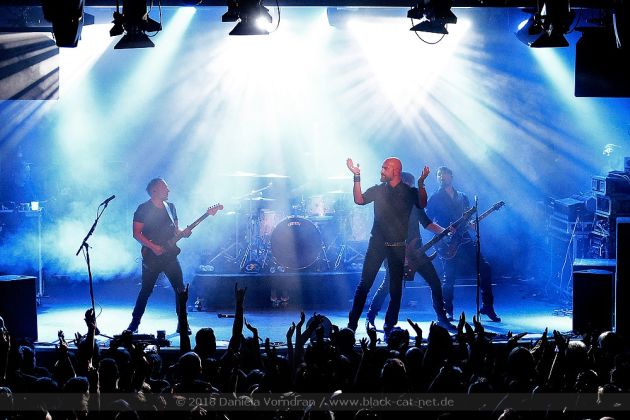 The drumming and riffs were tight, the sound was great, and people on the now completely full-packed deck sang along, cheered and danced. An awesome performance to conclude the first "Unter schwarzer Flagge" festival five minutes before midnight!
Setlist

01. Sturmfahrt
02. Willkommen in Nichts
03. Das Gesetz
04. Fehler machen Leute
05. Augen unter Null
06. So oder so
07. Prototyp
08. Himmel, Arsch und Zwirn
09. Eiszeit
10. 1000 Narben
11. Was ist hier los?
12. This is deutsch
---
13. Verrückt
14. Miststück
15. Ohne dich
Rating

Music: 8
Performance: 9
Sound: 8
Light: 9
Total: 8.5 / 10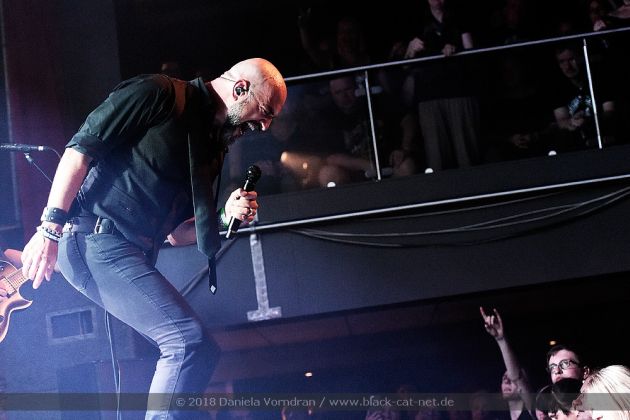 All in all, this event was a complete success. It was sold-out months before, all four bands delivered on stage, the weather was fine, everyone had a pleasant stay in the sympathetic city of Königswinter, the organization was fine as well… so if you're a fan of PROJECT PITCHFORK, LORD OF THE LOST, STAHLMANN or MONO INC., mark the 11th May 2019 in your calendar. On this date, the second "Unter Schwarzer Flagge" cruise will take place.
All pictures by Daniela Vorndran (
http://www.vorndranphotography.com
/
http://www.facebook.com/blackcatnet
)
See also (all categories):