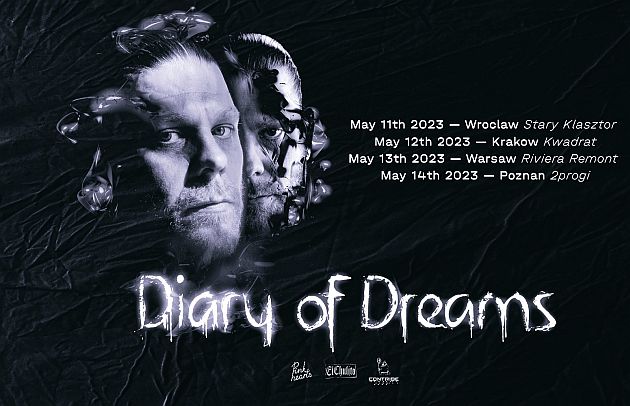 Stary Klasztor, Wroclaw, Poland
18th January 2024
Diary of Dreams - "Melancholin Tour" 2024

DIARY OF DREAMS was founded in 1989 as a project of Adrian Hates, taking its name from a small classical guitar composition 'Tagebuch der Träume'. After several demo recordings, none of which met Adrian's high musical standards, DIARY OF DREAMS released their debut album 'Cholymelan' in 1994. The album received enthusiastic reviews in the press and won the hearts of many music lovers with its passion for darker sounds. To date, DIARY OF DREAMS has released nearly thirty different releases, including a DVD, several singles, two EPs, a critically acclaimed acoustic album, and more than ten regular studio albums, such as the seminal 'Nigredo' with a legendary photo shoot in Iceland, and the hugely successful latest edition, 'Melancholin'.
Hates is highly acclaimed by fans for his lyrics as well. He is well-known for his metaphorical language and expressive, ambiguous descriptions of the things he thinks about. He writes mainly in English, but sometimes also in German - he says that the choice of language usually depends on the song itself. While DIARY OF DREAMS' line-up has undergone many changes, mastermind and singer Adrian Hates has been getting closer and closer to his vision of the project and his dreams. Since the first note from DIARY, the band has already played about 500 concerts in almost 40 countries, and there is no end in sight. According to Adrian, this will be the last thing he does in his life: living with and for music.
It has been almost five years since DIARY OF DREAMS' last album was released in October 2017. Never before in the band's history has there been such a long gap between two albums. The reason for this is complex; the world seems to be going crazy and turning everything upside down - too many global but also private setbacks kept shifting focus and prevented the team around mastermind Adrian Hates from completing the album with the usual loving dedication and attention to detail. However, in spring 2023, faithful fans can finally welcomed a new album and experienced a proper tour through German, and can look forward to well-curated festival and outdoor performances in the summer!
New songs were and will, of course, be presented, but the band is also offering a new and varied look at their musical history so far. The long concert break literally starved the band, so expectations are huge also for the upcoming Polish concerts. Fans can expect the band to be playing at their peak, and a new chapter in the DIARY OF DREAMS story just had begun!
Additional Concert Info

Doors: 20.00
Start: tba
Tickets: Early Bird - 90 PLN (the first 50 tickets) / I part - 100 PLN / II part - 110 PLN via
https://fienta.com/diary-of-dreams
Band: https://www.facebook.com/officialdiaryofdreams
Facebook Event: https://www.facebook.com/events/1511401666031091
See also (all categories):