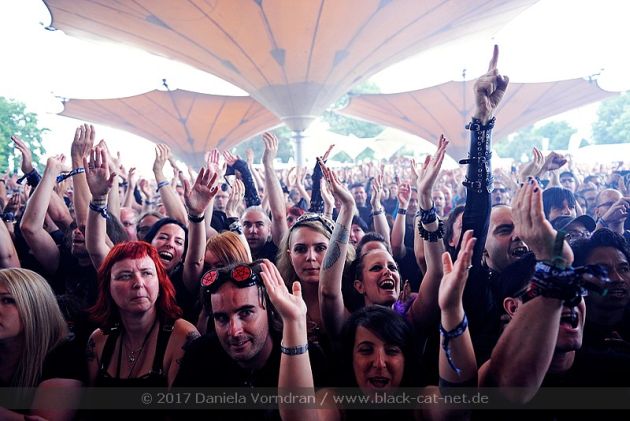 Tanzbrunnen, Cologne, Germany
22nd to 23rd July 2017
Amphi Festival 2017 Day 2 with Massive Ego, M.I.N.E., Lucifer's Aid, Stahlmann, Near Earth Orbit, The Other, Das Ich, Hocico, Merciful Nuns, Combichrist, Ordo Rosarius Equilibrio, Apoptygma Berzerk, Legend, Letzte Instanz, Eisbrecher, The Daniel Myer Project

After an undeniably successful Amphi day one and a long night with two DJ line-ups, one at the after-show party at the Orbit Stage and the other raising the roof at the Theatre, the never-tiring dark folk is ready to rumble again. Carpe noctem et diem! Amphi 2017, the spectacular thirteenth edition of the festival, has another diverse day full of bombastic and mesmerising live music in stock for us. Off we go!
Massive Ego - Main Stage (Dani)

UK based, dark and catchy electro pop act
MASSIVE EGO
open the Main Stage. Last year, they've celebrated their 20th anniversary. Their latest piece, a double CD mixed by Chris Pohl (BLUTENGEL) and Mario Rühlicke, is called 'Beautiful Suicide'. Marc Massive, Lloyd Price, Scot Collins, and Oliver Frost have already played at this year's Wave Gotik Treffen and supported BLUTENGEL on the "Leitbild Tour". It is 11am and time to share their "New Romantic-Darkwave-Electro-Gothic-Pop-Industrial-hybrid" with the Amphi folk that's up and in a good mood quite early. Perhaps due to the cooler weather, more people gather in front of the main stage than the day before. The eccentric singer and former model Marc Massive makes a good impression on the audience with their electronic set. At the end of the set, German Gothic rapper BEELZEBUB joins the band on stage to perform the song 'Haters Gonna Die' together. // http://www.massiveego.co.uk/ / https://www.facebook.com/massiveego // Setlist: 01. Drag me in, Drag me Under (Intro) / 02. She Uses Sex / 03. Low Life / 04. Dead Silence Rising / 05. For the Blood in Your Veins / 06. Kate's in a State / 07. Let Go / 08. I Idolize You / 09. Haters Gonna Hate (feat. BEELZEBUB) // Rating: 6 / 10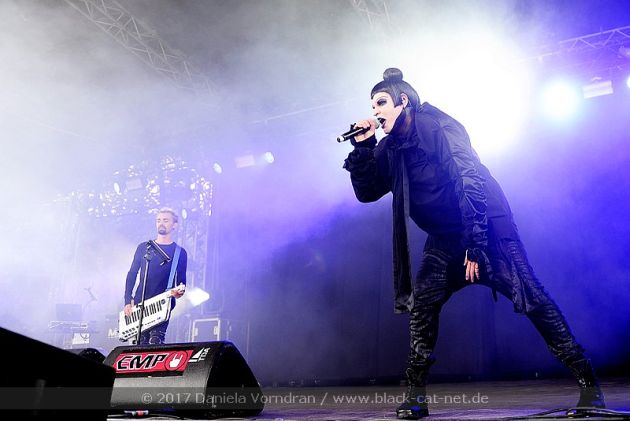 M.I.N.E. - Main Stage (Dani)

It was only last January that the Synth Pop project
M.I.N.E.
from Berlin has come into being. CAMOUFLAGE guys Marcus Meyn (vocals), Jochen Schmalbach (drums) and Volker Hinkel (guitar) decided to bring something new of their own to life and Jakob Nebel on guitar and keys joined the team. They hit the Main Stage to present their guitar-driven dark electronic sounds and the crowd is already quite big. Front man Marcus has already a huge stage experience and so he is convincing also with his gig at the Amphi stage. The band presents several songs of the M.I.N.E. project, like 'Dangerous' i.e., but also lots of very well-known
CAMOUFLAGE
pieces. The audience sings loudly along to hits from the eighties like 'The Great Commandment' or 'That Smiling Face'. Many happy faces after the show! People are already looking forward the release of a first full-time M.I.N.E. album. // http://www.mine-music.com/ / https://www.facebook.com/minemusicband // Setlist: 01. Memory / 02. That Smiling Face (Camouflage) / 03. Dangerous / 04. Shine (Camouflage) / 05. White Trash / 06. Things We've Done / 07.The Great Commandment (Camouflage) / 08. You Were There // Rating: 8 / 10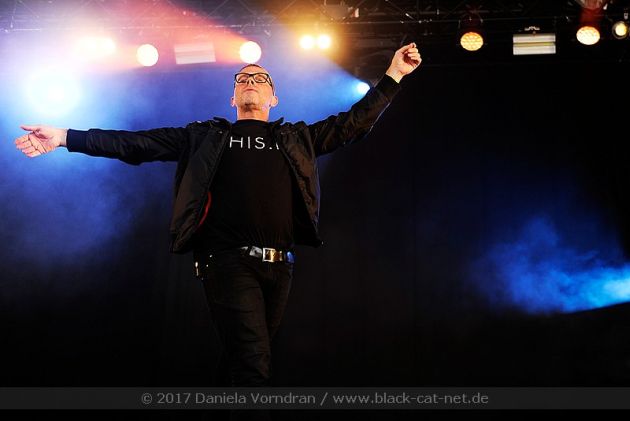 Lucifer's Aid - Theatre Stage (Janine)

The newcomer from Stockholm, one-man show
LUCIFER'S AID
with its harsh, beat driven EBM is the opener of the Theatre Stage on this Sunday. Monotonous beats and hardware machine-made music is filling the air of the hall. Carl Nilsson marches from one side of the stage to the other, followed by a searchlight shouting his minimalistic texts to the crowd. There are already some guys stomping the ground to tracks as 'Deny the Lies', 'Follow Me' and 'Shut Up'. EBM-lovers go for LUCIFER'S AID! // https://www.facebook.com/lucifersaid // Rating: 6 / 10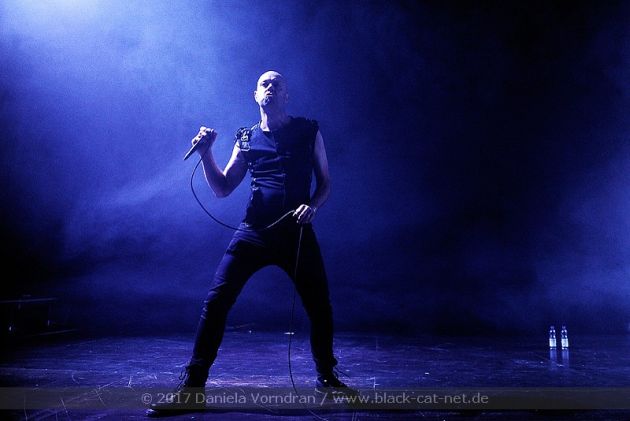 Stahlmann - Main Stage (Layla)

After the synthy intro at the Main Stage thus far, the steel formation
STAHLMANN
storms the stage with a mission: to raise the crowd for real. "It's time to get up," front man Mart announces and makes the audience shout "Hey!" and stomp along to their ironman sound: "Neue Deutsche Härte" is on their programme and so the vocalist with the deep, hoarse vocals and his band mates Frank (guitars), Ablaz (bass), and Max (drums) give their best. The crowd is nodding dynamically to the beat of the new smasher 'Bastard' and well-known hits 'Adrenalin', 'Stahlmann', 'Der Schmied', 'Spring nicht' and 'Plasma'. Then, the band shares the single of their latest album 'Bastard' (2017) with us: 'Nichts Spricht Wahre Liebe Frei', a melancholic ballad with a powerful chorus. Since it's Frank's birthday today, the Amphi crowd suddenly decides to start singing for him. Mart encourages us to check out Frank's own project SCHATTENMANN because "in contrast to several other band members who go on to start a thing of their own fail, he's really damn good." The hard and heavy industrial metal show goes on with 'Schwarz' (in English, 'Black') and so the dark clad crowd sings along the German lyrics: "Black, black! Are all my clothes / Black, black! Is all I am..." (translation). Amusingly, Mart's stellar white undershirt - how dare he not to be in black?! - is causing a great stir and will unleash quite a discussion on the band's Facebook page after the festival. Seriously, folks? No comment.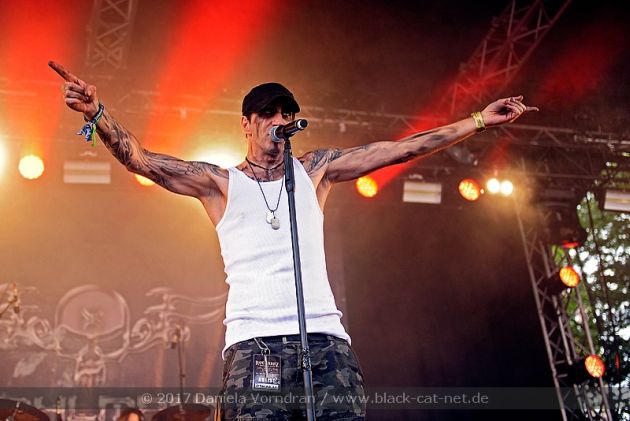 Finally, it's time for the classic 'Tanzmaschine'. Somehow, the band isn't perfectly in time here and - no worries - starts the "dance machine" tune over again and rocks it. All in all, the crowd has great time raising their fists, banging their heads and breaking their necks with STAHLMANN. That's documented when the band films their final ear worm song 'Süchtig'. All hands are up in the air to clap along. // http://www.stahlmann.tv / https://www.facebook.com/Stahlmann-138756019513864 // Setlist: 01. Bastard / 02. Adrenalin / 03. Stahlmann / 04. Der Schmied / 05. Spring nicht / 06. Plasma / 07. Nichts Spricht Wahre Liebe Frei / 08. Schwarz / 08. Tanzmaschine / 10. Süchtig // Rating: 8 / 10
Near Earth Orbit - Theatre Stage (Layla)

The dark and foggy Theatre Stage is simply perfect for the next obscure act: The enchanters of
NEAR EARTH ORBIT
are about to mesmerise us with an interstellar set of eleven masterful and unique compositions. Starting with the title track of 'Trans Neptunian Objects' (2015), Artaud Seth (vocals), Jawa Seth (bass, e-drums) and guitarist Ashley Dayour (THE DEVIL & THE UNIVERSE, WHISPERS IN THE SHADOWS) offer a sonic as well as visual trip for all senses. Next to five more songs from the mentioned album they play four ambient, gripping and growing tracks from 'End of all Existence' (2015) in between. From their latest opus 'Mission E.d.e.n.' (2016) there is no tune to be performed today. On the whole, a cosmic show at full volume which makes it difficult to go out back to the here and now and into the bright daylight again. After getting lost in the post-apocalyptic sound of a project such as NEAR EARTH ORBIT it can only be hard to get back to earth. One would rather stay in thick darkness and enjoy the silence for a while thereafter. // http://www.nearearthorbit.org / https://www.facebook.com/NearEarthOrbit // Setlist: 01. Intro / 02. Trans Neptunian Objects / 03. Planet X / 04. Abandoned World / 05. The Warning / 06. Observing the Sun / 07. T.H.E.M. / 08. Jupiter Ignition / 09. Kepler 187F / 10. Earth Research / 11. Ignition Started // Rating: 10 / 10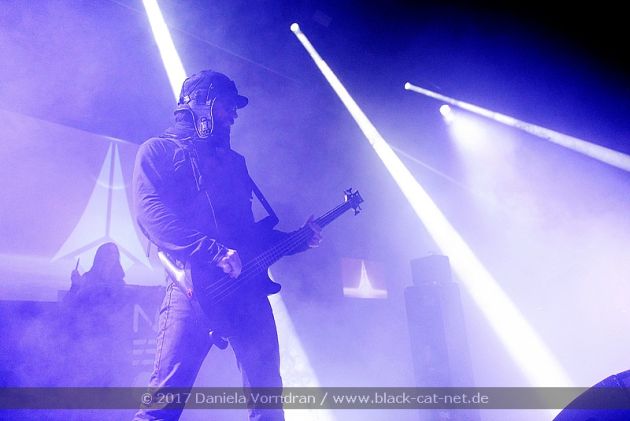 The Other - Theatre Stage (Janine)

It is time for some Horror Punk from the local heroes of
THE OTHER
. The rotten bodies of Rod Usher, Doc Caligari, Ben Crowe, Pat Laveau and Chris Cranium enter the stage under huge applause. With a history of six albums since 2002, gigs at big alternative festivals in Europe and endlessly touring through Europe, America and Russia, the band can rely on a loyal and enthusiastic fan base willingly to dance, jump, sing and celebrate. The concept of the band reflects in their appearance, costumes, make up, texts and stage set. The theatre is full of people who enjoy the horror show on the red and purple illuminated stage. They perform songs as 'Back to the Cemetery', 'Skeletons' or 'Transylvania' relating to head-banging, screaming and singing along. // www.facebook.com/theotherhorrorpunk / www.theother.de // Setlist: 01. Back To The Cemetery / 02. Skeletons / 03. Nie mehr / 04. Transylvania / 05. Bloodsucker / 06. Drieming op de Doebel / 07. Puppet On A String / 08. End Of Days / 09. Beware Of Ghouls / 10. Der Tod steht Dir gut /11. Lovers Lane / 12. Dunkelheit / 13. We All Bleed Red / 14. Tarantula // Rating: 8 / 10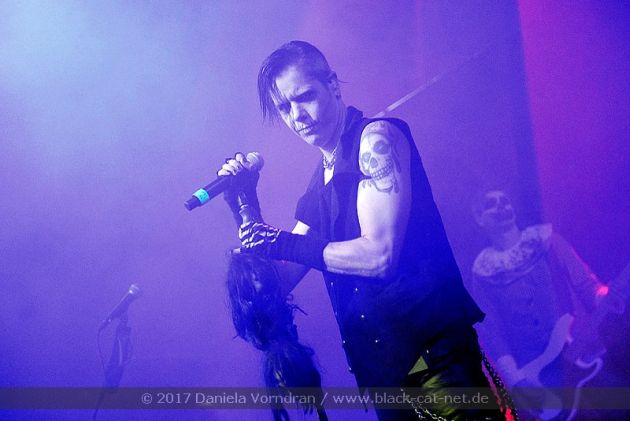 Das Ich - Main Stage (Layla)

DAS ICH
, the founders of "Neue Deutsche Todeskunst" (transl. New German Death Art) are up next. Stephan Ackermann, Bruno Kramm and Kevin Groß serve the Amphi audience their incomparable cocktail of Electronic, Symphonic, and Industrial sounds mixed with German lyrics. When Bruno finally gets his missing setlist during 'Der Schrei' the audience cheers. DAS ICH put on a theatrical show for their fans with their moving construction of a keyboard station, devilish clown Bruno joking around and running from one side to the other grimacing at and animating the audience, Stefan's red body paint and performative dance moves and of course their unique songs. During the classic 'Gott ist tot', Stefan is caught in an iron cross mike stand, a "slightly miscalculated but nevertheless working and great piece of art made a friend". All in all, we're getting an expressionistic show and the only bummer is that the vocals seem a wee bit too loud on top of the music. While 'Lügen und das Ich' comes across slightly too noisy, 'Schwarzes Gift' is widely celebrated by the crowd. Needless to say that 'Destillat' brings on a huge party. The cult-act is currently working on a new record and will be back touring across Europe this fall. // http://www.dasich.de / https://www.facebook.com/DasIch.fans // Setlist (extract): Der Schrei / Engel / Lügen und das ich / Schwarzes Gift / Seele tanzt / Gott ist tot / Destillat // Rating: 8 / 10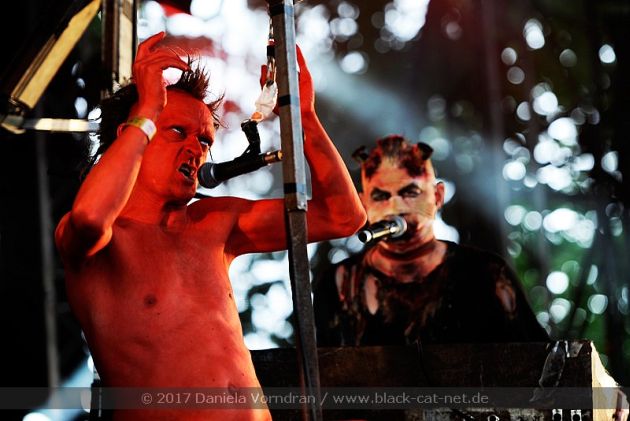 Hocico - Main Stage (Layla)

It was just a day before their Amphi gig that they've released their long overdue best of album titled 'The Spell of the Spider' and the new EP 'Spider Bites'. Dr Mark Benecke passionately announces this act which he "loves dearly" - and he's not the only one. Harsh electro heroes
HOCICO
from Mexico are back to burn down the roof! The way the infernal Industrial party gets started from the very first second frontman Erk Aicrag and his partner in crime Racso Agroyam on synths hit the stage, shows the enthusiasm of their ever-growing fan base. In the beginning, the duo is supported by two masked percussionists dressed in something like a diver's suit with black wings. 'Relentless' and 'Sex Sick' unleash hell at the Tanzbrunnen. All of a sudden it's starting to pour down on us and people at the sides press even further together to get under the huge Amphi umbrellas. The rain, however, doesn't keep the energised Hocicones from dancing like maniacs. We are jumping into the brand new sinister smasher 'No One Gets Out Alive!' and the spiky crown of a Gothic girl next to me keeps on bouncing near my eye. The HOCICO fans are beside themselves and Mark raves in the photographer's pit. Such a shame that I can't stay till the end to join in the dark electro mania going on till the final floor-filler favourite, 'Forgotten Tears'. MERCIFUL NUNS inside the Theatre are calling... // http://www.hocico.com / https://www.facebook.com/hocicoofficial // Setlist: 01. Intro / 02. Relentless / 03. Sex Sick / 04. In the Name of Violence / 05. No One Gets Out Alive! / 06. Bite Me! / 07. I Abomination / 08. Heart Attack / 09. Poltergeist / 10. Dead Trust / 11. Forgotten Tears // Rating: 10 / 10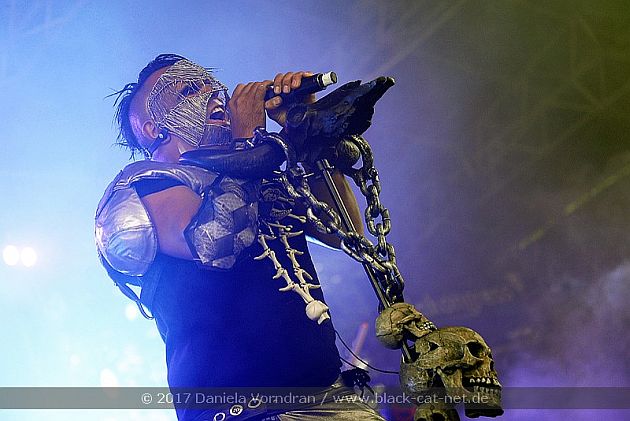 Merciful Nuns - Theatre Stage (Layla)

Via his record label Solar Lodge, mastermind Artaud Seth has been spreading "sounds from the universe" since 2011. How lucky are we at this year's Amphi that after the intense show of AEON SABLE yesterday and the inspiring show of NEAR EARTH ORBIT just two hours ago, we are now getting to enjoy
MERCIFUL NUNS
, the "only legitimate successor" of
GARDEN OF DELIGHT
. Once again, Mr and Ms Seth are back on stage, this time joined by guitarist Jon Tmoh. Once again, their play eleven tunes - still atmospheric, but now more rocking "occvlt post goth" pieces. Their sinister sound is massive and the grooving bass takes possession of our bodies. Rhythm and darkness overcomes us and the listeners are under a spell - once again. The NUNS take us on a journey across five records: What a pleasure to pass through 'Body of Light' (2010), 'Exosphere VI' (2013), 'Meteora VII' (2014), 'Thelema VIII' (2016) and 'A-U-M' (2017). Wide screens showing clips, the NUN's symbology, and lyrics serve as a suiting backdrop on stage as the musicians appear just as dark contours on the shady stage. Every single song is dark delight. Their fans, the Nunhood, are thrilled and say cordial thanks. // http://www.mercifulnuns.com / https://www.facebook.com/MercifulNuns // Setlist: 01. A-U-M / 02. Cremation / 03. Body of Light / 04. Karma Inn / 05. Eternal Decay / 06. Allseeing Eye / 07. Exosphere / 08. Blackbody / 09. Ultraviolet / 10. Passing Bell / 11. Thelema // Rating: 10 / 10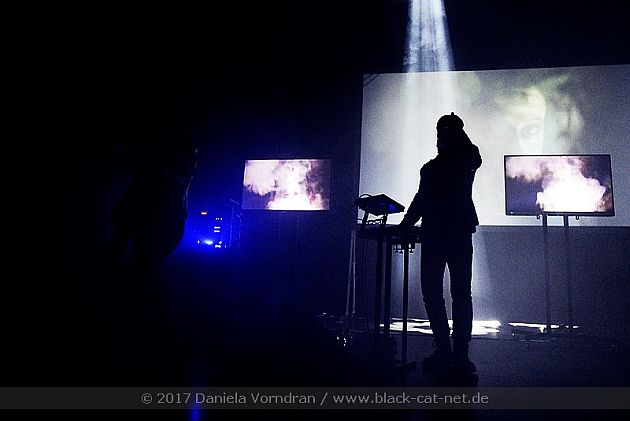 Combichrist - Main Stage (Layla)

The wild Amphi-heads at the Main Stage won't get any time to rest and recover after HOCICO. On the contrary. Norwegian-American Aggrotech act
COMBICHRIST
are ready to rock our socks off. Moderator Mark introduces the guys as "the most polite, calmest and friendliest folks ever, who shake everybody's hands back stage" and enthusiastically announces that that silence is over now. With their continually growing fan base drummer Nick Rossi, bassist Brent Ashley, guitarist Eric13 and vocalist Andy LaPlegua celebrate a heavy, noisy, raw and rhythmic hard-core party. "Hey! You! What the fuck is wrong with you?!" is what the crowd screams at the top of their lungs during the opening track. Compared to COMBICHRIST's performance at last year's M'era Luna festival one can also see that the fans get more and more word-perfect regarding the lyrics. During smashers such as 'My Life My Rules' and 'Get Your Body Beat' all hands are up in the air. Smiling bundle of energy LaPlegua bounces from one side of the stage to the other while the others demolish their instruments. Andy's question, "Are we having a good time?" is of course a rhetorical one. // https://www.facebook.com/combichrist // Setlist: 01. Intro / 02. Wtf is Wrong with you People / 03. Blut Royale / 04. Skull Crusher / 05. Throat Full of Glass / 06. No Redemption / 07. Zombie Firstfight / 08. Exit Eternity / 09. My Life My Rules / 10. Get Your Body Beat / 11. Shut up and Swallow / 12. Can't Control / 13. Maggots at the Party / 14. Send to Destroy // Rating: 9 / 10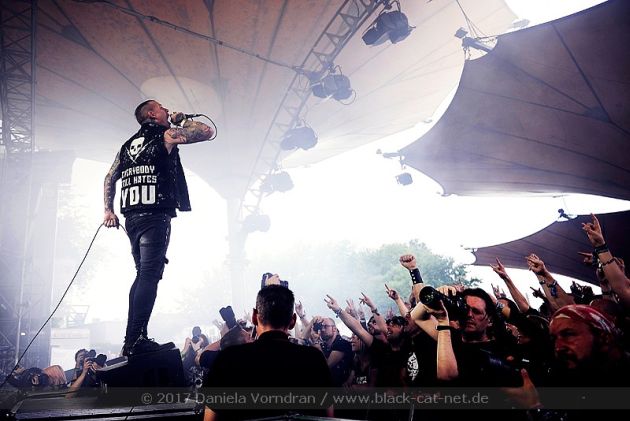 Ordo Rosarius Equilibrio - Theatre Stage (Layla)

Two torches are lit as the moody melody makers going under the fancy name
ORDO ROSARIUS EQUILIBRIO
grace the stage. The Swedish apocalyptic folk act "rose from the ashes" back in 1993 and it was in 2011 that they played at Amphi the last time. Now vocalists Tomas Pettersson and Rose-Marie Larsen, guitarist Ronnie Bäck, bassist Fredrik Leijström and percussionist Nicolas make our Goth hearts leap for joy. The venue is packed celebrating the doomy combo greatly, which unfortunately have had a hell of a trip to Cologne: multiple cancelled flights, countless transfers, and on top of that missing luggage. But ORE have made in time for the ritual at the Theatre and with wonderful male and female vocals, poetic and meaningful lyrics, beautiful strings and piano sounds and superb acoustic guitar and impressive percussions they easily stir our blood. It all begins with the sounding bells of 'Nature seeking Equilibrium, War for the Principle of Balance'. Magnificently melancholic ballads such as 'A World not so Beautiful' and older outstanding odes like 'Hell is where the Heart is - The Gospel of Tomas' and 'A Song 4 Hate & Devotion' make the crowd sway and sing along. 'Three is an Orgy, Four is Forever' is ORDO ROSARIUS EQUILIBRIO ORE's last tune for tonight. One could indeed keep on listening forever to an original act like this. After fifty stunning minutes they have to leave though and all that still remains is the burning flames and the smell of smoke. // https://www.facebook.com/ordorosariusequilibrio // Setlist: 01. Nature seeking Equilibrium, War for the Principle of Balance / 02. The Misanthropic Polygamist (How Gods Dream) / 03. A Man without War, is a Man without Peace / 04. In High Heels, through Nights of broken Glass / 05. Hell is where the Heart is - The Gospel of Tomas / 06. Lost Forever, in the Blitzkrieg of Roses / 07. Vision Libertine (The Magnificence of Nihilism) / 08. A Song 4 Hate & Devotion / 09. A World not so Beautiful (A Song 4 the Emperor) / 10. Three is an Orgy, Four is Forever // Rating: 10 / 10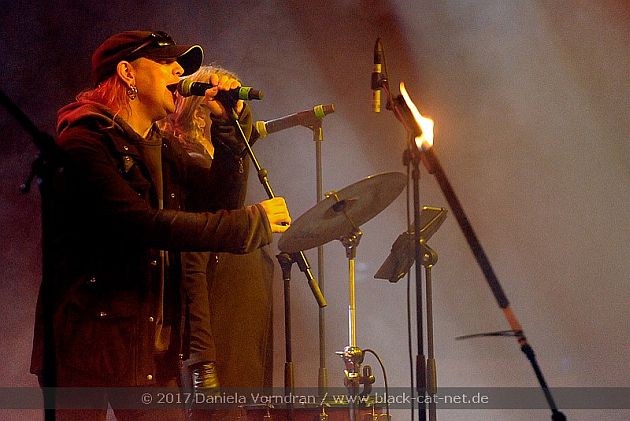 Apoptygma Berzerk - Main Stage (Janine)

Oh my goodness, the guys form Norway are starting with the incomparable hymn 'In this together'! There is no doubt, where this journey will lead. One hit after the other follows. The air is filled with bubbles, the ground with dancing, jumping and shaking bodies.
APOPTYGMA BERZERK
reactivates our reserves. 'Starsign', 'Eclipse' and 'Non-Stop Violence' are celebrated to the max. When somebody tries to rest during 'Kathy's Song' they give a wake-up call with 'Love never Dies' and 'Until the End of the World'. Just pure fun and party. The ground of the Tanzbrunnen trembles beneath our feet. This fabulous set is concluded by the PETER SCHILLING cover 'Major Tom', which is sang in English in the beginning but ends with a long emotional sing along session with original German lyrics enchanting both the band and their fans. // http://www.theapboffice.com / https://www.facebook.com/ApoptygmaBerzerk // Setlist: 01. In this together / 02. Starsign / 03. Shadow / 04. Asleep or Awake / 05. Deep Red / 06. Eclipse / 07. Non-Stop Violence / 08. Kathy's Song / 09. Love Never Dies / 10. Until the End of the World / 10. Major Tom (Peter Schilling Cover) // Rating: 10 / 10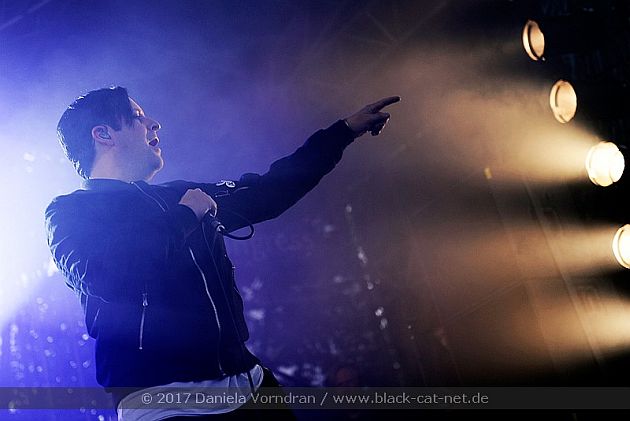 Legend - Orbit Stage (Layla)

Lady and gents, now it's finally time for the Vikings to take the helm! One and only
LEGEND
from Iceland make the floor of the Orbit Stage literally bounce with their masterful marriage of electronic and rock music. In case you've missed out on all the fun so far: LEGEND are vocalist Krummi Björgvinsson (MÍNUS) and composer Halldór Á Björnsson supported by live drummer Frosti Jón Runólfsson and live guitarist Bjarni Sigurdarsson. When their highly addictive synth smasher 'Devil in Me' was leaked to a radio station it instantly became a hit. Today's gig is under the banner of their widely praised debut album 'Fearless' (2012), which has been out for a while by now - a sombre and yet danceable piece gleaming brightly. We're enjoying seven unique tunes performed full of emotion and musical artistry, among them 'Sister' with its melodic chorus sweeping us off our feet, the grooving and uplifting 'City' and the rocking electro anthem 'Virgin'. The grippingly melancholic 'Runaway Train' is without any doubt one of the highlights. The vocalist introduces it as a "serious song" making the observation that "so many people commit suicide; famous people, not famous people, all sorts of people."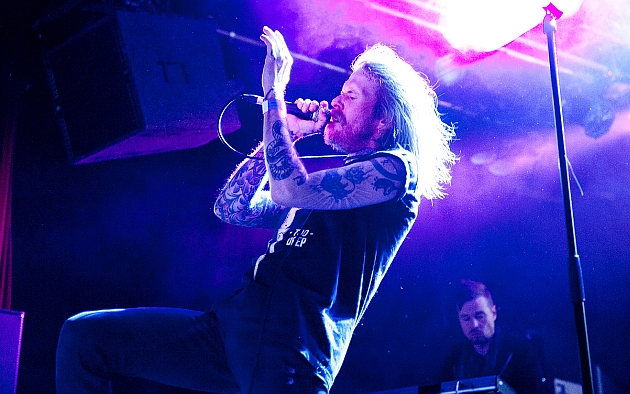 He recommends to "talk to somebody than to keep it inside" and spreads the indisputable message that "music makes us live!" The slow and beautiful tune 'Violence' is just the perfect song to follow. Then, LEGEND present 'Children of the Elements', in addition to the title track that they've opened with tonight, another tune from their upcoming and eagerly awaited second record titled 'Midnight Champion' (out October 13). During the entire show the band carries away the audience with their melodies and outbursts and the frontman's superb clear vocals and fierce screams. With one of their most forceful tracks, 'Benjamite Bloodline', Krummi & Co conclude their amazingly atmospheric and rocking set which their old and new fans perceive as way too short. What a blast! // https://soundcloud.com/legend-band / https://www.facebook.com/Legendband/ // Setlist: 01. Midnight Champion / 02. Virgin / 03. Sister / 04. City / 05. Runaway Train / 06. Violence / 07. Children of the Elements / 08. Benjamite Bloodline // Rating: 10 / 10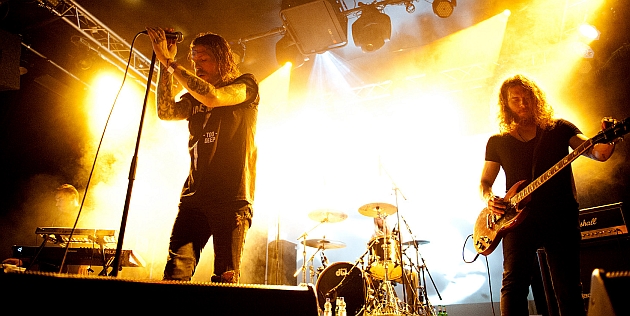 Letzte Instanz - Theatre Stage (Janine)

Friends of powerful guitar music attended by string instruments and profound texts have to watch the show of
LETZTE INSTANZ
, the guys from Dresden and Berlin who have been touring over Europe for almost 20 years now. They start with a short delay of five minutes with an atmospheric intro followed by tracks from their recent album 'Liebe im Krieg' (you can see the artwork on a huge banner in the back). The guys do their best to delight the audience not only with new stuff but also with all-time favourites which make the folks jump, dance and sweat. They adore their heroes and celebrate every hit exuberantly. The set is concluded by the catchy 'Von Anfang an', where all hands are up for waving like the ocean. We can be curious what the masters of "Brachialromantik" will prepare for their band jubilee in the upcoming year. // www.letzte-instanz.de / https://www.facebook.com/pg/letzteinstanz // Setlist: 01. Steh auf! / 02. Blutmond / 03. Flucht ins Glück / 04. Blind / 05. Der Garten / 06. Tränen aus Stein / 07. Todeskomm / 08. Finsternis / 09. Weiß wie der Schnee / 10. Von Anfang an // Rating: 8 / 10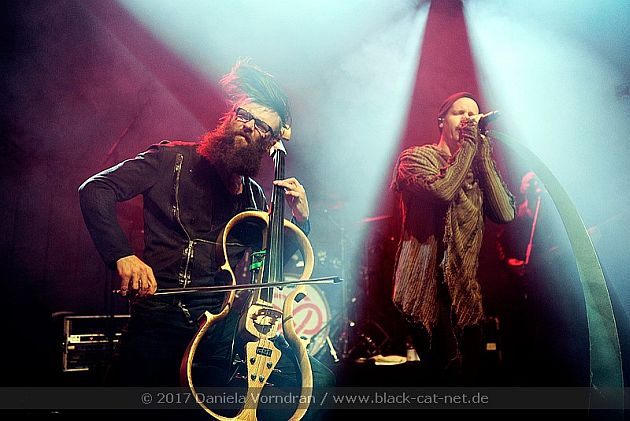 Eisbrecher - Main Stage (Janine)

No other than NDH heroes
EISBRECHER
sum up this fabulous festival weekend. Full of power and in a good humour the guys around Alex Wesselsky deliver a killer final show at the Tanzbrunnen. With hits as 'Verrückt', 'Prototyp' and 'Himmel, Arsch und Zwirn', EISBRECHER convince their audience as always. Driving beats, punchy guitar riffs and the charismatic voice of the frontman from deep and warm to loud and vibrant tones. The people mobilise their last reserves and stomp, dance, clap, sing and bang their heads. With 'This is Deutsch' the band completes the great set and leads the black crowd back to daily life. // http://www.eisbrecher.com / https://www.facebook.com/eisbrecher // Setlist: 01. Verrückt / 02. Willkommen / 03. Augen unter Null / 03. Fehler machen Leute / 04. Leider / 05. Was ist da los? / 06. Prototyp / 07. Himmel Arsch und Zwirn / 08. So oder so / 09. Eiszeit / 10. 1000 Narben / 09. Miststück / 10. Volle Kraft voraus / 11. Vergissmeinnicht / 12. This is deutsch / 13. Ohne dich // Rating: 10 / 10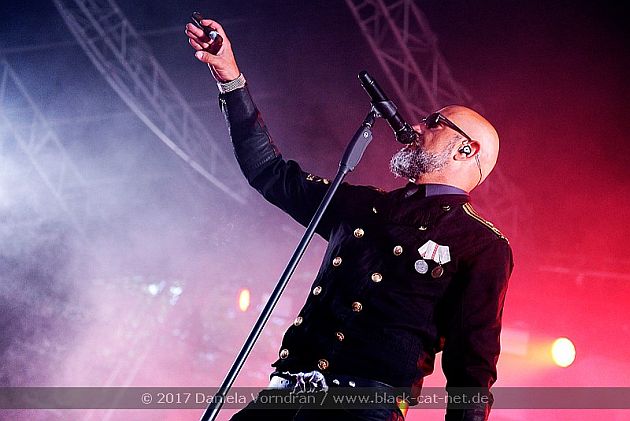 The Daniel Myer Project - Theatre Stage (Layla)

If you want to feel sharp beats going right through your bones, the Theatre is the place to be. Headliner DANIEL MYER supported by Albert Code and VJ Grobkorn brings on a raging party of minimalistic and infectious electro. Producer, musician and remixer MYER is well-known for his countless projects in the world of electronic music and needs no further introduction. Tonight's gonna be a special show for various guest vocalists will lead from one original Myer tune or remix to the next. After the opening track, 'For You' by
ARCHITECT
, the crowd is surprised by Eskil Simonsson of
COVENANT
who performs an Amphi version of 'Lightbringer' together with Daniel and a remix of COVENANT's 'Sound Mirror'. After playing the atmospheric clubbing tune 'Friend of Foe', Daniel announces: "Now the sun comes up on stage." And so, we welcome vocalist Sven Friedrich (
DREADFUL SHADOWS
,
ZERAPHINE
,
SOLAR FAKE
) for two more wonderful
DSTR
pieces. 'Leaving Ground' and its most beautiful chorus sung exceptionally is a joy. A technical dropout in the beginning of second song featuring Sven makes the guest joke around about not having rehearsed the track anyway and the nonsense of doing it a-capella. The beats is slightly too slow, but "whatever, this way the song is longer, which is also nice." The crowd is cheering, clapping their hands and jumping along. What an amazing DSTR interlude and then it's the turn of Jean-Luc de Meyer from
FRONT 242
to join the guys on stage. 'God' and the repetitive 'We Must Wait' resound. The crowd parties on. "King of Electrotrash"
Tomas Tulpe
is up next going wild on stage. A remix of the single 'Ich bin ein Gruftie' takes care of a jolly mood among the fans. Tulpe throws down the mike stand repeatedly.
KLANGSTABIL
's vocalist Boris May is also not be missed tonight and the crowd celebrates the noisy
HAUJOBB
ear-worm 'Dead Market' and a more aggressive version of 'Math & Emotion'.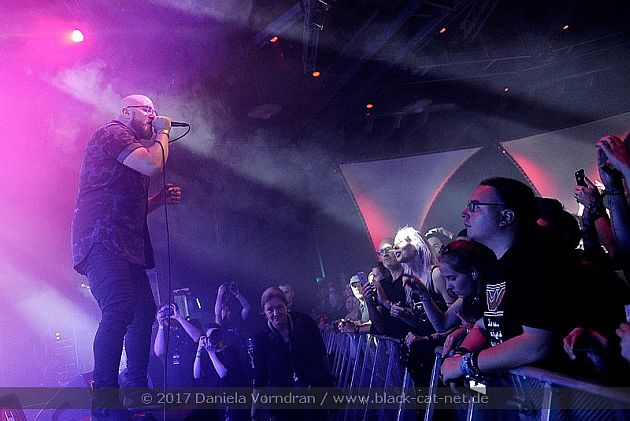 The final highlight is when COMBICHRIST front man Andy LaPlegua hits the stage presenting his clear vocals reminding one of his
ICON OF COIL
past. A remix of 'Evil in Me' marks the end of the Theatre's headliner show. Such a shame that curfew is so damn strict and that we don't get the chance to sing and dance along to one more classic: The all-time-favourite 'Lucretia My Reflection', a DANIEL MYER featuring Sven Friedrich version of the
SISTERS OF MERCY
, would have been the icing of tonight's cake. But hey, on the whole, it's been a truly singular and fun concert ending this year's Amphi festival. // https://www.facebook.com/danielmyermusic/ // Setlist: 01. Intro/For You (Architect) / 02. Lightbringer (Covenant, Amphi Festival Version feat. Eskil) / 03. Input Error (Haujobb, The Horrorist Remix) / 04. Sound Mirror (Covenant, 2017 Remix) / 05. Friend Or Foe (DSTR) / 06. Leaving Ground (DSTR feat. Sven Friedrich) / 07. Bird Of Prey (DSTR feat. Sven Friedrich) / 08. God (JLDM feat. Jean-Luc) / 09. We Must Wait (Haujobb) / 10. Ich bin ein Gruftie (Haujobb Remix feat. Tomas Tulpe) / 11. The Noise Institute (Haujobb) / 12. Dead Market (Haujobb feat. Boris) / 12. Math & Emotion (Klangstabil, Amphi Festival Version) / 13. Evil In Me (Combichrist, Amphi Festival Remix feat. Andy LaPlegua) // Rating: 10 / 10
Conclusion (Janine)

This year's Amphi Festival is out of the ordinary. The programme is full of fabulous acts with great varying types of music and shows. There is hardly any time to sit down and breathe in the atmosphere, watch the beautiful people, hang around at the beach or go shopping. Just to mention the framework programme. Eating and drinking to every taste and free water are available - a very important and heavy used offer on hot summer days like these. The organisation of the festival is professional as always. Especially the bus shuttle to the Orbit Stage is to be praised! 12,500 underground people from all over Europe, e.g. Britain, France, Czech Republic, BeNeLux, Sweden and of course Germany meet for celebration at this fantastic and peaceful festival. See you all next year, when Amphi Festival is taking place on July 28-29th.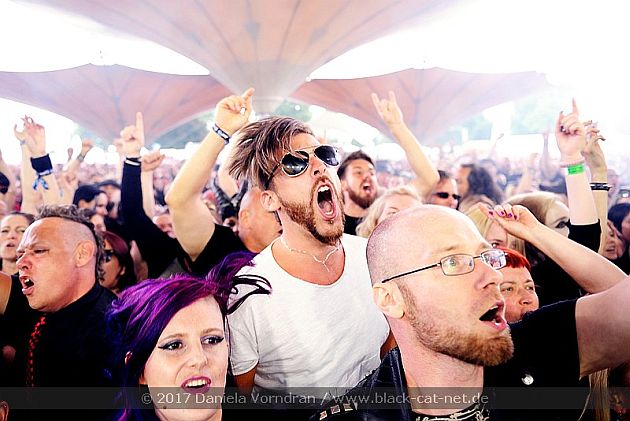 All pictures by Daniela Vorndran (
http://www.vorndranphotography.com
/
http://www.facebook.com/blackcatnet
) except Legend by Silke Jochum
See also (all categories):