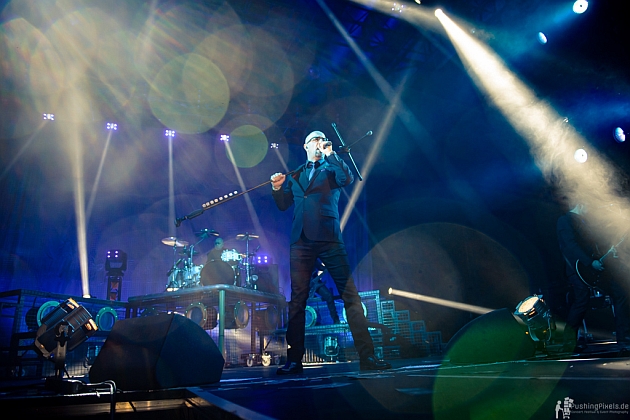 Palladium, Cologne, Germany
12th March 2016
Eisbrecher, Unzucht & One I Cinema

To some, EISBRECHER are the last true champions and pioneers of NDH ("New German Hardness"). For others, there's no one representing machinelike riffs, heaviness, and electronic catchiness better than this band around singer Alex Wesselsky and producer / guitarist Noel Pix. But now a new era dawns for EISBRECHER: With their sixth record 'Schock', which was released in January 23, 2015, they've established themselves as the ultimate voice of frosty Rock and Metal sounds that are heavy as steel and reach far beyond Germany's borders. Their album 'Die Hölle muss warten!' (transl. "Hell Has to Wait!") from 2012 has been sold over 100,000 times reaching gold!
The first highlight awaited the audience right behind the entrance door. The golden CD that was promised before. As a little thank you, EISBRECHER gave every concertgoer a free CD, celebrating the tremendous success of both their gold status, their new album 'Schock' and their single. Two of these CDs can be won in
HERE
!
One I Cinema

ONE I CINEMA (OIC) is a German alternative rock band, hailing from Osnabrueck, Lower-Saxony. The band was founded in 2013 by its only official member Marco Meyer, who solely remains responsible for the band's musical direction as its main producer, singer, songwriter and multi-instrumentalist. After recording his debut album, Meyer assembled a live band to perform with him. The group, besides Meyer handling the vocals and main guitars, consists of three live members- Hannes Kelch(git), Ilja John Lappin(bass) & Phillip Steven Albright(drums)-making the whole a four-piece rock band on stage.
http://oneicinema.com
/
https://www.facebook.com/oneicinema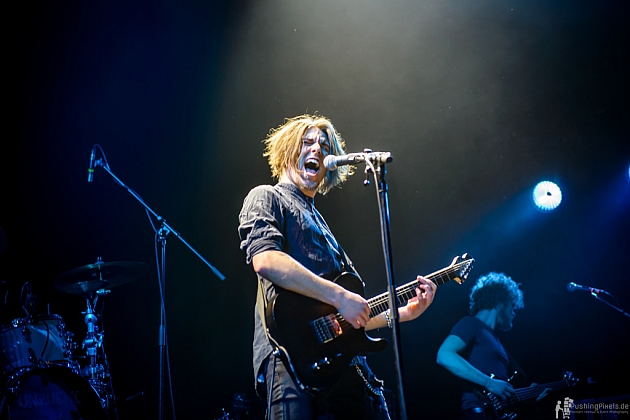 Music & Performance

My next highlight were ONE I CINEMA. The opener reminded me of the "queen of the damned" soundtrack, right from the first notes of their intro (Check out
https://youtu.be/y-GUTVnxK1c
and
https://youtu.be/VupY3frRZfE
). Like most openers, ONE I CINEMA did not interact much with the audience but focused on the music and tried to play as many songs as possible. I was surprised that their cd was not available at the merch stand. The dark atmosphere of their new metal thunder split the audience in half. A lot liked Marco´s fantastic voice and the extraordinary sound of ONE I CINEMA, others found it too complicated, not accessible enough. Good craftsmanship, well-structured songs, great voice and sound... not everyone's taste, but mine.
Rating

Music: 10
Performance: 8
Sound: 10
Light: 6
Total: 8.5 / 10
Unzucht

Starting their career some years ago at M'era Luna as winner of the newcomer contest, UNZUCHT have gathered a big fan base during the last years and surely playing at this festival must be something special for the band. From supporting bands like MONO INC., JENNIFER ROSTOCK, or STAHLMANN to sold-out club shows to a first chart success with their 2013 album 'Rosenkreuzer', the band now is really popular in the black scene. Their plain rock is enriched by some drama, melancholy, metal riffs and of course the charm of singer Der Schulz. The band's latest album 'Venus Luzifer' was released in 2014, followed by the EP 'Schweigen/Seelenblind' in summer 2015. UNZUCHT is De Clercq (guitar, electronics), Der Schulz (vocals), Blaschke (bass) and Fuhrmann (drums).
http://www.unzucht-music.com
/
https://www.facebook.com/Unzucht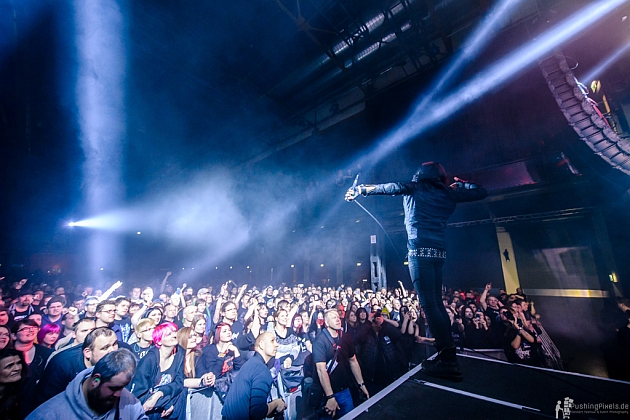 Music & Performance

UNZUCHT, the second supporting act (co-headliner to others), also pleased the other half of the audience, making music from the same genre like EISBRECHER: Neue deutsche Härte. New hard music from Germany. Their rock show featured, among others, songs from their first EPs 'Engel der Vernichtung'(self-release) and 'Deine Zeit läuft ab'. The short technical difficulties (the wireless guitar transmitter didn´t work) were papered over with a little help from the audience. The crowd was on fire when UNZUCHT played their hit 'Deine Zeit läuft ab'.
Setlist

01. Unendlich
02. Seelenblind
03. Deine Zeit läuft ab
04. Kettenhund
05. Schweigen
06. Unzucht
07. Nur die Ewigkeit
08. Engel der Vernichtung
Rating

Music: 8
Performance: 8
Sound: 10
Light: 7
Total: 8.3 / 10
Eisbrecher

The band that was founded by Alexx Wesselsky and Noel Pix, after leaving the band MEGAHERZ in 1993. Both bands, MEGAHERZ and EISBRECHER, were originally founded by the charismatic Alexx Wesselsky and are considered to be some of the most influential bands in their field (Neue deutsche Härte). EISBRECHER themselves don´t like the classification "NDH - Neue deutsche Härte" (New hard music from Germany) and instead describe their style as rock-music with electro parts. While many bands from this genre only seem to be copycats of RAMMSTEIN, EISBRECHER successfully created their own style. The latest album 'Schock' was released in January 2015. EISBRECHER is Alex Wesselsky (vocals), Noel Pix (guitar, producer), Jürgen Plangger (guitar), Rupert Keplinger (bass) and Achim Färber (drums).
http://www.eis-brecher.com
/
https://www.facebook.com/eisbrecher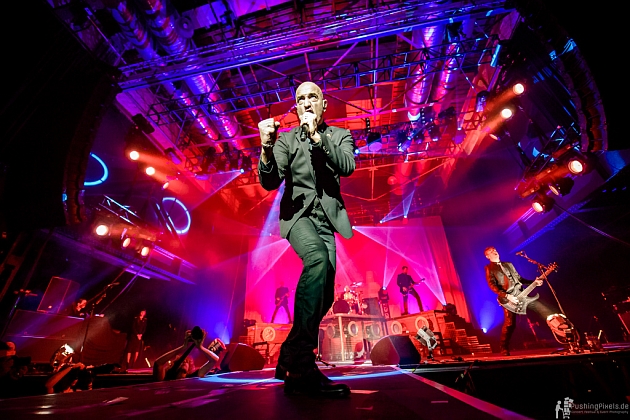 Music & Performance

At exactly 21:25, EISBRECHER entered the stage in pitch darkness and one by one was illuminated by a single spot, revealing them like dress men in the finest suits. The stage was turned into a ship, props like spyglasses with light made perfect eye catchers and the palladium was turned into a wild musical storm which EISBRECHER crossed cool and calmly. EISBRECHER played a two hour set. Perfectly choreographed and scheduled. Nothing was left to chance. Maybe, just maybe, a little too much playback for my liking and a lot of old songs to "please the ladies" (the rate was 3 or 4 women to 1 man), like 'Die Engel' and 'Herzdieb'. Perfect light, perfect sound, perfect show. Almost too perfect. It rained snow and gold, EISBRECHER dollars and ice bears. Alexx gave away his tie and a euro-flag, having the audience under control throughout the show.
Setlist
01. Verrückt
02. Willkommen im Nichts
03. Augen unter Null
04. Fehler machen Leute
05. Mein Blut
06. Leider
07. Amok
08. Prototyp
09. Himmel, Arsch und Zwirn
10. Herzdieb
11. Wir sind Gold
12. Angst?
13. Eiszeit
14. Die Engel
15. 1000 Narben
16. Miststück (Megaherz cover)
---
17. Volle Kraft voraus
18. Vergissmeinnicht
19. This Is Deutsch
20. Ohne Dich
Rating

Music: 8
Performance: 10
Sound: 10
Light: 10
Total: 9.5 / 10
Full Gallery

All pictures by Markus Felix (
http://www.pushingpixels.de/
)
See also (all categories):