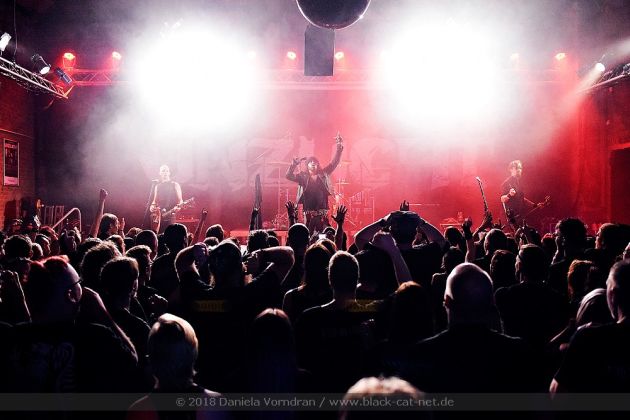 Kulttempel, Oberhausen, Germany
20th April 2018
Unzucht & Sündenrausch
"Wow, there are definitely way more people here than last time" - yes, you're right, Mr. Schulz. Since their first gig in the Kulttempel in October 2015, the popularity of German Dark Rock band UNZUCHT increased immensely. So there was a long queue in front of the venue in Oberhausen opening its doors at 8 pm on this sunny Friday. Consequently the support act could not complain about the amount of people who witnessed their gig.
Sündenrausch
SÜNDENRAUSCH
come from Hamburg. The original five-piece line-up founded the group in 2011. After playing some Pop-Rock tunes for two years, the band split up in 2013. One year later SÜNDENRAUSCH started again with a completely new concept and sound. In the studio, they just consist of two members. For concerts, singer Kira and guitarist Michael get support by a bassist and drummer. The duo released one album called 'Sündstoff' in 2015 and an EP called 'Schwarz wie Ebenholz' the year after that. www.facebook.com/suendenrausch / www.suendenrausch.de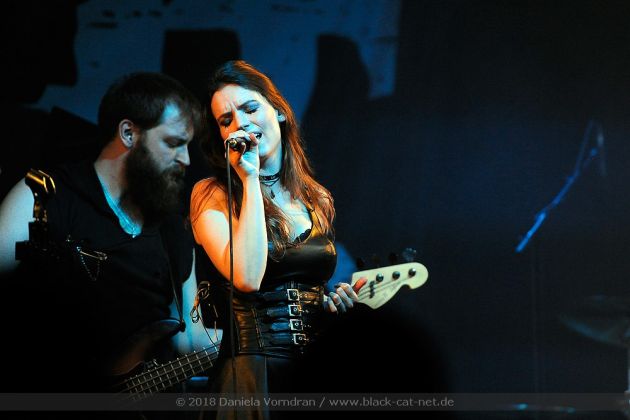 Music & Performance
They describe their music as "black romantic pop-metal compositions" - and that's a pretty accurate description. In better moments SÜNDENRAUSCH remind of genre-heroes THE BIRTHDAY MASSACRE, in worse moments they sound like German Schlager with typical simplistic lyrics. Overall, the 45-minute-gig was ok, they definitely got some potential.
Setlist
01. Cinderella
02. Heroin
03. Böser Wolf
04. Freier Fall
05. Feuerregen
06. Serenia
07. Winter
08. Schwarz wie Ebenholz
09. Wunderland
Rating
Music: 6
Performance: 6
Sound: 6
Light: 6
Total: 6 / 10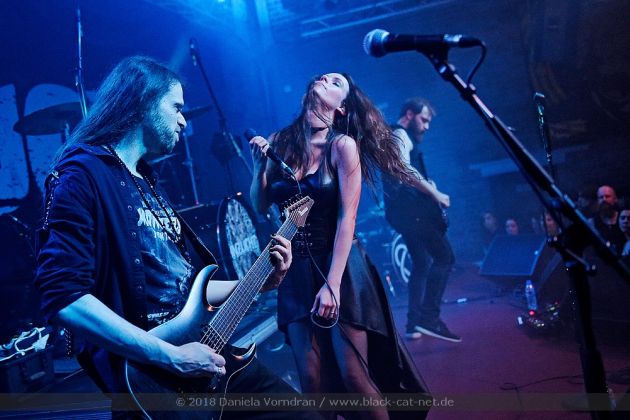 Unzucht
UNZUCHT
come from Hanover, Germany. Founded in 2009 and consisting of Daniel Schulz (vocals), Daniel De Clercq (guitar, vocals), Alex Blaschke (bass) and Tobi Fuhrmann (drums), they released four albums moving musically between Goth Rock, Metal and Electronica since then. www.facebook.com/Unzucht / http://unzucht-music.com
Music & Performance
The current tour was a special one for UNZUCHT. They played their 2013-debut album 'Todsünde 8' in full length. Some songs were never played live before, some other were included in the set for the first time in years. So there was a lot of excitement in the audience - and UNZUCHT delivered.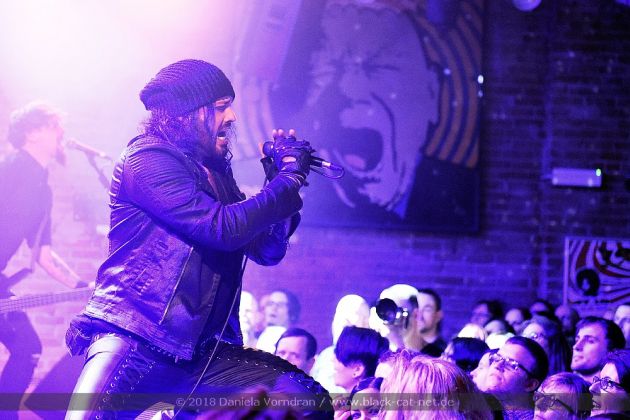 'Todsünde 8' is full packed of club hits like 'Engel der Vernichtung', 'Deine Zeit läuft ab' or 'Kleine geile Nonne' with crisp staccato guitar riffs and pulsating synths. But there are also some really atmospheric tunes (like the opener 'Wie alles anfing') and beautiful ballads. The atmosphere in the small club was fantastic. Nearly everyone sang along loudly. After 60 minutes and 14 tracks UNZUCHT filled up their setlist with five newer tracks. 'Widerstand', 'Lava' and 'Ein Wort fliegt wie ein Stein' pleased the fans of the most recent album 'Neuntöter', 'Nur die Ewigkeit' and 'Mit dir oder ohne dich' from the second LP 'Rosenkreuzer' closed a stunning show at 11.20 pm. Schulz repeatedly requested the people to make noise - and Oberhausen made a lot of noise!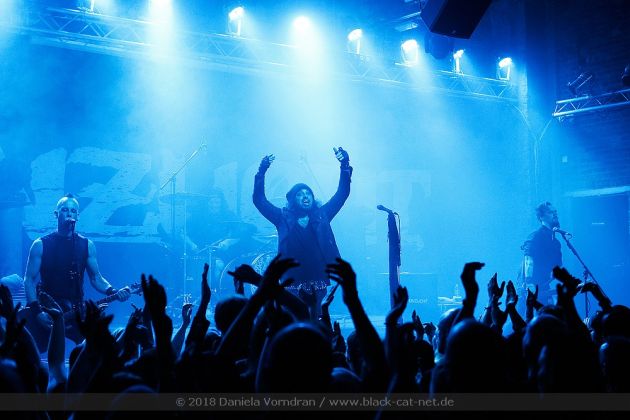 Setlist
01. Wie alles anfing
02. Allein
03. Engel der Vernichtung
04. Das belgische Inferno
05. Auf Sturm
06. Während wir uns verlieren
07. Unzucht
08. Meine Liebe
09. Todsünde 8
10. Der letzte Tanz
11. Deine Zeit läuft ab
12. Ungesicht
13. Schwarzes Blut
14. Kleine geile Nonne
15. Widerstand
16. Lava
17. Ein Wort fliegt wie ein Stein
18. Nur die Ewigkeit
19. Mit dir oder ohne dich
Rating
Music: 9
Performance: 8
Sound: 9
Light: 8
Total: 8.5 / 10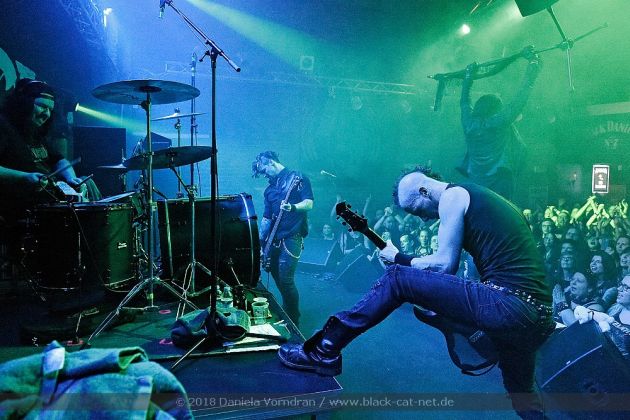 All pictures by Daniela Vorndran (
http://www.vorndranphotography.com
/
http://www.facebook.com/blackcatnet
)
See also (all categories):