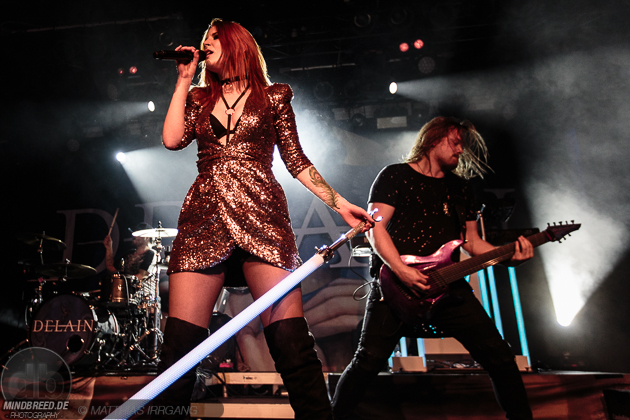 Astra Kulturhaus, Berlin, Germany
31st March to 2nd April 2017
Out of Line Weekender 2017 Day 3 with Delain, Hämatom, Xandria, Unzucht, Erdling, Aeverium

The third and last day of the Out of Line Weekender 2017 was a strong contrast to the first two days, fans of rock and metal sounds got their money's worth.
AEVERIUM played first, and delivered an astonishing show in the late afternoon. Most of us know this band from their newcomer performance at the M'era Luna Festival 2014 when they blew the audience away at midday. Sadly they played a rather short set, but it was worth every minute. ERDLING, again a newcomer band emerging from former STAHLMANN musicians, didn't have that much luck with their show. Despite having published their latest album 'Supernova' a few weeks ago, the show suffered from a lack of stage presence and a bad sound mix.
UNZUCHT and XANDRIA, on the other hand, performed their sets solid and well, with a good mixture of old and new songs. The audience loved the shows and partied frisky. Without curtain, but with the awesome 'Wir Sind Gott' intro, HÄMATOM started their show. After performing at the M'era Luna Festival 2016 in front of a frenetic audience, the four cardinal points supported IN EXTREMO at their "Quid pro Quo" tour last year. This time they brought the Astra Kulturhaus to boil over. With a huge amount of raised middle fingers and a choir of "leck mich, du wichser, leck mich" the show ended and left an exhausted but happy crowd behind.
At last, DELAIN entered the stage. The headliner of the Out of Line Weekender 2017 began with quite a delay due to technical problems during the changeover. But it was worth the waiting. With a well-balanced setlist they elated the audience. Banging heads, flying hair and deafening good metal - what a final! Thanks to the whole Out of Line crew and all bands for this great weekend - see you 2018!
All Pictures by Matthias Irrgang
See also (all categories):