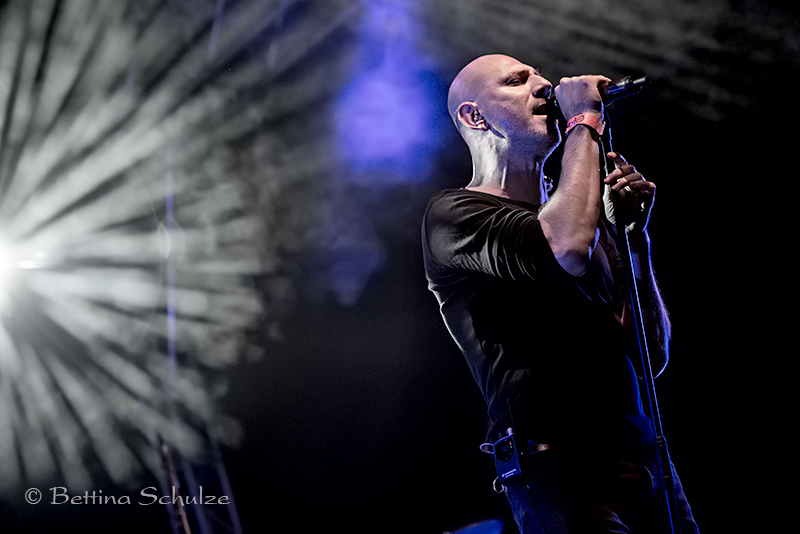 Leipzig, Germany
18th - 21st May 2018
Wave Gotik Treffen 2018 (Day 3) with Icelandic Chants, A Projection, Torul, Xenturion Prime, Elegant Machinery, Solitary Experiments, De/Vision, Vadot, Alphamay, Reichsfeind, Caisaron, Cellar Darling, Aeverium, Then Comes Silence and Zeraphine

Sunday is traditionally Synth Pop day for us. Since the Kohlrabizirkus was not available as venue this year, the program was transferred to the bigger Agra. But before we enjoyed the evening with electronic sounds, we first listened to Icelandic chants and to new Swedish band A PROJECTION. While halt of the team was dancing to synth music, the other half was up for Rock and Goth music.
Icelandic Chants - Alte Börse (Betty & Dani)
Today's WGT day started already at 1:30pm with Icelandic chants. After four years the music chamber in Leipzig has managed to bring the Icelandic artist Gudrun Ingimars with her program of Icelandic songs to Leipzig into the old stock exchange "Alte Börse". The references to the fair city are surprising since almost all of Iceland's leading composers were guests here during their studies. Today, the singer guided us through her program and lovingly presented the treasures of her homeland to the audience. The two Icelandic musicians Gudrun Ingimars and Anna Gudny Gudmundsdottir are cultural ambassadors who, in the 100th year of independence of their homeland on their tour of Germany, build on the connection and thus celebrate their debut at the WGT. However, Anna Gudny Gudmundsdottir could not be there and was represented by the outstanding pianist Lars Jönsson from Sweden. Gudrun and Lars played pieces of Jon Thoroddsen, Steinn Steinarr and Halldor Laxness. In the end, the singer grabbed a gentleman who already looked like a Viking, from the audience for a dance. Additionally, there was also a beautiful encore, 'Land der Träume. Icelanders, when they are away from home, always have some homesickness for their homeland… It was a great finale!
A Projection - Volkspalast (Dani)
Next, from Icelandic sounds to Post Punk, a big jump. At 3.15pm, the Post Punk / Darkwave band A PROJECTION from Stockholm was entering the stage at the Volkspalast's Kuppelhalle. I saw the band for the first time at last year's NCN and they already convinced me totally. A PROJECTION is a very young quintet from Sweden with unbelievable likes for Post-Punk and New Wave and does not sound Scandinavian at all but rather very British. A PROJECTION was launched in 2013. Dark, yet aggressive, impulsive and danceable is their sound, with a lot of emphasis placed on hook lines and refrains. It is cool, unapproachable, lifted, melancholic, depressive - or even depressed… there are a lot of tags you could give their sound. Post Punk at its finest, a very rhythmic and melodic sounds with an expressive singer reminding me from time to time of Ian Curtis or Kristoffer Grip, the former singer of AGENT SIDE GRINDER. It was a very good show with a great video visuals. You really should listen to this band! Recommended! Really! Fans of INTERPOL, CHAMELEONS or JOY DIVISION/NEW ORDER will surely love it! // http://aprojection.com / https://www.facebook.com/aprojectionband
Torul - Agra (Dani)

From Volkspalast we drove to the Agra, where Mark Benecke, Elvis and Oliver Klein led us through the program. At 5pm, Slovenian electro-pop band TORUL started the evening with powerful, melodic beats ranging from Synth Pop to Darkwave. Once more, the deep warm voice of front man Maj underlined by atmospheric sounds with trance elements on a floor of wafting beats filling the air. After the vocalist Jan Jenko left the band, now Maj seems to be finally really confident on stage. Almost immediately everyone was dancing. The trio is a guarantee for a fine set of soulful electronic music which makes their audience cheering and dancing every time. And the Agra audience was no exception. // http://www.torul-recordings.net / https://www.facebook.com/torul
Xenturion Prime - Agra (Dani)

The next act from Scandinavia was probably not known to many attendees. But maybe CODE64 rings a bell? XENTURION PRIME was born from the ashes of CODE64. Bjørn Marius Borg and Hasse Mattsson formed the band in 2013 to continue their mission to create epic electronic music. In 2017 they were joined by Cathrine Räisänen Andersen. Debut album, 'Mecha Rising', was released in 2014, while the follow-up, 'Humanity Plus', is available now. Musically, the band combines Industrial and Synth Pop with powerful club music and epic cinematic soundscapes. The sound is futuristic and forward thinking but has a strong connection to the past. I am sure, also the WGT audience was convinced by the different Synth Pop sound. // http://www.xenturionprime.com / https://www.facebook.com/xenturionprime
Elegant Machinery - Agra (Dani)

After Swedish synth poppers ELEGANT MACHINERY announced the disbanding of the project in the year 2011, Robert Enforsen continued to make music by himself collaborating with other bands and giving solo performances with session musicians. But in 2016, EM was back with a different line-up. Now the trio was back on the big Agra stage with their rousing Synth Pop show, enhanced by a fabulous light show and video projections. And still, the charisma of Robert is convincing and taking the audience away. I saw many happy faces singing along to the catchy songs. Even though there were some problems during 'Bounce', the positive energy never faded. // https://www.facebook.com/elegantmachinery.band / Setlist: 01. Intro / 02. Shattered Grounds / 03. Entwined / 04. Hard to Handle / 05. Hard Rain (Watching You) / 06. Strange Behaviour / 07. Black Town / 08. Process / 09. I Say / 10. Feel the Silence / 11. Bounce (Hype cover) (aborted) / 12. Bounce (Hype cover) (aborted again) / 13. Bounce (Hype cover) / 14. Move / Encore: 15. Save Me
Solitary Experiments - Agra (Dani)

Next band on stage was SOLITARY EXPERIMENTS. During the whole day and especially before the show, the band handed out little paper flags to the audience, so that the people could always wave them during the show. The German Electro band from Frankfurt /Oder was already founded back in 1994 by Michael Thielemann and Dennis Schober. Almost twenty years after the inception of SOLITARY EXPERIMENTS the album 'Phenomena' managed to enter the German charts and their popularity boosted furthermore since then. Besides Dennis and Michael, the line-up of the band is completed by Markus Schmidt on keys and during their live shows by Frank Glaßl and Sebastian Gauff on drums and percussions. All are wearing the trade-mark red shirts with black ties. The audience in the Agra was celebrating the Synth Pop they got served by the five-piece and of course people were waving their little paper flags. Solid performance! // http://www.solitaryexperiments.de / https://www.facebook.com/solitaryexperiments // Setlist: 01. Trial and Error / 02. Immortal / 03. Pale Candle Light / 04. I am / 05. No Salvation / 06. Delight / 07. Crash and Burn / 08. Point of View / 09. Rise and Fall / 10. Epiphany / 11. Stars
De/Vision - Agra (Dani)

The final Synth Pop performance came from DE/VISION, who started the set with new songs. The band is not only celebrating its 30th anniversary this year, they are also presenting their new album 'City Beats' on June 22. Their show at WGT presented a few songs out of this album. Good to introduce new music, but maybe not the best choice to start a festival set with new songs. It took a while until the audience was into the show. When the older classics like 'Your Hands on My Skin' or 'I Regret' followed later, the audience slowly thawed out and joined in. Along to the old gems, people were singing and dancing along. Overall, I had the feel that the stage of Agra was maybe too big for the show of DE/VISION. I rather prefer seeing them in the intimate setting of a smaller club. // http://www.devision-music.de / https://www.facebook.com/DEVISION-24741337633 // Setlist: 01. Intro / In the Still of the Night / 02. They Won't Silence Us / 03. Rage / 04. Essence (Extended Version) / 05. Time to Be Alive / 06. Synchronize (Extended Short) / 07. The Brightest Star / 08. Who Am I / 09. I'm Not Dreaming of You / 10. Where's The Light? / 11. Your Hands on My Skin / 12. I Regret / 13. Flavour of the Week / Encores: 14. mAndroids / 15. Try To Forget / 16. Last Goodbye
Vadot - Non Tox (Judith & Marko)

The band VADOT was founded in 2009. The debut album 'In Gottes Namen' was released in 2010. Numerous concerts, among others together with CASSANDRA COMPLEX and some performances at the Wave Gotik Treffen, have long since elevated the Berliners above the status of an insider tip. The start of the concert at lunchtime was delayed a bit. VADOT was the only band on this day in the Non Tox for which a drum set had to be built up, probably one of the reasons why they had to go on stage first. Due to the beautiful weather, many fans arrived at the Non Tox early as all concerts here took place under the open sky. VADOT offered a great mix of Rock, Electro and New Wave. The fans had a lot of fun at the concert, dancing and dreaming. A successful beginning of the WGT Sunday. // http://www.vadot.de / https://www.facebook.com/Vadot-327167303967892 // Setlist: 01. Lied Der Nacht / 02. Falscher Glanz / 03. Kaputt / 04. Ministry Of Truth / 05. Die Schönste / 06. Sonst Nichts / 07. Hochmut / 08. Nacht Im August / 09. Motten / 10. Räuber Und Prinzen / 11. Kreuzfeuer / 12. EC / 13. Ein Schritt Vor…
Alphamay - Non Tox (Judith & Marko)

ALPHAMAY, originating from Osnabrück in Germany, was founded in 2012. Their first album was released in 2014. The two musicians are also members of the band ROZENCRANTZ. The location became more and more crowded as ALPHAMAY began their concert. In addition to older pieces, the band also presented quite new songs from their album 'The Mellow Collie', which was released shortly before the Wave Gotik Treffen. Really nice Electro Pop, which animated the audience to dance. There was a moment of shock when singer Henning slipped one leg into the gap between the stage and the loudspeaker. Luckily, he recovered quickly. During the beautiful cover version of, 'On The Other Side' everyone was dancing and singing loudly together. A great performance that will be remembered. // http://www.alphamay.de / https://www.facebook.com/electronicavantgarde // Setlist: 01. Intro / 02. The God Games / 03. Missing Me / 04. Serenity / 05. Decay Of A Dream / 06. Black Parasite / 07. On The Other Side / 08. Flat Earth Flat Head / 09. Low In Love / 10. C = 64 / 11. The Carousel / 12. Don't Go
Reichsfeind - Non Tox (Judith & Marko)

The Dark Electronic project REICHSFEIND was founded in 2011. The debut album of the band is called 'Living In Space'. The next band on the beautiful open air area in southwest Leipzig was REICHSFEIND from Frankfurt. They presented their beautiful Dance-Electro to a receptive audience who accepted the invitation to dance. Great, spherical Electro sound, including many songs with an earworm guarantee. There was room for a slightly quieter song in the set 'Soulpaint'. The cool, casual style and stage presence of singer Timo was also impressive. // https://www.facebook.com/Reichsfeind // Setlist: 01. Welcome To The World / 02. Soulpaint / 03. Mute / 04. Mountains / 05. Chasm Walk / 06. Fill The Void / 07. Stalker / 08. Dervish / 09. Detox
Caisaron - Non Tox (Judith & Marko)

In 2007, CAISARON released the debut album 'Own Way'. Among other things, they have performed live together with the band BLUTENGEL. The concert started with an intro in which singer Angela performed beautifully with transparent giant wings. The first song of the performance was 'Return' from the album 'Reflection' from 2015. Singers Frank and Angela sang in German as well as in English. Both of them harmonised perfectly on stage and of course presented their new single, 'Never End', which will be released shortly after the Wave Gotik Treffen. A varied show that was a lot of fun for both the band and the audience. // http://www.caisaron.de / https://www.facebook.com/caisaron // Setlist: 01. Intro / 02. Return / 03. Two Souls / 04. Jagdzeit / 05. Never End / 06. Don't Run Away / 07. Preis Der Wahrheit / 08. Alone / 09. Dream / 10. Forgotten Souls / 11. Knebel / 12. Einsam / 13. Deep Inside
Cellar Darling - Felsenkeller (Judith & Marko)

The Swiss based band CELLAR DARLING has been around since 2016. Their debut album from 2017 is called 'This Is The Sound'. The musicians of the band were former members of the band ELUVEITIE. The Felsenkeller was well filled at the beginning of the third day of the festival with harder music expected. The music of CELLAR DARLING could be described as Melodic Metal with Folk influences. For some songs, singer Anna played a hurdy-gurdy and a violinist was a guest of the show on some songs. The songs were well received by the audience who loved Anna's great voice. They also played their latest single, 'Avalanche'. The band demonstrated their absolute joy of playing and unfortunately, the 50 minutes of their performance went by way too fast. When she asked the audience if they would like to hear one more song, everyone responded extremely positively. They said goodbye with the words: "It was a pleasure and honour to play here". // http://www.cellardarling.com / https://www.facebook.com/cellardarlingofficial
Aeverium - Felsenkeller (Judith & Marko)

AEVERIUM is an alternative metal band from Germany. It was founded in 2013 and had its first live performance a year later. Meanwhile, they have already conquered the very big stages and played among others at the M'era Luna Festival and Wacken Open Air. Now the Felsenkeller was almost full when this very popular band took over the stage. AEVERIUM played a great mix of songs from their previous two albums, 'Break Out' and 'Time'. Of course, the ballad 'Home', in which singer Maurelle's beautiful voice comes into its own, was not missing. All hands were in the air during this song, and it looked pretty damn good. During 'Brave New World', there was even a lot of simultaneous head-banging! After a series of faster songs, singer Marcel had to rest for a few seconds. He told us he was out of breath due to his size and this self- depreciation came across as very likable. The song 'What Are You Waiting For' was sung together with the audience as a choir. It was really a great atmosphere and it was clear the band did not want to leave the stage. The band thanked the fans very much and said that Leipzig is one of their absolute favourite cities. // http://www.aeverium.com / https://www.facebook.com/aeverium // Setlist: 01. Do You Remember / 02. Distrust / 03. Hunted / 04. The Otherside / 05. Home / 06. Brave New World / 07. Veil Of Shadows / 08. What Are You Waiting For / 09. Break Out / 10. Heavens Burning
Then Comes Silence - Westbad (Judith & Marko)

THEN COMES SILENCE is a band from Stockholm in Sweden and were founded in 2012. In 2016, they signed a contract with the well-known German label Nuclear Blast. This is the first time that Westbad has been used as Wave Gotik Treffen venue. Built as a bathing site some 90 years ago, it is now the venue for concerts and the shape of the hall gave all spectators a good view to the stage. The concert started with the song 'Magnetic' from the current album 'Blood'. Their music is an interesting and varied mix of Gothic Rock and Post Punk. More and more fans poured into the location during the concert, which was now almost completely full. An absolutely great atmosphere with the stage shrouded in white light and a lot of fog. One of the highlights was the song 'Strangers', which also featured a video clip. At the end of the concert there was a lot of warm applause for the Swedes. // http://thencomessilence.com / https://www.facebook.com/thencomessilence // Setlist: 01. Magnetic / 02. Flashing Pangs Of Love / 03. Warm Like Blood / 04. Good Friday / 05. My Bones / 06. Death Rides / 07. The Rest Will Follow / 08. Spinning Faster / 09. Animals / 10. Cannot Hide / 11. She Loves The Night / 12. The Dead Cry For No One / 13. Strange Kicks / 14. Strangers / 15. Mercury / 16. She Lies In Wait / 17. Sweet Curls
Zeraphine - Westbad (Judith & Marko)

German band ZERAPHINE has existed since the year 2000. Among other things, they supported the Finnish band HIM's Love Metal tour in 2004 and have performed at major festivals such as Highfield Festival and M'era Luna Festival. Their last album 'Whiteout' was released eight years ago. Performances by the Berlin band have become a rarity. The last joint appearance was at the NCN Festival eight months ago, so no wonder that the Westbad was full. Two weeks before the start of the Wave Gotik Treffen, the band was informed of a location change from the Agra to the Westbad. The good thing for the fans was that the band's playing time was considerably extended by the change. For the band that meant some extra work in the rehearsal room, because now they had to practice more songs. One of the songs put into the set at short notice was, for example, 'River Of You'. ZERAPHINE changed as usual between songs with German and English lyrics.
It followed the well-known as a video hit 'Still'. After that came 'Kaltes Herz' a song that has not been played live for a long time. During 'Be My Rain' almost everybody clapped along. ZERAPHINE also played songs that are not that easy live, such as 'Out Of Sight'. But apart from a cracked guitar string, it worked out wonderfully and the fans loved it. Two songs were added: 'I'll Follow You' and the sad 'Whiteout' at the end. Singer Sven said: "The sad song is at the end, so that the farewell itself is not so hard". It was a stunning 90 minutes from ZERAPHINE. The next chance to see the band live will be at M'era Luna 2018. // http://www.zeraphine.de / https://www.facebook.com/ZeraphineBand // Setlist: 01. Lieber Allein / 02. Die Macht In Dir / 03. No More Doubts / 04. Niemand Kann Es Sehen / 05. Ohne Dich / 06. River Of You / 07. Die Welt Kann Warten / 08. Still / 09. Kaltes Herz / 10. Halbes Ende / 11. Be My Rain / 12. No Tears / 13. Fang Mich / 14. United And Lost / 15. Inside Your Arms / 16. Out Of Sight / 17. Louisa / 18. Die Wirklichkeit / 19. Sterne Sehen / 20. I'll Follow You / 21. Whiteout
Pictures by Marko Jakob, Betty Schulze and Daniela Vorndran (
http://www.vorndranphotography.com
/
http://www.facebook.com/blackcatnet
)
See also (all categories):