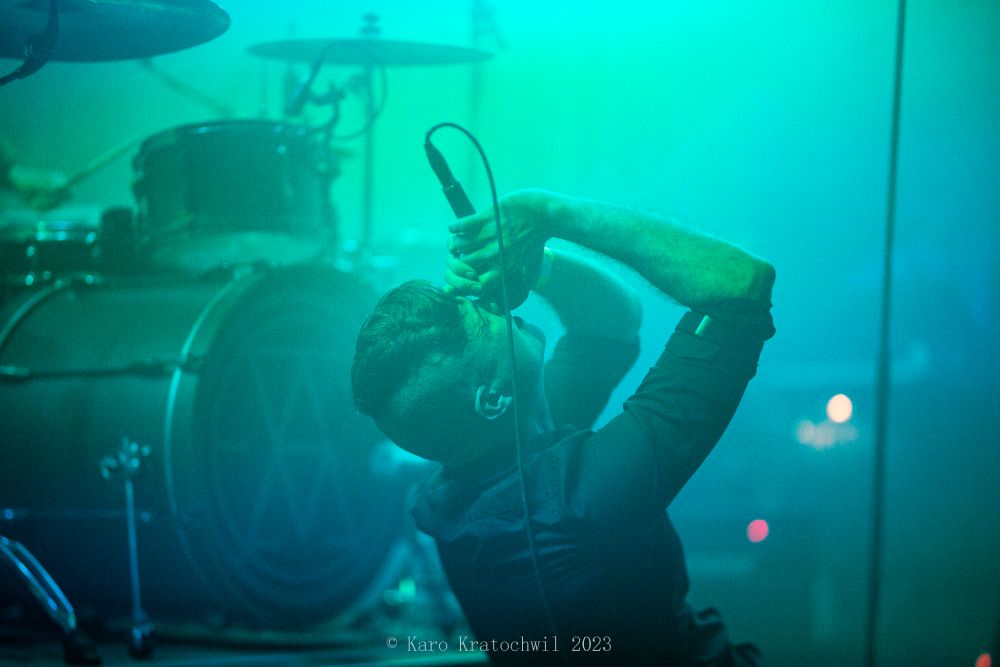 Lido, Berlin, Germany
29th April 2023
Dark Spring Festival 2023 with A Projection, Traitrs, Golden Apes, Saigon Blue Rain, Dear Deer, The Spearmint Sea

Berlin is always fantastic to visit - a vibrant, energetic city full of incredible, talented, inspiring people, art and a specific alternative vibe - it keeps enchanting and surprising me every time I visit. During the last weekend of April, the weather was fantastic, the air filled with the first warm harbingers of spring and Lido Club hosted the most fabulous event Dark Spring Festival. Six amazing bands, each presenting a slightly different shade of dark music, secured the most amazing and incredible night. The festival celebrated the darker side of the music scene, focusing on genres such as post-punk, darkwave, and gothic rock. It was a highlight of the alternative music scene in Berlin, with its unique atmosphere and eclectic line-up of performers.
The Spearmint Sea

THE SPEARMINT SEA, a project hailing from the United States, took to the stage, and from the first note, it was clear that the audience was in for a treat. The music that emanated from the scene was nothing short of mesmerizing, a masterclass in atmospheric soundscapes and guitar mastery that left the audience spellbound. As the band played on, the dim, mysterious lights that adorned the stage added to the already great atmosphere, creating an otherworldly vibe that transported the crowd to a different dimension. The melancholic tones of the music were balanced perfectly with the occasional spice of drums, guitars, and bass, and the melody line that wove its way through the music was both haunting and beautiful.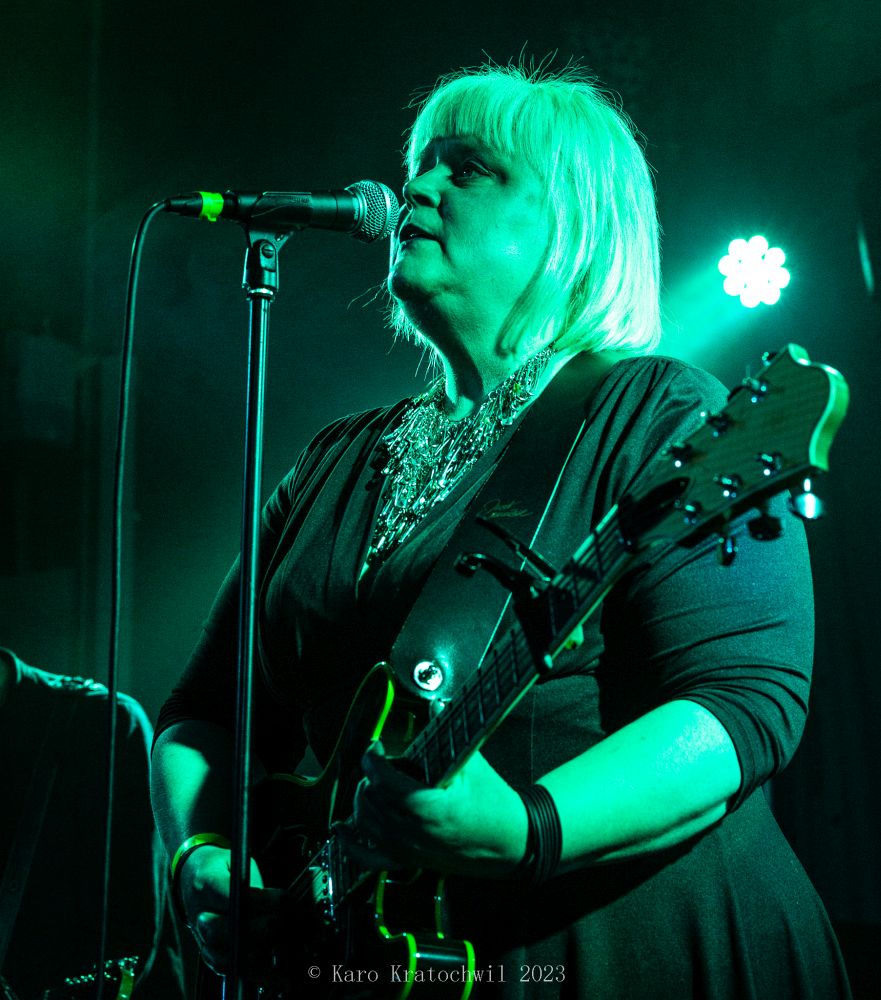 But it wasn't just the impressive music - the lead vocalist of THE SPEARMINT SEA, Nichole Ferree, commanded the stage with a powerful, passionate performance that left the crowd in awe. Their vocal range was on full display, and every note was executed with precision and feeling. All in all, The Spearmint Sea delivered a performance that was nothing short of breath-taking. The combination of atmospheric music, guitar mastery, and powerful vocals made for a show that was both nostalgic and fresh.
Setlist

01. Whys & Hows
02. Three
03. Antennas
04. Time Will Tell
05. Signs & Coins
06. Medicated Divers
Rating

Music: 8
Performance: 7
Sound:8
Light: 8
Total: 7.8 / 10
Dear Deer

One of the festival's most unforgettable moments was the stunning performance by DEAR DEER, the dynamic duo composed of Claudine Sabatel Sourdeval and Federico Lovino. Their electrifying vocals, pounding bass lines, and mesmerizing electronic beats created an exhilarating atmosphere that left the audience spellbound. What made this concert genuinely remarkable was the duo's impeccable showmanship. Claudine's vibrant and effortless stage presence was imposing, as she effortlessly connected with the crowd and drew them into the performance. Their music and performance were like a cascade of shining stars that delighted and captivated the audience, delivering an incredibly vibrant sound that entranced and energized everyone.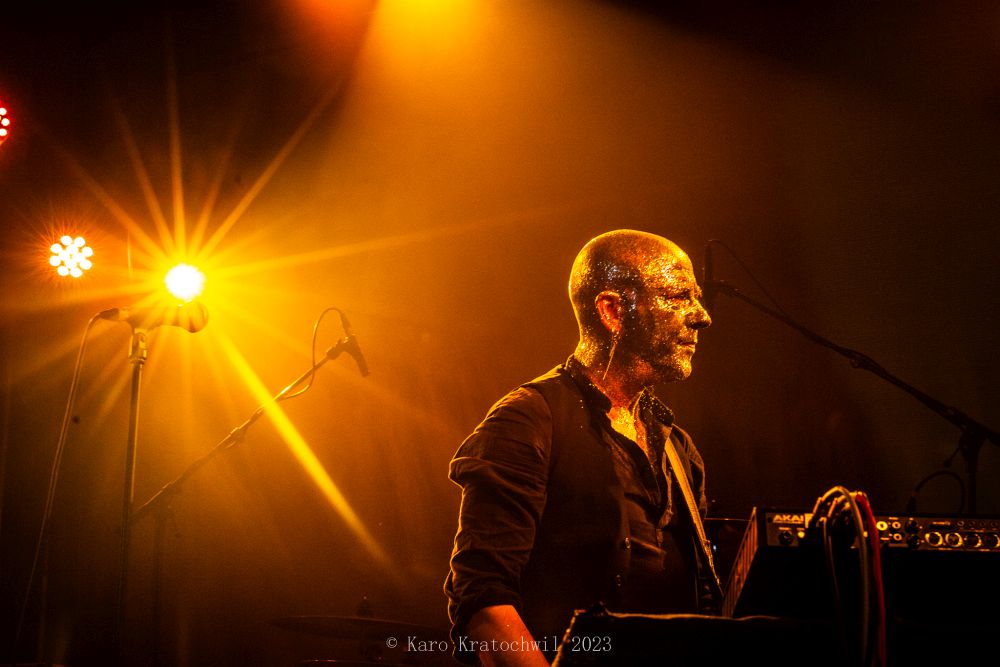 The unique harmony of their music and aesthetic sensibilities was also a significant advantage, making their performance a truly unforgettable experience. Overall, DEAR DEER's concert was a perfect blend of artistry, energy, and entertainment that left the audience feeling uplifted and inspired. It was a pure silver moment that I will surely remember for long.
Setlist

01. Jjr
02. Deux
03. Backward Groove
04. Plaster
05. Disco-Discord
06. Deadline
07. Thanatomorphosis
08. Joan
09. Claudine In Berlin
10. Love Like Capitalists
11. Dogflight
Rating

Music: 10
Performance: 9
Sound:8
Light:8
Total: 8.8 / 10
Saigon Blue Rain

One of the festival's other standout performances was by the Ethereal / Cold Wave band SAIGON BLUE RAIN, hailing from Paris, France. Originally known as STUPID BITCH REJECT, the duo of Ophelia and Franck Pelliccioli seamlessly blends their French roots with classic Post-Punk / Cold Wave sounds reminiscent of THE CURE and AND ALSO THE TREES, as well as elements of Ethereal Wave (COCTEAU TWINS, AUTUMN, THE SENSUALISTS) and Dream Pop (SLOWDIVE). What truly elevated their performance was the magnetic presence of Ophelia, whose stunning vocals and expressiveness left a lasting impression. Her theatrical and emotionally loaded stage presence, combined with the dynamic guitar work of Franck Pelliccioli and bass by Baptiste Bertrand, made for a perfectly executed performance that was both powerful and passionate.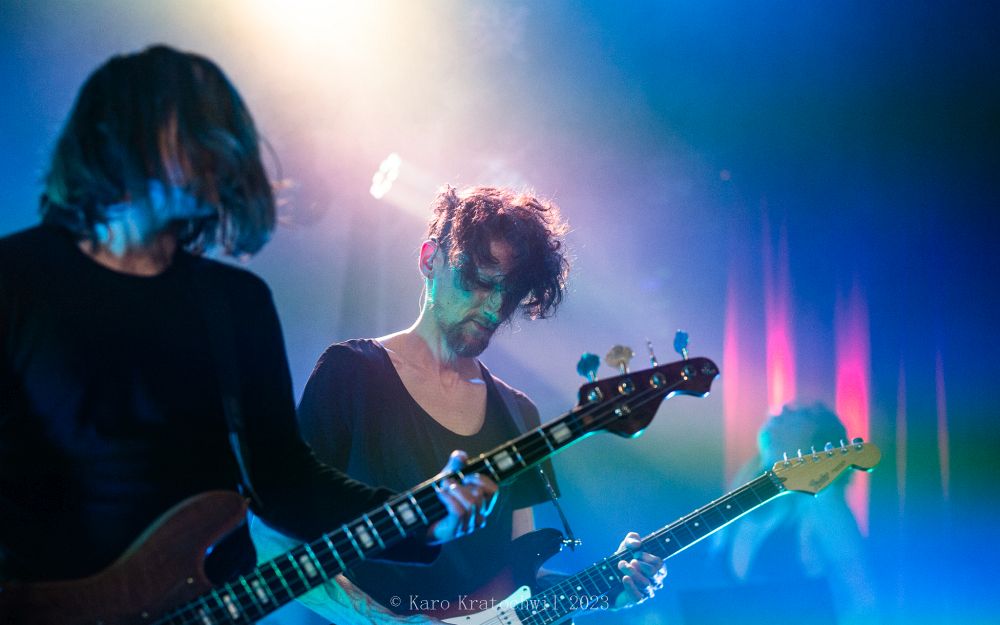 Their music is a masterful blend of fragile, dreamy, and powerful elements, resulting in a refined and complex sonic experience. The entire performance was a beautifully arranged display of musical finesse that left the audience absolutely hypnotized. Overall, SAIGON BLUE RAIN delivered a great show, and their exceptional creativity and captivating stage presence earned them a well-deserved round of applause. Bravo to this incredible project for providing an unforgettable performance.
Setlist

01. Oko
02. Still You
03. The King Is Dead
04. Fading Fantasies
05. Visions
06. J't'aime Pas
07. The Unknown
08. Pantomime
09. What I Don't See
10. Lady Bird (Return to the Asylum)
11. We Ask For Pain
12. Dolls Dresses
13. The Mort
Rating

Music: 9
Performance:9
Sound:8
Light:8
Total: 8.5 / 10
Golden Apes

Up next on stage were the GOLDEN APES, a long-time favourite of mine. Their concerts never fail to astound, showcasing guitar and bass mastery and drum power complemented by the one-of-a-kind vocal stylings of Peer Lebrecht. The band's instrumental prowess, particularly in guitar and bass, is matched only by their modest and minimalistic stage presence. The vocalist, hidden in dim lights and cigarette smoke, conjures images of small clubs cocooned in a haze of smouldering atmosphere. It is precisely this spare, minimalist style of performance that sets the Golden Apes apart and grants them their unique appeal. Rather than relying on excess or exaggerated performances, the GOLDEN APES' strength lies in their balanced and refined musicality. This approach allows for interpretation and a pure, personal music experience. Their sound poetry and the vocalist's immersive style, coupled with the excellent musicianship of the bassists and guitarists and the dynamic energy of the drummer, create a complexity and class that delights audiences every time.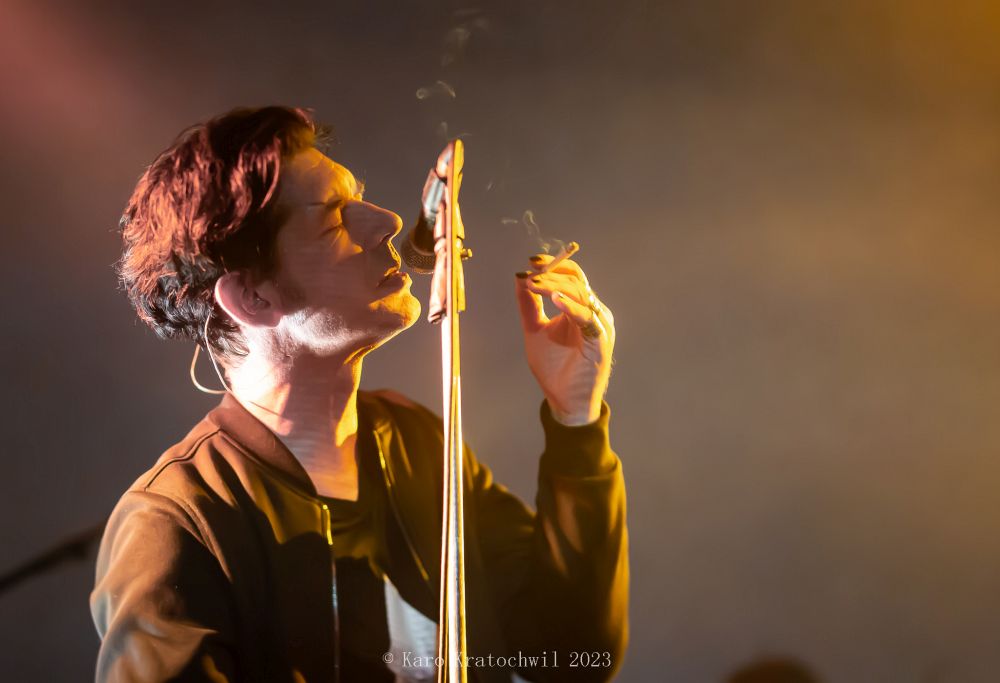 GOLDEN APES' music is emotional, energetic, reflective, personal, multi-layered, and complex. At the same time, their concert performances provoke thought and thrill with vibrating energy. This combination of cold and hot, refinement and vital qualities, is a hallmark of the band's unique style that never fails to captivate and delight. Brilliant, poetic performance.
Setlist

01. A New Days Down
02. Voykova [The Healing]
03. From The Sky
04. Grey
05. Hole
06. Verity
07. Hold Me
08. Ferryman
09. The Moment I Fell
10. Satori
Rating

Music: 10
Performance: 8
Sound:8
Light:8
Total: 8.5 / 10
Traitrs

I had been eagerly anticipating this concert for quite some time now. TRAITRS, a Canadian duo comprised of Sean Patrick Nolan and Shawn Tucker, are currently amidst a massive tour with VNV NATION, yet they displayed no indication of weariness. The performance was exuberant and dynamic, with music that skilfully weaved the most delicate of emotions into powerful and, at times, even dramatic sounds. The nuances of the music, ranging from subtle passages to intensely vibrant ones, combined with a harmonious blend of musical elements, created a result that surpassed my expectations. The gentlemen were in impeccable form, and the concert was the embodiment of what is most esteemed in TRAITRS - a musical and artistic honesty, a sensitivity to sound and texture, and an extraordinary level of talent.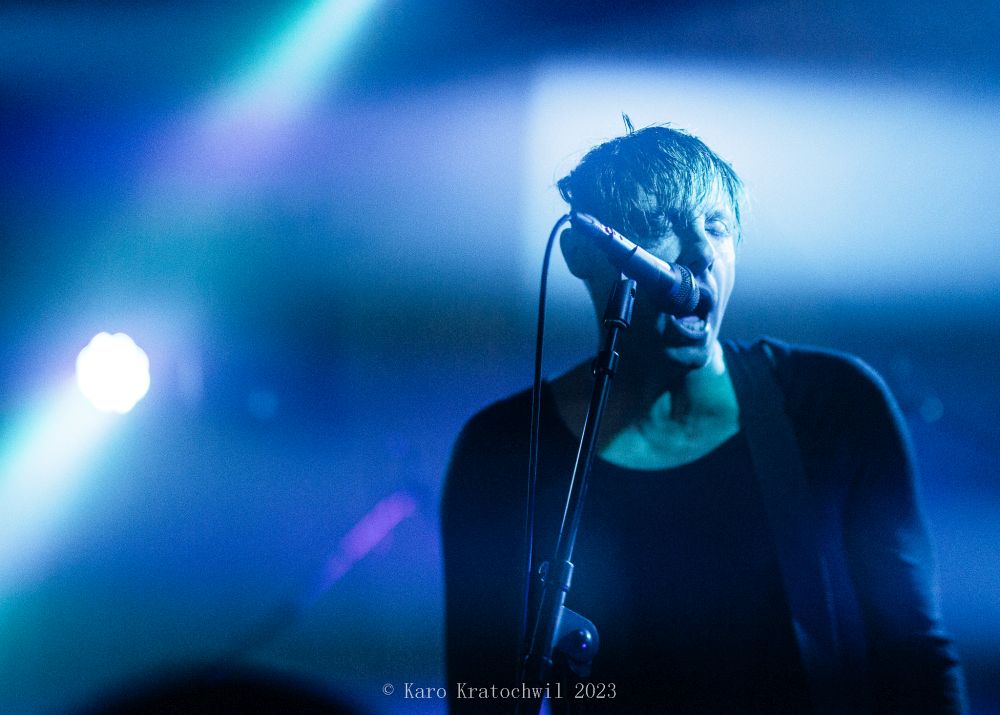 The lyrics and melodies were heart-wrenching, evoking a wide range of emotions with great intensity. The performance's sincerity and the artists' unwavering dedication made it an unforgettable and awe-inspiring concert. Thank you!
Setlist

01. Intro (Window From The Old House)
02. Oh, Ballerina
03. Mouth Poisons
04. Still From Her Sores
05. Magdalene
06. Ghost and the Storm
07. The Lovely Wounded
08. Prostitution
09. Youth Cults
10. Skinning
11. The Way Through A Bird's Love
12. Thin Flesh
Rating

Music: 10
Performance:10
Sound:8
Light:8
Total:9 / 10
A Projection

The final act of the evening was up to the mesmerizing Swedish Dark Wave / Post Punk prodigies, A PROJECTION. Their performance demonstrated the fusion of vibrant, energetic melodies and profoundly emotional and engaging stage presence. The interplay between their use of synth notes and dynamic, fast-paced rhythms was nothing short of sublime. The music was highly catchy and of impeccable quality, providing a perfect and invigorating end to the night. Of particular note were the frontman's remarkable immersion in his music and his sheer level of involvement throughout the concert.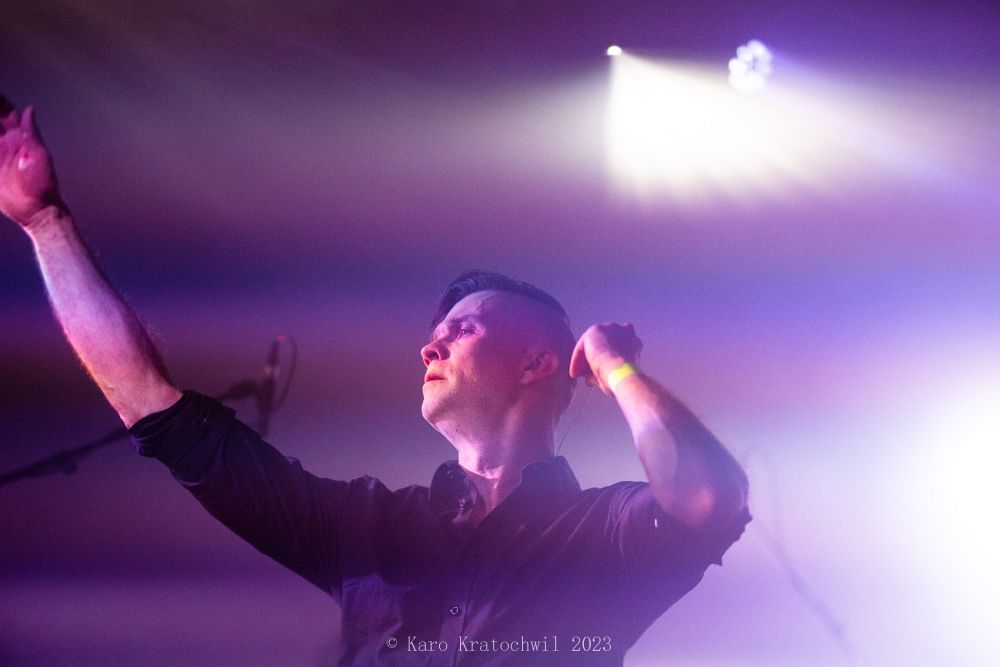 This, in turn, imparted a profound emotional weight to the performance, elevating it beyond the realm of mere dance energy and into a sublime experience that resonated with the audience long after the last notes had faded away. A PROJECTION's music and stagecraft were a testament to their talent and commitment to their art, leaving the audience awed and inspired.
Setlist

01. Careless
02. Regenerate
03. No control
04. I'm not here
05. Cover my eyes
06. Lucy shrine
07. Substitute
08. Confession
09. Paris-Stockholm
10. Anywhere
11. Darwin's Eden
12. Transition
13. I see no light
14. Something whole
15. Exit
16. Young days
Rating

Music: 8
Performance:8
Sound:8
Light:7
Total: 7.8 / 10
After party was led by DJane Nina Door & DJ Jakob (Cold Beat Berlin)
All Pictures by Karo Kratochwil
See also (all categories):