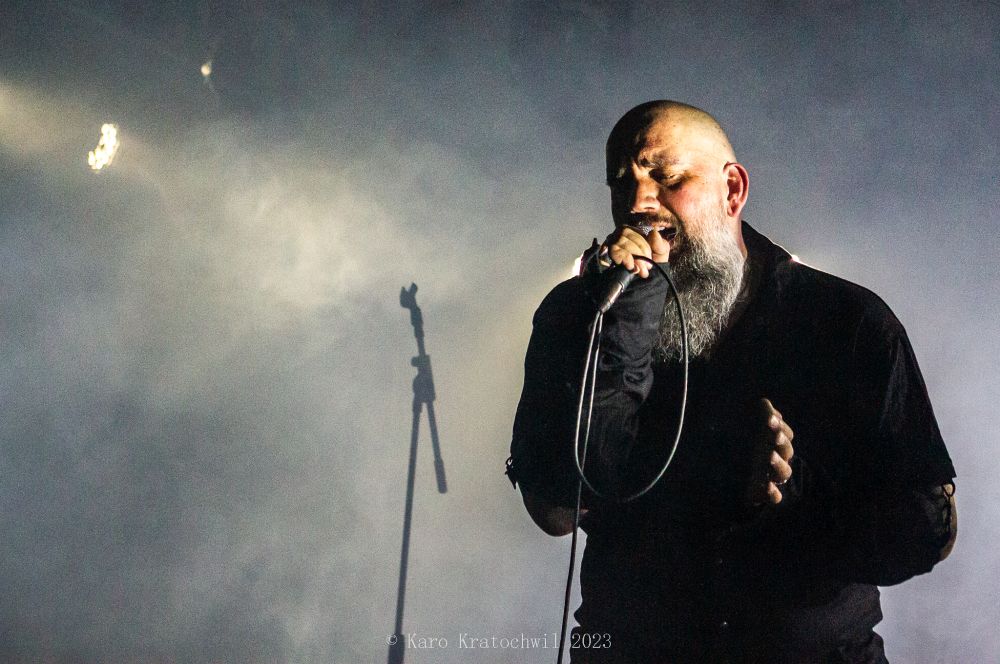 ORWOHaus, Berlin, Germany
31st March 2023
Dark Horizon Festival 2023 Warm-up with Scheuber, Fïx8:Sëd8, The Invincible Spirit, Angels & Agony

The city of Berlin is known for its rich and diverse music scene. On March 31st, it hosted Dark Horizon Festival Warm-up party at the ORWOHaus venue. Located in a distanced area of Berlin, Marzahn, ORWOHaus offers a space for numerous cultural events in the industrial, minimal interiors. The festival featured a line-up of talented bands, including SCHEUBER, FIX8:SED8, THE INVINCIBLE SPIRIT, and ANGELS & AGONY, who delivered electrifying performances. From Synth Pop to Industrial and EBM, the festival catered to a wide range of musical tastes, creating an outstanding experience for all who attended.



Scheuber

After parting ways with Peter Spilles and leaving PROJECT PITCHFORK, Dirk Scheuber started his own project. Performing as SCHEUBER, he creates a unique blend of Synth Pop and Darkwave music characterized by haunting melodies, atmospheric soundscapes, and emotive vocals. SCHEUBER's live performances are known for their high energy, and they have gained a devoted following within the electronic music scene.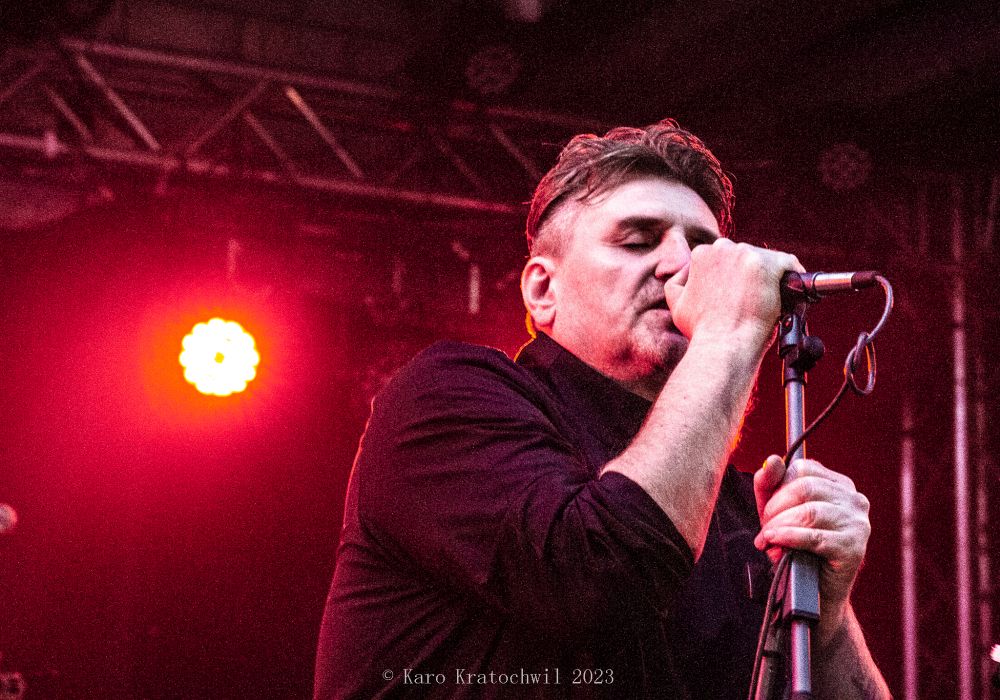 Music & Performance
In Berlin, the project managed to create a captivating and vibrant atmosphere. The use of lighting effects and smoke enhanced the visual experience, and the band members, who are exceptionally skilled musicians, brought a high level of energy and intensity to the stage. Dirk Scheuber is a skilled performer who engages with the audience. Whether it's dancing to upbeat Synth Pop tunes or being swept away by emotional ballads, SCHEUBER's performances are a unique and invigorating experience and an absolute must-see for fans of electronic music.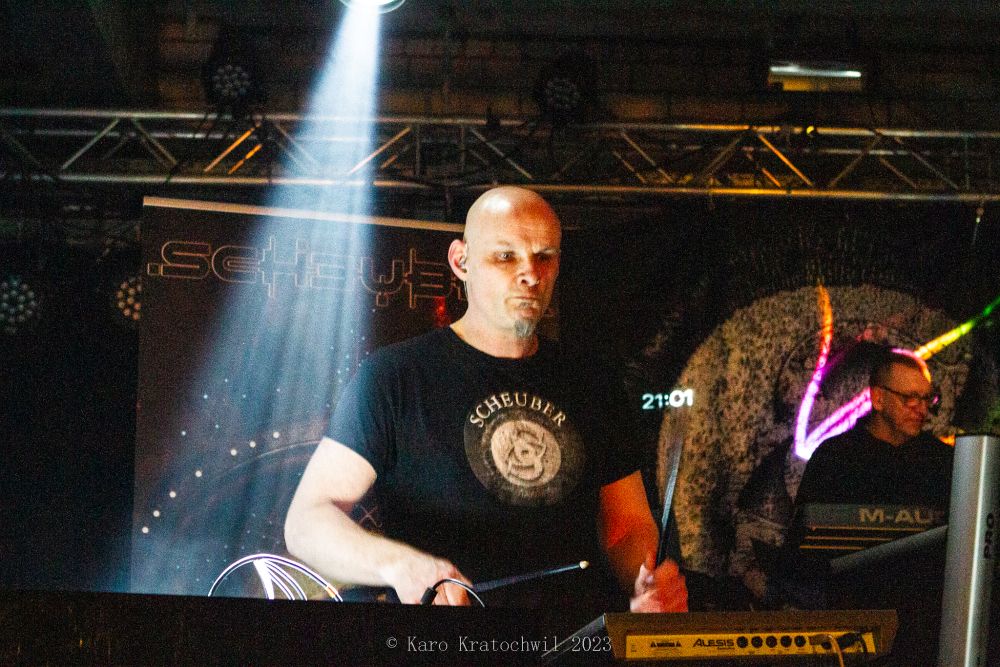 Setlist
01. Mindflux
02. Tetatest
03. Helium
04. Compulsion
05. Lotus
06. Get Well Soon
07. 3AM
08. Cosmic Voids
09. Prediction

Rating
Music: 9
Performance: 8
Light: 7
Sound: 7
Total: 7.8 / 10


Fïx8:Sëd8
FÏX8:SËD8 is a German Industrial / EBM band led by musician Martin Sane. On stage, he is accompanied by Vincent Uhlig, who is also involved in the project 2ND FACE. The band's music is an explosion of aggressive beats, distorted synths, and provocative, ambiguous lyrics filled with metaphors and analogies serving as an open yet specific book for interpretation. With their intense energy and exceptional performative skills, FÏX8:SËD8 has earned a well-deserved reputation as one of the most exciting and innovative bands in the industrial music scene. They continue to push boundaries and explore new sonic territories, and their last album, 'Inevitable Relapse', was a huge success. Currently, the band is working on their next album, 'Octogram', scheduled for release later in 2023.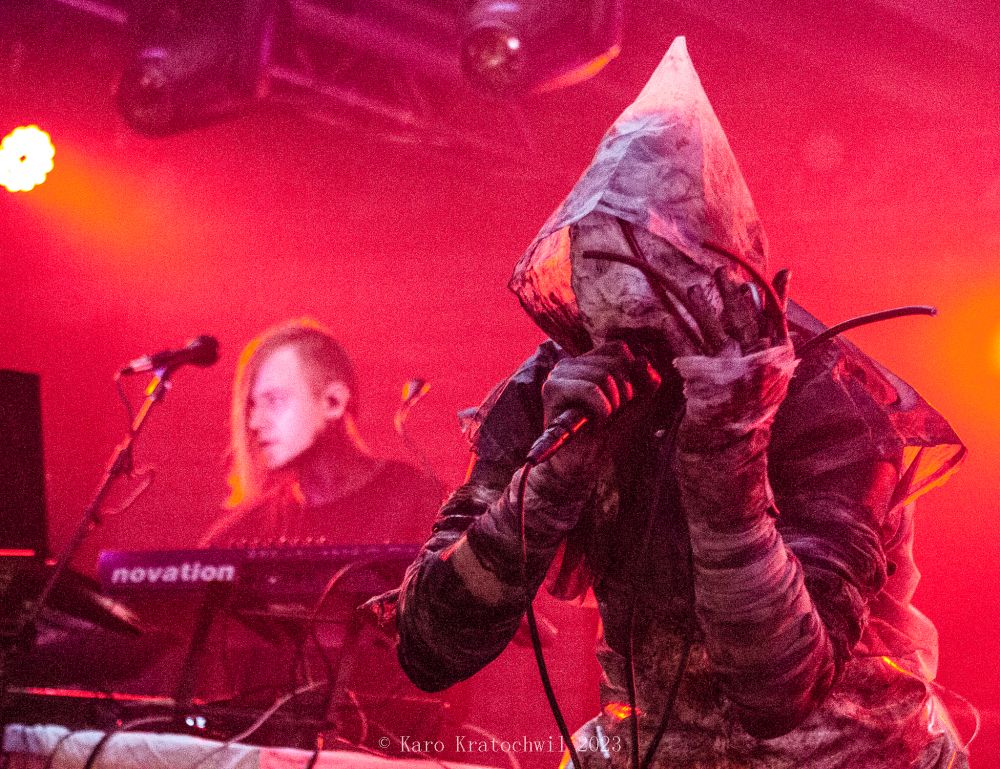 Music & Performance

Now, let's talk about the Berlin show. It was a night to remember as FÏX8:SËD8 took to the stage to deliver a stunning performance of their most appreciated and popular pieces. As a first-time attendee, I was completely blown away by the level of energy and theatricality that Martin Sane and Vincent Uhlig brought to the stage. With visual effects, props (including their famous female mannequins, a wheelchair, and a crutch), lighting, a peculiar, a bit horror-esque vibe and costumes, the band created a mesmerizing performance that was perfectly in sync with their uncompromising music. A specific story going behind the carefully directed performance was as engaging as thought-provoking and made one nothing but appreciate the effort invested in both the visual and musical layers of the concert.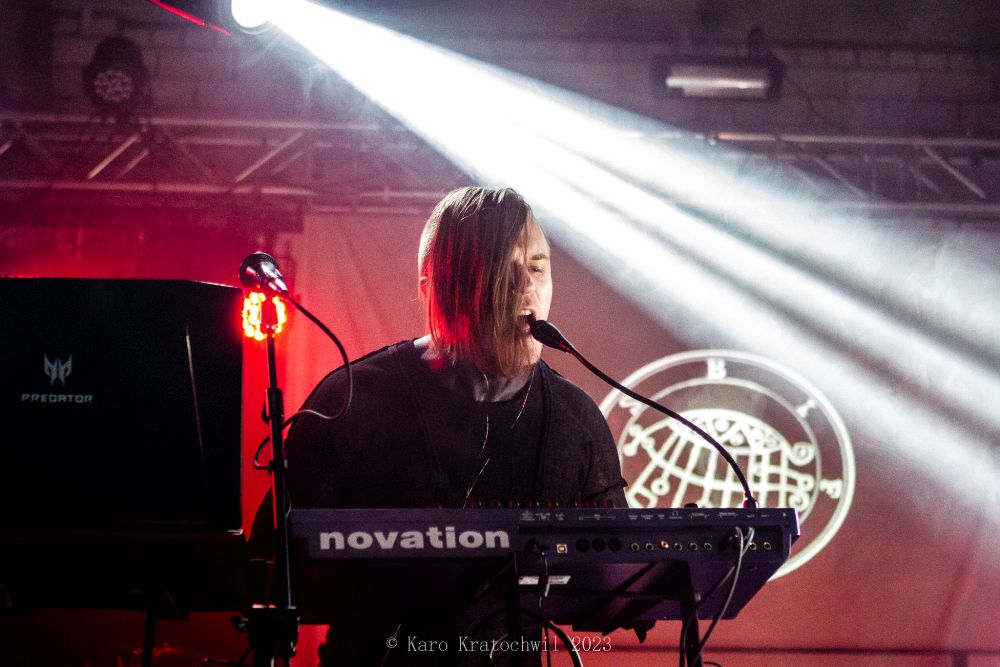 Martin Sane's magnetic stage presence had the audience in the palm of his hand, making their live show an immersive and admittedly thrilling experience. The extremities in sound, scenic and performative energy, combined with intensive, full-blooded imagery and hard-hitting, appealing, and dynamic music, worked seamlessly, thanks to the band's charismatic and personal engagement with the audience. It was a truly ass-kicking, vibrant show that left us all wanting more. Bravo, FÏX8:SËD8!
Setlist

01. Embolism
02. pROGNOSIs
03. Flatline Friend
04. The Needle
05. uNKNOWn tO vIRTUe
06. Baptism of Fire
07. Monolith
08. cHLORINe cLEAn tEARs
09. mETABOLITe
Rating

Music: 9
Performance: 9
Light: 8
Sound: 7
Total: 8.3 / 10
The Invincible Spirit

THE INVINCIBLE SPIRIT is a German Post-Punk / Industrial band that has been active since the 1980s. Their music is characterized by driving rhythms and powerful vocals. THE INVINCIBLE SPIRIT's live performances are known for their raw energy, and they continue to be a vital voice within the Punk and Industrial music scenes. INVISIBLE LIMITS, THE INVINCIBLE LIMIT, THE INVINCIBLE SPIRIT and THE MAO TSE TUNG EXPERIENCE are projects founded by Thomas Lüdke; INVISIBLE LIMITS and THE INVINCIBLE SPIRIT are German registered Trademarks by Thomas Lüdke. The band INVISIBLE LIMITS finally broke up in 2005. Since 2005 until today INVISIBLE LIMITS is run by Thomas Lüdke again as solo project.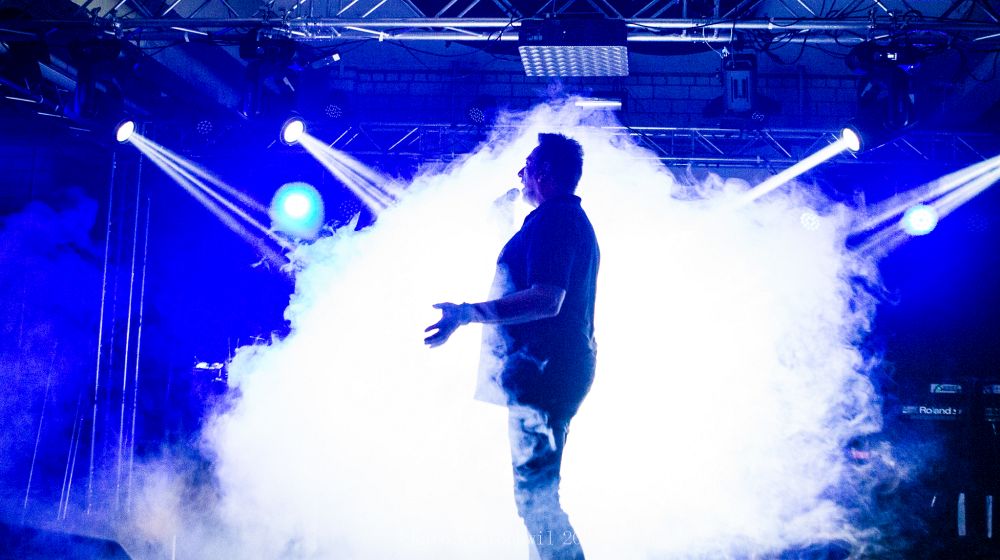 Music & Performance

THE INVINCIBLE SPIRIT put on a truly energetic and hypnotizing show in Berlin. Thomas Lüdke was accompanied on stage by absolutely stunning Anja Vorel, who supported his performance on synths. The duo performed in a flood of magical silver and blue lights and smoke, that made them look almost unreal. However, their energy, atmospheric soundscapes, and emotive vocals were very tangible and, in fact, one of the best combinations of Industrial, Synth Pop, and New Wave I've heard in a while. Even though I felt tired at that point in the night, I could not stop dancing. THE INVINCIBLE SPIRIT created a high-energy and danceable atmosphere infused with infectious rhythms and driving beats that got the crowd moving.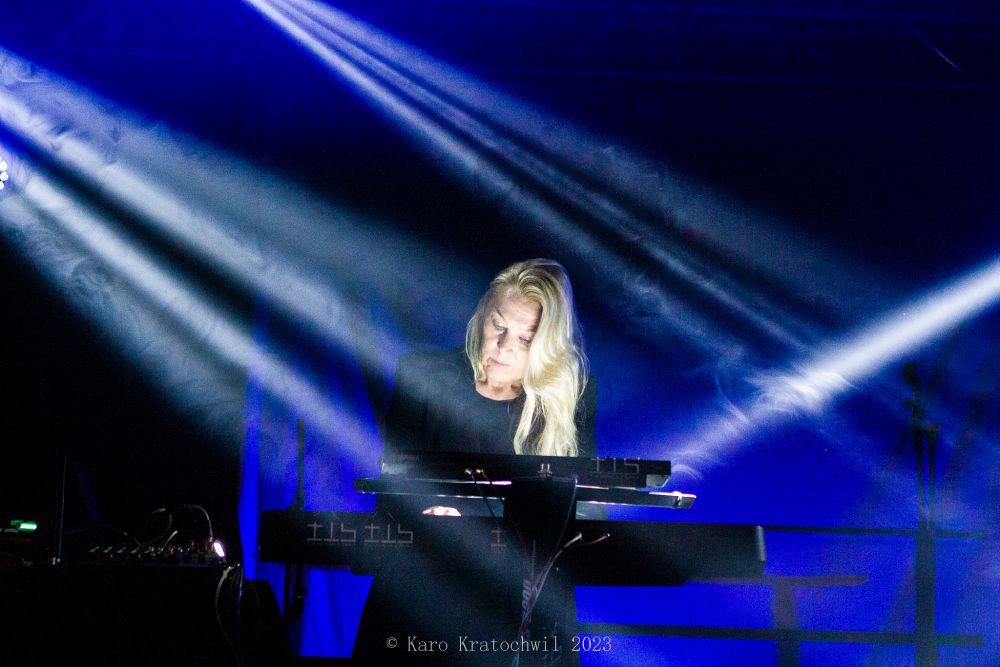 But despite the danceable nature of their music, THE INVINCIBLE SPIRIT's live show also had an emotive quality to it. The vocals were often intense and emotional, and the band's lead singer, Thomas Lüdke, was a charismatic performer who engaged with the audience and created a strong sense of connection. Great show indeed.
Setlist

01. A Nation
02. Contact
03. Atmosphere (Joy Division Cover)
04. Love is a kind of mystery (Invisible Limits)
05. Devil Dance (Invisible Limits)
06. Irregular Times (The Mao Tse Tung Experience)
07. Provoke you
08. Coming Home
09. Under Control
10. Hate You
11. Push!
12. Showdown
13. Anyway
(All songs written and performed by Thomas Lüdke except 'Atmosphere' written by Joy Division)
Rating

Music: 8
Performance: 7
Light: 8
Sound: 7
Total: 7.5 / 10
Angels & Agony

The last band to perform on stage was a Dutch Darkwave / EBM band ANGELS & AGONY. In their music, Reinier Kahle and Marco van Belle combine lush synth textures, intricate melodies, and soaring vocals to create a unique and haunting sound. Their music explores various themes, and they have gained a loyal fan base through years. The band was founded in 1995 and released two EPs before their debut full-length album, 'Eternity', in 2001. The album was produced by Ronan Harris of VNV NATION, and the band has since collaborated with notable artists such as Axel Ermes of GIRLS UNDER GLASS, DIORAMA, and [:SITD:]. Out of Line, a German label specializing in Industrial and Synth Pop electronic music, has been the band's record label since 'Eternity' was released. Metropolis Records has been the band's distributor in the US since 2004.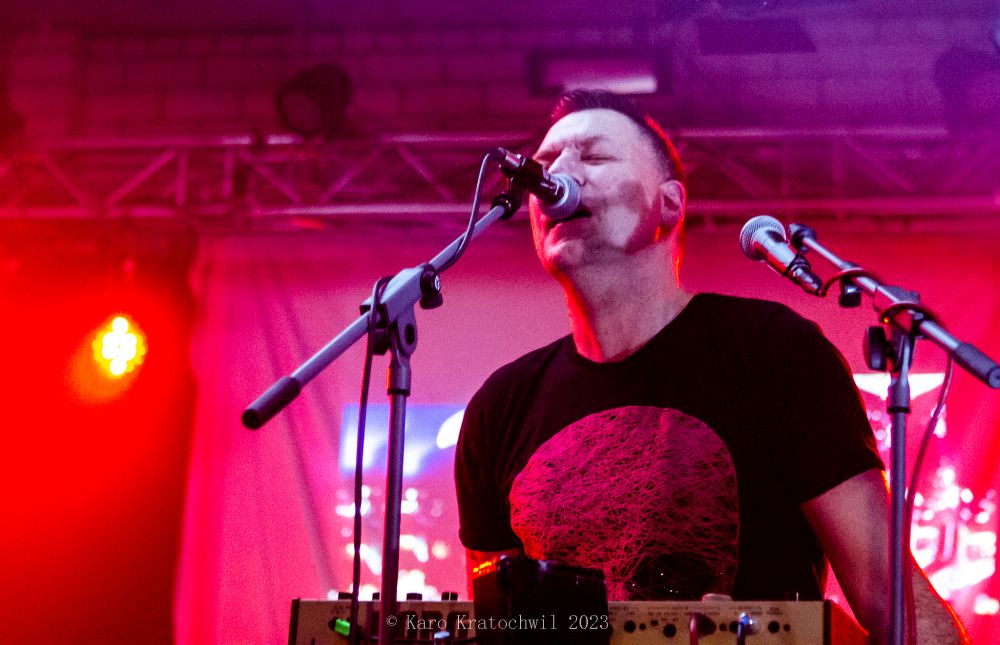 Music & Performance

ANGELS & AGONY's show was one of the most emotion-loaded concerts of the entire festival; it also included the least (if any) amount of aggressive dynamism the other bands were emanating with. In turn, they managed to create a genuinely alluring atmosphere that was incredibly engaging to their fans (actually, their appreciation was expressed loud and clear after the show with numerous "Zugabe" requests). ANGELS & AGONY's lead singer Reinier Kahle has a powerful and emotive voice and very specific, highly profound scenic manner that created a special bond between him and his audience. Excellent dancy and powerful closing to the concert night.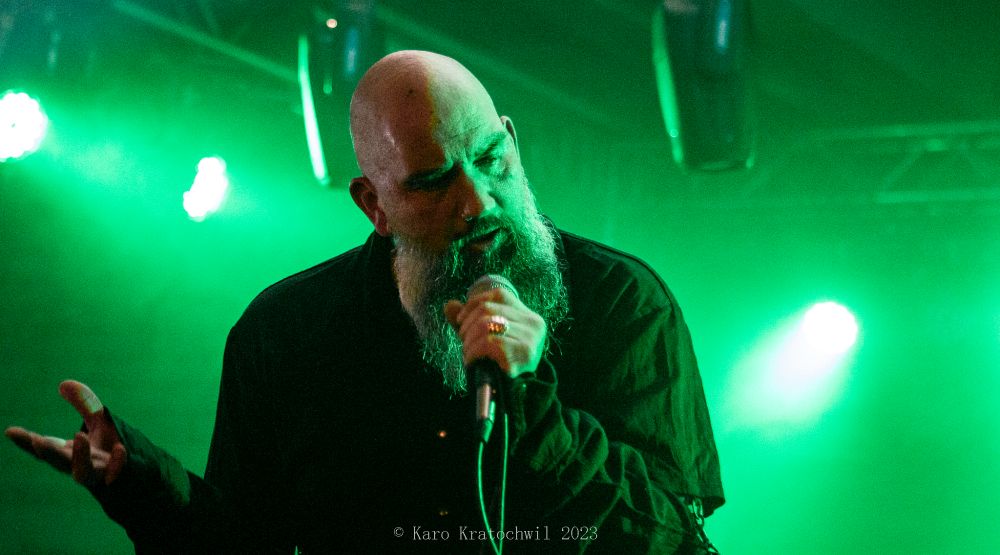 Setlist

01. Watchers
02. Horizon
03. Traveller
04. Division
05. Inside Sanity
06. Wreckage
07. Shine
08. Forward
09. Forever
10. Stronghold
11. Monument
---
12. Darkness
Rating

Music: 7
Performance: 7
Light: 7
Sound: 7
Total: 7 / 10
After the shows, there was an after party led by DJ Chris. L and DJ DMchen. All in all, it was a great event, being a cool warm-up for Dark Horizon Festival which will take place from 19th to 21st of May 2023 and the line-up includes STAHLMANN, WELLE:ERDBALL, IN STRICT CONFIDENCE, AGONOIZE, TORUL, RAMMSTEIN CZ, ALIENARE, CODE 64 and V2A.
All Pictures by Karo Kratochwil
See also (all categories):