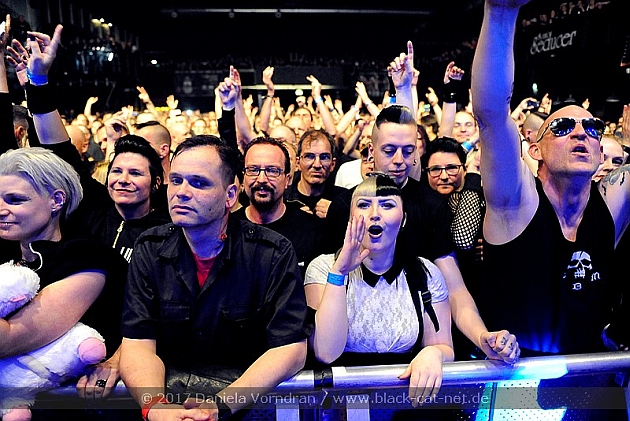 Turbinenhalle, Oberhausen, Germany
18th March 2017
E-Tropolis Festival 2017 with Amnistia, Wulfband, Centhron, Cryo, In Strict Confidence, The Invincible Spirit, Solitary Experiments, Tyske Ludder, Solar Fake, [X]-RX, Agonoize, Faderhead, Covenant, Neuroticfish, Front 242

It's safe to say that the E-Tropolis is by now one of Europe's biggest and most prestigious indoor festivals for EBM, Industrial, Electronic Pop, and anything else which is synthy and grouped under the Goth moniker. Since the E-Tropolis moved from Berlin to Oberhausen in the heart of the Ruhr area the reputation and appeal of the festival only increased. No surprise, as the Ruhr Valley is, with a population of 8.5 million, one of the biggest urban agglomerations of Europe and the Netherlands, Belgium and even France aren't too far away. So an international crowd was guaranteed on March 18th although most fans clearly came from the region, which has been known as a stronghold of the "dark" scene since the early 1980s.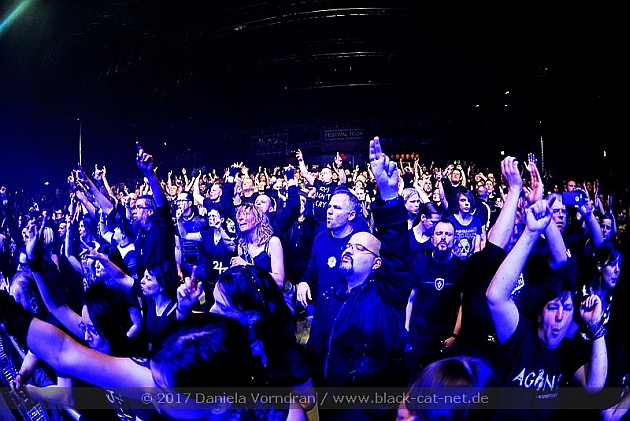 AMNISTIA from Leipzig opened the main stage punctually at 2 p.m. to shake the walls of the Turbinenhalle with their EBM but the first blow-off of the day was delivered by fellow EBM-heads WULFBAND from Sweden, who performed a highly energetic 30-minute set at the second stage. (Setlist WULFBAND: 01. Jetzt / 02. SMF / 03. Aggressivität / 04. Was für ein Fest / 05. Panik / 06. Attentat / 07. Weg / 08. 3,2,1 Nein). Back to the main stage with CENTHRON with new keyboard player Sandra S. and their kind of old-fashioned 90s Techno crushed by noisy distortion and garnished with furious shouts. On the second stage, next up were CRYO from Sweden. Martin Rudefelt and Torny Gottberg had some technical problems (like nearly every band on the small stage), but anyway the rolling bass lines, the pounding drums and the catchy hooks brought anyone's feet to wriggle.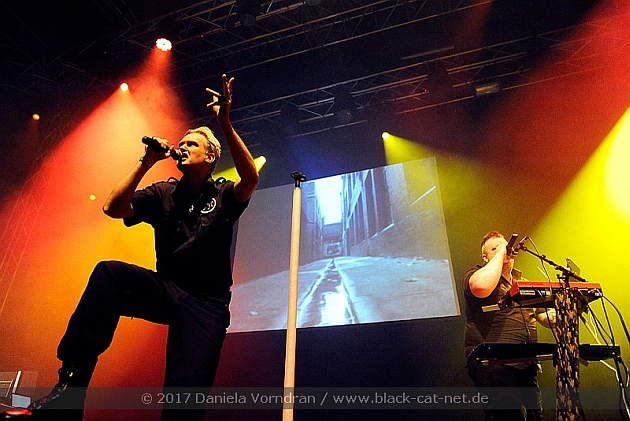 In Strict Confidence

IN STRICT CONFIDENCE promised a "vintage set" for the E-Tropolis and besides a selection of their classic songs that meant that they performed as a duo instead of a full band performance. A table with lots of synths and effect devices and mastermind Dennis Ostermann and his companion Jörg Schelte facing each other (instead of the audience) gave the gig a rather techno-ish feel, but only visually. Musically it was great retrospective of the dark, sophisticated Electro of their early days and hymns as 'Zauberschloss' and 'Industrial Love' still give you the chills today. Highlight was the closing 'Kiss Your Shadow' which proves that Ostermann and Schelte surely had a few FRONT LINE ASSEMBLY and SKINNY PUPPY records on their shelves when they started IN STRICT CONFIDENCE in 1992. // http://www.instrictconfidence.com / https://www.facebook.com/instrictconfidence // Setlist: 01. The Truth Inside Of Me // 02. Seven Lives // 03. Prediction // 04. Zauberschloss // 05. Industrial Love // 06. Engelsstaub / 07. Kiss Your Shadow // Rating: 8 / 10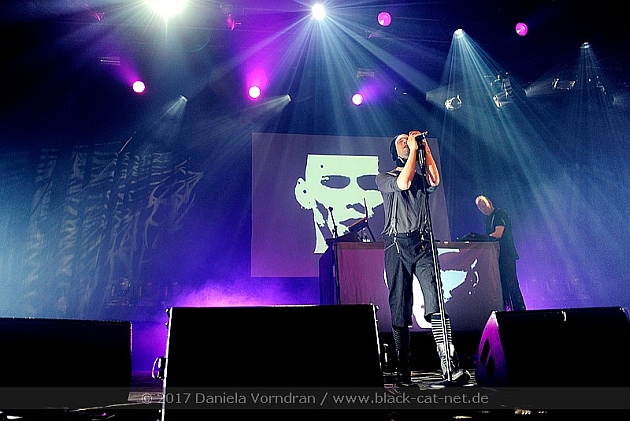 The Invincible Spirit
On the second stage of the Turbinenhalle one of Germany's longest-running EBM projects was scheduled next. Thomas Lüdke's THE INVINCIBLE SPIRIT is arguably best known for the club stomper 'Push' from 1986, which Lüdke released under the name THE INCIBLE LIMIT after he left the Synth Pop band THE INVISIBLE LIMITS. Confusing? Yep. But while THE INVISIBLE LIMITS are for the most part forgotten, Lüdke is still going strong as THE INVINCIBLE SPIRIT as a live act and recording artist after he had a break from music from 1994 to the year 2000. Backed up by two keyboard players, he performed his old school anthems and some newer Songs in his usual, rather introvert style. Lüdke is not too much of a showman, to be honest. Fade out the music and one could assume this is a gentleman doing a Power Point presentation to students right now. But probably Lüdke is just right to let the music say it all. And justifiably so: 'Devils Dance' pumps up the crowd just as much as 'Love Is A Kind of Mystery', with 'Atmosphere' he gives a nod to early heroes JOY DIVISION, and 'Push' truly brings the roof down. Of course it does! // http://www.invincible-spirit.de / http://www.facebook.com/InvincibleSpiritOriginal // Rating: 8 / 10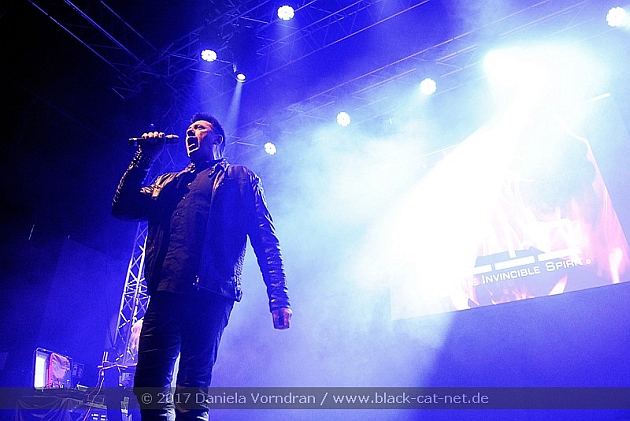 Solitary Experiments

SOLITARY EXPERIMENTS from Frankfurt already entered the main stage while THE INVINCIBLE SPIRIT were still playing their last tunes. Michael Thielemann and Dennis Schober started the Electro project in 1994 already but it took quite a while until the unremitting activities eventually yielded fruit. Almost twenty years after the inception of SOLITARY EXPERIMENTS the album 'Phenomena' managed to enter the German charts and their popularity boosted furthermore since then. Live on stage SOLITARY EXPERIMENTS swell to a five-piece, complete with two drummers/percussionists and all wearing the trade-mark red shirts with black ties. That this outfit evokes 'Man Machine' era KRAFTWERK is surely no coincidence! Musically SOLITARY EXPERIMENTS are a bit more lightweight than the Düsseldorf pioneers, and certainly softer and more melodic than some of the EBM acts at the E-Tropolis. VNV NATION, middle-era APOPTYGMA BERZERK and the more poppy side of COVENANT are probably good company for the music of SOLITARY EXPERIMENTS. After such a long time the band knows what they are doing, and they are here to entertain everybody. Dennis Schober is less a of a rock star but rather like the nice chap from next door who knows how to let everyone have a good time. Musically it was probably not edgy enough for my personal taste but if you go to such festivals to have some fun and dance, then SOLITARY EXPERIMENTS are just perfect for you. // http://www.solitaryexperiments.de / http://www.facebook.com/solitaryexperiments // Rating: 7 / 10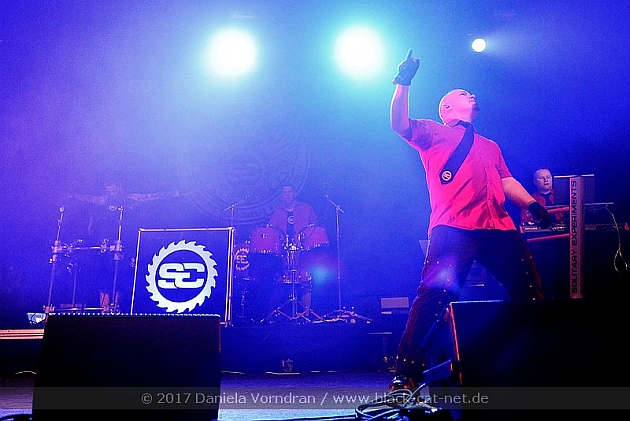 Tyske Luder

From the winsome, agreeable Future Pop of SOLITARY EXPERIMENTS back to the main stage and are much, much more sinister, provocative and relentless act: TYSKE LUDDER! The band from the very north of Germany is known to take no prisoners, and while some other musicians avoid politics like the plague, TYSKE LUDDER are happy to dive right into it. Tracks like 'Panzer' or 'Eugenix' need no explanations, or perhaps rather too many of them. Their lyrical roundhouse kicks are accompanied by merciless EBM beats, aggressive growls and striking synth melodies. A special treat was their cover of 'When Johnny Comes Marching Home', complete with a drummer boy prancing around on stage. Granted, TYSKE LUDDER can be a bit too blatant at times but at this year's E-Tropolis their in-yer-face attitude was a total win! It was everything AGONOIZE tried to be later on at the main stage, at least in my book. Out of the TYSKE LUDDER shows I've witnessed so far, this was the best. // http://www.tyske-ludder.de / https://www.facebook.com/tyskeludder // Rating: 9 / 10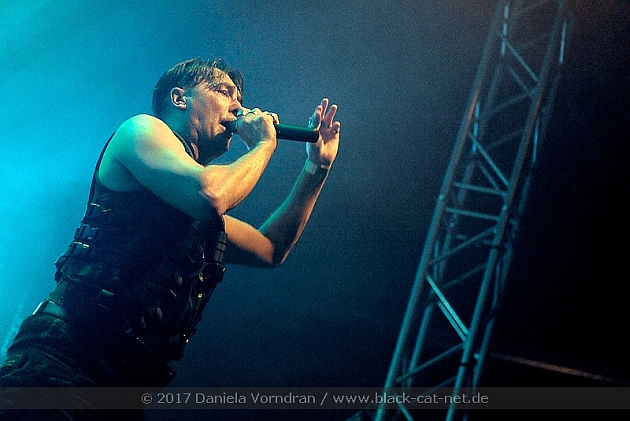 Solar Fake

Thanks to TYSKE LUDDER's captivating performance I unfortunately missed the start of SOLAR FAKE's show at the main stage. Sven Friedrich is of course famous for his Goth Rock bands ZERAPHINE and DREADFUL SHADOWS but with SOLAR FAKE he lets out his lust for electronics and beats. And with quite some success! Their last album 'Another Manic Episode' was close to make the top 30 sales chart and many SOLAR FAKE shows since then have been sold out. Makes you wonder why festival promoters don't give SOLAR FAKE better slots, and the packed main hall just underlined that. André Feller on the keys rounds off the live line-up, and while one guy behind a keyboard and another guy doing vocals is potentially a recipe for disaster this was surely not the case with SOLAR FAKE. It's probably because Sven Friedrich has more musicianship and charisma in him than a dozen contestants, not to mention his highly recognizable voice. From dancefloor-friendly tracks as 'Under Control' to more melancholic moments - Friedrich simply cannot deny his Goth roots - to harsher, distorted stuff like 'Parasites', SOLAR FAKE offered a diverse mix of great tunes with the KILLERS cover 'Somebody told me' as the icing on the cake.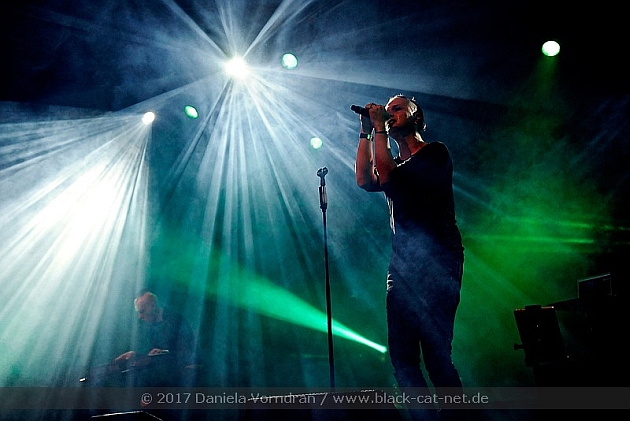 The enthusiastic crowd reactions were prove enough that SOLAR FAKE should ride up the bill a little bit next time. Do you hear me, promoters? // http://solarfake.de / http://www.facebook.com/SolarFake // Setlist: 01. Not What I Wanted / 02. Under Control / 03. Reset to Default / 04. Here I Stand / 05. Observer / 06. All the Things You Say / 07. I Don't Want You In Here / 08. I Hate You More Than My Life / 09. More Than This / 10. Parasites / 11. Somebody Told Me (The Killers cover) / 12. Where Are You / 13. If I Were You // Rating 9 / 10
[X]-RX

After the very enjoyable performance of SOLAR FAKE the journey goes to the second stage where the Techno/ Hardstyle duo [X-RX] made a lot of feet dance. Well, just not mine, I have to admit. Single tracks as 'Stage 2' may be fun at a club but I'm no person who would enjoy Techno-sold-as-Industrial-because-it's-distorted when it's more than two tracks in a row. Two beers in a row are just fine, so I headed to one of the bars. No rating here but feel free to check out. // http://www.facebook.com/XRxmusic/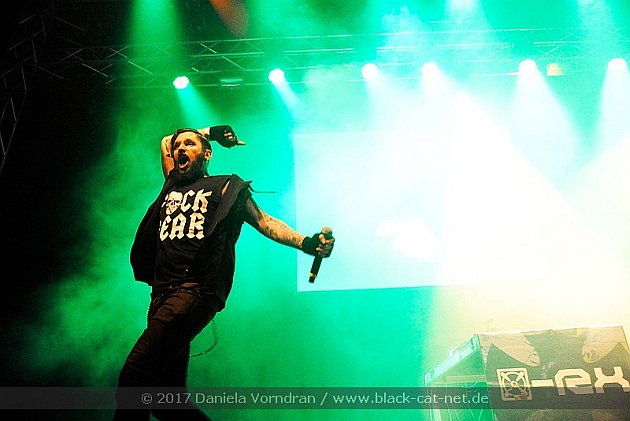 Agonoize

The next act at the main stage was announced by presenter Jens Domgörgen as "the most romantic act of the night" - well, that was bloody cheeky! And the show of AGONOIZE proved to be particularly bloody in many ways. And because AGONOIZE love to spill fake blood and other squirmy substances the snake pit in front of the stage was covered with plastic tarps. Yes, dear photographers, for the moment you have to shoot your pictures from elsewhere, e.g. the VIP balcony on the right. That the plastic-covered snake pit was a real trap became clear when keyboardist Oliver Senger ran to the edge of the stage during the intro to welcome the audience tough-boy-style, just to fell through the tarps in one swoop. Unintentionally he delivered the funniest moment of the night and since he apparently didn't hurt himself it's probably okay to chuckle still when thinking of this moment. After all, I envy his springiness as he was back on stage in no time to continue the show! Next time AGONOIZE should add to the warning "There will be blood on the dancefloor!" a precautionary "...and there's just air under the plastic covers", just to be sure.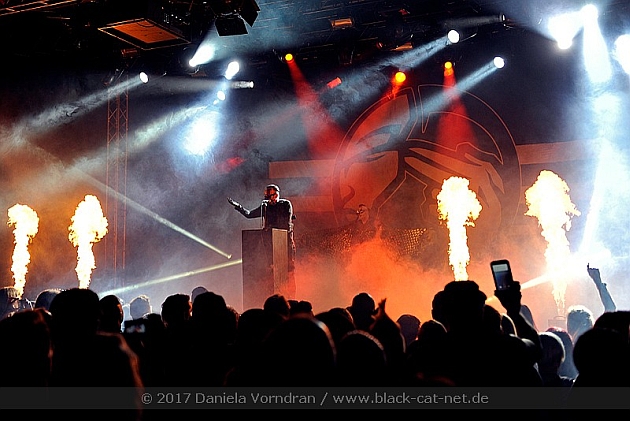 Anyway, AGONOIZE celebrated their Hellectro fest with all their classics, from 'Schaufensterpuppenarsch' to 'Femme Fatale' to the unavoidable 'Koprolalie' and 'Bis das Blut gefriert'. And of course there were various squirmy substances in various colours. Hours later you could still tell who was bold enough to be front row at the AGONOIZE by their blood-stained clothes. And towards the end of their set AGONOIZE became somewhat romantic nonetheless when they performed KISS' 'I Was Made For Lovin' You'. Well, that was a good one! The rest of the gig was a bit too much of distortion and too much bad-boy attitude for my taste, so halfway through the set I opted for the "two beers in a row" rule mentioned above. // http://www.agonoize.de / https://www.facebook.com/AgonoizeOfficial // Setlist: 01. Intro / 02. Resolution / 03. Opus Dei / 04. Schaufensterpuppenarsch / 05. Deutsch / 06. For The Sick And Disturbed / 07. Blut Sex Tod / 08. Bloodqueen / 09. Femme Fatale / 10. Gottlos / 11. Sacrifice / 12. Glaubenskrieger / 13. Staatsfeind / 14. Koprolalie / 15. I Was Made For Lovin' You (KISS cover) / 16. Bis Das Blut Gefriert // Rating: 5 / 10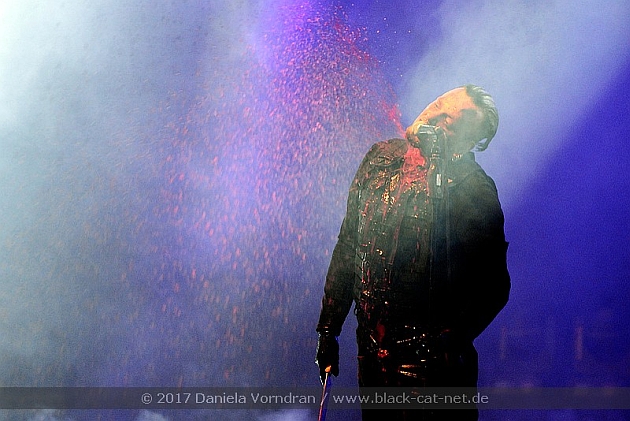 Faderhead

While AGONOIZE tried to make hell break lose on the other stage, FADERHEAD tried a different approach with just the same amount of stomping beats. Somehow I've managed to miss FADERHEAD live every time I had the chance to see them, and the gig at the E-Tropolis made me regret that. Big time! Backed up by awesome video screenings, FADERHEAD aka Sami Mark Yahya from Hamburg and his live collaborators Joel Meyer (Project SAM) and STRAFTANZ's Jörg Lütkemeier were there to have a party, even though they opened rather mid-tempo with 'Shame'. But with every song FADERHEAD pulled it more tight. It might be stretch to file FADERHEAD under Goth or Dark Music, at least regarding the newer material, but as long as you are open-minded for Dance, Pop and the casual House groove you will have a blast at their show. And then there are of course the older, more EBM-ish tracks as 'Destroy Improve Rebuild' or 'TZDV', the FADERHEAD song which still packs any underground dancefloor and a cocksure crowd pleaser at the E-Tropolis. And it was a huge crowd, you were lucky if you were able to get a nice spot somewhere at the front. Highlight of the gig was the ecstatic 'Dancers', which sent the dancing crowd into frenzy. "Be yourself. Have Fun." said the video screen, and thus perfectly sums up the attitude of FADERHEAD. Won't miss them again! // http://faderhead.com / https://www.facebook.com/faderhead // Setlist: 01. Shame / 02. Sick City / 03. Every Hour Kills / 04. Vanish / 05. Destroy Improve Rebuild / 06. Know Your Darkness / 07. Generation Black / 08. TZDV / 09. Take Your Fuckin' Meds / 10. Dancers / 11. Home of the Creeps // Rating: 9 / 10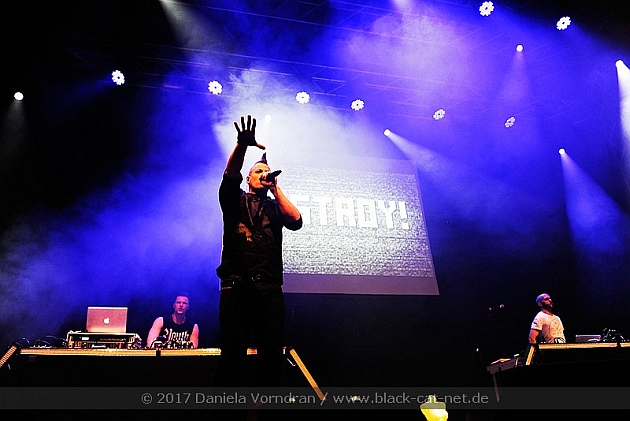 Covenant

Next was a band that I was really, really looking forward to: COVENANT! I've always been a massive fan and since I had to miss out their 'Blinding Dark' tour last autumn, I was all the more looking forward to their E-Tropolis gig. In fact, the 'Blinding Dark' tour was the first COVENANT tour I had to miss out since 1994. Well, I had to learn the hard way that you can fall all the deeper when you have (too) high expectations, or probably that I'm just finicky and hypercritical at times when it comes to my favourite bands. However, only three songs into the set I felt as if I was the only one who didn't enjoy COVENANT's performance as much as everyone else in the massive crowd. Not as much as I should, or as I had hoped. But to be fair, the performance on stage was probably absolutely fine, but the sound was just awful. Admittedly, a former factory building like the Turbinenhalle is a tricky affair for any sound engineer but why on earth would you decide to have the vocals twice as loud as the music? What's the point in producing sophisticated, mind-blowing electronic music when it just serves as the background jingle-jangle for the vocals in a live setting? And it didn't seem to be a technical problem but rather a deliberate choice. While one grumpy die-hard fan brooded over such musings, the rest of the crowd was in high spirits and couldn't care less about a perfectionist's nit-pickings, while the band was probably unaware of any sound problems in front of the stage.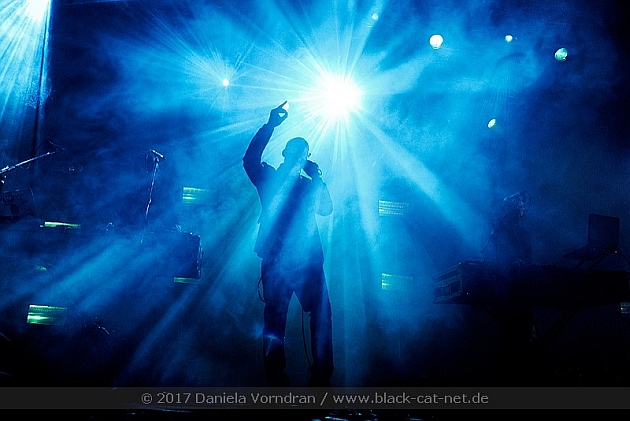 On a more positive note, the set list was tailor-made for the E-Tropolis audience with lots of vintage COVENANT songs and a few 'Blinding Dark' tracks thrown in. A threesome of songs from COVENANT's debut album 'Dreams Of A Cryotank' gave all old schoolers the chills and the eternal club anthem 'Call The Ships To Port' did what it always does - it makes the crowd go nuts! Halfway through the show the sound got a bit better, thankfully, but soon the problems returned and 'Ignorance & Bliss', one of the most epic and most beautiful songs the band has ever done, got the short end of the stick and sounded just squashed and muddled. However, there were many happy faces and a lot of dancing around me. But I simply didn't enjoy the show as much as I hoped for, and that's a real shame! http://www.covenant.se / https://www.facebook.com/Covenant-OFFICIAL-156626197713557 // Setlist: 01. Monochrome / 02. Bullet / 03. I Close My Eyes / 04. Cold Reading / 05. Figurehead / 06. Edge Of Dawn / 07. Shelter / 08. Replicant / 09. Go Film (Remix) / 10. Ignorance & Bliss / 11. Call The Ships To Port / 12. Morning Star / 13. We Stand Alone // Rating: 6 / 10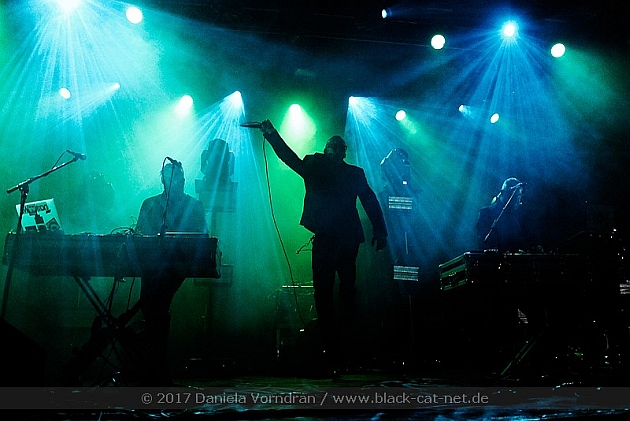 Neuroticfish

After COVENANT I made a quick visit to the second stage where NEUROTICFISH performed for half an hour already. Quite a silly idea to have both bands play simultaneously as they surely share a fan base. Die-hard fan or not, I got a feeling that I should have chosen to see NEUROTICFISH instead of COVENANT, as they sounded impressive and really put on a great show. Sascha Klein's charming Electro Pop act made quite a return since he revived the project in 2013 and NEUROTICFISH seem to be more popular than ever. // http://www.ebmisdead.com / https://www.facebook.com/OfficialNeuroticfish // Setlist: 01. Intro 'Rose' / 02. Silence / 03. Former Me / 04. Bomb / 05. Behaviour / 06. Wake Me Up / 07. Suffocating Right / 08. Agony / 09. Is It Dead / 10. Civilized / 11. A greater Good / 12. M.F.A.P.L. / 13. I Don't Need the City / 14. Somebody / 15. Velocity / 16. Can't stop a Riot // Rating: 8 / 10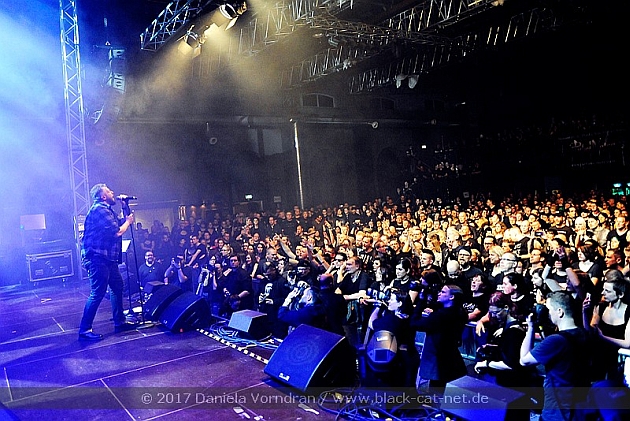 Front 242

It was time for the almighty headliner and while it had been a long day and some people decided to go home after all, a massive crowd gathered in front of the main stage to witness FRONT 242. The Belgian pioneers and originators of Electronic Body Music have gone a similar route as KRAFTWERK, that is, they don't release new music anymore but update their old material constantly and present it in a live setting. FRONT 242 haven't played the Modern Museum Of Modern Art yet but they still have a few years ahead ... At the E-Tropolis they kicked off with 'Happiness', one of their most popular tracks and arguably one of the best show openers ever. It has everything it needs: a great build-up, drama, hypnotic loops and blasting drum beat kicking in at the right time. And, last but not least, a perfect sound at the Turbinenhalle! FRONT 242 also lives from the interaction of the, pardon the pun, two front men Jean-Luc DeMeyer and Richard Jonckheere aka Richard 23. While the latter is the hyperactive EBM dance instructor and all over the stage to fire up the crowd, DeMeyer prefers to be a bit more in the back like the cold-blooded commander in chief.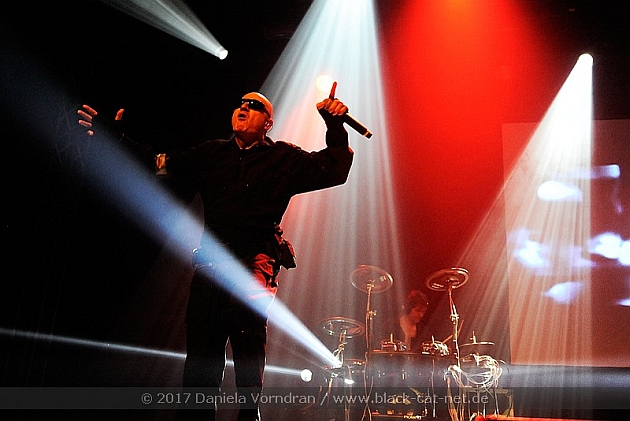 There were not too many surprises in the set list, to be honest, but songs like 'U-Men', 'Funkahdafi' or 'Take One' sounded as fresh as ever and significantly beefed up. Quite astonishing when you consider that these songs are more than 30 years old! Despite the lack of new material in years, it did not sound like old hands trotting out old favourites for a second. In fact, it was surprising to hear just how heavy they sounded from start to finish and you could hear exactly why their influence extends to so many different genres. // http://www.front242.com / https://www.facebook.com/Front.242 // 01. Happiness / 02. Moldavia / 03. Body To Body / 04. 7Rain / 05. Take One / 06. Together / 07. Triple XXX Girlfriend / 08. Quite Unusual / 09. Funkahdafi / 10. U-Men / 11. Commando Mix / 12. Religion / 13. Headhunter / 14. Im Rhythmus bleiben / 15. Welcome To Paradise / 16. Punish Your Machine // Rating: 10 / 10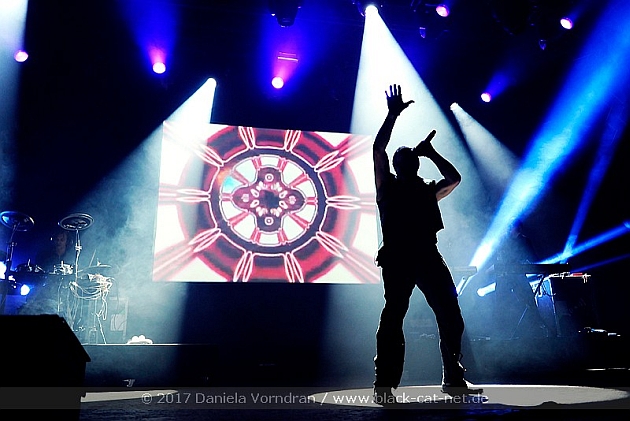 All pictures by Daniela Vorndran (
http://www.vorndranphotography.com
/
http://www.facebook.com/blackcatnet
)
See also (all categories):