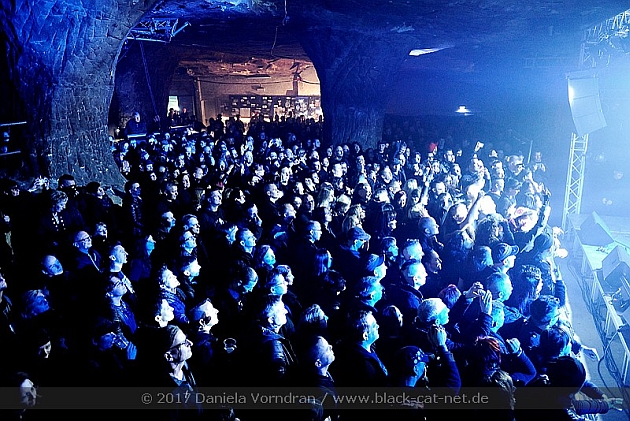 Sandstone Cave Langenstein, Halberstadt, Germany
21st & 22nd April 2017
Kasematten Festival 2017 Day 1 with Nova-Spes, X-Divide, Ash Code, Rome, Solar Fake and Agonoize

So here we are again in the east of the Harz Mountains attending Kasemattenfestival for the third time. What makes this familiar festival most special is the outstanding location near Halberstadt? A sandstone cave formerly used as armoury is the unique place where about 1,000 people were about to celebrate a weekend full of excellent dark music. Open hearts and warm clothes recommended.
Nova-Spes

Opener of the festival were
NOVA-SPES
, a trio between Synth Pop and EBM. NOVA-SPES are founder Matthias Hübner (music, words, vocals), Peter Walter (keys) and Maik Männel (keys). They presented a set of electronic, harmonic and danceable easy listening sounds starting with 'Spectators' which is released on a Sonic Seducer sampler so far and the new song 'I Hate You I Love You'. The rest of their set was a mix of more new stuff like 'Pray' and 'Standing Back' and mostly their work of the album 'A Dog And His Boy'. It will take a while to see the band live again since Matthias announced a break to care for his new-born child. // http://www.nova-spes.com / https://www.facebook.com/novaspesband // Setlist: 01. Spectators / 02. I Hate You I Love You / 03. Fucking Shit / 04. Pray / 05. We Stand Together / 09. Destroy / 07. Standing Back / 08. What do You Want From Me // Rating: 7 / 10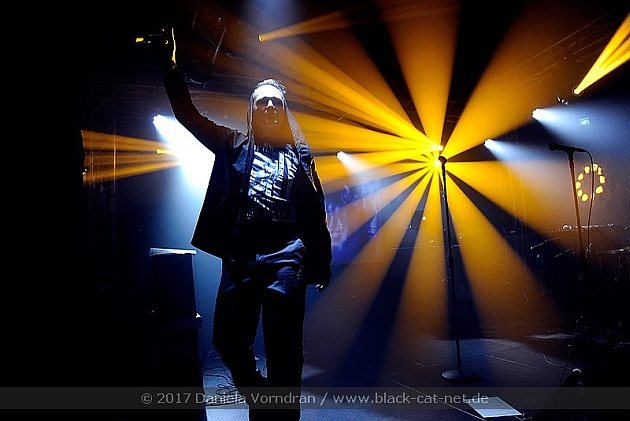 X-Divide

The duo
X-DIVIDE
, founded in 2005 by Jens (live keyboard, second vocals) and Eric (guitar, vocals), reactivated the project in 2016 with new songs and live appearance. The cave was well filled and the audience bobbed to beats of songs like 'My Love is' and 'Crying over you'. The cover versions of
BILLY IDOL
's 'White Wedding' and especially
DEPECHE MODE
's 'Enjoy the Silence' were warmly welcomed by the crowd. If a musician is thirsty, there must be someone to bring the beer! Why not Chris from
AGONOIZE
? Yes, he jumped out of the backstage area to delight the guys on stage. Jens Domgörgen is well known in the black scene for hosting festival stages as a presenter. Therefore it is not surprising he likes to speak, not only to sing. The story of the day was about the new song 'Holding on', which is produced by Krischan of
ROTERSAND
. They concluded their solid set of melodic danceable electronic music with 'Forever'. // http://www.x-divide.de / https://www.facebook.com/xdividecologne // Setlist: 01.Sympathy / 02. My Love is / 03. Crying over you / 04. White Wedding (Billy Idol Cover) / 05. Enjoy the Silence (Depeche Mode Cover) / 06. I don't care / 07. Holding on / 08. Forever // Rating: 7 / 10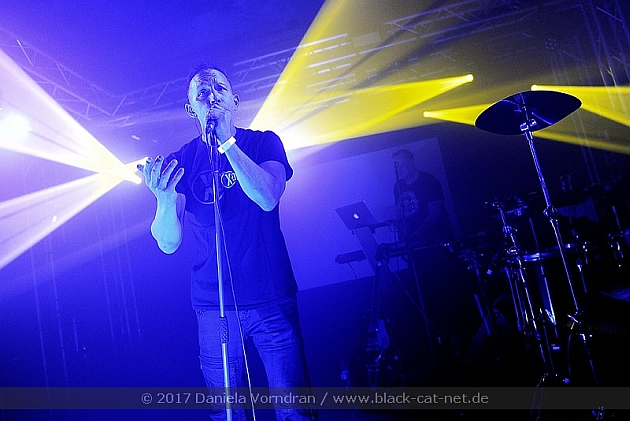 Ash Code

The three from Italy: Alessandro, Claudia and Adriano.
ASH CODE
are a quite young collaboration creating New Wave / Post Punk music since 2014. Their music describes a collage of Darkwave, Noise and Electronic music with a solid drum machine. Their work and the location matched perfectly! Dances of death, coded ash in a misty cave with gloomy lights. This gig was hypnotic. // http://www.ashcode.eu / https://www.facebook.com/ashcodemusic // Setlist: 01. Intro / 02. It's time to face the abyss / 03. Crucified / 04. Empty Room / 05. Night Rite / 06. Tide / 07. Post Human / 08. Oblivion / 09. Want / 10. Drama / 11. Dry Your Eyes // Rating: 7 / 10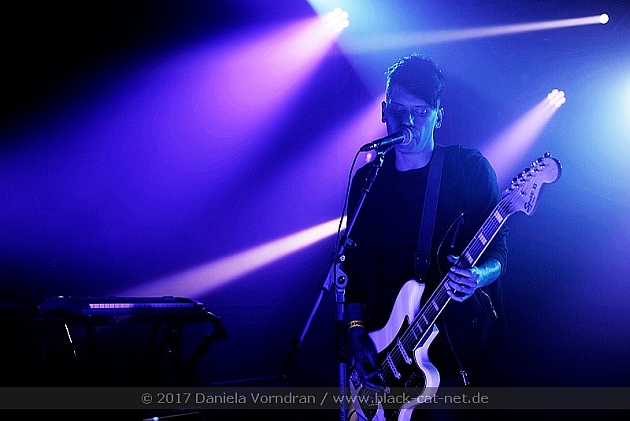 Rome

Next on Stage was another smooth but very intense act.
ROME
, a formation by Jerome Reuter and friends embraced the audience with fantastic sounds of Apocalyptic Folk / Neo Folk. The singer songwriter from Luxembourg with his guitar and his warm voice enchanted the willing listeners. ROME is nothing for the party folks out there but for those who appreciate excellent melancholic lyrics and sounds. Grand! // http://www.jeromereuter.com / https://www.facebook.com/romeproject // Rating: 8.5 / 10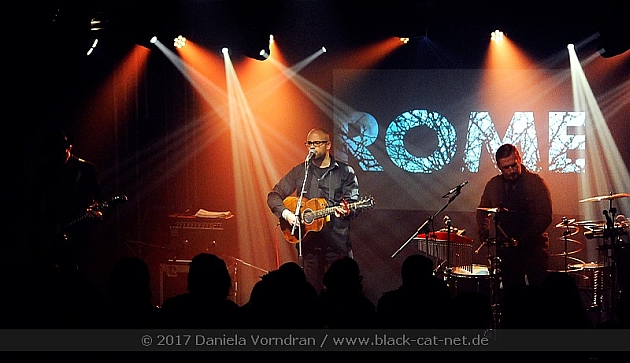 Solar Fake

Sven and André entered the stage with the energetic 'Not What I Wanted' and directly blew the audience away. There were jumping people everywhere in the packed venue hungry for more. And they got what they wanted.
SOLAR FAKE
is a guarantee for a moving crowd. As a counterpoint to their acoustic shows in winter (which the author enjoyed deeply) they performed enthusiastically and full of power. Dancefloor hits like 'Observer', 'Parasites' and 'I Hate You More Than My Life' convinced the crowed and heated up the cave while Sven's extraordinary voice warmed the hearts. No freezing anymore on any level... Funniest moment was, when the people sang along with 'More Than This' - it's a bit like a
SCOOTER
show when they call "düdü düdü düdüpp". Very sympathetic, folks! The set was concluded by their new ballad 'Stay' which was released recently. A fulminant show and truly the best of this festival day. // http://solarfake.de / http://www.facebook.com/SolarFake // Setlist extract: Not What I Wanted / Under Control / Here I Stand / Observer / All the Things You Say / I don't Want You In Here / I Hate You More Than My Life / More Than This / Parasites / I lost control / Where Are You / Stay // Rating: 9 / 10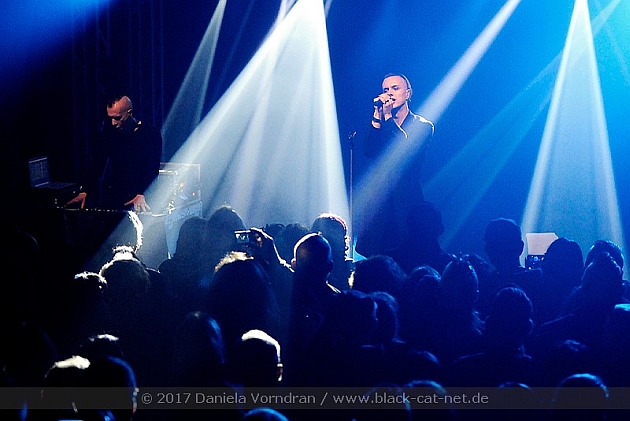 Agonoize

It was time for the headliner of the day:
AGONOIZE
. Die-hard fans by their own words were quite disappointed with the show. Beforehand it was known to relinquish fake blood. A circumstance the band leader was upset about and let his audience take part in that. What a pity! The people come for the music, not only the show around. Confetti was the surrogate - well... ok, it is not the same. But why being grumpy most of the time? AGONOIZE played their set standardly but obviously could not catch the crowd. // www.agonoize.de / https://www.facebook.com/AgonoizeOfficial // Setlist: 01. Intro / 02. Blutverlust / 03. Dafür / 04. God For Sale / 05. Bäng Bäng Goodbye / 06. A Cut Inside My Soul / 07. Numinos / 08. Staatsfeind / 09. Running (Club Version) / 10. Glaubenskrieger / 11. Bloodqueen / 12. Schaufensterpuppenarsch / 13. 999 / 14. Deutsch / 15. Pornomagcenterfold / 16. Knick Knäck/Slashed Open / 17. Paranoid Destruction / 18. Bis das Blut gefriert / 19. Fight For Your Right (Beastie Boys cover) / Encore: 20. In Deinem Grab / 21. For The Sick And Disturbed // Rating: 5 / 10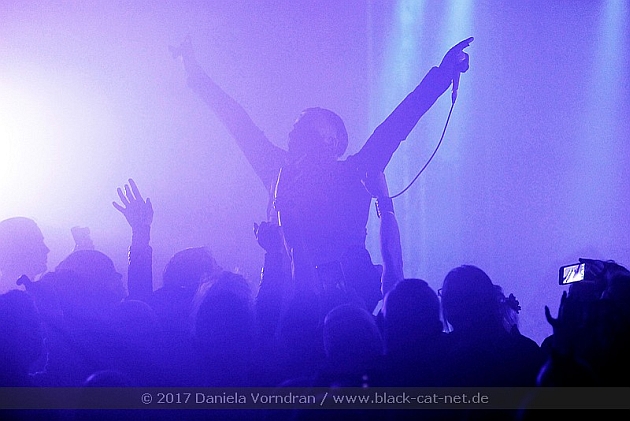 Planned, but cancelled: the aftershow party! The last two years the after show party was a nice place to celebrate, dance and to die away the festival day. But this year there was none for regulatory reasons. Such a pity! The people had to leave the location immediately and were not amused as one can imagine. Let us hope for making it possible to dance the night away as a great end of a festival day the upcoming year.
All pictures by Daniela Vorndran (
http://www.vorndranphotography.com
/
http://www.facebook.com/blackcatnet
)
See also (all categories):