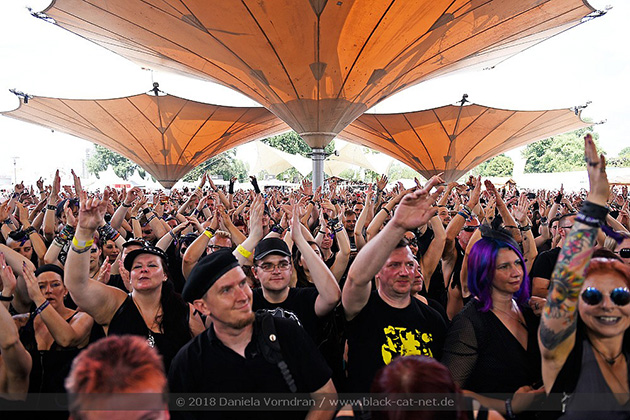 Tanzbrunnen, Cologne, Germany
27th to 29th July 2018
Amphi Festival 2018 Day 2 with ES23, Heldmaschine, SynthAttack, Neuroticfish, Rroyce, Priest, Qntal, Scheuber, Grendel, Solar Fake, Corde Oblique, Mad Sin, Agonoize, Persephone, Girls Under Glass, Oomph!, Grausame Töchter, In the Nursery, And One, Goethes Erben, Joachim Witt

The black celebration at the shores of the river Rhine was far from over after the first day of the festival. Amphi Sunday was calling the crowd back to the "dancing fountain" and aboard the MS RheinEnergie for round two. On the programme were promising newcomers, well-established favourites and old heroes. Let's jump right into our reflections to see how Amphi always manages to cater for all tastes in music that make up the scene of darkness.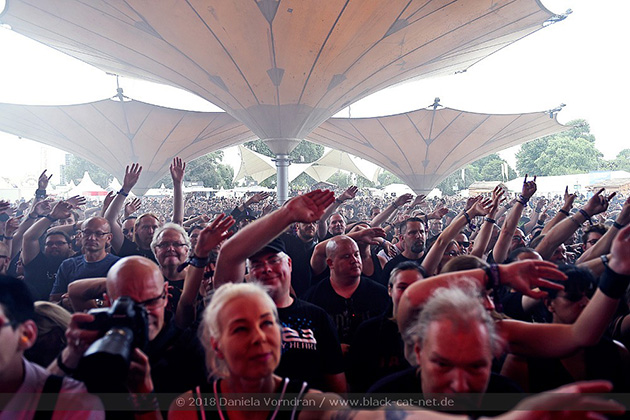 ES23 - Main Stage (Marko)

The Project ES23 was founded in 2004 and have released three studio albums so far. ES23 make versatile electro music and are constantly developing and trying out new sounds. Singer Daniel, who runs this project alone in the studio, is being supported live by a keyboardist and a totally cool looking standing drummer. The audience was greeted with the words, "Welcome to morning exercise". It was naturally not as busy in the morning as on the eve of the headliner, but that's quite normal for a second festival day. Nevertheless, the atmosphere was still great and the fans were finally woken up with the song 'Wake Up'!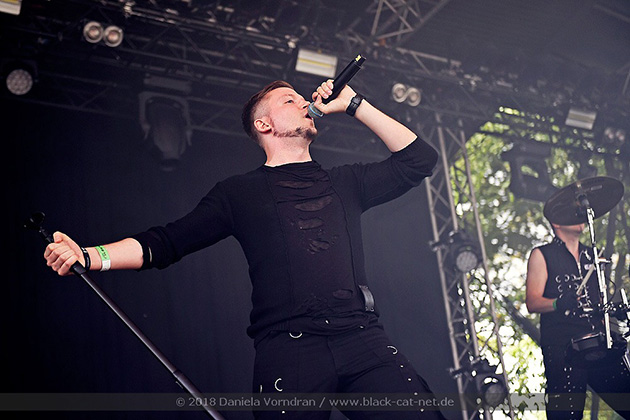 Almost everyone clapped along to the pounding beats and catchy tunes. Numerous industrial dancers in their cyber gothic outfits were already fully energized and in action. The band also played 'Taking Me Down' which will be released sometime soon, said Daniel. This interesting band said goodbye to the satisfied audience with the song 'Once And For All'. // https://www.facebook.com/ES23official // Setlist: 01. Destiny / 02. Wake Up / 03. Lost In Time / 04. Taking me down / 05. Erase My Heart / 06. Shouting Out Of Me / 07. Get Out Of My Head / 08. Guiles Theme / 09. Once And For All
Heldmaschine - Main Stage (Marko)

German band HELDMASCHINE was founded in 2011, and have released four albums. This year their live album 'Live Und Laut' was released. The tour of the same name is currently still underway and last July stopped at the Amphi Festival station in Cologne. For a change, a band with guitar music entered the Main Stage. There were already a lot of spectators at 12 o'clock in the afternoon. The band looked totally cool and was uniformly dressed - each musician wore a black vest with blue LEDs. That would probably have a much better advantage later on in the day.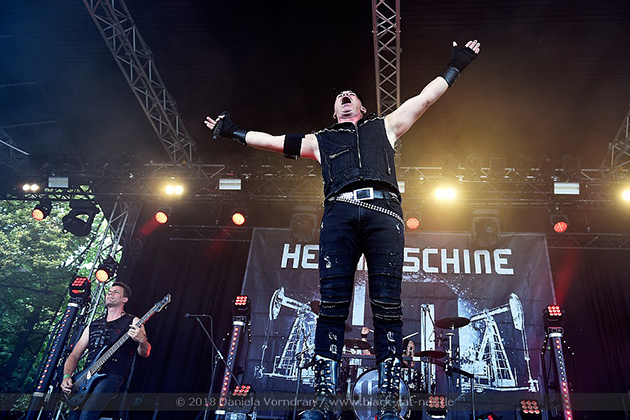 The band showed great enthusiasm and convinced us with great guitar riffs. The music is occasionally reminiscent to the great role models RAMMSTEIN. Many of their songs are also completely independent to their own style and are more wonderful Dark Rock. The sea of hands that were stretched in the air at the appearance of HELDMASCHINE gave a right open air festival mood. At the end the fans were singing all along and the band looked visibly overwhelmed. Singer René said that he was glad that they had been invited to be at the Amphi Festival. The band is touring again in the autumn and will also visit Cologne again - they are definitely worth a look. // http://www.heldmaschine.com / https://www.facebook.com/Heldmaschine // Setlist: 01. Himmelskörper / 02. Kein Zurück / 03. R / 04. Die Maschine Spricht / 05. Sexschuss / 06. Radioaktiv / 07. Das Maß Ist Voll / 08. Auf Allen Vieren / 09. Weiter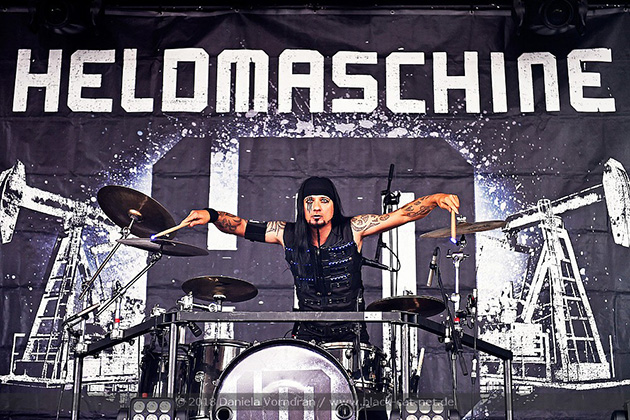 Synthattack - Theatre Stage (Marko)

SYNTH ATTACK is a German Electro Project in the field of Dark Electro, Industrial and Aggrotech. The band was founded in 2015 in Hannover. The band plays often live in Germany and abroad. Today the stop was called - Amphi Festival Cologne. SYNTH ATTACK was the first band in Theater Stage on the second day of the festival. The industrial dancers have now also changed the location and were all in the hall where the temperature was very cool. The Amphi audience does not seem to need much sleep - the hall was already very busy. SYNTHATTACK was just the right band to wake people up. At the intro to 'Harsh Is Back', a computer voice spoke a countdown and so heralded the beginning of the performance.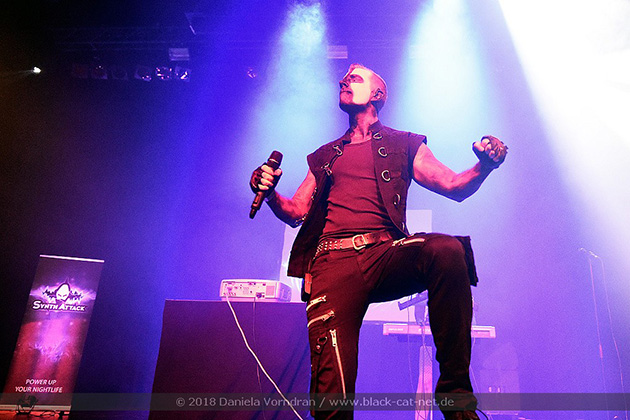 Now there was a whole corner in the hall of which the industrial dancers took possession, and they danced to the non-stop hammering beats of their favourite band. The singer of the band looked totally cool in black and white make-up and convinced us with his distorted voice. A highlight of the concert was undoubtedly the cover version of the 90s hit, 'Insomnia'. It was a lot of fun for the fans and you did not even realise that many of them had also had a long night of partying! The sound in the hall was really good. The hard basses were not overdriven and did not bounce off the walls of the hall. A good start in the Theater Stage on the second day! // https://synthattack.bandcamp.com / https://www.facebook.com/synthattack // Setlist: 01. Intro + Harsh is Back / 02. My Hell / 03. Insomnia (Dark Remix) / 04. Blood Dance 2.0 / 05. Into the Night / 06. Straight to Hell / 07. Life is a Bitch / 08. Addicted to the Thrill / 09. Final Salvation / 10. One Love, One Pain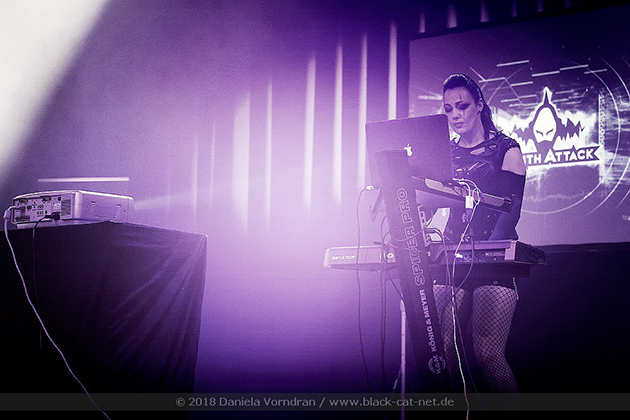 Neuroticfish - Main Stage (Marko)

The project NEUROTICFISH was founded at the beginning of the 90s. In 1999 they released their first record. After a performance at the Wave Gotik Treffen in 2008, the band broke up temporarily. Then in 2015, appeared their fourth studio album 'A SignOf Life'. NEUROTICFISH are visiting the Amphi Festival for the third time. They played here before on the Theater Stage and once on the Orbit Stage. Today was their premiere on the Main Stage and with only one keyboard player and a singer they did look slightly lost. But the mood was still great for the appearance of the band from Bochum in Germany.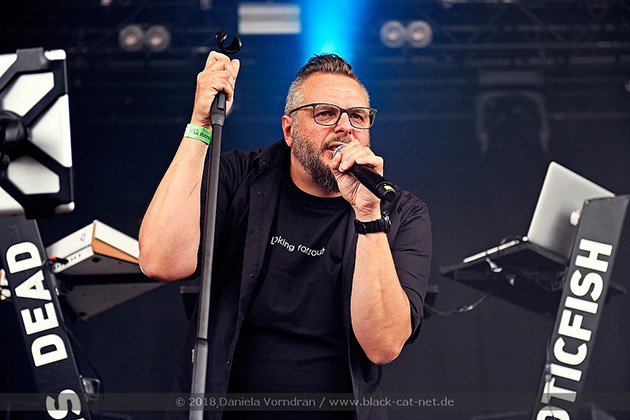 The sound was great and it was windless, that is always relatively important at an open air concert. Immediately with the song 'Silence' almost the entire audience clapped celebrated together the Future-Pop band. Unfortunately, the regular keyboarder Henning could not be in Cologne today, but he was well represented by his substitute Christoph. When singer Sascha asked the audience, "Are you awake enough to sing along?" the answer was a resounding "Yes!" and the fans sang 'Wake Me Up' together with him. The good mood lasted until right the end with the VNV NATION-sounding song 'Velocity'. // http://www.neuroticfish.com / https://www.facebook.com/OfficialNeuroticfish // Setlist: 01. Intro 'Rose' / 02. Silence / 03. Former Me / 04. Bomb / 05. Behaviour / 05. Wake Me Up / 06. Suffocating Right / 07. Fluchtreflex / 08. Civilized / 09. M.F.A.P.L. / 10. Velocity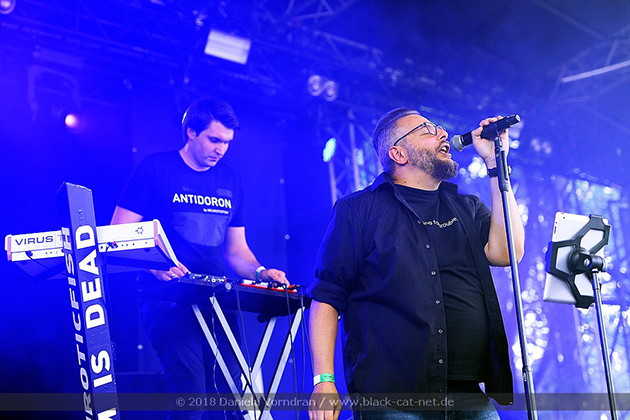 Rroyce - Orbit Stage (Judith)

From their first live show in 2013, Dortmund band RROYCE have gone from strength to strength. The 3-piece band (Casi / vocals, Kay / keys, Al / guitar) aims to bring the spirit of the 80s into modern times through their Wave / Electro / Synth Pop. In 2016, their second album, 'Karoshi', reached number two on the GEWC album charts. I had already heard from friends that RROYCE have a particularly devoted hard-core following so when I arrived at the Orbit Stage on Sunday to watch them open day two of the festival, I wasn't surprised to see so many people waiting for them to come on stage.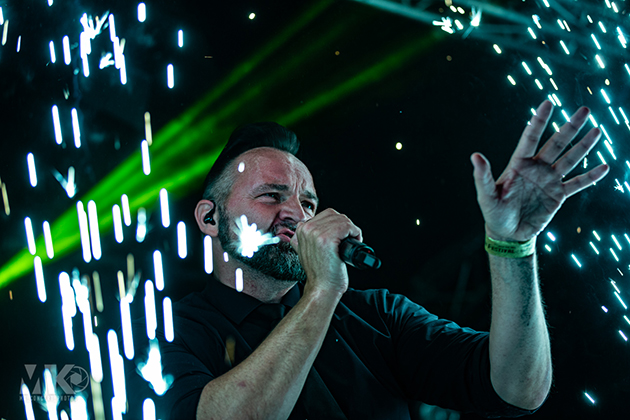 "I want to see you sweat!" shouted lead singer Casi, dressed, like his bandmates, in very smart black suits and ties. And so began a tight, high energy set - perfect for this early, overcast Sunday afternoon, they even some fancy pyrotechnics to further wake us up. I tried to take a photo near the front of the stage, but the fans were pretty tightly packed in, performing their version of Sunday worship. Casi introduced a new song - and the fans lapped it up. The audience was incredibly receptive - every song was met with applause and whistles.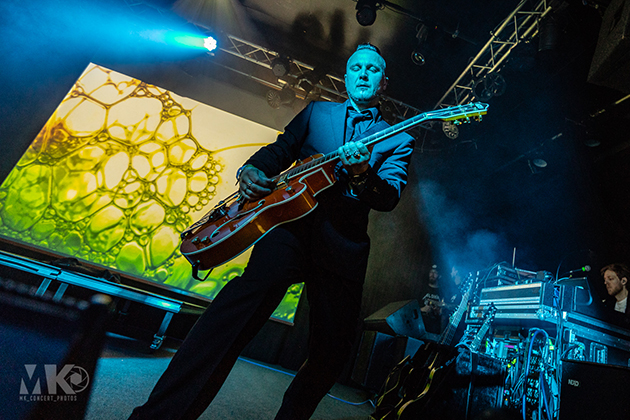 During 'Run Run Run' it seemed like the whole of the downstairs of the ship, including Casi, were following the instructions of the song in a synchronized walk. Overall, it was a highly enjoyable, energetic and lively set. A band I would recommend to see live. // http://www.rroyce.de / https://www.facebook.com/RROYCE.official // Setlist: 01. Intro / 02. The Principle of Grace / 03. Who Needs / 04. Valkyrie (new song) / 05. One, Two, Three, Four / 06. Pyroclastic Flow / 07. Dying In Slowmotion / 08. I Like It, When You Lie / 09. Running With the Sheep / 10. Run Run Run / 11. Malacoda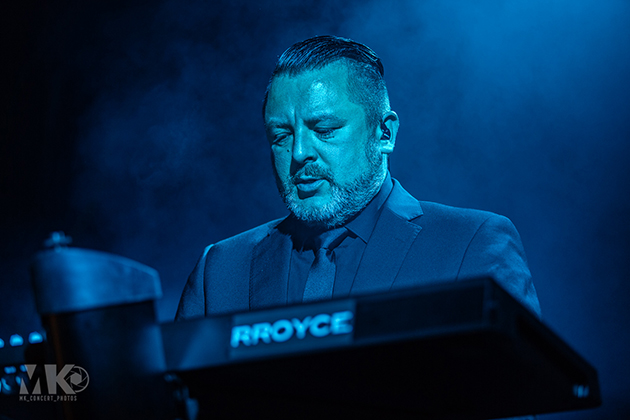 Priest - Theatre Stage (LAy)

PRIEST stand for Synth Goth at its finest. This enigmatic electro trio was one the acts that I was particularly looking forward to experiencing at Amphi. Being kind of obsessed with their undeniably catchy and diverse debut, 'New Flesh', I was wondering how things would sound live compared to what usually came out of my headphones. To put it briefly: Even better! In addition to the frontman's masterful vocal performance including head voice - hats off to Mercury! - PRIEST's clear yet multi-layered compositions benefited greatly from the live sound of the energetic e-drums played by Salt and Sulfur.
But first, the underwater vibes of the atmospheric 'Tria Prima' served as a mysterious and soothing intro before the masked Pinhead-preacher and the two gentlemen in suits wearing plague doctor masks stunned the Amphi crowd with their first synth pop smasher 'The Pit'. This one is also the opening title and debut single of their album, which was actually produced by ex-GHOST musician Simon Söderberg aka Alpha. And there I was thinking this act sounded like they were hailing from Sweden, before doing my research and learning these masters of melodies are indeed Scandinavians. Of course they are. Once you hear that one particular synth riff of 'The Pit' you will never get it out of your head. The minimalistic and beat-laden dance tune 'Populist' followed and with the vocalist's exclamations it slightly reminded one of DANIEL MEYER's work. The dark and club-like Theater was just the perfect venue for PRIEST's first gig on German soil.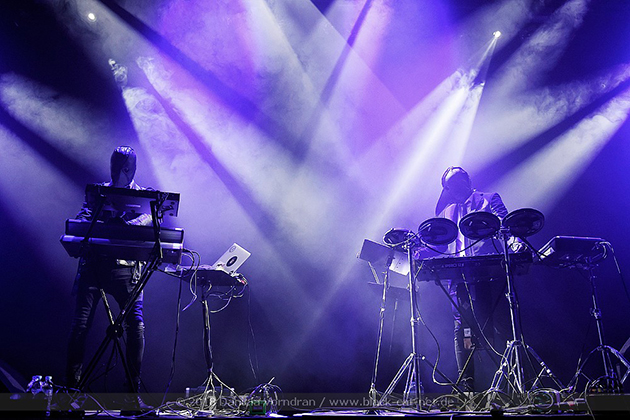 From the crowd's initial reaction one could assume that most of the audience were checking out the dark electro pop act for the first time. However, the Swedes made one thing absolutely clear right from the start: Once you get a glimpse of PRIEST, be it only sonically or also visually live on stage like at Amphi - there's no escape! The truly addictive tunes 'History In Black' and 'The Cross' next to sweet pieces like 'Private Eye' and 'Call My Name' did not only grab the audience's attention but also took possession of their bodies. And so it comes that PRIEST's mission is "to safely guide humanity unto the next evolutionary step - the merging with machines." Their delivery of the powerful stomper 'Vaudeville' spoke for itself - what a blast! And there was no more holding back when the unbelievable 'Neuromancer' with its LADY GAGA feel resounded.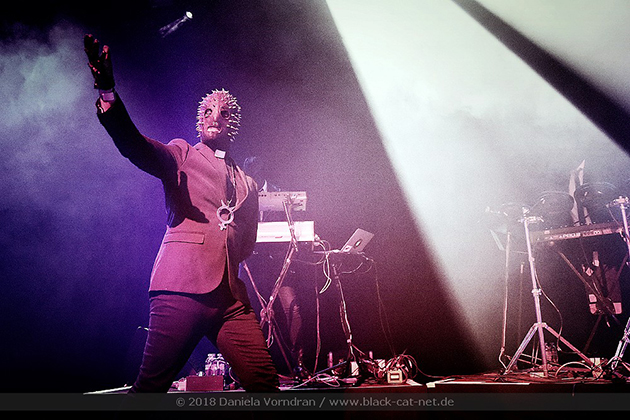 In the end, PRIEST made a loop returning to calmer, evocative realms and gave us Goosebumps with their captivating, solemn and yet dramatic performance of RADIOHEAD's 'Street Spirit (Fade Out)' - simply breath-taking. Time just flied with this unique band. Stellar set, perfect performance, PRIEST! Amazing things must be ahead for these artists, we are sure of it. On behalf of all new fans from Germany: We're eagerly awaiting the German tour dates together with AESTETIC PERFECTION coming up in April 2019. Those who cannot wait that long have the chance of seeing PRIEST as a support for BLUTENGEL next month, on 1st September in Chemnitz. // https://www.facebook.com/priestofficial/ // Setlist: 01. Tria Prima / 02. The Pit / 03. Populist / 04. History in Black / 05. Private Eye / 06. Call My Name / 07. The Cross / 08. Neuromancer / 09. Vaudeville / 10. Street Spirit (Fade Out) (RADIOHEAD cover)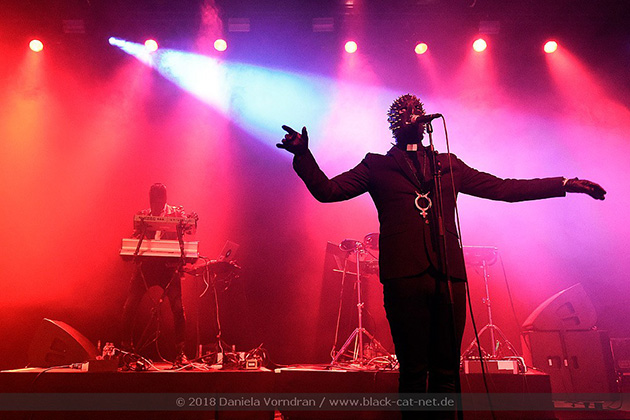 Qntal - Main Stage (LAy)

It was in 1992 that the unique project QNTAL came up with the genre-bending idea of combining medieval tunes with electronic sounds. This March, their new album "QNTAL VIII" saw the light of day. Its opening title 'Nachtblume' (transl. "night flower") also marked the beginning of their Amphi open-air performance. Syrah Hausen put the audience under the spell with her clear and high voice presenting their bardic lyrics in foreign tongues and by playing her flute. Michael Popp also contributed to the vocals while playing e-guitar or impressing us with amazing Saz sounds coming from a Turkish long-necked lute. And Markus Köstner's incredibly organic and captivating drumming was a real joy to witness. Producer Leon Rodt was to be found behind the keys conjuring up QNTAL's electronic scenery.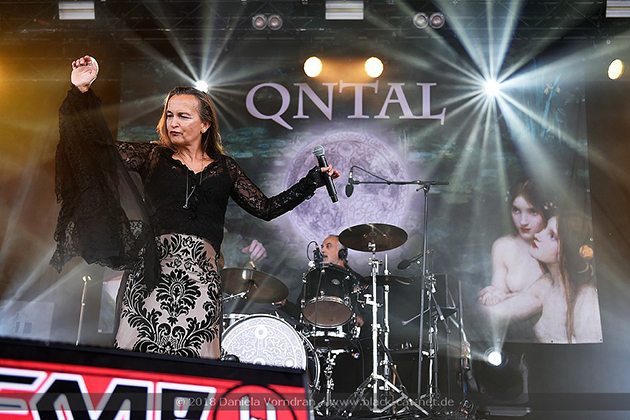 A QNTAL diehard standing next to me completely gave in to the band's electro folk magic dancing and bouncing along: "Oh, this is my absolute favourite song, I will need some more room to dance, please..." he announced at some point smiling from ear to ear. Of course, 'Ad Mortem Festinamus' from the band's debut from 1992 was not to be missed. It is a late medieval song taken from the 14th-century manuscript 'Llibre Vermell de Montserrat'. That day, the mystical and historic QNTAL, who are masters of their instruments, delivered a fast-pasted, good-humoured show and gave great variety to the Amphi programme. // http://qntal.de / https://www.facebook.com/qntalmusic // Setlist: 01. Nachtblume / 02. Frühlingslied / 03. O Fortuna / 04. Ecce Gratum / 05. Die finstere Nacht / 06. Chint / 07. Ad Mortem Festinamus / 08. Schnee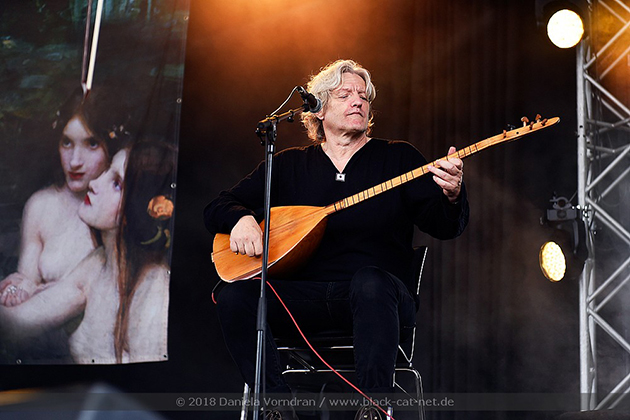 Scheuber - Orbit Stage (Marko)
After many successful years with the band PROJECT PITCHFORK, Dirk started his solo career in 2016 with the debut album, 'The Me I See'. Emotional, sombre-electronic music is how I would describe the music on 'The Me I See'. Unmistakable is his use of soulful, intelligent and touching sounds. In the summer of 2017 SCHEUBER released his second album, 'Changes'. SCHEUBER started his set on the Orbit Stage with the song 'Space' from his debut album. Then there were technical problems before the second song. Dirk Scheuber bridged the three-minute break well, and asked in the round: "Why does it have to happen to me?" He added, "At least you now know that I sing live!" Then the computer connected to the keyboard was exchanged and the concert continues with the title 'Human' which has a beautiful accompanying video. Now finally, came some movement from the audience.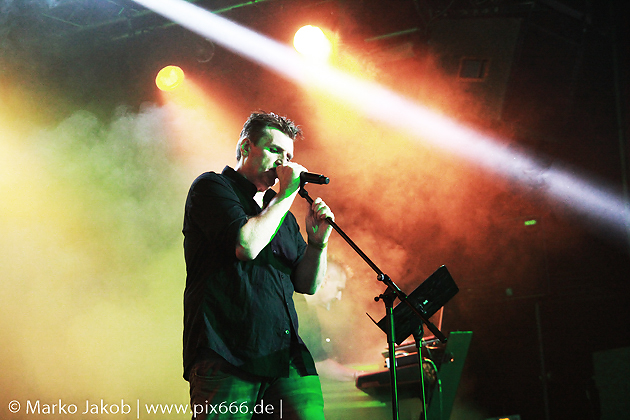 The new songs were well received by the Amphi audience, and they became gradually more and more animated. You could tell how emotional the lyrics are for the singer. Absorbed in his music, he presented some really great electro songs. Scheuber thanked the special audience several times. The PROJECT PITCHFORK keyboarder has made really convincing progress now in comparison with his first performances as a solo artist. A really cool sight was offered during the concert through the portholes of the MS RheinEnergie. On the ship, there were many gothic fans and outside, hundreds of normal tourists walking on the banks of the Rhine, and the beautiful weather shining down on the excursion boats sailing by. Dirk sang the last song for a recently deceased friend - 'Out Of Time'. He said he did not want to spoil the evening with the song and mess up the great mood. A great performance, Dirk, keep up the good work! // https://www.scheuber-music.de / https://www.facebook.com/ScheuberMusic // Setlist: 01 Space / 02. Human / 03. Vibes / 04. Averell / 05. Spiritwalker / 06. Unbound / 07. Metabeats / 08. Wire / 09. Out Of Time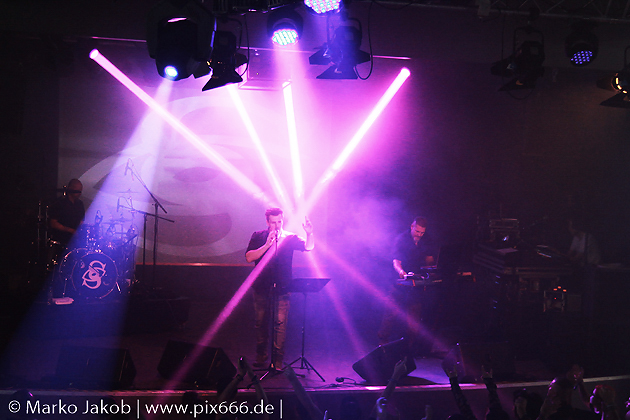 Grendel - Theatre Stage (LAy)

"Oh my goth, GRENDEL! I've gotta get inside the Theater!! Fast!!!" The waiting queue was literally twining round the entire venue which was already jam-packed. JD Tucker was about to unleash his electro beasts on a more than expectant Amphi crowd. He created GRENDEL eighteen years ago, influenced the world of contemporary Industrial, and is widely celebrated for his dance-floor filling club hits. The latest opus, 'Age Of The Disposable Body' released in October 2017, is a milestone, a masterpiece full of multi-facetted high-class electro pieces that go far beyond "plain" Aggrotech and present meaningful, socio-critical lyrics. Having been obsessed with this outstanding record ever since its release I was obviously also beyond thrilled to see the London-based act performing live at this year's Amphi fest.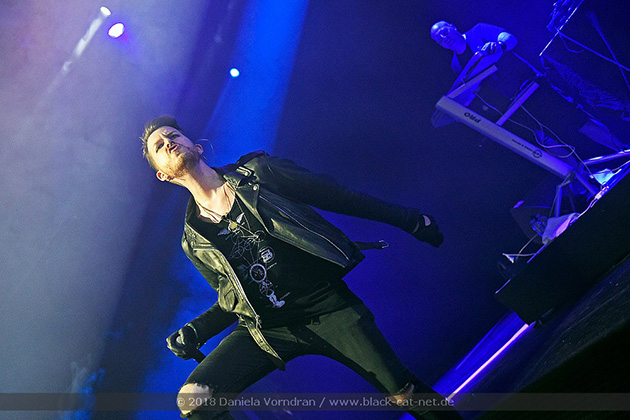 An instrumental of 'Magnum Opus' taken from the recent album opener, made for an epic, cinematic intro building up the tension and leading right into 'Severed Nations'. JD was sweeping across the stage and kept on psyching up the celebrating crowd: "Everybody come on!" Mr. Kekko Stefano Biogora's drumming and Emanuele Trinci's guitar playing contributed greatly to GRENDEL's energetic performance. It was a real blast to experience the act's amazing live sound and one could only feel sorry for those who couldn't get inside. On top of this, special guest Lis van den Akker supported the frontman wonderfully during the choruses with her vocals making title track 'Age of the Disposable Body' a real treat. Next to three further smashers from 'AOTDB' they also shared the "calmer," melodic 'Flux'. Loved it!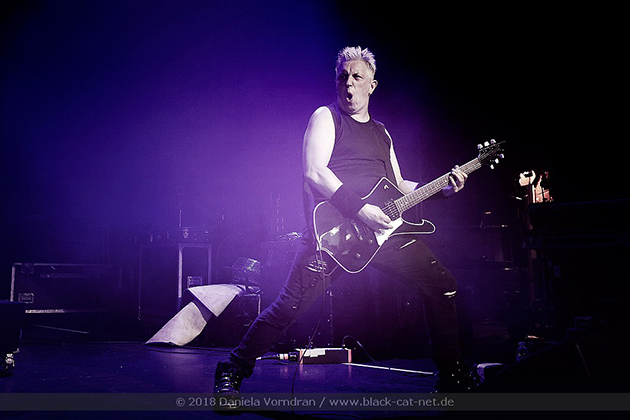 Synth master Sascha Pniok, who had been part of the GRENDEL crew for the last ten years, actually played his last show together with the band in Cologne. On the whole, everybody on stage seemed to have as much fun as the enthusiastic fans. Clearly a lot of calories had been burned during that electrifying gig. Older, fast-paced classics like 'Soilbleed' (2005), 'Chemicals + Circuitry' (2009) and 'Timewave Zero' (2012) made sure of it. And with the stomper 'Hate This' from 'Harsh Generation' (2007) the act delivered quite a furious finale. All in all, their set beautifully showed the band's evolution and left behind a more than satisfied crowd. Good gracious! Grandiose! GRENDEL! // https://www.facebook.com/grendel.music / https://www.grendel-hq.com // Setlist: 01. Intro / 02. Severed Nations / 03. Fall Like Rome / 04. Hex It / 05. Timewave Zero / 06. Flux / 07. AOTDB / 08. Chemicals + Circuitry / 09. Dead Inside / 10. Soilbleed / 11. Hate This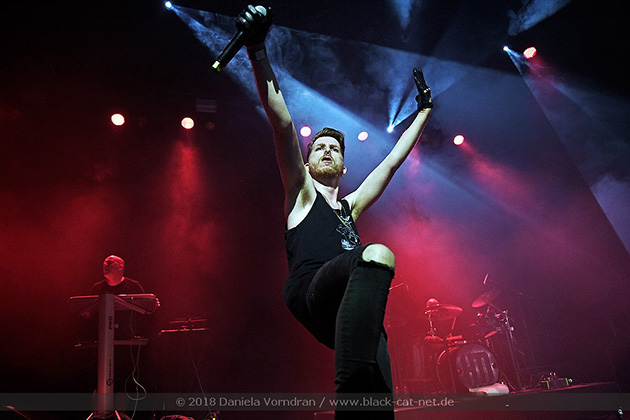 Solar Fake - Main Stage (LAy)

From one Amphi highlight to the next. There was no rest after GRENDEL. No, not at all! Germany's stellar electro act SOLAR FAKE was up next to grace the Main Stage outside in the sun. Co-moderator Mark Benecke asked the fans to welcome the act around mastermind Sven Friedrich "with much loving kindness." And that's exactly what we did by clapping, dancing and singing along from the first to the last song. And the devoted SF-fans didn't just sing along the lyrics, but also some synth riffs. The musicians seemed struck by the crowd's escalations and were all smiles just like the excited fans. "Mind-blowing... You made us sweat," SOLAR FAKE commented in their after-show-video shared on their Facebook page.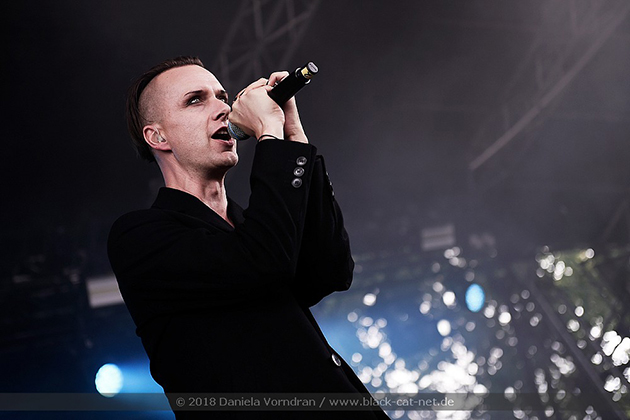 As always, when it comes to a SOLAR FAKE gig, we got to hear one of those rare, truly excellent singers. Sven's vocals performance, as lively and in tune as ever, ranged from a clear and melodic to a harsher style and forceful screams. André Feller hitting the keys and inciting the crowd to keep up the craziness was the bundle of energy he is known for. Needless to say, we were full of expectation not just to have a good time with a high-class electro act, but also to hear the best-known and beloved SOLAR FAKE pieces supported by their new live drums. As hoped for, Jeans' skilful drumming turned out as a great enrichment taking the SOLAR FAKE live sound to the next level. The drums didn't just make folks rock their socks off, but also emphasised the fantastic beats and rhythms of the original compositions. Perfect.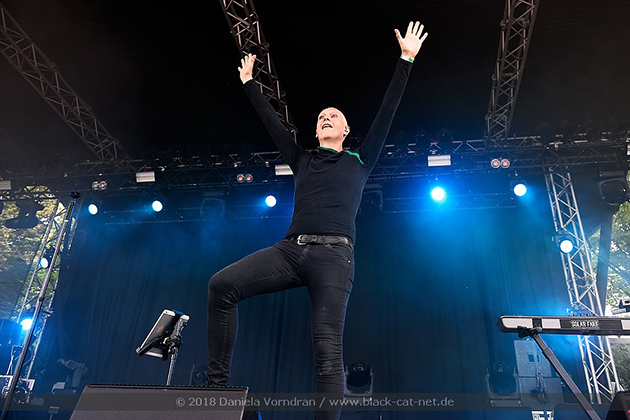 The project has been thriving since 2006 and is widely celebrated for driving yet deep, energising and at the same time enchanting electronic tunes. And so, their Amphi gig was a diverse joyride across 'Another Manic Episode' (2015) celebrating six songs from that last record and also a great revisit of the early discography. From their second album 'Frontiers' (2011), there was, on the one hand, the ballad 'Where are you' - fittingly, some dead leaves where raining down from the roof during that heartfelt piece - and on the other, the brute stomper 'Parasites' was unleashed shaking up the Tanzbrunnen. On top of that, SOLAR FAKE gave the Amphi crowd a taste of the upcoming album, 'You Win. Who Cares?' (out on 31st August)!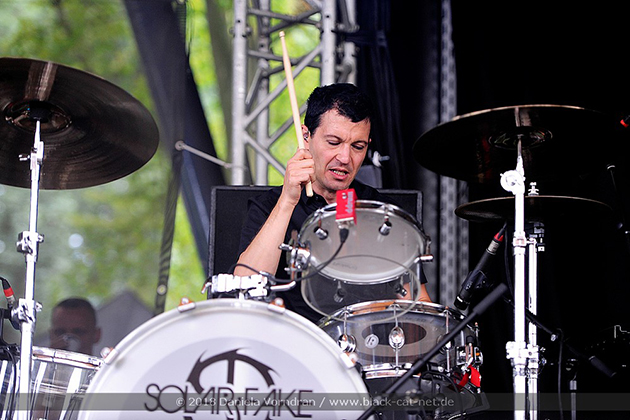 With its versatile verse and smashing chorus the first single 'Sick of You' made one long for the new record even more; and the bittersweet 'The Pain That Kills You Too' had been played here and there a couple of times so that some die-hards could sing along that beautiful song already. The EDITORS cover 'Papillon' was well received as usual making people jump. There's no doubt that the act's ever growing fan-base would not mind of welcoming SOLAR FAKE as a regular guest at every (and not just every second) future Amphi happening yet to come. // https://www.solarfake.de / https://www.facebook.com/SolarFake // Setlist: 01. Not what I wanted / 02. Under control / 03. Sick of you / 04. All the things you say / 05. I don't want you in here / 06. More than this / 07. Parasites / 08. Reset to default / 09. The pain that kills you too / 10. Papillon (Editors cover) / 11. Where are you / 12. Observer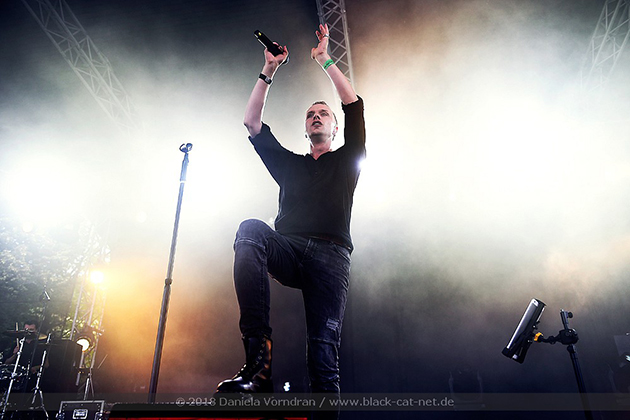 Corde Oblique - Orbit Stage (Marko)

The band CORDE OBLIQUE comes from Italy and was founded in 2005. They have released seven albums and three years ago played a successful tour in China. To begin with it was not very crowded on the ship, but fortunately that changed during the course of the performance. The Italians offered us up some very well performed neo-folk. The singer Annalisa was accompanied by an acoustic guitar and a violin. She really has a very beautiful multi-layered voice - from delicate to smoky. The instruments were played very clean. This is extremely important, especially if you play such calm music. The lyrics were mainly in Italian, but it also some sung in English.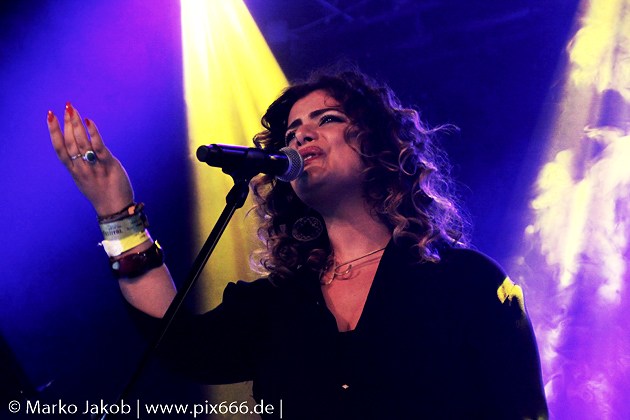 Many festival visitors have really missed something; it was a great appearance of band from Naples. This was the second time they have performed at the Amphi Festival and they said they did love the German audience. For the next three songs the other two musicians respectively left the stage. It was solo time. Singer Annalisa started with one great a capella solo. There was a great atmosphere and total silence in the audience. For the next song there was a nice guitar solo piece and as a conclusion of the solo trilogy came a violin piece which will have triggered goose bumps in many of the audience. // http://www.cordeoblique.com / https://www.facebook.com/cordeoblique // Setlist: 01. Arpe di Vento / 02. Flying / 03. Le pietre di Napoli / 04. Averno / 04. Amara Terramia / 05. Requiem for a dream / 06. Solo Edo / 07. My pure amethyst / 08. Cantastorie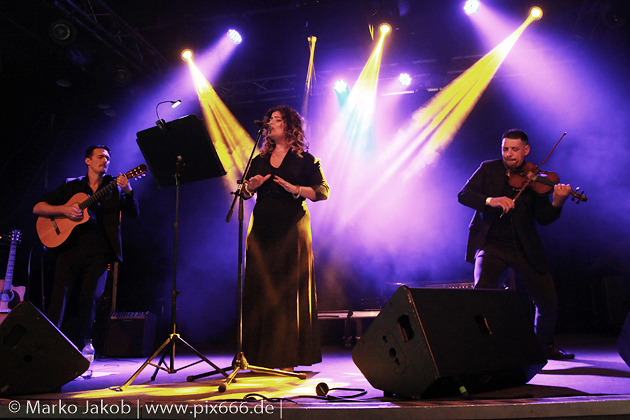 Mad Sin - Theatre Stage (LAy)

How about some Psychobilly for a change? MAD SIN came together back in 1987 in Berlin and soon released their debut, 'Chills and Thrills In a Drama of Mad Sin & Mystery'. The five-piece delivered a fast-paced, bouncing, sick horror punk show filled with neck-breakers and hip swings. The up-right bass simply went into your bones and the vibes inside the Theater were uplifting. While some electro-heads observed the parting bunch with curiosity, MAD SIN maniacs were dancing their asses off together with the combo. Vocalist Koefte & Co. were bursting with energy and their tunes easily infected even those who aren't used to listening punky Psychobilly. All thumbs up! // http://madsin.de / https://www.facebook.com/madsinofficial // Setlist: 01. Speak No Evil / 02. Wreckhouse Stomp / 03. Cursed / 04. Outta My Head / 05. Brainstorm / 06. Not Invited / 07. I Shot the Sherrif / 08. To Walk the Night / 09. Revenge / 10. Nine Lives / 11. Gonna Get Her / 12. Wipeout / 13. Psychotic Behaviour / 14. Brand New Cadillac / 15. Communication Breakdown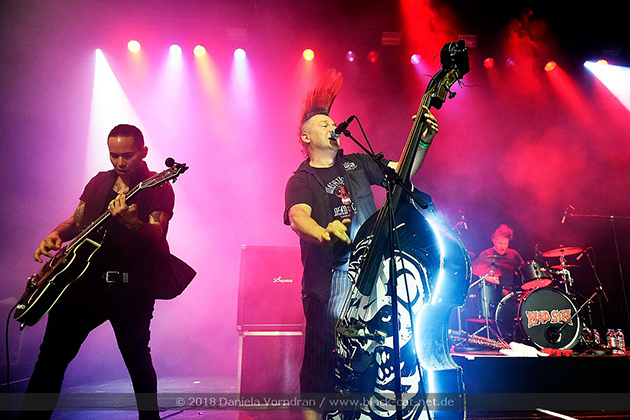 Agonoize - Main Stage (Dani)

AGONOIZE was unleashed on the world by Mike J. and Oliver S. in 2003. Chris L. joined the noise-masters taking over the mike. Since their debut record, 'Assimilation: Chapter One' (2004) the Berlin-based Aggrotech act has become more and more popular for their "agonising," hart-hitting electro of the extreme kind. At this year's Amphi they had the honour of shaking things up the Main Stage. The band was announced by host Jens with the words "Here comes the OMD of Hellectro". Already before the show it was announced that there would not be a blood show today. This and maybe the fact that there were some problems at the beginning of the show did not raise the mood of front man Chris L. He seemed to be angry, was kicking barrels and speakers and threw away his microphone stand.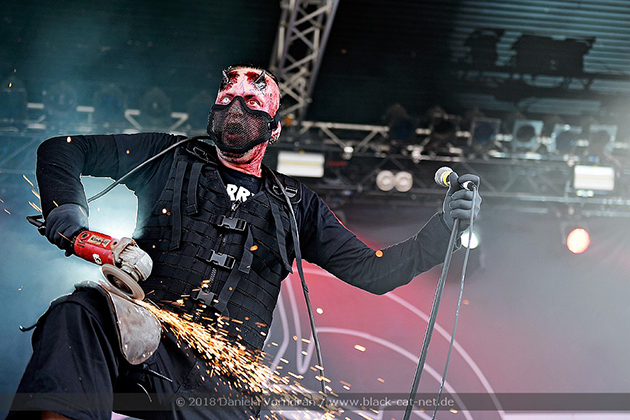 Anyway in the course of the concert, there were many show additions, like an Angela Merkel copy riding on Donald Trump. Angela was hidden with foam sticks by the band. There was also a "blood fairy" dressed in pink, spreading blood over the audience with a toilet brush Hardcore fans maybe were missing the huge amounts of blood, but anyway, the show was also typical AGONOIZE in this way. // http://www.agonoize.de/home.html / https://www.facebook.com/AgonoizeOfficial // Setlist: 01. Intro / 02. Teufelskind (New Song) / 03. Femme Fatale / 04. Staatsfeind / 05. Dead but not gone (New Song) / 06. Schaufensterpuppenarsch / 07. Koprolalie / 08. Bloodqueen / 09. A Vampire Tale / 10. Eternal Darkness / 11. Dafür / 12. Glaubenskrieger / 13. Deutsch / 14. Bis Das Blut Gefriert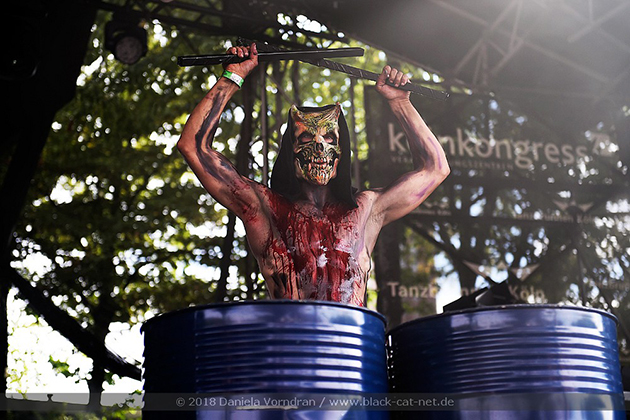 Persephone - Orbit Stage (Judith)

PERSEPHONE is a German-Austrian neo-classical, darkwave band founded in 2000. It is a side project of and fronted by L'ÂME IMMORTELLE singer Sonja Kraushofer. In 2018, they released 'Perle', an album of songs inspired by the classic of fantastic literature: Alfred Kubin's only novel, 'The Other Side'. Unfortunately, due to the bus connections from the Main Stage I missed the very beginning of the performance. Almost everyone on the bus was making their way especially to see Sonja and the four-piece band take to the Orbit Stage.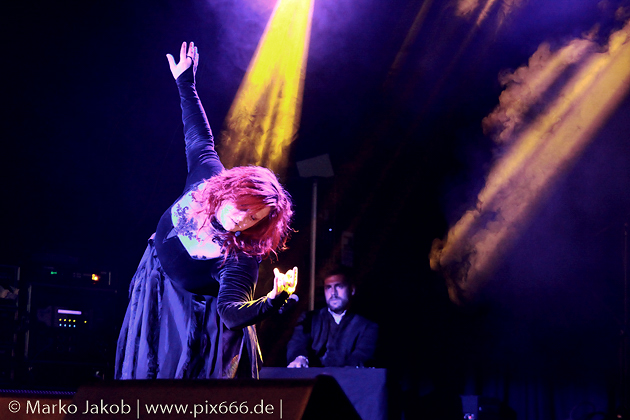 As I came on board the ship I could already hear her beautiful, unmistakable voice and I was struck by the silence in the hall - no one was talking, or moving around or distracted by their phones - everyone was already deep in thrall to the powerful, melancholic, haunting music coming from the stage. Sonja, strikingly clad in gorgeous velvet and lace, flaming red hair and bare feet, had the audience absolutely spellbound. She did not use a hand held microphone, which left her hands free to further express the theatre of the songs and punctuate her expressions. She sings her songs like she is telling a story - every word is full of drama and meaning, no words are rushed or taken for granted.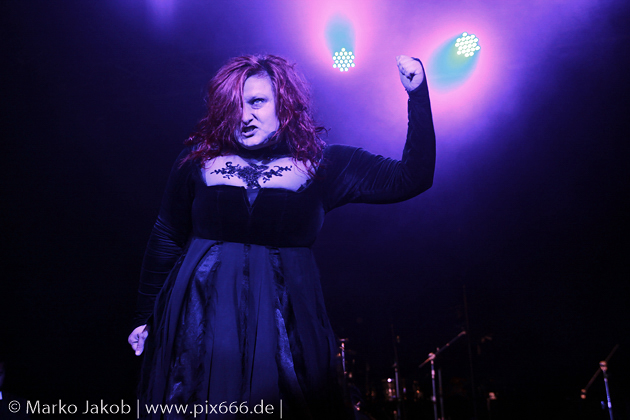 Sonja's range is extraordinary - from a full-bellied roar to an anguished whisper. Occasionally it veered slightly too "showtune-y" for me, but that it not a criticism of the talent or performance, just a personal preference. The musicians - including violin, cello, piano - added perfectly to this very unique and intimate concert. // http://www.persephone-home.de / https://www.facebook.com/persephoneband // Setlist: 01. Reflection / 02. Dreamland Of Mine / 03. Summer Rain / 04. The Man Who Swallowed / 05. My Soul / 06. Garden Of May / 07. Drowning Theme / 08.The Day You Went Away / 09. Dig A Little Deeper / 10. Mean / 11. Downfall / 12. Coming Home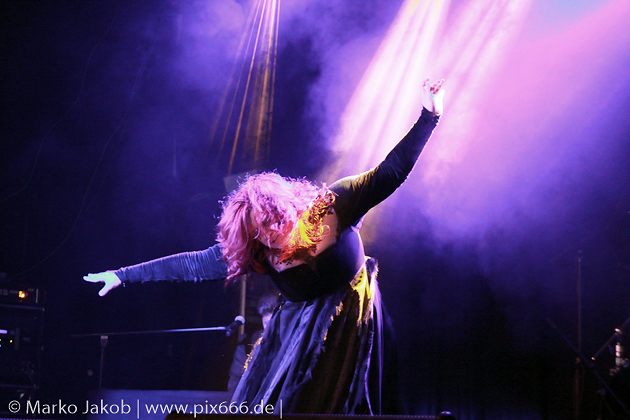 Girls Under Glass - Theatre Stage (LAy)

GIRLS UNDER GLASS rose from the ashes of CALLING DEAD RED ROSES in 1986. Drowned in red light the band opened their show with 'Ohne Dich' (tranls. 'Without You'), a truly amazing song, originally featuring Peter Spilles from PROJECT PITCHFORK, which they released in 2004. Vocalist Volker Zacharias welcomed the Amphi crowd to the band's only concert of the year and then, suddenly, the well-known guitar riff of GARY NUMAN's hit single 'Cars' resounded. Its characteristic synth sound also set in, followed by the accurate vocals. The band earned a big round of applause as it sounded like GIRLS UNDER GLASS was simply meant to cover this one. It was "a little ode to GARY NUMAN, one of our biggest influences when we started in 1986, an amazing artist," Zacharias explained to the audience.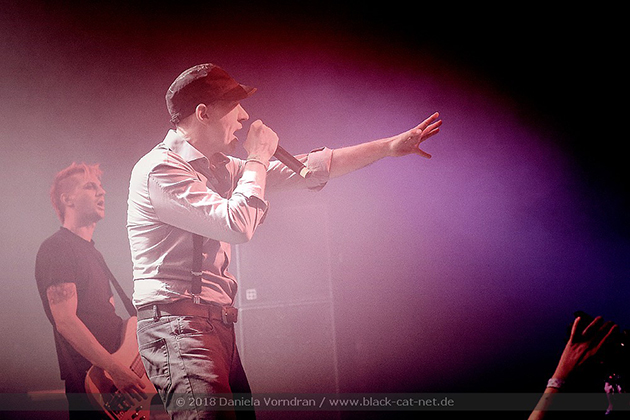 Then he mentioned that after 13 years the band "finally managed to write something new by themselves". For the very first time, G.U.G. performed 'Endless Nights' live. Nice piano notes introduced the song giving way to crushing guitars and the catchy chorus made people clap their hands. The band shifted down a gear when they presented the moody, mysterious and at the same time powerful 'In die Einsamkeit' (transl. 'Into Solitude'). Moreover, GIRLS UNDER GLASS delighted their audience with further Electro Goth Rock highlights like 'When I Think About You' and 'Burning Eyes'. Towards the end of the gig we revisited the 80s again.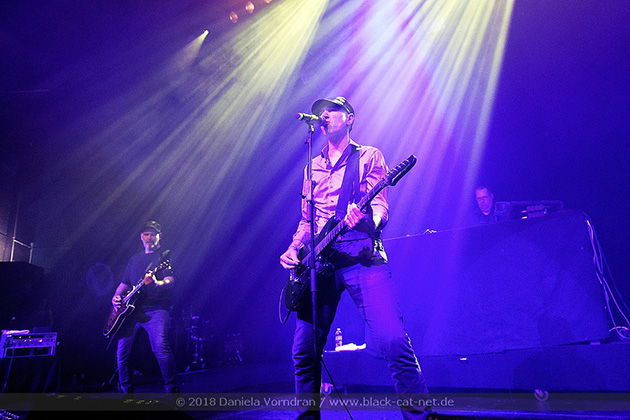 Zacharias grabbed the guitar and former vocalist Thomas Lücke hit the stage to sing 'Wall of Sound' and 'Lucky'. For 'Body Electric' by SISTERS OF MERCY he asked the crowd to put on their dancing shoes. And with the harshly sinister, moody yet noisy tune 'Du Tier' (transl. 'You Animal') GIRLS UNDER GLASS closed their awesome Amphi show. The audience gave the band a big hand. It was an absolute pleasure catching G.U.G. at this year's Amphi. // https://www.facebook.com/GirlsUnderGlass2018Official // Setlist: 01. Intro: Ohne Dich / 02. Cars (GARY NUMAN cover) / 03. Endless Nights / 04. In die Einsamkeit / 05. When I Think About You / 06. Burning Eyes / 07. Feuerengel / 08. Wall of Sound / 09. Lucky / 10. Body Electric (SISTERS OF MERCY cover) / 11. Du Tier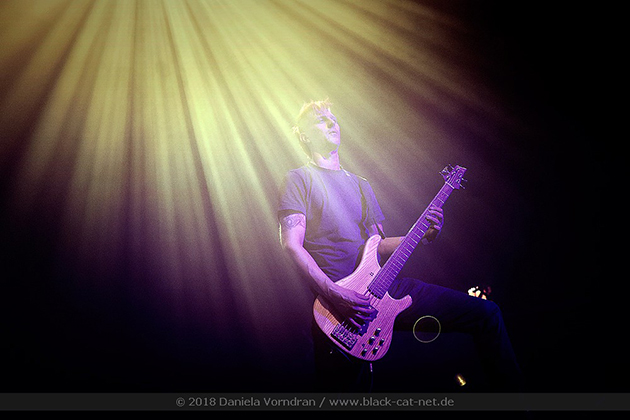 Oomph! - Main Stage (LAy)

OOMPH! came together back in 1989, are considered to be one of the pioneers of NDH ("New German Hardness"), and gained fame with their hit single 'Augen Auf!' in 2004 reaching the top of the German charts. Of course this tune was not to be missed at Amphi. Currently, their fans are awaiting the band's thirteenth release to see the light of day in 2019 following their 2015 record, titled 'XXV'. Together with their live band Andreas Crap (guitar, keys), Dero Goi (vocals, drums), and Robert Flux (guitar, sampling) lured a super large crowd to Amphi's open-air stage. Anticipating a great OOMPH! party, people were applauding and cheering once the musicians appeared.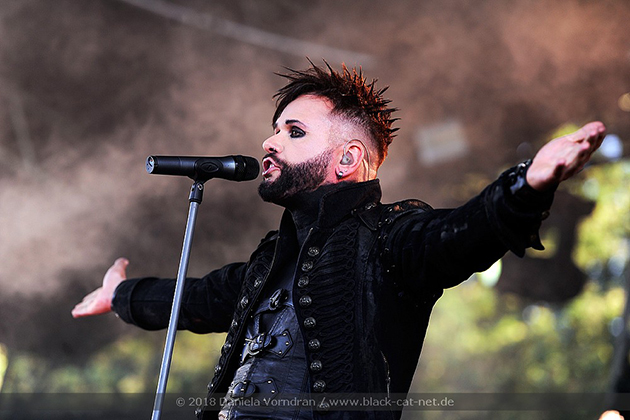 While the band was already in action kicking off with their 1999 single 'Das Weiße Licht' (German for 'The White Light') from the album 'Plastik', frontman Dero finally also walked onto the stage smiling and spreading his arms amid the applause of the fans. For their Amphi set the band picked only their German and mostly older songs. Unfortunately, I couldn't witness most of their personal version of an Industrial Metal show for IN THE NURSERY was about to enter the Theater stage. From what I've gathered though, folks were having a real blast with one of their oldest favourite bands. // http://www.oomph.de / https://www.facebook.com/oomphband // Setlist: 01. Das Weiße Licht / 02. Gott is ein Popstar / 03. Träumst Du / 04. Mein Schatz / 05. Der neue Gott / 06. Sandmann / 07. Gekreuzigt / 08. Jetzt oder nie / 09. Niemand / 10. Kleinstadtboy / 11. Labyrinth / 12. Augen auf! / 13. Mein Herz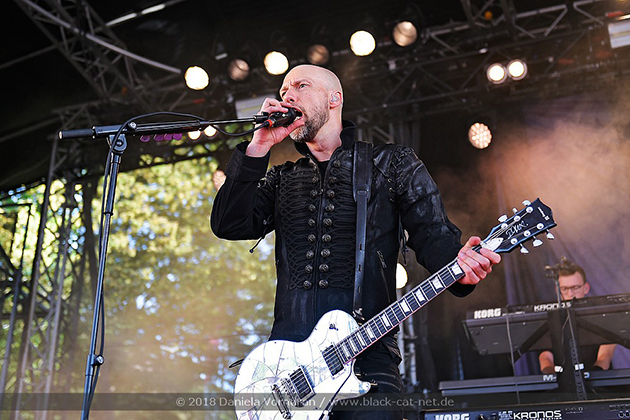 Grausame Töchter - Orbit Stage (Judith)

GRAUSAME TÖCHTER is a German band that uses elements of EBM, Industrial, Punk, film music and tTechno in their music. The German-language lyrics of singer Aranea Peel are in parts homicidal, sexual, obsessive, sadomasochistic and sometimes nightmarish, but also implicitly offer the hope of liberation, of sensuality, self-determination and lightness. Their fourth album, 'Vagina Dentata', was released in 2016. By 7:15 pm, the hall of the Orbit Stage hall was absolutely jam-packed full, everyone ready and primed, camera phones at the ready, for the visual and aural delights of GRAUSAME TÖCHTER.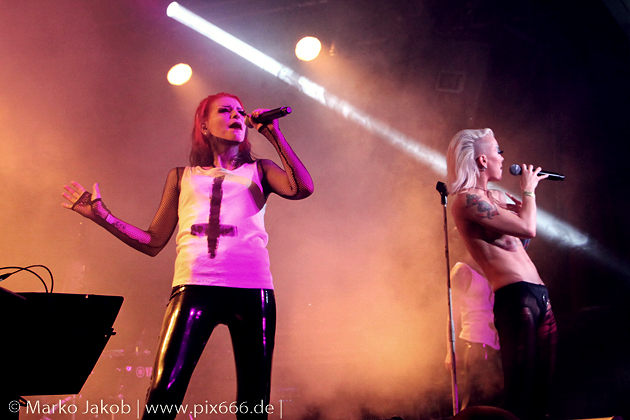 This band's performances are known for their BDSM elements - Peel and her women do not flinch from nudity or challenging the audience's sensibilities. For me it was just wonderful to see more women take to the stage in this very male-dominated festival. A concert of GRAUSAME TÖCHTER may be thought of as mainly a visual extravagance with Aranea Peel in charge of it all - today making a striking appearance in extreme make up and dressed in nothing more than leather shorts. On stage with her were also two latex clad-dancers a bass player and a man behind some keyboards and computers.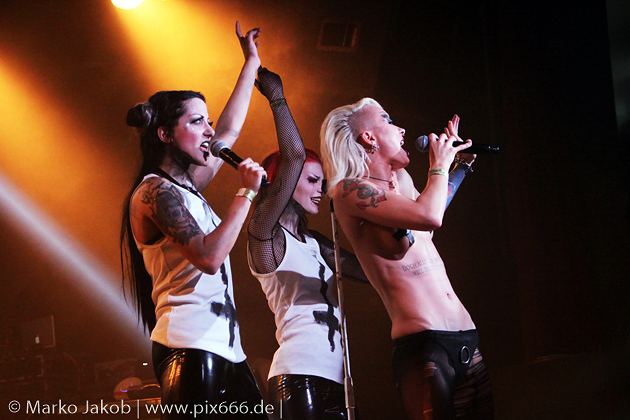 Throughout the show the women indulged in all sorts of dramatic torture/ submissive type of stunts. It might be easy to become distracted by all of this, but luckily from where I was I couldn't really see all the onstage shenanigans and so I was able to just mostly concentrate on the music. Fortunately, the music was able to back up the onstage drama - powerful, hard beats, and a fabulously huge array of styles: electropop, punk, EBM, Industrial, Electro Rock and even some circus music thrown in, all with Peel's angry, shouty, punky theatrical voice perfectly suited to it.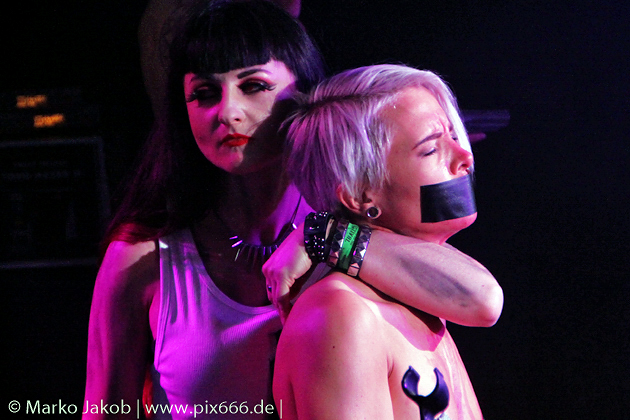 I found it all hugely enjoyable and as the crowd was cheering, clapping and whooping along, they appeared to as well. // https://www.facebook.com/GrausameToechter // Setlist: 01. Engel im Rausch / 02. Beleidigte Engel / 03. In deinem Kopf / 04. ...und ich fühle nichts / 05. Engel im Himmel (Remix-Version) / 06. Fette Katzen / 07. Goldener Reiter / 08. Die ganze Welt ist ein Zirkus / 09. Wildes Tier / 10. Wie eine Spinne / 11. Annika in Ekstase /12. Ich darf das!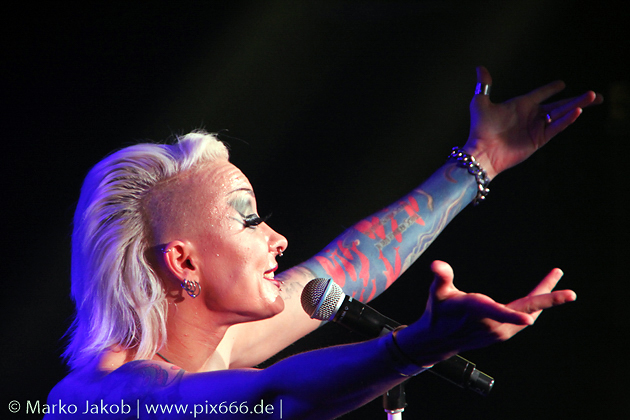 In the Nursery - Theatre Stage (LAy)

Time for another highlight - IN THE NURSERY! The act around twin brothers Klive and Nigel Humberstone was formed in 1981 in Sheffield, Great Britain. They can be proud of having created more than two dozen albums thus far. Their compositions are also to be found on various film soundtracks and trailers including 'Game of Thrones', 'Gran Torino', 'Beowulf', and 'Interview with the Vampire', just to name a few. In addition, ITN are well known for various projects like their 'Optical Music Series' which presents new scores for old silent films, for example 'The Cabinet of Dr Caligari' or 'The Fall of the House of Usher'. Another amazing project is called 'Aprirsi', a collaboration with academics to create binaural soundscapes to help people living with dementia.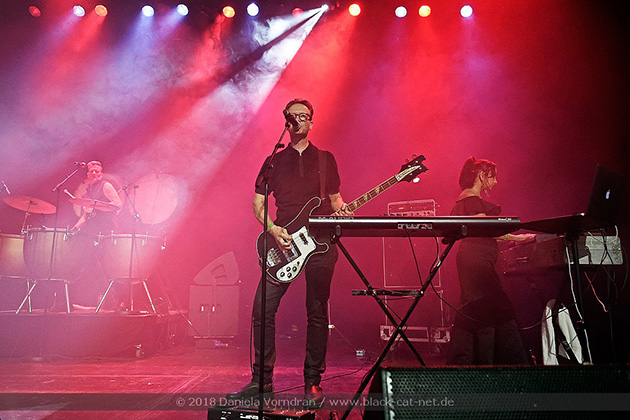 As expected, ITN's Amphi show was a magnificent celebration of their exceptional blend of the cinematic and the electronic. The Theater was the place to be if you are into gripping and evocative soundscapes driven by truly masterful percussions. Just think of 'Sixth Sense' or 'Crepuscule'. The sound was stellar and vocals soothing. The masters of sound ITN deeply impressed their listeners bringing a beautiful set to life that one could easily delve into and get lost in. They closed with the fast-paced and at the same time epic tunes 'Compulsion' and 'L'Esprit'. IN THE NURSERY - simply stunningly great! // https://www.inthenursery.com / https://www.facebook.com/INTHENURSERY // Setlist: 01. Intro: Consul / 02. Artisans of Civilisation / 03. Crepuscule / 04. Crave / 05. Rainhall / 06. Lectern / 07. Bombed / 08. A Rebours / 09. Torschlusspanik / 10. Cobalt / 11. Sixth Sense / 12. Compulsion / 13. L'Esprit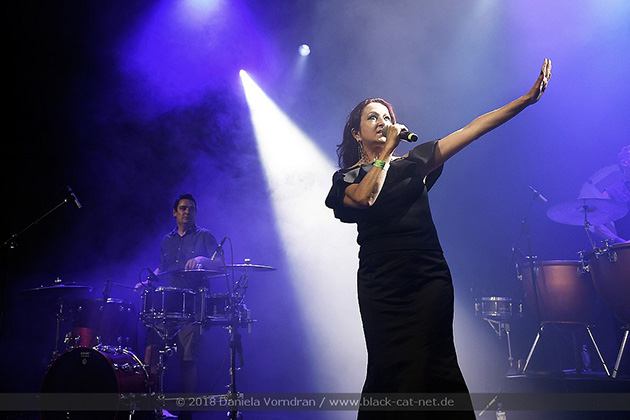 And One - Main Stage (Patrick)

And then, it were once again the "Naghavi's warriors" to wrap up the Amphi Festival. AND ONE played their almost always same old hit-packed festival set; everybody was dancing, clapping, cheering, and singing along, and even Naghavi, who not without good reason has a reputation to be a concert chatterbox, kept his mouth shut between the songs - but then the encore came. The German-Iranian re-entered the stage and buoyantly called out to the audience: "I've always wanted to do what I am doing now: Give me an A, give me a D, give me an O, give me an L, give me an F!" Immediately thereafter, the first bars of the highly controversial song 'Steine sind Steine' (transl. 'Stones are Stones') began.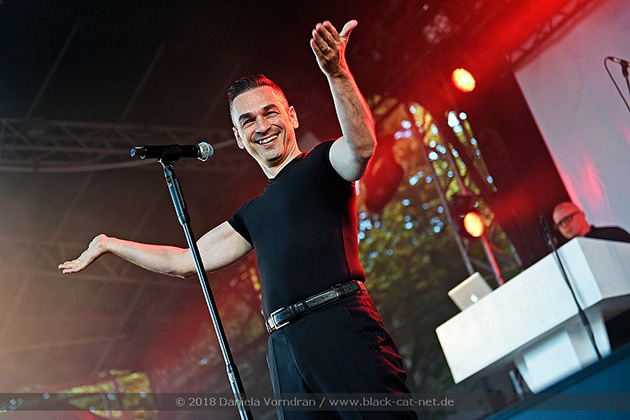 That move completely ruined the mood at one blow for quite a few. Many left the festival grounds and gave vent to their anger in the respective social networks. Was that deliberate provocation? Did Naghavi just want to show the audience how easily people can be manipulated? Was this witty or completely off the mark? May one allow AND ONE to play ever again at Amphi in the future? Questions upon questions and everybody better form their own opinion on that matter. // https://www.andone.de / https://www.facebook.com/ANDONEoffiziell // Setlist: 01. Sometimes / 02. Minilary Fashion Show / 03. Für / 04. Technoman / 05. Schwarz / 06. Unter meiner Uniform / 07. Most of the Tears / 08. Traumfrau / 09. Get You Closer / 10. Krieger / 11. Deutschmaschine / 12. Steine sind Steine / 13. Second Voice / 14. High / 15. Shouts of Joy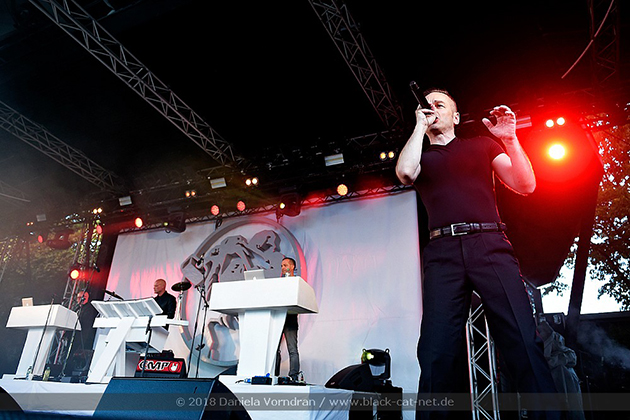 Goethes Erben - Theatre Stage (LAy)

This year, Amphi's unique headliners inside the Theater were GOETHES ERBEN. These creators of "music theatre in German language" go back to 1989 being brought to life by Oswald Henke and Peter Seipt. Amphi didn't make it easy for the festival visitors to pick a stage for the very final act. I personally, was looking forward to an original "New German Death Art" show by one of the genre's first representatives, the "Goethe's heirs". Their debut record titled, 'Das Sterben ist Ästhetisch Bunt' (in English, 'Dying is Aesthetically Colourful'), came out 1992. To put it briefly, GOETHES ERBEN's impressive show pierced through marrow and bone. Oswald, who reminded us of Grimá Wormtounge from 'Lord of the Rings' - no offense! - grabbed the audience's attention with his piercing spoken words and a manic performance.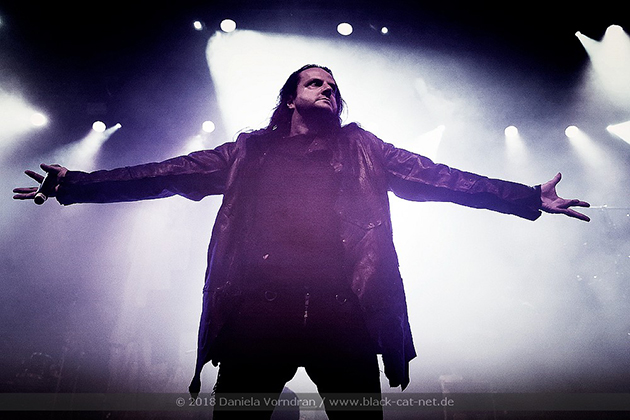 The band opened with a calm yet suspenseful piano tune though: 'Die Wucht' from their upcoming record, 'Am Abgrund' (to be released on 5th October), made for a perfect intro. The stunning ballad 'Vermisster Traum' was just one the highlights being enriched by ballet dancer Ida Groß, "the niece of the bassist". Dressed in white she was twisting and turning, floating and jumping barefooted across the stage contributing to the song's melancholia. All in all, we were grateful for having witnessed such a thrilling show by such a worthy headliner. If you missed the gig and/or can't get enough of GOETHES ERBEN live, join them of their 'Am Abgrund' club show tour this September/ October to experience the act's ninth album live on stage. // http://www.goetheserben.de / https://www.facebook.com/goetheserbenoffical // Setlist: 01. Wucht / 02. Rot / 03. Kopfstimme / 04. Nichts bleibt wie es war / 05. Himmelgrau / 06. Zimmer 34 / 07. Denn es ist immer so / 08. Vermisster Traum / 09. Keine Farben / 10. Lazarus / 11. Die Brut / 12. Mit dem Wissen / 13. Ironie im Plattenbau / 14. Zinnsoldaten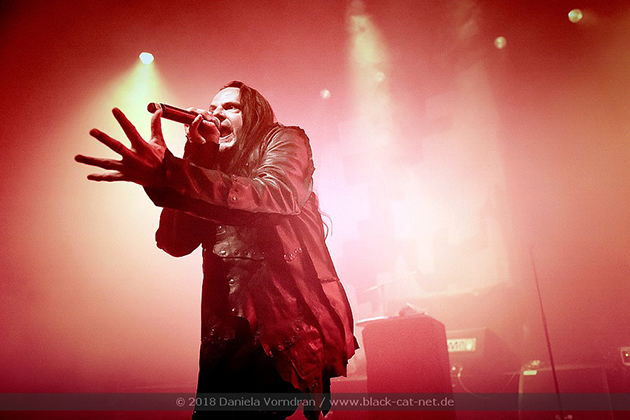 Joachim Witt - Orbit Stage (Marko)

JOACHIM WITT celebrated great successes in the 80s and 90s. His latest album, 'Rübezahl', was produced with Chris Harms from the band LORD OF THE LOST. You already have a queasy feeling when you know the next concert is the last of the festival. But JOACHIM WITT with his grandiose appearance should be able to make it one of the top highlights of the festival. The stage was totally beautifully decorated with shrubs. JOACHIM WITT came onto the stage for the first song 'Herr Der Berge' wearing a hood and carrying a walking stick - the outfit of 'Rübezahl'. Rübezahl is a legendary figure from the Giant Mountains - the famous border mountains between the Czech Republic and Poland.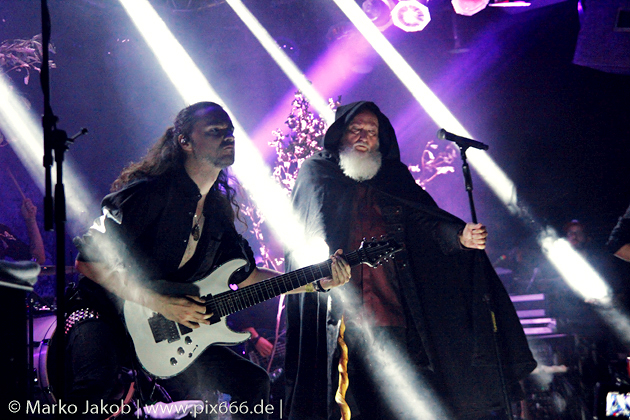 Mr. WITT made many cool announcements and the audience during the concert had a lot of fun with it. He said, for example, that today his songs are too slow and that the band should play faster! After this some spectators called to him to take off his clothes. JOACHIM WITT replied, "then you have to bring the girls of GRAUSAME TÖCHTER back on stage!" (The band played immediately before JOACHIM WITT). That would certainly have pleased the onlookers! As GRAUSAME TÖCHTER have previously covered a song by JOACHIM WITT, a duet would certainly have been interesting.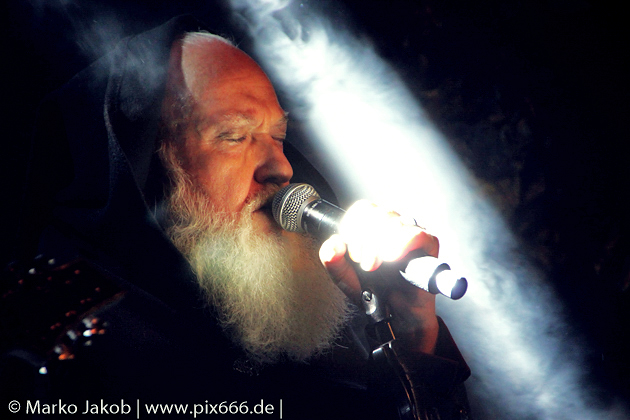 After many great Dark Rock songs he now had a tempo change with the emotional ballad 'Mein Diamant'. His deep voice is just overwhelming, I could not get enough! The audience was totally connected and clapped along on the faster songs. The song 'Wiedersehen Woanders' was wonderfully performed - the song that Martin Engler from the band MONO INC. wrote for JOACHIM WITT. And then the time had come for the mega hits. You realise, when you consider that the song 'Die Flut' is already 20 years old, how fast time goes on. Meanwhile, the "old man" was sitting singing on a bar stool.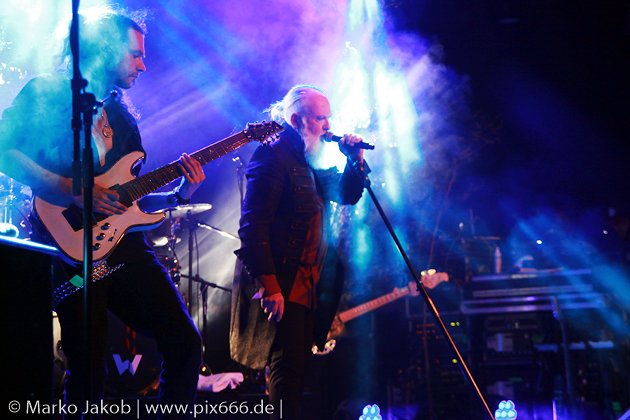 For the 20th anniversary of the song, JOACHIM WITT sang together with PETER HEPPNER in the late 90s, this year there will also be a new song released by the two musicians. Finally, the 80s hit 'Der Goldener Reiter'. For half of the song the audience sang along in full volume – what an impressive atmosphere. The calls for an encore were so loud and long lasting, that the band came back again on the stage and played the song, 'Strenges Mädchen'. It was such a terrific conclusion to the festival that words almost fail me. // http://joachimwitt.de / https://www.facebook.com/joachimwittmusik / Setlist: 01. Intro / 02. Herr der Berge / 03. Ich will leben / 04. Wofür du stehst / 05.Agonie / 06. Mein Diamant / 07. Eis & Schnee / 08. Leben und Tod / 09. Wiedersehen woanders / 10. Die Flut / 11. Der Goldene Reiter / 12. Strenges Mädchen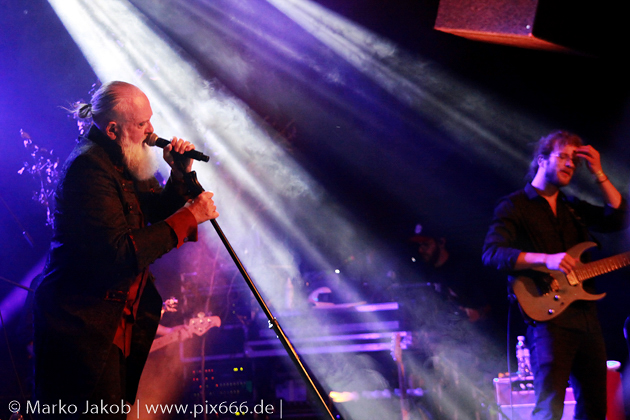 Conclusion

That was it for this year's Amphi. Once the last notes of the headliners' music faded away and the final bows were taken, yet another successful and enjoyable edition of the annual Goth weekend at the river Rhine was done. 12,500 music lovers from around here and afar came together and had a blast thanks to a dark and yet diverse line-up. The fact that 1,000 early bird tickets were sold out about seven hours after the pre-sale had started for next year's event speaks for itself. The first project that was revealed for the future programme was NITZER EBB. We can look forward to the act's first festival gig in Europe within eight years. So, see you again next year, ghouls and gals, when Cologne will be calling us for the 15th Amphi happening since 2005.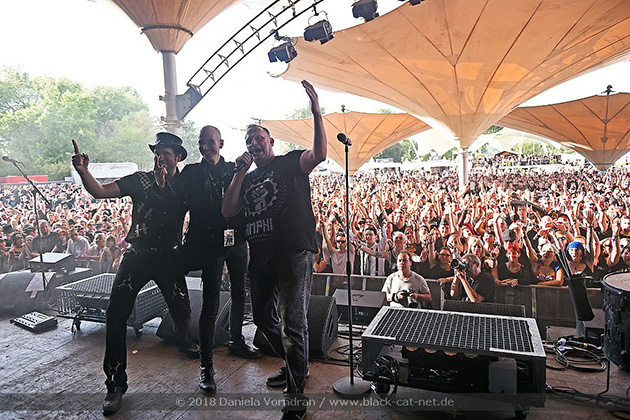 All pictures by Daniela Vorndran (
http://www.vorndranphotography.com
/
http://www.facebook.com/blackcatnet
) except Rroyce by Marcel Kahner and Scheuber, Corde Oblique, Persephone, Grausame Töchter, Joachim Witt by Marko Jakob
See also (all categories):