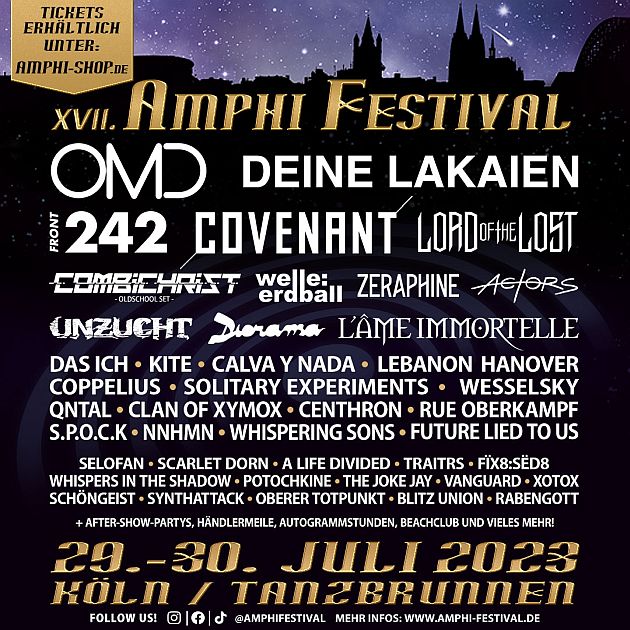 Tanzbrunnen, Cologne, Germany
29th & 30th July 2023
Amphi Festival 2023 with OMD, Deine Lakaien, Front242, Covenant, Lord of the Lost, Combichrist, Welle:Erdball, Zeraphine, Actors, Unzucht, Diorama, Kite, Lebanon Hanover, S.P.O.C.K, Calva Y Nada and many more

The shores of the river Rhine in Cologne are once again calling for us this summer. End of July is Amphi time! Since 2005 the two-day festival has been luring dark music lovers from all around with a high-class, diverse, international line-up ranging from Synth Pop to Industrial and Post Punk to Dark Rock. Traditional and iconic artistes share the stage with modern and rising acts promising a multi-coloured black celebration at the "dancing fountain", the Tanzbrunnen, in Cologne. OMD and DEINE LAKAIEN will be headliners of the festival. The mix of Gothic, Wave, Synth Pop, Electronic music and Post Punk surely offers something for anyone.


When ORCHESTRAL MANOEUVRES IN THE DARK a.k.a. OMD took the Amphi Festival by storm in 2018, everybody was united in the hope that Andy McCluskey and Paul Humphreys would return to Cologne in the not-too-distant future and maybe pay us an even bigger visit. Dear ones, the sensation is perfect! OMD, creators of timeless classics like 'Maid of Orleans', 'Enola Gay', 'Electricity', 'Souvenir' and many more, are headlining the Amphi Festival 2023! Needless to say, it is an absolute honour for the festival to present you these legendary musicians again in 2023.

The legend lives! CALVA Y NADA return to the stage after 25 (!) years with an exclusive festival show at Amphi! Be prepared for a journey into the heart of electronic darkness, like only the old days could have brought forth - an uncompromisingly driving, rough school of sounds with delightful edges to it. Come what may, the first CALVA Y NADA show since 1998 will absolutely be a force to be reckoned with!


Festival Line-Up (in alphabetical order)

Saturday, July 29:
A Life Divided, Calva Y Nada, Centhron, Clan Of Xymox, Covenant, Das Ich, Deine Lakaien, Diorama, Front 242, Future Lied To Us, Lebanon Hanover, Rabengott, Selofan, S.P.O.C.K, Synthattack, Vanguard, Welle:Erdball, Wesselsky, Whispers In The Shadow, Xotox, Zeraphine

Sunday, July 30:
Actors, Blitz Union, Combichrist, Coppelius, Fïx8:Sëd8, Kite, L'âme Immortelle, Lord Of The Lost, NNHMN, Oberer Totpunkt, OMD, Potochkine, Qntal, Rue Oberkampf, Scarlet Dorn, Schöngeist, Solitary Experiments, The Joke Jay, Traitrs, Unzucht, Whispering Sons





The final running order is not set yet and will be announced in time before the festival.

Amphi stands for musical extravaganza for all Electro and Dark Rock lovers taking place around the open-air Main Stage, the indoor venue Theatre and aboard the MS RheinEnergie. You may also relax and take a break at the popular beach club "KM 689" or have a drink at the mead lounge at the fountain. Another hot spot you also don't want to miss is the gothic-market for a stroll and some shopping. And of course there will be some signing sessions to meet and greet your favourite artists.


Opening Events

The special opening event "Call The Ship To Port" is taking place for the eighth time this year. On July 28 Europe's biggest domestic event ship, the MS RheinEnergie, will take 1,333 guests on a boat trip across the Rhine together with three exclusive live-acts to kick of the Amphi-weekend: DIARY OF DREAMS, [:SITD:], and RROYCE will make this cruise memorable, that is for sure. CTSTP 2023 is already sold out.





For many of you, it has long become a popular ritual: just quickly get the festival wristband - because what you have, you have - and then, with the party ticket at hand, headlong into the night of nights, to groove in for the big Amphi Festival weekend! On Friday, 28 July 2023, at 10pm it is time again for the official Amphi Pre-Party at the Theater am Tanzbrunnen. This time AND ONE mastermind Steve Naghavi, scene veteran Bruno Kramm (DAS ICH), Cologne DJ icon Elvis (The Memphis) and our expert for electro sound MSTH (ElectronicDanceArt) will musically guide you through the night from the DJ desk with hot tunes and timeless classics! Weather permitting, the beach club KM 689 will as well be open again on Friday.

Doors are at 10pm and the roof of the Theatre will be raised by this stellar DJ line-up:
STEVE NAGHAVI (And One)
BRUNO KRAMM (Das Ich)
ELVIS (The Memphis)
MSTH (ElectronicDanceArt)

Tickets for the official Amphi Pre-Party 2023 (pre-sale 11 €) are, as always, required in addition to the festival ticket and are available at the AMPHI SHOP at www.amphi-shop.de as well as at www.eventim.de and at all known CTS/EVENTIM advance booking offices.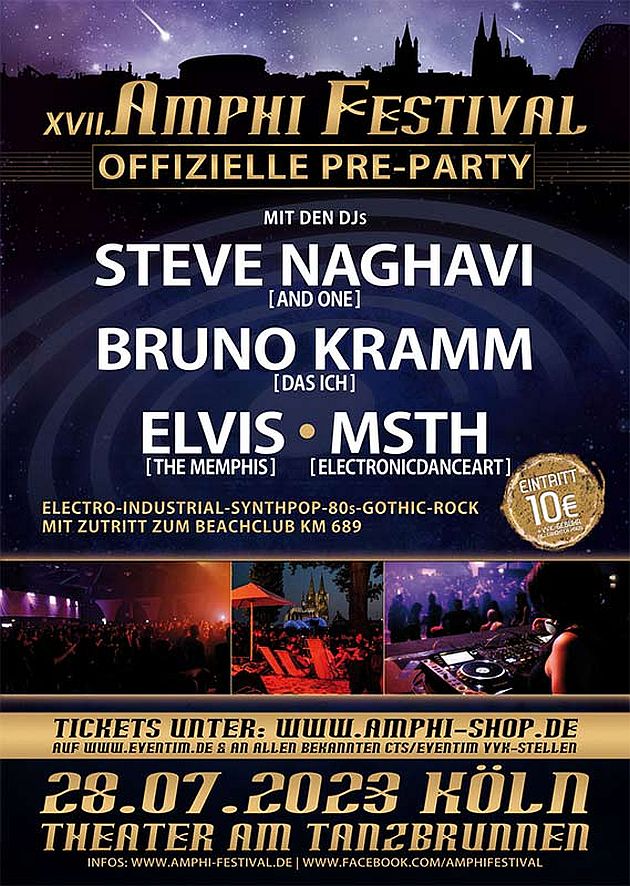 Furthermore, there will be several warm-up parties. Dates announced soon!


Additional Festival Info

Doors: 10am (both days)
Starts: 11am (both days)
Festival Websites: www.amphi-festival.de / www.facebook.com/amphifestival
Tickets: Weekend tickets are available for 114.00€ (plus fees) and pre-party tickets for 11. 00€ (plus fees) at www.amphi-shop.de (worldwide shipping). All tickets are also available at all nationwide CTS/EVENTIM box-offices, online at Eventim, www.oeticket.com, www.ticketcorner.ch and as PRINT@HOME edition. Day tickets are available as well for 76.00€ per day.
Facebook Event Amphi Festival 2023: https://www.facebook.com/events/721669245594891/
Facebook Event Call the Ship to Port: https://www.facebook.com/events/4011940119032140/
Facebook Event Official Pre-Party: https://www.facebook.com/events/500201338826983/
Playlists: SPOTIFY at https://open.spotify.com/playlist/0nQeEGnRCwQTT8glTnmNjL
See also (all categories):