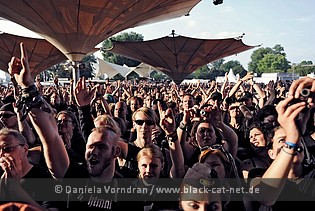 Tanzbrunnen, Cologne, Germany
26th to 27th July 2014
Amphi Festival Day 2: Torul, Noisuf-X, Ecki Stieg, Unzucht, Maerzfeld, Markus Heitz, Solar Fake, Klangstabil, Der Tod, In The Nursery, The Exploding Boy, Corde Oblique, Mesh, Rotersand, Persephone, Mono Inc., London After Midnight, Janus, Apoptygma Berzerk, Die Krupps, Eisbrecher, Lacrimosa

On the second day, too, the organisers had a card up their sleeve with some splendid bands. While at the main stage and in the Staatenhaus the bands were entertaining the crowd, the program in the theatre was starting much alike the day before with readings of Ecki Stieg, Markus Heitz and the comedy program of DER TOD. And though the great propaganda by excited visitors, on the second day the theatre was so crowded that not all interested people could enter for the show of DER TOD.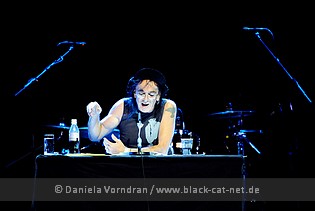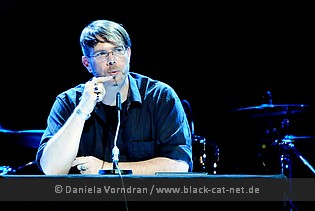 Torul - Main Stage [morTICIA]


Opener on the main stage was the Slovenian Synth Pop/ Rock band TORUL. Despite the early hour there were already quite a lot of people gathered at the venue and as it looked like to me, most of them connoisseurs of the band. Probably some of the audience had seen the band just a couple of weeks ago at another festival like me. And once again they could convince with their songs and the great voice of Jan. It was a pity that their show was so short, as I'm sure that the people would have loved, too, to hear more of this outstanding band. With a big applause the band left the stage. //
http://www.torul-recordings.net
/
https://www.facebook.com/torul
// Setlist: 1. The Sun / 2. Lonely Night (new song) / 3. The Fall / 4. In Whole / 5. Try / 6. If you so wish / 7. It was supposed to be Fun // Rating: 9 / 10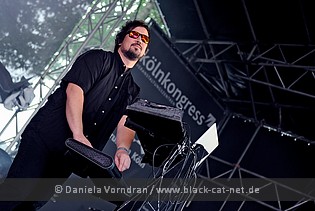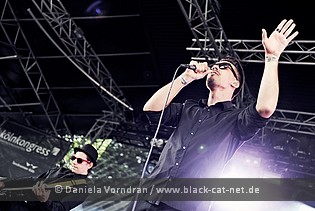 Noisuf-X - Staatenhaus [Nataly]

Thus the second day of the festival began for me with another music discovery called NOISUF-X. That German electronic project started in 2005 and by now its discography consists of seven studio albums including the new one entitled 'Invasion'. So back to the festival. Taking into consideration that I'm not a big fan of this genre the set produced a fairly good impression. Energetic, dynamic and really positive in some way it made just the right start for the day. Three people onstage, pure electronic sound and dancing audience this is how the show looked like. And that was a show indeed and a great preparation to what came next. //
http://www.noisuf-x.com
/
https://www.facebook.com/NOISUFXofficial
// Rating: 7 / 10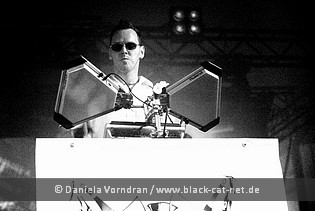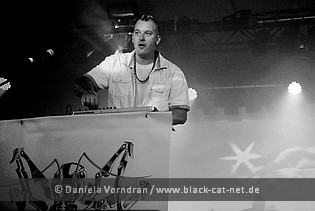 Unzucht - Main Stage [morTICIA]


The German band was founded in 2009. Busily touring, they soon gathered a continuously growing fan base and so it was no wonder that the space at the main stage was crowded despite the fact that it was still early day. With their sound of Goth Rock / Metal / Industrial, the band rocked the place right from the beginning. In October 2013 they have just released their second album. Personally the band could not convince me. It took me a while to find out in which language the singer was singing as he was mumbling until I finally recognised some song lines in German language. They also performed a cover version of HEROES DEL SILENCIO's 'Entre dos tierras' which was disappointing as they made it to drain all the energy of the original version. Well, at least the crowd apparently loved the show as they were moving, singing along and clapping their hands. //
http://www.unzucht-music.com
/
https://www.facebook.com/Unzucht
// Setlist: 1. Rosenkreuzer / 2. Todsünde 8 / 3. Entre dos tierras / 4. Ewigkeit / 5. Unzucht / 6. Deine Zeit läuft ab / 7. Kleine geile Nonne / 8. Engel der Vernichtung // Rating: 7 / 10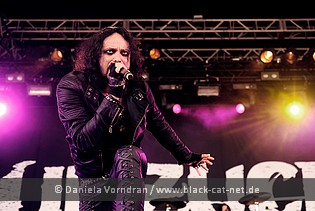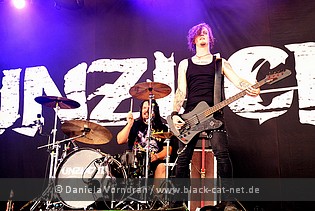 Maerzfeld - Staatenhaus [morTICIA]


Now I had to change the venue to see MAERZFELD perform in the Staatenhaus. The German band saw the light of day in 2009. And another band that fits in the genre Neue Deutsche Härte. Don't get me wrong, there are for sure some really good bands of this genre but also a lot that are just a copycat of others. And I catch myself feeling more and more bored when I have to listen to another band with this sound. Thus I was not surprise to find the venue only half filled. But surely there were quite a lot of their fans to rock with the band. At least the guys tried not too hard to sound like RAMMSTEIN or EISBRECHER. But surprise, surprise: we learnt from the singer that the band will soon go on tour with the latter mentioned band. //
http://www.maerzfeld.de
/
https://www.facebook.com/Maerzfeld
// Rating: 5 / 10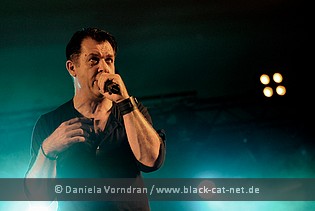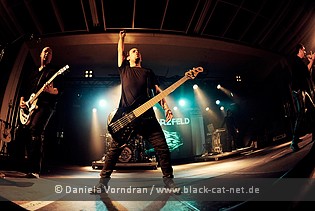 Solar Fake - Main Stage [Nataly]

The solo project of Sven Friedrich (DREADFUL SHADOWS, ZERAPHINE) came to live in 2007-2008, when the debut album 'Broken Grid' was released. Then there was 'Frontiers' and in 2013 'Reasons to Kill'. Sonic minimalism supplemented with thought-provoking melancholic lyrics makes listeners to immerse deeper into their own thoughts and emotions usually dark, but all that if you just listen to the songs. Everything changes completely when the band plays live and their show at Amphi hadn't become an exception. First of all Sven and Andre enjoyed every second of their set themselves and shared their happiness with the crowd that also seemed to be having a good time. Not too much gothic and darkness but really good music and energy which didn't allow anyone to stand still. //
http://www.solarfake.de
/
https://www.facebook.com/SolarFake
// Setlist: 1. I Hate You More Than My Life / 2. Face Me / 3. Here I Stand / 4. More Than This / 5. Reset To Default / 6. Parasites / 7. Where Are You / 8. One Step Closer (Linkin Park cover) / 9. The Pages // Rating: 8.5 / 10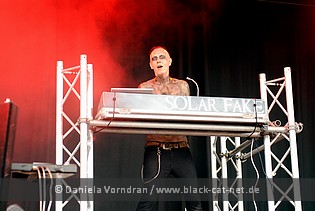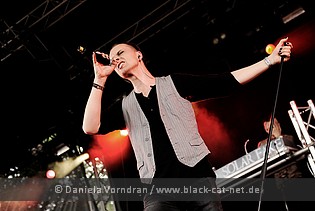 Klangstabil - Staatenhaus [morTICIA]

In 1994 the German duo started to work together in order to create music. In the beginning they had no intention to release as they were just experimenting with sound. But soon they started to perform and release albums. Their sound is an interesting mixture between Industrial/ Electronic/ Experimental influenced by the music of the 80's. The Staatenhaus filled continuously when the guys started to perform. The vocal performance varied from screaming to singing to Sprechgesang underlined with superb Electronic sound. Interesting and diverse musical performance. //
http://www.klangstabil.com
/
https://www.facebook.com/pages/Klangstabil/7403019660
// Setlist: 1. Shadowboy - The awakening / 2. Pay with friendship (Disco mix by Sonic Area) / 3. Math & Emotion - The square root of one / 4. You may start / 5. Push yourself / 6. Twisted words / 7. Schattentanz / 8. End of us / 9. Bottom of your list // Rating: 7.5 / 10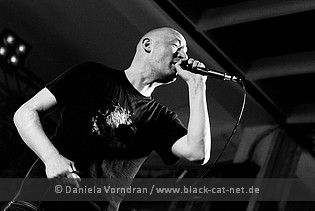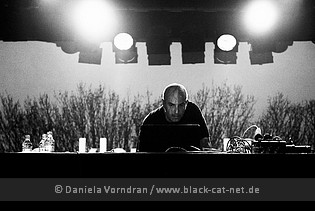 In The Nursery - Main Stage [Nataly]

The sound of this British project can be described as experimental yet the band also calls it neo-classical. Anyway the music is rather original and the history of the formation impresses. IN THE NURSERY was found in 1981 and by this time released over 20 albums. Besides their music has been used on film soundtracks so the project may interest at this point as well. And of course their live show attracts an attention, mostly thanks to drums in the centre of the stage and a peculiar sound, of course. I can't say too much about the compositions of the band as it was my first introduction to their music but in whole the songs seemed to be good and what else is needed. //
http://www.inthenursery.com
/
https://www.facebook.com/INTHENURSERY
// Setlist: 1. Rainhall / 2. Crepuscule / 3. Hymn Noir / 4. Lectern / 5. Bombed / 6. Tenure / 7. Forma / 8. Mystery / 9. A to I / 10. A Rebours [against nature] / 11. Compulsion / 12. L'Esprit // Rating: 8 / 10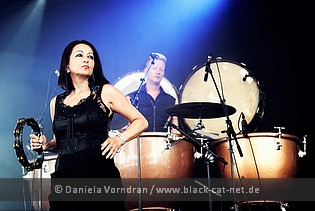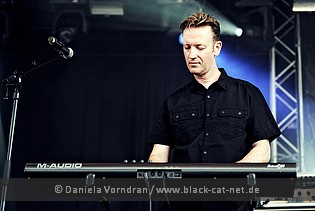 The Exploding Boy - Staatenhaus [Nataly]

The Indie Pop project from Sweden produced an ambivalent impression. When I saw the musicians I got ready to listen to some more or less rock music, but their mild pop and post punk sound was good enough. Yet the vocals seemed to be a bit specific and it took some time to get used to it. The gig in general might be even to calm and peaceful, not boring but balancing on the edge of tranquillity. That's typical for the style the band plays and in some way it felt like a nice rest after the previous music attacks for the musicians must be definitely credited for that. //
https://www.facebook.com/theexplodingboysweden
// Rating: 7 / 10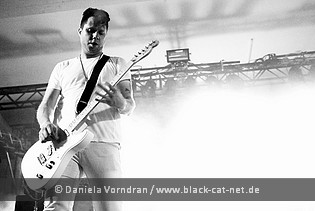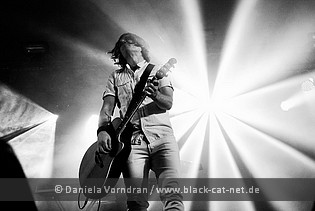 Corde Oblique - Theatre [Dani]

The program at the theatre is always something special and far beyond being mainstream. The first band playing inside after the readings and comedy program was Italian Progressive Mediterranean Folk Music project CORDE OBLIQUE. This band was totally new for me even though they already released seven albums so far. The band is directed by the guitarist-composer Riccardo Prencipe, graduated from the Conservatoire of Naples San Pietro a Majella. The wonderful way of singing and the combination with their ethereal music really impressed me. //
http://www.cordeoblique.com
/
https://www.facebook.com/cordeoblique
// Rating: 8 / 10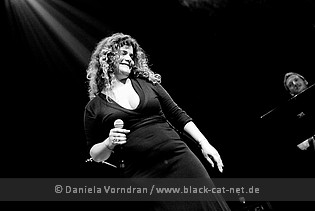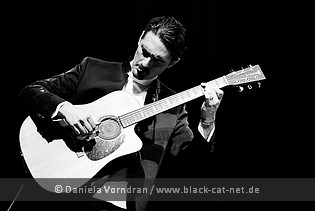 Mesh - Main Stage [morTICIA]


One of the highlights of the day for me was the performance of my favourite band from Bristol, UK, on the main stage. The show started with a surprise as 'Trust you' was performed acoustically on a small stage opposite the main stage. To do this on such a big festival was a risky decision for sure and you could hear that Mark was nervous when he sang the first verse. But it worked fine and this little "extra" was honoured with a big applause while Mark and Lord-Richard moved to the main stage. We were presented a nice mixture of old songs and songs of their last album 'Automation Baby'. The place was packed and people danced and sang along or clapped their hands. Though I like every song they performed, I was more than happy to hear 'Step by step'. And even at this festival where surely not everyone is a fan or familiar with Mesh songs, lots of people were singing the verse 'I need to start again. Take me far away!' of 'Taken for granted' when the song was finished. //
http://www.mesh.co.uk
/
https://www.facebook.com/meshtheband
// Setlist: 1. Trust you (acoustic) / 2. Flawless / 3. You didn't want me / 4. Adjust your set / 5. You want what's owed to you / 6. Step by step / 7. Leave us alone / 8. Born to lie / 9. Taken for granted // Rating: 9 / 10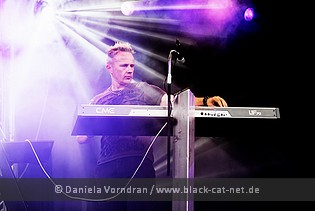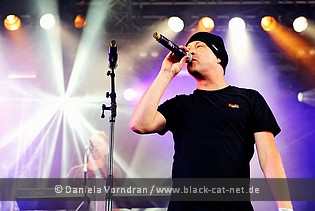 Rotersand - Staatenhaus [Nataly]

German electronic formation ROTERSAND was founded in 2002 and since that time it has been making a high quality future pop and playing many concerts. When the musicians appeared onstage at Staatenhaus, they met a warm welcome and during the whole set the audience tried to express the appreciation. The frontman also tried his best to make a good show out of the set, not just mere singing. And I may say that he succeeded. As for the songs themselves it's hard to say anything definite as traditionally I was listening to them for the first time, but in whole everything sounded great and didn't suffer from monotony. So another good show in my Amphi experience. //
http://rotersand.net
/
https://www.facebook.com/rotersand
// Setlist: 1. Merging Oceans / 2. Lost / 3. Dare To Live / 4. I Cry / 5. Electronic World Transmission / 6. Electric Elefant (new) / 7. War On Error / 8. Exterminate Annihilate Destroy / 9. Undone // Rating: 8 / 10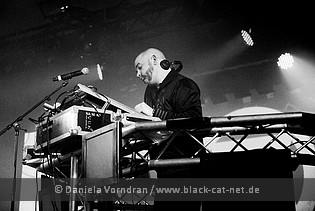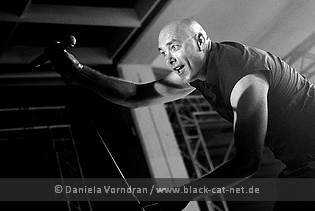 Persephone - Theatre [Nataly]

Finally the concert I was waiting for. The project of Austrian singer Sonja Kraushofer gives listeners a chance to enjoy a wonderful voice and classical instruments in the atmosphere of dark romance, fantasy and slightly gothic. Actually I was a bit late and missed the beginning of the concert but even the part I managed to see was awesome. It's definitely something more than just a simple set within a festival. Sonja made every song so unique and expressive that it was hard to be indifferent and not to feel the mood of this or that composition. Of course, the music also meant a lot and created the suitable atmosphere. Sometimes it reminded me of a theatre play and that was another amazing thing about the gig. I guess everybody liked it, or at least most of the people in the venue and maybe wanted more. //
http://www.persephone-home.de
/
https://www.facebook.com/persephoneband
// Rating: 8.5 / 10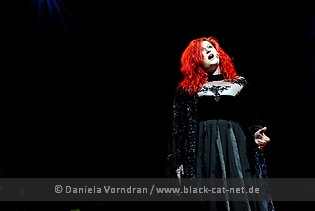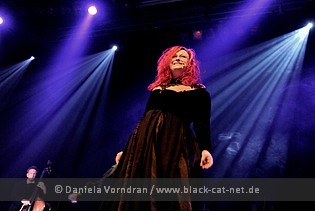 Mono Inc. - Main Stage [morTICIA]


Actually the music of this German band can be allocated to the Alternative Rock genre but with their current album their style changed very much into mainstream. You could describe it as Gothic Schlager as well. And somehow it was not really a big surprise that they opened their show with 'Heile, heile Segen', a song where I ask myself if they mean it really seriously or just want to pull our legs. But the crowd in front of the main stage obviously liked it as it was singing loudly with the band. Fortunately the songs got better after this ill- fated one. The band surely knows how to rock the place but if you have seen them several times live and you are not a fan, there is not much of a surprise in their shows. There is this little "firework" two times and of course the obligatory drum solo of Katha Mia where at one point the people have to shout 'Hey!' several times. Anyway the people were in an excellent mood and though it was still quite hot on that evening, it didn't keep them from dancing. //
http://www.mono-inc.com
/
https://www.facebook.com/monoinc
// Setlist: 1. Heile, Heile Segen / 2. Symphony of Pain / 3. Gothic Queen / 4. Seligkeit / 5. Arabia / 6. Kein Weg zu weit / 7. Drum Battle / 8. Revenge / 9. After the War (Gary Moore cover) / 10. Voices of Doom / 11. Get Some Sleep // Rating: 8 / 10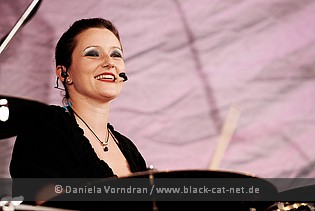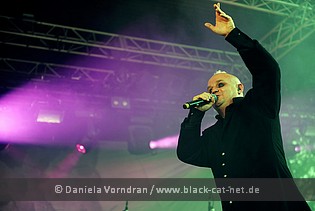 London After Midnight - Staatenhaus [Nataly]

Alternative rock band from the US yet judging by the title I used to think that it's British was formed in the 1990s by Sean Brennan and seems to be quite progressive and even more than alternative. But again not for everyone. If we take the music separately, it's really good especially if you are in the right mood for such kind of dark rock. As for the performance it will be another story. The band's show I saw impressed a great deal but in a quite specific way. The musicians looked a bit like j-rockers and sometimes the sound didn't suit the images, at least in my opinion. On the other hand the reaction of the audience was good enough to realize the band was kindly welcome and every new song was met with screams and applause. So everybody got what they wanted. //
http://www.londonaftermidnight.com
/
https://www.facebook.com/LAMofficial
// Setlist: 1. Your Best Nightmare / 2. A Letter to God / 3. Psycho Magnet / 4. Shatter / 5. Beginning of the End / 6. Kiss / 7. Nothing's Sacred / 8. Love You To Death / 9. The Bondage Song / 10. Sacrifice // Rating: 7 / 10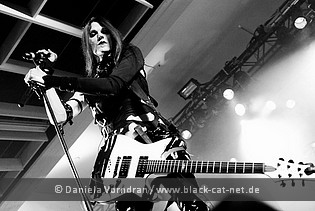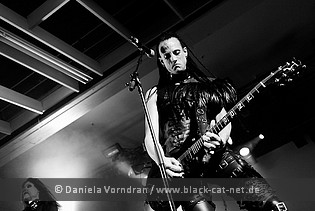 Janus - Theatre [Dani]

The headliner at the theatre on the second day was JANUS once more. Today, I had the chance to see a little more of the show, including one of my highlights, 'Isaac'. The venue was packed again and not all people were allowed to enter anymore. As far as I can tell, the show was the same like at the first day, and it was really touching and intense. I must admit that I am not the big fan of JANUS on CD, but I had seen them many years ago and loved the live show and also this time I was impressed. People enjoyed also the second show and once more, JANUS received standing ovations. //
http://www.knochenhaus.de
/
https://www.facebook.com/pages/Janus/343583049023020
// Setlist: 1st Department with Band: 1. Hotel Eden / 2. Gescheitert / 3. Reptil / 4. Wehrlos / 2nd Department without Band: 6. Dorinas Bild / 7. Isaak / 3rd Department with Band: 8. Kommt herunter / 9. Mein krankes Herz / 10. Die Ballade von Jean Weis / 11. Die letzte Tür / Encore 1: 12. Die Ruhe selbst / 13. Ich will seinen Kopf / Encore 2: 14. Exodus / 15. Anita spielt Cello / 16. Neunundachtzig // Rating: 9 / 10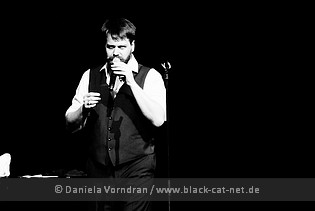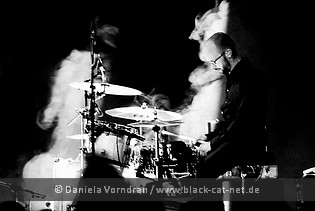 Apoptygma Berzerk - Main Stage [morTICIA]


With their terrible show at the Blackfield Festival in 2011 it seemed that the Norwegian band has reached its bottom. But only one year later at the Nordstern Festival the band was like a phoenix from the ashes as they rocked the place like hell. Since then they proved again that they are a great band with amazing live qualities and deserve to be headliner at festivals. Right from the beginning they rocked the place around the main stage which was packed. Of course the choice of songs surely works perfectly to get the crowds going. There was no chance to get a break while Stephan L. Groth and his band mates were performing. And with 'Major Tom' there was a song that invited the audience to sing the refrain loudly. Excellent performance for sure. //
http://www.theapboffice.com
/
https://www.facebook.com/ApoptygmaBerzerk
// Setlist: 1. Unicorn / 2. Eclipse / 3. In This Together / 4. Dead Air Einz / 5. Shadow / 6. Love Never Dies / 7. Something I Should Know / 8. Kathy's Song (Come Lie Next To Me) / 9. Major Tom (Coming Home) (Peter Schilling cover) / 10. Until The End Of The World / 11. Starsign / 12. Paranoia / 13. Non-Stop Violence // Rating: 10 / 10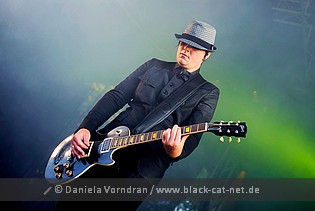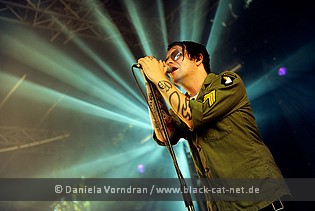 Die Krupps - Staatenhaus [morTICIA]

Like FRONT 242 the band had also some technical issues as the monitors were dead. But Juergen took this with some humour and told us that they won't leave so easily – an allusion to the reaction of FRONT 242. The audience showed some humour as well when the band started a kind of sound check which sounded, quite experimental, as they shouted for an encore. Finally the problems were solved and the band started their powerful show. The Staatenhaus was almost completely filled and wherever you looked you could see dancing and moving people. A new single was introduced and worked well. Perfectly fitting to their Industrial/ EBM/ Metal sound and of course as an allusion to the band's name, steel bars, a hammer and an ambos was used for percussion, too. A career of already 30 years could not take away the drive and energy the band still has. And so we are not annoyed that the actual concert started later and was shorter then, for it was all worth it again. //
http://www.diekrupps.de
/
https://www.facebook.com/diekruppsofficial
// Rating: 9 / 10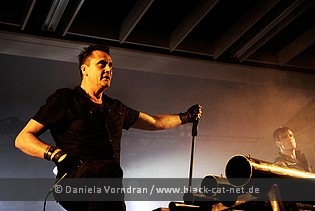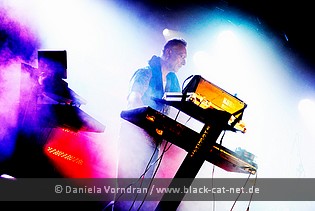 Eisbrecher - Main Stage [Nataly]

Not so long ago the band celebrated their 10th anniversary and now EISBRECHER became the headliner of the 10th Amphi festival. A nice coincidence, I would say. Obviously the choice was just right as the musicians played an awesome set from start to finish. And everything started with 'Kein Mitleid' and then it went full force with well-known powerful songs, great light and sound. Actually it's better to see such concert once yet I've already seen EISBRECHER this winter but in a club and the impression was absolutely different as at that time the gig turned to be even modest comparing to what was going on the main stage at Amphi. Traditionally every track was accompanied with a real performance and Alex managed to charge everybody in the crowd with his energy. The show passed in almost no time and maybe it could be a wonderful finale for the event but something interesting was happening at Staatenhaus. //
http://www.eis-brecher.com
/
https://www.facebook.com/eisbrecher
// Setlist: 1. Kein Mitleid / 2. Willkommen im Nichts / 3. Augen unter Null / 4. Amok / 5. Eiszeit / 6. Leider / 7. Prototyp / 8. Engel / 9. Schwarze Witwe / 10. Vergiss mein nicht / 11. Herzdieb / 12. This is Deutsch / 13. Heilig / 14. Verrückt / 15. Miststück // Rating: 10 / 10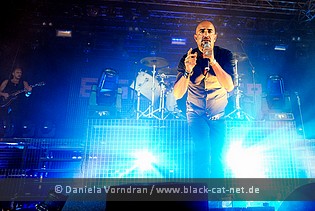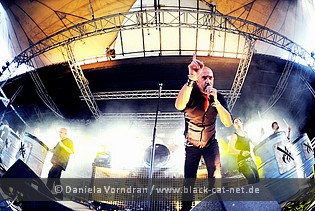 Lacrimosa - Staatenhaus [Nataly]

I guess this band doesn't need an introduction so just a couple of words. LACRIMOSA was founded in 1990 and their music is characterized like German alternative and symphonic metal. Well it's really hard to say anything about it because I personally wouldn't use such terms concerning this band but it's still a matter of taste. Unfortunately this formation is not among my favorite ones but trying to be objective I can say that the concert was going in a good and warm atmosphere; almost everybody enjoyed it and all the songs were met with loud applause. Of course Tilo Wolff is a professional and all the concerts of LACRIMOSA are always interesting and worth seeing even you're not a big fan of their music. Besides that very set had become a closing for a wonderful and a bit tiring festival day full of emotions, impressions and good music and at this point the whole performance turned out to be absolutely suitable for the time and place. //
http://www.lacrimosa.ch
/
https://www.facebook.com/LacrimosaOfficial
// Setlist: 1. Lacrimosa Theme / 2. Ich bin der brennende Komet / 3. Alleine zu Zweit / 4. Kelch der Liebe / 5. Stolzes Herz / 6. Apart / 7. Morning Glory / 8. Schakal / 9. Rote Sinfonie / 10. If the World Stood Still a Day / 11. Irgendein Arsch ist immer unterwegs / 12. Weil Du Hilfe brauchst / 13. Feuer / 14. Alles Lüge / 15. Lichtgestalt // Rating: 9 / 10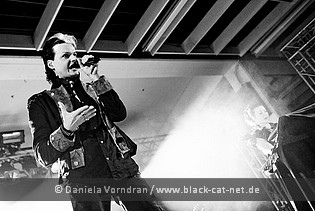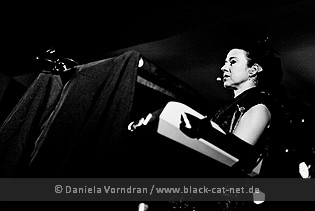 With LACRIMOSA, the program at the Tanzbrunnen ended. But there was another Rhine river cruise as closing event of the festival with great live music and of course there was another after show party at the theatre.
All Pictures by Daniela Vorndran (
http://www.vorndranphotography.com
/
http://www.facebook.com/blackcatnet
)
See also (all categories):